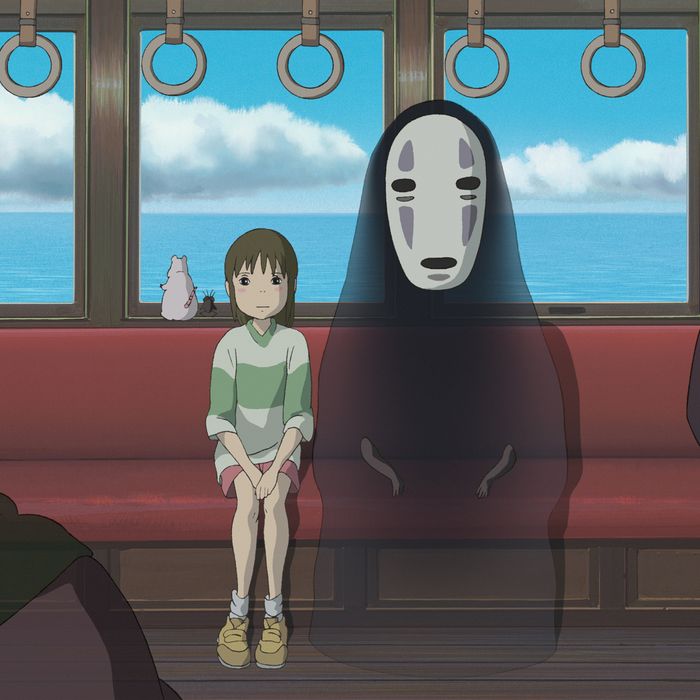 Spirited Away
.
Photo: Studio Ghibli
This article is updated frequently as titles leave and enter HBO Max. *New additions are indicated with an asterisk.
Is this one of those nights when the whole family wants to watch a movie together? Or maybe you want something to distract the littles one tonight? The deep HBO Max catalog that can draw on classic cinema and years of Warner Bros. history allows its family section to be one of the richest out there too, offering a little something for everybody in just the 20 movies below. We will keep this list constantly updated, so come back often for new recommendations for the whole family on HBO Max.
Year: 2014
Runtime: 1h 35m
Director: Jorge R. Gutierrez
Produced by Guillermo del Toro, Jorge Gutierrez's musical fantasy seems to have been a bit forgotten by history. It deserves a second look. The Book of Life follows a bullfighter who has to travel to the afterlife on the Day of the Dead, and it features gorgeous visuals and strong voice work from Diego Luna, Zoe Saldana, and Channing Tatum.
*City Slickers
Year: 1991
Runtime: 1h 53m
Director: Ron Underwood
Billy Crystal was at the peak of his fame with this 1991 blockbuster comedy that was so popular that it won co-star Jack Palance an Oscar. Crystal stars as an average guy who channels his mid-life crisis into a week on a cattle drive with two of his best buddies, played by Daniel Stern and Bruno Kirby. Of course, everyone knows Palance steals the movie, but it's a sweeter and funnier piece overall than you may remember. (Note: The sequel is also on HBO Max.)
Year: 2022
Runtime: 1h 45m
Director: Jared Stern, Sam J. Levine
BFFs Dwayne Johnson and Kevin Hart anchor one of the best animated voice casts of 2022 as the voices of Superman's superdog Krypto and the not-so-super Ace, who ends up becoming Batman's pooch. It's a silly super-comedy that's elevated by The Rock and Hart as well as Kevin McKinnon, John Krasinski, Vanessa Bayer, Natasha Lyonne, Diego Luna, Marc Maron, and a wonderfully dry Keanu Reeves as the Dark Knight himself.
Fantastic Mr. Fox
Year: 2009
Runtime: 1h 26m
Director: Wes Anderson
The director of The Royal Tenenbaums and The Grand Budapest Hotel adapted the 1970 children's novel of the same name in this delightful stop-motion animated classic with one of the best voice casts in history. George Clooney, Meryl Steep, Bill Murray, Willem Dafoe, and Owen Wilson star in the tale of the titular character as his family is hunted by three farmers. It's a visual marvel for the whole family.
Flipped
Year: 2010
Runtime: 1h 29m
Director: Rob Reiner
Based on the 2001 novel of the same name, this family dramedy is a little dry but could work for HBO Max subscribers looking for something a little less hyper. Opening in 1957, it tells the tale of two eighth grade friends of the opposite sex who realize their friendship may be "flipping" into something else. It's a cute, sweet movie.
Free Willy 2
Year: 1995
Runtime: 1h 37m
Director: Dwight Little
What an odd box office phenomenon that Free Willy turned out to be in the early and mid-'90s, spawning two sequels in 1995 and 1997, both of which are on HBO Max. Oddly enough, the whale rescue movie that started it all isn't on HBO Max as of this writing, so consider the sequel a placeholder until the original, and still-best, returns.
The Hobbit
Year: 1977
Runtime: 1h 17m
Director: Jules Bass, Arthur Rankin
Long before Peter Jackson traveled to Middle Earth, the geniuses at Rankin/Bass – known most for their stop-motion holiday specials – shot an animated version of the J.R.R. Tolkien classic. Broadcast on NBC, it became a formative adventure for kids in the late '70s and early '80s, really shaping how Jackson's vision would come to life a generation later.
Hook
Year: 1991
Runtime: 2h 21m
Director: Steven Spielberg
One of Spielberg's most divisive movies, it feels like people who love this version of the legend of Peter Pan the most are the ones who were exactly the right age when it came out. Say what you will about it overall, it definitely features some fun performances, especially from Robin Williams and Dustin Hoffman.
Year: 2011
Runtime: 2hr 6m
Director: Martin Scorsese
Nominated for 11 Oscars (and winning five), Hugo is one of Scorsese's most acclaimed and beloved films, which should further put to rest any of those dumb insinuations that the legendary director only knows how to make mob movies. It's a whimsical, delightful film that you can watch with the entire family, and while it may not be in 3D on HBO Max, you can still enjoy its endless visual glory.
Kung Fu Panda
Year: 2008
Runtime: 1h 31m
Director: John Stevenson and Mark Osborne
The movies about Po (Jack Black), the martial arts-loving panda, have a habit of bouncing around the streaming services. As of right now, the only film in this mega-franchise that's on HBO Max is the original 2008 comedy hit, although fans would probably tell you its' the best one anyway. Kung Fu Panda was massive, spawning two sequels, a spin-off TV series, and more. See where it all began.
Year: 2017
Runtime: 1hr 44m
Director: Chris McKay
More than just a child's version of a superhero movie or a spoof of the genre, this family flick is a legitimately clever and well-crafted action film. Will Arnett spins off his version of the Dark Knight that premiered in The LEGO Movie for a film that unpacks the clichés about Bruce Wayne and Batman in a manner that's funny and very smart.
Year: 1994
Runtime: 1hr 58m
Director: Gillian Armstrong
Louisa May Alcott's beloved 19th century novel has been adapted to the screen a few times but Armstrong's is one of the more popular versions, a family film memory for a generation of people who were kids in the '90s. Winona Ryder, Claire Danes, Kirsten Dunst, and Susan Sarandon headline a film that earned the future Stranger Things star her second and last (to date) Oscar nomination.
Madagascar 2
Year: 2008
Runtime: 1h 29m
Director: Eric Darnell, Tom McGrath
Ben Stiller, Chris Rock, David Schwimmer, and Jada Pinkett Smith return to voice the characters from the 2005 family hit in this blockbuster sequel. Alex the Lion, Marty the Zebra, Melman the Giraffe, and Gloria the Hippo find their way to Africa. The penguins steal the movie again.
Matilda
Year: 1996
Runtime: 1h 38m
Director: Danny DeVito
The musical version of the Roald Dahl classic is making waves on Netflix, but HBO Max just added the clever and funny '90s edition of the tale of a precocious kid with superpowers. Mara Wilson plays the title character and real-life couple Rhea Perlman and Danny DeVito play her parents. The TV star also directed this charming flick that kinda bombed in theaters but developed a following on VHS and DVD.
The Music Man
Year: 1962
Runtime: 2h 31m
Director: Morton DaCosta
Based on the 1957 Broadway musical of the same name, this family movie actually won the award for Best Picture. Robert Preston stars in the title role of Harold Hill, a traveling con man who finds himself won over by the people of River City. It's far from the best musical of its era, but it's a decent gateway if you want to introduce the kids to a different kind of classic moviemaking.
*Night at the Museum: Secret of the Tomb
Year: 2014
Runtime: 1h 37m
Director: Shawn Levy
Shawn Levy gave Ben Stiller one of the biggest hits of his career in the 2006 fantasy adventure film about a night watchman who discovers that the American Museum of Natural History comes to life every night because of a magical Egyptian artifact. These movies are harmless fun, thanks in large part to great ensemble casts and clever special effects. (Note: The weird ownership of this trilogy means the first two films are on Disney+ and the third over here.)
Spirited Away
Year: 2001
Runtime: 2h 4m
Director: Hayao Miyazaki
Almost all of the Studio Ghibli films are on HBO Max, the now exclusive home to them when it comes to streaming. The truth is that we could devote about 10% of this list to Hayao Miyazaki and his colleagues, but we'll give up some that space and just point you here to the ranking of the entire output of the most important modern animation studio in the world. Start with Spirited Away, My Neighbor Totoro, and Castle in the Sky. You won't stop.
Teen Titans Go to the Movies
Year: 2018
Runtime: 1h 24m
Director: Peter Rida Michail, Aaron Horvath
Teen Titans Go! Is one of the smartest superhero cartoons of the modern era and their feature film debut is an underrated joy. The writers here joyfully satirize the world of superheroes, including cameos from many famous DC characters, while never losing the heart of their leading men and women. It's very funny and clever.
Year: 1981
Runtime: 1h 56m
Director: Terry Gilliam
Between his Monty Python era and the production of Brazil, Terry Gilliam got the financing for a fantasy family film that would end up like no other. Casting some of his Python buddies (Michael Palin, John Cleese) and legends like Sean Connery, Ian Holm, David Warner, and many more, Time Bandits is an imaginative fairy tale about a boy who travels through time with a group of rowdy thieves. It's like nothing else.
Year: 1939
Runtime: 1h 41m
Director: Victor Fleming
Maybe you've heard of it? Seriously, what could possibly be written if you're on the fence about The Wizard of Oz? Maybe you haven't seen it since you were a little kid? Revisit the journey of Dorothy over the rainbow if that's the case and appreciate this wonderful fantasy on a new level.
If you subscribe to a service through our links, Vulture may earn an affiliate commission.