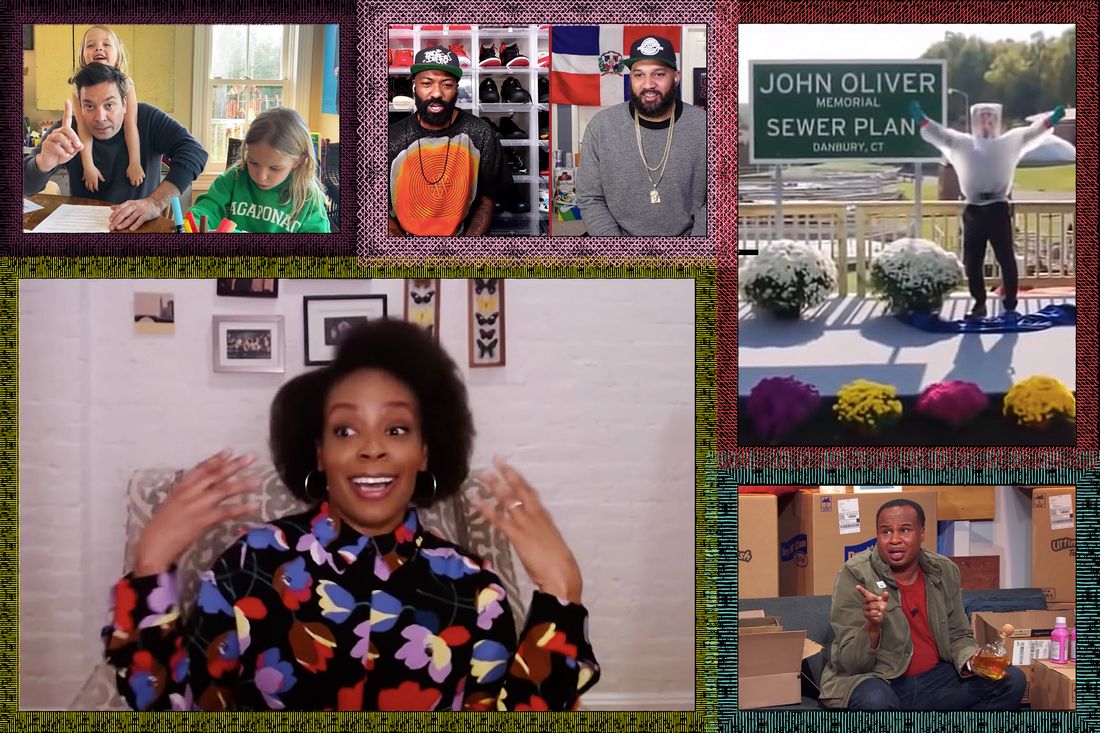 Clockwise from top left: Jimmy Fallon with daughters Winnie and Franny on
The Tonight Show: At Home Edition
, Showtime's
Desus & Mero
, the John Oliver Memorial Sewer Plant, Roy Wood Jr. on
The Daily Show
's Election Night episode, Amber Ruffin on
Late Night With Seth Meyers.
Photo-Illustration: Vulture, NBC, Comedy Central, Showtime and HBO
Like everything else in the world, late-night television was turned upside down by 2020. Because of the pandemic, studios, live guests, and audiences disappeared by the end of March, thrusting viewers into a completely new and uncertain quarantine late-night landscape. As shows transitioned from studios to hosts' homes and back over the course of the year, audiences traveled along with them and got a glimpse into the hosts' lives they'd never see during non-COVID times.
This year showed what happens when everything that makes late-night television "late-night television" is taken away. Hosts were forced to constantly reinvent their shows for the COVID era, thus expanding the very notion of what a late-night show can be. And it turns out, late-night shows can now include things like Jimmy Fallon's indoor slide, Stephen Colbert's bathtub, and Desus Nice's sneaker wall.
Here, then, are the most memorable moments from the bizarro DIY year in late-night TV.
10. Pete Buttigieg Ushers Us Into COVID Land
On March 12, Pete Buttigieg, fresh off dropping out of the 2020 presidential race, guest-hosted an episode of Jimmy Kimmel Live with guest Patrick Stewart just two days before the lockdown unofficially began and the world as we know it changed forever. Mayor Pete showed up in one of his slightly too-large suits and did his South Bend best, delivering his opening monologue to a mostly empty audience except for a few Kimmel employees and a laugh track. Mayor Pete's monologue on Kimmel was the first true "WTF?" moment of the COVID late-night era. In hindsight, Buttigeig's guest-hosting gig unofficially marked the pause on traditional late night as we knew it and ushered us into the beginning of Late Night: The COVID Months. We didn't know it at the time, but the future Secretary of Transportation transported us directly into the great unknown, and it was more bizarre and dystopian than any of us ever could have imagined.
9. Desus and Mero Rank the Worst Places in New York
Desus and Mero always bring their unique brand of Bronx-based humor to their Showtime series, but when talking about their hometown, the Bodega Boys shine a little brighter. Over the summer amid lockdown No. 1, the duo responded to a viral tweet asking people to name the worst places in NYC by going off about all the most terrible, disgusting locales in their beloved Big Apple, including the Delancey McDonald's, that tunnel between the F train and the 1/2/3 train on 14th Street, and the insane amount of privilege one must have to think that the worst place in NYC is a Whole Foods. "Port Authority is the gates to hell," Desus said matter-of-factly. But due to Desus and Mero's humor and obvious love for the city, what started out as a roast of New York became a weird little messed-up love letter to the city that never sleeps in the middle of a pandemic that abruptly shut the city down. Sure, there are some crappy places, but Desus noted that the Delancey McDonald's has been renovated and now feels like a "sexy Starbucks," and Mero reminded us all not to sleep on the Bronx Botanical gardens. For many New Yorkers who were unable to enjoy their wonderfully terrible city for months on end, this segment felt a little bit like home.
8. The John Oliver Memorial Sewer Plant
In many ways, 2020 was the sewage plant of years, so it was incredibly fitting that Last Week Tonight found a way to memorialize this by getting the town of Danbury, Connecticut, to rename their sewage plant after John Oliver. It all started with a few cheap yet hilarious shots at the city for seemingly no reason whatsoever. "Danbury, Connecticut, can eat my whole ass," said Oliver, choosing a forgettable Connecticut city to lambast during his August 30 episode, inciting a full-fledged multi-episode beef between Oliver and the mayor of Danbury Mark Boughton that lasted three months. Boughton directly responded to the late-night host in early September, joking that the town was going to name its sewage plant after Oliver ("It's full of shit, just like you"). If there's one thing we know about Oliver, it's that he's never created a bit he wouldn't see through until the end — just look at his Adam Driver thirst throughout last season — and Danbury, Connecticut, was no exception. He raised the stakes by pledging to donate $55,000 to charities in the Danbury area if Boughton followed through with the renaming of the poop plant, and on October 8, the Danbury City Council voted in favor of renaming it the John Oliver Memorial Sewer Plant, making it official. Oliver donated to the Connecticut Food Bank, ALS Connecticut, and Danbury public-school teachers, and he even attended the ribbon-cutting ceremony on October 19. Oliver rode this pony all the way to its satisfying and shitty conclusion, providing one of the only feel-good moments in late night this year.
7. Amber Ruffin Unpacks "What Would You Do?" by City High
No one had a bigger 2020 in late night than Amber Ruffin. She parlayed writing on Late Night With Seth Meyers into getting her own recently renewed show on Peacock, The Amber Ruffin Show. She made the leap from writer to star by appearing in popular Late Night segments, like "Jokes Seth Can't Tell" and "Amber Says What?", which display her unique comedic sensibility that blends the incredibly real with the delightfully absurd. On The Amber Ruffin Show, Ruffin got to play even more and lean into her quirky charm while continuing to use her platform and humor to get candid about issues she's passionate about and educate her audience. A perfect example was when Ruffin railed against the song "What Would You Do?" by City High in her October segment "Being Mad Like It's 1999." Ruffin combined her natural comedic chops with astute observations (the kids in Sister Act 2 were told to take off their robes for their final performance) and important education (sex work is work, period). Ruffin's the rare comedian who can make a salient political point without sacrificing the humor of the joke, unafraid to admit that while "What Would You Do?" is definitely problematic, at the end of the day, it's still an extremely catchy song.
6. Samantha Bee Remembers RBG
Not long before the 2020 election, Ruth Bader Ginsburg died at age 87, leaving a SCOTUS seat open at a critical moment that would eventually be filled by Trump appointee Amy Coney Barrett. At that moment, everything looked bleaker than ever. Luckily, Full Frontal With Samantha Bee responded to the news with a segment devoted to RBG and her legacy. After letting out a guttural expletive-laden scream, Bee gave an unflinching look at exactly how devastating the loss of RBG was on an emotional and political level, acknowledged our collective despair, and urged us to exercise our right to vote — if not for ourselves, then for everything RBG fought for over the course of her historic career. And somehow, it managed to be darkly comedic as well. "I'm going to try to honor RBG with the words my meemaw once said to me," Bee quipped. "'Don't cry because it's over, smile because you're old enough to buy booze,' which I promptly did for her when I was 9." It was a tribute fitting to a fallen hero and a salient reminder to not give up the fight.
5. James Corden Sings "Maybe I'm Immune"
One of the rare moments of joy in 2020 struck on Friday, October 2, at 12:54 a.m., when Trump tweeted that he tested positive for COVID. For many, the Schadenfreude of watching the president — who just two weeks prior had bragged about not wearing masks in front of a national audience — contract the virus was simply too sweet to ignore. While Trump would go on to recover, there was a window of time when everything was touch-and-go with the president's medical physician, Dr. Sean Conley, lying to the public about the president's health, which quickly became fodder for late-night hosts. Song-and-dance man James Corden took to the piano on The Late Late Show and belted out "Maybe I'm Immune," a parody of Paul McCartney's "Maybe I'm Amazed" intercut with actual press footage from the whole ordeal that chronicled what must have been going through Trump's head when he exposed much of the White House staff to COVID all for the sake of his own ego. In a year marked by an impressive amount of musical moments in late night, "Maybe I'm Immune" stood out among the rest because of its simplicity. And not for nothing — Corden sounded pretty damn good while doing it.
4. Roy Wood Jr. Freaks Out on Election Night
Roy Wood Jr. has been quietly and consistently doing some of the best work on late night for some time now, but on Election Night, he came through in a big way. While all of us were freaking out, Wood was also freaking out in a makeshift election fallout shelter on a special live episode of The Daily Show. Playing wingman to Trevor Noah, Wood unraveled over the course of the episode as Noah delivered the Election Night results to the viewers at home. As Texas and Florida went from "maybe blue" to "definitely red," there was Wood surrounded by toilet paper clutching not one, but two bottles of whiskey and doomscrolling on his iPad, not listening to any of the comforting words Noah tried to offer. "I don't think anybody really wants to vote for their spouse," Wood said when asked if he thought Melania voted for her husband. "I love my girl, but my girl put the knives in the dishwasher blade up … I can't trust her with the nuclear codes." It's not often that you see yourself reflected onscreen on late-night television. But that night, while watching map daddy Steve Kornacki in his Korn-khakis circle Maricopa County for the 87th time, we were all Wood: sitting in our own makeshift fallout shelter, freaking out, and wondering whether or not we were going to make it out alive.
3. Stephen Colbert Rips Up His Monologue
As Election Night turned into Election Week, there were several days when it looked like truly anything could happen. While Biden's lead slowly grew and ultimately won out, Trump and his cabinet maintained (and continue to maintain) that he had decisively won and the election was fraudulent based on no evidence at all, just vibes. It was a maddening circus watching the very fabric of our democracy potentially unravel because one megalomaniac was too much of a sore loser to admit that he had lost an election fair and square, and no one conveyed this feeling more viscerally than Stephen Colbert. On his live episode of The Late Show two days after the election, Colbert shared his frustration and genuine dismay by ripping up his previously planned monologue and speaking from the heart. "We all knew he would do this," said Colbert, directly to the camera. "What I didn't know is that it would hurt so much. I didn't expect this to break my heart." Throughout the Election Season, Colbert and his writers worked hard to deliver a bevy of live Late Show episodes after landmark political moments like the DNC, RNC, and the debates that directly confronted the lies and untruths that Trump and his administration continued to spread. On that November 5 episode, it was clear that even Colbert — whose job is to keep his composure and stay funny no matter what — had reached his breaking point.
2. Winnie and Franny Steal the Show
The breakout star of quarantine late-night television wasn't a host or writer, but rather, two precocious kids. At one point this summer, you couldn't go anywhere without hearing or reading about Jimmy Fallon's adorable daughters, Winnie and Franny Fallon, who became the undisputed stars of his Tonight Show: At Home Edition. The transition from in-studio episodes to bizarroland DIY quarantine shows allowed us to see a whole new side of our late-night hosts that we were never privy to before. Without the live audience, in-studio bands, and in-person guests, late night was forced to innovate and rely on the ingenuity and likability of hosts and, more often than not, their families as well. While many late-night hosts gave audiences a peek into their real lives during the pandemic, no one let us into the chaos of their household better than goofy dad Jimmy Fallon trying to wrangle his 7- and 6-year-old daughters. With the help of their mother Nancy Juvonen, Winny and Franny served as everything from band to producers to guests, barreling in mid-interview to ask their father for gummy worms or simply climb on top of him. The addition of Winnie and Franny into Fallon's late-night recipe made him "the most charming he's been in years" and was incredibly comforting during one of the most volatile and distressing moments in recent history. Yes, America may have been crumbling all around us all summer, but watching two little girls have a blast with their dad was a genuine joy.
1. Trevor Noah and Amber Ruffin Talk BLM
Amid a global pandemic that disproportionately affected the Black community, the murders of Breonna Taylor in March and George Floyd in May at the hands of the police reminded the world that there is no safe space in America for Black people. The reinvigoration of the Black Lives Matter movement and the nationwide protests that spurred from this incredibly difficult yet all-too-familiar moment for our country sent shockwaves through the nation, which made it all the way to late night, where certain hosts finally had to reckon with their problematic pasts involving blackface (Kimmel, Fallon) and race. While white late-night hosts apologized for their past missteps, promised to do better, and took a step back to listen, Black late-night television personalities like Trevor Noah and Amber Ruffin stepped forward to share stories about their experiences with the police and systemic racism in America.
In an 18-minute video shot on an iPhone camera in late May, Noah discussed the murders of Taylor, Floyd, and Ahmaud Arbery; the Amy Cooper Central Park bird-watching incident; and the protests rising up across the nation. He questioned what happens when the societal contract we all engage in is broken: "If the example that law enforcement is setting is that they do not adhere to the laws, then why should the citizens of that society adhere to the laws, when in fact the law enforcers themselves don't?" For a full week at Late Night With Seth Meyers, Ruffin shared a lifetime of her experiences with police enforcement. "The cops pulled a gun on me," Ruffin shared. "The cops have followed me to my own home. And every Black person I know has a few stories like that. More than a few. Black people leave the house knowing that, at any time, we could get murdered by the police. It's a lot."
Ultimately, these segments weren't about entertaining or educating the masses. They were about two people willing to get vulnerable and share their thoughts and feelings about the devastating state of the world. They didn't care if what they said was "too political," "bad for their brand," or "alienating to certain demographics." They spoke from the heart, and rather than brushing off or trying to make light of what was going on, they gave space and time and, most notably, a visible face and voice to what Black Americans were feeling across the country. In 2020, what we know as late night changed irrevocably, but Noah and Ruffin's testimony made clear that it's high time for a change. As Ruffin put it, "I wanted to end this with something hopeful, but maybe it's time to get uncomfortable."