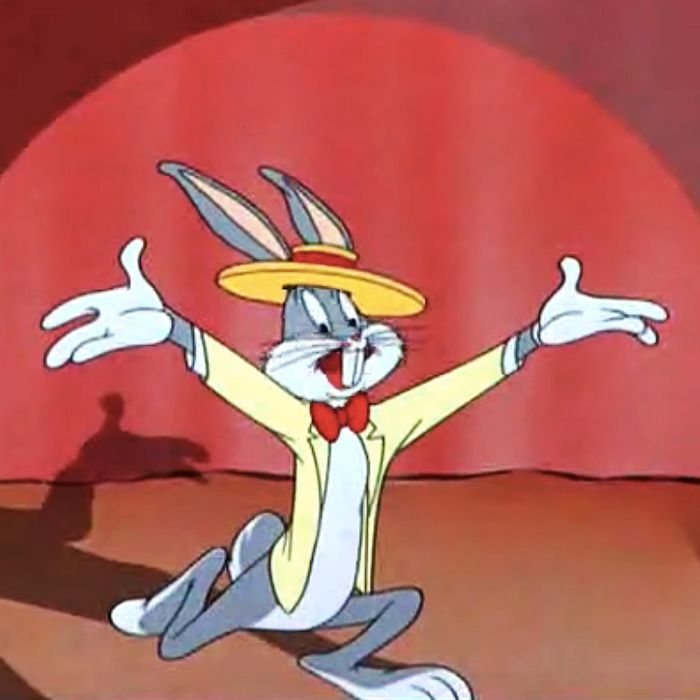 On April 17, 1930, the very first Warner Bros. Looney Tunes cartoon, "Sinkin' in the Bathtub," was released. From the start, the Looney Tunes and Merrie Melodies animated shorts were designed as a more iconoclastic alternative to Disney's artistically groundbreaking Silly Symphonies. While Walt Disney was focused on elevating the art of animation, Warner Bros.' dream team of writers and directors were hell-bent on just making each other laugh. "They never went for the cute stuff at Warners," Warner Bros. writer Michael Maltese recalled in an interview with Joe Adamson that appeared in Film Comment. "There was only one guy … Chuck [Jones], at the time, had the Disney syndrome: the urge to make the most beautiful cartoons going. [Friz] Freleng would say, 'Ah, bullshit! Let's knock 'em dead.'"
On this 90th anniversary, here is a sampling of 90 of the looniest and merriest cartoons in the Warner Bros. canon, including a top 10 of essential masterworks. Over 1,000 were produced, so I'm bound to have missed a classic or two. Ain't I a stinker?
(Acknowledgment to the essential tomes: Looney Tunes and Merrie Melodies, by Jerry Beck & Will Friedwald; Of Mice and Magic: A History of American Animated Cartoons, by Leonard Maltin; and Bugs Bunny: Fifty Years and Only One Grey Hare, by Joe Adamson. Thanks also to the Gilbert Gottfried's Amazing Colossal Listener Society Facebook group).
80 Essentials
"Sinkin' in the Bathtub" (1930, Hugh Harman, Rudolf Ising)
A tardy jalopy emerging from an outhouse immediately distinguishes Warner Bros.' first Looney Tunes cartoon from its Disney counterparts. The plucky Bosko is perhaps early animation's least offensive black character. He would star in 39 more cartoons.
"It's Got Me Again!" (1932, Ising)
A bunch of Mickey-like rodents' midnight dance is broken up by a cat, who gets it in the end. The first Warner Bros. cartoon to earn an Oscar nomination.
"I Haven't Got a Hat" (1935, I. Freleng)
Porky Pig makes his screen debut stuttering his way through "The Midnight Ride of Paul Revere" during a class recital, but it's the 40 seconds of adorable pups Ham and Ex performing the title tune that is everything I love about Warner Bros. cartoons.
"Page Miss Glory" (1936, Tex Avery)
A good cartoon gets great at the 1:50 mark as a Hicksville hotel bellhop awaiting the arrival of Miss Glory fantasizes his burg is transformed into a cosmopolitan playground in a spectacular "Moderne Art" sequence.
"I Love to Singa" (1936, Avery)
It's The Jazz Singer in eight minutes. With Owls. Cartman broke into the title tune whenever he was zapped by an alien ray in the very first episode of South Park.
"Porky's Romance" (1937, Tashlin)
Diva Petunia Pig breaks Porky's heart, but a nightmare scenario of his future should he marry her prompts a change of attitude.
"She Was an Acrobat's Daughter" (1937, Freleng)
This collection of spot gags captures an old-fashioned night at the movies complete with newsreel, sing-along, and the main attraction, a spoof of The Petrified Forest.
"Porky's Duck Hunt" (1937, Avery)
Daffy Duck makes a big splash in his debut. "Hey, that wasn't in the script," complains Porky to the duck that's been bedeviling him for most of the cartoon. "Don't let it worry you, Skipper," he whoops. "I'm just a crazy, darn fool duck."
"Porky's Railroad" (1937, Tashlin)
It's the 30th Century Limited versus "Toots," the little engine that barely could. Dramatic angles and odd perspectives keep this one chugging along.
"Speaking of the Weather" (1937, Tashlin)
Drugstore magazines come to life after-hours with literal characterizations of their titles. Thus, a miscreant is sentenced to Life but escapes through Liberty with other magazine figures in hot pursuit.
"The Case of the Stuttering Pig" (1937, Tashlin)
Warner Bros. played up the fact that its cartoons were going to be screened in movie theaters. In this pigs-in-peril thriller, Porky, Petunia, and Porky's brothers try to elude their evil lawyer trying to claim their inheritance. It's the guy in the third row of the theater to the rescue.
"Daffy Duck & Egghead" (1938, Avery)
"I'm not crazy. I just don't give a darn," Daffy whoops. Notable for his lively rendition of the Looney Tunes theme song, "The Merry-Go-Round Broke Down."
"Katnip Kollege" (1938, Cal Howard, Cal Dalton)
Johnny's an outcast until he learns how to swing. James Taylor loved this cartoon growing up and finally recorded its showstopper song, "As Easy As Rolling Off a Log," for his most recent album, American Standard.
"Cinderella Meets Fella" (1938, Avery)
All I know about vaudevillian Joe Penner is that his big catchphrase was "Wanna buy a duck?" But he was popular enough to be caricatured as Egghead in this and other Warner Bros. cartoons.
"Daffy Duck in Hollywood" (1938, Avery)
Warner Bros. cartoons were meta before meta was a thing. Daffy runs amuck on a movie-studio set, but is sure to give his studio a plug. "I've got an option coming up," he explains.
"Hamateur Night" (1939, Avery)
That's Avery's laugh emanating from the hippo in the audience who constantly breaks up amateur night at the Warner Bros. theater.
"Daffy Duck and the Dinosaur" (1939, Chuck Jones)
Setting this cartoon in the Stone Age ("for no reason") gave the writers the leeway to do something Disney would never dare: actually kill off one of its major cartoon stars.
"Thugs With Dirty Mugs" (1939, Avery)
Spot gags pay off in this spoof of Warner Bros. gangster films. Bank robber Killer sounds a lot like "Eddie Robinson," and he can't help showing off his radio star Fred Allen imitation to the audience.
"Old Glory" (1939, Jones)
Something new has been added: rotoscoping to bring to life personages and events from American history to inspire Porky to learn the Pledge of Allegiance. Akin to a "Very Special Episode" of Merrie Melodies.
"The Hardship of Miles Standish" (1940, Freleng)
Elmer Fudd stars in a rare heroic role as John Alden in this retelling of the courtship between Priscilla and Miles Standish. Brace yourself for the inevitable Cleveland Indians sight gag.
"You Ought to Be in Pictures" (1940, Freleng)
Daffy goes Eve Harrington on Porky, convincing him to quit cartoons for feature films, thus paving his way to A-list status. An impressive early blend of live action and animation that features a cameo by cartoon producer Leon Schlesinger.
"Tom Thumb in Trouble" (1940, Jones)
Rather than satirize Disney cartoons, Jones emulated them with this mostly played-straight telling of the Grimm brothers fairy tale that includes a dramatic snowstorm rescue and tear-jerking reconciliation.
"Bedtime for Sniffles" (1940, Jones)
Sniffles, maybe the most Disney-esque character in the Warner Bros. stable, desperately tries to stay awake on Christmas Eve to see Santa.
"Joe Glow, the Firefly" (1941, Jones)
Another Jones Disneyesque charmer about a firefly exploring the landscape of a sleeping camper's tent.
"Porky's Preview" (1941, Avery)
Porky is hosting the premiere of his new cartoon that he made himself. It's five cents for admission, but a skunk can't get in because he has only one "cent." (Get it?)
"Hollywood Steps Out" (1941, Avery)
Once again, the celebrity caricatures are beside the point. If you don't know who Ann "the Oomph Girl" Sheridan, Sally Rand, or Sonja Henie are, there are plenty more recognizable golden-age Hollywood icons on hand. Clark Gable steals every scene he walks through. ("Stick around, folks. This ought to be good.")
"Hiawatha's Rabbit Hunt" (1941, Freleng)
After Bugs gets the best of the mighty warrior throughout this Oscar-nominated cartoon, Hiawatha gets the last laugh. The rabbit-stew scene gets a reprise in "What's Cookin,' Doc?"
"Wabbit Twouble" (1941, Bob Clampett)
Elmer Fudd is looking forward to "west and welaxation" (one of his most quoted lines) in Jellostone National Park. Thanks to Bugs, it is anything but a "westful wetweat."
"The Wabbit Who Came to Supper" (1942, Freleng)
Elmer Fudd inherits $3 million, but he doesn't get one red cent if he harms any animals — especially rabbits. This is Bugs at his most goading.
"Horton Hatches the Egg" (1942, Clampett)
Faithful to Dr. Seuss's beloved book 100 percent.
"The Dover Boys at Pimento University or the Rivals of Roquefort Hall" (1942, Jones)
This was the "Like a Rolling Stone" of cartoons: a radical departure that clocked in at an extended nine minutes. So revered in animation circles is Jones's stylized homage to the American melodrama that, in 2018, 90 animators collaborated on a remake: each of their contributions animated in their own styles.
"A Tale of Two Kitties" (1942, Clampett)
Babbit and Catstello (Abbott and Costello caricatures) go after a "poor little eensy-weensy, itsy-bitsy defenseless little bird. They don't know him very well, do they? Introducing Tweety, whose "I tawt I saw a putty tat" became his instant catchphrase.
"My Favorite Duck" (1942, Jones)
Just as Bugs relentlessly spoiled Elmer's wistful wetweat in "Wabbit Twouble," Daffy takes great delight in foiling Porky Pig's camping trip. But unlike Bugs, Daffy gets what's coming to him, which is how that usually goes.
"Pigs in a Polka" (1943, Freleng)
This cartoon and Allan Sherman's musical parody "Hungarian Goulash" introduced generations to Brahm's "Hungarian Dances," which provides the musical accompaniment to this retelling of "The Three Little Pigs."
"Tortoise Wins by a Hare" (1943, Clampett)
An uncharacteristically bitter and vindictive Bugs challenges the tortoise to a rematch after losing the race back in Avery's "Tortoise Beats Hare" in 1941. It's rare to see Bugs so desperate and defeated. The end is particularly violent and dark.
"Greetings Bait" (1943, Freleng)
Here's all you need to know about the mustached worm in this Oscar-nominated cartoon. He is a caricature of comedian Jerry Colonna, who was best known as a foil for Bob Hope on his radio show and in his films. His catchphrases were "Greetings, Gate" and "Isn't it?," as in "Fascinating, isn't it?"
"Wackiki Wabbit" (1943, Jones)
Two castaways find refuge on an island and food in the form of Bugs Bunny, who manages to keep them at bay. This is the one with the indelible image of the ravenous castaways imagining each other as a hot dog and hamburger.
"Porky Pig's Feat" (1943, Tashlin)
Daffy and Porky together again, but this time working in tandem to outwit the manager of the Broken Arms Hotel, who blocks their exit until their bill. A Bugs Bunny cameo represents the first time all three Warner Bros. cartoon stars shared the screen.
"A Corny Concerto" (1943, Clampett)
Gweetings, music lovers. What this glorious Fantasia parody lacks in gravitas or tutu-wearing hippos, it more than makes up for in transgressive gags in the Bugs Bunny segment.
"What's Cookin,' Doc?" (1944, Clampett)
Bugs Bunny had yet to be acknowledged by the Motion Picture Academy. So on Oscar night when he loses Best Actor to James Cagney, he declares "sabotage" and demands a recount.
"Swooner Crooner" (1944, Tashlin)
How ya gonna keep 'em down on the farm after they've heard "Frankie"?
"Plane Daffy" (1944, Tashlin)
Can Daffy Duck resist the charms of voluptuous spy Mata Hari, or will he be coerced into revealing a military secret? Turns out "Hitler is a stinker" is no secret.
"The Old Grey Hare" (1944, Clampett)
In the year 2000, old codger Elmer finally gets his rabbit. "I can't believe it," coughs Bugs in his dramatic, tear-jerking death scene. But flashbacks to their first encounter as babies anticipate the same-as-it-ever-was reversal of burial fortunes.
"Stage Door Cartoon" (1944, Freleng)
Elmer chases Bugs Bunny into a vaudeville house, where Bugs tricks Elmer into a series of onstage embarrassments. Mel Blanc debuts his Yosemite Sam voice in the character of a sheriff.
"Odor-able Kitty" (1945, Jones)
A put-upon cat disguises himself as a skunk to avoid being kicked around by humans. Enter a skunk with an outrageous French accent whose amorous advances will not be denied. This would be the only time that Pepé Le Pew chased a male cat.
"The Unruly Hare" (1945, Tashlin)
Bugs Bunny throws railroad surveyor Elmer off-track in one of their funnier outings.
"Life With Feathers" (1945, Freleng)
"Sufferin' succotash! Squab!" Sylvester makes an indelible first impression in his Oscar-nominated debut as a dumpster-diving cat who resists a dejected lovebird's attempts to get Sylvester to eat him.
"A Gruesome Twosome" (1946, Clampett)
This is Tweety turned up to 11 as "the naked genius" brings a world of pain to two cats pitted against each other by a feline who tells them, "Whoever brings me a little bird can be my fella."
"Baseball Bugs" (1946, Freleng)
It's Bugs Bunny versus the fierce Gas-House Gorillas. When it comes to baseball gags, from a literally screaming line drive to the free-swinging Gorillas' conga line around the diamond, this one covers all the bases (sorry).
"Hair-Raising Hare" (1946, Jones)
Bugs Bunny is at his wisecracking Groucho Marx best as he outwits an evil scientist's monster. Includes one of his most quoted gambits, and he impersonates a manicurist to distract the beast: "You monsters lead such innteresting lives."
"The Great Piggy Bank Robbery" (1946, Clampett)
Daffy Duck gets so excited over the latest "Dick Tracy" comic book that he knocks himself out and dreams he's Duck Twacy. Striking imagery and dramatic angles conjure up such fearsome foes as Jukebox Jaw, Snake Eyes, 88 Teeth, Hammerhead, Pumpkinhead, and more.
"Walky Talky Hawky" (1946, Robert McKimson)
A star is hatched. Foghorn Leghorn makes his Oscar-winning debut as a chicken who uses young chicken hawk Henery Hawk in his feud with the barnyard dog.
"Racketeer Rabbit" (1946, Freleng)
Bugs's best gangster picture finds him holed up in the hideout of Rocky and his henchman, Hugo (caricatures of Edward G. Robinson and Peter Lorre). By the time Bugs is through with him, Rocky will be begging for the police to take him.
"The Big Snooze" (1946, Clampett)
Finally fed up with Bugs getting the best of him in all these cartoons, Elmer tears up his Warner Bros. contract. "From now on, it's fishin' for me, and no more wabbits." But Bugs intends to rock his dream boat and get the act back together.
"Rhapsody Rabbit" (1946, Freleng)
"Franz Liszt? Never heard of him." In an uncharacteristic bit of role reversal, Bugs Bunny gets upstaged by a mouse loose in his piano.
"Tweetie Pie" (1947, Freleng) 
Tweety achieves what Porky, Daffy, or even Bugs Bunny couldn't: win the Academy Award. This is his first pairing with Sylvester (here called Thomas).
"Slick Hare" (1947, Freleng)
In one of Warner Bros.' very best Hollywood cartoons, Humphrey Bogart wants fried rabbit and gives waiter Elmer Fudd just 20 minutes to bring it.
"Back Alley Oproar" (1948, Freleng)
Maybe Sylvester's finest seven minutes as his late-night caterwauling keeps an exhausted Elmer Fudd awake.
"Rabbit Punch" (1948, Jones)
As in "Baseball Bugs," Bugs's heckling pits him against a fearsomely large opponent. Things look rocky until Bugs employs a little "stragedy" in a series of knockout (you saw that one coming) gags.
"Bugs Bunny Rides Again" (1948, Freleng)
Yosemite Sam was introduced in "Hare Trigger" in 1945 as "the meanest, toughest, rip-roarin'-est, Edward Everett Horton–est hombre that ever packed a six-shooter." And that pretty much sums him up: All he's ever going to be is mean. In his sophomore appearance, Bugs will have to make like Gary Cooper to run him out of town.
"Haredevil Hare" (1948, Jones)
Anticipating the 1950s sci-fi boom, Jones introduces one of the WB universe's most popular supporting characters, Marvin the Martian (a.k.a. Commander X-2), who is all set to blow up Earth.
"Scaredy Cat" (1948, Jones)
So deep was the Warners bench that its cartoon characters could be paired in fun ways. This was the first of three cartoons to team Sylvester, "a yellow dog of a cowardly cat," and Porky, his unwitting master oblivious to the perils and — thanks to Sylvester — narrow escapes from death.
"High Diving Hare" (1949, Freleng)
I'm a sucker for obscure pop-culture references. When Yosemite Sam encounters a door atop a high diving platform, he pounds "Open up that door" and then turns to the audience and adds, "Ya notice I didn't say 'Richard?'" Google it.
"Long-Haired Hare" (1949, Jones)
"Of course you realize this means war" when opera singer Giovanni Jones breaks Bugs's banjo, harp, and tuba. Bugs literally brings the house down as he sabotages Jones's performance.
"For Scent-imental Reasons" (1949, Jones)
Here is the essence of the indefatigable Pepé Le Pew. When the feline object of his passions locks herself in a perfume store's glass case to escape him, he dejectedly produces a gun and threatens suicide. When she hears an off-screen shot and runs to him, he grabs her in his arms. "I missed," he coos, "fortunately for you." For this, he earned his well-deserved Oscar.
"Rabbit Hood" (1949, Jones)
"Don't you worry. Never fear. Robin Hood will soon be here." But not before Bugs Bunny gets the best of the Sheriff of Nottingham after poaching the King's carrots. Errol Flynn himself makes a last-second cameo courtesy of The Adventures of Robin Hood.
"The Scarlet Pumpernickel" (1950, Jones)
"Funny, that never happened to Errol Flynn." Daffy, desperate for a dramatic role, pitches Warner Bros. studio head "J.L." on his adaptation of Dumas's swashbuckling adventure. Elmer Fudd, Sylvester, and Porky turn up in supporting roles.
"What's Up, Doc?" (1950, McKimson)
Bugs shares his life story to the Disassociated Press about his showbiz rise from member of the chorus to vaudeville star Elmer Fudd's scene-stealing partner. The "chorus" number looms almost as large in the Bugs Bunny canon as "Overture, Curtain, Lights" from The Bugs Bunny Show.
"Operation: Rabbit" (1952, Jones)
Far from the hapless pursuer of roadrunners in "Fast and Furry-ous," this incarnation of Wile E. Coyote is an erudite predator who intends to eat Bugs. "Now don't try to get away," he cautions. "I am more muscular, more cunning, faster, and larger than you are, and I'm a genius." He don't know Bugs very well, do he?
"Much Ado About Nutting" (1953, Jones)
The characterwork and the comic timing are exquisite as an adorable squirrel tries in vain to crack a globe-size nut.
"Bully for Bugs" (1953, Jones)
Having failed to take "that left turn at Albuquerque," Bugs finds himself in a bullring from which he is unceremoniously ejected by a bull's headbutt. Another declaration of war. The bull's reactions to Bugs's various and increasingly elaborate paybacks are priceless.
"Devil May Hare" (1954, McKimson)
As far as nemeses go, the Tasmanian Devil isn't much of a worthy foil for Bugs, but in his debut cartoon, he does make a whirling, snarling, and raging first impression as a "strong, moiderous beast … with a ravenous appetite."
"Bewitched Bunny" (1954, Jones)
The cackling Witch Hazel (an uncredited June Foray) turns her attention from Hansel and Gretel to making rabbit stew. Bugs's last line after she has been transformed into a voluptuous bunny ("I know, but aren't they all witches inside?") hasn't aged well.
"Speedy Gonzales" (1955, Freleng)
"The fastest mouse in all Mexico" makes his official Oscar-winning debut. With his yellow sombrero and exaggerated Mexican accent, we may be entering Apu territory here. Proceed at your own sensitivity.
"Ali Baba Bunny" (1957, Jones)
Billed as a Bugs Bunny cartoon, but Daffy Duck steals the show when an Arabian treasure trove enflames his most avaricious instincts. "Mine, mine, mine," he proclaims. "I'm rich! I'm wealthy! I'm comfortably well off! This is the one with "Hassan chop."
"Birds Anonymous" (1957, Freleng)
Tweety's second Oscar-winning outing finds Sylvester joining a support group to kick his Tweety-bird habit. But "once a bad ol' putty tat, always a bad ol' putty tat."
"Show Biz Bugs" (1957, Freleng)
The essence of the Bugs-Daffy relationship, as Daffy revolts at being billed second to Bugs. These are the acts of an increasingly desperate duck.
"Robin Hood Daffy" (1958, Jones)
One of the best cartoons in which Daffy undermines his own attempts to be a dashing hero, and one of Porky Pig's funniest as he heckles all of Daffy's ill-fated attempts to convince him he is indeed Robin Hood.
"Knighty Knight Bugs" (1958, Freleng)
Court jester Bugs is dispatched to defeat the Black Knight (Yosemite Sam) and reclaim the Singing Sword. This earned Bugs Bunny his lone Oscar, which is kind of like Al Pacino getting his statue for Scent of a Woman.
"High Note" (1960, Jones)
This Oscar-winning cartoon charts a sobriety-challenged sheet-music musical note's efforts to get through a performance of "The Blue Danube." Jones gets more personality out of his animated musical notes than many directors do with their human casts.
The Top 10
10. "Porky in Wackyland" (1938, Clampett)
"It can happen here," and does, as Porky pursues the endangered Do-Do Bird to Wackyland (population: 100 nuts and a squirrel). Truly the ultimate trip, and one of four Warner Bros. cartoons inducted into the National Film Registry of "historically, culturally, or aesthetically significant" films. Only four?
9. "Duck Dodgers in the 24 ½th Century" (1952, Jones)
The battle for Planet X is on between Duck Dodgers and Marvin the Martian. This is one of Daffy's best foiled-hero roles. As Jones once told the Los Angeles Times, "I think we'd all like to be like Bugs, but we find we're really more like Daffy. Daffy rushes in and fears to tread at the same time." Porky, as his eager space cadet, gets the best lines.
8. "A Wild Hare" (1940, Avery)
How to get to Bugs Bunny in four easy toons. Technically, that is a rabbit in "Porky's Duck Hunt," "Hare-um Scare-um," "Prest-O Change-O," and "Elmer's Candid Camera," but it's basically just Daffy Duck in hare's clothing, a mere screwball. This is the cartoon that established the Bugs-Elmer dynamic and Bugs's trickster personality. Mel Blanc's iconic voice characterization, "What's up, Doc?," gave Bugs his Brooklyn brass.
7. "Rabbit of Seville" (1950, Jones)
A friend of mine's wife is a classical musician, and if the mood or the wine strikes her, she will perform Bugs's opening aria ("Welcome to my shop / Let me cut your mop / Let me shave your crop! / Daintily, daintily!"). This is how most of us were first exposed to Rossini's opera. The hair-raising gags build to a reductio-ad-absurdum climax in which an arms race of escalatingly deadly weaponry somehow becomes an impromptu wedding ceremony between Bugs and Elmer.
6. "Feed the Kitty" (1952, Jones)
This lesser-known Jones classic is as irresistible as the sweet little kitten who melts ferocious bulldog Marc Antony's heart. Antony just cannot be stern with the adorably affectionate feline and, forbidden to bring "one single solitary thing" into the house, attempts to hide him. Antony's gamut of emotions, from horror to heartbreak, when he thinks his new friend has accidentally been baked into a cookie, and the elation when the cat emerges unharmed, are a master class of personality animation.
5. "Little Red Riding Rabbit" (1944, Freleng)
One of Bugs Bunny's flat-out funniest cartoons, thanks in large part to Bea Benaderet's brassy and earsplitting take on Little Red Riding Hood, who's taking a little bunny rabbit for her grandmother "ta have." The wolf is all in on playing out the fairy tale until he gets sight of Bugs in the basket and then it's all he can do to shuffle Red out the door.
4. "Rabbit Fire" (1951) / "Rabbit Seasoning" (1952) / "Duck! Rabbit, Duck!" (1953, Jones)
Otherwise known as "the hunting trilogy." Bugs Bunny gets top billing, but these are actually two-handers between Bugs and Daffy. Each is a variation on a theme: Rabbit season versus duck season, with innumerable ways for the "despicable" Bugs to arrange for Elmer to shoot Daffy in the face. All are hilarious and endlessly quotable, but I'd give the edge to "Rabbit Seasoning" simply for the "He doesn't have to shoot me now" exchange, in which Daffy discovers the root of all the confusion: "Pronoun trouble."
3. "Duck Amuck" (1953, Jones)
Just because you're not paranoid doesn't mean no one is after you. But Daffy is paranoid as an unseen animator mucks up every heroic scenario for the hapless duck who pleads with his tormentor to "live and let live." But his tormentor (guess who?) is a real stinker. It too is in the National Film Registry.
2. "What's Opera, Doc?" (1957, Jones)
"It is so sad," Elaine Benes says to Jerry in the Seinfeld episode "The Opera." "All your knowledge of high culture comes from Bugs Bunny cartoons." Admit it: When you hear Wagner's Ride of the Valkyries, you don't think of the epic "Ring" cycle, or even the helicopter scene from Apocalypse Now. You think "Kill the wabbit." This is Elmer Fudd's career triumph as he wields his spear and magic helmet against Bugs. This masterpiece is also enshrined in the National Film Registry.
1. "One Froggy Evening" (1955, Jones)
Another National Film Registry inductee, this is a timeless fable of man's greed in which a construction worker looks to cash in on a frog that can sing and dance, but only for him. It was close, but this masterpiece just edges out "What's Opera, Doc?" for the top slot because you could watch this without sound and it would still be hilarious, even without hearing Michigan J. Frog's spirited rendition of "Hello! Ma Baby," "The Michigan Rag," and other standards.