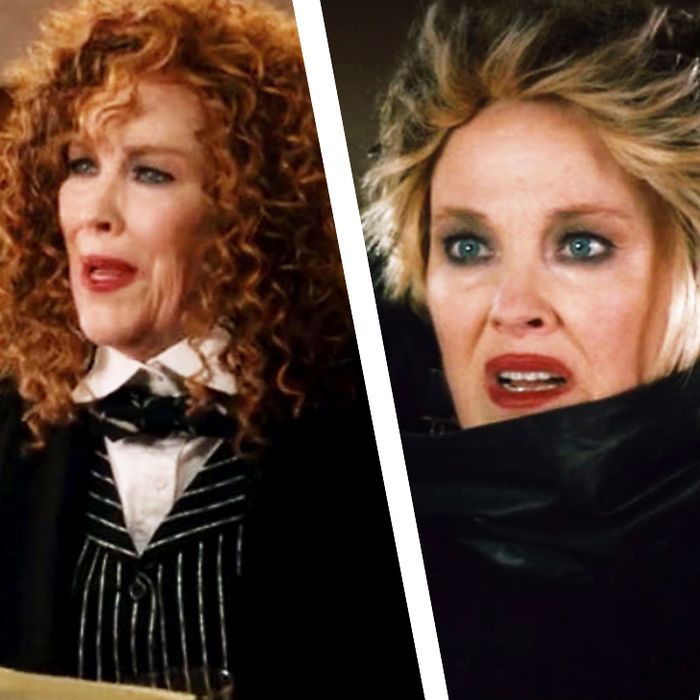 Photo-Illustration: Vulture and Fox Television
For five seasons, Schitt's Creek has given us unlimited joy through the absurdity of Catherine O'Hara's spectacular turn as Moira Rose. As the matriarch in the quirky Canadian sitcom, Moira has gifted us with her eccentric pronunciation of the word baby (bebe), her theatrical flair, and most important, her never-ending collection of wigs.
While Catherine O'Hara has had a career in comedy spanning nearly 50 years — having starred in SCTV, Home Alone, Waiting for Guffman, and Best in Show, among others — her role as Moira has further elevated her status as a top-tier comic and actress. While Moira is great on her own, her dramatic hairpieces have become characters themselves. Despite the Rose family being destitute, Moira has clung to her fabulous wigs for five seasons to maintain a bit of glamour from her old life. To accent her equally fabulous wardrobe, she's sported wigs inspired by everyone from Goldilocks to Cyndi Lauper to Cher. From pastel pink to icy blonde and jet black, Moira's faux hairdos are usually a dramatic departure from her naturally blonde waves.
Now approaching the sixth and final season of the show, fans will likely be treated to new coiffures. Below, we rank Moira's best wigs over the past five years.
22. Gray Lady (season 1, episode 3)
This chin-length gray wig look would be elegant if it wasn't for Moira hiding in a closet speaking in tongues while Googling herself. Or maybe the sheer existential dread seeping out of her strands makes it even better?
21. The Anna Wintour (season 1, episode 2)
It's no surprise that the most fashionable woman on Schitt's Creek would try to channel the most fashionable woman in media: The bangs on this strawberry-blonde chin-length wig looks like they were stolen from Anna Wintour's head. But unlike Moira, Anna would never be seen eating a cheese ball.
20. The Velma Kelly (season 2, episode 3)
I call this Moira's All That Jazz look. Both edgy and campy, this coif helps her nail her inner Velma Kelly for her Jazzagals audition.
19. Blonde Christmas Bow (season 4, episode 13)
Revealed through Johnny Rose's memory, Moira sports a blonde-bombshell bob with a behemoth of a bow during one of the family's previous Christmas parties. The scene is telling of the Rose family's ostentatious past, which features a mansion decked out in lights and Paul Shaffer playing piano.
18. Goth Bob (season 4, episode 8)
I swear this Moira look is the love child of Mrs. White in the movie Clue and Wednesday Addams in The Addams Family. It's shiny, perfectly face-framing, and jet black. Sleek and sultry!
17. Cabaret Slay (season 5, episode 14)
Catherine O'Hara as Moira Rose cosplaying Sally Bowles is a gift from God! There's no one I'd rather see wearing a top hat, heart-shaped bangs, and a sharply angled bob. Fortunately (or unfortunately), Stevie (Emily Hampshire) shows up just in time to play the lead. My, how I would have loved to have seen Moira's Cabaret wig dance across the stage on her.
16. Wicked Witch-Chic (season 5, episode 12)
The nebulous cloud of black curls on Moira's head is giving me serious Hocus Pocus vibes. In her fully black outfit and a Town Car that resembles a hearse, it looks like she's off to do something a little bit witchy.
15. The Bernadette Peters (season 2, episode 10)
Her hair is truly everywhere with this burgundy ball of curls, making her look like a mix of Ms. Frizzle, a beat poet, and a librarian.
14. The Cher (season 4, episode 3)
Moira is rarely seen wearing a longer-length wig, but for her number with David (Dan Levy) at Asbestos Fest, she opts for sleek, pin-straight Cher hair, which she glamorously wraps around her neck like a scarf — one that only makes sense on her.
13. Punk Rawk (season 3, episode 11)
I personally love it when Moira tries to look punk. Her coiffed jet-black hair is feathered and interspersed with maroon highlights. She looks less Schitt's Creek and more CBGBs in the 1980s, which, knowing her, is probably what she was going for.
12. The Half-Head Curls (season 5, episode 9)
With a directorial debut, one must wear a memorable wig. For Moira, that means sporting a partial head of curls hugging her tied-back natural blonde waves. It makes no sense, but because it's Moira, it's the extreme camp she lives for.
11. The Ice Queen (season 5, episode 6)
This wig is as close to Moira's evil twin as it can get. Like a popular girl in high school, that icy-blonde blinds me and wants her to like me.
10. Mint Green (season 4, episode 4)
I never thought I'd use the word spearmint to describe a wig, but that's really the only way to describe this one. What makes this wig better is Moira hypocritically saying, "Gossip is the devil's telephone. Best just to hang up," while wearing it. The devil, it seems, wears green wigs.
9. The Cruella de Vil (season 1, episode 10)
Moira often has big Cruella de Vil energy, but she really plays into the puppy-thief character when she dons this square, gray-scale wig named "Maureen" for a neighborhood luau. Plus, she stumbles around and gets stoned with Johnny (Eugene Levy), so it's a win-win.
8. The Edward Scissorhands (season 1, episode 6)
The only thing I can think of when looking at Moira's fanned hairpiece and Renaissance collar is Edward Scissorhands. This hairstyle and her Sunrise Bay soap opera career help her land a commercial promoting fruit wine, so it seems like channeling Johnny Depp circa 1990 worked for her.
7. Cotton Candy (season 3, episode 6)
Save for the mint-green example above, it's rare that Moira goes for something out of the normal blonde/brunette/redhead range. But this pastel-pink wig makes me want to go wild, cut my hair, and put cotton candy on my head, it's that good.
6. The Cold Cyndi Lauper (season 1, episode 13)
Embodying the flair of the 1980s, Moira rocks a zany Cyndi Lauper–like do while wearing a fur turtleneck coat that makes her look like she's about to hibernate for winter. Looking frigid with her hair standing up on end, it's like she put her own spin on the '90s frosted-tip trend, resulting in a decade mash-up of a wig. There's a lot going on here, but overall, this hairpiece gives me "bitter divorcée who just murdered her husband vibes," which I don't hate.
5. The Jocelyn (season 1, episode 7)
Moira's worst nightmare is this wig (or a "dead possum" as she describes it), but for the rest of us, it's hilarious to see her transformed into Jocelyn (Jennifer Robertson). The height! The feathered bangs! The Farrah Fawcett flippage!
4. Half Crow (season 5, episode 2)
Part of a crow seemed to come back with Moira from Bosnia and ended up on her head. While part of the wig is a feathered pixie, the other half is a sharply angled bob. She looks totally normal wearing it while napping with her eyes open at the diner.
3. Goldilocks (season 4, episode 5)
Everything about this look says drama. We can't help but stan this goth Goldilocks look. Those curls! That Darth Vader–like cape!
2. The Crows Have Eyes Wig (season 5, episode 1)
Moira's "crow" wig from her stint in Bosnia for her comeback movie The Crows Have Eyes 2 is truly a car crash — you just can't look away. It looks as if tar and feathers found a permanent home on her head, which begins at the cowlick in the middle of her forehead and infests her clothing. Seeing Moira opt for something even more campy than her usual fare is pure joy.
1. The Mullet (season 3, episode 3)
If I could write 3,000 words on Moira's mullet, I would. The fact that "Moira" and "mullet" are in one sentence remains insane to me. Clearly, she decides to lean into Roland's hairstyle for this episode. What makes this look even better? The pretentious Moira pretends to be a British poor person using a Sunrise Bay story line, all to get a cheap car — and gets caught in her lie. All hail Moira Rose.