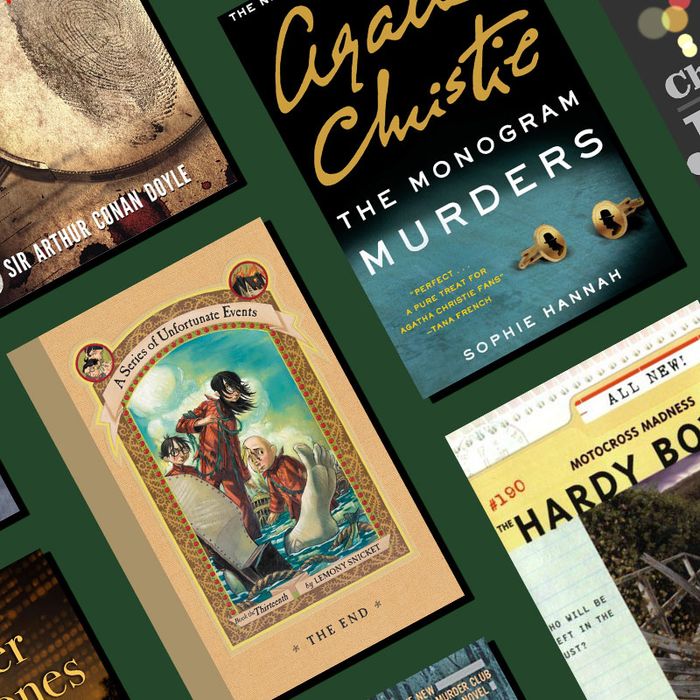 One hundred and 32 years after Sherlock Holmes made his debut in an English detective novel, mystery entertainment is a bigger business than ever and does not appear to be slowing down soon. Nancy Drew, the beloved redheaded sleuth who's been delighting readers for nearly 90 years, stars in a new drama series premiering on the CW this month. And the macabre imagination of Agatha Christie will return to the silver screen (where it's succeeded, at least commercially, many times before) next year with Death on the Nile, a sequel to 2017's Murder on the Orient Express.
Meanwhile, many other mystery luminaries continue to crank away, with Hollywood keeping a close eye on their output. Here's a look at the towering franchises and characters of the genre and where they stand today. We've selected 13 of the most enduring and beloved series, nearly all of which have been adapted for the big (or small) screen at one point or another. This list is by no means exhaustive, and we certainly intend no disrespect to Tana French's Dublin Murder Squad series, the Nero Wolfe books, the V.I. Warshawski novels, the Kurt Wallander books, the Mary Russell mysteries, Janet Evanovich's many works, or any other omissions. There's a whole lotta good mystery out there.
Sherlock Holmes
It's impossible to talk about mystery fiction without talking about Sherlock Holmes. The fictitious detective has been a beloved staple of the genre for more than a century, having first appeared in the 1887 novel A Study in Scarlet — which was written, along with four novels and many follow-up stories, by the Scottish physician turned writer Arthur Conan Doyle. The author was never enthusiastic about the character — in a letter in the 1890s, he mused about "slaying Holmes in the last and winding him up for good" — but the rest of the world ate him up, reveling in Holmes's crime-solving abilities, forensic skills, and casual cocaine usage. The stories are usually narrated by Holmes's pal Dr. Watson and have had a profound impact on the larger universe of detective fiction. Since Doyle's death in 1930, the Holmes character has appeared in hundreds of film, radio, and television adaptations. The first movie version was a 1900 silent film called Sherlock Holmes Baffled; more recent examples include the 2009 flick Sherlock Holmes, starring Robert Downey Jr. in the title role, and its 2011 sequel, Sherlock Holmes: A Game of Shadows.
➽Number of books: 56 short stories (collected throughout five books) and four novels.
➽Typical mystery: In The Hound of the Baskervilles, Holmes and Dr. Watson must investigate the death of a friend, which is connected to the curse of a supernatural hound.
Who has the rights? All of the Sherlock Holmes stories published before 1923 — which is most of them — are in the public domain in the United States. This was upheld in a 2013 ruling by a U.S. district court in Illinois: Author Leslie S. Klinger filed suit against Doyle's estate after it demanded he pay a licensing fee to use the Sherlock Holmes characters and won. The remaining copyrighted stories are expected to enter the public domain in the next five years.
➽What's in development? The third Sherlock Holmes film, following 2011's Sherlock Holmes: A Game of Shadows, is in development with Warner Bros. It's expected to be released in 2021.
➽Was the movie good? Both the 2009 Sherlock Holmes movie and its 2011 sequel received decent reviews, with Rotten Tomatoes scores of 70 percent and 60 percent respectively. Vulture's David Edelstein was not impressed with the latter. "You've been shown in advance how the battles will go and you still can't follow them," he wrote at the time.
➽Trivia: The catchphrase "Elementary, my dear Watson" is commonly associated with Sherlock Holmes, but it never actually appeared in any of the original stories.
➽World record: Guinness World Records has crowned Holmes the "most-portrayed literary human character" in film and television history.
➽Video game: A series of Sherlock Holmes video games has been highly successful, reportedly selling millions of copies on PC.
➽American appeal: Though Sherlock Holmes was created and set in England, the character has become remarkably popular across the pond. "The image of the self-taught freelancer who bests the professionals at their own game touches a deep, sympathetic chord among Americans," the journalist Karl E. Meyer wrote in 1986.
Agatha Christie
Unlike many of the mystery authors on this list, Agatha Christie's own name has managed to become more legendary than any of the fictional characters she created. That's what happens when you sell novels by the billions (no exaggeration). During her lifetime, Christie's stories of detectives and murders and coincidence and intrigue became enormously successful, resulting in countless TV and radio adaptations and at least 30 feature films, including Sidney Lumet's Murder on the Orient Express (1974), and continue to fascinate readers. Notable works include And Then There Were None and the murder-mystery play The Mousetrap; her most famous long-running characters are Hercule Poirot and Miss Marple. As Radhika Jones wrote in a 2017 appreciation, Christie "captures something elemental about mysteries: that motive and opportunity may suffice for a crime, but the satisfying part is the detective's revelation of whodunit, how and why."
➽Number of books: 66 novels and 15 story collections
➽Typical mystery: In The Murder at the Vicarage, Colonel Lucius Protheroe is found murdered and two separate people claim responsibility. The amateur detective Miss Marple needs to get to the bottom of the crime.
➽Who has the rights? Most of Christie's books were published in the U.S. by the now-defunct Dodd, Mead & Co. After Christie's death, the U.S. rights were sold to Putnam Berkley Group, later acquired by Penguin. The literary and media rights to her works are currently handled by a company called Agatha Christie Limited (ACL), which is chaired and managed by the author's great-grandson. Acorn Media acquired a 64 percent stake in her estate in 2012. The BBC struck a deal to acquire the TV rights to her works two years later.
➽What's in development? Death on the Nile, a sequel to 2017's Murder on the Orient Express. The film is due out next year and, like Orient Express, stars and is being directed by Kenneth Branagh. As of 2015, 20th Century Fox was working on a film adaptation of And Then There Were None, but it's unclear where that stands. And a few years ago, both Emma Stone and Alicia Vikander were reportedly in talks to star as the macabre author in rival Christie biopics. Who knows if those will surface, but it's fun to imagine rival biopics going head-to-head, like an Antz–vs.–A Bug's Life showdown.
➽Was the movie good? There are way too many movies to name, so let's talk about Branagh's 2017 adaptation of Murder on the Orient Express. The reviews were okay—it garnered a 60 percent on Rotten Tomatoes—though most would agree you should seek out Sidney Lumet's 1974 version first. "Branagh puts nothing into evoking a mood of fear or paranoia," David Edelstein charged.
➽Video games: During the mid-aughts, AWE Games developed a small series of Agatha Christie–related adventure games.
➽Maybe reconsider: The original U.K. title of And Then There Were None was Ten Little N- - - - -s, named after a minstrel song.
➽Trivia: According to her official website (which presumably she did not create, having been dead since 1976), the English writer is the best-selling novelist in history, "outsold only by the Bible and Shakespeare."
The Hardy Boys
Since 1927, The Hardy Boys series has chronicled the adventures of Frank and Joe Hardy, two brothers turned amateur detectives who seem to never run out of mysteries to solve. The stories were conceived by the ridiculously prolific Edward Stratemeyer—once described as "the Henry Ford of children's fiction"—though he outsourced the actual writing to various ghostwriters, particularly Leslie McFarlane, under the pseudonym "Franklin W. Dixon." (Stratemeyer also created Nancy Drew; more on that below.) The early books were wildly popular, known for their persistent cliffhangers and family-friendly content, as well as their regrettable racism. By 2001, the New York Times reported that sales were flagging and "[s]ome say the time has passed for the Hardys." Yet nearly 20 years later, twoish Hardy novels are still reliably published each year.
➽Number of books: 190 books in the primary mystery series (and even more in the Hardy Boys Casefiles Series, the Clues Brothers, and various other Hardy-related spinoffs). The new books continue to be credited to Frank W. Dixon.
➽Typical mystery: In The House on the Cliff, the boys become trapped in a mysterious house while assisting their father as he investigates a drug-smuggling case. When their father disappears, they have to solve the case on their own and locate a secret tunnel.
➽Who has the rights? The books are currently published by Aladdin Paperbacks, which is an imprint of Simon & Schuster. (The recent books are part of a reboot series, The Hardy Boys Adventures.) The comic-book rights were acquired by the Canadian writer Anthony Del Col.
➽What's in development? Not much. Despite the enduring popularity of the books, there has never been a movie adaptation. In 2007, Tom Cruise and Ben Stiller were reported to be involved in a grown-up reboot of the franchise titled Hardy Men, but it never came to fruition.
➽TV adaptations: There have been numerous television adaptations, ranging from a Saturday-morning cartoon in 1969 to a live-action ABC series in the late 1970s featuring Shaun Cassidy. The most recent adaptation hit television in the mid-1990s and didn't survive more than one season.
➽Trivia: The first 38 books were substantially rewritten in the 1950s and early 1960s to remove ethnic slurs and other racist or otherwise dated material.
Nancy Drew
Generations of young readers — among them Ruth Bader Ginsburg and Hillary Clinton — have been inspired and charmed by the adventures of amateur detective Nancy Drew, a sharp and resourceful teenage heroine who solves nonstop mysteries with help from her cousins. Stratemeyer created the character 90 years ago to capitalize on the success of his Hardy Boys and bring female readers into the fold. In an early memo, he likened the character to "an up-to-date American girl at her best, bright, clever, resourceful and full of energy." The first volumes — ghostwritten by Mildred Wirt Benson, though credited to the enduring pseudonym Carolyn Keene — were published in 1930. Since then, the redheaded Drew has arguably far surpassed the Hardy Boys in popularity, resulting in spinoff series (including The Nancy Drew Files, for slightly older readers), several TV programs, and five feature films, most recently Nancy Drew and the Hidden Staircase. The latest TV adaptation, a mystery reboot that features a markedly more adult Drew, premiered on the CW this month.
➽Number of books: 533, spread across nine distinct series. The most recent book, Turkey Trot Plot, was published last month. (All editions continue to be credited to Carolyn Keene.)
➽Typical mystery: In The Clue in the Diary, Nancy and her friends must solve the mystery of a strange diary they discover on the grounds of a burning mansion.
➽Who has the rights? The rights have long been owned by Simon & Schuster; the recent books are published by its imprint Aladdin Paperbacks. As with Hardy Boys, Del Col has the comic-book rights.
➽Was the movie good? The most recent movie, 2019's Nancy Drew and the Hidden Staircase — starring Sophia Lillis in the title role — received decentish reviews. Vulture's Bilge Ebiri described it as "a charming movie, with charming characters."
➽Video game: The Drew character has been adapted into numerous video games, including the Nintendo DS game Nancy Drew: Deadly Secret of Olde World Park.
➽Trivia: Hillary Clinton considered Nancy Drew a role model when she was a young girl.
The Boxcar Children
First conceived during the 1920s⁠ — a golden age for mystery-franchise births ⁠— the Boxcar Children books tell the story of four orphaned kids who solve mysteries and live in a boxcar in the forest. In the original novel, the amateur sleuths eventually take up with their steel-baron grandpa. (The book was first published in 1924, as The Box-Car Children, then thoroughly revised and republished — sans hyphen — in 1942.) The series was created by a Connecticut schoolteacher turned author named Gertrude Chandler Warner, who wrote the first novel and 19 sequels. Although the franchise never achieved the ubiquity of Nancy Drew, it remains popular among school-age readers; according to The New Yorker, the 1942 edition has never gone out of print. Screen adaptations have been surprisingly uncommon. An animated film arrived in 2014 with little fanfare.
➽Number of books: 153
➽Typical mystery: In Surprise Island, the kids live on their grandfather's private island and discover a strange cave with Native American artifacts.
➽Who has the rights? The books have been published by Albert Whitman & Company for decades. The animated film was distributed by Entertainment One, with a sequel, based on Surprise Island, distributed by Fathom Events in 2018.
➽What's in development? In 2016, there were reported to be three animated Boxcar Children films in development. Two of them have arrived, so presumably one more is on the way.
➽Was the movie good? Who the hell knows. According to Rotten Tomatoes, only one critic actually watched it.
➽Scandal: Warner once said the original novel created "a storm of protest from librarians, who thought the children were having too good a time without any parental control."
➽Trivia: There is a Gertrude Chandler Warner Museum located across the street from the author's childhood home in Putnam, Connecticut. However, be warned that it is closed for repairs until next May.
Encyclopedia Brown
For half a century, Donald J. Sobol regularly popped out endearingly popular children's books about a child sleuth named Leroy "Encyclopedia" Brown, who never ages and never runs out of mysteries to solve. The first Encyclopedia Brown book was published in 1963 and spawned 28 sequels. (The 29th and final book in the series, Encyclopedia Brown and the Case of the Soccer Scheme, was published following Sobol's death in 2012.) The books sold millions of copies and resulted in a live-action HBO series during the late 1980s. Despite much talk about a film adaptation — Sobol sold the film rights as early as 1979 — one has never materialized, though the 2009 movie Mystery Team from Derrick Comedy is reportedly inspired by group member Donald Glover's fondness for the Encyclopedia Brown franchise.
➽Number of books: 29 books, all written (or co-written) by Donald J. Sobol.
➽Typical mystery: In Encyclopedia Brown and the Case of the Slippery Salamander, the young detective has to solve a crop of mysteries involving "a slippery salamander, a banana burglar, a judge who's run away, and a presidential toothbrush." (Good luck finding a more detailed synopsis than that.)
➽Who has the rights? It's complicated. The books were published by Puffin Books, an imprint of Penguin. In 1979, Sobol sold the film, television, and licensing rights to a producer named Howard Deutsch for just $25,000. He evidently regretted the deal and eventually sued to get the character back. The case was settled, with Deutsch holding onto the movie rights. (HBO obtained the TV rights and released a well-received live-action series in 1989.) Meanwhile, Warner Bros. began developing a feature-film adaptation in 1981, but it went nowhere. In 2005, agents were said to be shopping the film rights to Hollywood studios, with Ridley Scott slated to direct, but the prospective deal remained mired in Deutsch's private legal issues. In 2013, Warner Bros. once again optioned the movie rights. That movie never arrived.
➽What's in development? A movie … maybe? It's not clear why the project has stalled or whether it will ever come to fruition.
➽Was the movie good? We'll let you know when they finally make one.
➽Trivia: According to Sobol's New York Times obituary, the first Encyclopedia Brown book was rejected by 24 publishers before it got accepted by Puffin.
The "Alphabet" Novels
From 1982 until just before her death in 2017, Sue Grafton was the author of the "alphabet series," a franchise of mystery novels with titles that spanned the letters of the alphabet: "A" Is for Alibi, "B" Is for Burglar, "C" Is for Corpse, and so on. Each book details the crime-solving adventures of private investigator Kinsey Millhone. Unfortunately, Grafton died in late 2017 before writing the final entry, "Z" Is for Zero. (The penultimate book, "Y" Is for Yesterday, had been published several months before her death.) Thus, there will be no 26th book. "Out of the deep abiding love and respect for our dear sweet Sue, as far as we in the family are concerned, the alphabet now ends at Y," Grafton's daughter wrote upon her death.
➽Number of books: 25 — one for every letter in the alphabet, except Z.
➽Typical mystery: In "B" Is for Burglar, private investigator Kinsey Millhone is hired to locate Beverly Danziger's sister, Elaine, whom Beverly needs to sign some documents so she can inherit money. Millhone suspects that Beverly's disappearance may be linked to a prior murder.
➽Who has the rights? Having previously worked as a screenwriter and developed a distrust of Hollywood, Grafton was unwilling to sell the film or TV rights to the series. "I would never let those clowns get their hands on my work," she said in a 2013 interview. "They'd ruin it for everyone, me more than most." Grafton's family now owns the rights, and her daughter has vowed to respect the late author's wishes.
➽What's in development? Well … nothing, because Grafton is deceased, and her family isn't letting go of the rights, per her wishes.
➽Trivia: Grafton threatened to haunt her children as a ghost if they sold the film rights to Hollywood. "I have made my children promise not to sell [the Kinsey character]," she said in a 1997 interview. "We've taken a blood oath, and if they do so I will come back from the grave: which they know I can do."
A Series of Unfortunate Events
If you were a precocious, troubled kid in the early aughts, you probably spent your free time devouring this sardonic and darkly engrossing set of novels. The series — written by Daniel Handler in character as the fictitious Lemony Snicket — chronicles the misadventures of the Baudelaire children, three young orphans whose parents have been killed in a fire and who are endlessly hunted by the villainous Count Olaf, who's after their fortune. It's dark fare for an ostensibly young audience, and for a brief period, the sadistic stories, with their alliterative titles, were anticipated with an intensity usually reserved for Harry Potter books. Granted, the series never quite achieved the cultural ubiquity that Potter did, but it did result in a major film adaptation and later a Netflix series.
➽Number of books: 13
➽Typical mystery: In The Bad Beginning, three newly orphaned siblings are sent to live with a sinister relative named Count Olaf, whose house is covered in ominous images of an eye. Why is he so eager to have them perform in a play with him, in which his character will marry the eldest daughter?
➽Who has the rights? The books were published by HarperCollins. Nickelodeon Movies acquired the feature-film rights to the series in 2000, resulting in a 2004 film adaptation starring Jim Carrey as the villainous Count Olaf. The film encompasses the first three novels in the series, but plans for sequels never materialized, thanks to corporate turbulence at DreamWorks (and the child actors getting older). "I'm assured that another film will be made. Someday. Perhaps," Handler said wryly in a 2008 interview. Not so. Instead, Netflix bought the rights and adapted the complete books into a television series, which was darker and more complete than the Hollywood adaptation. That series resulted in three seasons — now finished — with Neil Patrick Harris hamming it up as Count Olaf.
➽What's in development? Nothing we know of.
➽Was the movie good? It received mixed reviews, with a Rotten Tomatoes score of 72 percent. Roger Ebert hopefully described it as "a trial run" for the series.
➽Video game: Snicket's series became so popular in the early aughts that it was adapted into a 2004 video game that lets you play any of the three Baudelaire siblings.
➽Author drama: In recent years, Handler's reputation has been tarnished by allegations that he's made sexually inappropriate comments and jokes to female authors.
➽Random trivia: In a curious twist, the Netflix series was developed by Barry Sonnenfeld, who had originally been slated to direct the 2004 film before clashing with Paramount.
Easy Rawlins
Walter Mosley has written dozens of novels encompassing several mystery series, but he's probably best known for the Easy Rawlins franchise, which he's been plugging away at for nearly 30 years now. (The first entry, Devil in a Blue Dress, was published in 1990.) The books are usually set around mid-century and revolve around Rawlins, a hard-boiled African-American private investigator who, when the series begins, is just a few years removed from serving in World War II. Despite Mosley's claim that 2007's Blonde Faith would be his last Easy Rawlins novel, he has published three more since then — most recently Charcoal Joe in 2016. The character was famously adapted for the big screen with 1995's Devil in a Blue Dress, starring Denzel Washington. Since then, numerous would-be screen adaptations have failed to materialize.
➽Number of books: 14.
➽Typical mystery: In White Butterfly, Easy Rawlins is hired by an LAPD detective to investigate the murders of four women by a serial killer.
➽Who has the rights? The books are published by Vintage Crime/Black Lizard. In 2006, HBO Films acquired the rights to one of the books, Little Scarlet, but the movie never came to fruition. NBC acquired the television rights in 2011, but that project also went nowhere.
➽What's in development? As of late 2016, filmmaker Josh Boone (The Fault in Our Stars) was planning to direct a television adaptations of the Easy Rawlins series for FX. Hopefully that's still in the works.
➽Was the movie good? Yes. Devil in a Blue Dress, based on the first book in the series and starring Denzel Washington in the title role, received a largely positive reception back in 1995. More recently, Vulture's Angelica Jade Bastién included it on our list of essential neo-noirs, describing it as a film "brimming with amazing performances."
➽Trivia: Easy Rawlins is the rare mystery franchise to center on a black protagonist. The books frequently address racial injustice and touch on such historical events as the 1965 Watts Riots. As a New York Times critic wrote in 1996, Easy "has to confront the matter of race at every turn. It affects every negotiation, limits or distorts every exchange — especially with police officers."
Women's Murder Club
James Patterson's prolific, workmanlike approach to writing is somewhat terrifying. Despite being blasted by critics and some of his peers — Stephen King once called him "a terrible writer" — the man has published somewhere in the vicinity of 150 novels and sold them by the hundreds of millions. The Women's Murder Club is perhaps his most successful series, with 19 (soon-to-be-20) novels about a group of five women who band together to solve homicide mysteries. Much like Grafton's "Alphabet" novels, the titles follow a gimmicky pattern: 1st to Die, 2nd Chance, 3rd Degree, and so on. (The most recent entry, 19th Christmas, was published earlier this month.) The series resulted in an ABC television drama back in 2007. It was canceled after one season.
➽Number of books: 19 (with a 20th expected to arrive next year)
➽Typical mystery: In 2nd Chance, police homicide inspector Lindsay Boxer is called upon to investigate a mysterious series of murders (including the hanging of an elderly woman) that may be connected.
➽Who has the rights? The books are published by Little, Brown and Company. Back in 2007, ABC aired a TV series based on the franchise. More recently, USA Network was reported to be developing a new series. It's been four years and nothing has materialized.
➽What's in development? The 20th book in the series, 20th Midnight, is expected to be out, appropriately enough, in the year 2020.
➽Was the movie good? Back in 2003, there was a television film called First to Die, based on the first book. A Variety reviewer was not impressed: "Genre elements are firmly in place, but the methods by which a noble detective uncovers a series of grisly murders is so outrageous … that it's hard to take any of it seriously."
➽Video game: In 2009, a game called Women's Murder Club: Games of Passion was released for Nintendo DS, for all those Patterson fans among the Nintendo DS set.
➽Trivia: Patterson is the only mystery author who's co-authored a suspense novel with a former U.S. president.
➽Geographic edge: Patterson is nothing if not a savvy businessman: He reportedly set the Women's Murder Club in San Francisco because he was jealous that competitor John Grisham was selling more books than him on the West Coast.
➽Notable collaborator: Patterson has worked extensively with the co-writer Maxine Paetro.
The Matthew Scudder novels
Forty-three years ago, author Lawrence Block introduced the world to Matthew Scudder, an ex-cop investigator with a serious drinking problem and a mountain of guilt for the stray bullet of his that killed a young girl. He used to have a family on Long Island. Now he's on his own in the city and does "favors for friends" to get by. Published in 1976, that first book was titled The Sins of the Fathers. Since then, the character has aged, fallen in love, and gotten sober, notably attending Alcoholics Anonymous in some books. But the PI's gritty crime-solving adventures in and around a bleak, down-and-out Manhattan continue to fascinate fans of crime fiction. At this point, Block has written 19 books about the character — the latest published in January — and two of them have resulted in major motion pictures.
➽Number of books: 18 novels, and one short-story collection.
➽Typical mystery: In A Walk Among the Tombstones, Scudder takes on a grisly case helping a drug dealer whose wife was kidnapped and murdered.
➽Who has the rights? The latest novel was published by Subterranean Press. The 2014 film was distributed by Universal many years after Jersey Films and director Scott Frank first acquired the film rights.
➽What's in development? More books, perhaps. Despite occasional murmurs of retirement, Block, at 81, doesn't seem able to put the pen down.
➽Was the movie good? Scudder fans have two movies to choose from: 1986's 8 Million Ways to Die (starring a young Jeff Bridges as the detective) and 2014's A Walk Among the Tombstones (starring Liam Neeson). The latter was better received — check out David Edelstein's review here.
➽Trivia: Block originally planned to retire the Scudder character after 1982's Eight Million Ways to Die.
The Millennium novels
Stieg Larsson never lived to see his Millennium series become an international phenomenon. The Swedish author died of a heart attack in 2004 — before even the first in the series of crime novels, The Girl With the Dragon Tattoo, was published. During the subsequent years, three books were published posthumously and became international best sellers: Dragon Tattoo in 2005, followed by The Girl Who Played With Fire and The Girl Who Kicked the Hornets' Nest. All of the books center on an investigative journalist named Mikael Blomkvist and a skilled computer hacker named Lisbeth Salander, who become tangled in lurid plots of revenge and murder. In 2009, the trilogy was first adapted for the big screen in Sweden. Dragon Tattoo got the Hollywood treatment two years later, with a widely successful film adaptation directed by David Fincher. A quasi-sequel, The Girl in the Spider's Web, came out last year. It was based on the novel by Swedish author David Lagercrantz, who was commissioned to pick up the series where Larsson left off and has written three Millennium novels of his own.
➽Number of books: 6 (three by Larsson, and three more by David Lagercrantz after Larsson's death)
➽Typical mystery: In The Girl Who Played With Fire, Lisbeth Salander is falsely accused of the murder of a journalist who was killed while investigating the Swedish sex trade. Mikael Blomkvist must solve the murder and clear Salander's name.
➽Who has the rights? The U.S. rights to the books are owned by Alfred A. Knopf. The film rights are owned by Sony, which distributed the two American films after partnering with Scott Rudin's production company. And the comic-book rights were acquired by DC Vertigo, which has since produced numerous graphic novels based on the franchise.
➽What's in development? Who knows. Lagercrantz's latest addition to the series, The Girl Who Lived Twice, was published this summer, and he's said it will be his last. For years, there was talk of Fincher directing a Hollywood adaptation of The Girl Who Played With Fire, and a script was written. But it got caught in development hell and never materialized. Hollywood went the reboot route instead with Spider's Web.
➽Was the movie good? The Girl With the Dragon Tattoo — the American one — was highly enjoyable and even garnered an Oscar nomination for Rooney Mara. The reboot, The Girl in the Spider's Web — swapping Fincher and Mara out for a new director and star — received a more mixed reception. "Spider's Web feels divorced from the real world in a way that takes any of its potential for political, social, or sexual relevancy off the board," critic Emily Yoshida wrote in a skeptical Vulture assessment.
➽Swedish adaptations: In 2009, all three books were adapted into films in Larsson's native Sweden. The first one was particularly well received. Roger Ebert's four-star review was prescient: "That [Hollywood] remake may turn out to be a good film, but if I were you I'd be sure to watch this version."
➽Trivia: Larsson planned to write ten novels in the series. He reportedly began work on a fourth novel before his untimely death; his partner is in possession of the incomplete manuscript, but it has never been released.
Cormoran Strike (the Robert Galbraith novels)
This relatively recent series of detective novels chronicles the adventures of a private investigator–Afghan War veteran named Cormoran Strike, who's fallen on hard times, and his assistant, Robin Ellacott. When the first book, The Cuckoo's Calling, was initially published in the spring of 2013, it didn't exactly change the world — it received some complimentary reviews and sold fewer than 2,000 print copies. The author, Robert Galbraith, was said to be a "civilian security expert." Then, three months later, Galbraith was unmasked as J.K. Rowling writing under a pseudonym, and the book immediately shot up the best-seller lists and into the public attention of Harry Potter buffs. Rowling was unhappy to be found out — she said it was "a liberating experience" to publish under a fake name — but stuck with the pseudonym and has since published three additional Strike novels, most recently Lethal White. A BBC One series based on the first two novels arrived in 2017.
➽Number of books: Four (and more likely on the way).
➽Typical mystery: In The Silkworm, private detective Cormoran Strike is hired to investigate the mysterious disappearance of novelist Owen Quine, whose latest manuscript would cause scandal if published.
➽Who has the rights? The BBC acquired the television rights in 2014. The three-part series — adopting the first three books — was broadcast on BBC One in the U.K. and Cinemax in the United States.
➽What's in development? More books! (Rowling apparently plans to write five or six more of them.) Also, the fourth part of the BBC series, based on Lethal Strike, is expected to air next year in four installments.
➽Was the movie good? There's no movie (yet), but the TV adaptation enjoyed a positive reception, with a Rotten Tomatoes score of 84 percent.
➽Trivia: Rowling's identity was leaked by her law firm's partner's wife's best friend, who let the secret slip to a Sunday Times editor. The Times editor subsequently did some digging and realized it was odd that first-time author Robert Galbraith would share an editor with J.K. Rowling. After the world learned of Galbraith's real identity, sales of The Cuckoo's Calling increased by 150,000 percent.