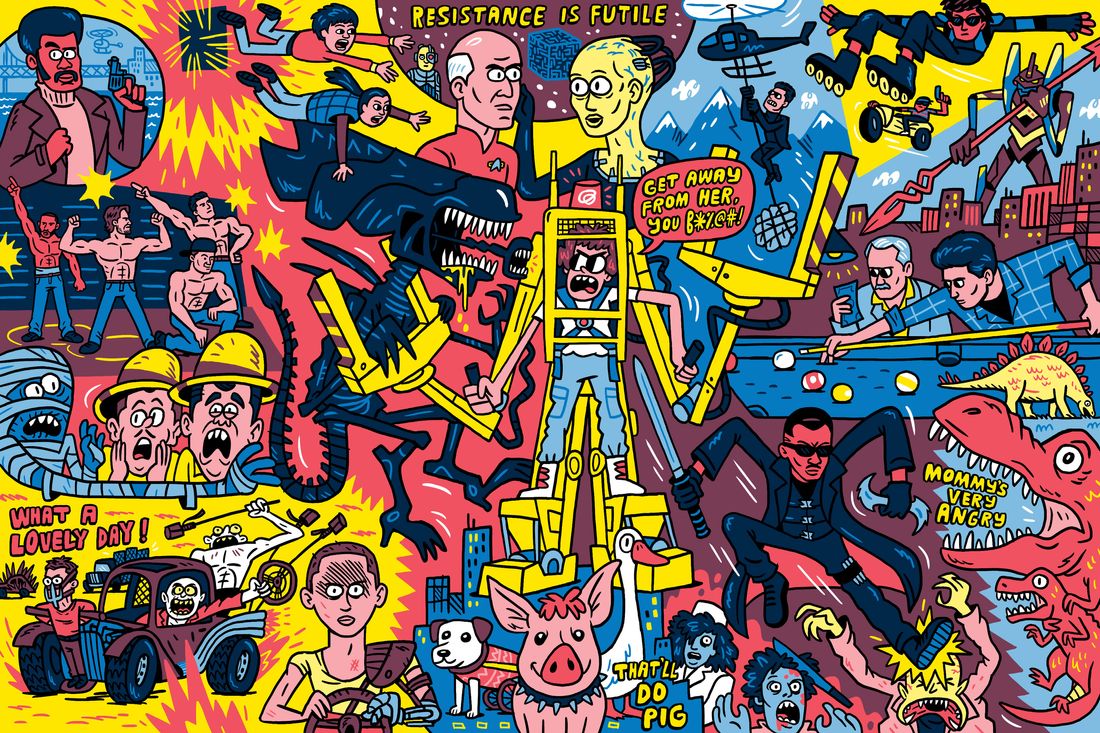 Sequels Week Rises.
Illustration: Greg Kletsel
You loved the movie and you want more. The studio loves money, and they want more too. That's how sequels come into existence — and this year we're being bombarded by them, with new Sonic the Hedgehog and Fantastic Beasts installments already in theaters, and Top Gun 2, Hocus Pocus 2, another Jurassic World, another Downton Abbey, more Minions, more Thor, even more Marvel and D.C., and Avatar 2, among others, still to come. It's easy to feel cynical about sequels, since they often seem like cash-grab retreads of their inspiration. But to reflexively dismiss follow-up films is to disregard the enormous potential they hold — in the right hands they can deepen the relationship we have with characters and the worlds they populate.
There's an art to making a genuinely good sequel. Filmmakers must work within certain parameters to ensure consistency with the original entry, but the best ones treat existing hits (or flops, for that matter) as material that they can reinterpret, comment upon, or completely transform — and that's when the continuation starts to become fascinating. For the purposes of this list, we've defined a "sequel" as any follow-up installment to an existing property. There are straightforward sequels; legacy sequels, featuring an actor from a long-ago hit returning to engage with a new generation in the film's universe; stealth remakes, where a new filmmaker departs from the original work and changes the genre (from, say, a haunted-house film to a war film), tone (from poker-faced to borderline parodic), or even the level of self awareness (to the point of contemplating what it was about the original that inspired sequels to it in the first place); and interquels and prequels and titles you may well consider to be spin-offs, because what are these if not subcategories of sequels?
What we looked for from each film was the nature of its sequelness, or how much a movie builds off its audience's preexisting relationship to a story or world. (In that sense, movie sequels to TV series counted.) Our single rule: Only one film per franchise could appear on the list — so the Broccoli family's Bond world and the MCU get just one entry apiece, while the Batmans and Spider-Mans, having had multiple distinct incarnations, were eligible for repeat appearances. The final choices showcase sequels that introduce new ideas and behaviors and filmmakers who set precedent for not only their own franchises but for the genre worlds beyond them. But more often than not, we rewarded pure pleasure. The sequels that rank highest are those that managed to distract us from the inevitable commercialism in Hollywood and our cynicism about the future of moviegoing. They remind us that more is more can indeed be a righteous course.
Note: This list has been updated (and will continue to be updated) to account for new releases that warrant inclusion. To see where the most recent addition, Top Gun: Maverick, falls on the ranking, jump ahead.
.

(Skip to No. 1 on the list.)
The following titles are but a couple dozen examples of films we considered but ultimately eliminated from this list, whether they violated our rules or simply didn't make the cut: The Silence of the Lambs, Saraband, Fanny, Diary for My Lovers, Arabian Nights: Volume 2 - The Desolate One, Memento Mori, Zombi 2, Rambo: First Blood Part II, Return to Peyton Place, The Suicide Squad, Gangs of Wasseypur, Finding Dory, Harry Potter and the Prisoner of Azkaban, Shrek 2, Wayne's World 2, The Great Muppet Caper, Scream 2, Despicable Me 2, Grease 2, Bill and Ted's Bogus Journey, National Lampoon's European Vacation, Help!, An American Tale: Fievel Goes West, Love in the Afternoon, Doctor Sleep, La Notte, D2: The Mighty Ducks, The Chronicles of Riddick, Red Cliff 2, Birds of Prey, Return to the 36th Chamber, Psycho 2, Scooby-Doo 2, Dracula's Daughter, Mondo Hollywood, Rescuers Down Under, Lion King 1 1/2, Halloween 3, Lars Von Trier's The Kingdom, Clouds of May, Cube 2: Hypercube, Bad Boys II, Hellboy 2, La On the Run (Trilogy: One), Split, Angel Has Fallen, Once Upon a Time in Mexico, Austin Powers: The Spy Who Shagged Me, The New Land, Hellraiser 2, Cremaster 3, Gremlins 2, Slaughter's Big Rip-Off, Scream Blacula Scream, Kirikou and the Wild Beasts, Manon of the Spring, and Blade Runner 2049 (more on that here).
Will all respect to my colleagues, I have no idea what they see in this series. —A.W.
I get why this sequel is on the list. It rewrote the rules for Hollywood. But it's so clearly directed by an incarnation of early TV aesthetics, who renders what should be delightful a bore. — A.J.B.
This is the earliest sequel on our list, released 17 years after the official first sequel ever, 1916's The Fall of a Nation.
With 25 Bond films to choose from, the decision to go with what is essentially an origin story continues to baffle me. —N.J.
This Pierce Brosnan slander shall not stand! —A.J.B.
Nearly every Nightmare on Elm Street film has given me nightmares, and I appreciate that New Nightmare also does Wes Craven's meta thing so well. But I think the creativity and bleakness of Dream Warriors, which uses self-harm as a means of horror and deepens the original film's tension between vengeance and justice, is pretty difficult to top. —R. Hadadi
Justin Lin mapped the route (sorry) for where the Fast/Furious franchise would go with Tokyo Drift, but heist movie Fast Five is the franchise's ultimate fulfillment of that plan — the sequel that cemented Vin's Familia as superheroes and Robin Hood–like figures standing up for the world's downtrodden while pocketing some millions for themselves too. It is simultaneously self-serious and hilarious, and those final 15 minutes are unbeaten. —R. Hadadi
This is probably recency bias, but my pick is Jackass Forever. There's a sentimentality to it that feels like a genitalia-injuring passing of the torch, and that atmosphere is so successful exactly because of how Jackass Forever builds upon prior sequels like Jackass Number 2. —R. Hadadi
I voted for Toy Story 2 — Toy Story 2 partisans, unite! —A.W.
Obviously, Aliens had to be on the list. But if we hadn't made our rule about one entry per franchise, I'd have pushed for Alien: Covenant to be on this list too. Scott's prequel series has been eerie, fascinating, and somehow even more perverse in its storytelling — a take on space exploration in which it's humans who are the invasive species, and Michael Fassbender's unsettling android is its phlegmatic protagonist. —A.W.