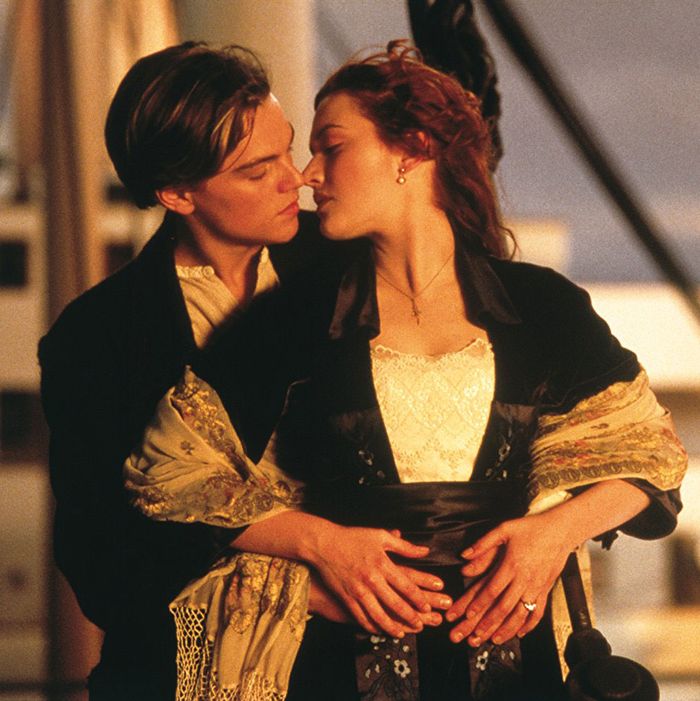 Photo: Paramount Pictures
In 2017, we celebrated (and continue to celebrate) the 20th anniversary of Titanic, and with it, the release of Céline Dion's "My Heart Will Go On" — one of the most important songs of all time.
Which, of course, is subjective. Where some of us had our biggest moments soundtracked by Céline Dion and vaguely Celtic instrumentals, others grew up watching films that prominently featured tracks by Whitney Houston, Bruce Springsteen, and Eminem (to name a few). In some cases, these soundtrack songs are now more famous than the films they came from. So, for the sake of inclusion, and in an effort to celebrate some relatively recent classics of cinematic songwriting, we've chosen to commemorate 25 movie anthems from the last couple decades — to try to do this for the entire history of film would be borderline impossible — alongside the masterpiece that made the perils of Jack and Rose seem even more romantic. Never let go.
To be honest, it was a toss-up between Frou Frou's film closing anthem and that song by the Shins (that Natalie Portman believed would change Zach Braff's life). But look: Imogen Heap's "Hide and Seek" may have gone on to soundtrack one of the biggest moments in television history (see: when Marissa shot Trey on The O.C.), but she also deserves credit as half of the duo who closed out Garden State, a movie about a sad man.
So, no: "Let Go" wasn't as big a moment as Natalie imposing her headphones on a strange dude in a doctor's office, but it lent itself to the message that finding a person who truly "gets" you is magic. And that when you find that person, you pull a real Rachel Green and, despite having a life elsewhere, get off the plane.
Fans of the Swell Season, this one's for you. While we know stars – Glen Hansard and Marketa Irglova – went on to fall in love and form the two-piece folk band, the indie hit Once offered a realish glimpse into the makings of their music and of their then-relationship. The thing is, the songs came before the film. So where most soundtracks become the platform for burgeoning indie acts, it was Once itself that brought legitimacy to a band that actually existed before its leads sought to tell a story. (Which made their breakup even sadder.)
It's true: One of the best things to say about She's All That is that it's a movie that exists. And while Fatboy Slim's "Rockafeller Skank" clearly takes top honor for the film's choreographed prom scene, "Kiss Me" epitomized the brand of romance defined by the question: "Was I a bet, was I a fucking bet?" Plus, it played during the most iconic scene. As the New Laney Boggs™ (not improved, but different) makes her glasses-free debut, we're treated to the sweet sounds of Sixpence None the Richer, who accompany Freddie Prinze Jr.'s disbelief that a young woman who was objectively beautiful before, could, in fact, still be beautiful.
Behold, Céline! Four years before she came to define movie soundtracks via Titanic, she teamed up with Clive Griffin to deliver "When I Fall in Love," the anthem to Sleepless in Seattle. And really, what more can any of us ask for? Originally recorded by Nat King Cole (before going on to be covered by everyone from Sandra Dee to Johnny Mathis to Tom Jones to every other musician who's ever been alive), the ballad reflected the sentimental notion that hinged on believing that you could fall in love with the help of talk radio. (Or that two little kids would know how to book an airline ticket.)
Maybe you didn't see Despicable Me 2, but regardless of who you are or where you live, "Happy" — the single tied to the animated family film — likely managed to find itself in your heart and mind for about two years. As the lead off of Williams's own Girl, the song hit No. 1 in 19 countries, and became the best-selling single in 2014 (on top of cleaning up at the Grammys and MTV Movie Awards). Which is a big deal, particularly when tied to a film not targeted to adult audiences. And while Despicable Me 2 wasn't a failure by any stretch (its follow-up was released this year), Williams's capacity to parlay a children's franchise into an outlet for his own artistry is a reminder that decent pop hooks transcend genre.
Thanks to Bruce Wayne, Seal achieved (further) greatness: After releasing "Kiss From a Rose" in 1994, the song was rereleased in 1995 as part of the Batman Forever soundtrack. It scored Grammy wins for Record of the Year, Song of the Year, and Best Male Pop Vocal Performance, and was arguably the best thing to happen because of Batman, minus Tom Hardy helping to reignite the demand for shearling coats. But what made Seal's track unique was the fact that it was tied to the Batman franchise at all — particularly one of its more ridiculous movies. That a song so rooted in romance and vulnerability could be connected to a something so opposite is a testament to Seal's songwriting.
If you can make it through this sentence without getting last year's Justin Timberlake jam stuck in your head for the rest of the day, then you are a robot.
Sometimes, true power exists in a song's ability to permeate the cultural sphere and haunt everybody on the planet until we learn to accept its place among us. This time, true power exists in the fact that after 42 forced listens, you will be conditioned to turn up this song and half-heartedly sing along despite never having seen Trolls and having no intention to ever do so.
When it comes to the story about a man obsessed with the past, it's only fitting that Lana Del Rey — a singer with a penchant for nostalgia — deliver the anthem. And so we get "Young & Beautiful," The Great Gatsby theme that sums up the way its leads find solace in their prewar personas — despite their own trajectories and realities having taken them far from their long-ago romance. LDR asks, "Will you still love me when I'm no longer young and beautiful?" To which the film itself answers, "As long as you look like Carey Mulligan and Leonardo DiCaprio, yes."
As the title song from Philadelphia, Bruce Springsteen's single paralleled the feelings that defined Tom Hanks's character, Andy: feelings of sadness, of grief, and of quiet acceptance. But where the single was appropriately sorrowful, it wasn't complacent or dismissive. Like the best of Springsteen's material, "Streets of Philadelphia" was observational but lent currency to those he was observing — his subjects weren't helpless victims, but active participants in their own lives. This was a powerful message in 1993 (and in 1994, when it was released as its own single), when mainstream discourse about HIV/AIDS was limited to dialogue in movies like this one. So while much of Philadelphia's dialogue now feels a bit dated, Springsteen's song reflects the feeling of the era, as opposed to its conversations or misconceptions, which makes it timeless.
At the 2015 Academy Awards, we were all Chris Pine, crying while watching Common and John Legend perform "Glory." And, after the performance (in which the singer and rapper appear in front of a set of Selma's Edmund Pettus Bridge), the single took home the Oscar for Best Original Song, as it should have. Together with Legend's instrumentals, Common's lyrics, and the backing choir, "Glory" can be described as the embodiment of just that. An important part of Selma's message of hope and of power.
Easily one of the five best James Bond title tracks to exist (in this house, we do not talk about Jack White's "Another Way to Die"), Adele's Oscar-winning ballad was an awe-inspiring tribute to the franchise, and particularly to the majesty of Bond singers like Shirley Bassey. It was appropriate for a film steeped in nostalgia: from references to trick pens, to the return of Moneypenny, to Bond's own grown-up approach to death, Skyfall was unique in its self-awareness, and deserved an anthem that matched its mood, which Adele delivered. Thanks to her range, her warmth, and the lyrics that hinted toward impending doom, "Skyfall" injected a sense of maturity into a franchise that's become increasingly ridiculous, and helped make the characters and plot seem purposeful.
Sleek, cool, and minimalist — College and Electric Youth succeeded at delivering a track that epitomized Ryan Gosling's infamous Drive character (or at least his scorpion jacket). So it shouldn't be surprising that where so many movie themes are used to inject emotion, "A Real Hero," diffuses it and leaves space for anyone listening to assign their own feelings. Which makes sense, especially since Gosling and co-star Carey Mulligan's performances were so defined by being quiet. They used primarily their faces or body language to convey their dialogue, and the film's single does the same with its slowed-down beat and vocals that can either seem cold and tense (try listening to it when stuck in traffic and late for a meeting) or warm, romantic, and inherently sad (try listening to it while looking at photos of Ryan Gosling).
As an aside, it is especially an especially great song to play during any awkward silence.
Despite Coolio having released an album of the same name that year, mainstream pop culture has intertwined "Gangsta's Paradise" almost exclusively with the Michelle Pfeiffer drama Dangerous Minds, especially after it won an MTV Movie Award for Best Rap Video in 1995. But the single had legs of its own: It made No. 1 in 16 countries (U.S. included), was named Billboard's No. 1 song for the year before winning the 1996 Grammy Award for Best Rap Performance. Coolio's lyrics represented the ethos Dangerous Minds was trying to articulate, but the single transcended the film thanks to the crossover rapper's gift for painting a portrait of a version of America that most white communities chose to ignore. But that's just one reason why the oral history is very much worth reading.
It's true: "Stay" doesn't appear in Reality Bites, despite it being forever linked to one of the greatest onscreen representations of the most conflicted and privileged sects of Generation X. (And it landed Lisa Loeb on the charts before she even signed to a major label.) But like "My Heart Will Go On," Reality Bites' lead single echoes the sentiments that defined the movie, specifically the way it's clearly about the end of a relationship. And while many of us would've loved Winona and Ethan not to end up together, their beginning ultimately sparks the demise of the friend group. (RIP Maxi Pad.) Couple this with Loeb's soft vocals, and "Stay" beautifully and effectively succeeds at capturing the quiet turbulence the film's characters choose to keep themselves in.
You'd be hard-pressed to find another song that could so perfectly capture the dizzying, horrifying, hypnotic, and all-encompassing feeling of Trainspotting, a movie built on themes of addiction, classism, life, death, and youth. And appropriately, "Born Slippy" comes in during the point of highest tension: as Ewan McGregor's character rips off his "so-called mates," he starts life anew while reconciling his choices and closing the door on a past defined by self-destruction. He chooses life, as Underworld's beats match his increased list of goals and dreams and the credits begin to roll, signaling no end in sight for the capitalist mania he's now a prisoner of. (Which, as we glean from Trainspotting 2, isn't exactly a walk in the park. But that's a chat for another day.)
Nominated for the Academy Award for Best Song, Aimee Mann's haunting counterpart to Paul Thomas Anderson's Magnolia has evolved into a musical force to be reckoned with, going on to appear in several other movies and TV shows. However, Mann's influence on the film was felt outside the single: as one of the primary producers and composers of the Magnolia soundtrack, her capacity for subtle-yet-affecting musical and lyrical storytelling balanced the emotional intensity of the film. While "Save Me" on its own is a force to be reckoned with, coupled with the soundtrack in its entirety it is an even bigger emotional tour de force.
Most of us can admit that the further we keep R. Kelly away from everything, the better it will be for all. But it's worth mentioning that "I Believe I Can Fly," an oddly dramatic song for a movie about a basketball game in space populated by Looney Tunes and Michael Jordan, was also Kelly's most successful single.
So there you have it: If you believe you can fly, you too can win out against a team of strange aliens with the help of Bill Murray.
On paper, the idea of Will Smith rapping about a fictional government agency who diffused extraterrestrial tensions seems ridiculous. But in execution, "Men in Black" was a force unto itself, especially as it was the first solo single for Smith, who'd previously performed exclusively with DJ Jazzy Jeff.
With the help of Coko (who sang in the background), Smith's track went on to earn him a 1998 Grammy for Best Rap Solo Performance, and it also re-introduced him as a rapper to the generation who'd grown up with Fresh Prince of Bel-Air but had been a little too young for "Summertime." In fact, you could attribute the success of Smith as a solo pop star to his Men in Black movie tie-in: after all, the very next year he released Big Willie Style, gifting us "Miami" and "Getting Jiggy With It," which rounded out the Will Smith trifecta.
In truth, Whitney Houston did more for movie soundtracks in the 1990s than any composer could even dream of. (Come at me, Hans Zimmer.) Enter: "Exhale (Shoop Shoop)," a single written and produced by Babyface with a strong message about growing up, letting go, and the liberation that comes with both. (You know, kind of like Waiting to Exhale, itself.)
It was a powerful narrative when tied to the film, but was even more when extended to Houston's own. Especially since on top of winning a Best R&B Song Grammy, the video lent Whitney further agency as a complex, grown-ass woman, as director Forest Whitaker opted to hone in on her face, making it seem like she was speaking directly to us from experience.
If you need me to explain why "I Will Always Love You" is one of the biggest and most important movie songs of the last 25 years, there is no hope for you, or those whose lives you're a part of. But okay, fine:
A cover of Dolly Parton's 1974 original, the song is a take on a breakup. Similar to the ending of The Bodyguard itself (spoiler), Whitney Houston sings from the perspective of a woman who's still in love, but knows the relationship also has to end. So, while countless proms were soundtracked by the ballad, it's actually a mature good-bye anthem, which serves to curse both parties with the haunting revelation that no matter what happens, or whoever anybody ends up being with, that original love isn't going anywhere.
Grim.
Fifteen years after the fact, we still remember that, prior to performing, Eminem's B-Rabbit had vomit on his sweater. And while few of us will ever get tired of making fun of and/or overanalyzing that line (why not just take off the sweater, man?), it's a testament to the staying power of Eminem's Oscar-winning song.
Serving as a loose recap of 8 Mile, while encompassing the feelings associated with performance, "Lose Yourself" was not just a testament to Eminem's own experiences, but to what it feels like to pour one's self entirely into a dream or opportunity. And yes: to see those lyrics being used sincerely now seems cliché (because it is), but even a tragically misspelled "loose yourself" tattoo furthers the legacy of a single that forever paid homage to someone's mom's spaghetti.
No song can touch "Come What May" (the duet between Ewan McGregor and Nicole Kidman that I sang quietly to myself during Nicole's scenes in Big Little Lies), but "Lady Marmalade" — the collaboration between Missy Elliott, Lil Kim, Christina Aguilera, Pink, and Maya — comes close. (A feat, considering All Saints had covered Patti LaBelle's original only a few years before.)
But where the Moulin Rouge! soundtrack was defined by theatrics, sorrow, drama, and sensational covers of pop classics, "Lady Marmalade" played on the campier side of the movie by featuring the singers and rappers as Moulin Rouge performers, thereby inspiring countless Halloween costumes. Plus, the song avoided any real references to the movie or its characters, which helped it appeal to anyone put off by musicals in a pre-Hamilton era. (It also introduced the line, "Voulez-vous couchez avec moi?" to anyone a little too young to say it back in 1999.)
It's hard to think about (and I consciously try not to), but back in 2000, Beyoncé had yet to establish herself as the goddess she now is. However, thanks to anthems like "Independent Woman," she and Destiny's Child began to prove themselves as messengers of power, of authority, and self-worth. So, even outside the realm of Charlie's Angels, "Independent Woman" was a true jam.
But tied to the film — a movie in which three women operated as an unfuckwithable team while respecting and championing each other's individuality — "Independent Woman" held even more currency. Mainly, it evolved from a pop song into a vehicle through which to channel Lucy Liu, Drew Barrymore, and Cameron Diaz in some of their funniest (and arguably best) roles. THROW YOUR HANDS UP AT THEM.
In retrospect, Aerosmith performing the song for 1998's second asteroid film makes as much sense as the film itself, but the world looked different in 1998. (Mainly, it was a world conducive to the release of two asteroid films, but I digress.) "I Don't Want to Miss a Thing" might tick the boxes of a decent action-drama ballad (emotional, stirring, catchy), but what made it special was the connection to Armageddon's lead. Since the movie deals with the sacrifice of one man (Liv Tyler's onscreen dad, played by Bruce Willis) to save another (Liv Tyler's onscreen boyfriend, played by Ben Affleck), the video played on the final heart-wrenching moment between Liv and Bruce by placing Tyler's real Dad (Steven) into the good-bye scene. Which meant that regardless of your feelings about Aerosmith, the song reminded you repeatedly of just how sad the movie was. A true feat, considering Ben Affleck has since done an excellent job of reminding us of how stupid the movie was, too.
Few songs embody a film — nay, life experience — like the ballad that served to soundtrack countless school dances, weddings, and anywhere we brought our Discmans. Performed by Céline Dion, the single went to No. 1 worldwide, and also went on to become the best-selling single of 1998 and one of the best-selling singles of all time.
Which makes complete sense: Composed by James Horner, the song wove elements of the score into the single, which evoked the same sense of drama, heartbreak, and romance Titanic itself was defined by. So ultimately, listening to "My Heart Will Go On" was like rewatching the James Cameron masterpiece in four-minute increments — moreso if you were technologically inclined to tape the video off TV and watch a full VHS of Céline, Kate, and Leo on repeat while telling yourself it was just as good as watching the real thing again in theaters.
And that's where the true magic of this anthem lies. While "My Heart Will Go On" is obviously recognizable to most Western-pop-culture-consuming people on the planet, it's also as divisive as the movie itself. So for some of us (but especially me), it embodies the drama, the sensationalism, and the heartbreak of the movie — while for others, it represents the worst part of a year in which it was impossible to escape the King of the World and any/all references to flying. But that's powerful. Because two decades after the fact, our reactions to "My Heart Will Go On" are strong and visceral: We love it or we loathe it. We turn it up to soundtrack our arguments that Jack could've fit on that godforsaken wardrobe door, or we switch it off and recoil, haunted by our pasts. "My Heart Will Go On" garners no lukewarm responses, because it is a song of extremes. And if that doesn't make it deserving of the top spot, then heaven help you.