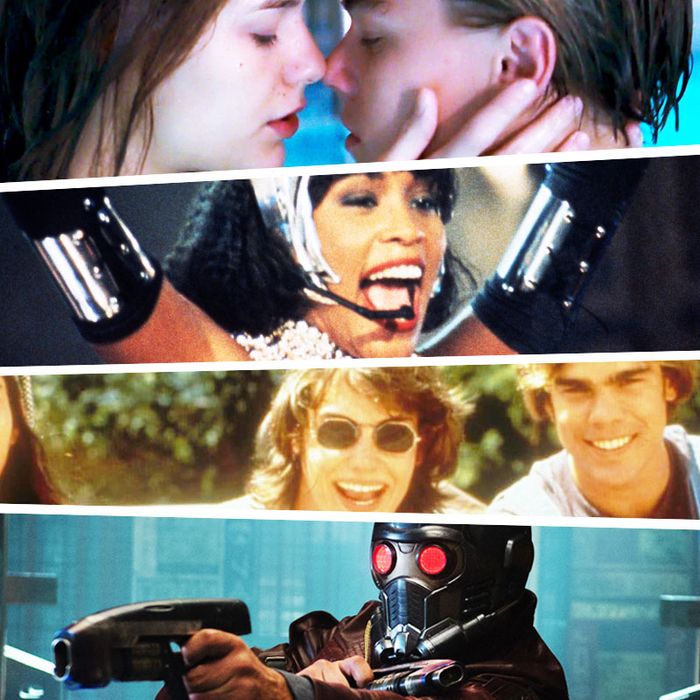 Photo: Twentieth Century Fox, Warner Home Video, Gramercy Pictures and Walt Disney Studios Motion Pictures.
This post has been updated to account for the release of A Star Is Born.
Blame Kenneth Anger. Back in 1963, the underground artist and puckish provocateur debuted his movie Scorpio Rising, a 30-minute barrage of erotic imagery and American iconography, scored to unlicensed rock and R&B songs by the likes of Elvis Presley and Ray Charles. A staple of art-house cinemas and university film programs, Scorpio Rising influenced the way that aspiring directors like Martin Scorsese would come to think about the juxtaposition of moving pictures and popular music. When Scorsese's generation took over Hollywood at the end of the 1960s, they carried Anger in their hearts and minds.
Cut to 2018, and if early projections hold, one of the year's most popular albums is going to be a soundtrack. Director/star Bradley Cooper's A Star Is Born is the latest updating of a story that's been a cinematic perennial since the 1930s; and it's already a hit at the box office. A big part of the marketing has been focused on the music, with videos of performances by Cooper and his co-star Lady Gaga quickly going viral, well before the film's release. The intersection of alluring images and catchy songs remains a reliable money-maker.
With A Star Is Born out this week, we decided it was time to determine the 40 best movie soundtracks of all time. For this list, I leaned almost exclusively on the Scorpio Rising model: films scored from a variety of musical sources, many of them preexisting. There are a few exceptions. It's hard to skip over Shaft or Superfly, even though they were created by single artists, exclusively for those projects. I'm also allowing movies that feature diegetic musical performances (like Purple Rain. Once, and, yes, A Star Is Born), though in order to avoid making this list too unwieldy, I'm excluding straight-up musicals. (Sorry, Disney; sorry, MGM; sorry, Grease.). I'm also skipping conventional original instrumental scores … even when they're unconventional, like Miles Davis's soundtrack to Elevator to the Gallows, or Anton Karas's inescapable The Third Man zither, or the Brazilian bossa nova of Black Orpheus.
Instead, what you'll mostly find below are song-driven soundtracks that had significant cultural impact, in various ways: by becoming best sellers; by introducing (or reintroducing) songs to heavy radio rotation; by summarizing entire musical subgenres; or by helping to create singular cinematic moments. To cover as much ground as possible, I limited filmmakers known for their great soundtracks (like Spike Lee and Sofia Coppola) to one entry each. But just about every modern musical genre is represented, from hip-hop to grunge to avant-garde classical.
Let's drop the needle….
Just like the N.W.A biopic, its soundtrack tracks the history of the hip-hop group from its earliest recordings to its post-breakup solo work. But the Straight Outta Compton album also includes some of the funk and R&B legends (in particular George Clinton and Roy Ayers) who helped inspire Dr. Dre's laid-back, bass-heavy West Coast sound. This isn't just a collection of some of the most influential recordings of the '80s and '90s, it's an origin story for how they came to be.
Some of the best single-artist soundtracks function as de facto compilations. AC/DC has never released a proper "greatest hits" collection, but their album Who Made Who — featuring new and old songs that the Aussie hard-rockers let Stephen King use in his lone directorial effort, Maximum Overdrive — comes closest. "You Shook Me All Night Long," "Hells Bells," "For Those About to Rock" … these are staples of classic-rock radio and sports arenas, and a signal from King that his movie about killer trucks is meant to be good, dumb fun.
Australian filmmaker Baz Luhrmann loves the big emotions and unapologetic artifice of old Hollywood movies and Top 40 music; so throughout his career he's been unafraid to score scenes with catchy tunes, even when they may seem on paper like a mismatch. His boffo Shakespeare adaptation is daring in the way it puts the Bard's words into the mouths of warring crime families in a modern coastal city. But Luhrmann then intensifies the anachronism by having his star-crossed lovers (played by an impossibly young and sweet-looking Leonardo DiCaprio and Claire Danes) smooch and swoon to posh songs like the Cardigans' "Lovefool" and Des'ree's "Kissing You." The soundtrack went triple-platinum in the U.S., signaling pop culture's move away from gruff grunge and toward danceable romanticism with a synthesizer sheen.
Sofia Coppola's best film makes analogies between privileged royals and overexposed, misunderstood 21st-century celebrities. The soundtrack too plays up those similarities across centuries, letting music by modern dance-pop acts and '80s post-punkers paint Marie Antoinette as a typically moody kid, who unwinds by clubbing. Coppola's previous soundtracks for The Virgin Suicides and Lost in Translation were similarly hooky and foggy, but Marie Antoinette is the finest example of how the director uses music to add dimension to her characters and setting.
36. Eden (2014)
French filmmaker Mia Hansen-Løve based Eden on the experiences of her brother Sven (who co-wrote the script), a moderately popular DJ whose career was overshadowed by his more successful EDM peers, including the guys in Daft Punk. The official soundtrack — which runs twice as long as the movie — is a fairly comprehensive survey of what Europeans kids were dancing to in the '90s. It's not essential to understand the fine distinctions between "house" and "garage" and "jungle" to enjoy all the swift tempos, bumping beats, soulful voices, and spare samples on Eden's score. Just grab a glow stick and hit the floor.
The Oscar-nominated song "Beautiful Maria of My Soul" — performed in English by Los Lobos and in Spanish by Antonio Banderas — is probably the best-remembered part of the non-hit movie adaptation of Oscar Hijuelos's novel The Mambo Kings Play Songs of Love. But the gold-selling soundtrack's lively revival of mid-20th century Latin jazz (with an emphasis on Puerto Rican and Cuban styles) is an outstanding intro to the genre, and caught the ears of a wider audience a few years before the Buena Vista Social Club became an international sensation. The film of The Mambo Kings is a stirring story about how music helped two immigrant brothers find a place in America. The winning performances of Tito Puente, Celia Cruz, and Arturo Sandoval helped sell that tale.
This ludicrously twisty, overheated crime picture would be pretty justly forgotten were it not for its one-of-a-kind soundtrack: an experiment in creating a new musical genre. It's not that rap-rock didn't exist before Judgment Night; acts like Body Count, Anthrax, Urban Dance Squad, and Beastie Boys had all produced some interesting hybrids prior to 1993. But unlike the "grinding metal meets bro boasting" format that would become commonplace in the late '90s, Judgment Night put some unlikely collaborators in the studio together: De La Soul with Teenage Fanclub; Sir Mix-A-Lot with Mudhoney; House of Pain with Helmet; and Cypress Hill with both Sonic Youth and Pearl Jam. The results weren't always especially musical, but they did demonstrate refreshing openness and imagination.
One of the bleakest movies ever made about American teenagers — following a bunch of small-town burnouts conspiring to cover up a murder committed by one of their friends — is accompanied by one of the harshest soundtracks ever recorded. At a time when other '80s high-school movies were pepped up by jangly college-rock and bouncy British synth-pop, River's Edge leaned on the bludgeoning sludge of Slayer, Hallows Eve, and Fates Warning. No poseurs allowed.
Though this self-consciously goofy comedy is about teenagers who desperately want to meet the Ramones, the soundtrack's actually a hodgepodge of late-'70s New Wave and art-rock, putting arguably the most important American punk band of all time in the context of performers like Nick Lowe, Brian Eno, Devo, and Todd Rundgren. Still, what makes this an essential document are the Ramones songs: the jet-fueled title track, the swinging retro-ballad "I Want You Around," and an 11-minute live medley that preserves the stage presence that made this band into rebel heroes.
The high-schoolers in Richard Linklater's 1976-set suburban Texas slice of life are convinced they're living through one of the lamest eras in American history. The songs blasting out of their car stereos suggest otherwise. Maybe these kids missed the rebellious '50s and the radical '60s, but the beatniks, hippies, and early rockers who came before them at least cleared the way for them to smoke dope all day and listen to Foghat, Alice Cooper, and ZZ Top. In the year of the American bicentennial, teenagers had never been so free.
At its heart, Paul Thomas Anderson's Boogie Nights is a smart-ass cinematic prank, answering the question, "What if a filmmaker applied the sweeping, emotionally intense, visually dynamic storytelling of Goodfellas to a movie about porn?" The soundtrack is part of that joke. In the place of Martin Scorsese's collection of classic pop, rock, and R&B, Anderson fills his movie with catchy cheese like Melanie's "Brand New Key," Walter Egan's "Magnet and Steel," and Night Ranger's "Sister Christian." Because what better way is there to score a film about guilty pleasures?
It has a better reputation now, but when Empire Records was released in the mid-'90s, it bombed at the box office and underwhelmed critics, who pegged this "day in the life of a record store" dramedy as a cynical attempt to polish and sell the post-Nirvana alt-rock scene. Nevertheless, the movie resonated with a small but fervent audience, who helped elevate it to cult status, while clinging passionately to a soundtrack filled with modern rockers like Gin Blossoms, Better Than Ezra, Toad the Wet Sprocket, Cracker, and the Cranberries. Both the film and its score document an era when the eccentricities of early-'90s music were straightened out and floated into the mainstream, and both make the case that even something blatantly commercial can still be meaningful to the people who buy it.
Cameron Crowe started writing the movie that would become Singles not long after he moved to Seattle, where the former Rolling Stone reporter was immediately impressed with the then-underground music scene. By the time Crowe finished the film, his friends in bands like Soundgarden, Pearl Jam, and Mudhoney were some of the biggest rock stars in the world. Singles only pulled modest box-office returns, but its soundtrack album was huge — not just because it captured "grunge" at its peak, but because Crowe framed the movement well, adding songs by '80s alt-rock hero Paul Westerberg, '70s FM star Nancy Wilson (Crowe's wife at the time), and legendary Seattleite Jimi Hendrix to show where the likes of Alice in Chains and Screaming Trees came from.
27. Once (2007)
When writer-director John Carney's shoestring indie drama Once debuted at Sundance in 2007, Glen Hansard was just an Irish singer-songwriter known to a handful of rockists diligent enough to be aware of his band the Frames. Then this story of an amateur street musician — meeting a woman (played Markéta Irglová) who inspires him to record a demo — so moved audiences that Hansard and Irglová's songs "Falling Slowly" and "When Your Mind's Made Up" became radio hits and won major industry awards, before going on to anchor a Broadway musical version of the film. Which just goes to show: Who needs a big budget when you've got great tunes?
Even in a era when no one really buys albums anymore, fans of Marvel's cheeky cosmic adventure pushed its soundtrack to the top of the charts. Why? Credit the likable mix of '70s Top 40, heavy on songs like Elvin Bishop's "Fooled Around and Fell in Love" and 10cc's "I'm Not in Love" that are fondly remembered but not overplayed on oldies radio. Credit also the way this "awesome mix" is used in the actual movie: as the last remaining bond between a star-hopping rogue and the late mother who taught him to love the hits.
More than just a collection of tunes that were featured in the movie, this soundtrack aims to recreate the whole experience of the latest A Star Is Born, with dialogue snippets and multiple versions of the same numbers, just like in the film. Preserving the almost documentary-like quality of the musical performances also allows this record to hold onto the tension at the heart of the picture: between the earthy spontaneity of the rootsy alt-rock that Bradley Cooper's character Jackson Maine sings (with words and music contributed by the likes of Jason Isbell and Lukas Nelson, son of Willie) and the more polished, practiced pop of Lady Gaga's Ally. The songs tell a story, about the different ways of retaining some personal expression within the soulless behemoth that is the modern American recording industry.
Martin Scorsese may be the filmmaker from the '70s "New Hollywood" heyday most closely identified with wedding dynamic images with gritty rock and soul. With Mean Streets in the '70s, Goodfellas in the '90s, and The Departed and The Wolf of Wall Street in recent years, Scorsese and his editor Thelma Schoonmaker — and well as his occasional musical consultant Robbie Robertson — have created fully integrated audio-visual experiences that other artists have shamelessly tried to copy. The team's boldest work mostly eschews pop music (aside from a few dreamy oldies) in favor of passages from avant-garde classical composers. Besides drawing attention to the modern geniuses of a wholly different genre, the unfamiliar, almost alien sounds of the Shutter Island soundtrack reinforce the movie's tale of hallucinatory madness.
It's hard to go wrong with just about any soundtrack from just about any Spike Lee joint: the go-go heavy School Daze, the Public Enemy–anchored Do the Right Thing, Stevie Wonder's Jungle Fever, Prince's Girl 6, and so on. But Mo' Better Blues may be the score that's closest to Lee's heart. The movie is partially inspired by his own jazz musician father, Bill Lee (who composed the title track), and it's set to a mix of original Branford Marsalis and Terence Blanchard numbers that run the gamut of jazz styles, from sultry vocal ballads to snazzy melodic pop to avant-garde dissonance. The album's most vital track may be Gang Starr's "Jazz Thing," a hip-hop history of the genre that many neophytes have used as a recommendation list for what to listen to: from Theolonious Monk ("a melodious thunk") to Ornette Coleman ("another soul man").
One of the most beloved movies of the late '60s — and a Best Picture Oscar winner to boot — Midnight Cowboy is also a detailed report on how the era of LSD and free love played out in a grimy New York City, where harder sex and drugs were more popular than the happy hippie kind. The soundtrack too plays with the sounds of the city and the times. The mind-bending drone of Elephant's Memory (doing their best Velvet Underground impression) sits side by side with the lyricism of John Barry's harmonica-driven instrumentals, the ersatz grooviness of the Groop, and Harry Nilsson's shatteringly beautiful cover of Fred Neil's "Everybody's Talkin'." The latter track in particular, playing under images of two pathetic hustlers striding through Manhattan, captures both the possibilities and the disappointments of a then-crumbling metropolis.
21. Magical Mystery Tour (1967)
It's impossible to talk about the marriage of movies and pop music without mentioning the Beatles, whose films A Hard Day's Night, Help, and Yellow Submarine influenced cinema, television, fashion, the counterculture … you name it. But the best actual Beatles soundtrack comes from their worst picture. The rambling, muddy-looking, made-for-TV Magical Mystery Tour is a chore to watch: all inside jokes and secondhand psychedelia. But the album is wall-to-wall classics, including "The Fool on the Hill," "I Am the Walrus," "Hello, Goodbye," the title track, and the contemporaneous singles "Strawberry Fields Forever" and "All You Need Is Love." The latter two weren't in the movie itself, but they corroborated what the band was up to musically at the time, marrying timeless melodies to potent trippiness.
One of the movies that signaled a shift in Hollywood toward youth-oriented A-list productions, The Graduate used music that appealed both to kids and their parents, shifting easily between Dave Grusin's traditional orchestral swing and the winsome folk-rock of Simon & Garfunkel. The images of a soul-sick Dustin Hoffman — playing a bright young man not quite ready to be a grown-up — set to pretty, melancholy songs like "Mrs. Robinson," "Scarborough Fair," and "April Come She Will" persuaded older viewers that maybe something really was troubling the rising generation. The phenomenal sales for the soundtrack and the "Mrs. Robinson" single convinced the studios to start prowling Sunset Strip, looking for the long-haired musicians to stick a microphone in front of.
Thanks to the Beatles and The Graduate, the rock movie soundtrack had developed a kind of formula by the end of the '60s: mostly performed by single artists, relying on a mix of old hits and new recordings, padded out with some novelty tracks and instrumental filler. Then Dennis Hopper and Peter Fonda decided to dedicate a big part of their Easy Rider budget to licensing the popular acid-rock songs that their editor Donn Cambern was at first just using as a temporary score. In addition to sounding of-the-moment with its fresh Steppenwolf and Byrds cuts, Easy Rider just felt more organic than the soundtracks that preceded it — more like something the film's characters would actually be listening to.
If nothing else, the baby-boomer fave The Big Chill was responsible for what would become one of the biggest Hollywood cliches of the '80s and '90s: the scene of joyful middle-aged folks bopping around their house to a well-loved pop oldie. In the case of The Big Chill, this story of hippies turned yuppies sparked a renewed interest in '60s ideals during the heart of the Reagan era — and it restored some commercial viability to Motown classics and vintage AM radio hits by the likes of Creedence Clearwater Revival and Procol Harum. The soundtrack commodified the pervasive feeling in the culture that something vital was being lost.
Thirty-two million copies. That's the rough tally of international sales for the Dirty Dancing soundtrack: a surprise smash, accompanying a modest period romance that itself became a much bigger hit than anyone expected. Though it's set in 1963 — and features a score dotted with pre-Beatles pop from the likes of the Ronettes and the Five Satins — this story of an underestimated teen and the hunky dance instructor who notices her felt remarkably modern back in 1987. A lot of that had to do with songs like Patrick Swayze's "She's Like the Wind," Eric Carmen's "Hungry Eyes," and Bill Medley and Jennifer Warnes's Oscar-winning "(I've Had) The Time of My Life," all of which sacrifice '60s authenticity for contemporary snap.
Make no mistake: The Bodyguard has the biggest-selling soundtrack of all time (an estimated 42 million copies sold worldwide) because of Whitney Houston's peerless recording of Dolly Parton's "I Will Always Love You," which spent 14 consecutive weeks as Billboard's No. 1 song on the Hot 100 Singles chart. But the album overall is also an excellent collection of early-'90s adult-contemporary pop, highlighted by the half-dozen smooth and soaring Houston numbers that occupy the first half. Side two mixes light jazz and soft soul, rounding out the record's — and the movie's — air of sophisticated romance.
A film about Scottish heroin addicts shouldn't feel as full of life as Trainspotting does. Credit director Danny Boyle, screenwriter John Hodge (adapting Irvine Welsh's novel), and a set of songs that exemplifies wastrel cool. The film and the soundtrack both kick off with Iggy Pop's exultant ode to decadence, "Lust for Life," and what follows is a mix of tracks that range from druggy glam (Lou Reed's "Perfect Day") to post-punk disco (New Order's "Temptation") to '90s rave faves (Underworld's "Born Slippy .NUXX"). The music's mostly pretty and mostly danceable, but is underlaid throughout with a sense of worldly danger.
Two rites of passage for aspiring punks in the mid-'80s: finding a video store hip enough to stock Alex Cox's eccentric saga of L.A. deadbeats, crafty creditors, and alien life forms; and then buying, borrowing, or stealing a copy of the Repo Man album. Anchored by some of the titans of the early West Coast hard-core scene (Black Flag, Suicidal Tendencies, Circle Jerks, Fear), this soundtrack is at once a primer on one of the major punk scenes, and a collection of songs so tuneful and witty that it proves even severe-looking people with piercings and shaved heads can have a sense of humor.
13. Belly (1998)
The clichéd crime drama Belly is marginally fascinating today, if only for the way that writer-director Hype Williams tries and mostly fails to translate his flashy music-video style to the big screen. But the movie is better remembered for its soundtrack, which just happened to catch the New York hip-hop scene as it was undergoing an important evolution. With contributions from Jay-Z, Nas, DMX, D'Angelo, and several members of the Wu-Tang Clan — all either at the height of their creative powers or just about to be — the Belly album catches East Coast rap's move toward harder edges, starker lyrics, and more sophisticated musical arrangements. Who would've expected that a message from the genre's future could be transmitted via some clumsy B movie?
Before hip-hop acts started regularly getting MTV airplay and hitting the Top 10, a lot of middle Americans relied on soundtracks from rap cash-in movies like Beat Street and Krush Groove for an easy way into the genre. True connoisseurs tracked down the score for Wild Style, put together by Blondie guitarist Chris Stein and entrepreneurial MC "Fab Five Freddy" Brathwaite, with writer-director Charlie Ahearn. The trio made good use of their friendships with influential New York rappers like Busy Bee, Double Trouble, and the Cold Crush Brothers, and recorded the kind of energetic street rhymes that had previously only appeared on unofficial "battle tapes." Like the film, the soundtrack preserves an essential piece of musical history.
In the '80s, Hollywood studios became multimedia conglomerates, working synergistic deals with other corporations to deliver not just movies, but marketing opportunities. Cynics would say that the big bosses back then crushed the original outlaw spirit that defined American filmmaking in the '70s. Fans would counter that the product that came out of this era — the toys, the comics, and yes, the albums — was so well-made that it justified the sell out. Between 1983 and 1987, pretty much every year featured a mammoth soundtrack: Flashdance, Top Gun, Dirty Dancing … and the king of them all, Footloose, which stacked up six Top 40 hits, all recorded for the film. Sure, the songs are all machine-tooled to dominate the mainstream. But acts like Deniece Williams, Bonnie Tyler, and Kenny Loggins (the '80s soundtrack king) also made them catchy as hell, with an upbeat vibe that defines 1984 as well as Easy Rider does 1969.
By the time Quentin Tarantino made his fourth and fifth films, fans pretty much knew what to expect from his soundtracks: a couple of half-forgotten pop hits, some classic R&B, a few obscure garage-rockers, and snippets of dialogue. But the two Kill Bill movies were designed to show that Tarantino could tell stories torn from the heart of pulp fiction, not just the margins — and their soundtracks, too, were an expansion of the filmmaker's palette. In between typically Tarantino-friendly songs like Nancy Sinatra's "Bang Bang" and Johnny Cash's "A Satisfied Mind," the movies and their scores borrowed freely from the work that composers like Ennio Morricone and Luis Bacalov had done for old spaghetti Westerns and thrillers. Tarantino even resurrected the title theme from the Japanese crime picture New Battles Without Honor and Humanity, turning it into a ubiquitous stadium anthem.
It's perhaps the ultimate compliment to a filmmaker when his or her style becomes so well-known that it can be parodied … right down to the soundtrack. Part of what made Wes Anderson's Rushmore such a revelation when it arrived at the end of the '90s was that the director and his co-writer Owen Wilson took the moving, relatable story of a high-school misfit — a pretty common motion-picture premise — and gave it the theatrical flair that the character himself would've adopted if he were making a movie about his life. The hero's dramatically self-conscious persona is reflected in the film's music: a set of '60s British Invasion deep cuts that make the whole picture feel displaced from time. Like many of the other great soundtracks on this list, Rushmore established a template that many other filmmakers and music consultants still follow.
In the '80s, writer-director-producer John Hughes hit upon the perfect formula for teen-movie gold: Tell familiar stories about popularity and romance, set to music so hip that even high-school weirdos became fans. The Hughes-penned young-adult favorite Pretty in Pink takes its name from a punky Psychedelic Furs song (rerecorded for the film to be much smoother) and features a soundtrack that's a who's who of angsty British pop. The Smiths, Echo & the Bunnymen, Orchestral Manoeuvres in the Dark, New Order … if viewers weren't already fans of these acts before they arrived at the multiplex, the album practically served as a checklist for what truly cool kids should be listening to.
Disco was mostly a niche genre before youth-savvy multimedia impresario Robert Stigwood produced a movie about rough-hewn working-class New Yorkers, enjoying moments of grace and self-expression on the dance floor. The film became a blockbuster, and its soundtrack became the disco album that even people who'd never been to a club had on their shelves. A mix of kitschy novelty numbers (like Walter Murphy's "A Fifth of Beethoven"), '70s pop classics (The Trammps' "Disco Inferno"), and some of the Bee Gees' best dance numbers, Saturday Night Fever spread the disco craze across the country and the world, popularizing the music to such a degree that in the years that followed musicians who wanted to sell records were all but required to give their songs a thumping beat.
Even fervent music buffs didn't know a lot about ska or reggae before a scruffy little Jamaican crime picture became a cult hit worldwide. Set on the fringes of the Kingston recording industry, The Harder They Come put a spotlight on the lilting rhythms and tropical haze of a musical style that was just starting to get exported more widely. The movie and soundtrack made a star of leading man Jimmy Cliff, whose wiry energy and raspy voice connected cross-culturally. Songs like "Rivers of Babylon" and "You Can Get It If You Really Want" were easy on the ears, no matter how askew their tempos.
Every now and then, writer-directors Joel and Ethan Coen make a movie that reaches a wider audience, even though the brothers themselves hardly ever change much about their offbeat style or personal preoccupations. The cornpone comedy O Brother, Where Art Thou? was one of those left-field hits, and was buoyed in part by its octuple-platinum soundtrack: one of the few LPs of movie music to win an "Album of the Year" Grammy. (Saturday Night Fever is another, as well as The Bodyguard.) Produced by T Bone Burnett, the O Brother score re-creates the sound and feel of Depression-era folk and country, with gloomy murder-ballads and half-ironic anthems of hope conjuring up the ghosts of what critic Greil Marcus once called "the old, weird America."
Prince fictionalized his own rise through the Minneapolis R&B scene for Purple Rain, a movie about an eccentric genius mocked by his peers for his cross-genre hybrid music and erotically charged stage shows. The film's entertaining, but kind of ridiculous, given that it features the songs and live performances of an artist so on top of his game that only a stubborn dolt could deny his awesomeness. Yet the soundtrack is bulletproof. "Let's Go Crazy," "I Would Die 4 U," "Baby I'm a Star," "When Doves Cry," "Purple Rain" … there's a reason why these songs turned Prince from a pop oddball to a culture-pervading superstar.
Before Isaac Hayes was tapped to write, produce, and perform the soundtrack to the gritty detective picture Shaft, he was already known as one of R&B's great innovators, thanks to his epic-length, richly orchestrated covers of white artists' hits. Shaft ended up being a revolutionary film, finding such a large African-American audience that it inspired the low-budget action genre that came to be known as "blaxploitation." Hayes's music was groundbreaking, too. His theme song won an Oscar, and his album — the first double LP from a soul act — won multiple Grammys. Shaft established a busy, soaring sound that countless movies and cop shows in the '70s would emulate.
Shaft was the groundbreaker for blaxploitation soundtracks, but Superfly is the masterpiece that Curtis Mayfield built atop Isaac Hayes's foundation. Onscreen, Mayfield's songs comment on the action, capturing both the outlaw cool of a drug dealer's life, and the real human cost of the products he sells. On record, Superfly is an almost overwhelming listening experience, with lush strings and polyrhythmic percussion defining funk at its most sophisticated. The movie's almost unnecessary. The album itself is plenty cinematic.
Before his whole life and career became all about Star Wars, George Lucas was known around Hollywood as a nerdy cinephile with artsy, experimental inclinations — more of a Kenneth Anger than a Steven Spielberg, in other words. Because of his rep, expectations were low for what turned out to be Lucas's breakthrough film: an elliptical ensemble piece, set in small-town California in 1962, scored to an unceasing stream of early rock and doo-wop hits. The soundtrack was a costly extravagance that Universal Pictures initially balked at — but it turned out to be one key to the movie's stunning success. The use of these real old songs by Fats Domino, the Platters, Chuck Berry, and the like — instead of the cheaper simulations the studio wanted — lent a docu-realism to Lucas's impressionistic portrait of restless teens. The music also struck a nostalgic chord in the audience, which would keep reverberating throughout the decade, affecting the kind of stories Hollywood would tell and the kind of tunes they'd set them to. The album version was cleverly constructed too, using legendary DJ Wolfman Jack's voice as a bridge between propulsive pop that never quits. Like nearly all the collections on this list, the American Graffiti LP instantly brings back nearly everything fans love about the film. All that's missing is a hot rod.