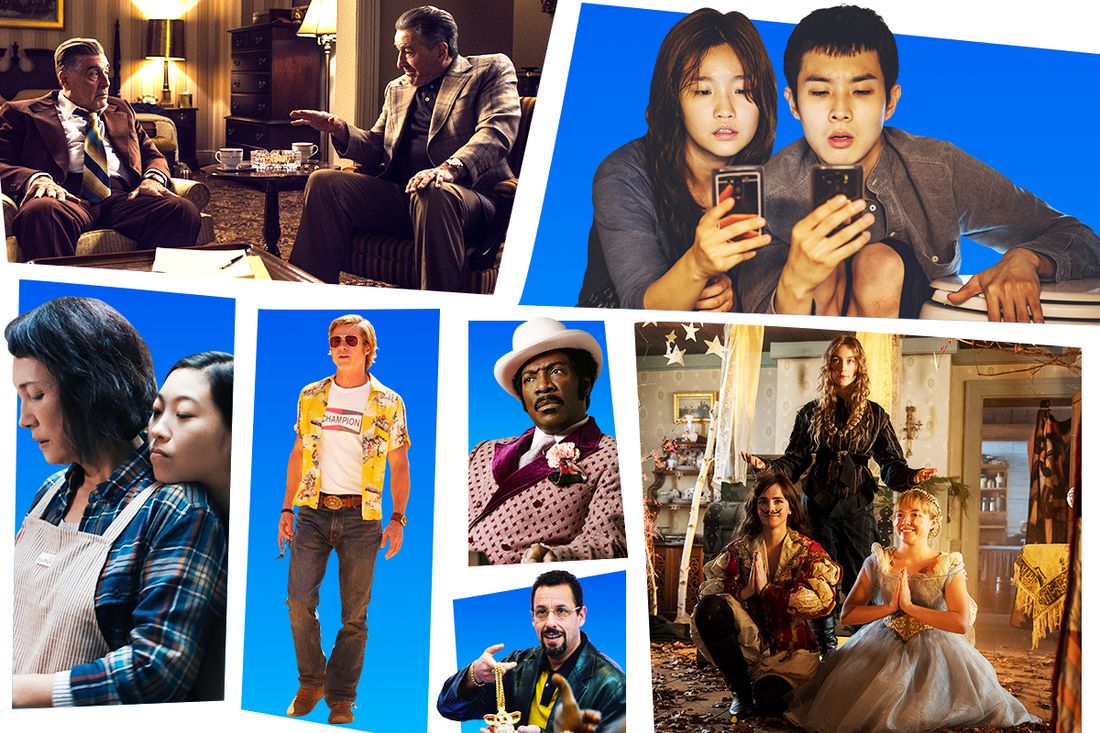 A year on the big screen featured Brad Pitt,
Little Women,
Adam Sandler,
Parasite,
Robert De Niro, and
The Farewell
.
Photo: Vulture and Courtesy of Studios
The year 2019 felt like one massive screen from which we couldn't turn away. It wasn't just that there was so much to watch, it was that there was so much that it seemed like we should be watching: Amid it all, hundreds of movies flickered too quickly through theaters and platforms. Everyone wanted our attention, from Disney and Apple jumping into streaming to Netflix taking The Irishman to Broadway. It's hard to believe that just a few months ago, we were sitting in a multiplex bearing the brunt of Avengers: Endgame, the highest-grossing film of all time and the culmination of a 22-film, decade-plus arc.
Can a movie ever brand itself as bigger? Surely, one will try, but when we started putting together our respective lists of the best films of the year, we found that the things that we loved the most tended to be stories that were intimate in scale — no franchise additions or sequels made our cuts (though an adaptation and a biopic did). Below are the films that reminded us that there are all sort of ways for a movie to become an event, from an acid-black comedy from South Korea to Greta Gerwig's take on Little Women to a Senegalese romance to the return of Quentin Tarantino.
2019
David
Edelstein's
Top
10
Movies
of
the
Year
10. For Sama
The 2016 siege of Aleppo (and the attendant war crimes of Syria and Russia) have produced indelible records of heroism and horror, but Waad Al-Khateab and Edward Watts's first-person documentary captures most vividly both the specifics of this struggle and the larger tragedy. Sama is Waad's baby daughter, whose existence haunts the young woman as she films her husband, Hamza (one of the few doctors remaining), in his attempts to save another and another and another bomb-mangled child. Much of the film takes place inside the hospital where Hamza will do 890 operations in 20 days, but it doesn't feel like raw footage — it has been shaped to force you to bear witness. You feel it would be an act of cowardice to look away from even the most tragic sights.
9. Uncut Gems
Adam Sandler finds his bizarrely abrasive sweet spot as a terminally self-destructive jeweler and gambler in the Safdie brothers' feverish New York drama, set in the world of grubby Diamond District salesmen and Jewish gangsters. The film, like the character, is in constant, nausea-inducing motion, which the Safdies suggest is the existential condition in a world with no moral center of gravity. What it adds up to I don't know, but it will take you a long time to stop shaking.
8. Dolemite Is My Name
Everything clicks in this breezy, ironic biopic starring Eddie Murphy as Rudy Ray Moore, who arrested a mid-career fade-out in the 1960s by developing an alter ego called "Dolemite," a pimp, libertine, and fabulist with roots in black American folklore. Directed by Craig Brewer from a script by Scott Alexander and Larry Karaszewski, the movie has the let's-put-on-a-show feel of Alexander and Karaszewski's Ed Wood, which also celebrates self-actualization over actual talent and dignity well lost for the sake of fame.
7. Honeyland
Disney princesses should bow before Hatidze Muratova, the roughhewn Turkish woman who presides over a fragile ecosystem of bees in an isolated, windswept Macedonian valley in Tamara Kotevska and Ljubomir Stefanov's transporting documentary. Her connection to this vanishing world seems inversely proportional to her estrangement from humankind, and her loneliness acquires the luminousness of myth. A magnificent work.
6. American Factory
Steve Bognar and Julia Reichert's expansive documentary is set largely in Dayton, Ohio, where a closed GM plant is reborn as a Chinese-owned windshield factory. The film is hilarious in depicting the culture clash between stubbornly individualistic Americans (slow, with "fat fingers," according to Chinese executives) and disciplined, anything-for-the-company Chinese workers, but the underlying trajectory is grim. It's likely that the Chinese idea of human workers as machine parts will yield soon enough to actual machines doing all the labor. So we're seeing the worst of communism (become a cog, a zombie drone) combined with the worst of free-market capitalism (you're expendable in all ways).
5. Parasite
A down-and-out South Korean family insinuates itself into the household of a rich one in Bong Joon Ho's wildly entertaining tragicomedy, which has an original metaphor for income inequality: The haves live — obliviously — above the have-lesses, who live above the have-even-lesses. Who are the title parasites? The poor who attach themselves to the rich or the rich who suck the marrow of the poor? Or is the system itself the parasite, drawing its energy from the turbulent interaction between rich and poor? By rights, all this should keep you up at night.
4. Little Women
You can feel the buoyant, galumphing Greta Gerwig of Frances Ha in Gerwig's exhilarating adaptation of Louisa May Alcott's classic 19th-century weeper, in which Jo March (Saoirse Ronan) struggles to find her voice as a writer without forsaking love and love without giving up her spiky female perspective. Gerwig's overflowing humanism could have swamped a story with less wit and specificity, but the screenplay (which moves back and forth between a plush past and denuded present) is packed with revelations large and small. She's a real director. Unusually, the film is stolen by its Amy, the petite, husky-voiced Florence Pugh.
3. Diane
Critic, documentarian, and festival director Kent Jones's first fiction film centers on the exquisitely expressive Mary Kay Place as a compulsive do-gooder out to expiate her sins while everyone in her little town is either dying or on the brink (although we're all on the brink). This naturalistic drama with the odd expressionist flourish is a candidate for the most depressing ever made, but once you accept its un-transcendent, death-centric baseline, it's strangely exhilarating. Sequences are broken by shots through a windshield of passing rural landscapes, its protagonist going — like all of us — from someplace to someplace on the road to who-knows-where.
2. The Irishman
Shaped around the 1975 killing (presumed) of Teamsters president Jimmy Hoffa, Martin Scorsese's three-and-a-half-hour film is notable for what it doesn't have: flashy set-pieces, whip-pans to carnage, or Rolling Stones songs to pump up the adrenaline. It's a work of self-abnegation that's set where Scorsese normally showboats, cast with aging Scorsese vets Robert De Niro and Joe Pesci (who's sublime), plus a guest star from the other landmark gangster film of the director's era, Al Pacino. Narrated by the elderly title character, a sometime hit man, from a wheelchair in a Catholic convalescent home, the movie is steeped in regret, not so much for what was done as for what was done but not felt. Scorsese wants this to feel like an old man's movie: Taking his cue from his increasingly infirm characters, he won't let himself hide behind motion. The principled paralysis becomes him: It's his most expressive film in decades.
1. Once Upon a Time in Hollywood
In this gorgeously meandering farrago, two aging, increasingly irrelevant white males from '50s cowboy TV recover their mojo enough to defend themselves against dirty hippie girls and thereby save a blonde, pregnant movie princess from being butchered. On paper it sounds a tad … reactionary. But Quentin Tarantino's tenth film — starring Leonardo DiCaprio and Brad Pitt — is more wistful pipe dream than manifesto. Above all, it's a fetishistic collage of '60s bric-a-brac that transcends its inspirations, building to a denouement at once euphoric and heartbreaking. Once again, Tarantino has created a unique frame in which to examine (or maybe just to live inside) the movie world that, for better or worse, shaped him.
2019
Alison
Willmore's
Top
10
Movies
of
the
Year
10. Little Women
As no great devotee of Louisa May Alcott's novel, I wandered into Greta Gerwig's adaptation feeling, frankly, a little resistant to yet another adaptation. And then it wore me down like a rising sea wears down an eroding coastline. Gerwig keeps the bones of the book for this vibrant work, but she gently rebalances the characters and the way each of the March sisters — Meg (Emma Watson), Jo (Saoirse Ronan), Beth (Eliza Scanlen), and Amy (Florence Pugh) — pursues her own particular happiness. There's an innate, thoughtfully contemporary feel to the film's feminism, even as it deals with material that's now a century and a half old. Little Women admires Jo's willingness to push back against norms while refusing to paint Meg's more traditional choices as a defeat, and it highlights the tendency to tie women's stories off in marriage while also allowing that sometimes we all need a romantic happy ending.
9. Atlantics
The young men in Mati Diop's feature debut are half-ghosts long before they become actual ones. Scorned by an employer who hasn't paid them for months, and so gripped by the possibility of better opportunities on the other side of the ocean that it almost feels like a kind of possession, they only have one foot in the world in which they grew up. Diop's film isn't about those men, or about how they risk their lives in an attempt to find a better life for themselves. It is, instead, about the women left behind — about living in a community being hollowed out by the forces of globalism and about being those who choose, or have no option, but to stay. Diop's work is a superbly confident mixture of supernatural fable, mystery, and romance as well as a film that contends with the migrant crisis from the side we usually don't see.
8. Under the Silver Lake
There is a moment, late in David Robert Mitchell's Los Angeles neo-noir, when you understand that what you've been watching hasn't actually been a surreal conspiracy drama after all but a portrait of someone who's totally adrift after a heartbreak. Sam (Andrew Garfield), a down-and-out 30-something on the verge of getting kicked out of his apartment, turns amateur sleuth after his new neighbor, Sarah (Riley Keough), disappears in the night. But the wonderfully strange leads he chases — the underground comic, the missing billionaire, the hip band — mostly add up to a particularly warped reflection of the city as a place where powerful men have always indulged themselves with monstrous acts of ego and where beautiful women have always been commodified. At the heart of Under the Silver Lake isn't a mystery but the understanding that searching for patterns and connections is a form of creating control in a life that feels out of it. It's a film about trying to create a story you can be the hero of because dealing with the everyday details of your life feels too difficult.
7. One Cut of the Dead
Sorry, 1917, but the greatest all-in-one-take movie to come out this year was this low-budget phenomenon from Shin'ichirô Ueda. One Cut of the Dead starts off as a curiously stilted, minimalist zombie movie set at an abandoned water-filtration plant. Then it goes back in time and behind the scenes to tell the story of the cast and crew who made it and becomes an ingenious comedy that gives an entirely different context to everything that's come before. It's a heartfelt love letter to scrappy indie filmmaking, but it's also the surprisingly sweet story of a family of showbiz strivers who are just trying to make a go of things in an industry they never expected to allow them to reach great heights.
6. Once Upon a Time in Hollywood
On the topic of showbiz strivers … Rick Dalton (Leonardo DiCaprio) and Cliff Booth (Brad Pitt) have been rattling around in my head since seeing Quentin Tarantino's saga of how their midlife friendship leads to their unknowing intervention in the Manson murders. Once Upon a Time in Hollywood makes some choices that are entirely worthy of criticism, and it also has highs like none other — like Rick's dedication to his stint as a villain on Lancer, and Cliff making macaroni and cheese in the company of his dog, and Sharon Tate (Margot Robbie) impulsively paying a solo visit to a movie theater to delight in seeing herself onscreen in The Wrecking Crew. It's a movie that's adjacent to Charles Manson without really being about him at all — because what it is, at its core, is a case for the quiet dignity of making the schlock entertainment that people delight in and that history doesn't remember.
5. Ash Is Purest White
Zhao Tao's face can bridge decades and break your heart, and in Jia Zhangke's latest, boy, does it do both. She's Qiao, a woman living in the industrial city of Datong, while Liao Fan plays her boyfriend, Bin, a gangster and big fish in a small pond. They romanticize their provincial outlaw life right until the point when a run-in with rivals ends with Qiao in prison — and from there, Ash Is the Purest White leaps and bounds through a grand anti-romance in which fortunes rise and fall as China changes around the characters, sometimes shrinking them into specs on vast landscapes. Qiao becomes an unforgettably, tragically noble figure, one who actually believes in the outlaw honor that turned out to be mere self-mythologizing in her lover, who leaves her and their shared past behind in order to chase legitimacy in a country accelerating wildly toward an unknown future.
4. The Farewell
Midway through The Farewell, Billi (Awkwafina) gets chastised by her uncle for wanting to tell her grandmother (76-year-old breakout Zhao Shuzhen) the secret that the family has been keeping — that the matriarch has a terminal illness and that they've gathered to say good-bye. "You think one's life belongs to oneself," he tells her. "But that's the difference between the East and the West. In the East, a person's life is part of a whole." It's a totally gutting moment, a declaration of Billi's fundamental foreignness. It's also an example of the kind of depth that Lulu Wang's film brings to its exploration of the Chinese-American experience. The Farewell is simultaneously dryly funny and a four-hanky drama, but the nuance it brings to its treatment of diaspora shouldn't be underestimated. It's a film that dares to be ambivalent about immigration and about how opportunities are balanced with a loss of connection and precious time with those you love.
3. Parasite
Has Parasite been out long enough for me to point out that the Kims aren't really scammers? The members of the poorer of the two families in Bong Joon Ho's latest absolutely lie and manipulate their way into jobs as tutors, housekeepers, and drivers for the wealthier Parks. But the rub is that they then do the work, and they do it well, as far as we're shown — they are solid employees, right up until everything goes to hell. Parasite is a brilliantly crafted upstair-downstairs thriller that may leave you wanting to eat the rich, but its most cutting insights have to do with how capitalism pits the working class against itself. The Kims have to do some hilariously, cunningly awful things just to have a chance at survival, and it's rage at that indignity that runs throughout the movie and that leads to its brutal, then terribly sad, conclusion.
2. The Hottest August
Filmmaker Brett Story spent August 2017 traveling around New York talking to different city residents. She spoke to union men hanging out of a window on the side of their house, skateboarders at the park, a woman working at a call center, vintage-clad partygoers at a 1920s-themed event. She asked them all about the future, and she cut the subsequent interview into a sweltering summer collage that also happens to be a goose-bump-inducing documentary encapsulation of our current pre-apocalyptic mood. Many of the people interviewed in The Hottest August feel grim about the future, though not everyone really seems to have had time to raise their head and look all that far ahead — planning is its own kind of privilege. Story's film is an indescribably rich text, but it is, more than anything, a haunting document about climate change, and it's a little too easy to imagine it playing against the side of a ruined building in a city no longer inhabitable by humans.
1. Uncut Gems
Josh and Benny Safdie's Diamond District drama serves up the sensation of being a gambling addict so forcefully that I wanted to run through the streets after seeing it, so amped was I from the secondhand highs it offered. Uncut Gems starts with an accident at an Ethiopian opal mine and emerges not long after out of its main character's colon, tying globalist sins directly into Howard Ratner's (Adam Sandler) instinctual pursuit of the trappings of class-climbing success. Howard has his wife (Idina Menzel) and kids ensconced in a McMansion on Long Island, and his mistress (Julia Fox) in a Manhattan condo, and he's leveraged to the hilt and doesn't seem to care. The truth is that it's the wheeling and dealing that he loves, the constant betting big on a score that could make or break him, the pushing of social situations until they devolve into yelling. The Safdies have an affection for a particularly New York brand of street-level chaos, and Uncut Gems is their purest distillation of that so far, a film that huffs the dying fumes of capitalism — and man, what a rush.
2019
Bilge
Ebiri's
Top
10
Movies
of
the
Year
10. Once Upon a Time in Hollywood
Quentin Tarantino's evocative re-creation of late 1960s Hollywood is the most fun he's had in years, but it's also his most compassionate picture in more than a decade. Presenting the intercutting stories of a leading man whose time has passed and a happening starlet for whom everything feels fresh and new, the writer-director seeks to preserve a moment in time that represents the beauty of things changing. It's not a conservative movie so much as it's a movie that fetishizes an America in mid-decay. At Cannes, I said that it was terrific save for a misguided ending. Having rewatched it a couple of more times, I now like the ending more, but I'm still not sure it was the right one for this particular film. Either way, I hope there's a nine-hour cut of this thing somewhere.
9. The Irishman
The Twitter dickheads still upset at Martin Scorsese for belittling their beloved corporate costumed-superhero franchises do make one legitimate observation: Scorsese has gone to an all-too-familiar well for his latest. Indeed, that's the point of The Irishman, which seems to be in poignant conversation with some of the director's earlier films, exploding the romantic myth of gangsterism that some of those works trafficked in. The whistle-blower protagonist of GoodFellas lamented that he got to live the rest of his life as a "schnook." Well, now we get to see the life of a guy who effectively kept the faith and did as he was told: Turns out, his life was even sadder.
8. Shadow
It's a heartless shame that there wasn't more fanfare around a new release from Zhang Yimou, one of the greatest directors of all time. And Shadow, a war drama shot in the style of Chinese inkbrush painting, was a real humdinger: a picture whose quiet rhythms eventually gave way to impeccably choreographed, ingenious, and gruesome battle scenes.
7. Atlantics
Mati Diop's lovely first feature starts off as a moody Senegalese romance set against dreamy ocean vistas, then becomes a somber tragedy of lives lost at sea, then an anti-capitalist ghost story. The director's light touch renders all these shifts with such seeming effortlessness and lyricism that you walk out of the movie wondering if maybe you dreamed it all.
6. A Hidden Life
Don't expect lots of historical detail from Terrence Malick's drama about Franz Jägerstätter, a devout Austrian farmer who became a despised conscientious objector when he refused to pledge loyalty to Hitler. Instead, Malick uses light, movement, sound, and texture to portray a consciousness hovering between earthly reality and metaphysical certitude. The film is all about living a good life in an evil world, and as such, it's more about today's reality than anything else.
5. The Wild Pear Tree
Turkish director Nuri Bilge Ceylan's sprawling tale of a wannabe-writer trying to reconcile his desire to create great, ambitious work with the stifling, mundane reality of his existence would make a fascinating double feature with Almodóvar's Pain and Glory: Both movies are about conflicted creators — one young, one old — realizing that their great subject lies right before their eyes.
At once the gentlest and most emotionally naked movie Pedro Almodóvar has ever made, this is a pseudo-autobiographical portrait of an artist in creative crisis as he looks over several unresolved moments in his life. It's also a great demonstration of Almodóvar's mastery of tone and style: The film dances on the edge of deep feeling right until the very end, then finally packs a massive wallop. Also: Give Antonio Banderas his Oscar or face the consequences.
3. Parasite
Bong Joon Ho's hot-button upstairs-downstairs-downstairs black-comic thriller — which I called a "nerve-racking masterpiece" when I first saw it at Cannes — is the kind of zig-when-you-zag movie that keeps setting up narrative expectations, then simultaneously meeting them and undermining them. In so doing, it comes to poignantly embody the very capitalist ethos in which it pokes holes. It's an anti-crowd-pleaser crowd-pleaser. And its very last scene is its most crushing.
2. Marriage Story
Noah Baumbach's agonizing (but also occasionally hilarious) look at a bicoastal showbiz divorce not entirely unlike his own isn't just the best American film of the year, it might also be the most human film of the year; every decision, every word, every emotion feels honest and true to life. But it's also one of the most terrifying. In fact, it's sort of a Dr. Strangelove for married couples: You watch it and you think, "Yeah, this is pretty much how it might all go down."
Leave it to Gaspar Noé to take a story about a bunch of dancers and a bowl of spiked sangria and turn it into a surreal techno-musical about the death of a multicultural France — a hellscape you can vogue to. Casting real-life dancers and letting them, in some cases, improvise their lines and their relationships (as well as their moves), Noé incorporates a sense of offhand realism, which is new for this control-freak director, into one of the more invigorating stylistic gambits of his career.
*A version of this article appears in the December 23, 2019, issue of New York Magazine. Subscribe Now!