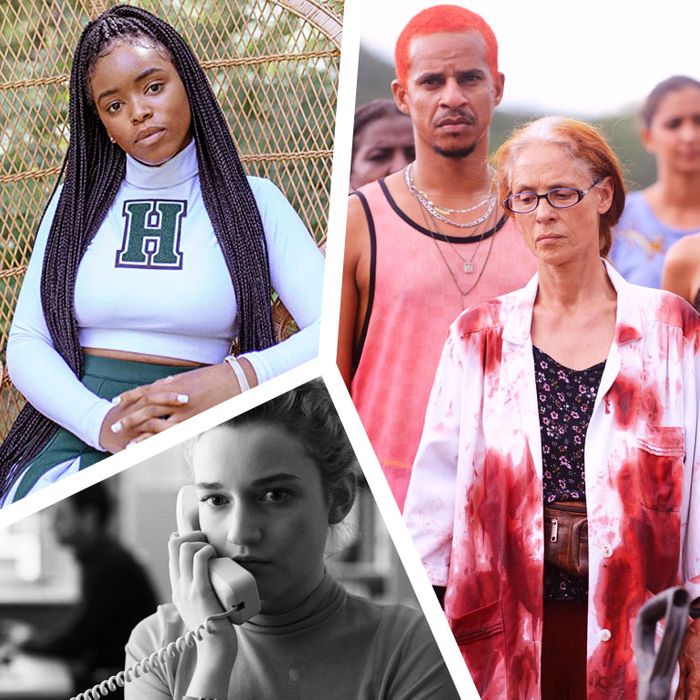 From a new Netflix rom-com to a timely thriller about the horrors of a body in isolation to a Ben Affleck comeback story.
Photo: Courtesy of the studios
We're four months into 2020, and despite the pandemic circumstances throwing life as we know it upside down, the movies persist. Well, some of them. The theaters might be closed in many states, but a small crop of films headed straight for digital or streaming releases (sometimes earlier than expected) have made their way into our quarantines over the last month. From a transcendent documentary about activist culture (Netflix's Crip Camp) to a timely thriller about the horrors of a body in isolation (Swallow) to a mesmerizing portrait of a teen queen bee (Amazon's Selah and the Spades), here are the best movies Vulture has seen and (for the most part) reviewed so far, according to our critics Angelica Jade Bastién, Bilge Ebiri, David Edelstein, and Alison Willmore.
(A reminder about methodology: This list is restricted to films that have had their first official release in 2020 — so no Portrait of a Lady on Fire, which had a brief run in 2019 — and we will continue to update it throughout the year.)
Anime's king of feels Makoto Shinkai conquered the world in 2016 with his body-swap romance Your Name, a massive global hit that's (of course) set for an American remake. So it's not a surprise that he's stayed in similar teen-fantasy-romance territory for his follow-up, about a young runaway to Tokyo and the orphaned girl he falls in love with — a girl with the power to bring the sun out, however briefly. What is surprising is the moodiness of Weathering With You, a love story for an era of climate change that staunchly refuses the idea that the young have to sacrifice themselves on the altar of the decisions of previous generations. It's darker and less deliriously swoony than Your Name, but its emotions are just as big — big enough to change the course of the future.
Look, all you really need to know about this trippy H.P. Lovecraft update is that Nicolas Cage stars as a husband, father, and would-be farmer who owns and does a lot of shouting about alpacas. Or maybe what's most important is that this throwback horror freak-out is the work of filmmaker Richard Stanley, making a long-in-the-works comeback over two decades after he was famously fired from the disaster that was The Island of Dr. Moreau. Either way, rest assured that things start going very poorly for the ill-fated family at its center, not to mention their animals, when a meteor crash-lands on their rural property and starts warping reality around it.
Director Kitty Green's scripted debut depicts a long day in the life of a low-level drone at an unnamed New York film studio not unlike the Weinstein Company. Jane (Julia Garner) takes calls and makes copy and scrubs the bodily fluids off the couch in her boss' office, all with the same look of grim understanding that this is what she has to endure to get ahead in her dream industry. Spare and devastating, The Assistant serves up a portrait of an abusive workplace in which the behavior of the unseen man at its head trickles down to inform the power dynamics and behavior of the rest of the company. That includes HR, to which Jane pays a visit in a brutal centerpiece scene that emphasizes what it's like when the only choices open seem to be to become complicit or to give up.
The Whistlers
Romanian director Corneliu Porumboiu loves to play with procedure and form; he's an ideal director for playful tales about bureaucrats, cops, and other officials in a country still wrestling with the decades-long fallout from a communist dictatorship. His movies are cosmic comedies shot through with moments of ironic tragedy, and this crime comedy-drama might be his weirdest one yet. It starts off as a bizarro tale about a policeman who has to learn a "whistling" language used by the inhabitants of one of the Canary Islands in order to help free a gangster from prison, then twists into a moving meditation on love, loyalty, and self-improvement. Best experienced without knowing anything beforehand; I've already said too much!
Russian director Kantemir Balagov's soul-crushingly powerful and exquisitely mounted historical drama (which really deserved at least an Oscar nomination this year; it was short-listed but didn't make the final five) follows two female veterans trying to reconnect with life in postwar St. Petersburg. It starts off in unspeakable tragedy — the young director is known for booby-trapping his films with the occasionally devastating image or plot development — which makes for a striking emotional and structural gambit. As the characters wrestle with their own trauma, we, too, are dealing with the consequences of what we've seen. What makes it all work — and work so beautifully — is Balagov's almost supernatural command of film language: the elegance of his storytelling, the vivid, symbolic use of color, the humanism of the performances. You can bask in Beanpole's cinematic delights while simultaneously having your heart ripped to shreds.
We wish we could have been a fly on the wall when Ken Loach — Britain's foremost cinematic chronicler of working-class angst and quotidian humanism — first learned about the gig economy. The concept fits right in with the veteran director's moral vision of a world in which ordinary humans regularly think they can outsmart a system designed to destroy them. In this infuriating, heartbreaking drama, a middle-aged former builder starts driving a truck making e-commerce deliveries and discovers that his dream of being his own boss is the cruelest of illusions. Meanwhile, his wife, a home health-aide worker, struggles with her own corner of a so-called growth industry. What makes this one of Loach's best isn't just its rage (which is plentiful) but its compassion (which is overwhelming). It offers a touching cross section of humanity, in which everybody is caught inside a giant machine that discards the weak, feeds on the strong, and perpetuates itself.
Exhilaratingly political but unfailingly intimate, Eliza Hittman's third film is a thriller whose antagonist isn't a person, but a society bent on treating the bodies of the main characters as common property. Never Rarely Sometimes Always takes place over the course of a few days in which a pregnant teenager travels with her cousin to New York City to obtain the abortion that restrictions have made unavailable to her in their home state of Pennsylvania. The precariousness of their situation, which soon stretches beyond the capacity of their meager resources, is counterbalanced by the strength of their bond. Newcomers Sidney Flanigan and Talia Ryder aren't just magnetic — they convey, often without words, what it means to have someone to really rely on.
The rhythms of Kelly Reichardt's hardscrabble 19th-century Pacific Northwest frontier drama are idiosyncratic if not inscrutable, which is why you're unprepared for sudden revelations or flashes of connection. Her focus (after some throat-clearing) is the bond between two criminally endearing men: a mild-mannered baker (John Magaro) and an enterprising Chinese immigrant (Orion Lee), who hatches a plan to squeeze milk every night from the region's lone bovine (owned by the county's wealthiest man). The doughnuts they fry up make them gobs of money while leaving them open to mob justice, and you're torn between elation (take that, rich ass!) and dread. It opens with a line from Blake: "The bird, a nest, the spider, a web, man friendship" — an assertion that home isn't a place or thing but a connection to someone not you. This haunting movie transports you to another world — and redefines home.
Ben Affleck gets one of his greatest (and most personally resonant) roles as an alcoholic former high-school basketball star who gets a chance at redemption when he's hired to coach his alma mater's hopeless hoops team. This could easily become mired in clichés, but director Gavin O'Connor and writer Brad Ingelsby strike a fine balance between delivering the promised underdog sports drama and presenting a portrait of trauma and grief that resists easy solutions. At the center of it all is the star's tense, restrained performance as an emotionally distant man whose considerable demons can't really be vanquished with a few wins.
Haley Bennett is absurdly good as a Hudson Valley housewife who's sleepwalking through a controlling marriage until a psychological disorder forces her into awareness. Carlo Mirabella-Davis's psychological drama is an exploration of domestic oppression and unexamined expectations of motherhood — but it's also its own kind of body-horror story, as its heroine finds herself indulging in the urge to swallow things that were never intended for human consumption. These increasingly disturbing spectacles are enfolded in a movie that's otherwise mesmerizingly beautiful, like a dream that gives way to a nightmare before dumping you, abruptly, back into the land of the living.
Liz Garbus's grim Netflix drama is based on Robert Kolker's powerfully empathetic book about the victims of a still-at-large Long Island serial killer believed to have butchered between 10 and 16 female sex workers — whose bodies lay for years on a stretch of Gilgo Beach. Garbus focuses on the conflict between a working-class mother (Amy Ryan) whose oldest daughter has disappeared and the Suffolk County Police — led by a grave, empty suit (Gabriel Byrne) — who don't exactly put themselves out for missing "hookers." The film lacks the scope of Kolker's book, but in tracing a link between murderous misogyny and patriarchal indifference it leaves you bereft (Why aren't they acting like committed TV cops?) and then outraged. It's an anti-police procedural.
Blow the Man Down
This one didn't open theatrically, so once upon a time it probably wouldn't have qualified for this list. But screw it, we live in extraordinary times — and besides, this atmospheric murder thriller set in a small New England fishing village is the kind of artfully mounted, suspenseful little charmer they don't really make anymore, so it feels extra special. Two cash-strapped sisters, struggling to hold onto their house in the wake of their mom's death, find themselves in the middle of what appears to be an elaborate, twisted conspiracy involving the town brothel and a gaggle of old-timers with some dark secrets. The central mystery itself is interesting, but the main attractions here are the colorful cast of characters and the compelling sense of place established by writer-directors Bridget Savage Cole and Danielle Krudy.
Bacurau
A rural village in the sertão comes under attack in this film from Juliano Dornelles and Kleber Mendonça Filho. To say more about the culprits would constitute a spoiler, but rest assured that Udo Kier is involved. Bacurau is a blood-pumping exploitation riff and a ferocious anti-colonialist protest, a movie in which a ragtag, uniquely Brazilian settlement proves itself to be more resilient than any corrupt politician or rapacious outsider. As an inadvertent coronavirus-era release, it also offers a message that's the perfect mix of encouraging and unsettling — that communities can pull together where governments fail, but that a sense of community has to be earned.
The second feature to go out under the aegis of Barack and Michelle Obama as part of their Higher Ground series for Netflix, it's an inspirational civil-rights documentary that sounds as if it's going to be Good for You rather than good but turns out to be both. Directed by Nicole Newnham and Jim LeBrecht (who was born with spina bifida and appears onscreen), the film begins in 1971 in the Catskills' Camp Jened, where teen and 20-something "cripples" (a word then used) are elated by the freedom to shed their defenses and feel at home. Their camp experience lays the foundation for a seminal demonstration in which disabled people (among them the commanding Judy Heumann) occupy HEW headquarters for more than a week. It's both a profile of people determined not to be invisible — merely getting to the point where they could make themselves seen required a psychological revolution — and a rousing celebration of the activist counterculture that inspired and sustained them.
At first blush it's easy to dismiss Birds of Prey. But this feverish spectacle directed by Cathy Yan and scripted by Christina Hodson is a triumph that takes the typically limp superhero genre and injects it with life and bravado as it traces Harley Quinn's (played by a brilliant Margot Robbie) emancipation from the shadow of her relationship to the Joker. What could have been a trifle turns out to be a rich reimagining of Gotham City into a glittery haven for criminals like Ewan McGregor's prancing Black Mask and his right hand, Victor Zsasz (Chris Messina stealthily turning in one of the best performances in the film), who are nipping at Harley's heels over a lost diamond. The plot is besides the point. What matters is the visceral experience. The costume design by Erin Benach is iconoclastic, drenching Harley in a confetti-and-caution-tape aesthetic. The supporting actors give surprisingly realized turns, especially Mary Elizabeth Winstead as the awkward but committed assassin Huntress on a mission of vengeance, and Jurnee Smollett-Bell's high-kicking fearsome Black Canary. What makes the film sing at the right register of pleasure is its commitment to crafting some of the most audacious, eye-catching, and bone-crunching action set pieces that brim with humor and complication thanks to stunt coordination and fight choreography by Chad Stahelski. We got to see the film four times in theaters before all of this happened, and with each viewing our hearts burst with more appreciation for this scrappy, wild, bombastic film.
In its rough outlines, Neasa Hardiman's film isn't all that different from any number of unspeakable-menace-at-sea horror flicks, but this chiller — about an Irish fishing trawler that is attacked by disease-baring parasites secreted by a mysterious deep-sea creature — also has a fully realized, lived-in quality: You can smell the oil, sweat, and salt, and hear the grind of motors and murmur of sailors. That enhances both our terror as well as the film's eerie, unintentional resonance: It will feel uncomfortably familiar to an audience newly obsessed with the anxious mechanics of infection and exposure and quarantine. Still, the movie works not because it was released during a pandemic, but because Hardiman wisely builds suspense from uncertainty, as our heroes are terrorized by the agonizing solitude of the open sea and a nemesis that is practically invisible.
The tony Pennsylvania prep school in which Tayarisha Poe's nimble debut takes place might bring to mind mean-rich-kid chronicles like Cruel Intentions — but it has more in common with Rian Johnson's 2005 baby-faced neo-noir Brick. Selah and the Spades is a teen drama in which the line between social clique and mob family feels incidental, taking place in a boarding-school bubble that's enthralling and insular, privilege serving as a kind of leveling agent that makes day-to-day skirmishes for dominance the only thing that matters. And at the still center of this surprisingly tumultuous world is Selah (Lovie Simone), a character whose desire for a successor wars with her instinct to destroy anyone who challenges her place — even when it's someone of her own choosing. It's a compelling portrait of someone who, having made herself the queen of this limited kingdom, finds herself terrified of life when she leaves.
Hugh Jackman is as good as he's ever been in the second film from Thoroughbreds director Cory Finley, a based-on-a-true-story drama about an early aughts embezzlement scandal in an upscale Long Island public-school district. As Frank Tassone, Jackman plays a liar, a showman, a consummate politician, and, actually, a pretty good superintendent, if you don't mind the crimes. It's a role that makes enjoyable use of the innate theatrical flare that can sometimes make the actor read as phony in more scaled-down roles. Bad Education is slyly grounded in regional details, the most delightful of them having to do with Allison Janney as fellow administrator, co-conspirator, and reluctant fall gal Pam Gluckin. But it's ultimately as tragic as it is funny, a story about the fundamental contradictions of public schools that generate and benefit vastly from local dollars, all the while paying lip service to education as a higher calling.
The uninitiated see bull riding as the ultimate demonstration of senseless, pointless risk, while the initiated see it pretty much the same way. There's just no sane reason for attempting to hold on with one hand to a creature that has been reduced to pure rage and sinew and hates you with the fire of a thousand suns — unless you think that life is like that already, and there's nowhere else you can go to be simultaneously trampled into dust and cheered. Nonetheless, the prospect of an inspirational, "Go for it" movie centering on a 14-year-old girl's attempt to escape her horrible homelife by apprenticing with a mangled ex–bull rider seemed perverse in the extreme — until I saw the film, which isn't that at all. Annie Silverstein's Bull doesn't jerk you around. It doesn't go for it. It's quieter and more pensive than a glib summation (or a trailer) would suggest, but it never goes soft.
The Guatemala of the grim drama Our Mothers (Nuestras Madres) sits on top of a boneyard whose bones date back to the country's 36-year civil war, when army and paramilitary units escalated the torture, rape, and "extrajudicial" execution of civilians suspected of aiding left-wing guerrillas. The film is set long after the war, in 2018, when the current government began to hold former soldiers to account; and as the trial is broadcast on radio and TV, a young forensic archaeologist, Ernesto (Armando Espitia), emerges from sundry desolate excavation sites and begins the task of connecting hip bones to thigh bones, etc. When an indigenous woman, Nicolasa (Aurelia Caal), pressures Ernesto to return with her to her village to help dig up her own husband's remains ("I want him to be in a place where I can speak to him," she says), he demurs and then relents. What follows is the sort of movie that gets lost in the U.S. when life is normal. It's a good one to see when you're anxious, in pain, hypersensitized, uncertain of the ground beneath you, and thinking — maybe for the first time — that you ought to start digging.
After 15 years without a film, Alice Wu returns with this charming romantic comedy — yet another variation on Cyrano de Bergerac — in which a closeted, straight-A student (Leah Lewis) living in a Pacific Northwest backwater is hired by a dim-bulb football player (Daniel Diemer) to help him write letters to woo the most beautiful girl in school (Alexxis Lemire). The premise may not be original, but what Wu does with it is. As the duplicitous correspondence develops and the screen lights up with words, text messages, and pictures, we are presented with a precocious teen's dream of a better world. In most good rom-coms you fall in love with the characters; in The Half of It you fall in love with their sheer longing.