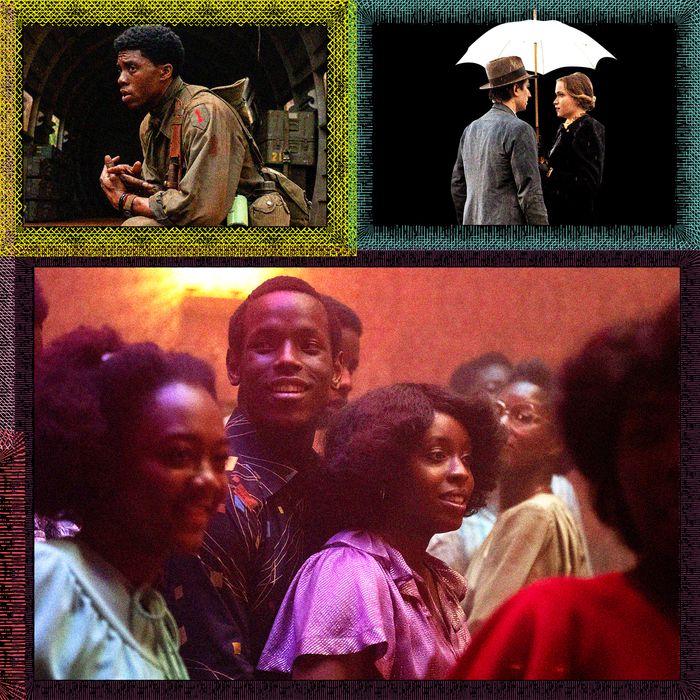 From a Spike Lee joint on Netflix to a Steve McQueen anthology on Prime Video and everything in between.
Photo-Illustration: Vulture and Photos by Courtesy of Netflix; Courtesy of Kino Lorber; Victor Jucá; Amazon Prime Video
"Why don't all movies just come out online?" they asked in those B.C. (before COVID) years. "Who needs movie theaters?" they wondered. Then, in 2020, when the theaters shut down and the films came out online, many of those same people wondered, "Hey, what happened to all the movies?" We live in a world of many truths. One is that, with just about everything consigned to a streaming or on-demand release, there was an incredible bounty of films this year — smaller films, in some cases, but certainly more diverse in style, tone, subject matter, story, and origin. The other is that movies still, in many ways, need movie theaters, lest they sink into the all-consuming swamp that is content online, failing to raise the attention of its intended audience — or any audience, really.
We can't say that we had a great time at the movies this year. A "great time" is not a thing one has in 2020. But we did see many, many great movies. And while we saw most of these movies at home, we would have loved even more to see them on a big screen. These long pandemic months of staying inside, staring at the same virtual window for everything, has just made us understand how much supposed convenience we'd happily trade for the chance to surrender to a viewing experience in the dark, with other people, all of us watching together. Until then, Vulture's three film critics are celebrating the greatest hits of our pandemic year, as best they can.
2020
Alison
Willmore's
Top
10
Movies
of
the
Year
Natalie Erika James's debut is both a haunted-house story and a heartbreaking drama about the dilemma posed by a fiercely independent loved one who's no longer able to keep living alone. The house in question is the one in which Melbourne divorcée Kay (Emily Mortimer) grew up — and to which she returns, with her own daughter in tow, to check on her mother, Edna (Robyn Nevin), who's been staying alone there for years. But the once-familiar space turns warped and menacing over the course of the film, as does Edna herself, as Kay tries to figure out if what's ailing her parent has to do with the older woman's deteriorating mental state — or something darker, like possession. Relic asks whether battling a nightmarish ghoul may be simpler than dealing with the realities of dementia, but it isn't an allegory; it's a movie in which regular and supernatural nightmares coexist, a balancing act that's never more impressive than in its final, audacious turn. (Available to buy on Amazon.)
Another Round follows a group of middle-aged Danish friends, all teachers at the local high school, who in the name of science (or something) embark on an experiment in microdosing with alcohol that soon escalates into being shitfaced at work. The drinking isn't the point here: Thomas Vinterberg's film is about the panic of feeling your horizons narrow and your passions ebb away as you get older. It evades clichés about midlife crises thanks to a tremendously good performance from star Mads Mikkelsen, who plays a man who hasn't acknowledged the depression he's been shouldering for years. It's great fun to watch a bunch of upstanding citizens figure out they might be better at their jobs when they're tipsy, but Another Round isn't rosy about what it's depicting either. Its perfectly calibrated mixture of mischief and melancholy culminates in the most ecstatic ending of the year. (Available to rent at Avalon Theatre.)
Martin Eden (Luca Marinelli) begins Pietro Marcello's film as a gorgeous naif, a sailor who bails out a rich kid in trouble at the docks. In return for his intervention, the kid's family introduces him to an upper-crust existence that he instantly wants to join. Martin Eden is a biting critique of capitalism and neoliberalism from the perspective of a bootstrapper: he's a ferocious individualist who eventually achieves fame as a writer and sneers at the working class he clawed his way up from; by intercutting his rise and fall with archival and faux-archival footage, Marcello manages to make his protagonist both an anti-hero and an Everyman. The film is lush-looking, poisonously romantic, and intentionally untethered from any one decade within the 20th century. (Available to rent at Avalon Theatre.)
I've never seen trauma depicted like it is in this World War II movie by Kantemir Balagov, as something that has left its characters feeling like aliens, trying to assimilate into an unwelcoming human population. Beanpole is the story of a friendship that wounds and guilt that has transformed into something despondently codependent, between Beanpole, a PTSD-stricken nurse, and soldier Masha, who's just returned to Leningrad. The women are all splintered inside, to an extent we only come to understand as the film progresses from its inciting, oh-so-difficult-to-watch accident. Beanpole is an astonishing depiction of being at the end of something unimaginable and of how people try, with varying degrees of success, to pack away the horrors and find a sense of normalcy. (Available on Kanopy.)
Bloody Nose, Empty Pockets defies labels and easy descriptions — and who needs them when you have liquor and the fleeting intimacy it can create between strangers? Directed by brothers Bill Ross IV and Turner Ross, this blessed mongrel of a movie is an artificial construction that feels more genuine than a lot of standard documentaries. It's an elegy to a dive bar that never really existed, or maybe it's more accurate to say that it only existed during the whiskey-soaked period when the feature was shot. While Bloody Nose, Empty Pockets was filmed in an actual establishment in New Orleans, the exterior shots place the action onscreen in a stretch of Las Vegas that's far away from the Strip. The directors recruited a collection of real barflies and big talkers to appear, for the most part, as themselves, then filmed them over the course of a lightly structured day and night. The community of dreamers, drunks, and the down-at-heart that forms quickly becomes as real as that of any set of regulars. Bloody Nose, Empty Pockets is a gorgeous testament to the neighborhood bar as both sanctum and trap — a place you can never stay in forever, no matter how hard some of the characters try. (Available to rent on Amazon.)
Midway through The Assistant, the smarmy HR director played by Matthew Macfadyen tells Jane (Julia Garner), a recently hired personal assistant at a New York production company, not to fret about becoming the target of her boss's unwanted attentions: "I don't think you have anything to worry about. You're not his type." The line, at once meant to reassure and shame, wounds like a knife. Kitty Green's movie is rife with such instances of painful precision, as the anguished-yet-eager-to-please Jane is hazed into compliance. The Assistant is a horror movie, one without jump scares or spooky settings; the monster, a Harvey Weinstein-esque film executive, never makes an appearance onscreen. It's infused with a sickening sense of dread that comes from its steady focus on a low-level employee who tries, briefly and in vain, to protest the behavior she's been made a witness to — only to realize that the options open to her seem to be quitting or complicity. (Available on Hulu.)
There's a discomfort to the central device of Kirsten Johnson's documentary that makes the movie utterly compelling. When dementia leaves Johnson's father, Dick, unable to live alone, she moves him into her New York apartment and starts collaborating with him on a seemingly perverse project: The two shoot enactments of various ways in which Dick could die, ranging from slapstick (an air-conditioning unit falls on his head) to shockingly realistic (an ambulance ride captured by a camera lying sideways on the ground, as though abandoned there). Each of these scenarios, which are used to punctuate tender footage of the pair's life together, breaks the taboo against discussing mortality with a person whose death is imminent. (Available on Netflix.)
Film has the capacity to freeze time in its tracks or make years vanish, turning a child into a young man in the space of a few frames. There's a unique ache that comes with seeing the clock wind so frictionlessly onscreen, and director Garrett Bradley puts that sentiment to essential ends in Time. Her documentary, filmed in Louisiana, is a portrait of the Rich family over decades, slipping from their own home-video footage to present day and back again. While matriarch Fox Rich establishes herself as an activist and business owner and her five sons grow up, her husband Rob remains in prison—an absence that washes Time with soul-deep longing. Bradley's movie makes a case for prison abolition with irrefutable evidence of the ways in which incarceration harms so many more people than the one put behind bars. (Available on Amazon Prime Video.)
Steve McQueen's Small Axe, an anthology series about London's West Indian community, falls in what's destined to be forever-disputed territory between big screen and small. Sure, it can be considered as a whole — from the chapter about a courtroom battle against racist police brutality to the bildungsroman about an adoptee finding a sense of self in Brixton. But each of its five installments can also stand alone, and Lovers Rock, the second, is without question one of 2020's best films. It lays out a house party, from setup to early-morning aftermath, in layered, lushly cinematic detail. As the DJ gets going, romantic intrigue develops and the dance floor fills up; at one point, the music cuts out and everyone exuberantly sings a cappella. It's not an idealized event — there's drama and a burst of violence. Still, Lovers Rock is very pointedly a depiction of a safe space that the Black attendees have created for themselves, a temporary kingdom where joy is within easy reach. (Available on Amazon Prime Video.)
It doesn't take a leap of logic to understand the appeal of cinematic sanctuaries in 2020, and for me, there was no movie-made haven more memorable this year than the town of the title in Kleber Mendonça Filho and Juliano Dornelles's Bacurau. Set in a remote stretch of northeastern Brazil, Bacurau is a wild-eyed neo-Western about a near future that's all too plausible. The remote but close-knit community has literally been wiped off the map, its water supply has been cut off by armed guards, and a corrupt local politician is in the pocket of a group of American and European tourists who've come to indulge in a spot of mass murder. But Bacurau itself represents a vision of apocalyptic utopianism: it's a tumultuously queer, multiracial place, proudly born from revolutionary bloodshed. When its inhabitants take up measures to protect themselves, the resulting showdown is funny, thrilling, and ferocious. While it would never be mistaken for an optimistic film, it's sure as hell a rousing one — a modern classic made for a world poised for decline. (Available on The Criterion Channel.)
2020
Bilge
Ebiri's
Top
10
Movies
of
the
Year
10. Mayor
It's not easy being the mayor of Ramallah. One minute you're in a brand strategy meeting with PowerPoint-wielding consultants, the next minute Israeli soldiers are invading your town and casually firing on people outside your office. But you can't stop too long to dwell on any one thing. Ribbon cutting ceremonies have to continue. Sewage problems need to be dealt with. Visiting dignitaries must be greeted. Musa Hadid, the can-do public official at the heart of David Osit's elegant, inspiring documentary, handles it all with a combination of compassionate bemusement and preternatural calm. Meanwhile, I can't even buy groceries without having a nervous breakdown. (Available to rent on Film Forum.)
This action movie is all the proof you needed that Gina Prince-Bythewood is an auteur in the traditional sense — the kind of filmmaker who can impose her personal stamp on the unlikeliest material. Her film version of Greg Rucka's cult comic book about a group of immortal warriors is, yes, filled with delirious ass-kicking choreography, but it's also deeply romantic and patient, marking it as the work of the director of Love and Basketball and Beyond the Lights. (Available on Netflix.)
Some movies speak to their moment, or reflect on some essential part of the past, or gain prescience as time passes on. Some movies do none of these things, but still find a way to just plain save you. How does one quantify (or, god forbid, rank) such joy? I'm not sure any film this year made me happier than a ridiculous Will Ferrell-Rachel McAdams comedy about a hapless Icelandic singing duo who set out to conquer the annual European pop contest, complete with one of the most amazing original disco soundtracks in recent memory. And yeah, maybe it's not perfect … but it's more perfect than you think. I've watched Eurovision all the way through seven times now, and I notice wonderful new details each time. When I'm done writing this list, I'm gonna go watch it again. (Available on Netflix.)
Christopher Nolan's labyrinthine blockbuster was overshadowed by debates over its theatrical release and its financial aftermath, which is perhaps understandable. And while the movie does deserve a big screen and demands your total attention (how novel!), I'm also hoping that a home video release will allow people to look past the industry blather and finally see Tenet for what it is: a crazy, exciting, even moving spy thriller that actually dares to trust its audience. And yeah, I'm still listening to the score.
Two Pennsylvania teens take a train to New York City so that one can get an abortion. To call Eliza Hittman's searing, phenomenally-acted drama — which takes place over the course of one eventful night — a coming-of-age movie seems inadequate: This isn't a story about lessons learned or stages of personal growth, but rather a riveting slice-of-life about how terrifying it is to be a teenaged girl in America. (Available on HBO Max.)
5. Collective
For much of the year, people described this documentary to me as a timely expose of the Romanian health care system, and my eyes instantaneously glazed over. Then I saw it. Perhaps a better way to describe it might be to say that it is a ridiculously suspenseful, infuriating thriller about how a catastrophic nightclub fire (which, by the way, we see in the film in all its deadly menace) and its ghastly aftermath led to a newspaper investigation, which in turn led to seismic political and social upheaval. It's as riveting as All the President's Men, and in the level of access director Alexander Nanau managed to get, quite incredible. (Available to rent on Amazon.)
This shattering period piece about the lives of two female veterans in St. Petersburg at the end of World War II was one of the standouts of last year's Cannes — the same Cannes that gave us Parasite, Once Upon a Time in Hollywood, Pain and Glory, Portrait of a Lady on Fire, and A Hidden Life. It opened earlier this year, but in truth, it feels like it belongs to another era of filmmaking, with young director Kantemir Balagov demonstrating the grandeur, confidence, and humanism of an old master. (Available on Kanopy.)
Netflix threw a bunch of money at Spike Lee, and he turned a Treasure of the Sierra Madre-like adventure story about a group of Vietnam vets returning to Southeast Asia in search of buried treasure into a densely allusive, explosive journey through America's latticework history of imperialism, patriotism, bigotry, and betrayal. The film gained extra urgency when it hit right as the country was seized by a new wave of outrage and protest over systemic racism, but the scary truth is that it's timeless. (Available on Netflix.)
This haunting film spans more than two decades in the life of Fox Rich, a former prisoner whose husband Rob is still serving a 60-year sentence for a crime they committed together many years ago. Along the way, Fox has had to raise her six children largely on her own, while fighting for her husband's release. Director Garrett Bradley mixes her own beautifully filmed black-and-white images with the reams of (equally beautiful) video footage Fox herself had shot over the years in an effort to show her husband what he was missing while behind bars. This is a unique collaboration between the director and her subject, and despite the potentially grim subject matter, it makes you feel grateful to be alive. (Available on Amazon Prime Video.)
Pietro Marcello's sprawling masterpiece mixes the grandeur of an old-fashioned epic with structural daring and political resonance. It follows a young, working-class man (played by the ferociously charismatic Luca Marinelli) who educates himself in an effort to win the love of a young bourgeois woman and winds up embarking on a writing career. (It's a loose adaptation of Jack London's most autobiographical novel — transposed to Italy, set in a purposefully indeterminate historical period, and fortified by a variety of documentary images that give it a diffuse, almost Dickensian heft.) As our hero is gradually sucked into aggressive libertarianism, his compassion for his fellow humans corrodes into contempt and his ambition ossifies into grandiosity. In the triumph and tragedy of this one man, Marcello uncovers unsettling truths about human endeavor. (Available to rent at Avalon Theatre.)
2020
Angelica
Jade
Bastién's
Top
10
Movies
of
the
Year
10. Console Wars
You are free to read my list as a strict ranking. But I prefer to look at it as a mixtape, guided by mood, emotion, obsession. The first title is a straight shot of nostalgia — at least, if you tie your youth to the 1990s. This earnestly joyful documentary details the warring personalities and corporate culture behind the rivalry between Nintendo and Sega in the early 1990s. It provides context into this dynamic by delving into both the times before and after the apex of this competition. It's bright, sprightly reflecting the visual architecture of the games explored. And even though it utilizes a hyperspecific lens, Console Wars proves to be an intriguing portrait of a distinct cultural period. But more than anything, it's exactly the note I want to end this year on: It's just plain fun. (Available on CBS All Access.)
Amber-lit and deeply felt, Miss Juneteenth is a stunning portrait of a single mother (Nicole Beharie) trying to not only care for her teenage daughter (Alexis Chikaeze) and navigate tricky romances, but to find some beauty in her own life. The film is tender, as writer-director Channing Godfrey Peoples carefully tracks the emotional undercurrents of her characters and the moving cultural artifacts of small-town, working-class Black Texas life. (Available on Kanopy.)
The crime drama and its cousin, noir, are often misconstrued as wholly masculine genres. But what has always beckoned me to these shadowy narratives are its women. Director and co-writer Julia Hart brings women to the center of her crime tale instead of letting them languish in the margins. The film homes in on a stellar performance from Rachel Brosnahan as Jean, the wife of a thief (Bill Heck) whose disastrous decisions send her spinning out of control, as she's forced to go on the run with the baby he thrust into her life. Brosnahan tenderly evokes the yearnings and complications of a woman whose lacquered image and inability to stand on her own could be punch lines in a different film. But here she is granted a full range of humanity. And that's not where the pleasures of the film end. The production and costume design — which take great pleasure in the 1970s setting — are absolutely luscious. The supporting performances are some of the film's most effective and entrancing. The twinkling piano score envelopes. This is the kind of film that reminds me why I love crime dramas in the first place. (Available on Amazon Prime Video on December 11.)
This film, as well as the two previous on this list, investigate the bramble that is motherhood in unique ways. In Kindred, Charlotte's (Tamara Lawrence) unwanted pregnancy is a portent for tragedies to come. She loses her partner and is forced into staying with his controlling mother (Fiona Shaw) and stepbrother (Jack Lowden), a scenario that turns from gently uncomfortable to downright claustrophobic. Charlotte has no one and nothing beyond her own resourcefulness and ingenuity to help her escape a home that becomes a prison. First time director Joe Marcantonio stitches this horror film together with themes of grief and loss, but it isn't a wholly cerebral affair; its creeping, uneasy mood swallows you whole, thanks to Marcantonio's markedly assured direction. But the performances are what anchor the film — namely Lawrence's steadfast sanity and Shaw's calamitous control — that make this film such a masterwork. (Available to rent on Amazon.)
I have always been attracted to madwomen. The kind of women with lipstick smeared and mascara dripping down their face, that exploit every move you've made against them. The women who shirk societal mores while wearing silken gowns. The women who are forced into the shadows. The women who are just too much. Elisabeth Moss has made a career out of playing such women, which continues in Shirley. Technically, this is a biopic centered on mid-century horror writer Shirley Jackson (Moss), but in posture and style, it's something else. It's looser in form and more precise in emotions. Josephine Decker's film follows Shirley's relationship with her egotistical professor husband (Michael Stuhlbarg) during a period of time when a younger professor (Logan Lerman) and his wife (Odessa Young) are staying with them. With shades of Who's Afraid of Virginia Woolf?, watching Moss and Young act alongside one another is the supreme pleasure of the film. (Available on Hulu.)
What's your relationship with alcohol like? Is it a mild flirtation? Complete abstinence? Or do you find the world becomes more beautiful when you're staring at the bottom of the bottle? The group of friends in director–co-writer Thomas Vinterberg's film use alcohol first as a philosophical experiment to see if it can improve their lives, then as a full-blown crutch that spins them out of control. The group of friends, all teachers at the same school, is anchored by a tremendously delicate and revealing performance by Mads Mikkelsen. Keep an eye out for its ecstatic ending, in which Mikkelsen's character dances and drinks with abandon. His body loops and prances and flips through a celebration of people, the camera taking in his entire body — that of a man with a different lease on life. (Available to rent at Avalon Theatre.)
I love horror as a genre for a few reasons — its boldness, its unease, its interest in cultural taboos. I found all of this and then some watching Possessor's uncut version. The film opens on a Black hostess (Gabrielle Graham) unleashing bloodied violence before being shot down by cops. But this woman isn't quite herself. She's possessed by a corporate assassin of sorts (Andrea Riseborough). But the professional's next assignment, possessing the body of Colin Tate (Christopher Abbott), proves trickier, as he fights back, allowing the story to disquietingly toy with gender and perspective. Brandon Cronenberg's writing and direction, coupled with the revelatory acting by Riseborough and Abbott, made Possessor the horror film that most haunted me this year. (Available to rent on Amazon.)
3. Black Bear
Black Bear is the most recent film I've seen on this list and I am still utterly knocked out by it. Part of the reason it spun such an effective spell over me is that I didn't know all the particulars of its plot going in. The film centers on Allison (a magnificent Aubrey Plaza), a writer-director staying at the lakeside estate of a couple already coming undone before she darkens their doorstep — Gabe (a moody Christopher Abbott) and Blair (a crafty Sarah Gadon). But her presence pours gasoline on the fire already roaring between the couple. This is undoubtedly Plaza's best performance, one that proves to me she's even more incandescent and forceful as an actor than I previously thought. And just as you think you have a handle on where the story is going, it turns on its axis, taking visual and narrative cues from John Cassavetes–Gena Rowlands works like A Woman Under the Influence. It dives even deeper into its themes — namely, the stories we tell ourselves, the fractures within cherished connections, the rot that can grow in long-term relationships. (Available to rent on Amazon.)
After a disastrous dinner Allison O'Hara (Carrie Coon) is forced to attend with her conniving husband Rory (Jude Law), she slinks into a crowded club alone, downs a drink, and heads to the center of the dance floor. She dances ecstatically, as if possessed. As she dances, her dress slips from her shoulders exposing more of her back, her blonde hair coming undone. Her face demonstrates concentration, not on the fractures in her marriage — which have only grown steadily since the couple moved back to Rory's home of England — but on the utter oblivion that can be found when you lose yourself in music among the sweaty limbs of strangers. This scene slipped under my skin and grabbed hold of my heart. The Nest has haunted me ever since — its performances, writing, direction, and set design all working in tandem to tell the familiar yet brilliantly rendered story of a couple disintegrating. (Available to rent on Amazon.)
If The Nest demonstrates how utter abandon can be found on the dance floor, then Lovers Rock proves that joy and connection can be found there, too. Director Steve McQueen's Small Axe film series is a monumental work that operates on multiple levels, primarily as a boldly radical reframing of Black British/West Indian life. But Lovers Rock stands as its crown jewel. The roughly 70-minute film bristles with texture as it extols the ebbs and flows of an ecstatically rendered dance party. Curry goat and ackee and saltfish cook in the kitchen. "Silly Games" by Janet Kay plays, at one point sung a capella by everyone on the dance floor. Providing a through line is Martha (Amarah-Jae St. Aubyn), who finds a spark with Franklyn (Micheal Ward). Lovers Rock has a swooning effect; the film is ultimately a romance, not just in how it reveals the bond growing between Martha and Franklyn and the satisfaction gained when a connection between two people is made, but for how it celebrates the pure beauty of film as a medium. (Available on Amazon Prime Video.)
2020
Other
Movie
Highlights
from
This
Year:
Throughout 2020, our critics maintained "Best Movies of the Year (So Far)" lists. Many of those selections appear above in our top 10 picks. Below are the rest of the films that stood out to them this year (with contributions from David Edelstein):
Anime's king of feels Makoto Shinkai conquered the world in 2016 with his body-swap romance Your Name, a massive global hit that's (of course) set for an American remake. So it's not a surprise that he's stayed in similar teen-fantasy-romance territory for his follow-up, about a young runaway to Tokyo and the orphaned girl he falls in love with — a girl with the power to bring the sun out, however briefly. What is surprising is the moodiness of Weathering With You, a love story for an era of climate change that staunchly refuses the idea that the young have to sacrifice themselves on the altar of the decisions of previous generations. It's darker and less deliriously swoony than Your Name, but its emotions are just as big — big enough to change the course of the future. (Available to rent on Amazon.)
Look, all you really need to know about this trippy H.P. Lovecraft update is that Nicolas Cage stars as a husband, father, and would-be farmer who owns and does a lot of shouting about alpacas. Or maybe what's most important is that this throwback horror freak-out is the work of filmmaker Richard Stanley, making a long-in-the-works comeback over two decades after he was famously fired from the disaster that was The Island of Dr. Moreau. Either way, rest assured that things start going very poorly for the ill-fated family at its center, not to mention their animals, when a meteor crash-lands on their rural property and starts warping reality around it. (Available on Shudder.)
The Whistlers
Romanian director Corneliu Porumboiu loves to play with procedure and form; he's an ideal director for playful tales about bureaucrats, cops, and other officials in a country still wrestling with the decades-long fallout from a communist dictatorship. His movies are cosmic comedies shot through with moments of ironic tragedy, and this crime comedy-drama might be his weirdest one yet. It starts off as a bizarro tale about a policeman who has to learn a "whistling" language used by the inhabitants of one of the Canary Islands in order to help free a gangster from prison, then twists into a moving meditation on love, loyalty, and self-improvement. Best experienced without knowing anything beforehand; I've already said too much! (Available on Hulu.)
At first blush it's easy to dismiss Birds of Prey. But this feverish spectacle directed by Cathy Yan and scripted by Christina Hodson is a triumph that takes the typically limp superhero genre and injects it with life and bravado as it traces Harley Quinn's (played by a brilliant Margot Robbie) emancipation from the shadow of her relationship to the Joker. What could have been a trifle turns out to be a rich reimagining of Gotham City into a glittery haven for criminals like Ewan McGregor's prancing Black Mask and his right hand, Victor Zsasz (Chris Messina stealthily turning in one of the best performances in the film), who are nipping at Harley's heels over a lost diamond. The plot is besides the point. What matters is the visceral experience. The costume design by Erin Benach is iconoclastic, drenching Harley in a confetti-and-caution-tape aesthetic. The supporting actors give surprisingly realized turns, especially Mary Elizabeth Winstead as the awkward but committed assassin Huntress on a mission of vengeance, and Jurnee Smollett-Bell's high-kicking fearsome Black Canary. What makes the film sing at the right register of pleasure is its commitment to crafting some of the most audacious, eye-catching, and bone-crunching action set pieces that brim with humor and complication thanks to stunt coordination and fight choreography by Chad Stahelski. We got to see the film four times in theaters before all of this happened, and with each viewing our hearts burst with more appreciation for this scrappy, wild, bombastic film. (Available on HBO Max.)
We wish we could have been a fly on the wall when Ken Loach — Britain's foremost cinematic chronicler of working-class angst and quotidian humanism — first learned about the gig economy. The concept fits right in with the veteran director's moral vision of a world in which ordinary humans regularly think they can outsmart a system designed to destroy them. In this infuriating, heartbreaking drama, a middle-aged former builder starts driving a truck making e-commerce deliveries and discovers that his dream of being his own boss is the cruelest of illusions. Meanwhile, his wife, a home health-aide worker, struggles with her own corner of a so-called growth industry. What makes this one of Loach's best isn't just its rage (which is plentiful) but its compassion (which is overwhelming). It offers a touching cross section of humanity, in which everybody is caught inside a giant machine that discards the weak, feeds on the strong, and perpetuates itself. (Available on The Criterion Channel.)
The rhythms of Kelly Reichardt's hardscrabble 19th-century Pacific Northwest frontier drama are idiosyncratic if not inscrutable, which is why you're unprepared for sudden revelations or flashes of connection. Her focus (after some throat-clearing) is the bond between two criminally endearing men: a mild-mannered baker (John Magaro) and an enterprising Chinese immigrant (Orion Lee), who hatches a plan to squeeze milk every night from the region's lone bovine (owned by the county's wealthiest man). The doughnuts they fry up make them gobs of money while leaving them open to mob justice, and you're torn between elation (take that, rich ass!) and dread. It opens with a line from Blake: "The bird, a nest, the spider, a web, man friendship" — an assertion that home isn't a place or thing but a connection to someone not you. This haunting movie transports you to another world — and redefines home. (Available on Showtime.)
Ben Affleck gets one of his greatest (and most personally resonant) roles as an alcoholic former high-school basketball star who gets a chance at redemption when he's hired to coach his alma mater's hopeless hoops team. This could easily become mired in clichés, but director Gavin O'Connor and writer Brad Ingelsby strike a fine balance between delivering the promised underdog sports drama and presenting a portrait of trauma and grief that resists easy solutions. At the center of it all is the star's tense, restrained performance as an emotionally distant man whose considerable demons can't really be vanquished with a few wins. (Available on HBO Max.)
Haley Bennett is absurdly good as a Hudson Valley housewife who's sleepwalking through a controlling marriage until a psychological disorder forces her into awareness. Carlo Mirabella-Davis's psychological drama is an exploration of domestic oppression and unexamined expectations of motherhood — but it's also its own kind of body-horror story, as its heroine finds herself indulging in the urge to swallow things that were never intended for human consumption. These increasingly disturbing spectacles are enfolded in a movie that's otherwise mesmerizingly beautiful, like a dream that gives way to a nightmare before dumping you, abruptly, back into the land of the living. (Available on Showtime.)
Liz Garbus's grim Netflix drama is based on Robert Kolker's powerfully empathetic book about the victims of a still-at-large Long Island serial killer believed to have butchered between 10 and 16 female sex workers — whose bodies lay for years on a stretch of Gilgo Beach. Garbus focuses on the conflict between a working-class mother (Amy Ryan) whose oldest daughter has disappeared and the Suffolk County Police — led by a grave, empty suit (Gabriel Byrne) — who don't exactly put themselves out for missing "hookers." The film lacks the scope of Kolker's book, but in tracing a link between murderous misogyny and patriarchal indifference it leaves you bereft (Why aren't they acting like committed TV cops?) and then outraged. It's an anti-police procedural. (Available on Netflix.)
Blow the Man Down
This one didn't open theatrically, so once upon a time it probably wouldn't have qualified for this list. But screw it, we live in extraordinary times — and besides, this atmospheric murder thriller set in a small New England fishing village is the kind of artfully mounted, suspenseful little charmer they don't really make anymore, so it feels extra special. Two cash-strapped sisters, struggling to hold onto their house in the wake of their mom's death, find themselves in the middle of what appears to be an elaborate, twisted conspiracy involving the town brothel and a gaggle of old-timers with some dark secrets. The central mystery itself is interesting, but the main attractions here are the colorful cast of characters and the compelling sense of place established by writer-directors Bridget Savage Cole and Danielle Krudy. (Available on Amazon Prime Video.)
The second feature to go out under the aegis of Barack and Michelle Obama as part of their Higher Ground series for Netflix, it's an inspirational civil-rights documentary that sounds as if it's going to be Good for You rather than good but turns out to be both. Directed by Nicole Newnham and Jim LeBrecht (who was born with spina bifida and appears onscreen), the film begins in 1971 in the Catskills' Camp Jened, where teen and 20-something "cripples" (a word then used) are elated by the freedom to shed their defenses and feel at home. Their camp experience lays the foundation for a seminal demonstration in which disabled people (among them the commanding Judy Heumann) occupy HEW headquarters for more than a week. It's both a profile of people determined not to be invisible — merely getting to the point where they could make themselves seen required a psychological revolution — and a rousing celebration of the activist counterculture that inspired and sustained them. (Available on Netflix.)
The tony Pennsylvania prep school in which Tayarisha Poe's nimble debut takes place might bring to mind mean-rich-kid chronicles like Cruel Intentions — but it has more in common with Rian Johnson's 2005 baby-faced neo-noir Brick. Selah and the Spades is a teen drama in which the line between social clique and mob family feels incidental, taking place in a boarding-school bubble that's enthralling and insular, privilege serving as a kind of leveling agent that makes day-to-day skirmishes for dominance the only thing that matters. And at the still center of this surprisingly tumultuous world is Selah (Lovie Simone), a character whose desire for a successor wars with her instinct to destroy anyone who challenges her place — even when it's someone of her own choosing. It's a compelling portrait of someone who, having made herself the queen of this limited kingdom, finds herself terrified of life when she leaves. (Available on Amazon Prime Video.)
In its rough outlines, Neasa Hardiman's film isn't all that different from any number of unspeakable-menace-at-sea horror flicks, but this chiller — about an Irish fishing trawler that is attacked by disease-baring parasites secreted by a mysterious deep-sea creature — also has a fully realized, lived-in quality: You can smell the oil, sweat, and salt, and hear the grind of motors and murmur of sailors. That enhances both our terror as well as the film's eerie, unintentional resonance: It will feel uncomfortably familiar to an audience newly obsessed with the anxious mechanics of infection and exposure and quarantine. Still, the movie works not because it was released during a pandemic, but because Hardiman wisely builds suspense from uncertainty, as our heroes are terrorized by the agonizing solitude of the open sea and a nemesis that is practically invisible. (Available on Hulu.)
Hugh Jackman is as good as he's ever been in the second film from Thoroughbreds director Cory Finley, a based-on-a-true-story drama about an early aughts embezzlement scandal in an upscale Long Island public-school district. As Frank Tassone, Jackman plays a liar, a showman, a consummate politician, and, actually, a pretty good superintendent, if you don't mind the crimes. It's a role that makes enjoyable use of the innate theatrical flare that can sometimes make the actor read as phony in more scaled-down roles. Bad Education is slyly grounded in regional details, the most delightful of them having to do with Allison Janney as fellow administrator, co-conspirator, and reluctant fall gal Pam Gluckin. But it's ultimately as tragic as it is funny, a story about the fundamental contradictions of public schools that generate and benefit vastly from local dollars, all the while paying lip service to education as a higher calling. (Available on HBO Max.)
The uninitiated see bull riding as the ultimate demonstration of senseless, pointless risk, while the initiated see it pretty much the same way. There's just no sane reason for attempting to hold on with one hand to a creature that has been reduced to pure rage and sinew and hates you with the fire of a thousand suns — unless you think that life is like that already, and there's nowhere else you can go to be simultaneously trampled into dust and cheered. Nonetheless, the prospect of an inspirational, "Go for it" movie centering on a 14-year-old girl's attempt to escape her horrible homelife by apprenticing with a mangled ex–bull rider seemed perverse in the extreme — until I saw the film, which isn't that at all. Annie Silverstein's Bull doesn't jerk you around. It doesn't go for it. It's quieter and more pensive than a glib summation (or a trailer) would suggest, but it never goes soft. (Available on Hulu.)
The Guatemala of the grim drama Our Mothers (Nuestras Madres) sits on top of a boneyard whose bones date back to the country's 36-year civil war, when army and paramilitary units escalated the torture, rape, and "extrajudicial" execution of civilians suspected of aiding left-wing guerrillas. The film is set long after the war, in 2018, when the current government began to hold former soldiers to account; and as the trial is broadcast on radio and TV, a young forensic archaeologist, Ernesto (Armando Espitia), emerges from sundry desolate excavation sites and begins the task of connecting hip bones to thigh bones, etc. When an indigenous woman, Nicolasa (Aurelia Caal), pressures Ernesto to return with her to her village to help dig up her own husband's remains ("I want him to be in a place where I can speak to him," she says), he demurs and then relents. What follows is the sort of movie that gets lost in the U.S. when life is normal. It's a good one to see when you're anxious, in pain, hypersensitized, uncertain of the ground beneath you, and thinking — maybe for the first time — that you ought to start digging. (Available to rent on Outsider Pictures.)
The Sharks
The sharks, alas, are mostly a metaphor in director Lucia Garibaldi's mesmerizing drama about a teenage girl's coming of age in a quiet Uruguayan beach town. But they're a great metaphor: Those dorsal fins popping above the waves and the dead prey washing ashore echo the emotional turbulence and occasional violence of youthful desire – as do the powerful bursts of dreamy techno and the ominously lovely widescreen photography. Rarely does a directorial debut feel like such a master class in tonal control. (Available on Amazon Prime Video.)
After 15 years without a film, Alice Wu returns with this charming romantic comedy — yet another variation on Cyrano de Bergerac — in which a closeted, straight-A student (Leah Lewis) living in a Pacific Northwest backwater is hired by a dim-bulb football player (Daniel Diemer) to help him write letters to woo the most beautiful girl in school (Alexxis Lemire). The premise may not be original, but what Wu does with it is. As the duplicitous correspondence develops and the screen lights up with words, text messages, and pictures, we are presented with a precocious teen's dream of a better world. In most good rom-coms, you fall in love with the characters; in The Half of It, you fall in love with their sheer longing. (Available on Netflix.)
Benjamin Ree's deliciously satisfying documentary begins like a true-crime tale and then transforms into a kind of sublimated love story. Its subjects are Barbora Kysilkova, a Czech artist, and Karl Bertil-Nordland, a Norwegian junkie who steals some of Barbora's work from an Oslo gallery while on a bender. When Bertil is caught, Barbora seeks him out and finds in the petty criminal an unexpected muse. The Painter and the Thief is a strange, tender film about the extraordinary intimacy that develops between these two people — both passionate and both prone to streaks of self-destruction — who might very well be soul mates. (Available on Hulu.)
A retro sci-fi movie with a thoroughly modern sense of style, Andrew Patterson's directorial debut takes place over the course of an evening in a small Southwestern town that may be the site of an extraterrestrial visitation. If that setup sounds familiar, the look and feel of this film are anything but, with dazzling tracking shots and scenes in which the screen goes dark and leaves the viewer to focus on the crackling audio of a radio caller talking about secret military projects. It's a mix of the throwback and the new that's anchored by strong performances by Sierra McCormick and Jake Horowitz as a pair of teenagers who find themselves investigating the strange goings-on. (Available on Amazon Prime Video.)
We sense throughout The Trip to Greece, the fourth and final installment of the film and TV series following Steve Coogan and Rob Brydon as they make their way around the hotels and tourist spots and fine-dining establishments of the world, that reality is catching up to our heroes. Coogan and Brydon play fictional, heightened variations on themselves; their onscreen personae, filled with petty jealousies, are constantly looking to one-up one another like an old couple. The imitations they roll out are familiar ones — Anthony Hopkins, Sean Connery, Robert De Niro, Ray Winstone — and while those are fun, what makes the whole thing work so well is the fact that these grown men with their dueling impressions continue to be so wildly competitive with each other. Still, it's hard to escape the sadness in this film, set amid both global and personal tragedy. What remains at the end are not the jokes or the food but the sense that the past is never quite done with us, that today's heartbreaks and passions and tragedies are variations on ancient patterns. (Available on Hulu.)
In this pensive, plangent film, Ulises (Juan Daniel Garcia "Derek"), a cumbia-obsessed 17-year-old "Cholombiano" from the working-class outskirts of Monterrey, Mexico, flees to the U.S. and tries to make a life for himself in New York. Back home, he was the leader of a small gang/dance crew known as Los Terkos. They had elaborately gelled hairstyles, wore vibrant, baggy clothes, and whiled away the hours hanging and dancing to cumbia music and occasionally causing chaos. The film moves along the two timelines as the lonely, destitute boy makes his way (and occasionally dances) through New York while flashing back to his life in Mexico and the grisly circumstances that led to his having to leave. Director Fernando Frias de la Parra proves himself a master visual storyteller, but he's also not one to hand-hold us through a narrative. Elements of costuming or background — Ulises's clothes, his hair, a telltale subway platform — are often all we have to locate ourselves in the film's somewhat intricate flashback structure. This may prove difficult for some viewers. I'm No Longer Here demands your attention, and it merits your attention. And the music and the dancing — gradually becoming more mournful, expressing a profound homesickness — are lovely to behold. (Available on Netflix.)
Is this … a comedy? A thriller? A heartwarming drama about an eccentric old lady? A gangster picture? Sasie Sealy's Lucky Grandma, about a scowling, take-no-shit widow (Tsai Chin) who winds up with a bag full of cash that may or may not belong to some Chinatown gangsters, has elements of all of these genres. Throughout, Sealy balances genuine danger with poker-faced playfulness; the director's tonal control feels like a throwback to the deadpan indie comedies of the 1980s and '90s, of films by the likes of Hal Hartley and Jim Jarmusch and Susan Seidelman. But what ultimately makes it all work so well is Tsai Chin's endearingly gruff performance. The actress is probably best known stateside for her scene-stealing turn as Auntie Lindo in 1993's The Joy Luck Club, but she's had an absurdly distinguished career on at least three continents. Actress and director build a symphony out of Grandma Wong's grimaces and her glares. (Available on Showtime.)
There can be a very fine line between a movie that is delicate and understated and a movie that is lazy and undernourished. Director Andrew Ahn is slowly perfecting the former. In the gentle, understated Driveways, he follows a single mom (Hong Chau) and her young son who temporarily move in next door to a quiet, lonely Korean War vet and widower (played by the late Brian Dennehy in one of the finest performances of his long, storied career). Ahn lets ideas and emotions linger but never underlines them and never tries to lead the viewer along. Instead, he lets his actors — and hence their characters — just be. Watching Brian Dennehy eat is like staring at a great, big novel; you can tell there's a whole universe in there, but you also know that it would take some effort to understand it. The title may well be a metaphor for the elusive human connections we make before we go into our own little worlds, the interiors of which others rarely see. (Available on Showtime.)
The Ghost of Peter Sellers
In the early 1970s, Peter Medak — a young director with a string of acclaimed films to his name — was approached by his friend Peter Sellers to make a pirate comedy called "Ghost in the Noonday Sun." What ensued was one of the most catastrophic shoots in film history, as the temperamental and unpredictable Sellers nearly brought down the entire production and alienated the rest of the cast and crew with his erratic behavior. Constantly rewritten and nearly aborted multiple times, the film was never properly released. Now, Medak returns to the scene of the crime with this fascinating documentary — hilarious and heartbreaking in equal measure — about his experiences on the film. (Available to rent on Amazon.)
Mr. Jones
In Agnieszka Holland's gripping historical drama, a British journalist and erstwhile diplomat travels to Stalin's Soviet Union in the 1930s to find out just where all the country's economic growth is coming from, and discovers one of the great crimes of the 20th century — the mass starvation of Ukrainians, a holocaust that killed millions and was largely covered up by the press at the time. What starts as a kind of staid period piece gradually dissolves into a harrowing nightmare with images of unspeakable brutality. Director Holland never quite gets the credit she deserves — she made several masterful films in her native Poland before fleeing communism in the 1980s. Her work since has been equally powerful, and Mr. Jones is a fine addition to her impressive body of work. (Available on Hulu.)
Babyteeth
A terminally ill teenage girl becomes besotted with a 20-something junkie in Shannon Murphy's feature debut, which puts The Fault in Our Stars to shame with its razor-edged exploration of what it's like to be voraciously falling in love for the first (and possibly last) time. Australian acting royalty Essie Davis and Ben Mendelsohn are very good as middle-class parents struggling to unclutch their pearls for the sake of their daughter's happiness, but the film is really a showcase for up-and-comer Eliza Scanlen, late of Sharp Objects and Little Women, who'll hopefully get to play a character in the full flush of health soon. (Available on Hulu.)
One of the underdiscussed pleasures of this ebullient romantic comedy from Max Barbakow is that it knows exactly when to cut away from a joke. A montage of time-loop hookups becomes uproarious because of the precise windows we get on each; a night spent doing cocaine with a stranger is summed up in perfect snapshots of druggy mischief and maudlin obliteration. Andy Samberg and Cristin Milioti are wonderful together as a pair of wedding guests stuck in time, doomed to loop the same day over and over again, Groundhog Day style. But what makes the movie work so well, apart from the comedic charms of its leads, is that it's fleet on its feet, darting nimbly through a minimum of exposition in order to get to the fun and scary parts — which is to say, what happens when people are freed from consequences because everything resets once they go to sleep. (Available on Hulu.)
Radioactive
Marjane Satrapi's latest, adapted from a book by Lauren Redniss, initially plays like a standard biopic about physicist and chemist Marie Curie, played with equal parts prickliness and passion by Rosamund Pike. Born Maria Skłodowska in Poland, Marie comes to Paris to work, changing her name to show her willingness to assimilate in her new country, and meeting an eventual collaborator and husband in Pierre Curie. But while Radioactive begins as a slog through the milestones of a famous life, it gradually transforms into something kaleidoscopic and strange, courtesy of Satrapi and screenwriter Jack Thorne's choice to insert flashes of what the Curies' discoveries will eventually lead to. A child with cancer in Cleveland in 1957 gets proposed for an experimental treatment; a group of gawkers and government agents watch an atomic-bomb test in Nevada in 1961; a group of firemen rush to the Chernobyl Nuclear Power Plant in 1986. Marie's battle to be recognized for her work is intercut with the good and the bad that will come from it, rippling out unknowably into the future. (Available on Amazon Prime Video.)
One of the most existentially terrifying films I've seen in quite some time, Amy Seimetz's thriller involves a surreal plague that makes people convinced they will die tomorrow. Maybe if it hadn't been released during an actual plague it might have felt like an abstract cinematic curio. But we live in this world – and in this world, She Dies Tomorrow, with its characters' bifurcated reactions to their impending mortality, with its alienated aesthetic, its gnawing poetry about the finality of things, feels like it was summoned by our collective spiritual anguish. (Available on Hulu.)
The immediacy with which the student state-government program at the center of this movie becomes a microcosm of American politics would feel on the nose if it weren't a documentary. But it is, in fact, an enthralling exercise in nonfiction from filmmakers Amanda McBaine and Jesse Moss, who seem to have cameras everywhere over the course of a weeklong exercise for Texas teens. They also have excellent taste in subjects, following a quartet of young men who together represent a wide array of stances on political issues and on idealism versus cynicism when it comes to elections. The result is an examination, alternately amusing and upsetting, of the lessons Gen Z is taking from its elders with regard to how the country should be run — as well as the ones it's trying, not always successfully, to leave behind. (Available on Apple TV+.)
French-Senegalese director Maïmouna Doucouré's touching, observant coming-of-age drama, about an 11-year-old Muslim girl from a devout background who joins an all-girl dance group, recently found itself at the center of controversy when a poster seemed to sexualize its young characters. But the movie itself is not exploitative in the least. To our hero, Amy (Fathia Youssouf Abdillahi), the "Cuties" — a quartet of popular girls at school who strut through the corridors in age-inappropriate clothing, act like grown-ups, and practice their dance moves for an upcoming competition — represent liberation and belonging. Of course, this new world Amy is entering is just as stifling and patriarchal in its own way as the traditional one she thinks she's fleeing. It would have been easy for Doucouré to use a broad brush to paint the different extremes of Amy's experience ("stifling tradition bad, dancing good"), but Cuties is not a blunt screed or a finger-wagging cautionary tale in either direction. Doucouré appears to be a far too sensitive director for that kind of polemic. Her film is subtle, complex, and honest. (Available on Netflix.)
The surest indication of Aaron Sorkin's auteurism is that sometimes he finds a context in which his most reliable, and often most annoying, tics suddenly just work. The Trial of the Chicago 7 is one of those occasions, a courtroom drama about the 1969 trial of prominent protesters at the Democratic National Convention held the year before. It's full of grandstanding, speechifying, and self-righteousness, all of which absolutely rules. The ensemble cast includes Yahya Abdul-Mateen II, Joseph Gordon-Levitt, Frank Langella, John Carroll Lynch, Eddie Redmayne, Mark Rylance, Alex Sharp, and Jeremy Strong, though it's Sacha Baron Cohen who emerges as the MVP, playing Yippie leader Abbie Hoffman as an angry stoner clown who understands the strategic power of refusing to behave respectably. And you know what? He's right. (Available on Netflix.)
Miranda July's broken characters may do odd, precious (or "twee") things, but they do so because they seem incapable of living in the world. All of her movies are about our search for experiences or people to hold the vast, awkward darkness at bay — our longing for a happy place. Her latest, about a family of not very good but thoroughly committed con artists who barely scrape together a living on the streets of Los Angeles, combines her fondness for gentle absurdism with a dead-end atmosphere that is both of the moment and curiously timeless. The film is hilarious, but it also feels like an escalating anxiety dream, filled with longing, simmering rage, and existential menace, as July effectively immerses us in this defiantly unpredictable world. Kajillionaire may be her best film yet. (Available to buy on Amazon.)
For all its topicality, Remi Weekes's His House, which premiered at Sundance earlier this year and is now being released on Netflix, works first as an inventive, stone-cold, cover-your-eyes chiller. It's a haunted-house flick, only the setting isn't some moody old gray manse but a run-down rowhouse in a bleak, impoverished English suburb, where Bol (Gangs of London's Ṣọpẹ Dìrísù) and his wife, Rial (Lovecraft Country's Wunmi Mosaku), have just arrived from South Sudan, penniless and shell-shocked. That's not to say, however, that the social dimension takes a back seat. The terrors of His House are interwoven with the terrors of the refugee experience, which lends the story emotional depth and ensures that its shocks linger, disturbingly, with little relief or closure. His House is beautifully made, and its scares are monstrously effective but its images of real-world dread remain unresolved, its specters unvanquished. (Available on Netflix.)
Radha Blank's directorial debut, which she also wrote, produced, and stars in, has a title that evokes Judd Apatow and the feel of a raw-edged '90s indie discovery. The elevator pitch is that it's about a struggling playwright who takes up rapping on the cusp of 40, but the movie's a lot more than a fish-out-of-water comedy. Drawing from Blank's own experiences in the New York theater scene, it explores being a Black creator in an industry that caters to a presumed white audience, and it asks what success really means if it requires soul-crushing compromises. (Available on Netflix.)
David Fincher's tale about screenwriter Herman J. Mankiewicz's efforts to write Citizen Kane is not, in fact, an homage to Citizen Kane. For all the lovely black-and-white photography and old-fashioned sound design, Mank (whose screenplay is credited to Fincher's late father, Jack) owes as much to a latter-day bio-epic like The Last Emperor in structure and design as it does to anything from the classical Hollywood era. It's a thoroughly absorbing film, and a deeply nerdy one, filled with Tinseltown lore and political wonkery. (Available on Netflix.)
It'd be easy for Nomadland to portray its rootless community only as victims of a brutal economy, but what makes Chloé Zhao's sweeping movie so fascinating are its complications, and the way it sees in its characters a stubborn American independent streak.
Minari
Lee Isaac Chung's autobiographical film about a Korean family's move to an Arkansas farm is so deliberate in its domestic rhythms and so careful in its build-up that the ending feels all the more devastating for the grand scope of its emotions.
Wolfwalkers
In terms of sheer cinematic bliss, it's hard to top the sequence in the latest from Ireland's Cartoon Saloon when its two young protagonists go running through the woods at night as wolves, leaving their human bodies and human problems behind for a sublime interlude. (Available on Apple TV+.)
News of the World
In the wake of the Civil War, a former Confederate captain transports a young girl who had been raised by the Kiowa back to what remains of her family. Tom Hanks plays the soldier, a traumatized veteran who has lost everything and who now goes from town to town reading newspapers out loud to the public. The girl too has lost everything, twice over — her birth family as well as her adopted family. In the past, Westerns were about taming the frontier, but the world presented in Paul Greengrass's adaptation of Paulette Jiles's novel isn't so clear-cut. More than anything, it's about undoing the illusory vestiges of civilization, privileging humanity over myth. (In theaters on December 25.)