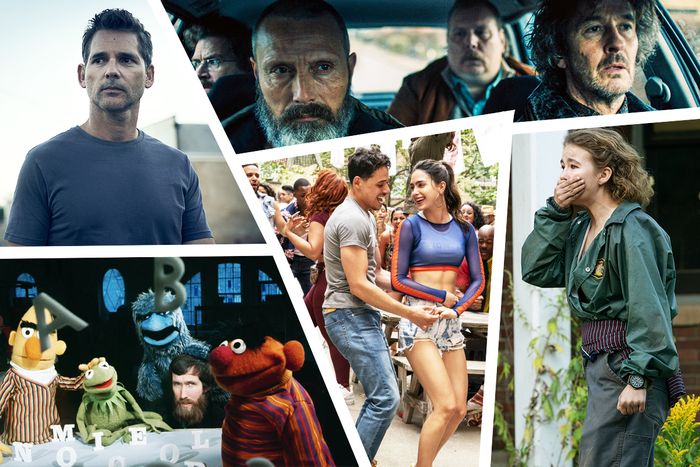 Photo-Illustration: Vulture; Photos by HBO, A24, Paramount Pictures, Warner Bros. and IFC Films
Theaters are reopening, film festivals are back on the calendar, and jittery studios are still reshuffling release dates for all the blockbusters that were bumped last year. In other words: Movies are back, baby! Though, of course, they never really went away. Even at 2021's halfway point, streaming and on-demand releases have offered up a slew of treasures worth seeking out, from a tender documentary about stray dogs on the streets of Istanbul to a delirious Kristen Wiig comedy about two Midwestern women finding themselves (and stopping an archvillain) while vacationing in Florida. Here are the best movies Vulture has seen and, in many cases, reviewed so far this year, according to critics Bilge Ebiri and Alison Willmore.
(A reminder about methodology: This list is restricted to films that have had their first official release in 2021 — so no The Father, Minari, Night of the Kings, or Nomadland, which all had qualifying runs in 2020 — and we will continue to update it throughout the year.)
January
Maud, the hospice nurse played with electric conviction by Morfydd Clark, is either possessed by the Holy Spirit or something darker. What's so cunning about writer-director Rose Glass's debut is how little that matters, because Maud's newfound religious fervor has an intensity that's terrifying either way. Having reinvented herself after a traumatic work incident as an ecstatic ascetic who believes that God has a special purpose in store for her, Maud gloms onto her latest client, a choreographer with terminal lymphoma played by Jennifer Ehle, sure that she's supposed to save the embittered bohemian's soul. Disaster seems inevitable, but what makes Saint Maud so nail-bitingly tense is that it's impossible to guess the form in which it'll come, especially as we become immersed in Maud's warped, hallucinatory way of seeing the world.—Alison Willmore
(Available to stream on Amazon, Sling TV, and Philo.)
I Blame Society
When your friends tell you that you have the makings of a good murderer, do you take it as a compliment? Filmmaker Gillian Wallace Horvat runs with that idea in her feature debut, a bitterly dark comedy in which she stars as a hilariously warped version of herself who finds that killing might actually be more creatively fulfilling than floundering to secure financing for a film. I Blame Society is a scabrous satire about navigating an industry that parrots all the right things about wanting women's stories, but doesn't actually seem to have changed that much at all in terms of who has power and who gets to determine which of those stories are the right kind — a realization that's enough to make anyone snap.—A.W.
Simon Stone's The Dig opens sometime in the 1930s with humble excavator and amateur archeologist Basil Brown (Ralph Fiennes) being called to the stately Suffolk home of wealthy widow Edith Pretty (Carey Mulligan) to dig up a series of large, mysterious mounds on her property. Soon enough, he's uncovering something far grander than anyone previously imagined — an entire ship buried underground, the tomb of an ancient Anglo-Saxon king and proof that the people who inhabited this land were more than mere Vikings. As the dig goes on and our characters learn more about the past and the people who came before them, the small gestures of their own lives begin to feel both inconsequential and seismic. To convey these seemingly paradoxical ideas, Stone and screenwriter Moira Buffini adopt an elliptical, glancing style that treats the present almost as if it were already a memory. Scenes weave in and out of each other. Conversations happen without anyone moving their mouths, the sounds of one intimate moment intruding on the images of another. Time jumps backward and forward. Death is intercut with passion, as tragedy and glory tangle onscreen. It's as if the dig itself radiates out a new understanding of existence, revealing both the broad arc of history and the curlicues of love, loyalty, and loss that abound within it.—Bilge Ebiri
(Available to stream on Netflix.)
Initially intended to be the site of a reservoir but never actually filled up, Vacaresti Nature Park has stood in the center of the Romanian capital of Bucharest for decades, neglected by bureaucrats and slowly emerging as a rich marshland with startling biodiversity, the largest urban wilderness in Europe. It's also the unofficial home of a man named Gica Enache, who, with his wife and nine children — not to mention a few pigeons, chickens, dogs, cats, and pigs — has resided here for nearly 20 years, away from the world in a kind of impoverished, idyllic life off the grid. Shot over three years, Radu Ciorniciuc's film follows Gica and his family as their existence is interrupted by the growing demands of the modern world. But Acasa is not exactly a movie about paradise lost. Ciorniciuc seamlessly blends intimacy and lyricism with a clear-eyed honesty about what he's depicting. The film comes in at under an hour and a half, but we see Vacaresti transformed and the Enache family sent into an existential tailspin. Over and over in this poisoned pastoral, the lost dream of the idyll clashes with the sad workings of reality.—B.E.
(Available to rent on Amazon, YouTube, Google Play, and Vudu.)
February
Kristen Wiig and Annie Mumolo play a pair of midwestern best friends who head to sunny Florida and find themselves in a heap of trouble. It might look on its surface like the zany, mass-appeal comedies on which Wiig has built much of her success. But make no mistake about it — this is weirdo cinema all the way, filled with non sequiturs, oblique cutaways, and an impressive level of commitment to the bit from its stars. Delivering their lines with complete-each-other's-sentences brio, Wiig and Mumolo give off all the charming energy of a duo who have built these characters over a lifetime. Special mention must go to Jamie Dornan's conflicted and lovesick villainous henchman Edgar, who gets one of cinema's great musical numbers, flouncing, splitting, leaping, and twirling around on a beach, singing lines like "I'm going up a palm tree / Like a cat up a palm tree / Who's decided to go up a palm tree" and "Seagull on a tire, can you hear my prayer?"—B.E.
(Available to purchase on Amazon, YouTube, Google Play, and Vudu.)
The World to Come
The first time Abigail (Katherine Waterston) kisses Tallie (Vanessa Kirby), she blurts out, with the astonishment of someone whose universe has just tilted on its axis, "You smell like a biscuit." Mona Fastvold's film is the latest in what's become a trend of lesbian period romances, but it's unique in being set in the 1800s in the wilds of New York state, where Abigail and Tallie are unhappily married to neighboring farmers — the stolid Dyer (Casey Affleck) and the controlling Finney (Christopher Abbott), respectively. Theirs is a difficult way of life, with the women having little by way of freedom or relief from the isolation, and Finney, in particular, becoming increasingly resentful of Tallie's lack of interest in what he believes are her wifely duties. But the friendship and then the love that arises between Abigail and Tallie is portrayed as a delight in a world almost entirely devoid of such an emotion, something to be greedily held onto even as any future it could have is desperately uncertain.—A.W.
(Available to rent on Amazon, YouTube, Google Play, and Vudu.)
Rodney Ascher's documentary exploration of simulation theory is stuffed with ideas and stories and builds toward the kind of emotional conclusion one would not expect from a movie so immersed in abstract thought. It's also just plain creepy: Ascher structures his journey around footage of a 1977 lecture by visionary sci-fi author and legendary paranoiac Philip K. Dick, who declares to an audience in Metz, France, that we are living in a computer-programmed reality, one of many. Dick looks and feels like a cult leader, assured in his lunacy. Significantly less intimidating, Ascher's other interview subjects (who include artists, scientists, and researchers) are hyperintelligent, articulate, and entertaining. The temptation is great to sit there and poke holes in their so-called evidence, but the tenor of the film isn't one of doubt or ridicule. For the most part, these people's stories aren't all that bizarre or surreal; they are universal and relatable. Ultimately, A Glitch in the Matrix becomes a film not about whether we're living in a simulation but about the many understandable reasons someone may think this. In effect, it winds up being about the mysteries of the human experience.—B.E. (Available to rent on Amazon, YouTube, Google Play, and Vudu.)
My Zoe
It may take some emotional fortitude to make it through the first half of Julie Delpy's devastating parental drama. Watching Delpy's single mom shower affection and attention on her young daughter, always looking out for the child's safety, it's hard not to get a sense that something truly horrible is about to happen. And be prepared — it does. But also know this: This film also features Daniel Brühl, and once he shows up, it gets way crazier and more entertaining. My Zoe is a strange, moving picture about how we process grief — or, in some cases, fail to — but it's also a powerful and complex exploration of scientific, emotional, and familial ethics. And it ends on one of the most subtly unsettling images in recent memory.—B.E.
(Currently unavailable to stream.)
March
There are only a couple of jump scares in Canadian writer-director-cinematographer-editor-composer-visual-effects-artist Anthony Scott Burns's Come True — mild ones at that — but the movie's elusive sense of menace lingers for days, weeks, possibly forever. It's about a troubled 18-year-old insomniac (Julia Sarah Stone) who signs up for a sleep study and winds up getting pulled further into her nightmares. There's a bare-bones story there, and an insane howler of a twist at the very end, but the film's most indelible moments come whenever Burns portrays the unnerving, spectral world of our heroine's dreams, with their grim, surreal imagery. The movie captures something elemental, a vague but familiar terror scratching at the edge of our consciousness.—B.E.
(Available to rent on Amazon, YouTube, Google Play, and Vudu.)
A princess story by way of a dystopian action adventure, Raya and the Last Dragon is Disney displaying how ably it's about to adapt its animated formula to the blockbuster era. Its heroine (Kelly Marie Tran) is both the daughter of the chief and a fiercely determined martial artist. Its requisite adorable animal sidekick, the armadillo-pill-bug hybrid Tuk Tuk, is also a trusty steed capable of navigating Raya through chase sequences. But while Raya and the Last Dragon can feel slick to a fault, its Southeast Asia–inspired fantasy realm is beguiling and beautifully rendered. And for all the trundling forward motion of its save-the-world narrative, the film still has bursts of genuine heart — many of them courtesy of Sisu, the innocent and generous dragon of the title, who's winningly voiced by Awkwafina.—A.W.
(Available to purchase on Disney+, Amazon, YouTube, and Google Play.)
Weighing in at a backbreaking four hours and two minutes, the so-called Snyder Cut – effectively restoring the version of Justice League director Zack Snyder wanted to make before departing the project in 2017 — sprawls, and scatters, and loses itself in story lines. There are times when you're convinced it's entering the final act, only to realize there are still more than two hours to go. But lose all these melodramatic curlicues and oversize narrative distractions, and you'd lose what makes the film special. There, in its great, glorious bloat, lies the movie's heart. You can sort of understand why length-concerned executives might have wanted the running time cut in half and the story spruced up with dumb jokes and fewer subplots. But there's nothing cynical about Snyder's indulgence: He believes that superheroes directly tie into our ancient myths and religious symbols, and he wants to make the rest of us believe too. He repeatedly goes overboard with the ritual and the portent and the stone-faced gravity, but it's hard not to respect the guy. The Snyder Cut has its share of problems — when you get the best of Snyder, you also get the worst — but it's an undeniably passionate and moving work. It earns its self-importance.—B.E.
(Available to stream on HBO Max.)
Pedro Almodóvar's English language debut is a divine half-hour short in which Tilda Swinton gets tired of being trapped in her apartment, puts on a pair of gold lamé pants, and burns the whole place down. Relatable! The Human Voice is a loose adaptation of Jean Cocteau's 1930 monodrama, which is entirely composed of a woman speaking and pleading on the phone with an unseen lover who has left her to marry someone else. Almodóvar's interpretation turns the work into an ode to the deliciousness of melodramatic impulses, with Swinton pacing her home — exquisitely furnished, and quickly revealed to have been built entirely on a soundstage — in AirPods, and also downing a colorful but nonlethal handful of pills and taking an ax to her ex's favorite suit, all in an effort to free herself from the shadow of their relationship.—A.W.
(Available in select theaters.)
It might not be entirely accurate to call the new Eric Andre film a prank comedy, since prank comedies often turn on making unsuspecting people look like idiots. Bad Trip, while absurdly funny, doesn't really take aim at its unwitting bystanders; the film is refreshingly free of cynicism. Most of the people who get pulled into Andre and co-stars Lil Rel Howery and Tiffany Haddish's gags seem to be helpful, tolerant, sensible — which seems downright shocking at a moment in time when we've all been told that we hate each other's guts. It wouldn't have been hard to accelerate these situations to the point where everyone began to act like jerks, and one presumes plenty of stuff has been cut out. The film's generosity toward our fellow humans feels purposeful — and it's genuinely moving—B.E.
(Available to stream on Netflix.)
Stray
A kind of companion to Kedi, that 2016 documentary about Istanbul's street cats, Elizabeth Lo's film is a tender look into the lives of some of the city's free-roaming dogs. It's also, inevitably, a dog's-eye view portrait of the Turkish metropolis, with Lo setting her camera on the level of her four-legged subjects but also catching the human dynamics happening around them. In particular, she lets her expressive main character, a tan-colored lovely named Zeytin, bring the audience into the lives of a group of Syrian refugees living covertly on a construction site. Stray doesn't need to push the point that the wild dogs are welcomed more freely than these painfully young men, who huff glue and sell packets of Kleenex to get by while being denied work permits. To exist from day to day is an animal's prerogative, but it's a lot harder on humans who can't conceive of what their life will look like a week, a month, or a year from now.—A.W.
(Available to rent on Amazon, YouTube, Google Play, and Vudu.)
To try to describe a SpongeBob Squarepants movie is to flirt with madness. This one follows SpongeBob and his best friend Patrick as they go on a dream quest/road trip to the Lost City of Atlantic City, a glittering, neon-drenched metropolis where the vain, domineering King Poseidon is keeping SpongeBob's pet snail, Gary, captive, using its slime for facials that keep his face young and healthy. It's all a scheme engineered by the show's primary nemesis, Plankton, who comes up with this demonic plot only after yet another of his attempts to land the secret recipe for Krabby Patties ends with him getting stuck in a French-fry cutter and having the long slivers of his sliced-up body dumped into an industrial-strength deep fryer, an image more unsettling than anything the horror genre has given us in years. Along the way, there's a Western ghost town populated by zombie cowboys; a rolling, sentient tumbleweed soothsayer known as Sage, portrayed by a gently aflame Keanu Reeves; a whole bit where they become gambling addicts and lose their minds; an elaborate courtroom trial; and at least two covers of "My Heart Will Go On." It's Thelma and Louise meets The Quick and the Dead meets Inception meets Barb and Star Go to Vista del Mar meets Rain Man meets Inherit the Wind, and somehow it's also a summer-camp movie?—B.E.
(Available to stream on Paramount+ and to rent on YouTube, Google Play, and Vudu.)
April
No one makes movies like Roy Andersson, and if About Endlessness ends up being the 78-year-old Swedish filmmaker's last, we'll never see anything like it again. Andersson makes feature-length collages out of intricately composed, fiercely deadpan scenes that go from mundane moments to glimpses of sometimes dark history. In his latest, a man gets the cold shoulder from a childhood acquaintance he'd forgotten he was once unkind to, a spontaneous dance party erupts outside a café, and a defeated army marches through the snow toward a prison camp. The connections between these sequences are indirect but also profound — they give a sense of grandeur to the most mundane of struggles while finding the terrible absurdity in grand acts of human cruelty.—A.W.
The Mitchells vs. The Machines
This wild animated film about a bickering family of misfits whose road trip happens to coincide with a robot apocalypse brought about by a huge tech company's runaway digital assistant is both a takedown and a celebration of our dissonant, tech-obsessed world. Director Mike Rianda and co-director Jeff Rowe use speed, wit, and a delirious combination of animation styles — mixing variations on 3-D, hand-drawing, and even live-action — to create something frenetic and inventive and new. The film portrays a reality in which the background noise of technology often reveals our true feelings. There's a warning here, of course, about putting all our emotional lives into the objects around us, be they physical or virtual. But beneath it all, the film also has some affection for its attention-deficit universe. It's in many ways a love song to all the weirdos who can't quite bring themselves to say the things they need to say and instead express themselves in other, less efficient and convenient ways (which could be, at various times, any of us).—B.E.
There are vintage Sesame Street clips in this documentary from Marilyn Agrelo that provide a rush of recognition heady enough to dilate the eyes, Requiem for a Dream-montage-style. But the film, which is based on a book by Michael Davis, isn't interested in just wallowing in nostalgia. In examining the early years of the landmark children's television show, it outlines the forces of idealism and public funding that allowed it to be, mixing interviews with surviving creators and cast members with archival footage of Jim Henson and Jon Stone talking to journalists. The behind-the-scenes shots are invaluable, and the acknowledgments of the personal sacrifices and pain of the production process give the film a bittersweet tinge. Mostly, though, the problem with Street Gang is that you might wish it could go much longer, delving deeper into the ways that values and ambition met reality on this enormously influential feat.—A.W.
Slalom is being billed as a Me Too movie set in the world of competitive skiing, but that does the picture a mild injustice. The film is too human for any kind of categorization. It's a delicate, authentic look at the complicated ways in which abuse works. Much of its power derives from the performance of newcomer Noée Abita as Lyz, a 15-year-old girl studying in the Swiss Alps, where she has joined an elite ski team led by Fred (Jérémie Renier), a tough coach who thinks nothing of observing and manhandling the kids' bodies, supposedly to make them better skiers. Although we know where things are generally headed, almost nothing in Slalom feels specifically predictable. The electrifying camerawork of the skiing sequences might at first feel a bit off-note, but it's important to show Lyz's exhilaration, the intoxication of victory that pushes her and Fred closer together. Fred is not so much a scheming, serial predator, but rather a man whose confident exterior hides someone even more screwed up and immature than the young, lost girl that he's become drawn to. He's a broken narcissist who doesn't understand anything about boundaries, or agency, or even trust.—B.E.
Moffie
Thrumming with danger and eroticism, Oliver Hermanus's adaptation of André Carl van der Merwe's apartheid-era memoir centers on a gay South African teenager who's sent to complete his compulsory military service. It's 1981, a time when anti-Black and anti-communist fears are being stoked to an all-time high, and Nicholas (Kai Luke Brummer) is one of a group of young men being readied to participate in the country's border war with Angola. It's a coming-of-age movie that plays like a thriller, its main character navigating a brutal institution in which masculinity, racism, nationalism, and violence are all inextricably linked, and finding an unexpected connection with fellow conscript Dylan (Ryan de Villiers).—A.W.
Written, directed, and edited by Lemohang Jeremiah Mosese, this visually striking drama became the first feature to screen at Sundance from the small African nation of Lesotho last year. It's now the first movie masterpiece of 2021 to enter release. In the story of Mantoa (Mary Twala Mhlongo), an aging, grieving mother and widow fighting a losing battle to save her village from being displaced by a dam project, Mosese has created a hypnotic reverie on how death and life are inextricably intertwined, and about the ways that the past continues to animate the present. Mantoa's actions — driven, in part, by her desire to maintain the local cemetery where her loved ones are buried and where she soon hopes to be — spur the rest of the village to action. Mosese depicts this community's transformation in subtle, cinematic ways. But the real attraction here is the bedrock vitality of 80-year-old Mary Twala Mhlongo, who is filmed almost like an avenging angel. The veteran actress passed away last July, and now the anxious, unyielding melancholy of her character hits harder. That we as a planet have ourselves suffered through unimaginable loss adds a further, unexpected resonance.—B.E.
The Power
Set during the '70s in the U.K., when battles between the Conservative government and striking coal miners union led to electricity restrictions and regulated blackouts, Corinna Faith's film features an all-timer of a horror setting. It takes place in a sprawling, underfunded hospital in which a novice nurse named Val (Rose Williams) is forced to take on a night shift on her first day of work. It doesn't take long for frightening things to start happening in the unlit hallways and shadowy wards, though if there's a ghost lurking, it seems to be drawn to Val not out of an urge to destroy her, but because they share something. The Power elegantly knits together atmospheric terrors and institutional ones, providing a reminder that it's not always the things that go bump in the night that are the true threat.—A.W.
Gunda
Viktor Kossakovsky's mesmerizing, gorgeous documentary about the life of a mother pig and her babies on an unnamed farm somewhere in the world serves as a bracing corrective to the way animals are usually portrayed on film. The director wants to establish a connection between us and these creatures that we think of primarily as food, but he doesn't want to do it at the expense of truth. To try and give these human personalities or traits would be not just dishonest, but counterproductive; it would make the whole movie (and any message its maker may want to convey) dismissible as fantasy. So we don't necessarily understand these animals. We are, however, transfixed by them. There have been lots of movies about pigs over the years, but this is the rare movie that lets the pigs onscreen just be pigs.—B.E.
The Disciple
Chaitanya Tamhane's portrait of a forever-striving Indian musician was dropped unceremoniously onto Netflix at the end of April but shouldn't be overlooked — it's a slow-build marvel about someone trying to reconcile the practical with the sublime. Aditya Modak is terrific as Sharad Nerulkar, who was raised in the world and the traditions of the classical scene by his dad, a passionate but never especially successful musician. Sharad inherits his father's aspirations toward greatness as well as surreptitiously recorded lessons from the man's guru, a near-mythical figure who didn't feel a need to perform for an audience or for posterity. As he gets older, though, and indignities accrue with the passing of the years, the ideals he's been taught about purity of approach and all-consuming devotion start to seem incompatible with a contemporary, fulfilled life. —A.W.
May
Riders of Justice
It's clear by now that there's nothing that Mads Mikkelsen can't do — whether it be performing a surprisingly athletic bit of jazz ballet, crying blood at a poker table, surviving a plane crash in the Arctic Circle, or elegantly supping on human flesh. In Anders Thomas Jensen's revenge drama Riders of Justice, Mikkelsen manages to simultaneously lean into and dismantle tough-guy tropes while playing a stoic soldier reeling from the death of his wife in a train crash. Rather than confront his repressed grief or console his mourning daughter, he embraces a theory that the accident was actually planned and starts working with a trio of programmers who think they've uncovered a conspiracy. It's the rare action movie that concludes with the idea that everyone should have just gone to therapy. —A.W.
This Australian thriller, a big hit in its native land, is filled with such an overwhelming sense of grief that you may lose sight of the central mystery for stretches of the movie. But it works as genre, too. Eric Bana plays a federal agent who returns after many years to his drought-stricken rural hometown to look into a ghastly murder-suicide allegedly committed by his oldest friend. As he investigates, flashbacks dredge up another mysterious death from years before, when they were all kids. It's a tangle of suspicion, shame, and buried memory, and the land becomes something of a metaphor for the corrosive power of evil as our hero wanders around this shriveled, devastated community. On the surface, Bana plays the haunted cop as a calm, methodical professional — but there's a vindictive gleam in his eye as well, a streak of self-destructiveness to his quest for the truth. This is a beautiful thriller that leaves us not with explanations but with unshakable sadness. —B.E.
The sequel to John Krasinski's 2018 alien-invasion horror hit is almost as nerve-racking as the first. It opens with a bravura flashback — an explosive, stomach-gnawing look at the day the sound-seeking aliens first came to the quiet town of Millbrook — but then continues from where the previous film left off. After the death of her husband, Evelyn Abbott (Emily Blunt) struggles to find safe harbor for her surviving children, Regan (Millicent Simmonds) and Marcus (Noah Jupe), and her newborn baby. They shack up with their traumatized, paranoid, grieving neighbor Emmett (Cillian Murphy) but wind up separated again when Regan strikes out on her own, convinced she's hearing a radio message about where to find the rest of human civilization. Krasinski directs like an old suspense master. Because characters usually can't talk, story beats and revelations have to be conveyed visually through cinematic language. But he also brings subtlety, artistry, and texture to the story. Beyond the many jump scares involving aliens and the terrifically terrified-out-of-their-wits performances, what makes A Quiet Place Part II special is the sheer joy we get from feeling like we're in the hands of a confident filmmaker. —B.E.
June
Summer of Soul
There's no better reminder of the alchemical magic of film than long-unseen archival footage, which can make years vanish in an instant, restoring the past with an immediacy that's all the more vibrant because it offers a glimpse into what was thought lost. That's definitely the case with Hal Tulchin's half-a-century-in-store footage of the 1969 Harlem Cultural Festival, which provides a breathtaking window into a major but underdiscussed event (and the ecstatic audience), featuring performances from the likes of Stevie Wonder, Mahalia Jackson, Nina Simone, and Sly and the Family Stone. But what makes Summer of Soul so multifaceted is the way that Ahmir "Questlove" Thompson, in his directorial debut, cuts interviews by and about the artists in with each song, providing context to the moment, to the music, and to shifting ideas of what it meant to be Black in America.
Nicole Riegel's blue-collar drama Holler is the kind of film that can at first glance feel familiar but upon closer examination reveals uncommon artistry and depth. The festival landscape used to be littered with movies like this — downtrodden men and women trying (and often failing) to get by in grim, dead-end settings — at least until indie filmmakers realized their low-budget efforts were better directed toward show-offy calling cards for helming future studio products, franchise and otherwise. In that sense, Holler feels like both a throwback and an elevation. I saw my share of movies like this in the late 1990s and early 2000s, but they were rarely this captivating.
All Light, Everywhere
Theo Anthony makes films that are as much visual essays as they are documentaries, delving into history and technology in order to make provocative connections between the past and present. His 2016 debut, Rat Film, used Baltimore's rodent problems as the jumping-off point for an examination of redlining and inequality. His new film, All Light, Everywhere, is a meditation on the impossibility of an objective lens, particularly when it comes to police enforcement. Anthony weaves together a tour of Taser and body-camera company Axon Enterprise, the history of astronomers' attempts to observe the transit of Venus, and the story of a man trying to sell the citizens of Baltimore on an aerial-surveillance program, drawing a line from early, gun-inspired advancements in photography to the inherent bias in camera footage.
In the Heights, directed by Jon M. Chu from Lin-Manuel Miranda's hit musical love letter to the largely Dominican neighborhood of Washington Heights, is suffused with a gentle melancholy — not exactly nostalgia, but a sense of things passing. There's a fairy-tale retrospection built into the film's framing device, as our hero, Usnavi (Anthony Ramos), sits at an idyllic beachside bar talking to a group of kids about "a faraway land called Nueva York" and a "barrio called Washington Heights." ("Say it, so it doesn't disappear," he implores them.) The film's numbers, drawn from a wide range of musical styles, rarely follow a single emotional through-line, instead presenting entire symphonies of character, gesture, and subplot. Chu simultaneously blends the casual, the lived-in and intimate with a traditional musical's broad gestures, precise rhythms, and dream logic.
They drove a car in space.
If you subscribe to a service through our links, Vulture may earn an affiliate commission.