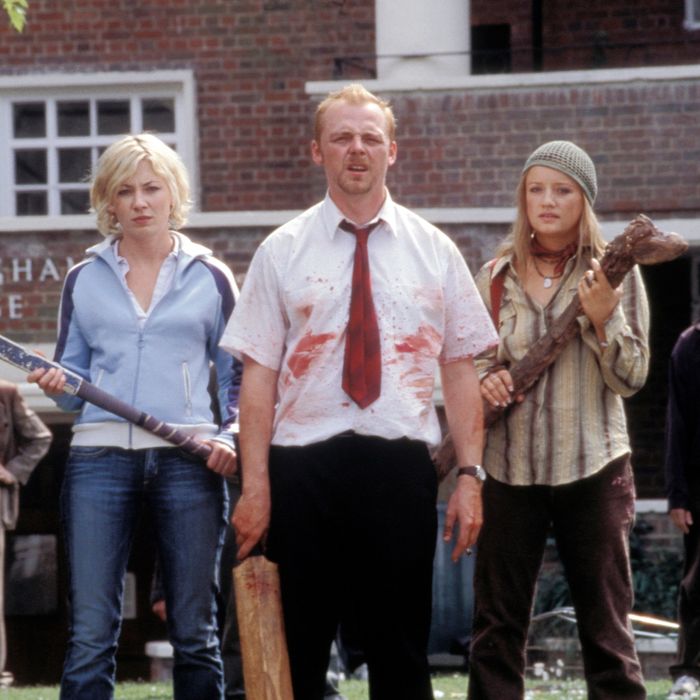 Shaun of the Dead
Photo: Universal Pictures
This post is updated twice a month to reflect the latest movies to leave and enter Amazon Prime. *New additions are indicated by an asterisk.
You really should be using your Amazon Prime subscription for more than just shipping discounts and Whole Foods sales. The people at Amazon have amassed a truly impressive library of films that can be accessed with your Prime account, and in many ways, it's equal to and arguably even superior to Netflix's library. But how do you know where to begin? As we have done with Netflix, allow us to present a regularly updated guide to 30 movies to watch on Amazon Prime. A collection of classics, blockbusters, and under-the-radar flicks, you really should watch all 30. Get back to us after you do.
Leos Carax's first film in years dropped on Amazon Prime only a couple weeks after its theatrical premiere, and only about a month after it wowed audiences at Cannes. Adam Driver and Marion Cotillard star in the ambitious musical (with original songs by Sparks) about a couple who have a magical child named Annette. That only captures a fraction of what this incredibly unique film is about — you have to see it to believe it.
It's not common for a breakthrough comedy to be so acclaimed and popular that it actually becomes an Oscar nominee for Best Screenplay, but The Big Sick is not a typical comedy (and Holly Hunter was robbed of a nomination too, by the way). Kumail Nanjiani and Emily V. Gordon loosely adapt their story, with Nanjiani starring alongside Zoe Kazan. It's really as crowdpleasing as comedies get. You kind of have to be an asshole not to like it.
Natalie Portman won an Oscar for her incredible work in Darren Aronofsky's 2010 film about an obsessive ballet dancer whose life falls apart while working on a production of Swan Lake. Intense and unforgettable, this is a daring piece of physical horror about pressure, competition, and insanity.
One of the best films of James L. Brooks's career is this 1987 romantic dramedy that was so acclaimed that it was nominated for Best Picture and included a couple years ago in the National Film Registry by the Library of Congress. Holly Hunter, William Hurt, and Albert Brooks are fantastic in this smart movie about the people who bring viewers the news. Some of it is a little dated now, but the acting and writing will always be brilliant.
The City of Lost Children
Marc Caro and Jean-Pierre Jeunet directed a stunning follow-up to their breakthrough with Delicatessen, delivering an even better film (and then would go on to follow this one up with Amelie). The City of Lost Children is an impossible movie to describe in a capsule, a crazy vision of a fantasy world that's like nothing you've ever seen before. Beautiful and unforgettable.
Susan Sarandon won an Oscar (and Sean Penn probably should have) for this examination of the morality of the death penalty, written and directed by her partner Tim Robbins. Sarandon plays the real Sister Helen Prejean, whose life was changed via relationships she formed with prisoners on death row. It's a searing drama that's grounded by two incredible performances.
Lulu Wang wrote and directed this beautiful award-winner "based on a true lie." Awkwafina won a Golden Globe for the role of a New York woman who is forced to go along with her family when they decide not to tell her beloved Nai Nai that she has cancer. It's a nuanced, tender piece of filmmaking that really announces Wang as a major new talent, and a film that will be passed down from generation to generation for years to come.
Joel and Ethan Coen's 1996 masterpiece is only one of the best films ever made, a story of violence and redemption in the great American North. The Coens won Best Original Screenplay and Frances McDormand took her first Oscar home for playing the unforgettable Marge Gunderson, a Minnesotan cop who gets entangled in a car salesman's deeply inept foray into the criminal world.
Fearless
Arguably Jet Li's last great film, the 2006 Ronny Yu joint is one of the last gasps of a series of international martial arts hits that came in the wake of Crouching Tiger, Hidden Dragon. There was a time when audiences were so open to this kind of filmmaking that Fearless was actually one of the ten highest grossing foreign language films of all time in the U.S. It's a great example of Li at his most charismatic, while also understanding the transcendent beauty of a great piece of martial arts choreography.
Forget that mediocre remake with Julia Louis-Dreyfus and Will Ferrell, just stick with this 2014 dramedy about a man who makes a very bad decision when the life of his family is threatened by an avalanche. Instead of trying to save them, he flees in the other direction, and it changes everything in his marriage and family from that day forward. Funny and insightful, this is a great movie.
Believe it or not, this 1993 Bill Murray vehicle wasn't that rapturously received critically or commercially when it came out, but it's become a beloved genre classic. Murray stars as a weatherman forced to relive the same day over and over again until he gets it right. It's not just the clever premise but how much co-writer/director Harold Ramis and Murray inject humanism and truth into it. And it's held up so much better than most early '90s comedies.
Christian Slater kinda does a Jack Nicholson impression and Winona Ryder is at the peak of her '80s emo charm in this clever satire of high-school life. Ryder plays the high-school outcast and Slater plays the guy who teaches her that revenge is a dish best served with an attitude.
When people think of the most influential Hollywood comedies of all time, this 1940 Howard Hawks hit often makes the list. Watch it to see why. You'll witness Cary Grant at his most charismatic as Walter Burns, an editor who is watching his best reporter and ex-wife walk out the door. He suggests they cover one last story, and Hollywood magic ensues. American movies don't get much more classic than this.
Any list of the best concert films of all time that doesn't include Martin Scorsese's The Last Waltz is simply wrong. Scorsese's documentary captures the "farewell concert appearance" by The Band on Thanksgiving Day in San Francisco in 1976. The end of The Band brought out an incredible array of special guests and Scorsese really captures not just the music but the mood and energy of an era.
Do you think the people at Amazon have a sense of humor? Or is it just a coincidence that they dropped a film about two people going crazy in a confined space together during the pandemic? Robert Pattinson and Willem Dafoe are fearless in Robert Eggers' black-and-white nightmare about two people who learn that nothing is scarier than being trapped with someone unbearable.
Casey Affleck won an Oscar for his heartbreaking performance in Kenneth Lonergan's drama about a broken man finally put back together when he's forced to take care of his nephew. Lonergan's film is an unforgettable character study, full of complex emotions and beats. And it has two scenes that are almost guaranteed to make you cry.
Letitia Wright (Black Panther) stars in one of the best films in Steve McQueen's Small Axe anthology, a collection of works about life in West London in the '70s and '80s. This one is the true story of the Mangrove Nine, a group of people arrested after a protest march ended in violence in August 1970. It was one of the first major cases about systemic racism in the country.
Regina King really can do everything. The Oscar and Emmy winner directs this adaptation of the 2013 play about four legendary Black icons coming to a hotel room in Miami in 1964. Malcolm X (Kingsley Ben-Adir), Muhammad Ali (Eli Goree), Jim Brown (Aldis Hodge), and Sam Cooke (Leslie Odom Jr.) knew a lot about fame and expectation in 1964, and King's acclaimed film about them is smart, funny, and moving.
*Rescue Dawn
This 2006 war drama is one of the best films of the career of the irreplaceable Werner Herzog. The masterful filmmaker retells the story of his documentary Little Dieter Needs to Fly with actors this time, including one of Christian Bale's best performances. He plays Dieter Dengler, who was captured and held as a POW in the Vietnam War. It's unforgettable.
Everyone talking about the arrival of elevated horror on the scene as if Midsommar and The Lighthouse were the first of the genre to be taken seriously must not remember the '70s when movies as dark and vicious as Rosemary's Baby won Oscars and made millions. Roman Polanski's adaptation of Ira Levin's novel has lost none of its terrifying power, thanks in large part to the acting of Mia Farrow, who makes Rosemary's predicament palpable.
*The Secret of Roan Inish
Take a break from the escapism and show your kids something culturally resonant and unforgettable in John Sayles' version of a classic Irish legend. With breathtaking cinematography by Haskell Wexler, this is the story of a girl in Ireland who hears that her brother was swept away by a selkie when he was a baby. It's a tale of magic and legends in a way that could only take place in Ireland.
The true genius of Edgar Wright's 2004 horror-comedy is that it takes both sides of its clever genre coin completely seriously. Yes, the story of a zombie attack on a small British town is laugh-out-loud hysterical, but this is also a legitimately great horror movie at the same time. It kicked off Wright's Cornetto trilogy, followed by the also-fantastic Hot Fuzz and The World's End.
Darius Marder co-wrote and directed this phenomenal character study about a heavy metal drummer (Riz Ahmed) who loses his hearing. Dealing with the loss of one of his senses takes him to a community of deaf people, where he learns how to communicate and finds himself again. Touching and brilliantly directed, it also features one of the best performances of 2020 from Ahmed (and one that nearly matches him from Paul Raci).
A classic! That's the word for this 1957 noir that stars the great Burt Lancaster and Tony Curtis. Lancaster plays a journalist based loosely on Walter Winchell who uses his connections to destroy a relationship between his sister and a new man. It wasn't very well received when it was released but has been recognized as a classic over time.
Train to Busan
A legitimate phenomenon that has grossed almost $100 million worldwide, this 2016 South Korean movie is one of the best zombie flicks of its era. It's simple – zombies on a train – but that's one of the reasons it works so well. It has a propulsive, non-stop energy and it feels like its legacy is just getting started.
Peter Weir directed Jim Carrey to one of the strongest performances of his career in this 1998 dramedy that now seems far ahead of its time in the way it foretold people living lives online. Carrey plays Truman Burbank, a man who has grown up on a TV show but has no idea that his entire life has been watched by millions. Ed Harris and Laura Linney are also just great in this modern classic.
*Two Lovers
James Gray (Ad Astra) is a phenomenal director, and this 2008 romantic drama is one of his best films. Based on the short story "White Nights" by Fyodor Dostoyevsky, the film stars Joaquin Phoenix, Gwyneth Paltrow, and Vinessa Shaw in a love triangle film that cares about its characters. Set largely in Brighton Beach, it also has a great sense of place and time.
One of the best small-movie success stories of the last few years, this gem premiered at Slamdance, Sundance's little cousin up the mountain in Park City, in 2019. After a small drive-in run, it's already on Prime, where you can appreciate this lo-fi take on aliens in the heartland of America. Smart, funny, and daring, this is one of the best movies of 2020.
Lynne Ramsay directed Tilda Swinton and John C. Reilly in this devastating adaptation of Lionel Shriver's book. Ezra Miller plays the titular Kevin, a boy who develops into a man who does not seem to be quite all there. What do you do if you're worried your son is a sociopath? Terrifying and yet empathetic at the same time, this isn't an easy watch but it is fascinating.
Young Frankenstein
Any list of the best comedies of all time that doesn't include Mel Brooks's 1974 comedy masterpiece is simply wrong. Gene Wilder stars as a descendant of the infamous Dr. Frankenstein in Brooks's parody of Universal monster movies that became an international smash hit, even landing an Oscar nod for Best Adapted Screenplay. It was hysterical in 1974 and it still is today.