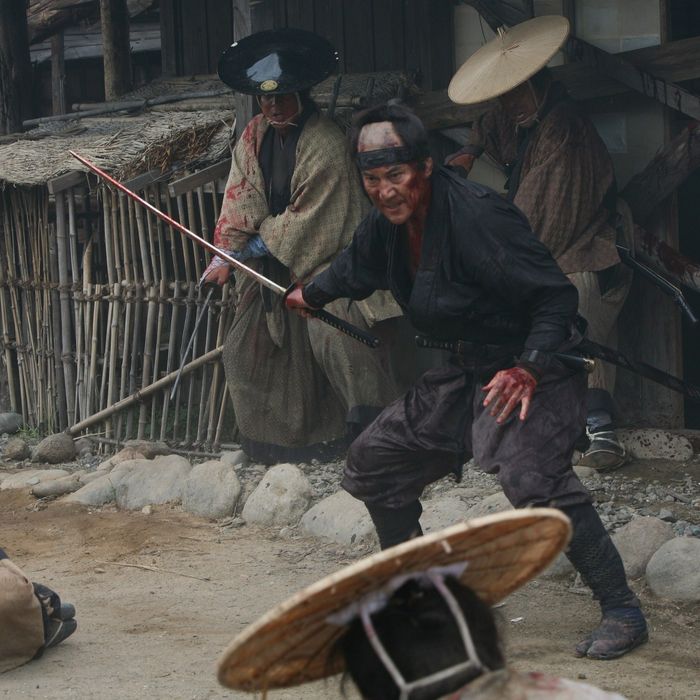 13 Assassins.
Photo: Magnolia Pictures
This list is regularly updated as movies rotate on and off of Amazon Prime Video. *New additions are indicated with an asterisk.
Amazon has a little bit of everything on their streaming service, but they don't have an interface that makes it particularly easy to find any of it. They also love to rotate out their selection with reckless abandon, making it hard to pin down what's available when you want to watch a movie. It's the kind of digital minefield that demands a guide. That's where we come in! This regularly updated list will highlight the best films currently on Prime Video, free for anyone with an Amazon Prime account, including classics and recent hits. There's truly something here for everyone, starting with our pick of the week.
This Week's Editor's Pick
13 Assassins
Year: 2011
Runtime: 2h 5m
Director: Takashi Miike
Takashi Miike has made directed over 100 movies, and this is one of the best, a stylish throwback to samurai cinema of old anchored by the modern filmmaking prowess of one of the best filmmakers alive. A remake of Eiichi Kudo's 1963 film, this is loosely based on actual events from 1844 when 12 samurai and a hunter worked together to assassinate the leader of the Akashi clan. It's a perfect balance of storytelling and sprays of samurai blood.
Drama
Almost Famous
Year: 2000
Runtime: 2h 3m
Director: Cameron Crowe
Cameron Crowe wrote and directed this 2000 masterpiece about a young man (Patrick Fugit) who ends up on tour with a rock band known as Stillwater. With incredible supporting performances from Kate Hudson, Billy Crudup, Frances McDormand, and Philip Seymour Hoffman, this is one of the richest and most timeless films of its era, a rare movie that gets better every time you see it.
Year: 1998
Runtime: 2h 6m
Director: Gus Van Sant
In 1997, two old friends named Ben Affleck and Matt Damon saw their dreams come true in the form of a drama that would turn both of them into household names and win them Oscars for Best Original Screenplay. Damon stars as Will Hunting, a janitor who has not lived up to his intellectual potential, but what really makes this movie still effective is its emotional foundation. A lot of that comes courtesy of a therapist played by Robin Williams, who won an Oscar for his work.
Year: 2021
Runtime: 2h 37m
Director: Ridley Scott
One of two 2021 films by the incredible Ridley Scott is already on Prime Video in this adaptation of the 2001 non-fiction book by Sara Gay Forden. Lady Gaga gives a fearless performance as Patrizia Reggiani, whose romance with fashion empire heir Maurizio Gucci (Adam Driver) ended in violence. A modern camp classic just for Jared Leto's accent alone, House of Gucci is a riveting exercise in excess.
Moneyball
Year: 2011
Runtime: 2h 13m
Director: Bennett Miller
One of the best baseball movies ever made was adapted from the 2003 book by Michael Lewis, which recounts the management of the 2002 season of the Oakland Athletics, and how they changed the way the game is run by bringing analytics into the mix. Brad Pitt gives one of his best performances as general manager Billy Beane, a man who knew he would have to find a new way to evaluate talent if the A's were going to compete. This is a rich, smart, riveting movie that's extra-interesting given what the Oakland franchise is going through in 2023.
The Pianist
Year: 2003
Runtime: 2h 28m
Director: Roman Polanski
Adrien Brody won the Oscar for Roman Polanski's true story of the life of Wladyslaw Szpilman, a Polish-Jewish pianist who survived the Holocaust. Moving and gripping, The Pianist captures something rarely seen in historical documents — how much survival was often dictated by chance encounters and downright luck. Polanski also won the Oscar for Best Director.
Year: 1976
Runtime: 1h 59m
Director: John G. Avildsen
Just in time for the drop of Creed III in theaters, Prime Video knocked out all of the streaming competition by adding the entire saga up to this point, including every Rocky film from the Best Picture winner through Rocky Balboa, along with both Creed movies to date. These are legendary films in the history of American sports movies. Marathon time!
Thelma and Louise
Year: 1991
Runtime: 2h 9m
Director: Ridley Scott
It's hard to believe it's been over three decades since Thelma and Louise took over the national conversation and even the Academy Awards. Susan Sarandon and Geena Davis give two of the best performances of their career in this unforgettable story of an assault that sends two women on a fateful road trip. Everything about this movie works better than you remember, particularly the fearless performances from its two stars.
West Side Story
Year: 1961
Runtime: 2h 31m
Director: Jerome Robbins, Robert Wise
No, not the Best Picture-nominated Steven Spielberg remake — that is over on Disney+ and totally worth your time, by the way. This is the beloved original that dominated the Oscars over 60 years ago, winning a stunning ten Oscars, including Best Picture. Watch the original and then contrast and compare when you get to see the new one.
Year: 2014
Runtime: 1h 46m
Director: Damien Chazelle
Damien Chazelle may still be startled by the divisive response to Babylon but he can go back to the film that really broke him, earning one of its stars an Oscar and getting a nomination for Best Picture. Chazelle's drama about a perfectionist drummer and his militaristic teacher thrilled viewers from the minute it premiered at Sundance. It was a major piece of pop culture, a film that feels like it's being referenced more every year.
Year: 1992
Runtime: 2h 7m
Director: Francis Ford Coppola
Francis Ford Coppola's 1992 epic retelling of the classic novel is one of the most lavish and ambitious Hollywood productions of its era. Gary Oldman gives one of his best performances as the title character, but it's Coppola's incredible craftsmanship and unforgettable design that make his Dracula an underrated horror classic.
Year: 1976
Runtime: 1h 38m
Director: Brian De Palma
Long before Stephen King was an entire industry, he was the guy who wrote Carrie, a 1974 novel about a bullied teen girl who unleashes hell on her classmates. Every once in a while, there's a perfect combination of source material and creatives, and that's what happened when King, De Palma, and Sissy Spacek combined forces here. Horror movie history would be made. Note: The underrated Chloe Grace Moretz remake is also on Prime.
Hellraiser
Year: 1987
Runtime: 1h 34m
Director: Clive Barker
The horror author Clive Barker directed this adaptation of his own novella The Hellbound Heart and made genre movie history. Introducing the world to the iconic Pinhead, who would go on to appear in so many sequels, the original film here is still the best, the tale of a puzzle box that basically opens a portal to Hell. The sequels have kind of lost the thread, but the original is still incredibly powerful. It's one of the few films from the '80s that would still shatter audiences if it were released today.
Let the Right One In
Year: 2008
Runtime: 1h 54m
Director: Tomas Alfredson
Based on the 2004 novel of the same name, this is one of the best vampire movies ever made. It's the tale of an ordinary pre-teen who is bullied at school and has a lonely life at home. That's the case until a new child moves in, one with a secret. She's a creature of the night, and her connection with this new friend will change both of their lives forever. Moody and moving, this is a modern classic.
Year: 2022
Runtime: 2h 10m
Director: Jordan Peele
The genius behind Get Out and Us delivered his most controversial film in 2022, a story that blends an alien invasion with a commentary on movie-watching and spectacle in general. Daniel Kaluuya and Keke Palmer are fantastic in this story of people beset upon by an alien species that likes to watch. Brilliantly structured and gorgeously shot, Nope is blockbuster horror filmmaking at its finest.
Shutter Island
Year: 2010
Runtime: 2h 18m
Director: Martin Scorsese
In 2010, Martin Scorsese released his adaptation of Dennis Lehane's best novel, the story of a U.S. Marshal (Leonardo DiCaprio) who investigates a missing patient at a legendary mental hospital. Scorsese is in full command of his skill as a craftsman in this riveting thriller that also co-stars Mark Ruffalo, Ben Kingsley, and Michelle Williams. It's one of the most underrated films of the last decade.
Year: 1998
Runtime: 1h 57m
Director: Joel Coen, Ethan Coen
Well, that's just like your opinion, man. Joel and Ethan Coen followed up the biggest hit of their careers, Fargo, with the story of Jeffrey "The Dude" Lebowski, unforgettably played by Jeff Bridges. In one of his most iconic roles, Bridges captures a kind of lazy L.A. style that turned this flick into a comedy classic, a movie that's being quoted somewhere in the world on every minute of every day.
The Graduate
Year: 1967
Runtime: 1h 45m
Director: Mike Nichols
Few films have impacted the culture as much as Mike Nichols's 1967 dramedy based on the Charles Webb novel of the same name. It really was one of the first films in a wave of artistic expression that would make the late '60s and '70s the richest time in American film history. Dustin Hoffman stars as a recent college graduate looking for direction in his life in this sharp, clever comedy that spoke to an entire generation of young people looking for how to change the world.
Year: 1989
Runtime: 1h 43m
Director: Michael Lehmann
Talk about a movie ahead of its time. Coming-of-age teen comedies were never quite as wonderfully cynical before this movie about four teenage girls whose lives are upended by the arrival of a new kid, played by Christian Slater. More than just seeking to destroy the damaging cliques at his new school, Slater's character has plans for something a little more permanent in this comedy that really shaped the teen genre for years to come.
Year: 2003
Runtime: 1h 42m
Director: Sofia Coppola
Sofia Coppola exploded onto the filmmaking scene with her second film, her dramedy about a fading movie star who meets an American girl in Tokyo and both of their lives change. Bill Murray does career-best work in the film (and should have won an Oscar), and he's matched by Scarlett Johnansson, but this is really Coppola's film, a tender, brilliant character study with personal resonance.
Moonrise Kingdom
Year: 2012
Runtime: 1h 33m
Director: Wes Anderson
After a couple of disappointments, this 2012 comedy was a smashing return to form for writer/director Wes Anderson. The story of a boy (Jared Gilman) who runs away with his pen pal (Kara Hayward) features all of Anderson's charming eccentricities, along with a fantastic ensemble that features Bruce Willis, Ed Norton, and Bill Murray. It's a delight.
Year: 2013
Runtime: 3h
Director: Martin Scorsese
Leonardo DiCaprio should have won the Oscar for his amazing performance as Jordan Belfort, the financial criminal that rocked Wall Street and shocked audiences in one of Scorsese's best late films. Arguments over whether or not this film glorifies a "bad guy" have become prominent — and could only really be made by people who haven't actually watched it. Most of all, it's a shockingly robust film, filmed with more energy in a few minutes than most flicks have in their entire runtime.
Crouching Tiger, Hidden Dragon
Year: 2001
Runtime: 2h
Director: Ang Lee
One of the most successful foreign language films of all time, Ang Lee's wuxia epic was so popular that it landed an Oscar nomination for Best Picture, along with nine other nominations (winning four). It's a gorgeous film based on the Chinese novel by Wang Dulu that stars the legendary Chow Yun-fat, Michelle Yeoh, Zhang Ziyi, and Chang Chen. It hasn't aged a day in the over-two decades since its release.
Face/Off
Year: 1997
Runtime: 2h 18m
Director: John Woo
There are rumors that a remake of John Woo's classic is on the horizon, so you owe it to yourself to go back and see the very high standard that project will have to meet. Face/Off is one of the best action movies of the '90s, a wonderfully staged blockbuster by one of the genre's best filmmakers. And John Travolta and Nicolas Cage were near the peaks of their screen charismas as an FBI agent and terrorist who end up, well, switching faces. It's a blast.
Highlander
Year: 1986
Runtime: 1h 50m
Director: Russell Mulcahy
There can be only one. Christopher Lambert stars as Connor MacLeod, who was born in the Scottish Highlands in the 16th century and killed there, only to discover that he was born immortal and is now a part of a massive secret war to leave only one highlander remaining. Yeah, it's all really silly, but this movie became a massive cult hit, thanks in part to Lambert and Sean Connery's fun performances.
Year: 1994
Runtime: 2h 34m
Director: Quentin Tarantino
There are certain tentpoles of American film history that changed the form forever, and this is undeniably one. Heck, we're still getting Tarantino riffs almost thirty years later, as everyone wants to make a movie as effortlessly cool as his masterpiece. What more could possibly be written about Pulp Fiction? You know you love this and want to see it again.
Year: 1986
Runtime: 1h 50m
Director: Tony Scott
Tom Cruise reminded everyone that he is really the last true movie star with the amazing success of this film's sequel in 2022. Why not go back to the original and see how the story of Maverick and Iceman rocked the world over 35 years ago? A lot of this is pretty dated now, but in a way that makes the nostalgic ride even more fun.
True Grit
Year: 2010
Runtime: 1h 50m
Director: Joel Coen, Ethan Coen
At first, the Coen brothers didn't seem a logical fit for a remake of a beloved John Wayne Western, but they really made this multiple Oscar nominee their own. One of the ways they did that was through directing a fantastic ensemble, led by Jeff Bridges, Hailee Steinfeld, and Matt Damon. And, of course, their undeniable craftsmanship.
Babe
Year: 1995
Runtime: 1h 32m
Director: Chris Noonan
That'll do pig, that'll do. One of the best family films of all time and its nearly-as-good sequel are both on Prime. Subscribers looking for smart family entertainment that isn't afraid to challenge kids while also entertaining them need look no further than Chris Noonan's 1995 Best Picture nominee and its truly insane 1998 sequel, directed by George Miller himself.
Little Women
Year: 1994
Runtime: 1h 58m
Director: Gillian Armstrong
Louisa May Alcott's beloved 19th century novel has been adapted to the screen a few times but this is one of the more popular versions, a family film memory for a generation of people who were kids in the '90s. Winona Ryder, Claire Danes, Kirsten Dunst, and Susan Sarandon headline a film that earned the future Stranger Things star her second and last (to date) Oscar nomination.
If you subscribe to a service through our links, Vulture may earn an affiliate commission.