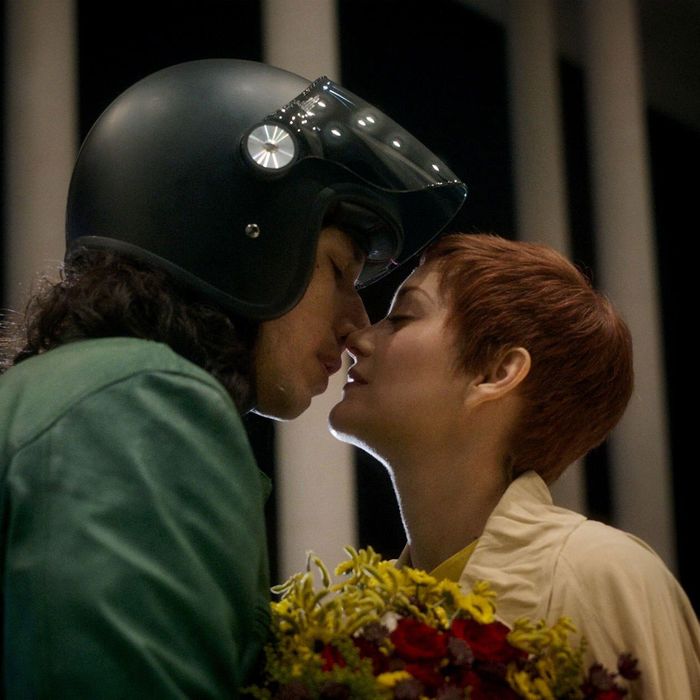 Adam Driver and Marion Cotillard in
Annette
.
Photo: Amazon Studios
This post is updated twice a month to reflect the latest movies to leave and enter Amazon Prime. *New additions are indicated by an asterisk.
You really should be using your Amazon Prime subscription for more than just shipping discounts and Whole Foods sales. The people at Amazon have amassed a truly impressive library of films that can be accessed with your Prime account, and in many ways, it's equal to and arguably even superior to Netflix's library. But how do you know where to begin? As we have done with Netflix, allow us to present a regularly-updated guide to 100 movies to watch on Amazon Prime. A collection of classics, blockbusters, and under-the-radar flicks, you really should watch all 100. Get back to us after you do.
24 Hour Party People
Michael Winterbottom directs his muse Steve Coogan (the two also worked together on The Trip movies, Tristram Shandy, and others) in a biopic of the vibrant Manchester music scene in the late '70s and early '80s. Coogan plays Tony Wilson, the head of Factory Records, and the dramedy charts the emergence of groups like Joy Division, New Order, and Happy Mondays.
Tom Harper directed this film that just landed in theaters at the end of 2019 and was quickly shuffled off to Amazon. It's a shame because this is a film that deserved more attention. It's got cross-demographic appeal for kids and adults in its story of the first people to really break through the clouds in a hot air balloon. The Theory of Everything stars Eddie Redmayne and Felicity Jones reunite and deliver in a well-made action film that uses a lot more practical effects and stunts than most modern flicks like this and the result is some tension for anyone with even a moderate fear of heights.
Michael Mann directed this 2001 biopic of one of the most important figures of the twentieth century, Muhammad Ali. Will Smith does possibly the best film work of his career as the legendary boxer, civil rights icon, and all-around role model, and Mann approaches the life of Ali with his own unique craftsmanship. This appears to be the original theatrical edition and not one of the alternate versions later released, FYI.
Leos Carax's first film in years drops on Amazon Prime only a couple weeks after its theatrical premiere, and only about a month after it wowed audiences at Cannes. Adam Driver and Marion Cotillard star in the ambitious musical (with original songs by Sparks) about a couple who have a magical child named Annette. That only captures a fraction of what this incredibly unique film is about — you have to see it to believe it. (Premieres on Amazon Prime on 8/20.)
It's hard to believe that Billy Wilder's masterpiece is over six decades old given that it's a film that feels as timeless as ever. The template for so many movies to come, The Apartment is a daring dissection of toxicity in the story of an insurance clerk (Jack Lemmon) who lets his coworkers use his apartment to support their infidelity. It's a perfect movie.
Michael Bay was the king of the disaster movie world in 1998 when one of his biggest films took the box office by storm. Everyone has seen Armageddon. The story of deep-core drillers who become unexpected astronauts is one of the biggest action movies of all time. The only question is if you want to watch it again?
Jia Zhangke is one of the world's best filmmakers. If you can track down copies of the Chinese director's Still Life, A Touch of Sin, and Mountains May Depart, you really should do so. Until then, check out his latest work, an epic gangster flick with a mesmerizing performance from Jia's wife, Zhao Tao. Like a lot of great crime movies, it becomes a commentary on the state of the country in which it's set as much as anything else.
Roger Donaldson directed Jason Statham to one of the best performances of his career in this heist movie based on the true story of the 1971 Baker Street robbery. Saffron Burrows plays a woman who is blackmailed into leading an operation to retrieve a safety deposit box that contains compromising photos of Princess Margaret, and she calls in Statham to lead the team to pull it off. Clever and character-driven in ways that Statham films aren't often allowed to be, Bank Job is a unique movie in his filmography.
Benh Zeitlin's 2012 debut was a critical darling, riding waves of great press all the way from its Sundance premiere through multiple Oscar nominations. Quvenzhané Wallis became the youngest Best Actress nominee in history for leading the story of a girl who travels from her Louisiana bayou community out into the dangerous world around it. Magical and moving, it's a great film.
The Best Years of Our Lives
Classic alert! William Wyler directed Myrna Loy, Fredric March, and Dana Andrews in this epic drama that was released in 1946. Timely in ways we can't really comprehend now it was the immediate story of three U.S. servicemen who have to readjust to life after returning from World War II, which had ended only a year earlier. Wyler's film won seven Oscars, including Best Picture.
It's not common for a breakthrough comedy to be so acclaimed and popular that it actually becomes an Oscar nominee for Best Screenplay, but The Big Sick is not a typical comedy (and Holly Hunter was robbed of a nomination too, by the way). Kumail Nanjiani and Emily V. Gordon loosely adapt their story, with Nanjiani starring alongside Zoe Kazan. It's really as crowdpleasing as comedies get. You kind of have to be an asshole not to like it.
Before winning Oscars for Birdman and The Revenant, Alejandro Gonzalez Inarritu directed Javier Bardem to one of the best performances of his career with Biutiful. Nominated for Best Actor (the first ever for an entirely Spanish performance), Bardem plays a man dying of cancer who is determined to live his final days with no restrictions.
A select few documentaries actually change the world. Blackfish is one of those films, a movie that pulled back the curtain on the awful conditions at aquatic theme parks and changed them forever. No one can watch this movie and ever go back to SeaWorld without a protest sign in their hand.
Blow Out
One of Brian De Palma's best films is the story of a sound engineer (John Travolta) who may have recorded a murder. His accidental evidence leads him down a path of corruption and intrigue in a way that only De Palma could deliver. It's a brutal castigation of a country that looks the other way when the powerful people in society commit crimes against the weak. In other words, it's still timely.
Mel Gibson was a household name before Braveheart but the 1995 epic war film redefined his career. No longer was he just an action star but he was an Oscar-winning director for his adaptation of a 15th century epic poem about William Wallace, a famous Scottish warrior. Braveheart feels like a different era in Hollywood filmmaking today, and not just because of how hard Gibson would fall, but it's a snapshot of a time when star power could get a movie like this made.
One of the best films of James L. Brooks's career is this 1987 romantic dramedy that was so acclaimed that it was nominated for Best Picture and included a couple years ago in the National Film Registry by the Library of Congress. Holly Hunter, William Hurt, and Albert Brooks are fantastic in this smart movie about the people who bring viewers the news. Some of it is a little dated now, but the acting and writing will always be brilliant.
With baseball season in full swing, why not watch one of the best sports flicks ever made? Kevin Costner, Susan Sarandon, and Tim Robbins star in a story of lust and competitive spirit within a minor league baseball team. Smart and sexy, there's not enough of either of those things in most movies.
Stephen King has arguably never been bigger than he is now, with remakes of his classics hitting theaters and new books releasing every few months. Watch the Brian De Palma masterpiece to flash back to a time when King wasn't yet a household name. Sissy Spacek gives one of her best performances as the title character, a bullied girl who discovers that she's not your ordinary teenager. Carrie is still one of the best King adaptations of all time.
Tom Hanks gives one of the best performances of his career in the 2000 survival drama from Robert Zemeckis. America's dad plays a FedEx worker who's stranded on a deserted island in the middle of the South Pacific. With his only friend being a ball that he names Wilson, our hero just tries to survive long enough to be rescued.
This wonderful 1963 film is part romantic comedy and part Hitchockian mystery, courtesy of master director Stanley Donen and the blinding charisma of Cary Grant and Audrey Hepburn. A lot of movies try to be a little bit of everything but few in history have blended genres as diverse as screwball comedy and suspense thriller as seamlessly as this clever classic, which also has great supporting turns from Walter Matthau and James Coburn.
Stephen King has arguably never been more popular than in the era of blockbuster adaptations It, Doctor Sleep, and the Pet Sematary remake, but this is nothing new. Hollywood has been adapting the work of the master of horror for decades. Take, for example, this 1984 adaptation of a short story that King wrote over four decades ago. It may not be a great movie, but it's becoming a cultural touchstone — every time there's a creepy kid in a flick, audiences think of the little monsters that give this movie its name.
Josh Trank directed this excellent low-budget sci-fi film that became a phenomenon. Michael B. Jordan, Dane DeHaan, and Alex Russell star as three teenage boys in Seattle who discover an unknown alien object and end up with superpowers. A unique blend of coming-of-age storytelling with a superhero origin story, the film ended up making over $125 million worldwide.
The City of Lost Children
Marc Caro and Jean-Pierre Jeunet directed a stunning follow-up to their breakthrough with Delicatessen, delivering an even better film (and then would go on to follow this one up with Amelie). The City of Lost Children is an impossible movie to describe in a capsule, a crazy vision of a fantasy world that's like nothing you've ever seen before. Beautiful and unforgettable.
One of the cool things about Amazon's increased theatrical output is that they're putting their films on Amazon Prime very quickly after playing at the multiplex or arthouse. Take this 2018 Oscar nominee from Pawel Pawlikowski (Ida), a Polish drama about star-crossed lovers over decades after the end of World War II. It's a luscious, emotional drama that demands your attention and rewards it.
Paul Newman finally got his Oscar for Martin Scorsese's 1986 film based on the novel by Walter Tevis (who also wrote the book on which The Queen's Gambit was based). The sequel to The Hustler tells the story of how 'Fast Eddie' Felson mentors a younger version of himself, played by the charming Tom Cruise.
Craig Zobel wrote and directed a stunning 2012 thriller that premiered at the Sundance Film Festival. Based on a true story, Compliance depicts a time that a man posed as a police officer, calling a restaurant manager and forcing her through a series of increasingly embarrassing and dangerous tasks. It stars Ann Dowd, Dreama Walker, Pat Healy, and Bill Camp, and it's a must-see.
Con Air
Nicolas Cage leads one of his best ensembles in an action movie in his 1997 hit about a plane full of convicts that gets hijacked. Of course, Cage plays the "good criminal," a guy sentenced to ten years for defending his pregnant wife. He finds himself the only possible savior on a plane full of real bad guys that includes John Malkovich, Steve Buscemi, Ving Rhames, and Danny Trejo.
David Cronenberg is finally returning to theaters in 2022 with his first film since 2014's Maps to the Stars, and he will hopefully again be recognized as one of the best directors who ever lived. His 2012 drama went relatively under the radar but its vision of a world in turmoil feels ahead of its time in 2022. Cronenberg movies have a habit of doing that.
David Fincher directed a loose adaptation of an F. Scott Fitzgerald story about a man who ages in reverse. Brad Pitt gives one of his most subtle performances as the title character, but it's Fincher's lyrical storytelling approach that really elevates the film. It's not talked about much today but actually landed 13 Oscar nominations, including Best Picture, winning three.
*Days of Heaven
Terrence Malick wrote and directed one of the best movies ever made in his 1978 period drama starring Richard Gere, Brooke Adams, Sam Shepard, and Linda Manz. It is the story of two lovers who move to the Texas panhandle in 1916 to harvest crops and get caught up in trying to trick a dying farmer into leaving them his fortune. Lyrical and intense at the same time, it's a legitimate masterpiece.
"O Captain, My Captain." A generation who was just the right age when Peter Weir's coming of age drama came out will forever remember the power of those words. Set in a Vermont boarding school in 1959, Dead Poets Society is the story of an English teacher who inspires his students to seize the day, and it features one of the career-best performances from Robin Williams.
Alexander Payne (Election) wrote and directed this Best Picture nominee that won the acclaimed director an Oscar for Best Adapted Screenplay (shared with co-writers Nat Faxon & Jim Rash). George Clooney stars as an attorney in Honolulu who has to determine what to do with some gorgeous land that's tied to his family legacy. It's a smart movie that was also the breakthrough for Shailene Woodley.
Detour
One of the best noirs ever made is just sitting there on Amazon Prime waiting for you to discover it. Based on the 1939 novel of the same name, Detour stars Tom Neal and Ann Savage and it just oozes style in the way it uses the classic genre structure of a man who keeps digging himself into a deeper and deeper hole. Considered a lesser B-movie for years, it has only recently been reappraised as a noir classic.
Neill Blomkamp's sci-fi blockbuster was such a commercial and critical darling that it even landed four Oscar nominations, including Best Picture, which feels like one of those crazy pieces of trivia that could win you a contest. District 9 is clever and creative, pulsing with action and ingenuity in every frame, and its guerilla style has allowed it to hold up well over the last decade.
Lulu Wang wrote and directed this beautiful award-winner "based on a true lie." Awkwafina won a Golden Globe for the role of a New York woman who is forced to go along with her family when they decide not to tell her beloved Nai Nai that she has cancer. It's a nuanced, tender piece of filmmaking that really announces Wang as a major new talent, and a film that will be passed down from generation to generation for years to come.
Joel and Ethan Coen's 1996 masterpiece is only one of the best films ever made, a story of violence and redemption in the great American North. The Coens won Best Original Screenplay and Frances McDormand took her first Oscar home for playing the unforgettable Marge Gunderson, a Minnesotan cop who gets entangled in a car salesman's deeply inept foray into the criminal world.
Fearless
Arguably Jet Li's last great film, the 2006 Ronny Yu joint is one of the last gasps of a series of international martial arts hits that came in the wake of Crouching Tiger, Hidden Dragon. There was a time when audiences were so open to this kind of filmmaking that Fearless was actually one of the ten highest grossing foreign language films of all time in the U.S. It's a great example of Li at his most charismatic, while also understanding the transcendent beauty of a great piece of martial arts choreography.
If you build it, he will come. One of the best baseball movies ever made is really a story about fathers and sons. Phil Alden Robinson directed Kevin Costner to one of the most beloved performances of his career as an average Iowan who hears a voice that tells him to build a baseball field. Redemption, U.S. history, and, of course, a love of America's pastime intertwine in this moving drama with an incredibly loyal fan base.
David O. Russell's dramatization of the true story of boxer Micky Ward (Mark Wahlberg) won Oscars for both of its supporting players – Melissa Leo and a transformed Christian Bale. It's got some beats that already make it feel older than just 2010 but the great cast holds it together.
Bruce Lee really landed on the international map with two Hong Kong films directed by Lo Wei, 1971's The Big Boss and then this film the next year, a movie about a student who seeks to avenge the murder of his master. After some disappointment in the Hollywood system, Lee went back to Hong Kong and redefined martial arts cinema forever. This is an essential piece of work in the genre.
Prime Video added a number of Blaxploitation films in March 2022, and Foxy Brown is the best of the bunch, an essential film from the subgenre that took off in the 1970s. Pam Grier owns the screen as the title character, a woman who gets vengeance for her boyfriend's murder against the drug dealer who took his life.
Garden State has kind of become the poster boy for the worst of Sundance indie clichés, but Zach Braff's 2004 dramedy is a better film than its reputation. The writer/director from Scrubs also stars a young man dealing with a quarter-life crisis when he returns home to attend his mother's funeral. Natalie Portman, Peter Sarsgaard, and Ian Holm star in the film that introduced thousands of people to The Shins.
Buster Keaton has had a bit of a moment in 2022, with two excellent books about his career and the news that James Mangold is making a movie about his life. Enjoy one of Keaton's best films in the 1926 classic inspired by the Great Locomotive Chase. There's not nearly enough silent cinema on the streamers, so take this chance to watch one of the best ever while you can.
Robin Williams stars in this 1987 comedy that really solidified how much this talented comedian also had serious dramatic chops. He plays a radio DJ in 1965 in Saigon who gets in trouble with his superiors for his unorthodox style. Most of Williams's radio broadcasts were improvised, using the actor's incredible ability to think on his feet.
Guys and Dolls
The stage musical may be a little thin but it's the cast that makes Joseph Mankiewicz's 1955 Oscar nominee into such a timeless charmer. Frank Sinatra and Marlon Brando were at the peak of their charm when they stepped into these roles. Sure, Brando's singing is a little dodgy, but who cares? And Jean Simmons and Vivian Blaine are pretty fantastic too.
None of the streaming services have a truly deep selection of international cinema but Amazon Prime is better than most. Take for example Park Chan-wook's masterful period drama about betrayal, sex, and more betrayal. It's one of the most technically gorgeous films you could possibly watch tonight. Make sure the kids are in bed first though.
Hannah and Her Sisters
One of Woody Allen's career best films was released in 1986 in this intertwining tale of an extended family in New York City. One of the reasons this film stands out in Allen's career is the incredible ensemble that features Mia Farrow, Barbara Hershey, Dianne Wiest, and Michael Caine. Allen won an Oscar for his screenplay and Caine and Wiest the supporting Oscars for their performances.
Christian Slater kinda does a Jack Nicholson impression and Winona Ryder is at the peak of her '80s emo charm in this clever satire of high-school life. Ryder plays the high-school outcast and Slater plays the guy who teaches her that revenge is a dish best served with an attitude.
Asghar Farhadi (A Separation) is one of the best living directors. His latest is the 2021 drama about a man who finds a lost handbag while out on a leave from his stint in a debtor's prison. Returning the handbag makes him a hero, but his debtors question his motives, leading to a nuanced drama about how we define the title both publicly and privately.
When people think of the most influential Hollywood comedies of all time, this 1940 Howard Hawks hit often makes the list. Watch it to see why. You'll witness Cary Grant at his most charismatic as Walter Burns, an editor who is watching his best reporter and ex-wife walk out the door. He suggests they cover one last story, and Hollywood magic ensues. American movies don't get much more classic than this.
Shia LaBeouf wrote and co-stars in a film that's deeply autobiographical regarding his abusive father and the troubles the actor went through in his younger years. A screenplay that he started writing in rehab is one of the most daring in a long time, purely confessional and moving in ways that dramas are rarely allowed to be. Noah Jupe and Lucas Hedges co-star, and both do excellent work.
The great Korean director Kim Jee-woon (The Age of Shadows) directed this intense thriller that gets so dark that it qualifies as horror. Lee Byung-hun plays an NIS agent whose fiancée is murdered by a serial killer, played by Choi Min-sik, and so he dedicates his life to tracking him down and bringing him to justice.
The brilliant Julia Hart co-wrote and directed this very different thriller, a crime movie told only from the POV of one character, the wife of a criminal. Rachel Brosnahan of The Marvelous Mrs. Maisel gives her best film performance to date as Jean, a woman who is forced to go on the run with her young child after her criminal husband goes missing. It's a finely calibrated piece of work that reshapes an overdone genre in a way that makes it feel fresh again.
Pawel Pawlikowski's Cold War earned him raves, but his previous drama is arguably even stronger, and it too is now on Amazon Prime. Set in Poland in 1962, this mesmerizing film tells the story of a young woman on the verge of taking her vows to become a nun. Before she can do that, she wans to fill in some holes in her personal history, including exactly what happened when she was orphaned during World War II.
In a Lonely Place
Nicholas Ray gave Humphrey Bogart one of the richest roles in his career in this 1950 noir based on the Dorothy B. Hughes novel of the same name. When it was released, this story of a screenwriter suspected of murder didn't connect the same way that Bogart generally did at the time, but history has been very kind to it, and it's now widely considered one of the best film noirs of all time.
There's a reason that this story of pod people has been remade pretty much for every generation. It taps into something timeless about the fear of distrusting our fellow man (and seems pretty ready for a 2021 update). The '70s version by Philip Kaufman is arguably the best, anchored by one of Donald Sutherland's best performances.
Frank Capra's classic often gets a ton of replay around the holidays, but it's the kind of heartwarmer that works all year long. This is no mere Christmas movie but a story about the impact that one man can have on an entire community. It really defined the on-screen persona of Jimmy Stewart and has become a beloved film around the world, even in warm weather.
Dominic Sena made his directorial debut with Kalifornia, a thriller with a fantastic quartet of performances. David Duchovny and Michelle Forbes play a journalist and photographer who are researching a piece on serial killers when they come across a true sociopath and his girlfriend, unforgettably played by Brad Pitt and Juliette Lewis. It's a little dated, but remains one of Pitt's most fascinating early performances.
Pretty much every Robert Altman film on streaming is going to make a list like this one, especially his truly underrated 1996 crime flick set in the jazz scene of Kansas City in the 1930s. Jennifer Jason Leigh, Miranda Richardson, Harry Belafonte, and Steve Buscemi star in a film that opens with a kidnapping in 1934 when Leigh's husband is held prisoner by a notorious gangster. It's talky in that Altman way and never boring.
Ira Sachs wrote and directed a 2012 Sundance hit starring Thure Lindhardt as a Danish filmmaker who comes to live in New York City while he's working on a documentary. While he's there, he falls in love with a lawyer played by Zachary Booth, who struggles with addiction. Smart, personal, and moving, this is a great character drama.
Any list of the best concert films of all time that doesn't include Martin Scorsese's The Last Waltz is simply wrong. Scorsese's documentary captures the "farewell concert appearance" by The Band on Thanksgiving Day in San Francisco in 1976. The end of The Band brought out an incredible array of special guests and Scorsese really captures not just the music but the mood and energy of an era.
Do you think the people at Amazon have a sense of humor? Or is just a coincidence that they dropped a film about two people going crazy in a confined space together during the pandemic? Robert Pattinson and Willem Dafoe are fearless in Robert Eggers' black-and-white nightmare about two people who learn that nothing is scarier than being trapped with someone unbearable.
Prime Video seems to be always shuffling their Spielberg films, but it's nice to see that they also include more than just the crowd-pleasing blockbusters, occasionally diving a bit deeper and adding his historical dramas. Lincoln is one of his best from that category, featuring an Oscar-winning performance from Daniel Day-Lewis.
James Gray may be the most underrated American filmmaker, what with The Immigrant, Two Lovers, and this period piece about obsession starring Charlie Hunnam and Robert Pattinson. This is not your typical explorer movie as Gray seeks to present something more challenging about why men seek the unexplored and commit themselves long past the point of sanity to seemingly impossible tasks.
One of the best films of Steve McQueen's Small Axe anthology, this piece is set in 1980s West London at a killer house party. Micheal Ward and Amarah-Jae St. Aubyn star as two lovers who meet at the party in this gloriously joyful ode to youth and passion. A lot of Small Axe is really intense stuff, but this one will make you smile.
Casey Affleck won an Oscar for his heartbreaking performance in Kenneth Lonergan's drama about a broken man finally put back together when he's forced to take care of his nephew. Lonergan's film is an unforgettable character study, full of complex emotions and beats. And it has two scenes that are almost guaranteed to make you cry.
Letitia Wright (Black Panther) stars in one of the best films in Steve McQueen's Small Axe anthology, a collection of works about life in West London in the '70s and '80s. This one is the true story of the Mangrove Nine, a group of people arrested after a protest march ended in violence in August 1970. It was one of the first major cases about systemic racism in the country.
Before they won an Oscar for Free Solo, Jimmy Chin and Elizabeth Chai Vasarhelyi directed another mountain climbing film, one that won the 2015 Sundance Film Festival Audience Award for Best Documentary. It vividly captures an ascent of a treacherous route up the Indian Himalayas to the Meru Peak across something called the "Shark's Fin." Those afraid of heights shouldn't watch.
Miami Blues
George Armitage directed an adaptation of the novel by Charles Willeford, a film that was largely ignored when it was released but has since developed a pretty loyal cult following. It features one of the best performances from that era of Alec Baldwin as a sociopath ex-con who starts a new life in Miami. He's ably supported by great turns from Fred Ward and Jennifer Jason Leigh.
No one makes movies quite like Nicolas Winding Refn. The director of Drive delivered one of his most unforgettable flicks in this horror film about the fashion industry, featuring a fearless performance by Elle Fanning. And Keanu Reeves is in it too!
Joel and Ethan Coen directed one of their most beloved films with a quirky reimagining of Homer's The Odyssey that takes that epic journey and transplants it to the American South in the 1930s. George Clooney, John Turturro, and Tim Blake Nelson star as three escaped convicts who go on a wild adventure in Mississippi that actually makes them bluegrass stars. It's funny and very rewatchable.
Regina King really can do everything. The Oscar and Emmy winner directs this adaptation of the 2013 play about four legendary Black icons coming to a hotel room in Miami in 1964. Malcolm X (Kingsley Ben-Adir), Muhammad Ali (Eli Goree), Jim Brown (Aldis Hodge), and Sam Cooke (Leslie Odom Jr.) knew a lot about fame and expectation in 1964, and King's acclaimed film about them is smart, funny, and moving.
The Opposite of Sex
Don Roos wrote and directed this clever 1998 comedy that you probably have forgotten about if you ever knew it existed in the first place. Christina Ricci plays a teenager who runs away from home and moves in with her half-brother in the heartland of America. She causes trouble in this smart comedy that contains a phenomenal supporting performance from Lisa Kudrow.
Peter Bogdanovich passed away in early 2022, cutting a tie between new and old Hollywood that can never be replaced. Honor him by watching one of his most popular films, this 1973 comedy about a father and daughter during the Great Depression, played by real parent/child Ryan and Tatum O'Neal, who won the Oscar and became the youngest Academy Award winner in history.
Passion Fish
From the brilliant writer and director John Sayles, 1992's Passion Fish is a drama about a soap opera star (Mary McDonnell) who has been paralyzed after being hit by a cab. She returns to her family home, where she crosses paths with a nurse (Alfre Woodard) who refuses to give up on her. It's moving in a way that feels genuine, never manipulative.
Stanley Kubrick gets a lot of attention for his hyper-stylized later films like 2001 and A Clockwork Orange, but one of the films often missing from the conversation about him is his 1957 masterpiece, a scathing anti-war film from three decades before he would make Full Metal Jacket. Kirk Douglas stars as the commanding officer of a group of men on trial for not going through with a suicidal order.
Pineapple Express
David Gordon Green directed Seth Rogen and James Franco to two of the best performances of their career in his film about an average guy and his dealer who find themselves in criminal crosshairs after they witness a murder. More than just an average stoner comedy, Green imbues the film with a wonderful action movie pace too, recalling buddy flicks of the '80s while still feeling fresh at the same time.
With all the animosity between Amazon and Woody Allen, it's a little hard to believe that any of his films are still on the service. One of his personal favorites, The Purple Rose of Cairo stars Jeff Daniels as a man who literally steps off the big screen into the real world. Some of Allen's best works incorporate magical realism, and this one does a beautiful job of that in the way it captures how great cinema can feel transportative.
One of the best movies of the '80s has become more famous for the weight gain of its leading man, Robert DeNiro, arguably the best actor of that decade. He earned that title by being fearless in films, many of which were directed by his friend Martin Scorsese. His work as Jake La Motta remains career-defining for the superstar, and the fact that he lost the Oscar to Ordinary People remains a talking point whenever anyone wants to talk about the Academy getting it wrong.
One of the best films of 2019 is right there on Amazon for you to watch. Picked up at Sundance for a small fortune, Amazon quietly released it in major cities, but have done little to promote this sturdy, smart thriller about the torture report that revealed the extent our government went to cover up its behavior after 9/11. Adam Driver, Annette Bening, Tim Blake Nelson, Jon Hamm, Corey Stoll, and many more star in a film reminiscent in tone and accomplishment to Spotlight.
It's hard to believe it's over 35 years since a young Keanu Reeves made such an impact in this moving, unusual coming-of-age film. Reeves plays one of a group of teenagers in Northern California who discover that one of their friends murdered his girlfriend and disposed of her body. It also stars Crispin Glover, Ione Skye, and Dennis Hopper.
Rudderless
He is much better known as an actor, but William H. Macy directed a moving 2014 drama that features great performances from Emmy winner Billy Crudup and the late, great Anton Yelchin. Crudup plays a man whose life is upended after the school shooting death of his son. He becomes a musician, befriending a young guitarist, played by Yelchin, and learns how to express his pain.
Writer/director Wes Anderson's best film is arguably still his second work, a brilliant coming-of-age comedy about a teenager named Max Fischer (Jason Schwartzman) and the love triangle that forms (at least in his mind) between him, a teacher named Rosemary Cross (Olivia Williams), and a wealthy man named Herman Blume (Bill Murray). Charming, eccentric, and hysterical, Rushmore is a modern classic.
What a fun and funny movie you can find in the 2000 buddy comedy starring Jackie Chan and Owen Wilson. Chan's physical style and Wilson's goofy personality make for a truly hysterical duo in this Western martial arts comedy that blends Chan's incredible skill with a more traditional comedy style. It's an underrated movie that's truly hard to dislike.
Alexander Payne's best film was released in 2004 with the adaptation of the Rex Pickett novel about a surly wine lover and his chance at love. Paul Giamatti stars as Miles Raymond, a misanthropic teacher who goes on a trip to wine country with his more outgoing friend Jack (Thomas Haden Church). The film won the Oscar for Best Adapted Screenplay, and was nominated for four other Academy Awards, including Best Picture.
It's interesting to hear people use Jordan Peele's career as evidence that people are taking horror more seriously than ever. With no offense to Peele, horror has had critically adored genre entries before, including the Jonathan Demme Oscar winner above this entry and M. Night Shyamalan's multiple Oscar nominee (and one of the most popular films of 1999). The movie that made Shyamalan-esque a thing, The Sixth Sense is still the filmmaker's best, a powerful piece of work about grief and loss that works well beyond the twist ending that would come to define it culturally.
Darius Marder co-wrote and directed this phenomenal character study about a heavy metal drummer (Riz Ahmed) who loses his hearing. Dealing with the loss of one of his senses takes him to a community of deaf people, where he learns how to communicate and finds himself again. Touching and brilliantly directed, it also features one of the best performances of 2020 from Ahmed (and one that nearly matches him from Paul Raci).
Species
Roger Donaldson directed a 1995 hit sci-fi/horror film that made Natasha Henstridge into a star. The actress made her film debut as Sil, a creature who comes to Earth to find a human mate. Stylish and strange, Species became a smash hit, making over $100 million and producing multiple sequels. The design by H.R. Giger of the alien scenes helped make this first film all the more memorable.
Sci-fi/action really changed with the 1984 release of The Terminator, impacting the careers of both Arnold Schwarzenegger and James Cameron in ways that they never could have predicted. Ah-nuld plays a cyborg assassin sent back to kill Sarah Connor (Linda Hamilton) before she can have the son who will save the future. Smart and action-packed, this film really paved the way for hundreds of imitators.
Michael Mann's 1981 crime flick is one of the best directorial debuts of the era, a pronouncement of a major talent and a film that still feels fresh and new. James Caan is fantastic as a safecracker who is trying to leave his life behind. Mann's refined visual style was there from the very beginning and the score by Tangerine Dream is unforgettable.
The Thomas Crown Affair
Pierce Brosnan gave his best non-Bond performance in a stellar 1999 remake of the 1968 film of the same name. Stepping into the shoes of Steve McQueen is no easy feat but Brosnan does so with style as Thomas Crown, a billionaire art thief who falls for the insurance investigator chasing him, played by the wonderful Rene Russo.
Documentarian Garrett Bradley followed the story of Sibil Fox Richardson for years as the woman sought to get her husband Rob released from prison, where he was serving a six-decade sentence for bank robbery. Bradley's approach is both deeply empathetic and visually striking — the film unfolds in gorgeous black and white. You won't soon forget one of the best documentaries of 2020.
Remember when Titanic was the biggest movie in the world? James Cameron's epic became something of a punchline for people who want to make fun of melodrama, but it's a truly great piece of epic filmmaking, leaning into the idea that a blockbuster should transport you in ways that no other medium can. And it's a reminder now of how long Leonardo DiCaprio and Kate Winslet have been just the best.
Train to Busan
A legitimate phenomenon that has grossed almost $100 million worldwide, this 2016 South Korean movie is one of the best zombie flicks of its era. It's simple – zombies on a train – but that's one of the reasons it works so well. It has a propulsive, non-stop energy and it feels like its legacy is just getting started.
The amazing Christian Petzold (Phoenix) wrote and directed a 2018 film about a refugee who impersonates a dead writer as he fights for freedom. It's a smart, moving drama with incredible performances from Franz Rogowski and Paula Beer that plays almost like a modern Casablanca, interrogating questions of love, commitment, and identity. It's brilliant.
Peter Weir directed Jim Carrey to one of the strongest performances of his career in this 1998 dramedy that now seems far ahead of its time in the way it foretold people living lives online. Carrey plays Truman Burbank, a man who has grown up on a TV show but has no idea that his entire life has been watched by millions. Ed Harris and Laura Linney are also just phenomenal in this modern classic.
M. Night Shyamalan's best film remains the story of an unexpected hero, a man who gets into a car crash and discovers that he may not be like most ordinary men. Bruce Willis is great in the lead role, his stoicism balanced by a fun performance from Samuel L. Jackson as his worldly opposite. Follow it up with the sequel Glass, available for rent or purchase on Amazon Prime.
David Gordon Green directed this Terrence Malick production and it's one of the most underrated films by the director of Pineapple Express and Halloween. It's the story of two boys, including Jamie Bell, who go on the run after their uncle (Josh Lucas) murders their father. It's intense, dark, and poetically unforgettable.
The Usual Suspects
One of the greatest twists of all time made Bryan Singer's 1995 noir into a worldwide smash, winning star Kevin Spacey an Oscar for his work. Sadly, Singer and Spacey's choices have made the film hit differently than it did a quarter-century ago, but it's still a taut, tight piece of work. Watch it for Benicio del Toro, Gabriel Byrne, and Chris McQuarrie's great script and ignore the other two guys.
One of the best small-movie success stories of the last few years, this gem premiered at Slamdance, Sundance's little cousin up the mountain in Park City, in 2019. After a small drive-in run, it's already on Prime, where you can appreciate this lo-fi take on aliens in the heartland of America. Smart, funny, and daring, this is one of the best movies of 2020.
Lynne Ramsay directed Tilda Swinton and John C. Reilly in this devastating adaptation of Lionel Shriver's book. Ezra Miller plays the titular Kevin, a boy who develops into a man who does not seem to be quite all there. What do you if you're worried your son is a sociopath? Terrifying and yet empathetic at the same time, this isn't an easy watch but it is fascinating.
Who You Think I Am
Juliette Binoche is arguably the best living actress. She's simply never bad. She elevates this 2019 French drama about a middle-aged professor who basically starts catfishing the roommate of her ex-boyfriend by pretending to be someone else. A complex study of age, gender, and technology, it's best appreciated as further evidence of Binoche's subtle talent.
Joaquin Phoenix stars in Lynne Ramsay's technically masterful deconstruction of the life of a hitman. Ramsay's amazing skill with editing and sound design is balanced by Phoenix's instinctual, almost primal performance. When he's asked to save the daughter of a prominent politician from sex trafficking, his life comes apart. Well, what little life he had left. This is riveting filmmaking and Phoenix's work is one of the best performances of 2018.
Young Frankenstein
Any list of the best comedies of all time that doesn't include Mel Brooks's 1974 comedy masterpiece is simply wrong. Gene Wilder stars as a descendant of the infamous Dr. Frankenstein in Brooks's parody of Universal monster movies that became an international smash hit, even landing an Oscar nod for Best Adapted Screenplay. It was hysterical in 1974 and it still is today.
Its legacy has been a bit tarnished by history, but there's no denying the craft at work in Kathryn Bigelow's 2012 retelling of the hunt for Osama bin Laden, featuring one of the career-best performances from Jessica Chastain. Bigelow reunited with her The Hurt Locker writer Mark Boal to detail how the United States caught one of history's most vile murderers in a film that was nominated for Best Picture, Best Actress, and Best Original Screenplay.