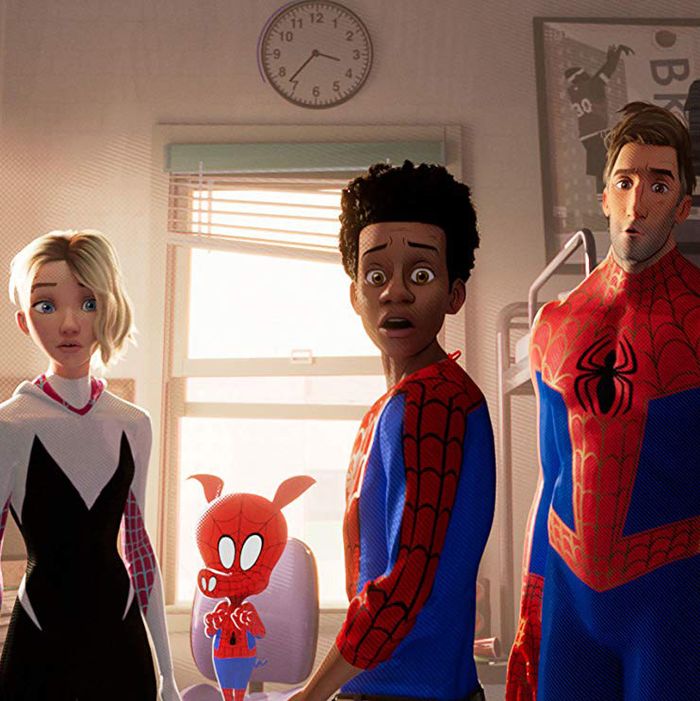 Spider-Man: Into the Spider-Verse
.
Photo: Courtesy of Sony Pictures Animation
While Disney+ has entered the scene as a popular streaming service for a lot of families, the truth is that way more people still subscribe to Netflix. Are you one of them and in search of something to keep your kids entertained with something other than YouTube videos? We're here to help with a guide to 30 family films on Netflix that you don't need to feel bad letting your kids watch during screen time.
No, not that recent animated nonsense — this is the best non-TV version of the Addams clan, the one that featured the perfect casting of Raul Julia, Anjelica Huston, Christopher Lloyd, and Christina Ricci. Barry Sonnenfeld's twisted sense of humor was the perfect directorial fit for this family film based on the 1964 series.
Just as Disney was starting its renaissance in 1989 with The Little Mermaid, Don Bluth also released a hit cartoon that didn't get nearly the same attention but has developed a loyal following over the years. The voice cast is top-notch, filled with classic actors like Burt Reynolds, Loni Anderson, Dom DeLuise, and Vic Tayback.
They can't all be Spielberg. Sometimes you just want something bright, shiny, and loud that you won't feel bad putting on for your kids. Believe it or not, this one ain't that bad. It's certainly much better than a sequel to a movie based on an app has any right to be, filled with clever jokes and great voice work.
This one is for family movie night in houses where the kids are a little past elementary-school age — an animated film from the wonderful people at GKIDS that's arguably more for adults than children, but teens can definitely get something out of it. Nora Twomey directed this adaptation of Deborah Ellis's book about a young girl living in Kabul who is forced to dress as a boy to help her family. It's smart and moving.
Remember how much the E.B. White story of the spider and the pig traumatized you when you were a kid? Now you can inflict that emotional terrorism on your whole family with this 2006 adaptation of the beloved book. Even with a high-powered voice cast and large budget, audiences mostly avoided another version of this classic tale, but the film is surprisingly solid, proving why this is a story that parents will pass down to children for generations.
It's hard to believe that this was the first Disney Digital 3-D film back in 2005, a movie that really ushered in the end of the hand-drawn aesthetic for the company. History aside, it's a sweet little movie with good voice work from Zach Braff as the title character, the only one who knows the sky actually is falling.
Nicolas Cage leads a voice cast that also includes great work from Emma Stone and Ryan Reynolds in this animated hit that's basically a family sitcom set in the caveman days. It's got some pretty generic father-daughter material, but it's visually clever at times and an easy rewatch for young ones that has a nice blend of heart and humor.
The 1993 adaptation of the comic strip of the same name isn't exactly great, but there's something about it that stands out: Walter Matthau. The wonderful actor is perfectly cast as George Wilson, the man beset upon by his annoying, precocious neighbor Dennis. Written by John Hughes, the comedy here is thin, but Matthau gives it his all. He always did.
Apparently, every generation gets a version of the Dr. Seuss classic as proven by this third adaptation of the holiday tale. Produced by the team at Illumination (Despicable Me), this is a perfectly fine expansion of the TV special that a few generations knew and loved. Will it replace the original or even the Jim Carrey version going forward? Only time will tell.
Steven Spielberg's 1991 blockbuster reimagining of Peter Pan is one of the master director's most controversial films. If you were just the right age when Hook came out in theaters, you love this movie no matter what any of the critics say. And now you can relive your youth on Netflix!
Listen, they can't all be Pixar quality. Sometimes your kids don't want something as deep as Inside Out or Coco. Sometimes they just want something goofy. And this Easter live-action/animated flick checks that box. Russell Brand voices E.B. (Easter Bunny) and James Marsden plays the guy he torments. Poor Marsden is always getting tormented.
*How to Train Your Dragon 2
Any conversation about the best cinematic trilogies ever simply must include the DreamWorks films about Hiccup and his dragon Toothless. The original is still the undeniable masterpiece, but both sequels are nearly as good, including this 2014 story of how Hiccup reunites with his mother, voiced by Cate Blanchett. It's a gorgeous, moving story of family and legacy.
Netflix keeps cycling Martin Scorsese movies in and out of its collection, including this 2011 adaptation of Brian Selznick's novel that was originally released in 3-D. Nominated for 11 Oscars (and winning five), this is one of Scorsese's most acclaimed and beloved films, which should further put to rest any of those dumb insinuations that the legendary director only knows how to make Mob movies. This is a whimsical, delightful film that you can watch with the entire family. It may not be in 3-D on Netflix, but you can still enjoy its endless visual glory.
The Karate Kid
Ralph Macchio became a household name after starring in this 1984 family film about a kid who learns the art of karate from a master named Mr. Miyagi, unforgettably played by Pat Morita. The love for this film has sustained while so many other '80s flicks have been forgotten by history. Check it out (and its sequel) to find out why.
The most shocking Oscar nomination this year came when this Netflix holiday original landed in the Best Animated Film category with much-bigger films like Toy Story 4. People who had seen it were less surprised. A throwback to the gorgeous days of hand-drawn animation, it's a visually striking piece of work with an original holiday story to tell. It doesn't have to be Christmas to watch it.
This Netflix original (in the States at least) is one of many adaptations of the 1943 novella by Antoine de Saint-Exupéry that has become a beloved classic (but the only one to try and stretch the story to a full-length feature). It's smart, and visually striking, with great voice work by Jeff Bridges, Rachel McAdams, Paul Rudd, and many more.
Netflix added the two Illumination Dr. Seuss movies in August 2020, and this is actually the superior offering, a clever little story of Thneedville, a walled city that has no need for the natural world, and a 12-year-old there who learns the story of the Lorax, voiced perfectly by Danny DeVito. As the state of our planet continues its free fall, a sweet, funny reminder that we need to cherish it could be good for kids and parents too.
This 1979 Japanese animated comedy really changed movie history in that it's the feature film debut of the legendary Hayao Miyazaki, who would go on to found Studio Ghibli, the most important animation studio of the modern age. Based on the manga Lupin III, this is a visually striking adventure film that crosses all cultures and demographics.
Ben Stiller, Chris Rock, David Schwimmer, and Jada Pinkett Smith return to voice the characters from the 2005 family hit in this blockbuster sequel. Alex the Lion, Marty the Zebra, Melman the Giraffe, and Gloria the Hippo find their way to Africa. The penguins steal the movie again.
There aren't nearly enough family-friendly foreign films on any of the major streaming services (other than the Studio Ghibli section of HBO Max), so take the chance to watch the ones you can, including this 2017 fable by Hiromasa Yonebayashi. It's the story of a girl who finds a flower that can make her a witch, but for only one night and the production includes some of the Ghibli masters who worked on When Marnie Was There and The Secret World of Arrietty.
Wolfgang Petersen's adaptation of the beloved 1979 novel by Michael Ende is a major film for a generation raised on Atreyu, Bastian, Falcor, and the damn Swamps of Sadness. A smart fantasy movie for the whole family, this flick really was a hit at the box office but became an even-bigger touchstone for a generation with repeat viewings on cable and VHS. There's a super inferior sequel also on Netflix — you've been warned.
*The Pirates! Band of Misfits
Also known as The Pirates! In an Adventure with Scientists, this Aardman gem is from the same studio that gave us Chicken Run and Wallace & Gromit. With voice work by Hugh Grant, David Tennant, and Martin Freeman, this 3D stop-motion adventure film is about a group of mediocre swashbucklers fighting to be Pirate of the Year. It's smart and hysterical.
With Pixar's dominance, there's a whole era of the major Disney films that didn't quite get the attention they deserved. Take this 2009 film, a lyrical return to a more traditional animated-musical style, with confident storytelling and wonderful use of setting. A reimagining of The Frog Prince in New Orleans, it's a smart, moving piece of work.
Wreck-It Ralph rules. Sure, the sequel isn't as good as the original, but it's still better than a lot of your streaming options, thanks mostly to the go-for-broke voice work by John C. Reilly and Sarah Silverman, who gets one of the best Disney scenes of the modern era when the screenwriters target the tropes of the Disney Princess. You should watch this for that brilliance alone.
While it too often plays like three interconnected episodes of what a TV series set in this world would look like, kids dig these films about the high jinks their pets get up to when adults are at work and school. It's a goofy family movie for when you're in the mood for bright colors and recognizable voice actors but don't want to be particularly challenged by what you're watching.
There aren't a lot of legitimately great kids movies on Netflix, especially as so many family subscribers are moving over to Disney+, so we should take the chance to watch the absolute best ones as much as possible. And maybe if you watch this very funny, clever Aardman movie over and over again, they'll make more of them. The great silent comedy of Shaun the Sheep– meets–science fiction in this riff on E.T. that's very sweet and very funny. And they just added a new Shaun the Sheep TV series too!
Tomm Moore's gentle Irish fable, a nominee for Best Animated Film at the Oscars, is the kind of movie you can feel comfortable putting on for the entire family. It's the story of an Irish boy who learns that his sister is a selkie and contains some of the most gorgeous animation of the 2010s.
The Best Animated Film Oscar for 2018 went to this unexpected treat, one of the best superhero movies of the modern era. It's got a little bit of everything. First, it replicates the comic-book aesthetic in ways we've never seen before. Second, it is a leap forward in terms of representation in superhero movies. Third, it is just an unbelievable amount of fun, the kind of movie that you can watch again and again. It will hold up for generations to come.
Ryan Reynolds voices the title character of this 2013 animated hit, the story of a garden snail who wants to become the world's fastest snail. It's not going to change your life like the best of Pixar or Laika, but it's a pleasant diversion, something you can put on while your kids are stuck at home and not feel too bad about it.
Will Forte and Maya Rudolph are just two of the excellent voice actors in this quirky and clever adaptation of the book by Lois Lowry about a family of kids who try to leave their awful parents behind and raise themselves alone. With echoes of Tim Burton and other stop-motion animators, it's a lovably oddball flick.
Kevin James stars in the 2011 comedy as a zookeeper who is unlucky in love but adored by the animals at the zoo at which he works, voiced by Jon Favreau, Sylvester Stallone, Adam Sandler, and many more. Things get really weird when James's character learns that the animals can talk, and he can understand them. Too reliant on physical humor, this is what one would expect from a family Happy Madison flick, but families who miss actually going to the zoo in 2020 may enjoy this virtual trip.