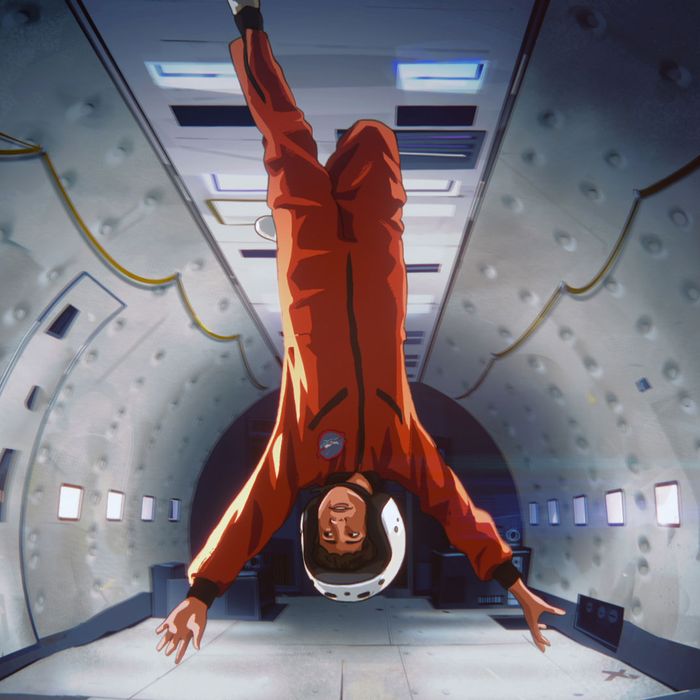 Apollo 10 1/2: A Space Age Childhood
.
Photo: Netflix
This article is updated frequently as titles leave and enter Netflix. *New additions are indicated with an asterisk.
Netflix has massive catalogs of TV shows aimed at children, but it can be harder to sift through their movie library to find something that the whole family can watch. That's why we're here to help. From recent Netflix Originals like Enola Holmes to timeless family blockbusters like Labyrinth or Cloudy With a Chance of Meatballs, these films offer a little something for everybody on family movie night.
Year: 2022
Runtime: 1 hour, 38 minutes
Director: Richard Linklater
The great writer/director of Waking Life returned to his unique animated style with this charming, nostalgic coming-of-age story set in the days just before the Apollo 11 landing. A clearly personal piece for Linklater, this film tells the fictional story of a fourth grader who ends up actually being the first person to land on the moon. Charming and sweet, it will appeal to every family member, from grandparents to kids.
The Bad Guys
Year: 2022
Runtime: 1h 40m
Director: Pierre Perifel
The 2022 film based on the graphic novels by Aaron Blabey was surprisingly clever and fun, making a fortune around the world while the pandemic was loosening the grip on when families felt safe going back to the theater. Sam Rockwell, Marc Maron, Awkwafina, and Craig Robinson lead an all-star voice cast in the tale of a group of animal criminals who pretend to go straight only to discover that their leader may not actually be pretending.
*Chicken Run
Year: 2000
Runtime: 1h 24m
Director: Peter Lord, Nick Park
We don't deserve Aardman. The geniuses behind Wallace & Gromit, Shaun the Sheep, and others made their biggest cinematic splash with this 2000 hit. A clever riff on prison break movies like Escape from Alcatraz (but with chickens!), this is actually the highest-grossing stop-motion animated film of all time, a title it's held for over 20 years now.
Enola Holmes
Year: 2020
Runtime: 2h 3m
Director: Harry Bradbeer
Let's make more of these. A truly charming adventure for the whole family, this Netflix original stars Millie Bobby Brown as the title character, the sister of the most famous crime-solver of all time, Sherlock Holmes. Based on the book series of the same name, there are certainly more mysteries that Enola can solve. Why don't you watch this one so the numbers are high enough to make one?
Flushed Away
Year: 2006
Runtime: 1h 25m
Director: David Bowers, Sam Fell
One of the best Aardman Animation films that doesn't star Wallace, Gromit, or Shaun the Sheep is the 2006 animated film that left behind their stop-motion style for computer animation. Hugh Jackman voices a pet rat named Roddy St. James who gets flushed down the toilet and meets the "city rats" who live in the sewers, including characters voiced by Kate Winslet, Jean Reno, and Ian McKellen.
Home
Year: 2015
Runtime: 1h 34m
Director: Tim Johnson
Jim Parsons of The Big Bang Theory fame voices Oh, an awkward alien from the planet Boov who unites with teenager named Tip (Rihanna) who is searching for her mother after an alien invasion. It's a sweet little comedy that was spun-off into a Netflix original animated series called Home: Adventures with Tip and Oh that was popular enough to run for four seasons.
Hotel Transylvania
Year: 2012
Runtime: 1h 31m
Director: Genndy Tartakovsky
The franchise about Count Dracula (Adam Sandler) and his troublemaking son-in-law (Andy Samberg) just ended in early 2022 with Hotel Transylvania: Transformania, but it feels like this series won't really go away. There will still be people who love these films, and the first (and second) are on Netflix, so you can see where it all began.
How to Train Your Dragon
Year: 2010
Runtime: 1h 40m
Director: Chris Sanders, Dean DeBlois
The movies based on the book by Cressida Cowell comprise one of the best trilogies of the 2010s. It all started with this DreamWorks adventure film about a boy (Jay Baruchel) who befriends a dragon named Toothless, despite his people's fear of the flying creatures. A classic tale of never judging a book by its cover, this a beautiful adventure tale, a movie with equal amounts of heart and spirit.
Matilda
Year: 1996
Runtime: 1h 38m
Director: Danny DeVito
The musical version of the Roald Dahl classic is making waves on Netflix, and now they have finally also added the clever and funny 1990s edition of this tale of a precocious kid with superpowers. Mara Wilson plays the title character and real-life couple Rhea Perlman and Danny DeVito play her parents. The TV star also directed this charming flick that kinda bombed in theaters but developed a following on VHS and DVD.
Year: 2018
Runtime: 1h 38m
Director: Mamoru Hosoda
One of the best Japanese filmmakers alive, Hosoda has earned fans with films like Wolf Children, The Boy and the Beast, and Belle. One of his best is this 2018 fantasy movie, which actually became the first non-Ghibli anime film to ever get nominated for the Oscar for Best Animated Feature. It can be a little hard to follow, but it's one of the most visually striking films on Netflix, or any streaming service.
Year: 2021
Runtime: 1h 54m
Directors: Mike Rianda and Jeff Rowe
Originally planned for a theatrical release by Sony (with the much-worse title Connected), the studio sold this off to Netflix during the pandemic…and probably regretted that decision. One of the most critically and commercially beloved animated films of 2021, this is an incredibly smart and sweet family vacation movie, a comedy that's as much about a tender relationship between a father and daughter as it is the fact that they end up having to save the world together.
A Monster Calls
Year: 2016
Runtime: 1h 48m
Director: J.A. Bayona
Patrick Ness adapted his novel of the same name in this moving study of a grief so strong that it basically transforms into a literal monster. Lewis MacDougall plays Conor, a child whose mother (Felicity Jones) is dying. As he tries to flee the grief in his home, he runs into a giant tree monster (voiced by Liam Neeson), who offers to tell Conor three stories. Of course, the stories are designed to teach the young man to deal with the grief over his mother in a film that may scare some of the littlest ones in the family.
Paddington
Year: 2014
Runtime: 1h 35m
Director: Paul King
One of the sweetest family films ever made adapts the classic talking bear to modern London when Paddington (Ben Whishaw) finds his way there from "Darkest Peru," looking for a new home. He finds one with an average family led by Hugh Bonneville and Sally Hawkins, but crosses paths with a nefarious taxidermist (a wonderful Nicole Kidman) who tries to take him down. This is such a gently funny and likable movie. You kind of have to be a jerk to hate it.
Guillermo del Toro's Pinocchio
Year: 2022
Runtime: 1h 56m
Director: Guillermo del Toro
The Oscar-winning director took his visionary skills to stop-motion animation with this instant classic, a retelling of the beloved fairy tale about the wooden boy who longed to be real. With spectacular voice work, this version reimagines Pinocchio during the period before World War II, allowing him to explore his themes of innocence and violence again. It's a deeply personal, beautiful film.
Puss in Boots
Year: 2011
Runtime: 1h 32m
Director: Chris Miller
When Shrek 2 became one of the biggest animated films ever made, plans were put in motion to spin off Antonio Banderas's heroic kitty into his own franchise, which arguably reached its peak with last year's excellent Puss in Boots: The Last Wish. This first film isn't that good but it's still fun, and might be of interest to kids who saw last year's movie and wonder where it all began.
The Sea Beast
Year: 2022
Runtime: 1h 55m
Director: Chris Williams
One of 2022's most surprising hits for Netflix has been this film from one of the creators of Bolt and Big Hero 6. It's a blend of a lot of things that have been done before with echoes of How to Train Your Dragon, Moana, and Pirates of the Caribbean (with a little Kaiju too) but this is a detailed adventure film that really plays to everyone in the family.
A Shaun the Sheep Movie: Farmageddon
Year: 2019
Runtime: 1h 27m
Directors: Richard Phelan and Will Becher
Shaun the Sheep is an international treasure. The silent comedy star leads one of the most consistently hilarious franchises of all time in his own TV episodes and feature films. This one is a brilliant Netflix original from Aardman Animations about how everyone's favorite ovine helps a stranded alien return to his own kind.
Sing 2 
Year: 2021
Runtime: 1h 50m
Director: Garth Jennings
Everyone seems to love the jukebox animated musicals with the Sing banner. Five years after the first movie, the sequel shattered box office expectations, even during a pandemic, making over $400 million worldwide. One of the highest grossing films of 2021 reunited all of the characters from Sing to put on a show in Redshore City — and added Bono!
Wendell & Wild
Year: 2022
Runtime: 1h 46m
Director: Henry Selick
The director of A Nightmare Before Christmas and Coraline finally returned this year with this clever and twisted tale co-written by Oscar winner Jordan Peele. The comedian also co-stars as one of the title characters, the literal demons for a girl who blames herself for the death of her parents. Selick is a master of stop-motion animation and this project allows him to stretch his visual prowess in new, gross ways. It's a new Halloween classic (that can be watched any time, of course!)
The Willoughbys
Year: 2020
Runtime: 1h 32m
Director: Kris Pearn
Remember when Tim Burton made weird, slightly disturbing kids movies? This truly inventive 2020 comedy feels inspired by those flicks as four kids decide that they're going to replace their apathetic parents with ones that actually care. Based on the book of the same name by Lois Lowry, this flick includes voice work by Will Forte, Maya Rudolph, Terry Crews, and Ricky Gervais, and it's probably the best family movie on Netflix that you probably haven't seen.
If you subscribe to a service through our links, Vulture may earn an affiliate commission.