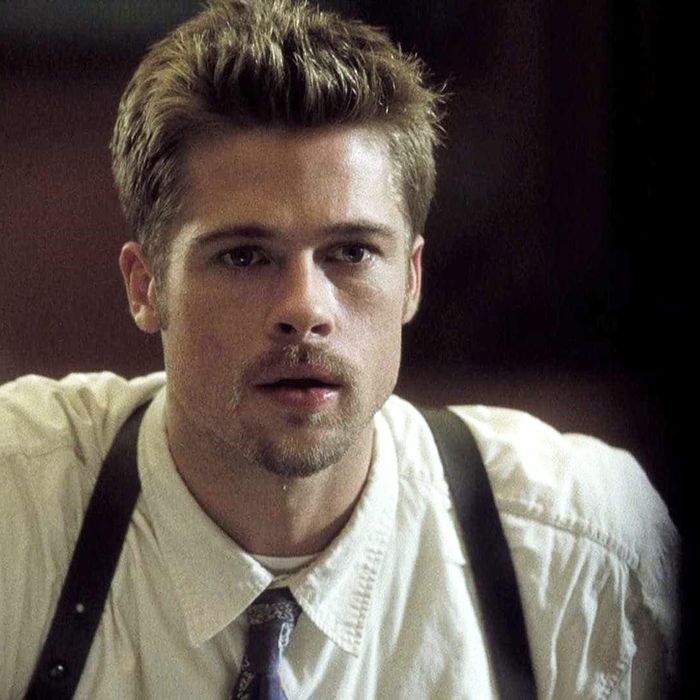 Se7en.
Photo: New Line Cinema
This post is updated regularly as movies leave and enter Hulu. *New additions are indicated with an asterisk.
Still considered largely a streaming service for television fans, Hulu has struggled to carve out its own reputation as a home for movie lovers too. To that end, they have become one of the most prominent supporters of recent arthouse cinema, particularly critical darlings like The Banshees of Inisherin, Flee, Pig, and more. They also have an interesting revolving door of beloved recent films of all genres, mostly from 2010 and beyond. Take the time you were going to use to catch up on your latest sitcom and check out one of the films below in this list that will be updated as titles come and go, starting with our pick of the week.
This Week's Editor's Pick
*Se7en
(horror)
Year: 1995
Runtime: 2h 7m
Director: David Fincher
Some movies are in these guides to highlight movies that readers may not have considered watching, but pretty much everyone with Hulu has seen David Fincher's 1995 masterpiece already. The question is if you want to know what's in the box again? If you somehow have never seen it, this is the story of two detectives (Brad Pitt & Morgan Freeman) who hunt a serial killer basing his crimes on the seven deadly sins. It shook the movie world when it was released and it's still influencing thrillers released a quarter-century later.
Drama
Broker
Year: 2022
Runtime: 2h 9m
Director: Hirokazu Kore-eda
The masterful Japanese director travels to Korea for this moving drama starring Song Kang-ho of Parasite fame. He plays half of a team that retrieves babies dropped off at churches and sells them to orphanages. Their scheme falls apart when a mother returns, looking for her child. Kore-eda makes films that challenge the definition of the word family, and Broker is one of his best.
Nomadland
Year: 2020
Runtime: 1h 48m
Director: Chloe Zhao
The Oscar winner for Best Picture, Best Director, and Best Actress, this 2020 drama is one of the most moving films of the young decade so far, and it's exclusively on Hulu thanks to the company's relationship with Fox Searchlight (they're both owned by Disney). Frances McDormand stars as Fern, a woman displaced by the loss of her husband and job, sending her out on the road. Blending non-fiction filmmaking choices like the use of non-actors telling their own stories with a deep sense of character-building, this is a phenomenal film.
Pig
Year: 2021
Runtime: 1h 32m
Director: Michael Sarnoski
Nicolas Cage gives one of the best performances of his career in this 2021 drama about a chef who has become a reclusive hermit, leaving off the grid with his pet pig. When the pig is kidnapped, Cage will go to whatever lengths necessary to get her back. A moving study of what we value in life, Pig was one of the best films of 2021, and it's exclusively on Hulu.
The Quiet Girl
Year: 2022
Runtime: 1h 34m
Director: Colm Bairead
A surprising nominee for the Oscar for Best International Film of 2022, this is an Irish coming-of-age drama that will hit you hard in the gut. With dialogue mostly in Irish, it's the tale of a girl named Cait, a nine-year-old who goes to live on a farm with her mother's cousin and her husband. The girl who has grown up lacking love discovers kindness in this place. If you don't cry at the end of this one, you're dead inside.
Sophie's Choice
Year: 1982
Runtime: 2h 30m
Director: Alan J. Pakula
Meryl Streep won her second Oscar for this heartbreaking adaptation of William Styron's novel. Everyone remembers the unforgettable scene to which the title of this film refers, but there's more to this movie than just that impossible decision. It's as much about the impact of war and trauma as it is the events themselves, and Streep's landmark work is ably supported by Kevin Kline and Peter MacNicol.
Whiplash
Year: 2014
Runtime: 1h 46m
Director: Damien Chazelle
Remember when everyone was talking about this movie? Damien Chazelle's drama about a perfectionist drummer and his militaristic teacher thrilled viewers from the minute it premiered at Sundance. For over a year, it was a major piece of pop culture, all the way up to an Oscar nod for Best Picture and a win for J.K. Simmons.
Documentaries
Flee
Year: 2021
Runtime: 1h 29m
Director: Jonas Poher Rasmussen
Rasmussen's film pulled off a historic trifecta early in 2022 when it was the first film nominated for the Oscars for Best Animated Feature, Best Documentary, and Best International Feature Film. Refugee Amin Nawabi shares his story with a close friend, and the film then recreates it with beautiful animation. Sadly, it lost all three categories, but it's still one of the best films of 2021, and easily one of the best films on Hulu.
Man on Wire
Year: 2008
Runtime: 1h 34m
Director: James Marsh
James Marsh's Oscar-winning documentary chronicles the 1974 feat of courage/idiocy of Philippe Petit, who strung a wire between the twin towers of the World Trade Center and then walked from one to the other. Marsh's success comes from eschewing the traditional talking head format of history docs, making his movie more like a heist film, complete with recreations of the insane event high above New York City.
Summer of Soul
Year: 2021
Runtime: 1h 58m
Director: Ahmir "Questlove" Thompson
It's unfair how talented Questlove is. The drummer for The Roots proved to have an incredible touch with documentaries, too, when this future Oscar winner premiered at Sundance 2022, where it won the Grand Jury Prize and Audience Award. It's the story of the 1969 Harlem Cultural Festival, an unforgettable display of creativity and passion that was almost forgotten, the footage buried in a basement for generations. Watch this one loud.
Year: 2022
Runtime: 1h 54m
Director: Martin McDonagh
One of the best films of 2022 and a multiple Oscar nominee last year, this dark comedy is already on streaming services, less than a year after its release. Colin Farrell does career-best work as a hapless Irishman who discovers that his best friend, played by Brendan Gleeson, doesn't want to talk to him anymore. A film about how neighbors become enemies feels particularly timely in the currently fractured world, and this one is brilliant, funny, and moving.
Bottle Rocket
Year: 1996
Runtime: 1h 31m
Director: Wes Anderson
Made for almost nothing in the heart of Texas by an unknown young man named Wes Anderson, this 1996 comedy changed the indie landscape. Not only did it launch Anderson's career, it introduced the world to the Wilson brothers, Owen and Luke. It's a great film, and one that Martin Scorsese even named as one of the ten best films of the 1990s
The Death of Stalin
Year: 2017
Runtime: 1h 47m
Director: Armando Iannucci
Armando Iannucci, the creator of Veep and The Thick of It, co-wrote and directed this viciously dark satire about the power struggle that emerged in the wake of the death of Joseph Stalin in 1953. More nervously unsettling than laugh-out-loud funny, Iannucci's style works well for his incredible cast, including Steve Buscemi, Paddy Considine, Jason Isaacs, Rupert Friend, Michael Palin, and Andrea Riseborough.
Year: 2016
Runtime: 1h 27m
Directors: Akiva Schaffer, Jorma Taccone
One of the best mockumentaries ever made, this comedy perfectly captures the anarchic spirit of the Lonely Island guys. Andy Samberg plays Connor Friel, a moronic popstar with a massive ego. When Connor's career collapses, he's forced to reunited with The Style Boyz, the group he left years ago and the friendships that got destroyed in the process. As consistently hilarious as any comedy of the last decade, Popstar should have been much bigger.
Year: 2023
Runtime: 1h 22m
Director: Raine Allen Miller
The best romantic comedy in years premiered at Sundance in January 2023 and is already on Hulu. David Jonsson and Vivian Oparah star in a film that's reminiscent of Before Sunrise in the way it captures two people meeting and walking through a city as they slowly fall in love. Heartbroken, creative people, these characters are so incredibly likable in this film that has a sharp, brilliant screenplay, and stunning use of setting. The world around these people comes so vibrantly to life that it almost feels like a character.
Triangle of Sadness
Year: 2022
Runtime: 2h 29m
Director: Ruben Ostlund
A Best Picture nominee and Palme d'Or winner, Triangle of Sadness is the one of the biggest international critical darlings of 2022. From the writer/director of Force Majeure, this is the story of a model couple on a boat trip from Hell, a journey that goes so disastrously wrong that social lines are blurred forever. It's a sharp commentary on the haves and have-nots with fun performances from Harris Dickinson, Dolly de Leon, Woody Harrelson, and more.
Alien
Year: 1979
Runtime: 1h 57m
Director: Ridley Scott
The one that changed everything. Alien didn't just launch a mega-franchise or create an iconic character in Sigourney Weaver's Ripley. It shifted the entire sci-fi/horror landscape forever. And what's even more stunning about Alien over four decades later is how much it still rips. From beginning to end, this is one of the rare movies that could be called perfect.
The Autopsy of Jane Doe
Year: 2016
Runtime: 1h 26m
Director: Andre Ovredal
There are very few horror movies with as perfect a set-up as this one. Brian Cox and Emile Hirsch star as a coroner and his son in a small town. They get a late-night delivery of a body that doesn't make sense. Her exterior looks pristine but everything on the inside is a mess. As they're trying to solve the mystery, things get very, very creepy.
The Babadook
Year: 2014
Runtime: 1h 34m
Director: Jennifer Kent
One of the best horror films of the 2010s has not been widely available for streaming subscribers so take the chance to watch it again while it's on Hulu. Jennifer Kent's directorial debut centers on a mother (Essie Davis) who struggles to raise her problem child alone after the death of her husband. Oh, and there's also a real monster in the boy's room.
Crimes of the Future
Year: 2022
Runtime: 1h 47m
Director: David Cronenberg
The master of body horror returned to the form for the first time in a generation and delivered one of the most mesmerizing films of 2022. Viggo Mortensen plays a man in a future where evolution has gone awry, creating new organs in human bodies. His is particularly active, and it draws the attention of characters played by Kristen Stewart and Lea Seydoux. It's a fascinating film. You won't be able to turn away.
The Menu
Year: 2022
Runtime: 1h 47m
Director: Mark Mylod
A regular director on Succession, Mylod made his directorial debut with this Fall 2022 black comedy/horror film about a chef's tasting to remember. Ralph Fiennes bites into a juicy role as a celebrity chef who has decided that the meal he's cooking for his wealthy guests might be their last. Anya Taylor-Joy, Nicholas Hoult, Hong Chau, and Janet McTeer co-star in a film that's already a cult hit on streaming services only about a year after its release.
Only Lovers Left Alive
Year: 2013
Runtime: 2h 3m
Director: Jim Jarmusch
How does one possibly begin to describe one of the most wonderfully odd films of the 2010s? Jim Jarmusch wrote and directed this story of apathetic vampires, creatures who have lived so long and seen so much that the world mostly leaves them apathetic. Tilda Swinton and Tom Hiddleston are fantastic in the lead roles, and they're matched by great supporting turns from Mia Wasikowska, Anton Yelchin, Jeffrey Wright, and John Hurt.
Personal Shopper
Year: 2016
Runtime: 1h 45m
Director: Olivier Assayas
Olivier Assayas's ghost story is not your typical tale of the supernatural. The French filmmaker, working in perfect conjunction with star Kristen Stewart, who has never been better, crafts a film about loss, fear, and longing. It's not an easy film to dissect or understand, but you won't forget it.
13 Assassins
Year: 2011
Runtime: 2h 5m
Director: Takashi Miike
Takashi Miike has directed over 100 movies, and this is one of the best, a stylish throwback to samurai cinema of old anchored by the modern filmmaking prowess of one of the best filmmakers alive. A remake of Eiichi Kudo's 1963 film, this is loosely based on actual events from 1844 when 12 samurai and a hunter worked together to assassinate the leader of the Akashi clan. It's a perfect balance of storytelling and sprays of samurai blood.
Akira 
Year: 1988
Runtime: 2h 4m
Director: Katsuhiro Otomo
Animated action! Anyone who thinks a Japanese anime film from the '80s doesn't deserve a spot on this list simply hasn't seen Akira, a movie that feels more influential with each film that copies its template. Based on the 1982 manga of the same name and set in the oh-so-distant future of 2019, this story of a biker with telekinetic abilities has influenced dozens of action and sci-fi project. It gets better every time you watch it. (Note: Both the dubbed and subtitled versions are on Hulu.)
Aliens
Year: 1986
Runtime: 2h 17m
Director: James Cameron
One of the best action movies ever made, James Cameron's sequel to the equally excellent Alien reshaped the horror movie aspects of the first film into an action extravaganza. Sigourney Weaver was so good here that she landed an Oscar nomination for Best Actress, which is almost unheard of for action movies. It's held up perfectly. (Note: All of the Weaver films aka The Alien Quadrilogy are now on Hulu.)
Bad Lieutenant: Port of Call New Orleans
Year: 2009
Runtime: 2h 1m
Director: Werner Herzog
Director Werner Herzog was an unexpected choice for an unexpected sequel to Abel Ferrara's 1992 film Bad Lieutenant, but this isn't your normal sequel. In fact, it has nothing really to do with that first film other than it also centering a corrupt cop. Nicolas Cage gives one of his most unhinged and impressive performances here, and that's really saying something.
Hell or High Water
Year: 2016
Runtime: 1h 42m
Director: David Mackenzie
David Mackenzie's 2016 modern western is feeling more and more like a definitive film of the last decade with each passing year. There aren't many films that one could consider better at capturing the lengths people will go to hold on to what's theirs than this story of two brothers (Chris Pine and Ben Foster) who become bank robbers to save their family land. The cast is uniformly great, but it's Taylor Sheridan's excellent script that really makes this a special movie.
Year: 2011
Runtime: 1h 45m
Director: Rupert Wyatt
Any list of the best modern action trilogies really needs to include the rebooted Planet of the Apes series that started with this excellent blockbuster over a decade ago. James Franco plays a man who raises a genetically engineered chimpanzee named Caesar (Andy Serkis, who gives an all-timer mo-cap performance), who starts the revolution of the primates over their human captors. It's a phenomenal movie.
The Bob's Burgers Movie
Year: 2022
Runtime: 1h 42m
Directors: Loren Bouchard & Bernard Derriman
Delayed two years because of the pandemic, the big screen version of the FOX hit finally landed in theaters in May 2022, but audiences mostly stayed away, which means they can catch up with it at home! And you really shouldn't miss this joyous story of a family who always unites to save the day and make the best burger in town.
If you subscribe to a service through our links, Vulture may earn an affiliate commission.