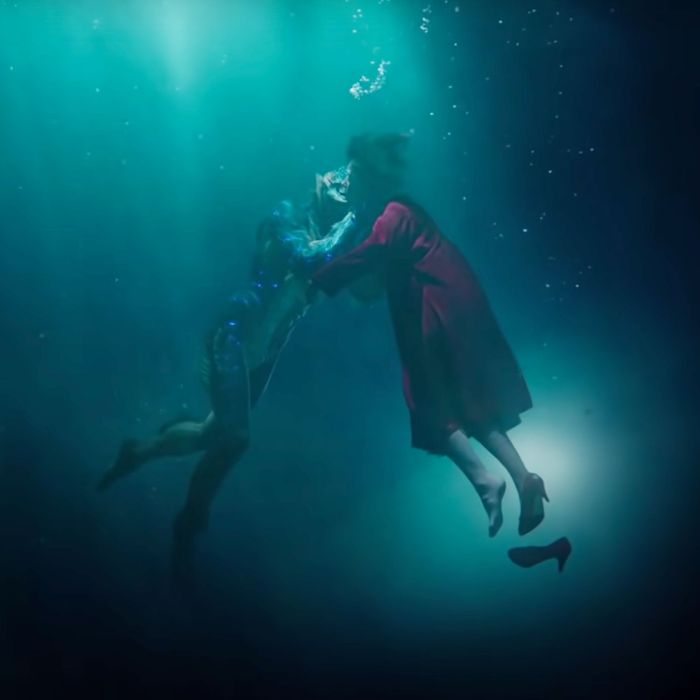 The Shape of Water.
Photo: SearchlightPictures/YouTube
This post is updated regularly as movies leave and enter Hulu. *New additions are indicated with an asterisk.
Still considered largely a streaming service for television fans, Hulu has struggled to carve out its own reputation as a home for movie lovers too. To that end, they have become one of the most prominent supporters of recent arthouse cinema, particularly in a deal with Neon that has made them the exclusive streaming home of the company's critical darlings like Parasite, Flee, Pig, and more. They also have an interesting revolving door of beloved recent films of all genres, mostly from 2010 and beyond. Take the time you were going to use to catch up on your latest sitcom and check out one of the films below in this list that will be updated on a monthly basis.
Drama
127 Hours
Year: 2010
Runtime: 1 hour, 34 minutes
Director: Danny Boyle
James Franco gives arguably his best screen performance in this thrilling drama, a film that earned the actor an Oscar nomination for playing Aron Ralston, an American canyoneer who found himself in a waking nightmare in a Utah canyon. In April 2003, Ralston fell into a slot canyon and was held there by a boulder for over five days, until he made an impossible decision to save his own life.
La La Land
Year: 2016
Runtime: 2h 8m
Director: Damien Chazelle
Has history relegated this hit movie to the "film that lost Best Picture to Moonlight?" Hopefully not because La La Land is still a wonderful musical, a story of intertwining souls in Los Angeles as they balance love and their impossible dreams. Ryan Gosling and Emma Stone do their best film work to date in this film that's even better than you remember.
Milk
Year: 2008
Runtime: 2h 8m
Director: Gus Van Sant
Sean Penn won his second (and last) Oscar for playing Harvey Milk, one of the first openly gay politicians in the history of the United States. Milk's political career is charted in this resonant biopic, all the way up to his winning a seat on the San Francisco Board of Supervisors in 1977, making him the first openly gay man to be elected to public office in California. He would be assassinated in November 1978.
Moneyball
Year: 2011
Runtime: 2h 13m
Director: Bennett Miller
One of the best baseball movies ever made was adapted from the 2003 book by Michael Lewis, which recounts the management of the 2002 season of the Oakland Athletics, and how they changed the way the game is run by bringing analytics into the mix. Brad Pitt gives one of his best performances as general manager Billy Beane, a man who knew he would have to find a new way to evaluate talent if the A's were going to compete. This is a rich, smart, riveting movie.
Nomadland
Year: 2020
Runtime: 1h 48m
Director: Chloe Zhao
The Oscar winner for Best Picture, Best Director, and Best Actress, this 2020 drama is one of the most moving films of the young decade so far, and it's exclusively on Hulu thanks to the company's relationship with Fox Searchlight (they're both owned by Disney). Frances McDormand stars as Fern, a woman displaced by the loss of her husband and job, sending her out on the road. Blending non-fiction filmmaking choices like the use of non-actors telling their own stories with a deep sense of character-building, this is a phenomenal film.
Parasite
Year: 2019
Runtime: 2h 12m
Director: Bong Joon-ho
Remember not that long ago before the world changed and we could all rally around a South Korean film becoming the first foreign flick ever to win the Oscar for Best Picture? It really was a crazy time. Thanks to Hulu's relationship with distributor Neon, the streamer is the only place you'll find Bong Joon-ho's hysterical and thrilling study of class conflict.
Pig
Year: 2021
Runtime: 1h 32m
Director: Michael Sarnoski
Nicolas Cage gives one of the best performances of his career in this 2021 drama about a chef who has become a reclusive hermit, leaving off the grid with his pet pig. When the pig is kidnapped, Cage will go to whatever lengths necessary to get her back. A moving study of what we value in life, Pig was one of the best films of 2021, and it's exclusively on Hulu.
Quo Vadis, Aida?
Year: 2020
Runtime: 1h 41m
Director: Jasmila Zbanic
The human cost of the political maneuvering around warfare has rarely been more movingly captured than in this 2021 nominee for Best International Feature Film. This drama centers a woman named Aida, who works as a translator for the United Nations, involved in keeping the peace in her town of Sbrenica, near the Serbian border…until they don't. What happens when safety zones are dissolved? It's a terrifying study of how decisions made hundreds of miles away can lead to massacres.
Sexy Beast
Year: 2000
Runtime: 1h 28m
Director: Jonathan Glazer
Sir Ben Kingsley gives one of his best performances ever in this stunning story of a mobster who returns into an old colleague's life to raise hell. The reformed fellow is Gary Dove (Ray Winstone), who doesn't know how to stop Kingsley's literal force of nature when he insists that they do another job together. Kingsley landed an Oscar nomination for his work here. He should have won.
The Shape of Water
Year: 2017
Runtime: 2h 3m
Director: Guillermo del Toro
The director of Pan's Labyrinth and Pacific Rim had the biggest hit of his career in this 2017 romantic fantasy that won the Oscars for Best Director and Best Picture. It takes place in 1962 Baltimore, where a mute cleaner (Sally Hawkins) discovers that the facility she helps maintain is housing a fish-man, with whom she falls in love. Delicate and moving, it's the kind of great flick that only GdT could make.
Slumdog Millionaire
Year: 2008
Runtime: 2h
Director: Danny Boyle
The director of Trainspotting and 28 Days Later had the biggest hit of his career in one of the most feel-good movies to ever win the Oscar for Best Picture. It's a loose adaptation of the true story of Jamal Malik, an 18-year-old Mumbai teen who became the biggest quiz show winner in history. Dev Patel gives a breakthrough performance in the film version, a movie that's brought to life by Boyle's unapologetically energetic filmmaking.
Documentaries
The Act of Killing
Year: 2012
Runtime: 2h 2m
Director: Joshua Oppenheimer
You've never seen a documentary quite like this one. One of the best films of the 2010s, Joshua Oppenheimer's film unpacks the Indonesian genocides of the 1960s and how the men who perpetrated them have never faced consequences. These men act out their crimes in reenactments, leading to what's almost an exorcism for both the killer and the survivors. It's breathtaking.
Collective
Year: 2019
Runtime: 1h 49m
Director: Alexander Nanau
A nominee for Best Documentary and Best International Feature Film, Nanau's work documents not only the nightclub fire at Colectiv but the scandal that followed. In 2015, a fire broke out at a Romanian club that led to the deaths of 64 people and injured dozens more. The survivors struggled to get any sort of healthcare in a broken system, and the journalists who revealed their plight are rivetingly chronicled here.
Flee
Year: 2021
Runtime: 1h 29m
Director: Jonas Poher Rasmussen
Rasmussen's film pulled off a historic trifecta early in 2022 when it was the first film nominated for the Oscars for Best Animated Feature, Best Documentary, and Best International Feature Film. Refugee Amin Nawabi shares his story with a close friend, and the film then recreates it with beautiful animation. Sadly, it lost all three categories, but it's still one of the best films of 2021, and easily one of the best films on Hulu.
Summer of Soul
Year: 2021
Runtime: 1h 58m
Director: Ahmir "Questlove" Thompson
It's unfair how talented Questlove is. The drummer for The Roots proved to have an incredible touch with documentaries too when this future Oscar winner premiered at Sundance 2022, where it won the Grand Jury Prize and Audience Award. It's the story of the 1969 Harlem Cultural Festival, an unforgettable display of creativity and passion that was almost forgotten, the footage buried in a basement for generations. Watch this one loud.
Another Round
Year: 2020
Runtime: 1h 57m
Director: Thomas Vinterberg
The Oscar winner for Best International Film in 2021 features one of the best performances ever from the great Mads Mikkelsen. The Hannibal star plays a teacher who decides, with a group of three friends, to be a little drunk all the time. Bored and unmotivated by life, they try an experiment wherein they have a small blood alcohol content at all times. At first, it goes well. It doesn't end well. Not everything here works but it's a likable film that features a killer ending.
Booksmart
Year: 2019
Runtime: 1h 45m
Director: Olivia Wilde
Olivia Wilde made her directorial debut with this hit comedy that could loosely be called "Superbad for girls." Beanie Feldstein and Kaitlyn Dever play high school friends who suddenly worry that all those years they spent studying have been in vain. They decide to make up for lost time on one crazy night just before graduation. Funny and tender, this is a Hulu exclusive.
The Descendants
Year: 2011
Runtime: 1h 55m
Director: Alexander Payne
The director of Election had arguably the biggest hit of his career in this 2011 dramedy that was nominated for Best Picture (and won Best Adapted Screenplay). Based on the novel of the same name by Kaui Hart Hemmings, it's the tale of an attorney named Matt King (George Clooney) who struggles with massive swath of land he inherits in Kauai. Smart and moving, it also earned Clooney an Oscar nomination.
I, Tonya
Year: 2017
Runtime: 2h
Director: Craig Gillespie
Margot Robbie should have won the Oscar for playing Tonya Harding in this tonal highwire act. More than just a biopic or the true crime story of the 1994 attack on Nancy Kerrigan, Gillespie's film is an interrogation of sports and celebrity culture. Centering it all is Robbie's performance, one of the most challenging and impressive of the 2010s.
Working Girl
 Year: 1988
Runtime: 1h 53m
Director: Mike Nichols
Hulu is pretty miserable at programming films from the last century so reaching all the way back to the '80s makes this a legitimate classic for the streamer. Melanie Griffith stars as a secretary from Staten Island who rises the corporate ladder while dodging a potential romance and a morally corrupt boss. Harrison Ford and Sigourney Weaver fill out the cast of a sharp comedy for adults, the kind of film they don't really make all that often anymore.
Black Swan
Year: 2010
Runtime: 1h 48m
Director: Darren Aronofsky
Natalie Portman won her only Oscar for her fearless performance in Aronofsky's study of commitment and madness. She plays a ballerina who will go to whatever lengths necessary to nail a new production of Swan Lake, even as she fends off the competition of a new dancer, played by Mila Kunis. Unforgettable and terrifying, it's a true horror film that captures how dedication can be pushed far enough to tear apart reality.
Compliance
Year: 2012
Runtime: 1h 30m
Director: Craig Zobel
In Kentucky in 2004, something horrible happened. A prank call went way too far when someone phoned a fast-food restaurant and pretended to be a police officer. How far would you go if you believed the voice on the other end of the line was an authority figure? Ann Dowd plays the manager who ends up humiliating an employee, played by Dreama Walker. We all like to think we would do the right thing in a situation like this but the horror here is how easy it is to be fooled.
Let the Right One In
Year: 2008
Runtime: 1h 54m
Director: Tomas Alfredson
Based on the 2004 novel of the same name, this is one of the best vampire movies ever made. It's the tale of an ordinary pre-teen who is bullied at school and has a lonely life at home. That's the case until a new child moves in, one with a secret. She's a creature of the night, and her connection with this new friend will change both of their lives forever. Moody and moving, this is a modern classic.
Nightmare Alley
Year: 2020
Runtime: 2h 30m
Director: Guillermo del Toro
One of the best living directors adapted William Lindsay Gresham's novel of the same name, one that had already been made into a brilliant noir from 1947 with Tyrone Power. The result as another Best Picture nominee. This one stars Bradley Cooper as a carnival worker who becomes a con man, and how the journey into darkness allows him to lose his soul. Atmospheric and mysterious, this is precisely the kind of film that feels like it's not getting made that often anymore.
The Bob's Burgers Movie
Year: 2022
Runtime: 1h 42m
Directors: Loren Bouchard & Bernard Derriman
Delayed two years because of the pandemic, the big screen version of the FOX hit finally landed in theaters in May 2022, but audiences mostly stayed away, which means they can catch up with it at home! And you really shouldn't miss this joyous story of a family who always unites to save the day and make the best burger in town.
Fly Away Home
Year: 1996
Runtime: 1h 47m
Director: Carroll Ballard
The director of The Black Stallion helmed this loose retelling of the true story of Bill Lishman, who actually created a flying machine to help Canadian geese find their way home again. Here, that tale is dramatized to include a moving story of overcoming grief, anchored by solid performances from Anna Paquin and Jeff Daniels.
The Polar Express
Year: 2005
Runtime: 1h 40m
Director: Robert Zemeckis
The director of Back to the Future changed animation with his first motion-capture film in this adaptation of the book of the same name by Chris Van Allsburg. Tom Hanks stars in multiple roles in this telling of a boy who finds a train to the North Pole on Christmas Eve, where he learns the true meaning of the holiday.
In the Line of Fire
Year: 1993
Runtime: 2h 8m
Director: Wolfgang Petersen
Clint Eastwood stars in this tense thriller about a Secret Service agent who is the only thing standing between the assassination of the U.S. President and a rogue former CIA agent, played with sharp menace by the great John Malkovich, Oscar-nominated for his work here. Petersen's craft melds perfectly with Eastwood's square-jawed heroism in one of the most iconic films of the beloved actor/director's career.
Predator
Year: 1987
Runtime: 1h 47m
Director: John McTiernan
Disney shuffled their Predator sequel Prey to the streaming service in August 2022, where it joined several films from the franchise if you're looking to catch-up. You can probably skip the first sequel and Predators and just stick to the 1987 original, a lean, mean movie that features one of Ah-nuld's best '80s performances. It's a survival tale that starts off like a war movie before it throws in one of the universe's most famous killing machines.
Spider-Man
Year: 2002
Runtime: 2h 1m
Director: Sam Raimi
Most superhero movies on streaming services are the exclusive property now of Disney+ given their ownership of the MCU, but Sony superhero films are allowed to escape the clutches every now and then and find their way to other streaming services. Right now, all three films from Sam Raimi are on Hulu. The second film is easily still the best, but they're all worth a rewatch (yes, even the third one).
If you subscribe to a service through our links, Vulture may earn an affiliate commission.