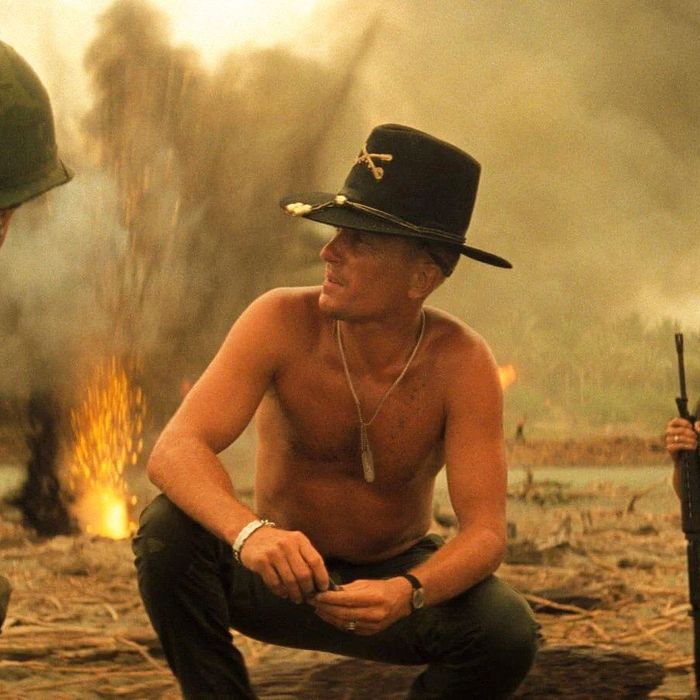 Apocalypse Now Redux.
Photo: United Artists
This post is updated regularly as movies leave and enter Netflix.
With hundreds of films from around the world on the streaming giant that changed the game, how does one even know where to start when they're looking for something to watch? Start here! We have gone through the massive catalog of films available on Netflix and pared down the selection to an essential 30 titles, including action films, comedies, horror flicks, and even stuff for the whole family. (Note: We are not including Netflix Originals as they've almost become their own genre and have highlighted the best Netflix-produced feature films elsewhere.) These are films that came from outside the Netflix pipeline to subscribers, and it will be regularly updated as flicks come and go from the Netflix catalog.
Drama
Bonnie and Clyde
1967, 1 hour 51 minutes
Directed by Arthur Penn
One of the most essential American films, this drama really reshaped the way violence could be portrayed on screen. Warren Beatty and Faye Dunaway star as the legendary Clyde Barrow and Bonnie Parker, a pair of outlaws and lovers who went on a crime spree during the Great Depression. Widely considered one of the first films of "New Hollywood," Penn's work helped usher in an era of ambitious filmmaking for adult audiences.
1997, 2h 35m
Directed by Paul Thomas Anderson
PTA put himself on the map with his second film, an epic tale of an average guy in 1970s Los Angeles who becomes one of the biggest porn stars in the world. Not only did Mark Wahlberg shed his pop star image, but PTA directed Burt Reynolds, Julianne Moore, Don Cheadle. John C. Reilly, Heather Graham, and many more to some of the best performances of their careers. This one has held up beautifully, an unforgettable story of the rise and fall of an entire industry from the '70s into the '80s.
2006, 2h 31m
Directed by Martin Scorsese
It took way too long for one of the best filmmakers of all time to finally get his Oscar for Best Director but that happened with this critical and commercial darling, an adaptation of the 2002 Hong Kong film Infernal Affairs. Matt Damon and Leonardo DiCaprio star in the story of competing undercover agents with Damon's Irish mobster going undercover in the police force while Leo's cop tries to infiltrate the crew of the legendary Frank Costello (Jack Nicholson). It's still a wildly entertaining movie.
2012, 2h 45m
Directed by Quentin Tarantino
QT loves to play with history with revisionist epics like Inglourious Basterds and Once Upon a Time in Hollywood. This heavily stylized tribute to Spaghetti Westerns is another example of the writer/director's love for rewriting history books. Jamie Foxx stars as a slave who escapes and trains with a bounty hunter (Oscar winner Christoph Waltz) to get his revenge. Sharply written and gorgeously shot by Robert Richardson, this is one of Tarantino's steadiest films.
1990, 2h 26m
Directed by Martin Scorsese
This is quite simply one of the best films ever made. Scorsese adapted the book Wiseguy into a formative part of movie history, a study of the rise and fall of the American dream through the eyes of Henry Hill (Ray Liotta), who went from mob wannabe to one of the men who took it down. Joe Pesci won the Oscar for his unforgettable work here in a film that's become so essential that it's been copied by almost every mob movie since.
2007, 1h 59m
Directed by Tony Gilroy
George Clooney stars as the title character, a ruthless lawyer who really finds his own personal moral boundary when he discovers a coverup over toxic chemicals. Clooney is excellent, but this is no mere star vehicle — every element here works in a film that was nominated for Best Picture, Director, Actor, Supporting Actor, and Supporting Actress, which Tilda Swinton deservedly won. This is the kind of razor-sharp film for adults that seems to be going away in the age of streaming.
2014, 1h 57m
Directed by Dan Gilroy
Jake Gyllenhaal does arguably the best work of his career as Lou Bloom, a Los Angeles stringer who discovers that the violent events he records late at night in the city of angels can make him a TV news star. Propulsive and kind of terrifying, this is a brilliant examination of the underbelly of journalism and the people on the fringe of society who are willing to cross any moral boundary to find their brief time in the light.
2017, 2h 11m
Directed by Paul Thomas Anderson
Daniel Day-Lewis stars in this period piece from one of the most popular working American directors. The Oscar winner plays a dressmaker in 1950s London who becomes attached to a waitress, played by Vicky Krieps. First, she's his muse, inspiring him to create, but their relationship becomes warped by his manipulation, until she ends up turning the tables. A character study of codependence with PTA's unmatched craftsmanship, it's one of the best films of the 2010s.
1999, 2h 19m
Directed by Anthony Minghella
Matt Damon, Jude Law, Gwyneth Paltrow, and Philip Seymour Hoffman star in one of the most perfect adaptations of a Patricia Highsmith novel to date. Damon plays the title character, Tom Ripley, a con man who works his way into the life of Dickie Greenleaf (a fantastic Law) and his girlfriend Marge (Paltrow). A beautifully shot thriller, this film was nominated for five Oscars, including Best Adapted Screenplay and Best Supporting Actor. It was one of the best films of the many greats that were released in 1999.
1976, 1h 54m
Directed by Martin Scorsese
Few films of the 1970s shaped the cultural landscape more than the saga of Travis Bickle (Robert De Niro). It's not just the quotable mirror scene. This movie pulled back a curtain on a simmering violence under New York City that most of the world had never seen before. And it really put Scorsese on the map, changing the way stories were told in the city of New York for years to come. It's a perfect movie.
1997, 3h 14m
Directed by James Cameron
More than just a blockbuster, this Best Picture winner was a legitimate cultural phenomenon, staying at the top of the box office charts for months. There was a point when it felt like not only had everyone seen the story of Jack (Leonardo DiCaprio) and Rose (Kate Winslet), but most people had seen it twice. History has kind of reduced this epic to its quotable scenes and earworm theme song, but it's a better movie than you remember, a great example of James Cameron's truly robust filmmaking style.
1979/2001, 3h 22m
Directed by Francis Ford Coppola
Interestingly, the only version of one of the most acclaimed war films of all time that's currently on Netflix is the "Redux" edition, the longer cut that was released in 2001. At that time, Coppola collaborated with his editor Walter Murch to reincorporate 49 minutes of footage that were cut from the initial release. It's not the generally preferred version, but it's still a gut punch of a war movie, a real look at the heart of darkness that beats in the American military experience.
1982, 1h 50m
Directed by Ridley Scott
Ridley Scott followed up Alien with another one of the most influential sci-fi films ever made in this loose adaptation of Philip K. Dick's Do Androids Dream of Electric Sheep? Harrison Ford stars as Deckard, a burnt-out cop in a dystopian future that includes replicants who have gone rogue. As he hunts them down, including their leader Roy Batty (Rutger Hauer), he falls for one of them, played by Sean Young. The influence of this film is so striking that it can really be seen in almost every sci-fi flick released in the four decades since. Note: The version on Netflix now is the Final Cut version, and Blade Runner 2049 is also on the streaming service.
2006, 2h 24m
Directed by Martin Campbell
It's hard to believe the most famous movie spy in history ever needed a comeback, but that's really what happened when Daniel Craig stepped into 007's shoes and it turned out to be one of the most acclaimed James Bond movies of all time. An origin story for the suave superspy, Casino Royale introduced new layers to the classic character, resulting in an action film that felt like it had real stakes. This is one of the best modern action movies, period, not just in the Bond franchise.
2017, 1h 46m
Directed by Christopher Nolan
The Dark Knight director returned to his homeland to tell one of its most formative war stories in the evacuation of British soldiers from northern France in 1940. Telling a story of land, sea, and air evacuations simultaneously, Dunkirk is a technical marvel, a film that only a filmmaker as ambitious and crazy as Nolan could even consider, much less pull off. Don't watch this one on your phone. And turn it up loud.
2009, 2h 11m
Directed by Kathryn Bigelow
The director of Near Dark and Point Break became the first female Oscar winner for Best Director for a film that also won Best Picture and stands now as one of the best movies made to date about the American soldier experience in Iraq. Jeremy Renner stars as an explosives expert, the kind of guy who goes in the room that everyone else runs from, and someone brings home the trauma of what he sees overseas. As precise as the profession it captures, this movie has not one bit of fat on it, and it's just as thrilling now as when it was released.
2010, 2h 21m
Directed by Christopher Nolan
Christopher Nolan took the success of his Batman movies and delivered one of the most ambitious Hollywood blockbusters ever made in this story of people who invade dreams. Leonardo DiCaprio stars as a grieving thief who leads a team into someone's subconscious to plant an idea, but that barely captures what this movie is really about or how mesmerizing it is to watch it unfold. In an era of increasingly safe blockbusters, it almost feels like Inception couldn't be made anymore. Well, at least not by anyone but Nolan.
1996, 1h 50m
Directed by Brian De Palma
Do you think Tom Cruise thought he'd still be playing Ethan Hunt over a quarter-century after the first adaptation of the hit TV show about the super spy? He's basically created his own James Bond with two more M:I movies coming out in 2023 and 2024. Go back to where it all began with a film that looks downright quaint now compared to the sequels but a film that still plays perfectly. Note: The John Woo-directed sequel and Brad Bird-directed Ghost Protocol are also on Netflix now.
Natural Born Killers
1994, 1h 59m
Directed by Oliver Stone
What do you get when you combine the writer of Pulp Fiction and the director of JFK? Movie history. Woody Harrelson and Juliette Lewis star as Mickey and Mallory Knox, a pair of drifters who embark on a killing spree that ends up making them tabloid superstars. A fearless castigation of celebrity culture, some of NBK looks a bit dated now, but more of it feels ahead of its time, capturing the true crime cult of personality that would develop over the decades to come.
1997, 2h 9m
Directed by Paul Verhoeven
The bugs! No one else but the director of Robocop could have made this unforgettable sci-fi/action epic about giant bugs from outer space. On the surface, it's a wildly entertaining action movie about young soldiers trying to stop an unimaginable force. Dig deeper and you'll find richly rewarding satirical levels about the military industrial complex and even fascism. However you enjoy it, just enjoy it while you can.
Troy
2004, 3h 16m
Directed by Wolfgang Petersen
In the wake of the massive success of Gladiator, there were a lot of mediocre swords and sandals historical action films, but this one stood out from the crowd. Brad Pitt leads the ensemble in the story of the Trojan War and a loose retelling of Homer's Iliad. Ignore the history angle and appreciate Wolfgang Petersen's craftsmanship and a great supporting performance from Eric Bana.
1994, 1h 47m
Directed by Peter Farrelly
Is this still Jim Carrey's funniest performance? The superstar comedian is fearless in this Farrelly brothers comedy about two of the dumbest guys in the history of movies. With a spirit that recalls the physical comedy of classic comedy cinema merged with the gross-out humor of the '90s, this is a joyous laugh generator, the kind of movie that you can watch over and over again, laughing every single time.
1975, 1h 29m
Directed by Terry Gilliam and Terry Jones
During a hiatus between the third and fourth seasons of Monty Python's Family Circus, the gang of mega-talented comedians decided to make movie history. Inspired by the King Arthur legend, Holy Grail is a timeless comedy, the rare kind of film that will still be making people laugh hundreds of years from now. And while the Monty Python boys were already famous, this film took them to another level, cementing their place in movie history.
2018, 1h 52m
Directed by Boots Riley
Lakeith Stanfield stars in the directorial debut of the leader of The Coup, a film that shook audiences at Sundance but still feels a bit underrated. With a style that blends hip-hop culture with the surrealism of satirists like Terry Gilliam and Michel Gondry, this comedy takes no prisoners. Stanfield plays a telemarketer who works his way up a corporate ladder to discover the truly dark secrets that live on the higher rungs. It feels like a movie that more people will find on services like Netflix and could shape future comedies to come.
1989, 1h 36m
Directed by Rob Reiner
Any list of the best romantic comedies of all time that doesn't include this 1989 Rob Reiner classic is simply incomplete. Meg Ryan and Billy Crystal give their most charming film performances as the title characters, a pair who decide to test the theory that men and women can't be friends without romance getting in the way. The real star here is Nora Ephron's sharp and ultimately moving screenplay, one of the best in the history of the rom-com.
2015, 1h 59m
Directed by Guillermo del Toro
Everyone seems to love the director of Pan's Labyrinth and The Shape of Water, but this 2015 gothic romantic horror flick often falls through the cracks when people talk about Guillermo del Toro. It shouldn't. It's a masterfully made period piece with sumptuous details and perfectly calibrated storytelling. Mia Wasikowska plays a woman who moves to a remote mansion with her new husband (Tom Hiddleston) and his sister (Jessica Chastain) and discovers the secrets buried in the earth.
2014, 1h 40m
Directed by David Robert Mitchell
Maika Monroe stars in this 2014 indie horror breakthrough hit as a young woman who discovers that her recent sexual activity has cursed her with a supernatural force that will chase her until she passes it along to someone else. Stylish and striking, this felt like nothing else on the American horror market in 2014, really ushering in the era of what is now called "elevated horror." Whatever you call it, It Follows is still an unforgettable genre flick.
1984, 1h 31m
Directed by Wes Craven
Horror movie history changed forever with the world premiere of this film, introducing all of us to Freddy Krueger. With his burned face and bladed gloves, Freddy made sure that horror movies would never be the same. Wes Craven melded classic movie storytelling — the idea of children paying for the sins of their parents — with modern horror technique and really shifted the entire landscape of the genre. Note: The 2010 remake and the miserable Freddy vs. Jason are also on Netflix if you want to continue the Freddy experience.
Cloudy With a Chance of Meatballs
2009, 1h 30m
Directed by Phil Lord and Chris Miller
How could anyone have known that an adaptation of a pretty thin piece of children's literature would become one of the most beloved family films of its era? Bill Hader voices Flint Lockwood, a hapless inventor who unleashes food-based weather on his small community. Funny and sweet, this hit film was successful enough to produce a sequel that's almost as good and even a spin-off TV series — both of which are also on Netflix.
1994, 1h 55m
Directed by Gillian Armstrong
Louisa May Alcott's beloved 19th century novel has been adapted to the screen a few times but this is one of the more popular versions, a family film memory for a generation of people who were kids in the '90s. Winona Ryder, Claire Danes, Kirsten Dunst, and Susan Sarandon headline a film that earned the future Stranger Things star her second and last (to date) Oscar nomination.