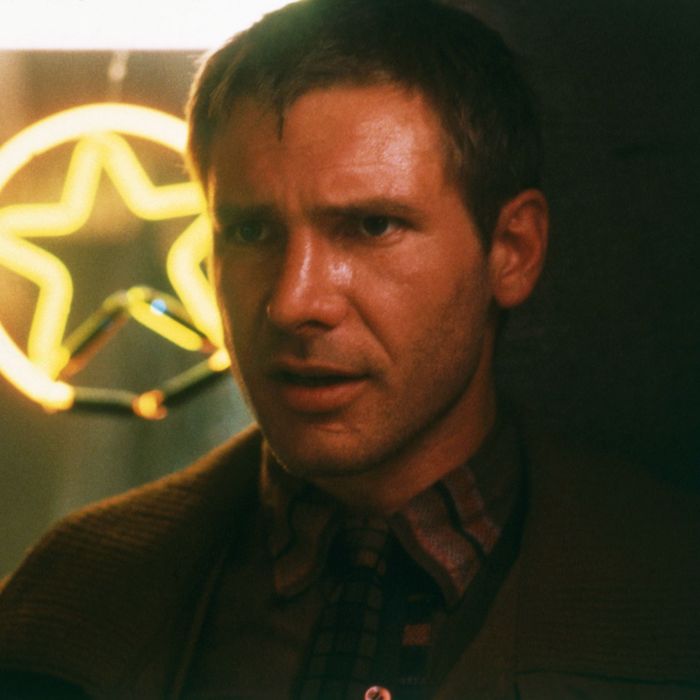 Blade Runner.
Photo: Sunset Boulevard/Corbis via Getty Images
This post is updated regularly to reflect the latest movies to leave and enter Netflix. *New additions are indicated by an asterisk.
With thousands of movies to choose from, and a navigation system and algorithm that don't always make the right choice easy to find, it can be difficult to know what to watch on Netflix. That's why we're here, breaking down the 100 best movies on the service at this minute, with regular updates for titles that have been removed and when new ones are added. We've done the hard work, so now the only thing you have to do is sit back and, uh, watch all 100 movies. (And if you're more of a TV person, check out the 50 best TV shows on Netflix.)
Pick of the Week
Ridley Scott's 1982 masterpiece was notoriously derided when it was released but would go on to change the cinematic landscape. Harrison Ford stars as Rick Deckard in the sci-fi noir, a film that changed the visual language of the genre and launched dozens of copycats. The original is still perfect, and this is the final cut edition of the film, the 2007 version that removes the voice-over, re-inserts the unicorn, and takes out the original happy ending. Turn on Blade Runner and get swept up in Scott's world with the late, great composer Vangelis' mesmerizing score booming along.
Francis Ford Coppola went into the jungles, nearly lost his mind, and came back with a war movie masterpiece, one of the most quoted and cited combat films ever made. The journey to find Colonel Kurtz plays out like a fever dream, a trip into the violent soul of man. Blending Conrad's Heart of Darkness with the recent wounds of the Vietnam War, Coppola barely survived production to deliver a movie that deserves to be mentioned with the best Vietnam flicks of all time.
Richard Linklater wrote and directed a lovely little slice of nostalgia, conveyed in the rotoscoped animated style that made the filmmaker's Waking Life and A Scanner Darkly so unique. This time, Linklater has made a film for the whole family, as Jack Black narrates a coming-of-age story that takes place just before the Apollo 11 landing.
Oliver Stone directed a truly insane look behind the scenes of the NFL that may be a bit dated two decades later but still has the brute force of what one would expect when the director of Natural Born Killers directs a personality like Al Pacino. The Oscar winner stars alongside an amazing ensemble that features Cameron Diaz, Dennis Quaid, Jamie Foxx, James Woods, Charlton Heston, and so many more, including real NFL legends Jim Brown and Lawrence Taylor.
One of the most unexpected Best Picture winners, Argo is the story of Tony Mendez, a CIA operative who staged a fake film production to rescue hostages from Tehran. Ben Affleck directed and stars as Mendez in a tense, old-fashioned thriller that became a bit of a punchline when people didn't think it deserved its Oscar (which often happens) but seems overdue for a reappraisal. It's an effective, taut piece of filmmaking.
Mati Diop's directorial debut is a tender, mesmerizing study of life on the coast of Senegal, where men often venture out for more prosperous shores, leaving the women behind. It's a delicate, beautiful film that plays like a romance, ghost story, and study of inequality all at the same time. See it before someone recommends it to you.
Joel and Ethan Coen's Western anthology series was a part of Netflix's brand-redefining 2018. Sure, Netflix still has a bunch of junk, but it also landed the latest from Alfonso Cuaron, the Coens, and even Orson Welles. This brilliant Western works as comedy, drama, and even a commentary on the Coens themselves. Don't miss it.
Sofia Coppola wrote and directed this adaptation of the 1966 novel by Thomas P. Cullinan (already adapted once in 1971 starring Clint Eastwood). It's a gorgeous period piece about the impact of an injured Union Army soldier (Colin Farrell) on a girls school in Virginia in 1864. Nicole Kidman, Kirsten Dunst, and Elle Fanning fill out the splendid ensemble.
Tim Burton released one of the most acclaimed films of his career with his 2003 fantasy drama starring Ewan McGregor and Albert Finney. Billy Crudup plays the estranged son of a man with a vivid imagination, one who tells the story of his life on his deathbed. Some of it is a bit manipulative, but it also contains some vibrant Burton imagination and great performances, especially from Finney, and it's clearly a film that Burton gave a personal touch.
Blackhat
Michael Mann's last movie was a divisive 2015 thriller starring Chris Hemsworth as a brilliant computer hacker who is released in order to catch a monster who is hoping to bring down the world's entire information superhighway. It's not one of Mann's best, but minor Mann is still major as the craft on display here is still impossible to completely dismiss. Note: the Netflix version is the theatrical. Fans holding out hope for the barely seen director's cut will have to wait.
Denis Villeneuve did the impossible in 2017: He took one of the most influential films of all time and made a sequel/reboot that didn't just feel like fan service. Released 35 years after Ridley Scott's original, the film stars Ryan Gosling and Harrison Ford in a story that really expands the world of Blade Runner more than just updating an '80s film for a new generation.
Blow
Ted Demme directed an adaptation of Bruce Porter's book of the same name that's loosely based on the true story of American cocaine smuggler George Jung, played by Johnny Depp, who got involved with the Medellin drug cartel in unexpected and dangerous ways. Depp is ably supported by Penelope Cruz, Franke Potente, Rachel Griffiths, and Ray Liotta. Blow did reasonably well at the box office but really blew up into a modern crime classic on DVD.
Bonnie and Clyde
Screen violence changed forever with Arthur Penn's 1967 telling of the story of two famous lovers turned criminals starring Faye Dunaway and Warren Beatty. Often considered one of the films that ushered in the creative era of filmmaking that would follow in the late '60s and through the '70s, what really shocked audiences was the film's ending, something more violent than mainstream film had ever really delivered. Anyone who thinks this work was designed to glorify murderers wasn't paying attention.
As No Time to Die has finally been released after multiple delays, Netflix is here to satisfy your 007 needs with the first outing for Daniel Craig as the most famous movie spy of all time. This is easily one of the best Bond movies, a flick that redefined the character with more intense stakes and realistic action sequences.
Is this the biggest horror movie of the 2010s? Not only did it make James Wan into a major director, but it spawned its own multiple title franchise with spin-offs like The Nun and Annabelle. Go back to the beginning and watch the first and arguably still best film in the series, a fantastic haunted house movie that revitalized the genre. And then follow it up with the excellent sequel, also on Netflix.
Guillermo del Toro's gothic horror film seemed to start building a cult following the instant it was released. Sure, mainstream audiences who came to the multiplex in October looking for a scary movie didn't quite respond to it, but a reappreciation started quickly. After all, this is a gorgeous, unforgettable piece of craft, a reminder that del Toro's vision is unlike anyone else working together. Watch it again. It's one of those movies everyone is going to claim they loved from the very beginning.
Barack and Michelle Obama executive produced one of 2020's best documentaries in this Netflix exclusive that originally premiered at Sundance. It's the story of Camp Jened, a summer camp in New York in the '70s that was described as a "loose, free-spirited camp designed for teens with disabilities." This isn't just a time capsule but a look at how support and community can change people's lives forever.
Clive Owen broke through in this 1998 noir in which he's so smooth that people immediately began suggesting he should be the next 007. Owen plays a writer who gets a job as a croupier — a fancy word for a dealer in a casino — and falls into the wrong scene. Smart and thrilling, it's one of the more underrated movies of the late '90s, and a perfect vehicle for Owen's charm.
Spike Lee's first Original Netflix movie is one of the master filmmaker's best works to date. The story of five men searching for gold in the jungle is more of a commentary on two wars that never ended – the Vietnam War and the struggle for civil rights.
Quentin Tarantino's Oscar winner reimagines both the Old West and the Italian film series Django into something that only QT could make. It features one of Jamie Foxx's best performances as the title character, a slave who escapes and teams up with a bounty hunter played by Christoph Waltz, who won an Oscar for his amazing work here.
One of the best crime dramas of the 1990s, Mike Newell's Donnie Brasco tells the true story of FBI Agent Joseph Pistoen, who went undercover in the Bonanno crime family in the 1970s under the alias Donnie Brasco. Johnny Depp plays the G-Man, but the film really belongs to Al Pacino, who gives one of the most heartbreaking performances of his career.
A Christopher Nolan film dropping on a streaming service is always a big deal, and the current exclusive home for the beloved auteur's 2017 war film is Netflix (after a year run on HBO Max). Nolan tells the story of the evacuation of Dunkirk during World War II from three perspectives: land, sea, and air. Say what you will about the film, but it is a stunning technical achievement, one of the most immersive war films ever made.
The Exorcist changed the horror genre forever. Pulling nightmares out of nothing less than the timeless fear of Satan himself, William Friedkin's adaptation of the novel of the same name by William Peter Blatty shook the entire world, becoming a major hit and the first horror film nominated for the Oscar for Best Picture. Its influence can still be seen all over genre filmmaking today.
The wonderful Julia Hart co-wrote and directed a very unusual superhero origin story that plays like the more character-driven answer to the blockbuster worlds of things like the Marvel Cinematic Universe. The great Gugu Mbatha-Raw plays Ruth, a young woman who seems to have lost control over her life and the very unique nature of her being. As she's being hunted by men in black, she finds her way home and back into the sphere of her mother and daughter. What unfolds is a story of empowerment, a truly female-driven narrative about generations of strength, and an origin story for an unforgettable hero.
Leigh Janiak co-wrote and directed a trilogy of adaptations loosely based on the books by R.L. Stine. These great horror films tell the story of Shadyside, a small town cursed by a witch generations ago in a way that has led to waves of murders ever since. Smart, funny, and truly bloody, they first seem like mere homages to classic horror (and there are a ton of fun references for genre fans) but they also stand firmly on their own two feet.
The 1994 Best Picture and Best Actor winner has become something of a punching bag in the nearly three decades since it was released, but Forrest Gump is a better movie than its reputation. Tom Hanks stars as the title character, a man who stumbles through major events in world history in a film that's much darker and more satirical than people give it credit for being.
Full Metal Jacket
Stanley Kubrick made one of the most unforgettable war films of all time in this 1987 drama based on the novel The Short-Timers by Gustav Hasford. A darker vision of Vietnam than had really been seen before, Full Metal Jacket tracks the boot camp experience for its first half and time in the country for its second. It's an unforgettable vision of the brutality of being an American soldier.
Gattaca
It's a cliché but Andrew Niccol's 1997 sci-fi drama truly was ahead of its time. Unpacking themes of eugenics that would only become more feasible with medical and technological advancements over the last quarter-century, Niccol's excellent genre flick tells the story of a future where genetics are determined. With great work by Ethan Hawke, Uma Thurman, and Jude Law, it's a movie you really should revisit.
The Vulture choice for the Best Netflix Original Horror Movie has to be on this list too, right? Especially viewed in the wake of the phenomenon that was The Haunting of Hill House, this movie really works. It's one of the best Stephen King adaptations on any platform, anchored by a phenomenal Carla Gugino performance.
It's still hard to believe that Chadwick Boseman is gone. Take the chance now that this biopic is on Netflix to see one of his best performances as the late, great James Brown. The film around Boseman is a bit mediocre in traditional biopic ways, but Boseman throws his all into the role, as he always did, and gives Brown the tribute he deserves.
Rooney Mara is fearless and fantastic in the David Fincher-directed adaptation of the Stieg Larsson thriller that became an international phenomenon. Daniel Craig co-stars as a journalist who recruits Mara's Lisbeth Salander to help investigate a decades-old disappearance. It's a stunner of a movie, one of Fincher's most underrated.
The Guilty
Antoine Fuqua directs the American remake of a taut Danish thriller from 2018. Jake Gyllenhaal plays a cop who is being investigated while he moonlights as a 911 operator and the wildfires burn through California. In these already tense conditions, he gets a call from a woman who claims to be kidnapped. Can he save her with such limited information? Intense and captivating, it's a reminder of how great Gyllenhaal can be with the right material.
Alice Wu wrote and directed a delightful coming-of-age dramedy that spins the norms. A loose retelling of Cyrano de Bergerac, it features a star-making performance from Leah Lewis as Ellie Chu, a girl who starts writing love letters for the awkward Paul Munsky (Daniel Diemer). The object of his affection, Aster Flores (Alexxis Lemire), turns out to be more than just a typical unrequited love. It's a sweet and smart film.
*Harold & Kumar Go to White Castle
These two stoners really get around. The iconic characters from the 2004 comedy classic have been jumping from streaming service to streaming service lately, now landing on Netflix. Watch this progressive and hysterical comedy before they pack up their stuff and move on yet again. (Although you'll have to look elsewhere for the sequels.)
Debate among yourselves if this should be on the movie or TV list, but it's still basically the same venture that was released in theaters, only slightly reedited by Quentin Tarantino into episodes, so we say it's a movie. And it's an underrated one, overshadowed by the way it deals with race and gender when it was released. Just a few years later, it looks almost prescient about how divided the country would become, and it contains some of the best performances in Q.T.'s entire filmography.
David Mackenzie's 2016 modern Western is feeling more and more like a definitive film of the last decade. There aren't many better movies that capture the lengths people will go to hold on to what's theirs than this story of two brothers (Chris Pine & Ben Foster) who become bank robbers to save their family land. The cast is uniformly great, but it's Taylor Sheridan's excellent script that really makes this special.
Spike Jonze won the Oscar for Best Original Screenplay for his 2013 film about a man who falls in love with his A.I. Joaquin Phoenix gives one of the most vulnerable performances of his career as Theodore, who gets closer to the Siri-esque Samantha, voiced perfectly by Scarlett Johansson. Jonze's film is a smart unpacking of man's relationship to technology and the never ending need for connection.
Steven Soderbergh very rarely makes bad movies and he's not about to start with Andre Holland and Zazie Beetz in his court. The two star in the first excellent Netflix movie of 2019, an analysis of the game on top of the game that makes the NBA work. The man who almost directed Moneyball crafts a razor-sharp, incredibly entertaining, and humane basketball/corporate-media/labor drama that will appeal to hoops fanatics and the sports-averse alike. And the entire thing was shot on an iPhone!
His House
One of the best horror movies on Netflix, this Sundance darling is the tale of a pair of Sudanese refugees who flee to London only to discover ghosts have fled with them. It's a harrowing, terrifying piece of work, elevated even further by its impressive commentary about how much people bring with them when they leave. Houses aren't haunted; people are.
How to Train Your Dragon
In 2010, DreamWorks released one of their best animated films ever with their loose adaptation of the book of the same name by Cressida Cowell about a boy named Hiccup and a dragon named Toothless. Launching a franchise that would include two sequels and a TV series, How to Train Your Dragon is a smart, thrilling adventure film for all ages.
How to Train Your Dragon 2
Any conversation about the best cinematic trilogies ever simply must include the DreamWorks films about Hiccup and his dragon Toothless. The original is still the undeniable masterpiece, but both sequels are nearly as good, including this 2014 story of how Hiccup reunites with his mother, voiced by Cate Blanchett. It's a gorgeous, moving story of family and legacy.
Hunt for the Wilderpeople
Before he made Hemsworth your favorite Chris in Thor: Ragnarok, Taika Waititi wrote and directed this adaptation of Barry Crump's Wild Pork and Watercress. Ricky Baker (Julian Dennison) has a new foster family, including a sweet foster mother. Sadly, he's stuck with the surly husband when his new mom passes away, leading Ricky and Hec (Sam Neill) on an unforgettable adventure. Funny and truly heartwarming, this is a comedy that's almost impossible to dislike.
The events in Minnesota and elsewhere in 2020 brought viewers back to this stunning 2016 documentary that works from an unfinished manuscript by the brilliant James Baldwin. Narrated by Samuel L. Jackson, it's an exploration of racial issues in America that digs back through the civil rights leaders through Baldwin's personal experiences and beyond. It's a must-watch.
Charlie Kaufman wrote and directed one of the biggest and best Netflix movies of 2020, the story of a woman (Jessie Buckley) who travels with her boyfriend (Jesse Plemons) to meet his parents (David Thewlis & Toni Collette). Of course, being by the writer of Being John Malkovich, there's a lot more to this than a simple description can convey. Trippy and deeply symbolic, it's a Netflix movie that people are going to be talking about for years.
Bryan Fogel's 2017 Sundance premiere was a surprising winner for the Oscar for Best Documentary the next year. It's a look at one of the most shocking drug scandals in history, one that destroyed the Russian Olympic teams, and it plays like a thriller with the filmmakers there as every revelation comes to light.
In the Line of Fire
The great Wolfgang Petersen directed Clint Eastwood in one of his best films of the '90s, a blockbuster hit about a Secret Service agent who matches wits with a former CIA agent (played by John Malkovich) who is trying to assassinate the President of the United States. This tight thriller also stars Dylan McDermott, Gary Cole, and John Mahoney. It was such a hit that it landed three Oscar nominations, including the last one for Malkovich.
2020 marked the tenth anniversary of one of Christopher Nolan's best films, the story of a team of agents who can infiltrate dreams, led by Leonardo DiCaprio. It's part heist movie, part Bond movie, and mostly something that only the director of The Prestige and Tenet could possibly make.
Sean Penn wrote and directed an adaptation of the non-fiction book of the same name by Jon Krakauer, which introduced the world to the story of Christopher McCandless. The young man, played in the film by Emile Hirsch, left everything behind, basically wandering into the Alaskan Wilderness, from which he never returned. It's a lyrical drama with great performances.
Netflix's most ambitious and expensive project to date is this 3.5-hour epic based on the life of Frank Sheeran, errand boy for the Mafia and friend of Jimmy Hoffa. Martin Scorsese directs living legends like Robert De Niro, Al Pacino, and Joe Pesci to some of the best work of their career. It is epic, elegiac, and unforgettable — a commentary on a violent life and, really, the filmmaker's entire body of work.
Andrew Dominik reunited with Brad Pitt after their collaboration on The Assassination of Jesse James by the Coward Robert Ford for this adaptation of George V. Higgins' Cogan's Trade. At the time, audiences wanted something a little more action-driven than this character study delivers, but it's developed a loyal cult following since 2012 and contains one of the late great James Gandolfini's best screen performances.
Greta Gerwig's Oscar nominee is one of the most personal and striking coming-of-age films of the 2010s. Saoirse Ronan stars as a young Californian who longs for someplace cooler than her own hometown. It's a heartfelt and very smart film, buoyed by great performances throughout, including Ronan, Tracy Letts, Timothee Chalamet, Lucas Hedges, Beanie Feldstein, and Laurie Metcalf, who was robbed of that Oscar.
Rian Johnson's stellar 2012 sci-fi/action film starts Joseph Gordon-Levitt, Emily Blunt, and Bruce Willis. JGL plays a contract killer who is also a looper, someone who goes back in time to complete his hits. When he, a victim played by Willis, is sent back in time to be killed by Gordon-Levitt, he discovers that he's been asked to close the loop on himself. Daring and thrilling, it's the kind of adult action film one wishes was made more often.
The Lost Daughter
Maggie Gyllenhaal's directorial debut is one of the most acclaimed films of 2021, and one of the best Netflix original dramas to date. Olivia Colman stars as a woman on a beach vacation who meets a family that reminds her of her own. A commentary on the complexity of relationships between parents and children, The Lost Daughter is a gorgeous, complicated character study.
The brilliant Liz Garbus moved from her traditional form of documentary filmmaking to direct this 2020 thriller based on the book of the same name by Robert Kolker. Amy Ryan plays Mari Gilbert, the mother of a young sex worker who disappeared on Long Island, leading to the revelation that a serial killer has been prowling the location. It's a unique true crime story in that it centers the victims and their relatives instead of the killer, who remains unidentified.
As far as our country still has to go, it's worth considering how far it's come at the same time. Take this true story of an interracial couple — played with beauty and grace by Joel Edgerton and Ruth Negga — who had to go all the way to the U.S. Supreme Court for their marriage to be legal. And that was in 1967. Jeff Nichols wrote and directed this nuanced, moving drama.
Chadwick Boseman is electric in his final film role in this adaptation of the beloved play by August Wilson. Viola Davis matches him beat for beat in this story of the recording of an album by the legendary Ma Rainey, but it's knowing Boseman's personal struggle, particularly in two emotional monologues, that makes this unforgettable.
David Fincher returned in 2020 after a six-year hiatus from filmmaking and delivered one of his most ambitious works, an accounting of the controversy over who actually wrote Citizen Kane. Gary Oldman plays Herman Mankiewicz, the disgraced writer who was hired by Orson Welles, and, if one believes the movie, channeled his personal history with William Randolph Hearst into Kane. It's a lavish production with incredible cinematography, costumes, and art direction.
Noah Baumbach returns to Netflix with his best film to date, the story of the dissolution of a marriage between a theatre director (Adam Driver) and his lead actress (Scarlett Johannson). The two leads also do the best work of their careers in a smart, moving piece of work about how divorce turns you into a person you never thought you'd become, and how you have to move on as that new person. It's one of the best films of 2019.
Boyz N the Hood got more attention (and Oscar love), but this 1993 drama nearly felt as culturally essential to how film could capture life in the inner city of Los Angeles. It was a major talent pronouncement too, introducing the world to the Hughes Brothers, who directed the story of Caine Lawson (Tyrin Turner) as he navigated gang life in Watts and Crenshaw.
The 2017 Noah Baumbach's film didn't premiere in theaters, instead going the Netflix route in 2017. Adam Sandler does arguably the best work of his career in this drama about how family can both connect and divide us, sometimes in the same moment. Sandler is joined by Ben Stiller, Dustin Hoffman, and Emma Thompson in this must-see dramedy. Forget the Sandler Netflix Originals — watch this one instead.
It sounds clichéd but they really don't make adult thrillers like this 2007 Oscar winner anymore, as stories like this one have basically migrated to Prestige TV. Tony Gilroy wrote and directed the story of a high-powered attorney played by George Clooney, who gets caught up in a dangerous case involving one of his firm's major clients. Tom Wilkinson, Tilda Swinton, and Sydney Pollack co-star in a film that's even better than you remember.
Middle of Nowhere
Before they worked together on the stellar Selma, writer/director Ava DuVernay and David Oyelowo made this phenomenal drama in 2012, the winner of the Directing Award for U.S. Dramatic Film that year. Emayatzy Corinealdi is excellent as a woman visiting a husband (Omari Hardwick) behind bars when she meets a new man who could end that chapter in her life.
Once set to be releases in theaters with the name Connected, Sony shipped this project off to Netflix, and the result is one of the most delightful animated films of 2021. Produced by Phil Lord & Chris Miller of The LEGO Movie fame, this wonderful film is like a hybrid of a family road comedy like Vacation and a robot apocalypse movie like T2: Judgment Day. With great voice work and vibrant visuals, it's a Netflix original that people will be talking about all year.
Movies don't get much funnier than the best offering from the Monty Python troupe, a comedy that spawned a quoting fandom that still roams the hills saying, "Not dead yet," and, "I fart in your general direction." It's possible there's a young generation yet to appreciate the comedic brilliance of the men of Monty Python. Start here and then move on to the sketches and other movies, some of which are also on Netflix.
Arguably Netflix's first masterpiece, Dee Rees's period drama is an epic portrait of racism, trauma, and injustice in the post-WWII South. You won't find a better ensemble in a Netflix Original, anchored by Jason Mitchell, Carey Mulligan, Garrett Hedlund, Jason Clarke, and the amazing Dee Rees.
My Fair Lady
One of the most popular classic movie musicals of all time dropped on Netflix, a streaming service not exactly known for a deep catalog of movies from previous generations. This 1964 musical adapts the 1956 play of the same name, a riff on George Bernard Shaw's classic Pygmalion. It features Audrey Hepburn and Rex Harrison at their most charismatic, and won eight Oscars, including Best Picture.
Jake Gyllenhaal arguably gave the best performance of his career in the excellent 2014 thriller about a man who rises to fame by recording violent events in Los Angeles in the middle of the night. Ahead of its time in terms of how journalism has become embedded with opportunism, Dan Gilroy's film is a riveting look at a subculture of major cities that only comes out at night.
The writer-director of The Babadook may have terrified more audiences with her follow-up to this film, but The Nightingale is no less terrifying. Aisling Franciosi gives a daring performance as Clare, a servant in a penal colony in 1825, who is raped before her baby is killed. She hunts down her attackers and gets her vengeance, but that description simplifies a daring, complex film about colonialism, trauma, and pure evil.
Movies don't get much darker than this Tom Ford 2016 noir thriller with an incredible cast. The narrative folds in on itself in a way that makes explaining it here but trust that Amy Adams, Jake Gyllenhaal, Michael Shannon, Aaron Taylor-Johnson, Isla Fisher, Armie Hammer, Laura Linney, Andrea Riseborough, and Michael Sheen know what they're doing here.
Martin Scorsese directed this masterful documentary, one of the best music films ever made. It's the story of the life of Bob Dylan, told over more than 200 minutes of interviews, archival footage, and analysis of Dylan's impact on pop culture and even politics. Even if you don't like Dylan, you'll like this.
God bless Bong Joon-ho. The director of The Host, The Mother, and Snowpiercer — all of which you owe it to yourself to see — brought arguably his weirdest movie yet to Netflix in this sci-fi dramedy about a giant pig. Say what you will about the film's flights of fancy — or Jake Gyllenhaal's truly committed performance — there ain't nothing else like it on Netflix.
*Once Upon a Time in America
No, not the Tarantino movie, but a film by a director who has influenced pretty much everything that QT ever directed, Sergio Leone. Once Upon a Time in America is the Spaghetti Western icon's most epic film, a story of Jewish gangsters in New York City starring Robert De Niro and James Woods. It's not a perfect film, but it's the last work from a master and it's certainly one of his most ambitious works. See why QT loves him so much.
Paul Thomas Anderson's 2017 drama was one of the beloved director's most acclaimed films, ultimately landing six Oscar nominations, including Best Actor, Best Director, and Best Picture. Daniel Day-Lewis stars as a famous fashion designer who forms a uniquely co-dependent relationship with a young waitress, played by Vicky Krieps. It's a fascinating character study that's even richer on repeat viewing.
Jane Campion wrote and directed an adaptation of the Thomas Savage novel, and ended up delivering one of the best films of 2021. Benedict Cumberbatch does career-best work as Phil Burbank, the brother of the mild-mannered George (Jesse Plemons). When George comes home with a bride (Kirsten Dunst), Phil sets about to make her life a living Hell and Campion unpacks toxic masculinity in the Old West in a way that's riveting and unforgettable.
Public Enemies
Michael Mann directed Johnny Depp as John Dillinger and Christian Bale as Melvin Purvis, the FBI Agent who pursued him. Shot in Chicago on digital film, it's a riveting piece of work visually and contains an incredible supporting cast that includes Marion Cotillard, Stephen Dorff, Stephen Graham, Billy Crudup, Jason Clarke, Bill Camp, and many more. An epic portrait of the end of a gangster era.
Prayers for the Stolen
Tatiana Huezo directed this excellent drama about the torturous fragility of existence in a part of the world that has been torn apart by the drug war. Premiering at Cannes in June, the film Is Mexico's entry for the Best International Feature Film Oscar as it details the story of young women in a border town where human trafficking and threats of violence are a daily concern. It's heartbreaking and all too real.
Tamara Jenkins returned to filmmaking for the first time since The Savages with this personal portrait of the struggle faced by people going through fertility procedures. With an amazingly truthful performance by Kathryn Hahn, this is the kind of film that feels both delicately specific and universal to the struggle of so many couples.
Procession
The great documentarian Robert Greene (Kate Plays Christine) shares director credit on this masterpiece with the six men whose story it tells. Greene follows these men as they process their histories of abuse at the hands of Catholic priests through something called drama therapy, digging into their traumas through theatre projects. It's a moving study of healing and the power of collaboration.
Robert Redford directed one of the most beloved films of his career in the 1992 family drama based on the 1976 novella of the same name. It's the story of two sons of a Presbyterian minister and how they come of age in the Rocky Mountains between World War I and the Great Depression. A winner of the Oscar for Best Cinematography, it stars Tom Skerritt, Craig Sheffer, and features an early great performance from Brad Pitt.
See, Tom Hanks doesn't always play the nice guy! In Sam Mendes' adaptation of the Max Allan Collins graphic novel, America's dad plays a mob enforcer seeking revenge. What's most memorable about the 2002 film is Mendes' remarkable attention to period detail. It's a gorgeous film just to live in for a couple hours. Don't do this one on your phone.
Alfonso Cuaron's deeply personal story of the domestic worker who really helped raise him is Netflix's first nominee for Best Picture and a movie that has really altered the way the streaming service will be seen on the film landscape. It's also a masterpiece, a heartbreaking, mesmerizing piece of filmmaking that really operates on Roger Ebert's belief that great cinema is an "empathy machine," a way to experience lives that you otherwise never would.
Look, it's Thor and Baron Zemo! Chris Hemsworth and Daniel Brühl play rivals in Ron Howard's 2013 film about Formula 1 motor-racing, centering the famous rivalry between Brit James Hunt and Austrian Niki Lauda. The racing scenes are expertly made, but it's Brühl's performance here that's the real reason to watch. It's the best work of his notable career so far.
War movies haven't gone anywhere. From film history's early days through 1917, there have been certain tentpoles in that history of war movies that feel like game changers, and one came in 1998 when Steven Spielberg returned to World War II to tell a different story than before. Saving Private Ryan reminded everyone in the world about the sacrifices that were made that day, and the obligation we all have to make them worthwhile.
Silver Linings Playbook
Sometimes a director finds a cast at just the right time and that's exactly what happened when David O. Russell tapped Bradley Cooper, Jennifer Lawrence, Robert De Niro, and Jacki Weaver in this romantic dramedy. They're all perfect, making this one of the more likable and easy-to-watch movies you could possibly bring up on Netflix.
There aren't a lot of great kids movies on Netflix, especially as so many family subscribers are moving over to Disney+, so we should take the chance to watch the best ones as much as possible. And maybe if you watch this very funny, clever Aardman movie over and over again, they'll make more of them. The great silent comedy of Shaun the Sheep meets science fiction in this riff on E.T. that's very sweet and very funny.
One of the best movies of the 2010s has returned to Netflix after a brief hiatus to remind people how wildly far ahead of its time this movie was when it was released. With a razor-sharp screenplay by Aaron Sorkin and some of the best direction of David Fincher's career, The Social Network is a flawless movie, one that resonate even more now in the era of constant internet than it did a decade ago.
One of the best Stephen King adaptations remains the 1986 coming-of-age story based on the author's short story "The Body." Rob Reiner directed a fantastic young cast that includes River Phoenix, Jerry O'Connell, Wil Wheaton, and Corey Feldman as four friends who go on a hike to find a dead body.
This movie is a fascinating litmus test as to how people read cinema. Invite some friends over, put it on, and then discuss what Paul Verhoeven is going for with his story of interstellar killer aliens and, more importantly, the space force of beautiful people put together to stop them. Suggest that maybe there's more going on than just sci-fi/action. Or just sit back and enjoy the ride provided by one of the most purely entertaining genre pics of its era.
Long before he tackled The Trial of the Chicago 7, Aaron Sorkin told at least part of the life story of Steve Jobs, the legendary co-founder of Apple, in this 2015 biopic. Michael Fassbender gives one of his best performances in the title role, but the ensemble really makes this piece, including Kate Winslet and Seth Rogen in two of the best performances of their respective careers.
Synchronic
The wonderfully talented Justin Benson & Aaron Moorhead (The Endless, Spring) directed this 2019 sci-fi film that featured their biggest budget and most ambitious story to date. Anthony Mackie and Jamie Dornan star as paramedics who discover that a new street drug called Synchronic has some incredible powers, namely time travel. It's a hard movie to describe, but something you need to see before your friend recommends it to you.
One of Martin Scorsese's early masterpieces, Taxi Driver is the wildly influential story of a man pushed off the edge of sanity, featuring a fearless performance from a young Robert De Niro. Few movies from this era are cited more than this one, and it's not just because it touches on themes that remain timeless but that it does so in such a riveting, harrowing way.
Andrew Garfield had an amazing 2021, ending up with a Best Actor Oscar nomination for this adaptation of the musical by Jonathan Larsen, the creator of Rent, who passed away before he could see the impact he would have on the world. Directed by Lin-Manuel Miranda, this is the kind of film that theater kids are going to adore for generations to come. It's one of the few 2021 films that feels like it has serious longevity.
At first, the Coen brothers didn't seem a logical fit for a remake of a beloved John Wayne Western, but they really made the story their own. One of the ways they did that was through directing a fantastic ensemble, led by Jeff Bridges, Hailee Steinfeld, and Matt Damon — and, of course, their undeniable craftsmanship.
Fernando Meirelles (City of God) directs this fascinating two-hander starring Jonathan Pryce and Anthony Hopkins as the last and current Popes. The majority of Anthony McCarten's script is a conversation between the two in the days when Pope Benedict handed off papal duties to Pope Francis, using that context to examine modern faith and how it has to change in the new century. Hopkins is very good but the real draw here is arguably the best performance of Jonathan Pryce's remarkable career.
Adam Sandler earned some of the best reviews of his career for this tense drama/thriller about a New York jeweler who has a little bit of a gambling problem. As he spirals the drain of life, he tries to sell a rare gem and make money on a Celtics playoff game. Vibrant and anxiety-inducing, it's one of the best movies of 2019, and it's already on Netflix.
Tom Cruise stars in Steven Spielberg's brilliant and riveting remake of the classic H.G. Wells tale. Yes, War of the Worlds has been done a dozen or so times, but this remains one of the best, a non-stop thrill ride from the man who helped pour the foundation for the modern blockbuster. Released in 2005, it hasn't aged at all, and will likely still resonate for generations to come.
Gavin O'Connor co-wrote and directed a compelling drama about estranged brothers who reconnect in a mixed martial arts ring. Tom Hardy and Joel Edgerton are phenomenal as the guys who are forced to deal with the scars still left from a life with an alcoholic father, played so well by Nick Nolte that he landed his last Oscar nomination for it. Warrior made little impact at the box office but has been a consistent fan favorite on cable, DVD, and streaming services.
Jeremiah Zagar's adaptation of the hit Justin Torres book was a major player at the 2019 Independent Spirit Awards and the kind of film that a streaming service like Netflix could really help bring to a wider audience. It's a story of adolescence, a tough upbringing through the eyes of three brothers. It's somehow poetic and genuine at the same time.
*When Harry Met Sally
Meg Ryan and Billy Crystal star in a 1989 rom-com that became an essential movie about whether or not men and women can truly be friends without romance entering into the picture. Ryan and Crystal have arguably never been as charming as they are here, but it's really Nora Ephron's razor-sharp script that made When Harry Met Sally an instant classic.