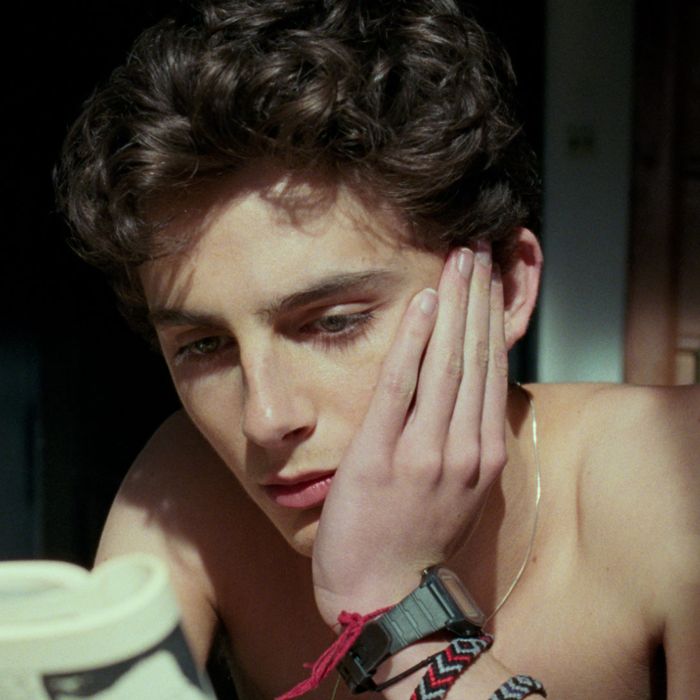 Call Me by Your Name.
Photo: Sony Pictures Classics
This post is updated regularly as movies leave and enter Netflix. *New additions are indicated with an asterisk.
With hundreds of films from around the world on the streaming giant that changed the game, how does one even know where to start when they're looking for something to watch? Start here! We have gone through the massive catalog of films available on Netflix and pared down the selection to an essential 30 titles, including action films, comedies, horror flicks, and even stuff for the whole family, with Netflix Originals peppered in throughout, alongside its licensed films. These are films that came from outside the Netflix pipeline to subscribers, and it will be regularly updated as flicks come and go from the Netflix catalog, starting with our pick of the week.
This Week's Editor's Pick
* Any Given Sunday
Year: 1999
Runtime: 2h 30m
Director: Oliver Stone
The Oscar-winning director of Platoon and Natural Born Killers turned his camera on the dangerous world of professional football in this crazy ensemble piece with one of the best casts of the '90s. Some of the issues it unpacks are a little dated over two decades later, but there's joy to be found in just watching this crazy group of people buy into Stone's larger-than-life style, including Al Pacino, Cameron Diaz, Dennis Quaid, Jamie Foxx, James Woods, and many more.
Drama
8 Mile
Year: 2002
Runtime: 1h 50m
Director: Curtis Hanson
Eminem stars in this semi-biographical story of a white rapper named B-Rabbit who comes up through the battle rap scene in Detroit to rule the world. The title refers to a road in the Motor City that divides it from the suburbs. Most people remember this flick for the Oscar-winning "Lose Yourself," but it's more than just that killer track.
The Bridges of Madison County
Year: 1995
Runtime: 2h 14m
Director: Clint Eastwood
One of Clint Eastwood's best films is also arguably his tenderest, the telling of an unexpected romance between a married woman (Meryl Streep) and a traveling photographer (played by the director himself in one of his most vulnerable performances). This is a moving romance that centers characters old enough to not usually get this type of drama and the two legendary stars do some of the best acting of their remarkable careers.
* Call Me by Your Name
Year: 2017
Runtime: 2h 12m
Director: Luca Guadagnino
One of the best films of the 2010s, this drama stars Timothee Chalamet as a boy who discovers his own sexuality when he's wooed by an older man, played by Armie Hammer. Delicate and moving, this is a remarkable drama because of how true it feels, anchored by great performances throughout, not just from the two leads but the amazing Michael Stuhlbarg too.
A Clockwork Orange
Year: 1971
Runtime: 2h 16m
Director: Stanley Kubrick
One of the most famous directors of all time adapted the Anthony Burgess 1962 novel of the same name into his most controversial film. Malcolm McDowell stars as Alex in this futuristic study of a delinquent who goes on a horrific crime spree before being captured and reconditioned through an experimental new program. A tough watch even a half-century later, this is one of the most iconic films of its era.
I'm Thinking of Ending Things
Year: 2020
Runtime: 2h 14m
Director: Charlie Kaufman
The Oscar-winning writer of Adaptation and Eternal Sunshine of the Spotless Mind delivered one of his most creative films in this adaptation of the novel of the same name by Iain Reid. Jessie Buckley is incredible as a young woman who goes with her mediocre boyfriend (Jesse Plemons) to meet his parents (played by Toni Collette and David Thewlis). Or does she? A film that starts to fracture narratively becomes more of a commentary on gender roles and storytelling than anything straightforward.
If Beale Street Could Talk
Year: 2018
Runtime: 1h 59m
Director: Barry Jenkins
Following up on a Best Picture win can be tough for any filmmaker but Barry Jenkins delivered with this lyrical and moving adaptation of the 1974 novel of the same name by James Baldwin. It stars KiKi Layne, Stephan James, Brian Tyree Henry, Colman Domingo, and the Oscar-winning Regina King in the story of a young couple struck down when he's wrongly charged with a crime. It's a masterful drama from one of the best American filmmakers.
The Notebook
Year: 2004
Runtime: 2h 3m
Director: Nick Cassavetes
Truly great movie romances seem harder to find every year. This is a modern classic in that sub-genre, an adaptation of Nicolas Sparks's most beloved novel. Why has this one survived while so many other Sparks movies have been forgotten? One of the reasons is the stunning chemistry between Rachel McAdams and Ryan Gosling, who play the young couple at the center of this moving blockbuster.
The Power of the Dog
Year: 2021
Runtime: 2h 6m
Director: Jane Campion
The film that finally won an Oscar for Jane Campion for directing is one of the most acclaimed in the history of the streaming giant. Campion helmed this adaptation of the novel of the same name by Thomas Savage, the story of a vicious landowner (Benedict Cumberbatch) who torments the new wife (Kirsten Dunst) of his brother (Jesse Plemons). A drama that plays like a thriller, this gorgeously rendered period piece unpacks themes of toxic masculinity and manipulation in a way that makes it impossible to turn away. It's not just one of the best Netflix Original films, it's one of the best, period, of the 2020s so far.
Year: 1979/2001
Runtime: 3h 22m
Director: Francis Ford Coppola
Interestingly, the only version of one of the most acclaimed war films of all time that's currently on Netflix is the "Redux" edition, the longer cut that was released in 2001. At that time, Coppola collaborated with his editor Walter Murch to reincorporate 49 minutes of footage that were cut from the initial release. It's not the generally preferred version, but it's still a gut punch of a war movie, a real look at the heart of darkness that beats in the American military experience.
Year: 2006
Runtime: 2h 24m
Director: Martin Campbell
It's hard to believe the most famous movie spy in history ever needed a comeback, but that's really what happened when Daniel Craig stepped into 007's shoes and it turned out to be one of the most acclaimed James Bond movies of all time. An origin story for the suave superspy, Casino Royale introduced new layers to the classic character, resulting in an action film that felt like it had real stakes. This is one of the best modern action movies, period, not just in the Bond franchise.
Collateral
Year: 2004
Runtime: 2h
Director: Michael Mann
Tom Cruise gives one of his most fascinating performances as Vincent, the passenger to Jamie Foxx's L.A. cab driver on a very fateful night. It turns out that Vincent is a hitman and he needs Foxx's character to drive him on a killing spree in this tense, gorgeously-shot thriller from the masterful craftsman Michael Mann.
* Gladiator
Year: 2000
Runtime: 2h 35m
Director: Ridley Scott
One of the most popular films of its era, this action epic stars Russell Crowe as the legendary Maximus, a warrior whose family is murdered by the vicious Commodus (Joaquin Phoenix). Forced into slavery, Maximus has to rise the gladiator arenas to get his vengeance. The film made a fortune on its way to winning the Oscar for Best Picture.
Natural Born Killers
Year: 1994
Runtime: 1h 59m
Director: Oliver Stone
What do you get when you combine the writer of Pulp Fiction and the director of JFK? Movie history. Woody Harrelson and Juliette Lewis star as Mickey and Mallory Knox, a pair of drifters who embark on a killing spree that ends up making them tabloid superstars. A fearless castigation of celebrity culture, some of NBK looks a bit dated now, but more of it feels ahead of its time, capturing the true crime cult of personality that would develop over the decades to come.
Road House
Year: 1989
Runtime: 1h 54m
Director: Rowdy Herrington
As production on a remake of this cult classic (with Jake Gyllenhaal!) gets underway, why not go back and check out the original again? Patrick Swayze plays the bouncer at a totally average Missouri bar who ends up getting sucked into a violent world when he crosses paths with the wrong bad guy. Sam Elliott and Kelly Lynch star in a movie that feels like a perfect distillation of the many charms of Mr. Swayze.
Scarface
Year: 1983
Runtime: 2h 49m
Director: Brian De Palma
The fearless director Brian De Palma updated the 1929 novel and beloved 1932 film in a way that could only be made in the early '80s. Al Pacino gives one of his most iconic performances as Tony Montana, a Cuban immigrant who becomes the kingpin of the Miami drug scene. Some of Scarface is a little dated and problematic four decades later, but one can't deny the sheer power of the filmmaking and performances here. It's still riveting stuff.
Austin Powers: International Man of Mystery
Year: 1997
Runtime: 1h 34m
Director: Jay Roach
You can keep all those stuffy Jane Austen adaptations — one of the best remains Amy Heckerling's updating of the 1815 classic Emma to mid-'90s L.A. Is this the most '90s movie ever? From its fashion to its references to its beloved characters, it's certainly one of the most iconic, a movie that made a small impact when it was released but feels like it grows even more popular with each generation that discovers it.
Dope
Year: 2015
Runtime: 1h 42m
Director: Rick Famuyiwa
The writer/director of The Wood has a gift with location and how it influences young lives. Just look at this 2015 Sundance hit starring Shameik Moore, Tony Revolori, and Kiersey Clemons as three average Ingelwood teens who get caught up in a dangerous situation with a drug dealer. It's a vibrant, smart comedy that captures a modern coming-of-age narrative in a manner that feels genuine and true.
Year: 1975
Runtime: 1h 29m
Director: Terry Gilliam and Terry Jones
During a hiatus between the third and fourth seasons of Monty Python's Family Circus, the gang of mega-talented comedians decided to make movie history. Inspired by the King Arthur legend, Holy Grail is a timeless comedy, the rare kind of film that will still be making people laugh hundreds of years from now. And while the Monty Python boys were already famous, this film took them to another level, cementing their place in movie history.
* The Ocean's Trilogy
Year: 2001-07
Runtime: Varies
Director: Steven Soderbergh
All three films in the '00s reboot of Ocean's Eleven are on Netflix right now, and all worth your time. They're three very different films with the first feeling the most like the super-cool source material, the second playing with its own existence in a meta way, and the third being just pure fun. George Clooney, Matt Damon, and Brad Pitt headline all three movies. Marathon!
Year: 2018
Runtime: 1h 52m
Director: Boots Riley
Lakeith Stanfield stars in the directorial debut of the leader of The Coup, a film that shook audiences at Sundance but still feels a bit underrated. With a style that blends hip-hop culture with the surrealism of satirists like Terry Gilliam and Michel Gondry, this comedy takes no prisoners. Stanfield plays a telemarketer who works his way up a corporate ladder to discover the truly dark secrets that live on the higher rungs. It feels like a movie that more people will find on services like Netflix and could shape future comedies to come.
* Vacation
Year: 1983
Runtime: 1h 38m
Director: Harold Ramis
When John Hughes turned his nostalgic memories into an adult comedy, movies changed forever. Welcome the Griswold family, led by a hysterical Chevy Chase as the dad who always means well, even as he's falling on his face. The first movie in the franchise is still easily the best, a funny movie from first scene to last. (Note: European Vacation and Vegas Vacation are also on Netflix.)
Year: 1989
Runtime: 1h 36m
Director: Rob Reiner
Any list of the best romantic comedies of all time that doesn't include this 1989 Rob Reiner classic is simply incomplete. Meg Ryan and Billy Crystal give their most charming film performances as the title characters, a pair who decide to test the theory that men and women can't be friends without romance getting in the way. The real star here is Nora Ephron's sharp and ultimately moving screenplay, one of the best in the history of the rom-com.
Creep
Year: 2014
Runtime: 1h 22m
Director: Patrick Brice
Everyone is a little tired of the found footage genre, but this one is an exception. Mark Duplass is chilling as a man who hires a videographer (played by co-writer/director Brice) to record his final days as he has a brain tumor. In a film that was basically put together as they shot it, the protagonist learns that his subject has some truly dark secrets. Note: Creep 2 is also on Netflix.
Year: 2015
Runtime: 1h 59m
Director: Guillermo del Toro
Everyone seems to love the director of Pan's Labyrinth and The Shape of Water, but this 2015 gothic romantic horror flick often falls through the cracks when people talk about Guillermo del Toro. It shouldn't. It's a masterfully made period piece with sumptuous details and perfectly calibrated storytelling. Mia Wasikowska plays a woman who moves to a remote mansion with her new husband (Tom Hiddleston) and his sister (Jessica Chastain) and discovers the secrets buried in the earth.
Gerald's Game
Year: 2017
Runtime: 1h 43m
Director: Mike Flanagan
Before he helmed The Haunting of Hill House, Mike Flanagan co-wrote and directed one of the best Netflix Original horror films in this adaptation of Stephen King's 1992 novel of the same name. Carla Gugino is phenomenal as a woman who gets handcuffed to her bed by her toxic husband…and then he has a heart attack. As she tries to figure out how she will survive, she accesses the trauma of her past.
Year: 2017
Runtime: 2h 15m
Director: Andy Muschietti
One of the most beloved Stephen King adaptations of all time came in 2017 with this adaptation of his 1986 novel of the same name (which was split into two parts, but only chapter one is currently on Netflix). Pennywise the Clown is an unforgettable horror icon as he torments the young citizens of Derry, Maine, leading to one of the highest-grossing R-rated films of all time.
Year: 1984
Runtime: 1h 31m
Director: Wes Craven
Horror movie history changed forever with the world premiere of this film, introducing all of us to Freddy Krueger. With his burned face and bladed gloves, Freddy made sure that horror movies would never be the same. Wes Craven melded classic movie storytelling — the idea of children paying for the sins of their parents — with modern horror technique and really shifted the entire landscape of the genre. Note: The 2010 remake and the miserable Freddy vs. Jason are also on Netflix if you want to continue the Freddy experience.
Year: 2018
Runtime: 1h 38m
Director: Mamoru Hosoda
One of the best Japanese filmmakers alive, Hosoda has earned fans with films like Wolf Children, The Boy and the Beast, and Belle. One of his best is this 2018 fantasy movie, which actually became the first non-Ghibli anime film to ever get nominated for the Oscar for Best Animated Feature. It can be a little hard to follow, but it's one of the most visually striking films on Netflix, or any streaming service.
The Mitchells vs. the Machines
Year: 2021
Runtime: 1h 53m
Directors: Mike Rianda and Jeff Rowe
Originally planned for a theatrical release by Sony (with the much-worse title Connected), the studio sold this off to Netflix during the pandemic … and probably regretted that decision. One of the most critically and commercially beloved animated films of 2021, this is an incredibly smart and sweet family vacation movie, a comedy that's as much about a tender relationship between a father and daughter as is the fact that they end up having to save the world together.
The Spider-Man Trilogy
Year: 2002-2007
Runtime: Varies
Director: Sam Raimi
Most superhero movies on streaming services are the exclusive property now of Disney+ given their ownership of the MCU, but Sony superhero films are allowed to escape the clutches every now and then and find their way to other streaming services. Right now, all three films from Sam Raimi are on Netflix. The second film is easily still the best, but they're all worth a rewatch (yes, even the third one).
If you subscribe to a service through our links, Vulture may earn an affiliate commission.