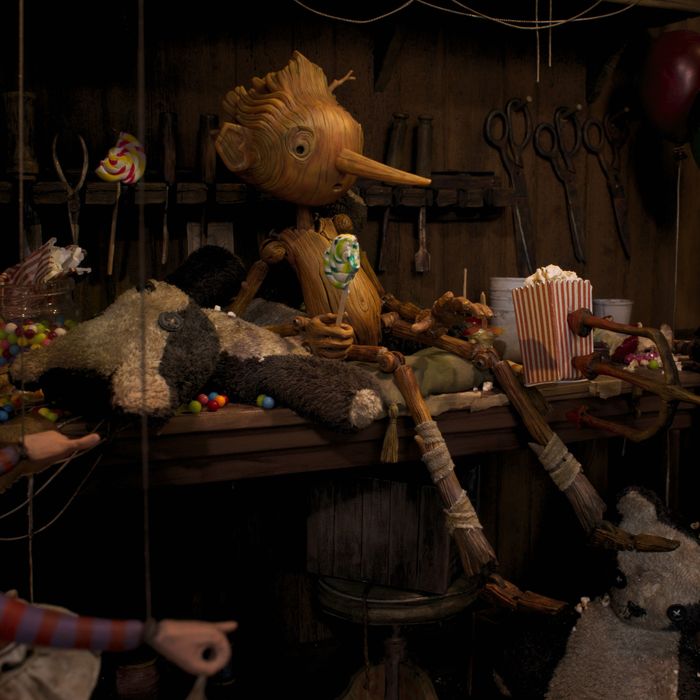 Pinocchio.
Photo: Netflix
This post is updated regularly as movies leave and enter Netflix. *New additions are indicated with an asterisk.
With hundreds of films from around the world on the streaming giant that changed the game, how does one even know what to watch when they fire up their Netflix? Start here! We've gone through the massive catalog of films available on the platform and pared down the selection to an essential 30 must-see titles, including acclaimed dramas, action films, comedies, horror flicks, and even stuff for the whole family, with Netflix Originals peppered in throughout, alongside its licensed films. No algorithm nonsense here: Our selections represent the personal favorites of seasoned movie critics, and they're updated every week and month to include or remove films that join or depart from the streaming service. This list represents the best of Netflix's movie offerings, and it starts with our rotating critic's pick of the week.
This Week's Critic's Pick
Guillermo del Toro's Pinocchio
Year: 2022
Runtime: 1h 56m
Director: Guillermo del Toro, Mark Gustafson
I named Pinocchio the best animated film of 2022 for its artistry, meticulous in its design and attention to detail, but also because it's a story brimming with heart. Directors Guillermo del Toro and and Mark Gustafson didn't just create masterfully intricate backdrops and stop-motion models (of varying sizes, posed and contorted in seemingly as many ways as the human body can manage), they set their update on the classic tale of Pinocchio and his father Geppetto's relationship in fascist Italy, in the years before World War II. The result is a mature, personal film that works as a family feature and still tugs as many heartstrings as any other drama or on this list. —Eric Vilas-Boas
Drama
Arrival
Year: 2016
Runtime: 1h 56m
Director: Denis Villeneuve
The French-Canadian director guided Amy Adams to one of her best performances in this sharp sci-fi film about an alien invasion that says more about the people on Earth than the interstellar visitors. Based on a short story called "Story of Your Life" by Ted Chiang, Arrival asks how we would communicate with an alien species, led by a linguist played by Adams. A time-twisting narrative made this a smash hit, along with Villeneuve's undeniable craftsmanship.
Call Me by Your Name
Year: 2017
Runtime: 2h 6m
Director: Luca Guadagnino
One of the best films of the 2010s, this drama stars Timothée Chalamet as a boy who discovers his own sexuality when he's wooed by an older man, played by Armie Hammer. Delicate and moving, this is a remarkable drama because of how true it feels, anchored by great performances throughout, not just from the two leads but the amazing Michael Stuhlbarg too.
Field of Dreams
Year: 1989
Runtime: 1h 45m
Director: Phil Alden Robinson
If you build it, he will come. One of the best baseball movies ever made is really a story about fathers and sons. Phil Alden Robinson directed Kevin Costner to one of the most beloved performances of his career as an average Iowan who hears a voice that tells him to build a baseball field. Redemption, U.S. history, and, of course, a love of America's pastime intertwine in this moving drama with an incredibly loyal fan base.
The Power of the Dog
Year: 2021
Runtime: 2h 6m
Director: Jane Campion
The film that finally won an Oscar for Jane Campion for directing is one of the most acclaimed in the history of the streaming giant. Campion helmed this adaptation of the novel of the same name by Thomas Savage, the story of a vicious landowner (Benedict Cumberbatch) who torments the new wife (Kirsten Dunst) of his brother (Jesse Plemons). A drama that plays like a thriller, this gorgeously rendered period piece unpacks themes of toxic masculinity and manipulation in a way that makes it impossible to turn away. It's not just one of the best Netflix Original films, it's one of the best, period, of the 2020s so far.
Pride & Prejudice
Year: 2005
Runtime: 2h 8m
Director: Joe Wright
One of the best Jane Austen adaptations ever remains this 2005 version of one of her most beloved novels, the film that put Keira Knightley on the map. Directed by Joe Wright, this version is relatively faithful to the source, but it's filmed with such passion and grace that it's easy to get lost in it again and again.
Titanic
Year: 1997
Runtime: 3h 14m
Director: James Cameron
More than just a blockbuster, this Best Picture winner was a legitimate cultural phenomenon, staying at the top of the box office charts for months. And the headline-grabbing story of the Titan in Summer 2023 certainly gives this flick new relevance. There was a point when it felt like not only had everyone seen the story of Jack (Leonardo DiCaprio) and Rose (Kate Winslet), but most people had seen it twice. And they're probably all going to watch it again now.
Collateral
Year: 2004
Runtime: 2h
Director: Michael Mann
Tom Cruise gives one of his most fascinating performances as Vincent, the passenger to Jamie Foxx's L.A. cab driver on a very fateful night. It turns out that Vincent is a hitman, and he needs Foxx's character to drive him on a killing spree in this tense, gorgeously-shot thriller from the masterful craftsman Michael Mann.
The Dark Knight
Year: 2008
Runtime: 2h 32m
Director: Christopher Nolan
Arguably the most acclaimed superhero film of all time, this centerpiece of Christopher Nolan's Dark Knight trilogy still rocks over 14 years later. Everyone knows how incredible the Oscar-winning Heath Ledger is in this epic blockbuster, but he's just one part of the greatness that extends from a perfect ensemble to a great display of Nolan's craft as a director. It's even better than you remember. Note: The whole trilogy is on Netflix right now.
The Departed
Year: 2006
Runtime: 2h 31m
Director: Martin Scorsese
It took way too long for one of the best filmmakers of all time to finally get his Oscar for Best Director but that happened with this critical and commercial darling, an adaptation of the 2002 Hong Kong film Infernal Affairs. Matt Damon and Leonardo DiCaprio star in the story of competing undercover agents with Damon's Irish mobster going undercover in the police force while Leo's cop tries to infiltrate the crew of the legendary Frank Costello (Jack Nicholson). It's still a wildly entertaining movie.
The Fast and the Furious
Year: 2001
Runtime: 1h 46m
Director: Rob Cohen
Who could have known what would come of the story of an undercover LAPD cop who tries to bust a group of hijackers when this relatively quaint action flick was released over two decades ago? It's hard to believe that anyone involved expected that millions would still be invested in this franchise. The first half of the proper franchise (the premiere through Fast Five) are currently on Netflix. Marathon!
Heat
Year: 1995
Runtime: 2h 50m
Director: Michael Mann
Robert De Niro and Al Pacino star in one of the best movies of the '90s, a stunning cat-and-mouse game between a career criminal and a workaholic cop. The book release of Heat 2 in 2022 brought a lot of people back to this movie, one that has held up remarkably well over the nearly three decades since it was released. It's a masterpiece.
Jaws
Year: 1975
Runtime: 2h 4m
Director: Steven Spielberg
The movie that ushered in the blockbuster era is often viewed more in terms of how it changed the industry than the fact that it's, well, perfect. Seriously, you don't need to change a single frame, line reading, or edit in Jaws, a film that works to raise tension from its very first scene. There's a reason people are still writing books about Jaws. And they will be for a very long time.
The Raid 2
Year: 2014
Runtime: 2h 30m
Director: Gareth Evans
Gareth Edwards wrote, edited, and directed the insane follow-up to his breakthrough hit that takes everything he did with The Raid and turns it up to 11! Like incredible action choreography? Unbroken takes? Stunts that defy the laws of physics? The Raid 2 is quite simply one of the best action movies of the last decade, a thrill ride from beginning to end.
Rocky
Year: 1976
Runtime: 1h 59m
Director: John Avildsen
The one that started it all is on Netflix, waiting for you to do a catch-up before seeing Creed III in a few months. Go back almost five decades now to see the start of the Rocky Balboa saga in a film that truly took the world by storm, becoming the highest grossing film of 1976 on its way to winning Best Picture and making Sylvester Stallone a household name.
RRR
Year: 2022
Runtime: 3h 5m
Director: S.S. Rajamouli
One of the biggest films in the world in 2022, this crazy action flick really took off in the United States when it dropped on Netflix. It's hard to put into words just how much movie you get with RRR. It's kind of all the movies — musical, romance, comedy, action, drama. Whatever you're looking for, it's in here. You'll want to watch it twice.
Star Trek
Year: 2009
Runtime: 2h 7m
Director: J.J. Abrams
J.J. Abrams took the reins of one of the most influential franchises of all time and went back to the beginning, telling the origin story of how James T. Kirk (Chris Pine) joined the crew of the Starship Enterprise. Some of Abrams's messing around with franchise histories has been controversial, but this is still an incredibly solid summer blockbuster, entertaining from beginning to end. Note: The divisive sequel Star Trek Into Darkness is also on Netflix.
Starship Troopers
Year: 1997
Runtime: 2h 9m
Director: Paul Verhoeven
The bugs! No one else but the director of Robocop could have made this unforgettable sci-fi/action epic about giant bugs from outer space. On the surface, it's a wildly entertaining action movie about young soldiers trying to stop an unimaginable force. Dig deeper and you'll find richly rewarding satirical levels about the military complex and even fascism. However you enjoy it, just enjoy it while you can.
Snowpiercer
Year: 2013
Runtime: 2h 6m
Director: Bong Joon-ho
Bong Joon-ho became a household name (at least in cinephile circles) when he won the Oscar for Parasite, but he had a hit before that in this 2013 sci-fi action flick starring Chris Evans, Song Kang-ho, Tilda Swinton, Octavia Spencer, and John Hurt. It's a brilliant allegory for society as a train has been divided into classes per car, and the peasants form a revolt. Visually striking and narratively ambitious, this is a film that only seems to grow in esteem with each passing year, especially now that Bong is increasingly famous.
The Woman King
Year: 2022
Runtime: 2h 14m
Director: Gina Prince-Bythewood
Living legend Viola Davis stars in this retelling of the all-female warriors of the kingdom of Dahomey in the 19th century. She plays General Nansica, who trains young women to follow in her footsteps, and leads a rock star ensemble of future stars that includes Thuso Mbedu, Lashana Lynch, and Sheila Atim. You'll know all their names soon enough.
Bridesmaids
Year: 2011
Runtime: 2h 4m
Director: Paul Feig
It's hard to believe that it's already been over a decade since Bridesmaids shattered all expectations, making a fortune and turning Melissa McCarthy into a household name (especially after she landed an Oscar nomination). Smart and heartfelt, it's the story of a woman (Kristen Wiig) who struggles in her role as Maid of Honor to a friend played by Rose Byrne. It's still very, very funny.
Ferris Bueller's Day Off
Year: 1986
Runtime: 1h 43m
Director: John Hughes
One of the most popular comedies of its era turned its title character into a household name. The pitch is so beautifully simple: the most popular kid in high school takes the day off and gets into trouble in Chicago while driving his sister and principal insane. Great physical sequences mix with a very hip '80s sensibility to create a classic comedy that could be a hit if it came out today.
Year: 2022
Runtime: 2h 19m
Director: Rian Johnson
The writer/director of Knives Out returned in late 2022 with a sequel to that smash hit, exclusively on Netflix. Daniel Craig returns as Benoit Blanc, the casual crime solver who finds himself on a billionaire's island in Rian Johnson's latest comedy/mystery. Once again, Johnson assembles a murderer's row of talent, including Kate Hudson, Janelle Monae, Ed Norton, Dave Bautista, Kathryn Hahn, Leslie Odom Jr., and more. It's smart, funny, and thoroughly entertaining.
Year: 1975
Runtime: 1h 29m
Director: Terry Gilliam and Terry Jones
During a hiatus between the third and fourth seasons of Monty Python's Family Circus, the gang of mega-talented comedians decided to make movie history. Inspired by the King Arthur legend, Holy Grail is a timeless comedy, the rare kind of film that will still be making people laugh hundreds of years from now. And while the Monty Python boys were already famous, this film took them to another level, cementing their place in movie history.
Annihilation
Year: 2018
Runtime: 1h 55m
Director: Alex Garland
Paramount notoriously had no idea what to do with Alex Garland's film and barely promoted it in American theaters, dropping it on Netflix in the rest of the world, which is where it now returns five years later. And it's amazing. One of the best films of 2018 stars Natalie Portman as a woman who enters an alien occurrence to find out what happened to her husband there. Although that barely scratches the surface of this complex, already-beloved film.
Gerald's Game
Year: 2017
Runtime: 1h 43m
Director: Mike Flanagan
Before he helmed The Haunting of Hill House, Mike Flanagan co-wrote and directed one of the best Netflix Original horror films in this adaptation of Stephen King's 1992 novel of the same name. Carla Gugino is phenomenal as a woman who gets handcuffed to her bed by her toxic husband…and then he has a heart attack. As she tries to figure out how she will survive, she accesses the trauma of her past.
Hook
Year: 1991
Runtime: 2h 21m
Director: Steven Spielberg
Peter Pan & Wendy hasn't made much of an impact over on Disney+, so why not go back to the Peter Pan tale that so many loved as children? Steven Spielberg's Robin Williams-starring variation on the J.M. Barrie classic is often derided as one of the master's lesser films, but it also has a loyal fan base, largely made up of people who were just the right age when it came out. Now they're old enough to show it to their kids. Pass on the wonder.
The Karate Kid
Year: 1984
Runtime: 2h 7m
Director: John G. Avildsen
After the massive success of Cobra Kai on Netflix, the streamer finally now also offers fans the original trilogy of films about the kid who learns karate from Mr. Miyagi. The 1984 original is still, by far, the best, starring Ralph Macchio and the great Pat Morita. Less successful are the 1986 and 1989 sequels, but no one would blame fans for wanting to watch the whole trilogy. Note: The Jackie Chan remake is also on Netflix.
Puss in Boots: The Last Wish
Year: 2023
Runtime: 1h 42m
Director: Joel Crawford
No one would have predicted that the presumed-dead Shrek franchise had another spin-off sequel of this caliber yet to be released, but December 2022 saw the critical and commercial success of arguably the best film in the entire series. Using a style more reminiscent of Into the Spider-verse than typical DreamWorks, The Last Wish is a gorgeous and surprisingly moving story of the title character dealing with something he never expected to face: mortality. It's funny, clever, and memorable.
Wendell & Wild
Year: 2022
Runtime: 1h 46m
Director: Henry Selick
The director of A Nightmare Before Christmas and Coraline finally returned this year with this clever and twisted tale co-written by Oscar winner Jordan Peele. The comedian also co-stars as one of the title characters, the literal demons for a girl who blames herself for the death of her parents. Selick is a master of stop-motion animation and this project allows him to stretch his visual prowess in new, gross ways. It's a new Halloween classic (that can be watched any time, of course!)
If you subscribe to a service through our links, Vulture may earn an affiliate commission.