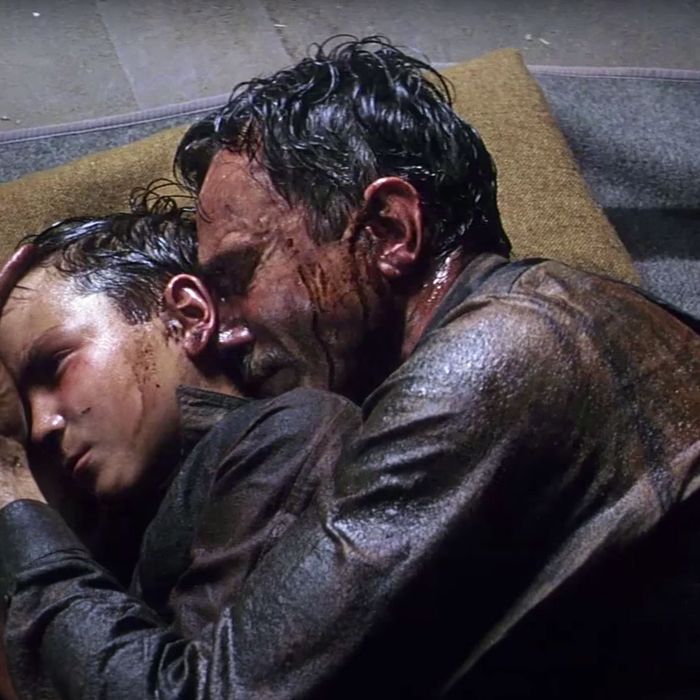 There Will Be Blood
.
Photo: Miramax/YouTube
This post will be updated frequently as movies enter and leave the service. New titles are indicated with an asterisk.
In 2021, CBS All Access rebranded with the name Paramount+, reflecting the history of the legendary film and TV company with that nifty little mathematical sign that all the streaming companies seem to love these days. The name Paramount brings a deep catalogue of feature films, and the streaming service also includes titles from the Miramax and MGM libraries. They have additionally promised a more robust original selection than at launch, which includes the long-delayed SpongeBob Movie: Sponge on the Run.
For now, Paramount+ can't compare to the depth of a catalogue like HBO Max's or the award-winning original works at other streamers, but it has a solid library with at least 30 films you should see.
17 Blocks
Year: 2019
Runtime: 1 hour, 38 minutes
Director: Davy Rothbart
One of the best documentaries of the last couple years is also one of the least seen, so it's great that a service like Paramount+ can bring it to a wider audience. Premiering at Tribeca in 2019, this is the story of the Sanford family, a clan in northern D.C. who filmed themselves over 20 years. The title comes from the family's proximity to the White House, even though their lives couldn't be more different from the people who live there.
* A.I.: Artificial Intelligence
Year: 2001
Runtime: 2h 26m
Director: Steven Spielberg
When it was released in 2001, audiences were divided over Steven Spielberg's completion of a project once started by Stanley Kubrick about the nature of human existence. History has come around to recognize it as a visually daring, often brilliant film. Haley Joel Osment stars as David, an android child who learns about the meaning of life and human nature. It's a gorgeous, ambitious piece of work that you should revisit if you haven't seen it since it came out.
* Before Midnight
Year: 2013
Runtime: 1h 49m
Director: Richard Linklater
One of Richard Linklater's best films ends one of the best trilogies of all time. Released in 2013, this film catches up with Jesse (Ethan Hawke) and Celine (Julie Delpy) on a summer vacation in Greece. A perfect, beautiful movie about how relationships shift and change over time, it's a graceful gem.
Year: 1984
Runtime: 1h 45m
Director: Martin Brest
It's hard to explain to people too young to experience it how big a star Eddie Murphy was in 1984 when his Axel Foley ruled the world. Murphy's wit and charm were put to perfect use in Beverly Hills Cop that produced two inferior sequels, and both happen to also be on Paramount Plus.
Black Bear
Year: 2020
Runtime: 1h 44m
Director: Lawrence Michael Levine
One of the best films of the 2020 Sundance Film Festival, this mind-f*ck of a movie by Lawrence Michael Levine stars Aubrey Plaza, doing the best acting work of her career as a film director who travels to a remote cabin owned by characters played by Sarah Gadon and Christopher Abbott. Things get weird, especially in a second half that basically deconstructs the first. It's a smart, underrated movie.
* Butch Cassidy and the Sundance Kid
Year: 1969
Runtime: 1h 50m
Director: George Roy Hill
Paul Newman and Robert Redford redefined cool in this 1969 Western, playing the title characters in an instant classic. Based loosely on a true story, this is the tale of two outlaws on the run after committing a string of train robberies. They flee to Bolivia to try and escape the U.S. law, but it tracks them down. Newman and Redford's star power is simply blinding.
* Citizen Ruth
Year: 1996
Runtime: 1h 46m
Director: Alexander Payne
Before Election and The Descendants, Alexander Payne made his directorial debut with this razor-sharp comedy about abortion. Laura Dern gives one of her best performances as a pregnant woman who becomes a household name when pro-life and pro-choice activists turn her into the center of a debate over the eternally divisive issue. Smart and sharp, this is one of Payne's best films.
Year: 1995
Runtime: 1h 37m
Director: Amy Heckerling
The best screen adaptation of Jane Austen's Emma is the one that took the most risks, using the 1815 classic as a skeleton on which to hang a commentary on growing up in Los Angeles in the mid-'90s. Alicia Silverstone got her breakthrough role as Cher, a popular high school student who decides to give a new girl named Tai (Brittany Murphy) a makeover. Amy Heckerling's script here is one of the sharpest that the teen comedy genre ever produced.
Year: 1974
Runtime: 1h 53m
Director: Francis Ford Coppola
In between the first two Godfather movies, Francis Ford Coppola wrote and directed a drama that's arguably even better (yes, we said it) in this stunning story of a surveillance expert who believes he has uncovered a murder plot. Gene Hackman leads an incredible cast in a film that's about paranoia, privacy, and power. It was nominated for Best Picture but lost to, believe it or not, The Godfather Part II.
* Escape From Alcatraz
Year: 1979
Runtime: 1h 52m
Director: Don Siegel
Don Siegel's adaptation of the hit 1963 book stars Clint Eastwood in the true story of the escape from the legendary San Francisco prison by Frank Morris, Clarence Anglin, and John Anglin. The film was a massive hit and remains one of those movies that seems to pop up on cable on every few months. Watch it on your own time on streaming.
* Face/Off
Year: 1997
Runtime: 2h 13m
Director: John Woo
There are rumors that a remake of this John Woo classic is on the horizon, so you owe it to yourself to go back and see the very high standard that project will have to meet. This is one of the best action movies of the '90s, a wonderfully staged blockbuster by one of the genre's best filmmakers. And John Travolta and Nicolas Cage were near the peaks of their screen charismas as an FBI agent and terrorist who end up, well, switching faces. It's a blast.
Year: 1986
Runtime: 1h 38m
Director: John Hughes
One of the most popular comedies of its era turned its title character into a household name. The pitch is so beautifully simple: the most popular kid in high school takes the day off and gets into trouble in Chicago while driving his sister and principal insane. Great physical sequences mix with a very hip '80s sensibility to create a classic comedy that could still be a hit if it came out today.
Finding Yingying
Year: 2020
Runtime: 1h 38m
Director: Jiayan "Jenny" Shi
Jiayan Shi directed and produced this heartbreaking documentary about the disappearance and death of Yingying Zhang in 2017. Shi has unique access to the story in that she knew Yingying, and so her film has an incredible you-are-there quality as Shi captures the investigation and grief that would emerge from this horrific crime. Paramount+ deserves credit for bringing smaller projects like this to their subscribers, ones that other major streamers might ignore.
* The Graduate
Year: 1967
Runtime: 1h 46m
Director: Mike Nichols
Few films have impacted the culture as much as Mike Nichols's 1967 dramedy based on the Charles Webb novel of the same name. It really was one of the first films in a wave of artistic expression that would make the late '60s and '70s the richest time in American film history. Dustin Hoffman stars as a recent college graduate looking for direction in his life in this sharp, clever comedy that spoke to an entire generation of young people looking for how to change the world.
* Grease
Year: 1978
Runtime: 1h 50m
Director: Randal Kleiser
John Travolta and Olivia Newton-John changed the course of the movie musical with this wildly beloved flick about the kids at Rydell High. Based on the 1971 stage musical of the same name, Grease was a massive hit, and still draws audiences to theaters and on cable over four decades after its release. Why do people keep falling so in love with Danny and Sandy? Watch it again and report back to us.
Year: 2014
Runtime: 2h 49m
Director: Christopher Nolan
No one else makes movies like Christopher Nolan, a man who took his superhero success and used it to get gigantic budgets to bring his wildest dreams to the big screen. Who else could make this sprawling, emotional, complicated film about an astronaut (Matthew McConaughey) searching for a new home for humanity? It's divisive among some Nolan fans for its deep emotions, but those who love it really love it.
Year: 2002
Runtime: 1h 25m
Director: Jeff Tremaine
Jackass Forever helped 2022 start with a bang. Now you can go back and watch the whole series exclusively on Paramount+ right now! (Even the "alternate" ones like Jackass 3.5). Go back to the heyday of Johnny Knoxville, Steve-O, and the rest of the dangerous idiots. These movies are often derided as being dumb but they're a glorious, infectious kind of dumb that wants nothing more than to make you laugh.
Year: 1990
Runtime: 1h 53m
Director: Adrian Lyne
Adrian Lyne's 1990 horror film has developed an increasingly vocal fan base in the three decades since its release (helped in part by a horrible remake in 2020 that reminded everyone how much better the original was.) Tim Robbins stars as Jacob, a man who starts having increasingly terrifying visions and hallucinations, many of them related to his time in Vietnam. A stunning journey into Hell, it's also an anti-war film that's given weight by Robbins's genuine, in-the-moment performance.
Year: 1996-present
Runtime: Varies
Director: Various
The whole series is finally here! For some reason, parts 1 to 3 and parts 4 to 6 have alternated residence on a lot of streaming services, but Paramount+ currently hosts the entire thing from De Palma's first movie to Fallout. While we wait for Mission: Impossible 7, revisit the whole arc of the saga of Ethan Hunt to date.
Nebraska
Year: 2013
Runtime: 1h 55m
Director: Alexander Payne
Alexander Payne directed Bob Nelson's ace screenplay in this 2013 comedy about an elderly man (Bruce Dern) who travels the country with his son (Will Forte) to claim a prize in a sweepstakes. A sharp study of life in the heartland of America, it was nominated for six Oscars, including Best Picture, Best Director, and Best Actor.
Year: 2018
Runtime: 1h 30m
Director: John Krasinski
Who could have possibly guessed that Jim from The Office would be behind one of the most successful horror films of the '10s? You've probably already seen this story of a world in which silence is the only way to survive, but it's worth another look to marvel at its tight, taut filmmaking and a stellar performance from Emily Blunt. Plus, Paramount+ recently added the sequel, so: double feature time!
Year: 2002
Runtime: 1h 55m
Director: Gore Verbinski
Gore Verbinski broke the pattern in which remakes of Asian horror films are usually a total waste of time with this update of the incredible Ringu. Instead of just repeating the beats of a story of a VHS tape that kills people after seven days, Verbinski made his own film and grounded it with a great central performance by Naomi Watts.
* Ronin
Year: 1998
Runtime: 2h 1m
Director: John Frankenheimer
Any list of the best car chase movies that doesn't include this Robert De Niro action flick is simply incomplete. In fact, most people don't even remember the plot of this heist film because all that really matters is how expertly Frankenheimer directed the car chases through Nice and Paris.
* There Will Be Blood
Year: 2007
Runtime: 2h 38m
Director: Paul Thomas Anderson
One of the best films of the '00s, Paul Thomas Anderson's adaptation of Upton Sinclair's Oil! won Daniel Day-Lewis his second Oscar as the unforgettable Daniel Plainview. As detailed and epic as great fiction, Anderson's movie is one of the most acclaimed of its era, a film in which it's hard to find a single flaw. Even if you think you've seen it enough, watch it again. You'll find a new reason to admire it.
Year: 2019
Runtime: 1h 24m
Director: Rose Glass
Rose Glass's terrifying horror film is one of the best movies of 2021 and it's already on Paramount+. Reminiscent of psychological nightmares of the '70s like Repulsion and Rosemary's Baby, this is the tale of a hospice nurse named Maud (a fearless performance from Morfydd Clark) who becomes obsessed with saving the soul of one of her patients (Jennifer Ehle). It's unforgettable.
Year: 1998
Runtime: 2h 49m
Director: Steven Spielberg
War movies haven't gone anywhere. The genre has been a prominent part of film history from its early days through the release of 1917. There are certain tentpoles in the history of war movies that feel like game changers, and one came in 1998 when Steven Spielberg returned to World War II to tell a different story of history, reminding everyone in the world about the sacrifices that were made that day, and the obligation we all have to make them worthwhile.
Year: 1979-present
Runtime: Varies
Director: Various
Paramount's most famous brand (sorry, SpongeBob) will likely always be Gene Roddenberry's universe of space travelers. So, of course, the Star Trek movies are on Paramount+ alongside all of the old and new series, from the Shatner iteration to Discovery and Picard. Strap in and watch all the voyages of the Starship Enterprise you can handle.
Year: 1955
Runtime: 1h 46m
Director: Alfred Hitchcock
There's not much Hitchcock on Paramount+, so take the opportunity to watch 1955's To Catch a Thief, a great flick that doesn't get the attention that other, more commonly beloved Hitch do. Based on the novel of the same name by David Dodge, this one features the amazing Cary Grant as a retired cat burglar who is drawn back into the criminal world when he discovers that someone is posing as him on the French Riviera. Grace Kelly co-stars.
Year: 1992
Runtime: 1h 35m
Director: Penelope Spheeris
It's hard to believe it's been three decades since Wayne and Garth left their basement and made the jump to the big screen. The sequel bounces around the streamers a lot, but this more beloved 1992 original is harder to pin down. So decide if you're worthy enough to watch it while you can.
Zoolander
Year: 2001
Runtime: 1h 30m
Director: Ben Stiller
It's a little crazy that it's been over two decades since Ben Stiller stepped into the expensive shoes of Derek Zoolander and came back with one of the more memorable comedies of the 2000s. This comedy really spins the manic energy that Stiller had on his show into something fresh and original. And it also features a great supporting turn from Will Ferrell as the ridiculous Jacobin Mugatu.
If you subscribe to a service through our links, Vulture may earn an affiliate commission.