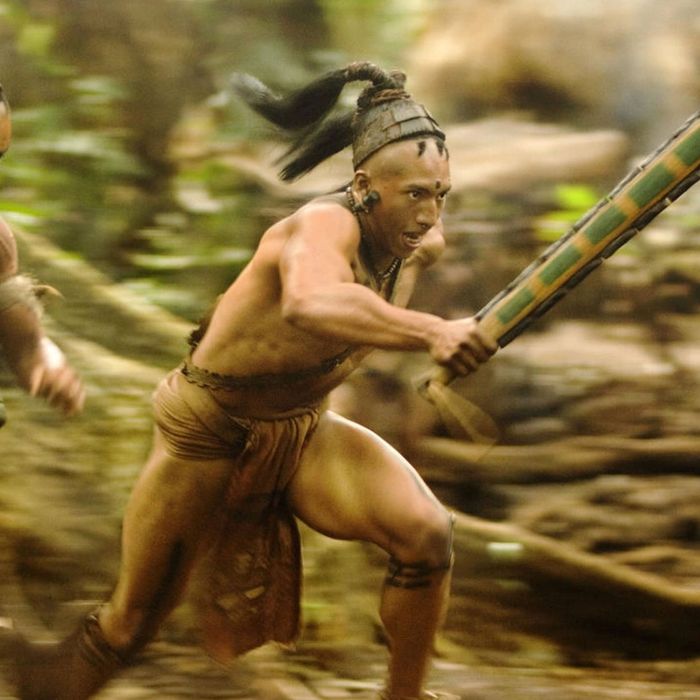 Apocalypto.
Photo: Focus.
This article is updated frequently as movies leave and enter Peacock. New titles are indicated with an asterisk.
Who's ready for another streaming service? NBCUniversal jumped into the crowded pool in 2020 with the launch of Peacock, a destination for everything from classic monster movies to episodes of 30 Rock to original programming.
But as with all of these services, it can all be a little overwhelming. How do you dig through the hundreds of films in the Peacock library to find what's best?
The truth is that Peacock's film catalogue is a little thin and a little strange (there's an amazing number of B-movies like Mega Shark Versus Giant Octopus), but it does have some of the weight of the Universal brand and all its history, including classic franchises and recent hits (and the service will likely have more when licensing deals expire with other streaming platforms). But until the selection expands, you can't go wrong with any of the following films.
Apocalypto
Year: 2006
Runtime: 2h 17m
Director: Mel Gibson
Mel Gibson, king of the brutal historical blockbuster, took an honest risk when he helmed this story of the Yucatan in Mexico around 1502. Told entirely in the Mayan language, Apocalypto is the story of Jaguar Paw, a young hunter whose tribe is invaded by outsiders. The film made an absolute fortune at the box office and has a loyal following.
Year: 2009
Runtime: 2h 2m
Director: Werner Herzog
Director Werner Herzog was an unexpected choice for an unexpected sequel to Abel Ferrara's 1992 film Bad Lieutenant, but this isn't your normal sequel. In fact, it has nothing really to do with that first film other than it also centering a corrupt cop. Nicolas Cage gives one of his most unhinged and impressive performances here, and that's really saying something.
Year: 2022
Runtime: 1h 32m
Director: Baltasar Kormakur
Who doesn't want to see Idris Elba punch a lion? Beast takes a bit too long to get to the good stuff but it's the kind of B-movie you don't get much of anymore – it's exclusively on Peacock right now, shortly after its launch in theaters. Peacock has been steadily turning around recent theatrical hits to try to draw subscribers, so take advantage of the latest box office hit while you can.
Bernie
Year: 2011
Runtime: 1h 44m
Director: Richard Linklater
Richard Linklater directed this black comedy based on the true story of Bernie Tiede (Jack Black), a man who befriended an elderly Texas woman named Marjorie Nugent (Shirley MacLaine) and ended up murdering her. It's a quirky little movie with one of Black's best performances and a great supporting turn by Matthew McConaughey.
The Beyond
Year: 1981
Runtime: 1h 27m
Director: Lucio Fulci
Dario Argento gets the most attention from Giallo fans, but you should take the time to fall under the spell of Lucio Fulci too. The Beyond is one of his most beloved films, a 1981 supernatural horror story of a woman who inherits a motel in Louisiana only to learn the hard way that it might just be a portal to Hell. Don't you hate when that happens?
Black Christmas
Year: 1974
Runtime: 1h 38m
Director: Bob Clark
Most people who love A Christmas Story probably don't realize that the same director (Bob Clark) made another holiday classic with a very different tone. This is one of the most influential slasher pics of all time, the story of a group of sorority sisters who are cut down one by one over the holiday season. It was remade in 2019 with an interesting twist but the 1974 classic is the one on Peacock.
Year: 1998
Runtime: 1h 34m
Director: Mike Hodges
Clive Owen broke through with his 1998 noir in which he's so smooth that people immediately began suggesting he should be the next 007. Owen plays a writer who gets a job as a croupier—a fancy word for a dealer in a casino—and falls into the wrong scene. Smart and thrilling, it's one of the more underrated movies of the late '90s, and a perfect vehicle for Owen's charm.
Fitzcarraldo
Year: 1982
Runtime: 2h 37m
Director: Werner Herzog
The production of this film (chronicled in the great doc Burden of Dreams) is almost more interesting than the movie as director Werner Herzog actually had a crew haul a 320-ton steamship up a hill and fought on the regular with the maniacal star Klaus Kinski. The cool thing about the movie is you can see the chaotic production right there on the screen, as Herzog captures the insanity of his subject matter in a way that required a little instability.
Glengarry Glen Ross
Year: 1992
Runtime: 1h 40m
Director: James Foley
David Mamet wrote the adaptation of his Pulitzer Prize-winning play and pulled off the rare trick of a nearly perfect version of a stage hit. It helps a great deal to have a cast of legends, and this one includes Al Pacino, Jack Lemmon, Alex Baldwin, Ed Harris, Alan Arkin, Kevin Spacey, and Jonathan Pryce—every single one of them perfect in their part.
Highlander
Year: 1986
Runtime: 1h 50m
Director: Russell Mulcahy
Who could have guessed that 1986 fantasy film starring Christopher Lambert would launch a franchise? Since the release of this goofy action movie about an immortal warrior, there have been four more films, two live-action series, comics, toys, novels, and so much more. See where it all began here. There can be only one!
Year: 2009
Runtime: 1h 35m
Director: Ti West
Ti West makes the kind of the slow burn, horror movies that simmer their way to explosive final acts. His best to date remains this 2009 genre flick starring Jocelin Donahue as a college student hired to babysit by a creepy couple. Clearly, there's something wrong, but West delays the payoff until the very end, allowing tension to build with each passing scene. Greta Gerwig co-stars in a small role.
Ichi the Killer
Year: 2001
Runtime: 2h 9m
Director: Takashi Miike
Despite being one of Takashi Miike's breakthrough films internationally, his action flick is still banned in several countries around the world. You may think you know what you're in for, but Ichi is its own special category of crazy, as anyone who's seen it can attest. When it was released, it was the kind of film that one had to special order from online companies, and now it can be streamed directly to your phone while you're on the bus. Isn't technology wonderful?
Ip Man
Year: 2009
Runtime: 1h 48m
Director: Wilson Yip
Donnie Yen is a sacred name in the martial arts branch of cinema appreciation, and you can see why with all five Ip Man films now available on Peacock. They tell the semi-true story of Ip Man, a legendary leader in the world of martial arts, who trained Bruce Lee. These are not traditional biopics or martial arts movies, working as a hybrid of period piece and action.
Year: 2014
Runtime: 1h 50m
Director: Alex Ross Perry
Alex Ross Perry wrote and directed this 2014 dramedy that premiered at the Sundance Film Festival. Jason Schwartzman gives maybe his best performance a young writer in New York who struggles with the ennui of daily life before meeting his idol, a similarly cynical novelist named Zimmerman (Jonathan Pryce). Elisabeth Moss and Krysten Ritter star in this acerbically brilliant film.
Year: 2015
Runtime: 1h 30m
Director: Pierre Coffin, Kyle Balda
Peacock exclusively hosts Minions: The Rise of Gru, shortly after it made a fortune in theaters. They've also added the blockbuster that preceded it, the 2015 smash hit that proved that the little yellow dudes were here to stay in pop culture terms. Minions serves as a prequel to the Despicable Me movies and is funnier than a couple of them, proving that the scene-stealers could carry a franchise of their own.
My Heart Can't Beat Unless You Tell It To
Year: 2020
Runtime: 1h 29m
Director: Jonathan Cuartas
Jonathan Cuartas wrote and directed a low-key vampire movie from 2021 that earned comparisons to the work of Claire Denis and Jim Jarmusch. Effectively claustrophobic, it's the story of two people (Patrick Fugit & Ingrid Sophie Schram) who hunt for victims to keep a third (Owen Campbell) alive. You see, he needs to drink the blood of others to live. Creepy and tense, it's the best indie vampire film in years.
Year: 1968
Runtime: 1h 37m
Director: Clive Barker
It's really hard to overstate the impact that George A. Romero's classic black-and-white masterpiece had on not just the zombie genre but DIY microbudget horror filmmaking. So many people have been chasing that game-changing impact of Night of the Living Dead in the half-century since it came out, but it's the original that's passed the test of time.
Nightbreed
Year: 1990
Runtime: 1h 42m
Director: Clive Barker
Clive Barker wrote and directed an adaptation of his Cabal and released it to a much more muted response than greeted his hit Hellraiser. Over the years, Nightbreed has developed a loyal following, in part due to the various versions of it now available. The one on Amazon is the theatrical, in which Craig Sheffer plays a man who becomes convinced his therapist is a serial killer, and his own investigation leads him to a tribe of monsters. Good times.
Nosferatu the Vampyre
Year: 1979
Runtime: 2h 4m
Director: Werner Herzog
In 1979, Werner Herzog released his daring vision of the classic F.W. Murnau film Nosferatu. Klaus Kinski plays Count Dracula, Isabelle Adjani is Lucy Harker, and Bruno Ganz is Jonathan Harker in this unforgettable mood piece, a movie that's so unsettling that one wonders if Kinski might actually be a bloodsucker. It remains one of Herzog's most popular films for a reason.
Passion Fish
Year: 1992
Runtime: 2h 15m
Director: John Sayles
The brilliant writer/director John Sayles delivered one of his most beloved films in the 1992 drama about a soap opera star (Mary McDonnell) who has been paralyzed after being hit by a cab. She returns to her family home, where she crosses paths with a nurse (Alfre Woodard) who refuses to give up on her. It's moving in a way that feels genuine, never manipulative.
Phantasm
Year: 1979
Runtime: 1h 29m
Director: Don Coscarelli
The movies in this franchise seem to bounce around the streaming services like the murderous silver ball within them, but the Don Coscarelli original (and still best) is on Peacock now. The 1979 horror classic that introduced the world to the Tall Man was reportedly made for around $300k and spawned a multi-million-dollar franchise that's still going.
Year: 2005
Runtime: 1h 44m
Director: John Hillcoat
There aren't a lot of great Westerns on any streaming service, but this more modern one is worth your time. John Hillcoat directs a gritty, vicious script by Nick Cave (of The Bad Seeds fame) and draws excellent performances from a cast that includes Guy Pearce, Ray Winstone, Emily Watson, John Hurt, and a movie-stealing Danny Huston. With riveting cinematography by Benoit Delhomme, The Proposition is a Western that looks phenomenal, unfolding like a visualization of one of Cave's albums.
Year: 2013
Runtime: 1h 36m
Director: Destin Daniel Cretton
Long before she would be Captain Marvel, Brie Larson played a worker at a group home for troubled teenagers in this powerful drama. Based on his own experience, Destin Daniel Cretton wrote and directed this critical darling that now looks like a launchpad for a generation of stars including Larson, Lakeith Stanfield, Rami Malek, Stephanie Beatriz, John Gallagher Jr., and Kaitlyn Dever.
Sign o' the Times
Year: 1987
Runtime: 1h 25m
Director: Prince
One of the best concert films of all time is sitting on Peacock waiting for you to jam to it. Largely produced as a tie-in to the 1987 album of the same name, which wasn't selling like they hoped, this film captures Prince at his most electric, and has really stood the test of time.
* Sophie's Choice
Year: 1982
Runtime: 2h 30m
Director: Alan Pakula
Meryl Streep gives one of the best performances of all time in this story of a writer (Peter MacNicol) living in Brooklyn who befriends an Auschwitz survivor (Streep) and her beau (Kevin Kline) shortly after the Holocaust. Through flashbacks, we see Sophie's harrowing journey, including what the title heartbreakingly refers to – a phrase that has been co-opted in the four decades since to refer to any difficult decision.
Starry Eyes
Year: 2014
Runtime: 1h 38m
Directors: Kevin Kölsch and Dennis Widmyer
Alex Essoe gives a fearless performance in this horrifying vision of Hollywood's evil underbelly. She plays a waitress who starts to crack under the pressure of her desire to be an actress and her inability to make ends meet. Is she just losing her mind or is there more to the world around her? Surreal and terrifying.
Year: 1974
Runtime: 1h 23m
Director: Tobe Hooper
What's so stunning about this horror masterpiece is what it doesn't show. So many people remember this flick as a gore-filled nightmare, but Hooper actually lets your mind do most of the work, rarely showing as much as the film's reputation. It's still an unforgettable film, one that changed the indie horror landscape forever.
Train to Busan
Year: 2016
Runtime: 1h 58m
Director: Yeon Sang-ho
A legitimate phenomenon that has grossed almost $100 million worldwide, this 2016 South Korean movie is one of the best zombie flicks of its era. It's simple — zombies on a train — but that's one of the reasons it works so well. It has a propulsive, non-stop energy and it feels like its legacy is just getting started.
Year: 2010
Runtime: 1h 44m
Director: David Schwimmer
Friends fans may be surprised to learn that star David Schwimmer is also a hell of a director, as evidenced by this empathetic, searing 2010 drama. Liana Liberato stars as a 14-year-old girl who befriends a man on the internet who turns out to be a predator. Liberato is excellent, as are Catherine Keener and Clive Own as her parents.
Whale Rider
Year: 2003
Runtime: 1h 41m
Director: Niki Caro
A lyrical and moving coming-of-age film, Caro's adaptation of the 1987 novel stars Keisha Castle-Hughes as a 12-year-old girl in a Maori clan who wants to become the chief of her tribe, a role reserved for the men in the tribe. More than a mere girl power tale (although it is that too), Whale Rider is a film that never talks down to kids, understanding their ambitions and fears in a way that feels both poetic and true.
If you subscribe to a service through our links, Vulture may earn an affiliate commission.