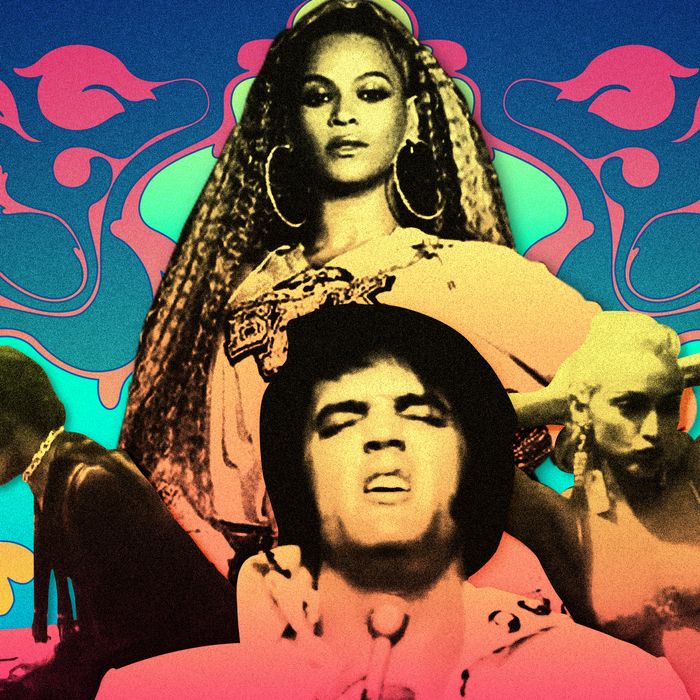 Photo-Illustration: Vulture, Photos: Metro-Goldwyn-Mayer, Miramax, Netflix, Searchlight Pictures
This story was originally published in 2015 and has been updated to reflect recent releases.
The past few years have been something of a golden age for music documentaries — with the Oscar-winning success of Searching for Sugar Man and 20 Feet From Stardom opening up the field for films about less-obvious stars. Lately, there have been a flood of movies about cult bands, forgotten local acts, and background players — and even a few docs, like Amy and Moonage Daydream, that have found new ways to approach some of the most popular musicians of the past half-century. Netflix has done so well with music-themed films that it commissioned some of its own, such as What Happened, Miss Simone? Thanks in part to art-house patrons, Blu-ray buyers, and premium-cable subscribers, the market for movies about musicians has become lucrative enough that even long-shelved projects like Amazing Grace and the arty Leon Russell sketch A Poem Is a Naked Person have seen the light of day. It's a marvelous time to be a music buff.
The list of 50 documentaries below features old classics, new favorites, and a few films that deserve a wider audience. It touches on pop, hip-hop, rock, punk, R&B, jazz, country, and folk; collectively, it tells a story of art forms, cultures, and business models in transition. Most important, these documentaries (and exceptional concert films, in case you were wondering) contain performances that are as essential to understanding these artists as any of their records. Think of these 50 titles as a time capsule, ready to be opened today, next year, or decades from now.
Recording engineer Tom Dowd started at Atlantic Records in the 1950s, and gained a reputation within the music business as a technical wizard, who could solve the logistical challenges of miking-up artists as disparate as John Coltrane and Ray Charles. Mark Moormann's documentary covers the heights of Dowd's career, which means it's really a mini-history of popular music between 1950 and 1980. But the film is an introduction the art of recording, portrayed more spectacularly in a show-stopping scene of Dowd walking Moormann through each isolated track of Derek and the Dominos' "Layla" — with his own dexterity on display as much as Eric Clapton and Duane Allman's.
A party animal and a musical genius — with an angelic voice and a devilish nature — Harry Nilsson was viewed by the music industry and by many critics as someone who rarely realized his potential. And while John Scheinfeld's documentary Who Is Harry Nilsson buys too much into that phony "isn't a pity?" narrative (especially in the way it downplays Nilsson's more experimental, frequently brilliant mid-1970s albums), for the most part the director has enough convincing eyewitness interviews and archival footage to argue that Nilsson was more than just a guy with a couple of fluke hits and a reputation for dragging his famous friends into the boozy muck. If nothing else, Who Is Harry Nilsson makes its subject look like a true original: a pop craftsman who was too impish to cruise through life.
Although Little Richard's fiery performances, flamboyant style, sexual frankness, and gender fluidity directly influenced the likes of Prince, Janelle Monáe, and Lil Nas X, Lisa Cortés's Little Richard: I Am Everything begins by toting up all of the gospel and roadhouse pioneers (some of whom performed in makeup and androgynous clothing) that inspired him. With that out of the way, this film gives Richard Wayne Penniman the due that the music industry rarely did, documenting how an effeminate kid from Macon, Georgia, became a once-in-a-generation superstar. Cortés doesn't ignore the confounding contradictions of Little Richard's career: like how he was both openly gay and, at his most religious, hurtfully homophobic. But, as the film acknowledges, that unwillingness to choose definitively between the spiritual and the secular is what made his music so dangerous — and so thrilling.
Around the same time that Robert Altman spoofed the slick, celebrity side of Music City U.S.A. in his masterpiece Nashville, James Szalapski was hanging around the town — and in Austin, Texas, too — filming the new breed of politicized, rootsy singer-songwriters who'd come to be known as the backbone of the "outlaw country" movement. In semi-free-form, verité style, Heartworn Highways presents the casual jams and bull-sessions that bound together Guy Clark, Townes Van Zandt, David Allan Coe, Charlie Daniels, and the very young Steve Earle and Rodney Crowell. These artists were working outside the established country-music star factory, but writing songs so pure and true that Nashville had to pay attention. Heartworn Highways catches the offhand magic that they conjured, alone and together.
46.

Dig! (2004)
As fans of any music scene know, it's not always easy to predict — or even to understand — why some acts cross over to the mainstream while others languish. Ondi Timoner's Dig! examines this phenomenon via the diverging fortunes of two 1990s West Coast alt-rock groups: The Dandy Warhols and the Brian Jonestown Massacre. Members of both bands have said that Timoner exaggerated conflicts to make a more dramatic documentary, but there's still a lot of truth to what Dig! has to say about commercial compromises and prickly personalities. Overblown or not, the warts-and-all clips help illustrate why the artists who endure are often the ones who've figured out how to satisfy their backers and their muse.
During Rush's heyday, the Canadian trio was fiercely beloved by their fans and largely dismissed by rock critics; and while adoring Rush long ago ceased to be a guilty pleasure, the band still has a bit of a chip on their collective shoulder in Sam Dunn and Scot Mcfadyen's Beyond the Lighted Stage. But that works to the doc's advantage, because Geddy Lee, Neil Peart, and Alex Lifeson don't just tell their own story in the film — they defend it, dismissing charges that they started out too pretentious, then became too political, then turned too soft. They come across as intelligent, honest, decent guys, who've always headed off in whatever direction seemed most fruitful and exciting, whether or not any of their followers wanted to come along. It's that kind of artistic integrity onscreen that could make even non-fans into Rush lifers.
Riot grrrl leader Kathleen Hanna has led such an interesting life that it would be possible to make a film just about her as an activist, as a musician, or as someone whose career has been sidetracked by hard-to-classify health problems. Sini Anderson's The Punk Singer tackles it all, showing the little-known health struggles behind a living icon who craves constant creation, while peppering in some of the debate over whether Hanna's marriage to Beastie Boy Adam Horowitz has undercut her feminism. Anderson cuts frequently to fantastic footage of Bikini Kill, Le Tigre, and the Julie Ruin in action, making the case that however the audience feels about Hanna's politics, her contributions to modern music have been undervalued.
Director Alison Ellwood may not be a household name among movie or music buffs, but she has directed some of the best music docs and docuseries of recent years — including History of the Eagles and Laurel Canyon. The Go-Go's is Ellwood's best so far — and the most necessary. An in-depth look at the hit-making Los Angeles pop act, this film tells a story most rock critics and reporters glossed over in the 1980s, when these five women were often dismissed as cute but insubstantial. With the help of some brutally honest interviews, Ellwood tracks how a band born from the L.A. punk scene went on to craft some of the catchiest music of their era — before interpersonal conflict, drug abuse, and an exhausting amount of industry sexism made the ride to the top less fun.
Shortly before pioneering folk-rocker David Crosby died, he finally started getting some proper respect from all of the critics and cultural commentators who for decades paid more attention to his arrests, drug abuse and cranky attitude than to his haunting, exploratory songs. A.J. Eaton's documentary, Remember My Name, was part of that rep-boosting process, even though the film doesn't shy away from the hippie icon's biggest scandals. Veteran rock journalist and filmmaker Cameron Crowe handles the interviews with Crosby and gets disarmingly honest and reflective answers to questions about the controversies. But Eaton and Crowe are ultimately more interested in recalling the fertile Southern California scene that produced the Byrds and Crosby, Stills, Nash & Young — and appreciating how Crosby's talent, intensity, and creativity inspired his peers and moved his fans.
The Beatles have inspired a number of documentaries and fictionalized feature films, but none with the sweetness and insight of Ryan White's look at the life of Freda Kelly, the band's secretary. While the rest of the world got to know John, Paul, George, and Ringo as musical geniuses and style icons, Freda was the one who helped take care of their ordinary daily business, and made sure that their fan mail got answered. She was the Rosencrantz (or perhaps Guildenstern) to their Hamlet, watching them go through creative and personal changes from her little desk, back at an office that kept humming until the boys somewhat callously shut the party down.
Prince's rise to fame in the late '70s and early '80s had a lot to do with his live act, which impressed crowds and critics alike with its eclecticism, relentless energy, and subversive sexuality. Yet until Prince made the concert film Sign o' the Times (a nearly track-by-track re-creation of the album of the same name), fans who couldn't get tickets to his shows could only see fleeting glimpses of what he was like onstage: via music videos and his occasional TV and movie performances. The Artist even tried to make Sign o' the Times hard to watch, keeping it out of circulation after its initial limited theatrical run and VHS release. Since Prince's death, the film has finally become more widely available, belatedly boosting its reputation. And it's a good thing, too: This is an invaluable document of a revolutionary American musician in his heyday, inviting audiences into his intense, at-times-surreal world of funk, rock, gospel, and bump-and-grind.
When the United States cut off most of its cultural and economic exchange with Cuba in the early 1960s, many Cuban entertainers lost the international audience they'd enjoyed during the heyday of Havana nightlife. American guitarist and roots-music aficionado Ry Cooder brought some of those musicians into the studio to record an album, then over to Europe and the United States for a few concerts — all caught on film by accomplished German director Wim Wenders. The resulting Oscar-nominated documentary reveals a lot about life in Cuba under Castro, showing how being isolated from the global community led these artists to hone their craft while remaining beguilingly stuck in time.
Hendrix had only been dead for a few years when a trio of filmmakers (including legendary folk producer Joe Boyd and future Saturday Night Live contributor Gary Weis) gave the guitarist a proper eulogy, via this collection of memories and key live performances. After a while the stories and songs start to complement each other, until a long anecdote about Hendrix doing a show in Harlem becomes just as exciting as him playing a 12-minute version of "Machine Gun." Jimi Hendrix doesn't often get its due as one of the great rock docs, because it emerged in an era when the genre was still nascent. But anyone who wants to know who Hendrix was and why he mattered is better off starting here than with any of the bland biopics about him.
37.

Hype! (1996)
At one point in Doug Pray's documentary about the early 1990s Seattle grunge scene, a local journalist sums up the movie's entire thesis, saying, "When you see a pop-culture revolution from the inside, you realize how stupid the whole thing is." Because the alt-rock boom of 25 years ago coincided with the rise of the irony-attuned Generation X, the participants had a hard time taking their own success seriously — which may be why the truly creative artists of that time only had brief moments at the top before corporate copycats came for their sound. Hype! gets all of that on film, explaining how Seattle's cultural guardians built up international excitement for what was going on in their city, then quickly regretted all the attention that they themselves had demanded. Hype! has plenty of great rock and roll, proving that bands like Mudhoney, Pearl Jam, and Nirvana were the real deal.
There are few musicians who've had stranger careers than Scott Walker: an Ohio-born one-time teen idol who moved to the U.K., became a phenomenon in the 1960s fronting the moody pop act the Walker Brothers, drifted into country-rock in the early 1970s, and has leaned toward ever-more avant-garde music from the late 1970s to now. Stephen Kijak's 30th Century Man shifts between archival footage and new clips of Walker at work, painting a portrait of a man who can't even explain himself why he's done everything he's done, but who is still driven to realize the grand sounds inside his head.
Proving once again that sometimes it's the relative unknowns who make the best subjects for a music doc, A Band Called Death is a satisfying, almost epic saga, recounting what happened when three African-American brothers started a proto-punk band in early 1970s Detroit. The film covers the various kinds of discrimination that Bobby, Dannis, and David Hackney faced — both from people who expected black musicians to play R&B and from industry types who found their sound too raw — and gets into the personal problems that ensued after Death died. There's even a redemptive third act, as the Hackneys' records are rediscovered by the new generation of musical archivists who go looking for the unjustly forgotten. A Band Called Death should reassure every talented but struggling group that if they're original and passionate enough, there's always a chance that their work will eventually be appreciated; it just may take a few decades.
Despite being backed initially by the world-famous Andy Warhol, the Velvet Underground were so obscure during their late-1960s heyday that very little footage exists of the band in action. So for this documentary, director Todd Haynes leans heavily on beautifully shot, portraitlike interviews with some of the people who ran in the same circles as the band's Lou Reed and John Cale. Haynes then illustrates those conversations with clips from some of the avant-garde films emerging from the New York art world at the time. The images match the VU sound, which melds primitivist garage rock, avant-garde noise, and poetic explorations of the demimonde. This movie tells a fascinating story about artists toiling in the shadows and finding beauty in darkness, but it also attempts to re-create what it was like to be alive and adventurous in a heady era of New York decadence and creativity.
Gospel music has a subculture all its own, with a performing and recording circuit that largely exists outside the mainstream. George Nierenberg's Say Amen, Somebody treats these lesser-known histories and personalities with the same seriousness with which other filmmakers have treated the stories of big-time bands or iconic music scenes. More importantly, Nierenberg revels in the rapturous performances of veteran singers, making it clear why this chapter in American musical history matters. Roger Ebert nailed the spirit of Say Amen, Somebody when he called it "one of the most joyful movies I've ever seen."
It took 40 years for Les Blank's documentary about Leon Russell to get a theatrical release, reportedly because the subject initially hated what the director did with the footage he'd compiled over two years of shooting. As much an impressionistic study of life in Oklahoma and Nashville as it is a film about the roots-rock cult favorite, A Poem Is a Naked Person paints Russell as a somewhat obnoxious, materialistic embodiment of the music business. But the movie contains some smoking-hot performances by Russell and some of his peers, and overall it's a sensitive and artful sketch of America in the early 1970s. Thank goodness Russell eventually decided to allow it to be seen — even if he did wait until after Blank's death.
After languishing in bad movies throughout most of the 1960s — during an era when rock music as a whole was becoming the sound of the times — Elvis Presley had a commercial and critical comeback at the end of the decade, then immediately cashed in by becoming one of the highest-paid performers in Las Vegas. The reputation of Vegas Elvis isn't the highest, so the fly-on-the-wall doc That's the Way It Is makes for a necessary corrective to the conventional wisdom, showing that the "back to basics" country-rock sound that Presley started pursuing circa 1968 continued when settled in Nevada. This is a winning portrait of the more down-to-earth King of Rock 'n' Roll who emerged in the 1970s: one who was looser, funnier, and more flawed, but still capable of raising hell with some of the fiercest backing musicians ever assembled.
Brett Morgen's music documentaries (including Crossfire Hurricane and Kurt Cobain: Montage of Heck) aren't intended to offer a remedial education about their subjects. They're meant to drop viewers deep inside of those artists' experiences, showing the world through the eyes of geniuses. The sprawling and sensational cinematic experience Moonage Daydream makes great use of the David Bowie estate's vast archive of audio and video and combines old interviews, performances, and news footage in a kaleidoscopic rock epic cranked up so loud that it becomes an almost overwhelming barrage of sound and vision. The film is rooted in Bowie's many metamorphoses as a public figure, suggesting that, more than anything, he was a brilliant actor — sometimes disappearing into the role of the oddball rock star both to entertain his fans and to shield his real self from view.
There's a lot going on in director Morgan Neville's salute to backup singers. 20 Feet From Stardom is a history lesson, putting names to the voices who enlivened the likes of the Rolling Stones' "Gimme Shelter" and David Bowie's "Young Americans." It's a slice of life, showing what it's like to make a living on the side of the stage. Along the way, the movie asks questions about whether the music industry marginalizes talented women — and black women especially — using them for their "soul" and sex appeal but not letting them graduate to solo careers. 20 Feet From Stardom is feisty and insightful, and filled with classic songs. It's no wonder that it became the rare music doc to win an Oscar.
It's not often that a documentarian embeds with a band that's going through as much turmoil as Wilco did circa 2001, when frontman Jeff Tweedy fired one of his chief creative partners, Jay Bennett, at the same time that his major label, Reprise, him cut him loose for making so-called unmarketable music. Sam Jones's visually striking black-and-white film features both the seeds and the flowering of all these various crises, while maintaining a nonjudgmental distance from the band and its process. The film's satisfying relief comes when the band lands fourth LP Yankee Hotel Foxtrot at new label Nonesuch, one of Warner Music's many subsidiaries including Reprise — which means Wilco was paid twice by the same company for the album, a masterpiece that cemented them as indie-rock royalty. But I Am Trying to Break Your Heart finds Tweedy & Co. at a time of great uncertainty, torn apart by too many potential musical directions and not enough support from the folks writing the checks.
Accomplished documentarian Amir Bar-Lev gives the Grateful Dead the four-hour, career-spanning treatment, but makes the larger story easier to digest by breaking it into smaller pieces, each of which has its own winding narrative flow. In a way, Long Strange Trip is a movie about minutiae, with segments on seemingly minor details like the Dead's massive amplifiers, the fans' bootleg-trading community, and the competitive culture within the band's road crew. Again and again, Long Strange Trip starts with what seems to be just some fun, fascinating aside, which Bar-Lev and his team of editors then gradually and gracefully plug back into the mythology of a hardworking band that tried — sometimes recklessly — to live up to its legend.
If nothing else, fashion photographer Bruce Weber's documentary about troubled jazz great Chet Baker looks fantastic, with stark, stunningly composed shots of a desiccated Baker at the end of his life providing a contrast to the young, handsome fellow he once was. Let's Get Lost is equally admiring and despairing, offering a fairly thorough overview of Baker's spiky career — with friends and jazzophiles explaining the significance of his recordings of songs like "My Funny Valentine" and "But Not for Me" — while exposing what heroin addiction and a lingering inferiority complex did to the man. This is a rich, layered film, both in love with the image of the melancholy wastrel artist and aware of the reality behind the pretty picture.
The problem with championing broken, unstable artists as more "authentic" is that fans may be encouraging them to be more destructive than creative. Or at least that's one of the points made by Jeff Feuerzeig's complicated film about Daniel Johnston, a mentally ill singer-songwriter who's created some strange and beautiful music, while being a burden to his family and a danger to his friends. Without discounting the wondrous songs that Johnston has created — catchy, childlike home recordings, with a crude charm — The Devil and Daniel Johnston considers the real toll that being "a mad genius" takes on those in the immediate vicinity.
Even though the sequel's superior, that's no knock against the first of Penelope Spheeris's L.A.-set Decline films. The initial installment sets the tone for the series, balancing rough-hewn performances (by Black Flag, X, Circle Jerks, and Fear, among others) with frank fan interviews and somewhat sad offstage footage of the bands in their daily lives. Spheeris sees the connection between artist and audience, showing them as mutually, almost symbiotically, damaged. Historically speaking, this movie is important as a record of West Coast punk in its initial flowering. Cinematically, it's a poignant expression of frustration and melancholy.
The best of the recent wave of "the unsung heroes behind the stars" docs, Danny Tedesco's The Wrecking Crew honors the in-demand Los Angeles studio musicians who helped revolutionize the sound of pop and rock in the 1960s, bridging the gaps between Frank Sinatra and the Byrds. As the son of one of those grinders (Tommy), Tedesco has known these men (and one woman, bassist Carol Kaye) his entire life, and is able to get nearly everyone who matters to go on the record, from the unknown day-players who quietly made millions, to the artists like Leon Russell and Glen Campbell who soon moved toward center stage. Filled with great music and anecdotes — including some remarkable origin stories for songs like "A Taste of Honey," "Wichita Lineman," and "Good Vibrations" — The Wrecking Crew is a welcome reminder that even in an era when singer-songwriter-producer-genius was becoming a more common job title, music remained a collaborative art form.
In 1958, Esquire photographer Art Kane gathered 57 of the era's best-known jazz musicians in front of a Harlem brownstone for a photograph that encapsulated the past and future of a great American art form. Jean Bach's Oscar-nominated documentary A Great Day in Harlem uses home-movie footage and interviews to tell the story of how the picture came together, and to convey both the sense of community and the complex personalities that bound the jazz community. Mostly, the movie lets its audience take a good long look at the likes of Count Basie, Dizzy Gillespie, Thelonious Monk, Gerry Mulligan, Sonny Rollins, Charles Mingus, Gene Krupa, and Marian McPartland, all dressed up in their finest and representing decades of phenomenal music.
Julien Temple atoned for his messy, myth-shredding 1980 Sex Pistols film The Great Rock and Roll Swindle by revisiting the band's story with a greater sense of perspective and awe 20 years later. The Filth and the Fury still acknowledges the central contradiction of the Pistols — bomb-throwing nihilists who knew they'd invalidate everything they stood for if they lasted long enough to leave a real legacy — but Temple's second stab at telling the group's story says more about the dystopian Britain that nurtured them, and is more generally admiring of both their flipping off of the Establishment and their actual music. There's no way to trace the evolution of rock in the 1970s (and beyond) without understanding the Sex Pistols; The Filth and the Fury is a fine way to get that education.
20.

Amy (2015)
Amy Winehouse died way too soon, leaving behind one of the best albums of the 2000s (Back to Black) and lingering questions about what might've been. Asia Kapadia's documentary celebrates Winehouse's chops and her ability to make old-school R&B relevant today; but more than anything, Amy is an inquiry. By examining the singer's drug abuse — coupled with the intense demands that the media and the music business make on young stars — the film asks whether this particular tragedy was the result of a perfect storm of sickness, on both sides of the microphone. What's most heartbreaking about Amy is that all its previously unseen footage shows a complex young woman that the public never really got to know, because it was easier both for the singer and the tabloids to sell a simpler story of reckless self-indulgence.
It's Madonna Louise Ciccone's sublime self-awareness that makes Truth or Dare such a kick. Knowing that everything she'd do in front of director Alek Keshishian's cameras would be scrutinized by fans and critics alike, Madonna put on a show, obliterating the line between her private life and her public persona. She does a provocative bump-and-grind onstage, then backstage fellates an Evian bottle in between explicit conversations about sex with her gay backup dancers. She lets Keshishian keep in her guarded boyfriend Warren Beatty's criticism of her exhibitionism, and her own snide remarks about Kevin Costner and Oprah Winfrey. She has awkward encounters with old friends and family who remember her as a working-class kid from Detroit. The entire movie seems designed — by Madonna herself — to force the audience to question who "Madonna" is. The line between performance art and brand-building has never been so thin.
There have been several good documentaries about "the only band that mattered," including The Rise and Fall of the Clash and Joe Strummer: The Future Is Unwritten. But the best of the bunch is the most concise. Don Letts's Westway to the World rockets through the quartet's brief history, beginning with their origins in the working-class, politicized wing of 1970s British punk, then showing how the eclectic, musically ambitious Strummer and the pop-savvy Mick Jones quickly expanded the Clash's sound to encompass their own distinctive combination of reggae, world beat, rockabilly, and U.K. pub rowdiness. In addition to telling the tale of punk's greatest export, Westway to the World captures the sense of regret from all concerned — that they couldn't step back far enough to see what an amazing thing they had going, and instead let petty personal squabbles and a general exhaustion destroy a fruitful artistic endeavor.
Because it's about a briefly semi-popular heavy-metal band hanging on to their rock-star dreams a few years too long, Anvil! has been called "a real-life Spinal Tap." But while the movie can be funny — and Anvil front man Steve "Lips" Kudlow can come across as comically naive and hopeful — director Sacha Gervasi aims for something a little more thoughtful here. Seen one way, this is a movie about a couple of lifelong friends who've talked themselves into delusions of grandeur, and keep throwing their money away on promoters and producers who can't really do much for them. But spun more positively, Anvil! follows musicians who keep scrounging enough cash to make records and tour the world, playing for a small but devoted group of fans. Their stick-to-itiveness is pathetic — and poignant.
The main focus of Tony Silver's landmark documentary is the rise of graffiti artists in New York City circa 1980, and their ongoing battles with the authorities and with each other. But in order to put the graffiti into a larger perspective, Silver looks at street-corner break-dancers and the burgeoning hip-hop scene, showing how it all fits together into something positive: young, poor, inner-city New Yorkers using their limited resources to express themselves. When Style Wars started airing on TV in 1983, kids of varying backgrounds around the country were inspired by the dancing and rapping to try it themselves.
Few modern pop stars have been as conscious of what to do with their popularity as Beyoncé, who's repaid her fans' faith by delivering inspiring feminist empowerment anthems, intensely personal heartbreak songs, and music that both synthesizes and celebrates diverse aspects of the black experience. Beyoncé's sublime self-awareness and her understanding of the power of identity reached its peak (so far) with her 2018 Coachella performance, which she spent over a month rehearsing, working with a marching band and dozens of dancers. While running through her formidable lineup of hits, Queen Bey creates an experience akin to halftime at HBCU sporting events, filled with propulsive percussion, dazzling patterned movement, and a sense of community. Homecoming isn't just a professional recording of the concert. It's a look behind the scenes at the massive effort it took to mount this one show. It's a remarkable testament to the savvy and talent of this era's greatest R&B idol.
In recent years, Metallica has expressed some regret over letting filmmakers Joe Berlinger and Bruce Sinofsky document the long, torturous process that led to their 2003 album St. Anger. But the band's openness was a gift to music buffs, who got some insight into how a heavy-metal band with millions of dollars at their disposal spends their time and cash. In Some Kind of Monster at least, a lot of Metallica's daily agenda seems geared toward just keeping the machinery running, even if that means group-therapy sessions and long, contentious arguments over whether the drum sound on one song feels "stock." Given the mixed reception to St. Anger, this movie serves as the record's extended liner notes, explaining how near-impossible it can be to produce inspired work under enormous internal and external pressure.
Jazz pianist Thelonious Monk was deeply admired by his peers in large part because his sophisticated melodic sense and his feel for improvisation seemed inexplicable, given how foggy the man could be when he was away from his instrument. Charlotte Zwerin's Straight, No Chaser is built around footage shot for a 1967 German TV special about Monk, and it has Monk in all his strange glory, onstage and off. Through the vintage film, old photos, and interviews with the pianist's family and colleagues, the movie tries to get to the bottom of how someone who seemed so lost so much of the time could make music so on-target. Jazz musicians tend to inspire stories about inspiration, addiction, and eccentricity; but it's rare to get such an intimate look at a troubled genius.
Because Martin Scorsese was palling around a lot with Robbie Robertson in the 1970s, he gave the Band's chief songwriter and spokesman a lot of screen time in The Last Waltz, letting him wax world-weary about how hard it is to be a touring musician. But that's a minor flaw in a major contribution to the rock-and-roll-documentary form. The Band did a lot of the work for Scorsese by calling up some of the most popular acts of the 1960s and 1970s, including Bob Dylan, Joni Mitchell, Eric Clapton, Neil Young (and, um, Neil Diamond). But this still feels like a personal film for the iconic director, who lovingly shoots some of his musical heroes and positions the San Francisco concert hall (the Winterland Ballroom) where this so-called farewell concert took place as some kind of enchanted wonderland, safeguarding the best of an aging generation.
The problem with documentaries about the Who or the Stones is that from the grandest legends to the tiniest anecdotes, those acts' stories are well-known by fans. Malik Bendjelloul's Searching for Sugar Man is a music doc aimed at people who prefer to find a magnificent old album in the dollar bin (then become desperate to figure out where it came from). It's about the mystery of Rodriguez, a Detroit-based folk-soul singer-songwriter who couldn't crack many radio playlists back in the 1970s, but inexplicably became a hero to anti-apartheid activists in South Africa — even though he'd never toured there. Bendjelloul collects the fan rumors about who Rodriguez was and what happened to him, then he and his collaborators go looking for the truth, unearthing a fascinating, moving tale about pop mythology, the vicissitudes of the recording industry, and how a great tune endures.
For hard-core fans of particular artists, the documentaries made about them can be frustrating, because they're too heavy on the pontificating and too low on the music. That's not a problem with The Kids Are Alright, Jeff Stein's compilation of archival performances by the Who. The interview segments are short and generally amusing (and were later parodied in the mock-doc This Is Spinal Tap), and the variety of material minimizes the monotony that can set in with a straight-up concert film. The film has such a simple, useful structure that it's surprising that more music-themed nonfiction films don't copy it. Stein mostly stays out of the way, and lets old footage of the most dynamic, visually oriented band in British rock speak for itself.
There have been several good documentaries made about the early days of hip-hop, and some about the lives and times of particular acts, but Kevin Fitzgerald's Freestyle takes an interesting approach in that it's about the raw material of rap: the rhyme itself. In between exciting footage of rap battles, Freestyle hears from dozens of artists (including the Roots, Jurassic 5, and Mos Def) with differing opinions about whether improvisation is essential to their music, or whether it's more artful — and more respectful to the audience — to write lyrics down, then hone them. Through all the conversations about inspiration and attitude, Fitzgerald opens the genre up even for the non-connoisseur, explicating its nuances.
Bob Dylan started out as one of the most stylistically distinctive and culturally plugged-in of the Greenwich Village folkies, but by the time D.A. Pennebaker followed him around Europe for the film Don't Look Back, he'd become more of a mysterious, inscrutable character. Pennebaker shows him sparring with reporters, mocking his peers, and challenging audiences with his more abstract, poetic new musical direction. Pop and rock stars from Madonna to Bono have followed the lead of Dylan in Don't Look Back — not with their songs, but with their public personas. This movie is like the blueprint on how to be a modern celebrity: at once arrogant and ironic.
Though it's famous as the movie that exposed the chaos of Altamont — and the murder that happened just in front of the festival stage — there's more to Gimme Shelter than just one moment. Albert Maysles, David Maysles, and Charlotte Zwerin followed the Rolling Stones across an America that was descending into violence in 1969, and they filmed the surreal spectacle that surrounded a band of rich musicians who loved the music of poor folks. It's the filmmakers' meditation on how counterculture heroes were inspired by the madness of their times, but tried — and often failed — to keep it at arm's length. Gimme Shelter includes some fiery Stones performances, woven into a picture that plays as much like a cinematic essay on the cultural sea change of the late 1960s as it does a rock doc on one of the era's greats.
Originally shot in 1972, director Sydney Pollack's film of Aretha Franklin's two-night live recording session for her gospel album Amazing Grace sat on a shelf for decades, held up first by technical snafus, then by legal disputes. The finished version premiered three months after Franklin's death, and is a wondrous, miraculous thing. Though it ostensibly just records about a dozen songs that Franklin belted out in a sweltering Los Angeles church — surrounded by a choir that both supported her and were transported by her — Amazing Grace is a document of a movie crew scrambling to figure out the best way to capture the magic happening right in front of their eyes, and it's the story of the crowds that packed into the chapel on the second night once they heard about the electric performances happening inside. At the center of the hubbub is a stoic, silent Franklin, who says nary a word between numbers, even as others are stepping up to the microphone to sing her praises. She's like a visitation from above, who could at any moment fade right back to from whence she came.
Anyone who still somehow doubts that a turntable can be a musical instrument should watch Doug Pray's brilliant deep dive into the culture of spinning and sampling. Beginning with the origins of hip-hop — and the way innovators like GrandMixer DXT, Jam Master Jay, and Double Dee & Steinski used record players as both percussion and hook-generating machines — Scratch proceeds to cover more sophisticated, almost avant-garde modern artists like DJ Shadow and DJ Qbert. The film is both a primer for those who know nothing about terms like "crate-digging," and a thrilling collection of performances, with Pray's lingering over scratchers' hands to show that they're as nimble and skilled as any guitarist's. Ultimately, Scratch does what a great music documentary should do: it not only deeply understands the larger culture it's chronicling, it covers it so well that even someone who knows nothing about it will come away feeling invested.
The 1969 Harlem Cultural Festival might've faded from memory if Ahmir "Questlove" Thompson hadn't turned rarely seen performance footage from the summerlong event into this Oscar-winning documentary, which features electrifying music from the likes of Sly and the Family Stone, Gladys Knight & the Pips, Nina Simone, the Staple Singers, and the 5th Dimension alongside vintage news clips and new interviews. The boldest (and most divisive) creative choice that Questlove makes here is to weave freely and intuitively between these elements rather than partitioning the film into "musician performs," followed by "talking heads comment," and repeat. There's still plenty of exciting live music here, but Summer of Soul makes the songs more meaningful both by creating a historical context around them and setting a reflective tone.
Jonathan Demme's concert film is devoid of interviews, and lacks any overt attempts to contextualize the music of Talking Heads, but it's still a documentary in its way, because it has a narrative, and it frames a reality. Bandleader David Byrne came up with a highly conceptual stage show for the Heads' 1983 tour, starting with just himself on the stage, then adding one more member for each song in the first set, and one prop or striking visual element per song for the second set. It was Demme's job to make those changes noticeable, framing them up nicely to show how modern and innovative Byrne's ideas and designs were, and keeping track of the effects the performance was having on the musicians. He treats the players like characters in one of his own fiction movies, noticing every time they smile or interject or give the gig a little extra oomph. Through music and movement alone, Stop Making Sense documents what it was like to be a member of Talking Heads — and a patron of cool — in the early 1980s. Stylistically, his techniques forever elevated the concert film genre.
Because heavy metal isn't as "cool" as punk rock, the second installment of Penelope Spheeris's Decline trilogy sometimes gets the short shrift from those who prefer the spikier first one. But The Metal Years is the more meaningful film: an at-times-painfully-honest portrait of the superstars and wannabes who shared space on the Sunset Strip in the late 1980s. Spheeris captures rich rockers mired in self-loathing (like W.A.S.P. guitarist Chris Holmes, who spends his scenes getting hammered in his pool), and up-and-comers who refuse to believe they won't make it big someday. She talks to the fans who spread their allegiances between both camps. This is a movie about what happens when a materialistic culture meets a genre that promotes power fantasies, combining to create unrealistic expectations. It's a damning inquiry into the lies that sustain rock culture.
It's sometimes hard to think of Woodstock as anything other than the enshrinement (for better or worse) of the entire 1960s counterculture: its political idealism, its communal spirit, and its electrifying music. But director Michael Wadleigh always meant Woodstock to be a cinema verité report on an event, not a museum piece. As a result, this film looks better with each passing year, as the backlash against the boomer generation fades, and as Wadleigh's footage ceases to be a lazy way for broadcast journalists and documentarians to sum up an entire decade. Seen as a whole, Woodstock tells a more complete story, weaving epochal performances by Jimi Hendrix, the Who, Sly & the Family Stone, and more into a movie about ridiculously young-looking kids realizing — with both pleasure and paranoia — that they have the power to create their own "Establishment," taking the best of what their parents taught them and adding casual sex, clouds of pot smoke, and ear-splitting rock and roll.