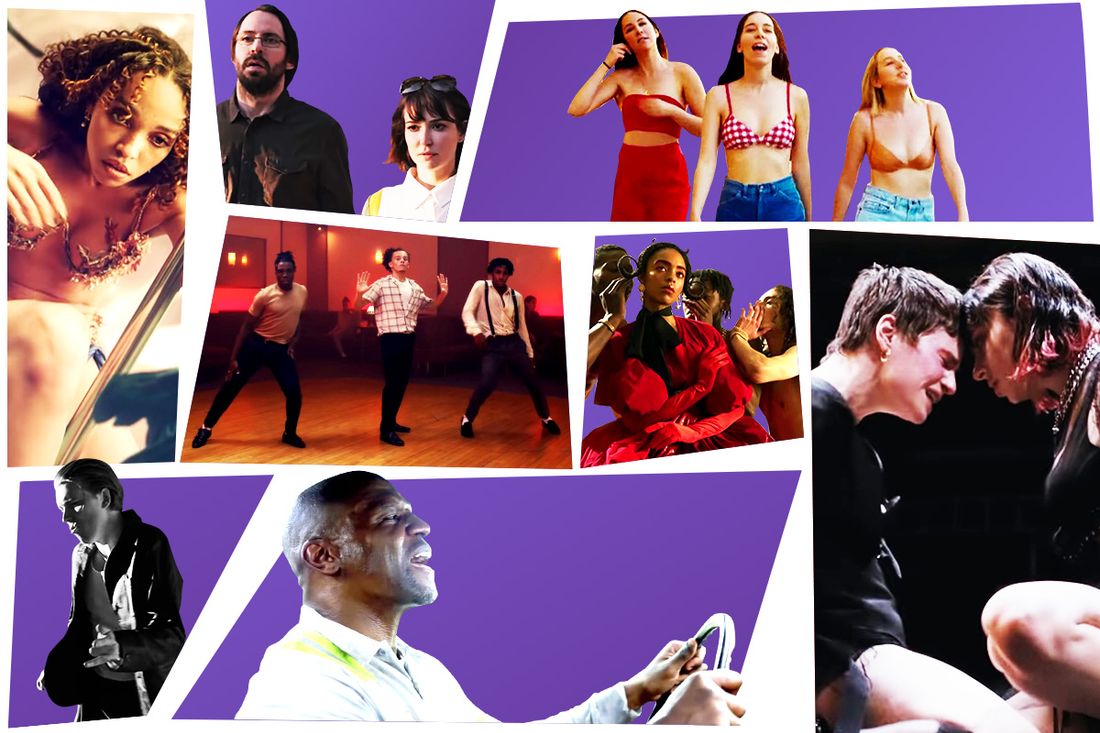 It's been a muted year for music videos, but there were still plenty of hidden gems.
Photo-Illustration: Vulture and Photos by Youtube
Unlike 2018 — when Childish Gambino's "This Is America" took the internet by storm — it's been a muted year for music videos. No big visual album since Solange's When I Get Home, no splashy DIY masterpiece. But that doesn't mean there weren't plenty of hidden gems along the way. Below you'll find 2019's most thought-provoking and just plain joyful music videos, as chosen by Anatomy of a Music Video creator and NPR Fresh Air producer Mooj Zadie.
10. Jungle, "Casio"
The English soul music collective Jungle is known for their one-shot dance videos. "Casio" is their tenth music video directed by Josh Lloyd-Watson, one-half of Jungle, who often works with the same dancers, choreographer, and cinematographer. The collaboration — less contrived and more effortless this time — fully shines. The smooth moves beckon us to hit pause, step away from the internet, and join a dance class. Plus, Lloyd-Watson incorporates a subtle narrative of a man trying to woo a lady with his dance moves only to be told she's just here to shake it off. The video is a reminder that impeccable dancing and good music always go well together.
9. Charli XCX & Christine and the Queens, "Gone"
Charli XCX's artistic acumen once again excels in her explosive duet, "Gone," with Christine and the Queens. For its visual companion, Charli extends her collaboration with Chris to the French pop queen's three-time music-video director Colin Solal Cardo. He also directed Charli's "White Mercedes" and Robyn's "Ever Again" videos this year. In "Gone," the singers battle the rain while tied to opposite sides of a white car. The fashion is divine. The body language is seductive. The sexual tension is thick. It's fanbait, and it works splendidly.
8. Pearl City, "Friends"
Take Freaks and Geeks, mix it with Harmony Korine's first cult-classic film Gummo, and you'll end up with the visual for "Friends." Two outkast boys spend the day working out, playing arcade games, and watching female bodybuilders compete in a women's physique competition. Whether it's a meditation on masculinity or an acute nostalgia for our youth, the video is a captivating look at bodies rarely seen in the media, especially in the model-saturated world of music videos.
Why Paul Thomas Anderson has an ongoing collaboration directing music videos for Haim is beyond me. Of course, famous film directors turning to music videos is nothing new, but Anderson and the band have worked together seven (7!) times. "Summer Girl" is their most whimsical video. The trio of sisters, Danielle, Este, and Alana, walk around Los Angeles while undressing one item of clothing at a time, shedding winter coats for summer shorts. It's a beautiful homage to L.A. and that summer feeling of warm sun on your skin.
Director Saman Kesh is who you turn to when you want an unconventional music video. His past work includes a video about a lab-engineered rubber butt that twerks called TW3RK-BOT 1.0 and a first-person-POV road-trip adventure gone wrong which won a SXSW Best Music Video award in 2010. The concept of the "Hungry Child" video is brilliant. A couple bickers over a song ("Hungry Child") that's inexplicably started playing. They search the house to try to find its source. But nada. A therapist suggests listening to the lyrics. Eventually — spoiler! — the couple realizes the source of the music: their bad relationship. So they break up. And the spell dissipates. It's original and risky and a delight to watch.
FKA twigs is the child of dancers and, before her career took off, was a longtime backup dancer in big-budget music videos. In the video for "Cellophane," FKA twigs takes center stage, covered in gold. She then proceeds to pole dance and climb up to heaven. There, she encounters an alien fly in her image, causing her to lose balance and fall down to a mud-filled underworld. Directed by Björk collaborator Andrew Thomas Huang, it's a human-and-CGI masterpiece.
4. Brittany Howard, "Stay High"
Brittany Howard grew up poor in a trailer park. She started working at 14 years old, sometimes holding down two jobs at once, and only quit service work after starting the Grammy Award–winning band Alabama Shakes. "Stay High" is the first single of her new solo career. The song is a reminder to stay positive in these hard times. But the visual, which tracks Terry Crews as a factory worker driving home at 5 p.m., makes it a contender for best new anthem for the working class. Brittany tells Song Exploder, "Get that ugly thing off your face" means quit frowning. The video takes it a step further, it leaves us beaming.
In "Glad He's Gone," Tove consoles her friend through a breakup. She does this on the phone while walking exotic lands, stopping a robbery, killing a man, getting handcuffed, appearing in court, escaping from jail, and even going underground. (At 2:50, there's a musical pause — technically called "The Clearmountain Pause" — and its visual counterpart, Tove on the lam, is utterly comical.) By the end, there's no denying Tove is a bona fide, cold-blooded criminal. But despite her transformation, she never loses sight of what matters most: her heartbroken friend. The whole thing really gives new meaning to ride or die.
The opening shot in "Foreign Car" of muscles flexing in front of a red backdrop juxtaposed with the sound of a car engine revving perfectly sets the tone for what's to come — art and opulence galore. Lu poses with one foreign car (a Ferrari) and lots of men (all shirtless). Yet despite the allure of everything surrounding her, nothing measures up toLu's glamour. Every frame is like a painting.
A four-minute song on old-school male toxicity rendered beautifully in a 17-minute mockumentary about an egotistical male director, "Marlon Brando" is riddled with awkward gaffes and funny gags. Directed by Girls actor Jemima Kirke, the cast features John Early and other comedians who all probably have a podcast while also guest-starring on each other's podcasts. In the end, we see Early crying on set at the beautiful music video he made, but really it's Kirke who's the true talent, and a fresh new voice in the male-dominated world of music-video directors.