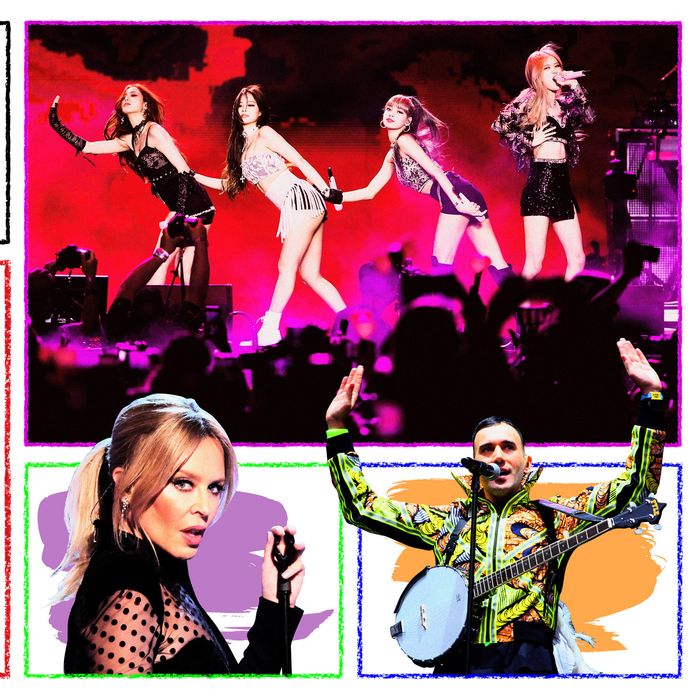 Photo-Illustration: Vulture and Getty Images
It's almost cruel to be expected to release new music during a world-altering pandemic, when touring isn't an option, spending money is tight, and every song gets interpreted through the new lens of our shared context. Yet, whether out of choice or necessity, musicians have continued to show up, and their music has felt all the more powerful for accompanying us through the confusion and upheaval of 2020. As this year goes on, music remains one of the only certainties: It's going to keep coming out, and we're going to keep leaning on it as things get tough. Here are 49 albums we can't wait to hear this fall, from the ones already on the books to the ones that we could really use right about now.
When it came out in 2012, Big Sean's mixtape Detroit was a crowning achievement, an ode to his hometown that crashed DatPiff upon release. He's returning eight years later for a sequel album that could be his best work ever. Nipsey Hussle–featuring lead single "Deep Reverence" boasts some of Sean's most impressive, reflective bars.
Bill Callahan, Gold Record
The lo-fi singer-songwriter is on a prolific streak once more, releasing a second album in just over a year's time after a previous six-year drought. Never one for formalities, Callahan has been releasing a track per week in the runup to Gold Record. The epic "Pigeons" and damning "Protest Song" already rank among his classics.
Hannah Georgas, All That Emotion
After touring with the National for their latest release, I Am Easy to Find, indie pop singer-songwriter Hannah Georgas turned to Aaron Dessner to work on her latest album. Dessner since guided the planet's biggest pop star on her "indie folk" turn, but expect less organic sounds on All That Emotion, paired with Georgas' soul-baring reflections.
Lana Del Rey, Chemtrails Over the Country Club
After the social critique of Norman Fucking Rockwell, Lana Del Rey might be out of things to say. "My friends tell me to stop calling 911 on the culture," she says in a recent poem, "But it's either that or I 5150 myself." Her first collection of music after those ill-advised Instagram posts, promising songs like "Tulsa Jesus Freak," will test her legacy. It's unclear if the album will still arrive as scheduled; in a September 1 Instagram from the set of the music video for the title track, Lana said only that it's coming "soon."
Waylon Payne, Blue Eyes, the Harlot, the Queer, the Pusher, & Me
Country music is in Waylon Payne's blood: His dad played guitar for Willie Nelson, his mom Sammi Smith won a Grammy for a hit Kris Kristofferson cover, he's named for his godfather Waylon Jennings. His first album in 16 years, touching on his queerness and struggles with addiction, has the same heart as those classics.
A.G. Cook, Apple
Following the PC Music mastermind's monstrous 49-track set 7G is a much more digestible affair: Apple, a cohesive 10-track effort more deservingly called a "debut." Cook's years as creative director for Charli XCX bleed over to this release, with some of his most heartfelt music hiding behind the dissonance.
Anjimile, Giver Taker
First and foremost, Anjimile's songs are for them. The Boston performer wrote lead single "Maker" in 2015 while trying to get sober; playing it two years later helped them realize they were trans. After making their name off popular demos, debut Giver Taker is polished and dynamic, citing influences from Sufjan Stevens to The Lion King.
Ava Max, Heaven & Hell
If you long for the big-synth anthems of the early 2010s, but can't bear listening to Dr. Luke in 2020, Ava Max has an album for you. Playful new single "Who's Laughing Now" proves that Max and right-hand producer Cirkut are far from flukes, two years after their breakthrough with "Sweet but Psycho," which is still stuck in your head somewhere.
MAX, Colour Vision
You'd never know MAX was a former Nickelodeon star from his music — he even dropped his last name shortly after he left Nick series How to Rock. His third album Colour Vision features some of his most developed and catchy songs yet, with a packed guestlist including Hayley Kiyoko, Chromeo, and BTS rapper Suga.
2 Chainz, So Help Me God
2 Chainz has been on an especially good run since his 2017 record Pretty Girls Like Trap Music, but as he recently reminded us during his Verzuz matchup with Rick Ross, the old hits hold up, too. Expect more swaggering bars on So Help Me God — and if new Lil Wayne collab "Money Maker" is any indicator, ColleGrove 2 won't be far behind.
Beverly Glenn-Copeland, Transmissions: The Music of Beverly Glenn-Copeland
Pioneering electronic musician Beverly Glenn-Copeland isn't releasing his first album in years under the circumstances he deserves: Copeland planned to tour the U.S. for the first time ever; the lost income put him and his wife in dire financial straits. Yet that won't stop him from releasing Transmissions, featuring tracks dating back to 1970 as well as new songs like the deliberate "River Dream."
Carrie Underwood, My Gift
After releasing five wonderful Christmas covers on a 2008 deluxe of her second album Carnival Ride (otherwise featuring burners like "Last Name"), Underwood has stayed away from holiday music. Maybe she was saving her power for a time like this, as she prepares album My Gift, rooted in "the true meaning of Christmas."
Machine Gun Kelly, Tickets to My Downfall
He's caught more attention lately for his new relationship with Megan Fox, but look past that and find Machine Gun Kelly leaning further into the rock tendencies he explored on 2019's Hotel Diablo. He linked with blink-182 drummer Travis Barker, previously featured on standout "I Think I'm Okay," to produce Tickets to My Downfall.
Marie Davidson & L'Œil Nu, Renegade Breakdown
"There are no money makers on this record," Canadian producer Marie Davidson promises on the title track from her collaboration with her husband Pierre Guerineau and Asaël R. Robitaille. Except, of course, for winning production and the hypnotically delivered takedowns of club culture that made Davidson's 2018 album Working Class Woman a standout.
Public Enemy, What You Gonna Do When the Grid Goes Down
When the country needs them the most, Public Enemy isn't just returning with a new record — the group is back on original label Def Jam for the first time in over 20 years, complete with Flavor Flav after Chuck D's April foolery. First offering "State of the Union (STFU)" is a direct hit to Donald Trump.
Róisín Murphy, Róisín Machine
Twenty-five years after her debut with Moloko, Róisín Murphy remains one of the most underrated performers in dance music. She's also making some of her best music ever — glistening post-disco tracks that luxuriate in minuteslong slow builds. Murphy reaches back to 2013 for this album, but newer cuts like the yearning "Something More" feel distinctly present.
Sad13, Haunted Painting
It's hard to imagine Speedy Ortiz's prolific Sadie Dupuis ever having writer's block, but that's what preceded Haunted Painting, her second release under poppier solo project Sad13. She confronts the grief that held her back directly on Haunted Painting, making both some of her most infectious and most adventurous music ever in the process.
Sufjan Stevens, The Ascension
Sufjan Stevens' 50 states album project failed, but The Ascension may be his album for the whole country. That's what it sounds like from lead single "America," a 12-minute sprawl expressing an uncharacteristic lack of faith from the singer-songwriter. The track also promises a return to grander sounds after 2015's hushed Carrie & Lowell.
Tim Heidecker, Fear of Death
The musical half of Tim & Eric opens his circle of collaborators on his latest, a concept album focused on death. Weyes Blood's Natalie Mering and The Lemon Twigs' Brian and Michael D'Addario join, along with previous collaborator Jonathan Rado of Foxygen, for Heidecker's biggest attempt at indie rock cred yet.
Bartees Strange, Live Forever
Everyone wants to be post-genre these days; few live up to it like Bartees Strange. There are flashes of punk rock, rap, country, church music, and even Christian rock on his electrifying debut Live Forever, which itself follows a hit EP of National covers. None of the sounds clash, though — his music sounds wholly singular.
Blackpink, Blackpink: The Album
Blackpink has logged collabs with today's pop greats, from Lady Gaga to Dua Lipa, but they're pop stars in their own right, making some of the most catchy, innovative K-pop in the game. Their long-awaited Korean debut features its own star-power, like Selena Gomez, but the girls hold their own on tracks like lead single "How You Like That."
Dolly Parton, A Holly Dolly Christmas
The promise of a new holiday album from Dolly Parton would be enough to make this Christmas seem okay, but buried in that announcement is a separate promise of new music by the icon. The mix of classic covers and originals will include "Christmas in the Square," a song to soundtrack the Netflix movie of the same name, in which Parton plays, of course, an angel.
Jónsi, Shiver
The Sigur Rós musician returns to his solo work for the first time in a decade, thanks to an unexpectedly fruitful collaboration with PC Music's A.G. Cook. Despite its pop leanings, Shiver doesn't leave behind the experimental spirit of Sigur Rós, featuring collaborations from both the Cocteau Twins' Liz Fraser and pop auteur Robyn.
If the first offering from Mariah Carey's B-sides album — part of a larger 30th anniversary celebration that also includes memoir The Meaning of Mariah Carey — features Ms. Lauryn Hill, we're only wondering what else might be in the vault. Aside from more whistle tones, of course.
Matt Berninger, Serpentine Prison
When Matt Berninger stepped away from the National in 2015, he wanted to experiment, linking with Ramona Falls' Brent Knopf to try on styles like glam and punk rock. His first solo album seems more in line with his brooding primary band, as he leans into his muted, folksy side on single "Distant Axis" and the title track.
Rilo Kiley, Rilo Kiley
Twenty-one years ago, two former child actors cut an album of emo-tinged guitar pop aas Rilo Kiley, funded by one Dave Foley after attending their first show. Now an out-of-print and off-streaming rarity, the self-titled debut — featuring songs like "Frug," which soundtracked 1998 teen indie Desert Blue — gets its first reissue, seven years after the band's final release.
Shamir, Shamir
After Shamir broke out with bold, addictive synth-pop on his 2015 debut album Ratchet, he made a hard left turn to lo-fi guitar music, where he's stayed since. This self-titled album, his second of the year, circles back toward pop — now by way of guitars, along with that commanding tenor — for his best music since Ratchet.
Mary Lattimore, Silver Ladders
Mary Lattimore has become indie music's go-to harpist, adding flourish to albums by Soccer Mommy, Frances Quinlan, and Julianna Barwick this year alone. She leans further into her rock tendencies by working with Slowdive's Neil Halstead on her fourth solo album, Silver Ladders, texturing lead single "Sometimes He's in My Dreams" with just a touch of guitar.
Sun Ra Arkestra, Swirling
For their first album in 21 years, the Arkestra breathes life into found tracks and reinvents old ones by late Afrofuturist jazz giant Sun Ra. Recorded under the leadership of saxophonist Marshall Allen, Swirling also features performances by late saxophonist and longtime manager Danny Ray Thompson, who died in March.
Annie, Dark Hearts
After label drama held up her 2009 album Don't Stop, Norwegian dance mononym Annie worked on her own terms — pulling together her recordings into just two EPs during the 2010s. For her Don't Stop followup, she leaves longtime collaborator Richard X to work with The Sound of Arrows' Stefan Storm for what she calls "the soundtrack to a film that doesn't exist."
beabadoobee, Fake It Flowers
If you've heard "death bed (coffee for your head)," Powfu's TikTok hit featuring beabadoobee, you haven't really heard Beatrice Laus — her voice is even pitched-up on the song. On her own, beabadoobee makes lo-fi bedroom pop that's garnered fans from The 1975 to Taylor Swift. Her sound is only getting bigger on Fake It Flowers, with walls of guitar that hit like bricks.
Open Mike Eagle, Anime, Trauma and Divorce
Open Mike Eagle's followup to his diaristic masterpiece Brick Body Kids Still Daydream finds the rapper working through more current personal issues in his verses. Yet it's also rooted in his love for anime, especially JoJo's Bizarre Adventure: "In this chapter, JoJo is African," he raps. "And it's me, Mike Eagle, I'm the protagonist."
boy pablo, Wachito Rico
The sunny pop rock by Norwegian musician boy pablo — the band fronted by Nicolás Muñoz that broke out in 2017 with viral hit "Everytime" — doesn't seem fitting for fall, let alone a pandemic. Take debut album Wachito Rico as a necessary moment of chilled-out escape, or just an excuse to dance.
Mountain Goats, Getting Into Knives
John Darnielle returned to his roots with Songs for Pierre Chuvin in April, recorded alone with his boombox like classic Mountain Goats music. Expect Getting Into Knives, recorded in Memphis as the pandemic grew in early March, to sound more like today's Mountain Goats: full, adventurous, heady as ever.
Kylie Minogue, Disco
Pop music has had disco fever this year, with performers like Dua Lipa, Jessie Ware, and even Lady Gaga drawing on the genre for new music. Leave it to Princess of Pop herself to cap off the year with her own return to the genre on an album simply titled Disco. Lead single "Say Something" sparkles more than anything she's done in years.
Chris Stapleton, Starting Over
When Chris Stapleton came onto the country scene, he sounded like a restart, making instant classics that overflowed with soul. His followup to 2017's From a Room series finds Stapleton in his element as ever: writing with former SteelDrivers bandmate Mike Henderson, recording with the Heartbreakers' Benmont Tench and Mike Campbell, and covering John Fogerty and Guy Clark.
Adele
It's now been a year since September 2019, when Adele's followup to 25 would allegedly come out, and we've heard nothing more. The vocal powerhouse has spent her time focusing on her son and her health, but she's also been posting more on Instagram than we're used to — and in desperate times, we'll jump on whatever signs of new Adele we can get.
Alicia Keys, Alicia
One of the only holds from the wave of pandemic-related album postponements has been Alicia Keys' self-titled album, her first in four years. She's released a steady stream of songs since the postponement — along with her memoir More Myself — but the anchor remains "Underdog," which has become its own unintentional pandemic anthem.
BTS
BTS once maintained that they'd never sing in English. But in their tradition of outdoing themselves, the boys released their first English-language single, "Dynamite," on August 21. They said an EP would follow, and although it's unclear whether more songs will be in English, that certainly won't be the only surprise.
Cardi B
If "WAP" is the lead single for a new Cardi B album, then what an announcement it is: An amazingly catchy song with a hyper-viral video that instantly became one of the best-selling songs of the digital age. It'll be exciting to see how she continues the momentum on her sophomore album — and we know she can.
Demi Lovato
When she started the year with a powerful performance of comeback single "Anyone" at the Grammys, Demi Lovato made clear that her demons wouldn't get the best of her. She's spent the year readying a new album, her first since 2017's Tell Me You Love Me and her 2018 overdose, with lead single "I Love Me" as her dynamic, empowering first offering.
Eric Church
One of country's most exciting performers, Church recorded his latest album in a restaurant-turned-studio at the beginning of 2020, cutting 28 songs in 28 days for his most demanding project yet. It's already produced a varied slate, from the fiery "Stick That in Your Country Song" to the touching "Never Break Heart."
J. Cole, The Fall Off
The Fall Off is an unintentionally apt title for J. Cole's sixth album, following "Snow on Tha Bluff," his diss track targeting acclaimed rapper and activist Noname. Dual lead singles "The Climb Back" and "Lion King on Ice" followed before Cole finished the album, which he said he's wanted to make since finishing 4 Your Eyez Only in 2016.
Kanye West, DND: WTH CHLD
If he's going to drop something, let's hope it's his presidential campaign.
Liz Phair, Soberish
Liz Phair has been canonized in rock history over the past two years, between the 25th anniversary of her pivotal debut Exile in Guyville and her exceptional new memoir Horror Stories. So she'll release Soberish, her first album since 2010's scattershot Funstyle, from her new spot as a legend; she sounds smoothly back in the saddle on lead single "Good Side."
NNAMDÏ
Chicago pop experimenter NNAMDÏ has already released two albums this year: One, Brat, was his opus on the books since before the pandemic; the other, Krazy Karl, was recorded in passionate response to police brutality this summer. He's promised a third record before the end of the year, as if he hasn't already delivered enough.
Rihanna
Rihanna has a reserved spot in every upcoming preview list for the sheer fact that we just don't know when she'll strike again. She's continued teasing R9 through the pandemic — that is, when she's not organizing for relief — even dropping her first proper new music since 2017 via a feature on PartyNextDoor's "Believe It."
Saweetie, Pretty Bitch Music
Saweetie has turned heads with her bars since her 2017 single "Icy Grl," making up for what she lacks in technique with Instagram-ready lines and a winning attitude. Yet her aspirations don't end at music, she makes clear on "Pretty Bitch Freestyle": "I'm a rapper, I just plan on runnin' fashion," she raps. Get ready to start seeing Saweetie everywhere.
Ty Dolla $ign, Dream House
One question overshadows all others when it comes to a new Ty Dolla record: Who's he going to work with next? One of music's most prolific and generous collaborators, he proved he's still able to surprise with the lineup of "Ego Death": FKA twigs, Skrillex, and Kanye West. Even when it doesn't fully work, we're still listening to hear what happens.
Full Calendar
September 4
Billy Ocean, One World
Celeste, Celeste
Hannah Grace, Remedy
Hardy, A Rock
Hurts, Faith
Josiah Johnson, Every Feeling On a Loop
Lomelda, Hannah
Tricky, Fall To Pieces
Vaya Futuro, El Peso Del Mundo
September 11
Doves, The Universal Want
Elizabeth Cook, Aftermath
Everything Everything, Re-Animator
The Flaming Lips, American Head
Marilyn Manson, We Are Chaos
Suzanne Vega, An Evening of New York Songs and Stories
Uniform, Shame
September 18
Deradoorian, Find the Sun
Fenne Lily, Breach
Gus Dapperton, Orca
Keith Urban, The Speed of Now Part 1
Liz Longley, Funeral For My Past
Sarah Davachi, Cantus, Descant
Semisonic, You're Not Alone EP
Tobin Sprout, Empty Horses
Yusuf/Cat Stevens, Tea For Tillerman 2
September 25
Death Bells, New Signs of Life
Idles, Ultra Mono
Jadu Heart, Hyper Romance
Joji, Nectar
Lydia Loveless, Daughter
Nana Adjoa, Big Dreaming Ants
The Neighbourhood, Chop Chrome & the Mono-Tones
October 2
Aloe Blacc, All Love Everything
Bon Jovi, Bon Jovi: 2020
Corey Taylor, CMFT
Eartheater, Phoenix: Flames Are Dew Upon My Skin
Hayley Thompson-King, Sororicide
The Hunna, I'd Rather Die Than Let You In
Melanie C, Melanie C
YG, MY LIFE 4HUNNID
October 9
Brothers Osborne, Skeletons
Mina Tindel, Sister
Slow Pulp, Moveys
Travis, 10 Songs
October 13
Low Cut Connie, Private Lives
October 23
Nothing But Thieves, Moral Panic
Pallbearer, Forgotten Days
Plants and Animals, The Jungle
Skyway Man, The World Only Ends When You Die
This Is The Kit, Off Off On
TBD
Drake, Certified Lover Boy
Bon Iver
Brockhampton
Evanescence, The Bitter Truth
Sam Smith
SG Lewis
Swae Lee, Human Nature
The Veronicas, Human
Gorillaz