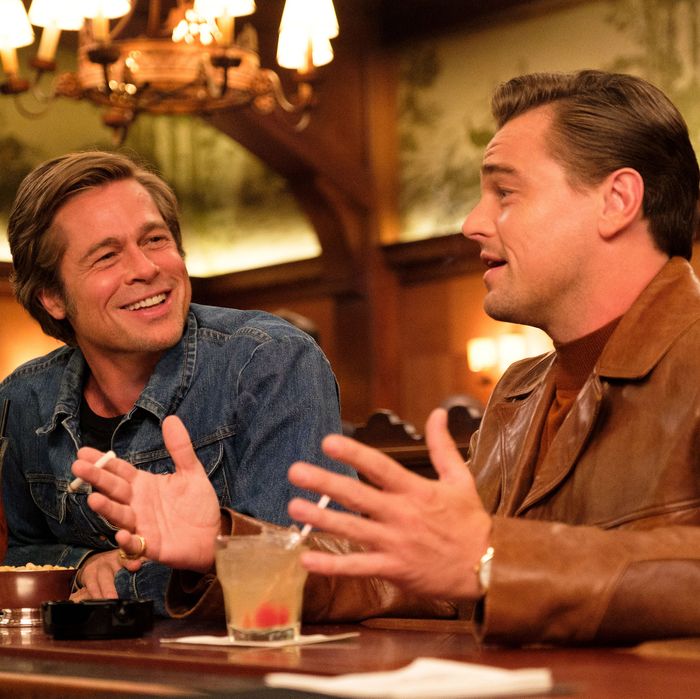 Once Upon a Time in Hollywood
, now on DVD.
Photo: Photo: Andrew Cooper/© 2019 CTMG, Inc.
Long live physical media! While more and more people turn to streaming services for their entertainment with each passing year, the collectors have refused to give up their grip on round shiny discs. And besides, who knows when your favorite titles will be pulled from the streaming universe? No one does!
So, what do you get the collector on your holiday shopping list this year? Easy: These are our picks for the cream of this year's DVD and Blu-ray crop, including major Hollywood hits, 4K restorations of movies you love, and some of the best box sets of not just the year, but the decade.
The Big Stuff
The biggest event for collectors this year was when Criterion arrived on spine #1000 and dedicated the landmark occasion to the guy in the big green suit. Fifteen films featuring the iconic character of Godzilla are included in this gorgeously packaged set, which houses the discs in something that looks like a tall hardcover coffee-table book; it's so damn cool that people should buy this just for the amazing art. Once they're done looking over all the original creations for the movies, it's time to watch classics like King Kong vs. Godzilla, Mothra vs. Godzilla, and Destroy All Monsters, along with a dozen others. Each film has been lovingly transferred, and Criterion has provided hours of special features, including the U.S. release of Godzilla, King of the Monsters and the Japanese release of King Kong vs. Godzilla. There are English dub tracks on six of the movies, an interview with the legendary Ishiro Honda from 1990, and new and archival interviews. It's probably the best Blu-ray release of the year.
Putting aside the argument over whether or not the recent limited series qualifies as a film or a TV show, this limited edition (only 25,000 copies) from Paramount is an absolute beauty. It's ALL here. Not only does this release include the two seasons of the original ABC series and the Showtime revival in its glorious entirety, but you also get Twin Peaks: Fire Walk With Me and its fascinating deleted scenes (known as The Missing Pieces). And all that is still just the beginning. How about full-length versions of all of the Roadhouse music performances? How about physical collectibles like a die-cut acrylic figure of Laura Palmer and Agent Cooper? How about an interview with Sheryl Lee and Kyle MacLachlan? And how about the coolest packaging for any TV series (or should that be film?) this year?
One of 2019's best films has just received one of 2019's best collector's editions. It makes sense that a movie that's so steeped in nostalgia would cater to its fans when it hits the home market; you should basically put on sunglasses and a Hawaiian shirt to open it. Not only does it include all of the 4K release special features, including deleted scenes, but it has the best collectible packaging of any 2019 release, a mind-blowing box set that includes an exclusive Mad magazine parody issue of the show-within-a-movie "Bounty Law," a 45 vinyl record with two songs from the soundtrack, and a vintage poster. Once Upon a Time in Hollywood is going to be one of Quentin Tarantino's most beloved films for generations to come, so a special edition like this isn't that surprising — it's just great to get it so soon after this gem of a film has left theaters.
For Movie Fans Who Also Love TV
No one does complete-series sets quite like HBO, and you just knew that the landmark TV network was going to go all out now that its landmark TV show is over. And how: It's packaged the entirety of the saga into one single, beautiful box set. There are actually multiple iterations of the Game of Thrones box set, depending on how hard-core a fan you have on your shopping list, but this biggest set comes in a wooden case with panels designed by Robert Ball and an exclusive clasp. However, you can also just get the complete series and new special features in a normal complete-series set without the collectible packaging. Both sets include new special features like "Game of Thrones: The Last Watch," ten audio commentaries, "When Winter Falls," "Duty Is the Death of Love," and new animated pieces about the history of the series.
The Kids' WB show that originally aired from 1999–2001 has plenty of die-hard fans, and they've been treated well this holiday season with a lavish box set that includes an exclusive Funko Pop! It also comes with collectible art cards, digital copies of the episodes, and a bonus Blu-ray release of Batman Beyond: Return of the Joker. With great voice work by Kevin Conroy and Lauren Tom, Batman Beyond is really a precursor to things like Christopher Nolan's trilogy and the current state of the DCEU. It's a vision of a teenage Batman in a futuristic Gotham City being trained by an older Bruce Wayne. There have been rumors lately that WB is trying to get a Batman Beyond movie off the ground with Michael Keaton returning as Wayne. Yeah, we're excited at that possibility too.
There are your standard documentarians, and then there's Ken Burns. He doesn't do anything to a small degree. Take his latest PBS venture, already available in a nice Blu-ray box set for the documentary fan on your list. It's an eight-part, 16-hour look at the entire history of an American art form. There are interviews with over 80 country-music icons, woven through musical performances and archival footage. The word for what Burns does is "comprehensive," and owning this can't-miss series is like having a great college class in your Blu-ray player.
The Classics
Now that GKIDS has retaken ownership of the Studio Ghibli filmography, it is releasing some of its best films in lavish collector's editions. The latest is the best in the history of Isao Takahata and Hayao Miyazaki's legendary company, a.k.a. the top film in our ranking of Studio Ghibli films. The November release includes beautiful packaging, a CD soundtrack, a book, and the Blu-ray of the film. It's a modern animated classic that every family should own, and this is currently the best edition on the market.
Shout! Factory is known mostly for their horror branch that releases excellent collector's editions, but they also have a branch called Shout Select, which releases HD transfers of classics. Their latest release is a wonderful box set dedicated to the still-underrated Anne Bancroft, an actress with amazing range. Just look at what's included in this collection to see the scope of her talent, from the Mel Brooks comedy To Be or Not to Be to the devastating Agnes of God to the period piece The Miracle Worker to a little movie called The Graduate. There just aren't enough Blu-ray box sets designed for fans of specific actors and actresses.
Since June, Shout! Factory has released three volumes of the Universal Horror Collection, editions that collect four films a piece that have arguably fallen through the cracks of history. These are not the Universal monster movies that are commonly replayed like Dracula and Frankenstein, but more obscure titles like The Invisible Ray and the wonderful Murders in the Zoo. If you've got someone in your life who loves classic movies and horror, you can't do much better than these beauties, reclaiming under-seen flicks like The Mad Doctor of Market Street and Man-Made Monster.
Horror Fans Unite
J-Horror might make a comeback next year with the remake of The Grudge in January. See where this trend peaked with Hideo Nakata's stunning Ringu, a movie that still has the power to terrify two decades later. Arrow, one of the best companies in the world when it comes to special editions, has released one for Ringu as a stand-alone, but the real horror fans should pick up the entire collection that includes Ringu 2 and Ringu 0, along with the quickie 1998 sequel from George Iida called Spiral. There are new audio commentaries, interviews, essays, deleted scenes, and one of the coolest packaging gimmicks of the year: Place the four Blu-ray covers next to each other and see Sadako come out of the well.
Arrow Video's best stand-alone release of the year is this special edition for John Landis's landmark werewolf movie. Not only is the exclusive new art awesome for fans of this horror classic, but the movie itself has been restored in 4K from the original camera negative. It also includes a new audio commentary, a new feature-length documentary called "Mark of the Beast: The Legacy of the Universal Werewolf," a new interview with Landis, a new video essay, and tons of previously available special features. Did we mention the lobby cards, double-sided poster, 60-page booklet, and reversible art? It's almost overwhelming.
One of the best films of 2019 of any genre, not just horror, is Jordan Peele's sophomore effort, anchored by an incredible dual performance from Lupita Nyong'o. Maybe there's someone on your list who isn't into classics and special editions and wants a current film? You really couldn't do better than the Universal release of this title, one with a phenomenal HD transfer and Dolby Digital audio mix. It also comes with detailed special features, including deleted scenes and new featurettes about the making of a very challenging film. The bonus material here allows for an enhanced appreciation of a film that already feels like a modern classic.
SteelBook Exclusives
For the 30th anniversary of the Winona Ryder and Christian Slater comedy/horror classic, Image Entertainment released a collectible SteelBook edition of the film with new and archival special features. The new stuff includes an interview with director Michael Lehmann and director Daniel Waters called "The Legacy of Heathers," an interview with Lisanne Falk called "The Nice Heather," and an audio interview with composer David Newman with Isolated Score Selection. For most SteelBook collectors though, it's about the packaging, and this one looks pretty cool.
People who collect SteelBook Blu-rays are often the kind of people who are willing to buy something they already own just to have new packaging. While this may sound insane to casual collectors who would never double dip on a movie they already own, those who love this Lonely Island joint may think twice when they see the art designed for the SteelBook release of Popstar: Never Stop Never Stopping. The insanely rewatchable comedy now comes with an audio commentary, deleted scenes, music videos, a gag reel, and interview outtakes. It's one of the best comedies of the decade and this is now the best way to own it. Connor4Life!
Shout! Factory's best release of the season is for the classic John Carpenter flick Big Trouble in Little China, a great vehicle for Kurt Russell at his most charming. The collector's edition includes new audio commentaries with producer Larry Franco and special-effects artist Steve Johnson, along with classic trailers, new interviews, deleted scenes, and even a music video, but real J.C. fans may want to spring for the limited-edition SteelBook packaging with new art to go with the dozen or so new interviews put together by Shout. There are new chats with James Hong, Donald Li, Cartong Wong, Dennis Dun, and much more, and archival interviews with Russell, Carpenter, and pretty much everyone involved in making this movie.
4K Remasters
Some 4K remasters are just technical upgrades without much care or love for the fans who may be asked to open their wallets for movies they already own. That is not the case with Apocalypse Now, which comes to 4K with the most comprehensive edition yet released. It's been entirely restored from the original negative for its 40th anniversary, and even contains a new cut of the film, while also giving fans the original theatrical cut, the "Redux" version, and even the great documentary about its production called Hearts of Darkness. Hours of special features round out what feels like one of the most complete 4K releases that we've ever seen.
Some movies just look better in 4K than others. While everything will probably be in the format eventually, it makes sense that companies like Warner Bros. are starting their 4K catalogues with some of the most visually striking films from their archive. Take this excellent transfer of the Oscar-winning Guillermo del Toro's best film. There's a Criterion edition of Pan's Labyrinth that's phenomenal, but if you love the movie as much as we do, you might want to pick it up in 4K too.
Timed just before the release of Doctor Sleep, Warner Bros. gave the original Stanley Kubrick horror masterpiece the 4K treatment and it's one of the best to date. The whole film just pops in a different way than it ever has before, taking you into its world in a manner that makes it feel new and terrifying all over again.
Every editorial product is independently selected. If you buy something through our links, New York may earn an affiliate commission.