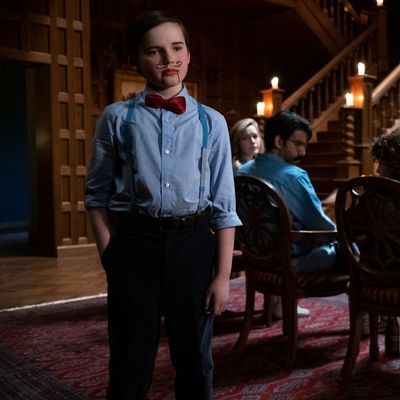 The Haunting of Bly Manor
.
Photo: EIKE SCHROTER/NETFLIX
Traditionally, October was the best month for horror fans to get to the theater where they could revel in all the the latest genre sequels and franchise revivals. Well, times have changed, and not just because of the pandemic. In the last few years, streaming services have been the ones catering to horror nuts every October, peppering their monthly updates with things meant to keep genre fans happy about that subscription fee and coming back every year for more.
Luckily, it looks like 2020 is primed to be one of the better ones for streaming horror, with festival hits from Sundance and Fantasia dropping on Shudder, new series on Hulu, and the return of Mike Flanagan with his highly anticipated follow-up to the hit The Haunting of Hill House. Here's what horror fans with a hearty streaming budget can look forward to this month, in chronological order.
Scare Me
October 1, Shudder
Josh Ruben makes his directorial debut with this horror hybrid that dropped in the Midnight Madness section of Sundance earlier this year, back when in-person film festivals were still a thing. Fresh off her scene-stealing work in Amazon Prime's The Boys, Aya Cash stars as a young horror author who meets a copywriter named Fred (Ruben) near the cabin he's rented to write his first novel. The two are stuck together when the power goes out, and Cash's Fanny challenges Fred to tell her a truly spooky story. The pair swap tales of things that go bump in the night in this horror piece described by Sundance as a "metafictional horror comedy about the pleasures and perils of storytelling and the genre's power to exorcise social demons." Chris Redd of SNL co-stars in a film that promises to have a bit of comedy, a bit of commentary, and the potential to be a buzzed, breakout streaming hit for Shudder.
Monsterland 
October 2, Hulu
Hulu's kicking off its "Huluween" season with this high-powered anthology series, an adaptation of Nathan Ballingrud's beloved short-story collection, North America Lake Monsters. Mary Laws (The Neon Demon) creatively guides viewers through eight stories with supernatural threads, with help from acclaimed directors like Nicolas Pesce (Piercing) and Babak Anvari (Wounds). Among the tales: A waitress (Kaitlyn Dever) can't decide if the creepy guy with a trunk full of secrets is scarier than her awful child; a mother (Nicole Beharie) discovers that her husband (Hamish Linklater) is the worst kind of monster; a grieving father (Mike Colter) has trouble dealing with the disappearance of his daughter; and a young man (Charlie Tahan) gets drawn into an online web when he researches a literal shadow he sees in the corner of his room. All anthology series promise a rocky road of quality, but the ambitious storytelling here seems promising.
Vampires vs. the Bronx
October 2, Netflix
The elevator pitch for this horror-action-comedy hybrid looks to be kind of like "Attack the Block but with vampires instead of aliens." Sign us up. Osmany Rodriguez co-wrote and directed this story of Bronx teenagers who are forced to fight back against an invading force of bloodsucking jerks. (Insert gentrification analogy here). In the grand Netflix tradition of Stranger Things, it looks like the kids will likely drive the action, but there's a fun supporting cast of familiar grown-up faces at play here too, including Sarah Gadon, Chris Redd (again!), Shea Whigham, and Method Man himself. Rodriguez is a behind-the-scenes veteran of SNL and a number of other TV comedies like The Last Man on Earth and A.P. Bio, so he promises to bring a zippy tone to a story that seeks to reflect one of the most culturally vibrant communities on Earth and how they band together in times of crisis (like, you know, a vampire attack).
Welcome to the Blumhouse 
October 6 and October 13, Amazon Prime
The Blumhouse production of original films known as Into the Dark may be on COVID-enforced hiatus, but that doesn't stop the hardest working producer in Hollywood from giving horror fans what they want. It was announced in August that an original series of eight films would be released under the banner of Welcome to the Blumhouse on Amazon Prime. Gone is the tie to the monthly holiday, but these original films still promise a diverse array of subject matter, talent, and probably quality. The first half of the eight all premiere in October, starting with Veena Sud's The Lie and Emmanuel Osei-Kuffour Jr.'s Black Box, both on October 6. Elan Dassani and Rajeev Dassani's Evil Eye follows on October 13, joined by Zu Quirke's Nocturne that same day. Talent in front of the camera in this quartet of films includes Mireille Enos, Peter Sarsgaard, Joey King, Mamoudou Athie, and Phylicia Rashad. The other four original films will premiere at a TBA time in 2021.
Books of Blood
October 7, Hulu
Clive Barker's short-story collections, known as the Books of Blood, are sacred texts for most literary horror fans. They changed the game, introducing the world to a brave, daring new voice in the genre. Several of them have already been adapted, including the unforgettable The Midnight Meat Train and the more forgettable Rawhead Rex. (Candyman is also based on Barker's "The Forbidden" and Lord of Illusions on "The Last Illusion.") For years, the entire collection has been eyed for film and TV productions, and the prospect of a Hulu anthology series that could do them justice hung in the air for a few years. Oddly enough, the series never came to fruition, but an anthology film will surface this month from Brannon Braga (24, Star Trek: The Next Generation), though Barker fans should be warned that these are mostly original stories, developed in collaboration with the legendary author but not direct adaptations. Let's hope it succeeds so more chapters of the terrifying Books of Blood can find their way to Hulu in its bloody wake.
The Haunting of Bly Manor
October 9, Netflix
Mike Flanagan gave Netflix one of its biggest critical and commercial hits with 2018's The Haunting of Hill House, but that loose adaptation of Shirley Jackson was a self-contained story. There was no point in revisiting that world, as much as Netflix hoped Flanagan would find a way. And so the writer-director of Gerald's Game and Doctor Sleep turned to another seminal text in Henry James's masterful The Turn of the Screw (already adapted a few times, including the masterpiece that is The Innocents). Refreshingly, little is known about how Flanagan is planning to spin the James text into his own masterful creation, but Flanagan regulars will be returning, including Hill House stars Victoria Pedretti, Henry Thomas, Oliver Jackson-Cohen, and Kate Siegel. If the success of Hill House tells us anything, it's that this will be a major event for Netflix, not just for the season, but for the year.
The Mortuary Collection 
October 15, Shudder
One of this year's most acclaimed titles at the genre party known as the Fantasia Festival was this Ryan Spindell anthology film that reminds one of the power and beauty of practical effects. Owing more to projects like Tales From the Crypt or early Sam Raimi and Peter Jackson films, this is the story of a girl named Sam (Caitlin Custer) who listens to tales told by a creepy mortician named Montgomery Dark (the always-welcome Clancy Brown). Dark regales her with cautionary tales that hinge on really dark humor and violent comeuppance for people who do others wrong. A teenage slimeball in the '60s learns that he should never take off the condom; a husband in the '70s discovers that sometimes death doesn't actually part couples; a babysitter fends off a potential serial killer in one of the film's best bits. It's smart, funny, twisted stuff.
Rebecca
October 21, Netflix
No one knows for sure what director Ben Wheatley will bring to this timeless tale, originally written by Daphne du Maurier and adapted by Alfred Hitchcock into a Best Picture winner in 1940 , but given his history as the director of dark visions like High-Rise and Kill List, the idea that this will be a straight-up horror movie doesn't seem like too much of a stretch. Lily James (Baby Driver) steps into the shoes of Mrs. de Winter, the new bride of Armie Hammer's Maxim de Winter. The new Mrs. de Winter discovers that their new home may literally be haunted by the ghost of the woman she's replacing, the mysterious Rebecca. There's a reason this novel has sold almost 3 million copies and been adapted multiple times. Kristin Scott Thomas takes on the iconic role of Mrs. Danvers, while the supporting cast is filled out by Keeley Hawes, Sam Riley, and Ann Dowd. This could be one of the most-buzzed Netflix movies of the year, not just during horror season.
Bad Hair
October 23, Hulu
The writer-director of Dear White People returned to Sundance this year with an ambitious, insane horror movie about a killer weave — and Hulu is bringing it home for viewers just in time for the holiday. Elle Lorraine gives a breakout performance as Anna Bludso, the producer of a music-video TV show called Culture that seems to be leaving her behind in favor of more camera-friendly talent. Set in the late '80s, Simien skewers hip-hop and business culture as Anna ends up getting a cursed weave that helps her rise the corporate ladder while it kills the people who get in her way. Simien blends his satirical skills with a true horror eye in this crazy movie that co-stars Vanessa Williams, Lena Waithe, Jay Pharoah, Blair Underwood, and Laverne Cox. You won't see anything else like it this season.
The Creepshow Halloween Special
October 26, Shudder
This one came out of nowhere and horror fans couldn't be happier. The revival of Creepshow on Shudder was a major hit for genre fans. While it's returning for season two, the COVID shutdown has almost certainly delayed that in ways that make no one happy. What to do in the meantime? Why not try an animated Halloween special? Yes, this is an old-fashioned ode to the comic source material of Creepshow, featuring two stories written by Stephen King and Joe Hill, and directed by the great Greg Nicotero. The first is based on the King short story "Survivor Type" (included in the Skeleton Crew anthology) and stars Kiefer Sutherland; the second is written by Hill and stars Joey King in something called "Twittering From the Circus of the Dead." Sounds terrifying.
His House
October 30, Netflix
Remi Weekes debuted this buzzed genre flick at Sundance earlier this year, and people were talking about it up and down the mountains of Park City, Utah. You know that breakout performance in episode five of Lovecraft Country from Wunmi Mosaku? She stars here with Sope Dirisu and Matt Smith in the story of a Sudanese couple who move to an English town looking to settle down and start their lives together. Blending commentary on the refugee crisis in Europe with striking visions of absolute horror, His House was described at Sundance as being the stuff of "screaming nightmares." Sounds perfect for the night before Halloween in a year like this one.
Even More Horror!
Hubie Halloween (Netflix, October 7) – Looking for laughs? There might be some found in this holiday-themed Adam Sandler comedy.
To the Lake (Netflix, October 7) – A Russian import TV series about a world-ending virus.
The Cleansing Hour (Shudder, October 8) – This original film centers on a group that streams exorcisms — and may have stumbled on a real demon.
A Babysitter's Guide to Monster Hunting (Netflix, October 15) – It's kind of all right there in the title, as this family-horror film tells the tale of a babysitter who has to save a child abducted by monsters.
Cadaver (Netflix, October 22) – A postapocalyptic Norwegian film about a family of three who attend a charitable event at a hotel where things start to get weird.
The Witches (HBO Max, October 22) – Robert Zemeckis directed this adaptation of the Roald Dahl classic, with Anne Hathaway in the lead role. (It was originally scheduled for a wide theatrical release pre-COVID.)
Joe Bob's Halloween Hideaway (Shudder, October 23) – Joe Bob Briggs has been hosting events on Shudder called The Last Drive-in, and this is the holiday edition of that double-feature presentation.
May the Devil Take You Too (Shudder, October 29) – A sequel to Timo Tjahjanto's 2018 horror flick (that's on Netflix) from the director of Headshot and The Night Comes for Us, who always manages to be interesting.
The Day of the Lord (Netflix, October 30) – Another exorcist narrative about a retired priest who is drawn back for one last job.
Truth Seekers (Amazon Prime, October 30) – Nick Frost and Simon Pegg reunite for this comedy series about paranormal investigators who stumble onto something genuinely scary.