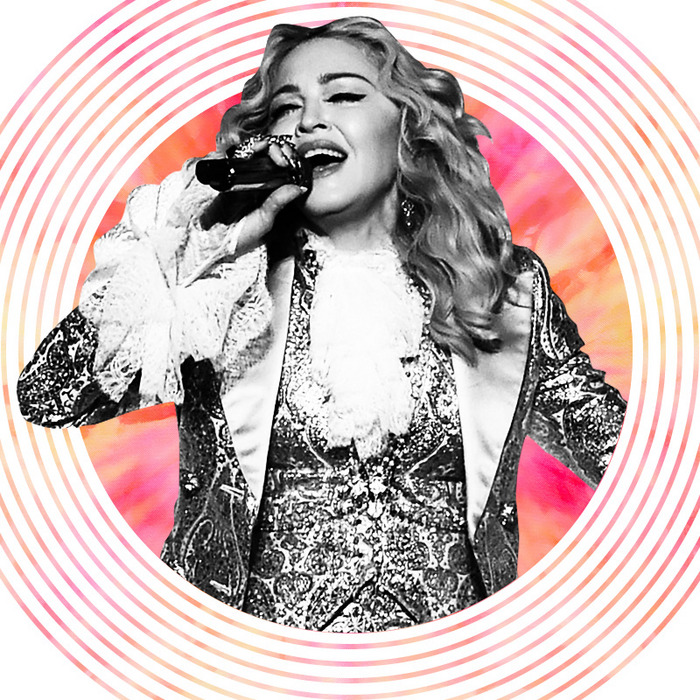 Madonna.
Photo: Vulture and Getty Images
Each week, Vulture highlights the best new music. If a song is worthy of your ears and attention, you'll find it here. Listen to them all.
The divas came out this week: Beyoncé! Madonna! Lykke Li! Okay, maybe Li isn't quite on the same powerhouse level as those other artists we named, but hey, we love her, too, so we're gonna let it slide. Anyway, the point is that they all put out good music in the past seven days. Hear their new songs, and more, below.
Beyoncé, "Before I Let Go"
Very little shocks me about Beyoncé these days. (If by now you aren't conditioned to expect greatness beyond comprehension from whatever she does, whenever she chooses to do it, you haven't been paying attention.) But one thing still confounds me: How can someone with such universal appeal — to be human is to be a Beyoncé fan — remain so loyal to her base as to cater to them, even now, without a care for how doing so might exclude the masses? On Homecoming, the live-album version of her Coachella set that corresponds with the Netflix film, she's covered a song whose cultural significance will surely fly over the heads of anyone who wasn't raised on it. Tragically, too much of the population does the Electric Slide to only one song, but black people been knowin' better. We've long line-danced to Cameo's "Candy" and Frankie Beverly and Maze's "Before I Let Go" — if you didn't know, allow Beyoncé's fusion of the two in her updated cover of the classics to educate you. Just as Beychella was a history lesson on the black collegiate experience, her "Before I Let Go" — complete with Tay Keith production and a rap breakdown — is designed to take black folk back while also carrying the culture into the future by inviting the rest of the world to the cookout. Just, please, don't fuck up the potato salad. —Dee Lockett
Madonna ft. Maluma, "Medellin"
You wonder what motivates Madonna after a bout of recently less-than-desirably-met LPs. Not since 2005's Confessions on a Dance Floor has a new era from the Queen of Pop been received with such awe and praise. "Medellin" is her best lead single since that era's ABBA-referencing "Hung Up." Similarly, it takes advantage of a burgeoning sound while also harnessing a prior classic oeuvre of hers. In the 2000s, she was riding the electro-clash trend. Now, she's chasing that Latin flair, eyeing successes such as Rosalía, J Balvin, and probably the enormous hit "Despacito." "Medellin" is "La Isla Bonita" for 2019, not just a reminder that she was the pioneer of every flavor of pop, but that she can compete with the hottest of the moment. Also, at the age of 60, her delivery of the line "slow down, papi" over a more gradual dance number is delectably commanding. —Eve Barlow
Mark Ronson ft. Lykke Li, "Late Night Feelings"
Mark Ronson, creative companion to the likes of megastars like Miley Cyrus and Bruno Mars, is no sidekick. Though his collaborators often receive more notoriety from their vocals, Ronson is paramount in the production world. Ronson has been teasing hits from his fifth studio album all year, but his collaboration with underground bedroom-pop sensation Lykke Li feels different. It leans into discotheque and away from pop tropes. Title track "Late Night Feelings" is a song about voids you feel alone in the dark. "Make me psychotic / you pull away / you take the sane in me / and tear it like a page," Li sings of unrequited infatuation. The sparse beat creates maximum feels. —Corinne Osnos
Anderson .Paak ft. Brandy, "Jet Black"
The world didn't know it needed "We peakin.'" But for every tired iteration of "let's get lit," in a Bitmoji-sphere where everything is a "mood," Anderson .Paak has gifted us a new catchphrase. The California native made waves this week, from Indio to the internet. Last Friday, he dropped his latest album, Ventura, before taking the main stage at Coachella to play one of the coveted dusk sets. It hasn't even been six months since .Paak released Oxnard, an album that polarized fans and critics alike. On Ventura's "Jet Black," the artist punctuates his rap verses with steep exhalations of breath before flowing into a chorus that features R&B matriarch Brandy. Over a high-energy beat, .Paak incorporates a seductive playfulness into the lyrics. Notable stanzas include, "Who gon' love you when your love ain't there? / Baby, that ass is just unfair / Jet black hair, baby, jet black hair / At least two grams in your blunt wrapped there / These two hands always land up on the small of your back / Should I ask if eyes can go there?" For all the gripes Oxnard produced, Ventura proves that .Paak is far from reaching his peak. —Corinne Osnos
Cupcakke, "Old Town Hoe"
In this mellow, somber cover of Lil Nas X's hit — just kidding. If the phrase "Cupcakke's remix of 'Old Town Road'" makes even a stitch of sense to you, you are likely well aware of what you're gonna get here, and Cupcakke definitely delivers. As it goes with most of the Chicago rap phenom's work, every single line is a filthy quotable as clever as it is crass. Listen, Cupcakke knows what she's doing here: remixing a hot song is the oldest trick in the book, and done the wrong way it more often than not lands with a thud. But Cupcakke kind of makes "Old Town Road" her own, somehow — a tribute to her impressive talent, as well as the original's strange endurance. —Larry Fitzmaurice
Lydia Ainsworth, "Diamonds Cutting Diamonds"
A lot of what this song does with voice hits me right: the Kate Bush–style layered vibrato; the corroded, spoken-word backup vocals; that synth patch that mimics human timbre. But the bright, chintzy keys are the star of Lydia Ainsworth's latest single. The bass tone sounds like you could wring a full glass of orange juice out of it. The leads are glassy and vintage, so much so that when Ainsworth asks us to "double dare the old world away," I get the sense that she's banishing the past by first drawing it as close to her as possible. —Sasha Geffen
Local Natives, "Tap Dancers"
"Contemporary pop" dancer Michael Taylor is the real star of Local Native's latest single, "Tap Dancer." Directed by Jonathan Chu, the single's music video shows Cole in a satin red dress, gliding across a white screen that slowly fades to different colors, and Cole is absolutely mesmerizing. "Tap Dancer" merely can't exist without the music video. When Cole's eyes spring open at the beginning of the video, I also spring awake! I didn't truly understand the song until Cole showed me what emotions look like in their most beautiful form. This girl is begging to be featured in all of your hipster music videos. —Clare Palo
Liss, "Talk to Me"
I still don't understand why Danish pop gets so much hate, but after going two years without hearing anything from Liss while they were on hiatus, I no longer have to hide my enthusiasm. Their latest single is the soft-pop bop I've been waiting for, and I'm elated to share this special moment with all my friends, lovers, and haters. Villads Tyrrestrup said that the track is about "the ups and downs of being a young adult in this world; sexuality, being in and out of relationships, and self-care," so basically the entire experience of being a 20-something seeking closure for numerous things in your life. "Talk to Me" is fresh off Liss's forthcoming Second EP, which is due out on June 18. Look for it.
—Sydney Gore
Lungbutter, "Flat White"
"I like choosing things," Ky Brooks declares repeatedly throughout the first single off Lungbutter's upcoming debut album, Honey. It's a sarcastic refrain, like the introductory monologue to Trainspotting, and while it's delivered over a guitar tone that hearkens back to the early days of Sonic Youth, it carries more menace than its Gen-X ancestors. Lungbutter weighs down their noise rock with the sense that time is running out, that they could be cut off at any second. There's more at stake this time than being phony. —Sasha Geffen
April 12, 2019
Steve Lacy, "N Side"
If you like your Frank Ocean with a side of lo-fi '70s psychedelic flourishes and a pinch of funk, Steve Lacy is the man for you. The Internet's secret weapon (that's his band with Syd, not, like, the web) is back with more solo music, just as his main crew has promised that two new albums are already in the can; these are blessed times! Lacy has established himself as the Internet's star utility player (on bass, guitar, and sometimes production), as well as on projects for other people (like, most recently, Vampire Weekend's "Sunflower" and Solange's When I Get Home), but it's time we show some love for his songwriting. Here's a song that on first pass will read as just some sexual bargaining — to be clear, "I'ma kiss ya neck and grab ya ass" will effectively impregnate you — but Lacy's smoother than that. He's on an even bolder quest of penetrating the deepest, most difficult sexual organ: the heart. We're talking real grown folks business now, whew. Once again, Steve Lacy just gets it. Now, give us the debut album! —Dee Lockett
Faye Webster, "Flowers" ft. Father
Spring has sprung with this dreamy collab between a pair of Atlanta's finest artists in bloom! Faye Webster is an ideal candidate for the yee-haw agenda, not that she's trying to saddle up or anything, but I appreciate her knack for authentic Americana-esque music. (I love "Old Town Road" as much as the next person, but I need a recess so I never get sick of it.) That said, this slow jam is more in line with her older work that falls under the trip-hop and R&B spectrum. "Flowers" comes fresh off Webster's forthcoming album, Atlanta Millionaire's Club, which drops in May. We can't wait. —Sydney Gore
Courtney Barnett, "Everybody Here Hates You"
We're really lucky to have Courtney. When you think of original, witty, relatable, consistently on-point songwriters of the past decade, the Perth-dwelling Barnett is the first that springs to mind. Still touring her brilliant second album, Tell Me How You Really Feel, she's decided to treat us with a one-off new release. The title is an inversion of the Jeff Buckley song "Everybody Here Wants You." It's as self-deprecating as you'd imagine and speaks to our constant desire to portray a rosy image of life so as not to burden everyone around us with our problems. On the chorus she offers the perspective of someone else for a change, telling her she's not alone in her thoughts. It's another perfect exposé on the trappings of anxiety and self-loathing. "Everybody hurts, everybody breaks and everybody fades," she says, before a little chuckle. "We're gonna tell everyone it's okay." —Eve Barlow
Lil Uzi Vert, "Sanguine Paradise"
Is anyone else on the kind of run Uzi is right now? On "Free Uzi," he blasted off beyond his label troubles with bar after bar of frantic, trippy lyrical fire, and "Sanguine Paradise" continues the streak. The beat is truly off to the races, with a skipping horn atop layers of cavernous bass and tricky percussion as Uzi zones out and does his thing so effortlessly that someone should check in to see if he's become purely AI. At his best, Lil Uzi Vert's flow sounds like an iTunes visualizer — endless and colorful, the type of thing you can just focus on for hours. "Sanguine Paradise" is but the latest evidence of that sensory phenomenon, and here's hoping he keeps it up. —Larry Fitzmaurice
GRiZ, "The Prayer"
Icy synths set the stage for "The Prayer," which is then punctuated by a woman speaking in a telephone-operator voice over a twangy beat: "You know what they say; life isn't meant to be easy, baby — it's meant to be lived. So enjoy the ups and downs, and remember; when it gets too hot, don't lose your cool." Future funk artist GRiZ is back in a big way with Ride Waves, the by-product of a yearlong social media and creative hiatus. Grant Kwiecinski, the 28-year-old wunderkind who performs as GRiZ, mixes hard-hitting, wet electronics with juicy instrumentals to maximum effect in "The Prayer." Its experimentalism doesn't compromise its emotional resonance; gospel elements play into the overarching message of positivity. Heavy on the collaborations (Bootsy Collins and Snoop Dogg have cameos), Ride Waves is worth a full listen. Let's boogie. —Corinne Osnos
Kaytranada ft. VanJess, "Dysfunctional"
Kaytranada's latest track burbles with the kind of warm synthesizer bass that flowed from the golden era of Chicago house. It's a Mr. Fingers bass tone, and it doesn't sound out of place in 2019 because in 1988 it projected itself into a serene and open future. That future never exactly came to pass — we're living in a different one — but Kaytranada, with his perfectionist ear and delicate touch, drums up his own pristine and euphoric vision. The frothy, shuffling backbeat, the bunching up and spilling of sister duo VanJess's vocals — these flourishes relish house music's utopian potential. —Sasha Geffen
Crumb, "Nina"
Jazzy psycho-pop is exactly what the doctor ordered for me this week when I was feeling low and needed a major pick-me-up. Crumb is a Brooklyn-based four-piece band that reminds me of the music that my buds from Boise, Idaho, make — which is meant as a huuuuuge compliment. Their debut album Jinx drops on June 14, and I can only imagine that the other nine tracks are just as promising as this standout single. —Sydney Gore
Bleached, "Shitty Ballet"
Sometimes, you have to switch it up a bit, and that's exactly what Cali duo Bleached are doing here. After a few records of hard-charging, sugary indie rock, "Shitty Ballet" finds sisterly duo Jennifer and Jessica Clavin stripping down their sound not unlike an acoustic-based flip of the brittle sound they explored in defunct punk act Mika Miko. "You take me so seriously," they sing in unison, "but I'm pretty serious." Then the guitars kick in because, hey, they mean business. —Larry Fitzmaurice
Amyl and the Sniffers, "Got You"
Fabulously named Australian punks Amyl and the Sniffers are developing a rampant live reputation with every town they rock in across the globe, particularly following SXSW. Front person Amy Taylor sports a mullet and performs with a dangerous cheek — she has to be seen to be believed. On the record, she's as effective as grabbing your attention. The short, sharp, fat-free "Got You" has arrived with the announcement of their debut self-titled album this week. It's a jammer about the giddy early excitement of dating a new love interest: "A classy bloke with a half-full cup," she offers in her Aussie twang. It's fun; it's catchy; it's gonna make you want to get down to the local boozer and find your next victim. —Eve Barlow
Fémina, "Plumas"
Deliberately evoking the concept of the Nereids (sea nymphs from Greek mythology), the all-female band Fémina pose nude in a desert landscape on the cover of their third album Perlas & Conchas. Following the sun-drunk opening track "Brillando," "Plumas" is an ethereal, upbeat exploration of sexuality. The lyrics "Sabe que saben a dulzura / Sabe que sabe" (which translates to "He knows they taste sweetly / He knows that he knows") are repeated throughout "Plumas," referring to the Spanish word for feathers. The all-female trio cites Erykah Badu's influence on their art; in "Plumas," the layering of poeticism over percussion is acute. Sisters Sofia and Clara Trucco are behind the instrumentals; a cajón flamenco fuels the beat that crystallizes Clara Miglioli's alluring vocals. It whispers come hither from the shore. —Corinne Osnos
April 5, 2019
Lil Nas X ft. Billy Ray Cyrus, "Old Town Road Remix"
I was today years old when I became a country-rap-music stan. I'm on my way to Nashville buying cowboy boots, a cowboy hat, looking to take my horse to the old town road and ride till I can't no more. TikTok savant Lil Nas collaborated with our old friend Robby Ray Stewart to make the best country-rap song that ever existed. Forget trap music, I want to stand atop a tractor and belt this remix till the cows come home. After getting booted from Billboard's country-music charts, Lil Nas X is back with an even sweeter remix, with help from Miley's dad. After listening to the remix 12 times this morning, and letting the YouTube link crash my Chrome twice, I'd say Lil Nas X deserves a CMA at least. As for Bill Ray's resurgence, I have many questions. Most importantly, do we think Tish Cyrus actually has a bad Fendi sports bras habit? —Clare Palo
Ariana Grande & Victoria Monét, "Monopoly"
Ariana Grande is never not working. So to celebrate how the last six months of her life have amounted to an extended victory lap — unstoppable even despite various personal tragedies — rather than, say, taking a vacation, she's gone and released more music. "Monopoly" is an absolute gem of a flex, recorded mostly for shits and giggles with her songwriter Victoria Monét, and seemingly done on the fly while the two were messing around on some downtime while touring. (Because, of course, Ari spends her off time still very much on.) Play this song and visualize Ari sitting atop her throne, surveying what is now her pop kingdom, and serving withering stares at the ones who can't keep up. Look, her success has reached the point where she can turn forfeiting 90 percent of the songwriting royalties for "7 Rings" to Rodgers & Hammerstein's estates into a punch line on this loosie for the fans. Even her losses are a Goddamned win. —Dee Lockett
Vampire Weekend, "This Life"
The rollout for Vampire Weekend's long-awaited fourth album Father of the Bride has been divisive in certain corners. Clearly, this is shaping up to be the indie-pop titans' most eclectic album yet, and some of the left turns we've heard so far might have caused you to ask, "What happened to the band I used to know?" That's where "This Life" comes in: Its opening lick carries a brief flash of "A-Punk" before unfolding into a golden, Van Morrison-esque sway that interpolates an old ILoveMakonnen song and features contributions from Danielle Haim and Jake Longstreth. It feels familiar and new, like seeing the sun rise and marveling at the uniqueness of another day. —Larry Fitzmaurice
2019's Rock and Roll Hall of Fame Induction Ceremony: "All the Young Dudes" With Def Leppard, Brian May, Ian Hunter, the Zombies, Susanna Hoffs, and Steven Van Zandt
I'll be honest: I muttered a li'l meh when this particular group of performers came out to perform the Rock Hall's closing "all-star jam" at the induction last week, mostly because I was thinking of all of the musicians who didn't come to the stage. (Stevie Nicks. Janet Jackson. Robert Smith. David Byrne.) But whatever. I can be a cynic sometimes. This was really fun! Name me another setting — besides the rare fundraiser — that gives this many legends the opportunity to cross-pollinate and rock out for a few minutes, just because they can! Besides, "All the Young Dudes" is also a terrific "we need a crowd-pleaser of a song" choice. Would relive again. —Devon Ivie
Hot Chip, "Hungry Child"
The forthcoming seventh album from Hot Chip is called A Bathful of Ecstasy, which is a great descriptor for how I feel about house music. House music has taken on a new role for me in the past 18 months. On January 1, 2018, I decided I was going to stop drinking. Since then I have sought healthier avenues for release, ways to access the tips of my neurons and the flush in my cheeks and the flurry in my chest without making a tit of myself. Hot Chip's single "Hungry Child" reminds me of the buzz I feel on the dance floor beneath an average-size mirror ball when the drum beat from New Order's "Blue Monday" kicks in and hours of buildup finally erupt with this euphoric climax of strange limbs and a familiar soul. House music can be sustenance, and Hot Chip have become masters of the craft. Reportedly they've worked with other producers for the first time, including Philippe Zdar (of Cassius) and Rodaidh McDonald (The XX). It makes sense that it's gifted them with something even bigger, warmer, and brighter — because if you're going to build house music, the more the merrier. "A moment like a heart attack, stop my life, it's momentary," repeats vocalist Alexis Taylor on the chorus, asking you to be right here, right now. Such clarity is fleeting and they've grabbed it. —Eve Barlow
Khalid ft. Safe, "Don't Pretend"
Khalid misses someone so much he's having phantom text syndrome. Can't relate! Not at all! In a single from his new album, "Free Spirit," Khalid croons about keeping his phone fully charged, hoping his crush calls him back soon. They must … just be super busy, right? On the chorus, the track features 20-year-old Toronto artist, Safe, who's known for his collaborations with fellow Toronto rapper Drake. Khalid's new album is once again loaded with soft tracks relating to our greatest dating complications in the digital age. Send your location to Khalid, and please ring him back, it's rude not to! —Clare Palo
Mac DeMarco, "All of Our Yesterdays"
Indie-rock prankster Mac DeMarco's been undergoing an evolution-in-reverse over the past few years: While his first few albums were warped, sour-sweet takes on Paul McCartney's own homespun and intimate '70s solo output, his last LP This Old Dog pared back the sweetness a bit, letting his songwriting stand more starkly in contrast to the simple audio setup that surrounded it. If the appeal of this approach is lost on you, that's fine — but if not, "All of Our Yesterdays" might be right up your alley. The latest taste from Here Comes the Cowboy is simple and wistful, a single bent guitar line slithering between his voice, brushed drums, and a simple strum. The lyrical sentiment is all in the title, really — sometimes, things are just simple that way. —Larry Fitzmaurice
Hatchie, "Stay With Me"
Finally, an Australian band to obsess over that isn't Tame Impala! Hatchie's music reminds me of everything that I loved about the Mary-Kate and Ashley franchise when it was still going strong in the '90s. Her latest single is a delicious slice of dream-pop that sugarcoats the gradual unraveling you go through after a break up. "Stay with me / Why don't you stay with me," she sings in the chorus. "'Cause I'm not done / I've come undone." I don't know why Hatchie is still so underrated, but I'll continue to enjoy keeping her to myself until her debut album, Keepsake, drops in June. —Sydney Gore
Tank and the Bangas, "Nice Things"
Tarriona "Tank" Ball of Tank and the Bangas has no problem asking for what she wants (no, deserves), and I'm here for it. "Nice Things" is basically the antithesis to Taylor Swift's pop anthem. It's a bop from the beginning, set up by the first utterance of "Later, later, later, later alligators." The New Orleans–based group's sound is steeped in soul. There is a genre-bending quality to their music I find irresistible (NPR agrees). Seeing them perform live back in 2017 only intensified my obsession, and I've been angstily awaiting their next release ever since. This track is more playful than "Oh Heart" and "Rollercoasters," but lead singer Ball still demonstrates an impressive range of vocals, interjecting the chorus with rap verses ("Gucci purse, Gucci watch") and belting out individual lines ("I need a OG with a goatee"). The playful screeching five seconds in, the sucker punch of an "Uh" delivered at the two-minute mark — it's the little details that set Tank and the Bangas apart. Please forward to my future romantic prospects. —Corinne Osnos
Snoh Aalegra, "You"
True love is hard to find in this economy, so when you seem to have stumbled upon something pure, it's natural to go into defense mode by keeping it on the low — especially if your friends express their disapproval. I've been on the other side of this equation too many times and I would like to go on record stating that MY SENSES WERE ALWAYS RIGHT WHEN I GET A WHIFF OF TRASH. Sometimes it's in your best interest to keep your mouth shut and let your friends learn the lesson on their own … Since Snoh Aalegra insists on choking me with my feelings as she narrates yet another complicated love story, I will oblige. Go forth, bury me! —Sydney Gore
Lion Babe, "Sexy Please"
Lion Babe is back with an album brimming with slow jamz. Layering sultry vocals over a tribal beat in Solange fashion, vocalist Jillian Hervey and producer Lucas Goodman find their groove with Cosmic Wind, their 15-track album released earlier this week. "Looking for energy / Need a taste, fantasy," purrs Hervey, setting the mood for the track. This song feels like awakening from a winter sojourn to find your sex drive intact (yay!). Double-time drums and cascading piano notes are the lifeblood of this song. Like most catchy things, it's repetitive. The shelf life of "Sexy Please" remains to be seen, but you can find me playing it on repeat until my next hibernation. —Corinne Osnos
March 29, 2019
Sky Ferreira, "Downhill Lullaby"
The Earth has moved around the Sun six whole times since Sky Ferreira last put out music. When Night Time, My Time was released in 2013, Ferreira became as great a question mark to pop as Frank Ocean was to R&B. She was a muse. She was an enigma. She was an actor. She was a recluse. She was a fantastic pop star. In luminaries like Debbie Harry and David Lynch, she found the greatest of champions. And everybody has anticipated its follow-up since. Last year, she released a perfect Soundcloud cover of "Voices Carry" by 'Til Tuesday, which may have made some indication as to her more recent interests. Now comes "Downhill Lullaby," which reintroduces her with… a flurry of strings. Huh?! It's cinematic, it's gothic, it's elegant. Her vocal breathes over NIN-style turgid depths before she flies up into a chorus that has more in common with PJ Harvey or Tori Amos than any of her current peers. Deliciously interesting and well worth the wait. —Eve Barlow
Billie Eilish, "my strange addiction"
Billie Eilish sampled The Office in a song! At 12:17am, I heard Steve Carrell's voice in my ears and thought a roommate had, once again, started watching the TV show in my thin-walled apartment — but no, Eilish just did that to us, with no warning. The Soundcloud-born star's debut, WHEN WE ALL FALL ASLEEP, WHERE DO WE GO? (yes, her album title is aggressively capitalized, but her song titles are uniformly lowercased, so it evens out?), strategically places the surprise Dunder Mifflin cameo in the middle of an otherwise dark, depressing album — and on an entrancing ode to self-destructive tendencies, no less. It may sound gimmicky, but Eilish weaves it all together perfectly. Just an instantly memorable moment on an album full of them. —Clare Palo
Phoebe Green, "Dreaming Of"
What can I say, I'm a sucker for songs that open with a skipping, tactile drum beat. A few weeks ago, I wrote about Grace Ives' brief but just-real-enough-to-touch "Mirror," and now there's Manchester singer/songwriter Phoebe Green's new single "Dreaming Of," the percussive opening of which reminded me of Primitive Radio Gods' "Standing Outside a Broken Phonebooth…" at first blush. Appearances can be deceiving, though, because "Dreaming Of" opens up to reveal a miles-wide chorus anchored by Green's aching voice, making for your latest tried-and-true headphones anthem. —Larry Fitzmaurice
MARINA, "Orange Trees"
Remember Marina & the Diamonds, light of our pop lives? Don't insult me, of course you do. She has since rebranded as just MARINA, and in removing the character that never fully felt quite right for her, she inevitably finally sounds like herself. "Orange Trees" was written in tribute to the Greek island Lefkada where her family originated, so while it carries that same light ease that Instagram models sipping Sangria poolside on their sponsored vacations definitely try to present — every note of this is practically sun-kissed — it still maintains the spirit of home. –Dee Lockett
Jlin, "No Name"
For an artist as consistently forward-thinking as Jlin, this Adult Swim one-off almost rings nostalgic. The candy-crusted synthesizers, hi-hat blasts, and (subtle) bass drops bring me back to early Skrillex singles, which mined YouTube when YouTube was not yet a repository for fascist propaganda. Of course, Jlin outpaces Skrillex and his cohort of web-native millennial men by a mile in terms of technical dexterity. "No Name" maps the irreverence of late aughts dubstep onto the razor-sharp sensibility of one of the most exciting and precise contemporary producers, like a xenomorph wearing a Care Bear's skin. —Sasha Geffen
Rosalía and J Balvin ft. El Guincho, "Con Altura"
Before she even had a chance to flex her versatility, it seemed like Spanish singer Rosalía had already been boxed into some sort of neo-classic Latin genre that a certain type of purist craves. She makes flamenco accessible to a new generation, yes, but even Rosalía herself isn't so sure that's all she is just yet. Her new song, "Con Altura," proves it's certainly not all she's capable of: "When I was younger I loved listening to reggaeton and it could have been natural for me to make a song like this before, but I don't like to force anything," she explained in a statement. Collaboration, then, offers a more organic step in a new direction, which is exactly what happened when she joined forces with J Balvin, producer Frank Dukes, and Spain's El Guincho. Together, they have created Rosalía's take on cross-regional reggaeton. It sounds unique, fresh, and a challenge for any other artist to reproduce, at a time when so few songs ever do. —Dee Lockett
Show Me The Body, "Not For Love"
#20ninescene has never been more alive now that Show Me the Body's Dog Whistle is officially out. The album is 28 minutes of bittersweet bliss as the New York band tackles the devastation of loss by turning to their community for support. "Not For Love" reminds me of the golden days of high school, when friends were motivated to do things solely for the thrill of it. (With that said, I'm mostly referring to stuff like going to Warped Tour.) The last 16 seconds of this track, where all the noise fades and all you can hear is Julian Cashwan Pratt's screams transitioning into panting, chills me to the bone. Open this pit up, y'all. —Sydney Gore
Georgia, "About Work the Dancefloor"
Georgia Barnes has been around for a minute: Her self-titled Domino debut in 2015 was a pleasant grab-bag of au courant and pop-adjacent sounds that suggested greater talent lying underneath. Consider "About Work the Dancefloor" that promise fulfilled, then — it's bold, beaming electro-pop with flashy, house-indebted production touches and a hell of a synth-led earworm making up its beating heart. It evokes nostalgia at its core, and not for the 1980s — rather, for about five or six years ago, when every single band and artist coming forth seemed committed to reviving the slick and weird synth-pop sound that the Knife froze in amber with their 2000s classic Silent Shout. Barnes is clearly keeping the dream alive. —Larry Fitzmaurice
Melii, "Trip"
There are some songs created, almost as if by algorithm, exclusively to soundtrack IG baddies' content. This, from Harlem rapper/singer/flexer, is that. What we have here is a mishmash of meaningless words — one of many from her new project, phAses — that serve no other purpose than to make Melii, and anyone listening to Melii (woman especially) feel like the absolute shit, even if it could be further from the truth. ("I'm fuckin mental / No incidental / Speedin' in the rental.") It's like you woke up hungover with a dollar to your name but, still, no one can tell you nothing. You are that bitch. I classify this genre as the social media spiritual and I want 1,000 more like it. —Dee Lockett
Foie Gras, "Psychic Sobriety"
Between Billie Eilish, the new Palehound song, the Sky Ferreira comeback single, and Foie Gras's "Psychic Sobriety," 2019 is shaping up to be the year of the Girl Creep: a gender archetype defined by excessive feminine desire, scheming, and menace. "I'm a bad lay, but I want you/I want you to choke me until you love me," this latest installment begins, a great couplet that only gets better as the song progresses. "I'm a bad lay, but I'll keep you safe/In my ashtray," she continues, a pair of lines that kicks me back to Placebo at their acid glam heyday. No, I will not perform well, but yes, I will get what I want, and God help the one who tries to stop me. —Sasha Geffen
Windwaker, "My Empire"
Reminiscent of Linkin Park's "Numb", a moody, ambient opening precipitates a screaming chorus in "My Empire." Where LP was a boy band masquerading as a punk band (remember Lil J?), Windwaker feels different (Meet The Pretty Reckless). The all-male quintuplet who make up the Australian metalcore band Windwaker got their start inland, in the city of Wagga Wagga. And for the punk faint of heart, this is one of the group's more palatable tracks. "They'll never give you a way out / They'll rise up like kings / Summoning oppression / Carried out on a whim to live," screams lead singer Will King as the guitar-heavy buildup reaches an overdue climax. Whispers loom before hard-hitting growls; the contrast is nothing short of magnetic. Aggressive vocals haven't been muted in production to appeal to a Top 40 crowd (I'm looking at you, Future Islands). These Triple J darlings are worth keeping your ears on in 2019.
March 22, 2019
Lizzo ft. Missy Elliott, "Tempo"
There is no one churning out BBW anthems better than queen of thick bitch nation Lizzo. But before her, there was Missy Elliott as its lone delegate, as far as the music industry allowed for plus-size black women, anyway. With Lizzo as Missy's heir apparent, the two were destined to collaborate. Their resulting track together, "Tempo" — off Lizzo's can't-miss upcoming major label debut — makes for a seismic shift in the way juicy bodies ought to be served. As Lizzo puts it, "Slow songs, they for skinny hoes / can't move all of this here to one of those." And who better to accommodate Lizzo's divine right to gyrate without being stifled by the barely twerkable bops crowding the clubs (shockingly almost always made by men) than her damn self? It's a woman's work to self-represent in order to be seen. In the truest spirit of Missy, who contributes here mainly as a hype woman, Lizzo even invents a word for what she's doing on this track: "My ass is not an accessarary" — not a trend, not an afterthought, and certainly not small. —Dee Lockett
The Cranberries, "Wake Me When It's Over"
When I feel like aggravating certain men I'll sometimes say that the Cranberries are my favorite grunge band. Songs like "Zombie" tap into the same abject willfulness as Soundgarden or Stone Temple Pilots, and "Wake Me When It's Over," a newly released song from the band's forthcoming In the End, bristles in a similar vein. The texture of Dolores O'Riordan's voice, as well as the band's use of clean guitar and reverb alongside the classic power chord chug, keeps this song from serving as a time capsule. It's not nostalgic, but it is one of the last places we'll hear the late O'Riordan's voice, which lends it an air of scarcity and therefore urgency. Mostly it's a sharp hook with a solid punch behind it, steamed up by a little wistfulness — everything great about the Cranberries, then and now. —Sasha Geffen
Flume, "How to Build a Relationship" ft. JPEGMAFIA
I was not expecting Flume to surprise-drop a mixtape anytime soon, but I finally got around to streaming Hi This Is Flume and, well, thank you so much, Harley Edward Streten. And as it happens, while I've been hiding from the world at Treefort Festival this week, I managed to catch JPEGMAFIA throwing his vest-protected body around onstage in front of predominantly white youths in the middle of Boise, Idaho, and I was blown away by how they were losing their minds over him. But back to the track … Social climbers really get you in a cold mood, and sometimes you need to vent about it! Maintaining healthy relationships as an adult is way harder than it should be, so instead let's direct our attention to JPEGMAFIA's wholesome outbursts of laughter and manifest THAT energy instead. —Sydney Gore
Cate Le Bon, "Daylight Matters"
Welsh singer-songwriter Cate Le Bon has been getting weird in her own little corner of the world for a minute now, but she rose to greater prominence this year through her worthy contributions to Atlanta gentle-aggressors Deerhunter's latest LP Why Hasn't Everything Already Disappeared? In other words, the perfect time for another solo album from her — and the poppy gait of "Daylight Matters," from her forthcoming Reward, carries the art-rock charms that Deerhunter often possesses with just the right amount of off-kilter sonics she's become known for. It sounds like spring, and Lord knows we could all use a little more daylight these days. —Larry Fitzmaurice
Ryan Pollie, "Aim Slow"
Formerly known as Los Angeles Police Department, the L.A.-based singer-songwriter and bedroom producer Ryan Pollie has recovered from a cancer diagnosis in 2018 and made a new batch of material while in recovery. The first tidbit, "Aim Slow," decides not to shy away from that recent personal history by complementing video footage from Pollie's childhood next to clips of him in his room in a hospital ward, smiling amid life's challenges. The song itself presents in the vein of classic Californian melodies, a series of moderately traveling piano chords that usher on Pollie's gentle vocals, while a little guitar line adds a smidgen of soulful groove to an otherwise philosophical march, steeped in questions about religion and mortality. "Though I aim slow, my god's insane," he repeats. —Eve Barlow
Lydia Ainsworth, "Tell Me I Exist"
"Tell Me I Exist," off Ainsworth's upcoming album Phantom Forest, speaks to an all-too-familiar millennial anxiety surrounding the role external validation plays in a digitized world. "Tell me I exist / Look what I've become / Prove that I'm still here / Prove that I'm enough" the chorus goes; equal parts plea and self-critique. The song finds Ainsworth revealing her desire to transcend the loneliness of the 'like.' "I fantasize the private life / With my DNA's unsigned contracts," she admits, one of several half-baked introspections weaved throughout the song. Affecting strings and layered vocals hauntingly echo over frenetic chords. It's a potent mix of synth-pop and existentialism, straight up. —Corinne Osnos
Weyes Blood, "Movies"
Natalie Mering has spent the last decade navigating the psychedelic folk wilderness as Weyes Blood, and "Movies" — the latest single from her forthcoming Sub Pop debut Titanic Rising — is basically her big close-up moment. A throat-tickle of a synth arpeggio runs throughout, before being broken up by scraping strings and pounding drums, but Mering's voice is ascendant through the chaos. "The movies I watched as a kid / The hopes and dreams / Don't give credit to the real things," she opines, before turning what sounds like a negative sentiment into a pure positive: "I love the movies." Nothing quite as satisfying as a twist ending. —Larry Fitzmaurice
Institute, "Dazzle Paint"
Dazzle painting, for those who lack knowledge of naval vernacular — including myself before writing this blurb — originated in World War I as a new, artful, geometric form of warship camouflage meant to disorient enemies with bold, zebralike patterns. (You know, the opposite of camouflage's intended purpose.) As technology advanced, the necessity to trip adversaries up with M.C. Escher–like confusion ceased to exist, but the metaphor remains apt for Austin- and now New York–based post-punks Institute, and their perception of society. Cleverly critical and undoubtedly furious with the political world around them, "Dazzle Paint" suggests solutions offered up by even the superficially progressive candidates are just that: surface level, temporary, shortsighted, razzle-dazzle. The first single from the band's forthcoming third LP, "Dazzle Paint" is short, brooding, dare I say snarling, and chock-full of riffs that can't quit. And I can't quit listening to it. —Maria Sherman
Lennon Stella, "Bitch"
I'm a bitch. You're a bitch. We're all that bitch. And it takes a bitch to know a bitch — just as Canadian teen pop singer Lennon Stella sings in her new single "Bitch." Known for her starring role on Nashville, Stella is one steamy upbeat pop vocalist to watch. Her solo EP "Love, me," including soft singles "Bad" and "Fortress," showcases her ability to have honest, meaningful pop music. (Her other recognizable feat is her viral 2012 YouTube cover of Robyn's "Call Your Girlfriend.") "Bitch" is the track you DM to that dude who called you bitchy, or your frenemy who makes those backhanded compliments, or to the girl at the gym who steals your spin bike. There's no time for that, bitch. Stella's a teen who sings about teen things, hitting every note and every vulnerable, ephemeral feeling at its core. —Clare Palo
Anohni ft. Jade Bell and J. Ralph, "Karma"
I've gotten so used to hearing Anohni's voice soaring over chaotic electronic landscapes that it's actually a surprise to hear her accompanied by a guitar again. "Karma" brings me back to her work with the Johnsons, where I first heard her, where the order above all else was as much gentleness as possible. The way her voice cascades across the audio channels when she repeats the words "just let go" is a testament to her power as a vocalist, which hinges on the interplay between delicacy and power. This is a benefit single for Jade's Kids, a nonprofit aiming to insulate young people from the risks of substance abuse by getting them involved in art, and it speaks to that light that sometimes shows up at rock bottom: the sudden realization that, after all doors have seemed to close, there is a way forward into the world, that the human animal is infinitely malleable and capable of growth, that this life is more than whatever it's been so far. —Sasha Geffen
Nilüfer Yanya, "The Unordained"
Sometimes my colleagues try to tell me that rock isn't good anymore and I feel my blood begin to boil, because if they were familiar with women like Nilüfer Yanya, then they would know the truth! Our attention spans are shrinking by the minute, so the fact that Miss Universe runs 17 tracks long is a high risk, but it's one of the most polished projects I've heard in months. The distorted guitars are enticing enough, but when Yanya chants "Look at you, I can't look at you / Standing there, all your problems solved" with complete control, I really lose it. Don't mind me drifting over here and drowning in a sea of my emotions. I could go on and on about how talented Nilüfer Yanya is, so I'll just shut up and let you listen to the record. —Sydney Gore
March 15, 2019
Shura, "BKLNLDN,"
It's been three years since the British songwriter-and-producer Shura put out her debut synth-pop album Nothing's Real, so to have her name pop back up is as lovely as a surprise knock on the door from an old friend. The first single from her next album is the dawn of a new phase, and benefits from a generous incubation period. It's possessed of all the slow-jam broodiness of a late-'90s Janet Jackson deep cut, inspired by a sudden rush with romance in all its breath-stealing palpitations and mental paranoia. "This is a love, this is an emergency!" comes the chorus, narrating Shura's move to Brooklyn from London to be with her partner. The final minute features a playful transition to an uptempo beat signifying her arrival Stateside. It skips with glee toward new beginnings. —Eve Barlow
Maren Morris, "Make Out With Me"
On Friday night, as I was going about my weekend and doing nothing in particular, I started laughing hysterically thinking about what Leonardo DiCaprio does when he's, say, at a pregame and someone's iPhone shuffles to the Rihanna song "Higher." Does he tear up? Does he sit there in silence, zipping up his hoodie? And does Tobey Maguire roll his eyes and make an excuse to the gaggle of 20-somethings that are perma-installed wherever Leo DiCaprio lives? Does Lukas Haas just point to the speaker and ask someone to skip the song? Truly, I would love to know. Anyway, a song that is a lot like "Higher" but not exactly like "Higher" is Maren Morris's new song, "Make Out With Me." It is a brief ode to being a little drunk and a lot horny, and it sounds like we've arrived late to a poet's drunken ramblings, unedited. "Come put your things down, I'll order take out / No more to say now, baby, just make out with me," Morris sings. Yes. —Hunter Harris
Holly Herndon, "Eternal"
Holly Herndon made her forthcoming third album Proto in concert with a piece of software she trained to sing. Her latest single from that record, "Eternal," throws into disarray the impulse to locate the "human" part of a given sound. It's impossible to tell where Herndon ends and her machine begins; processed voices coagulate and dissipate across the beat, which makes use of a string chord that sounds like an old Windows error tone. If human beings, as a species, are defined by our use of technology, what's the use in fortifying the false binary between person and machine? We spread ourselves into the devices we use daily. In the late '90s, I read an online guide to Wicca that included spells for purifying and protecting home computers, like they were bodies or extensions of bodies. The body, the home, the desktop computer, the iPhone — they all form a living circuit. "Eternal" tracks that flow. —Sasha Geffen
Gus Dapperton, "Fill Me Up Anthem"
As a mo0o0o0dy teen, you couldn't have convinced me to slow dance. I found the whole idea of it eyes-rolling-in-the-back-of-my-skull boring, confused as to how anyone would have the desire to invade the personal space of someone else while waddling like a pair of awkward penguins with nowhere to go. Post-pop artist Gus Dapperton's latest single sees him leaning further into his cinematic tendencies with a charming slow jam about the kind of mushy, gushy love that I swear only exists in '80s movies, a time where slow dancing wasn't so cringe-worthy because it really MEANT SOMETHING as all the synths worked their magic in a toxic atmosphere polluted with social stigma. The way that Dapperton belts out "I only hope he's making / 'cause my hoe brings home the bacon" is slightly reminiscent of King Krule's growls, which also really get me going. The outro also hits me hard in the gut as he repeats variations of the line "Fill me up and kill me softly like a true romance." For once, I feel a little less empty inside. —Sydney Gore
Grace Ives, "Mirror"
Up to this point, Grace Ives has come across as a bit of a weirdo. The Astoria-residing homebody's fascinating debut EP, 2016's Really Hot, contained equal parts Suicide's brittle-sounding dead-eyed stare, John Maus's wavering synth emissions, and the left-of-center indie-pop once associated with storied indie label K Records. (A sample song title: "Weirdwordsworms.") On "Mirror," Ives retains the intimacy of her previous work while embracing a distinctly poppier sound, a crisp backbeat and watery melodic mist serving as the backbone for her wistful vocal take. "I think I finally got it f-figured out," Ives sighs before "Mirror"'s breakbeat-burst of a chorus — a statement that's much a relatable millennial wish as it is a tilt toward her continued artistic maturation. —Larry Fitzmaurice