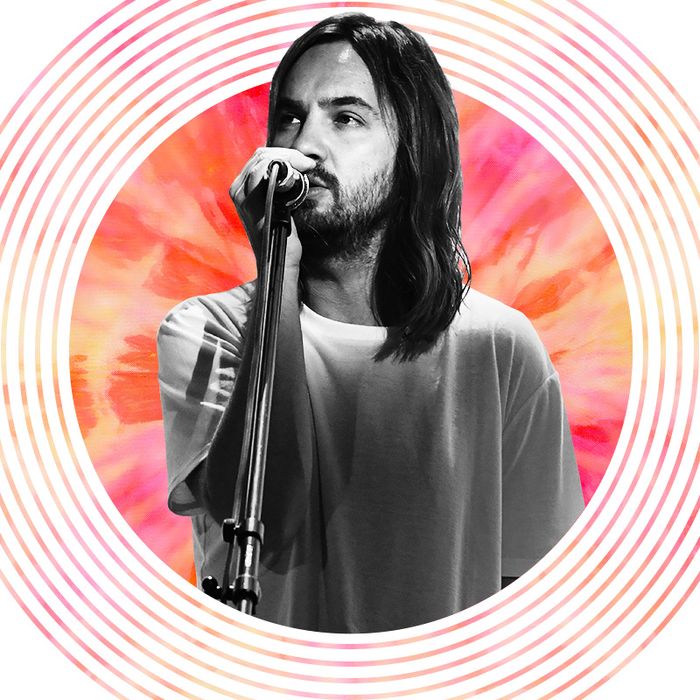 Tame Impala
Photo: Valerie Macon/AFP via Getty Images
Each week, Vulture highlights the best new music. If a song is worthy of your ears and attention, you'll find it here. Listen to them all.
Tame Impala, "Posthumous Forgiveness"
"Posthumous Forgiveness" is easily the highlight of the latest crop of singles from Tame Impala's upcoming The Slow Rush, because it doubles down on what front man Kevin Parker does so well. Parker excels at creating music that exists out of time, using sonic signifiers of the moment (you'd be forgiven if you thought the Weeknd in some way contributed to the vocals here), but as he moves further and further away from the relatively straightforward psych rock of 2010's Innerspeaker, he continues to find a home in zonked out, hypnotic self-reflection. Here, he burrows further and further into his own life and memories, exploring his complicated relationship with his father, and how he wishes he could tell him about what his life is like now (hence the song's title). "Posthumous Forgiveness" is ultimately the most lyrically direct Tame Impala song that exists, which also makes it the most heartbreaking. Parker's greatest trick, though, is you'll get exactly as much as you put into this song: At a minimum, it's gorgeous sonic wallpaper, but spend a bit of time with it and it's a fascinating artistic leap from an artist in the process of cementing a brilliant legacy. —Sam Hockley-Smith
The Weeknd, "Blinding Lights"
The King of the Fall has risen and is transporting us back to the '80s. The Weeknd's second single "Blinding Lights" off his upcoming fourth album is serving a manic explosion of energy, that pairs well with his companion single, and it's music video, "Heartless." Abel stays in a euphoric state in "Blinding Lights," as he has an intimate affair with the City of Sin and a bunch of strung-out synths (he loves the synths!). It's lighter, it's trippier, and it's peak Abel. It feels as if it's the truest caricature of the Weeknd the brand. He's promoting on Instagram again, he's "going crazy" on late-night shows, Abel's back, baby. —Clare Palo
Torres, "Gracious Day"
As the days grow dark and short and long drawn-out baths are the reward for a year of toil, the warmth of an acoustic paean to a dream of everlasting togetherness can fill a cold space with hope and the desire to recuperate for another trip around the sun. "I don't want you going home any more, I want you coming home," sings Mackenzie Scott, asking of her love to switch allegiance from the past into the future, to unsettle and resettle from old to new with the promise of lifelong commitment. It's the time of year for "going home," but that subtle distinction between sending oneself and being received is what has made Scott such a smart lyricist throughout her varied works, provoking such consideration in a few small moments. —Eve Barlow
Caribou, "You and I"
Melancholy, as a concept, is incredibly pervasive in the music we listen to. Who doesn't love to wallow in a particularly beautiful downer jam from time to time? (By "time to time" I actually mean multiple times daily, or all day every day). Dan Snaith, as Caribou, has perfected a sad-on-the-dance-floor strain that manages to celebrate love even as it laments the more painful aspects of it. I had assumed that he'd reached the apex of this sound on 2014's Our Love, which positioned him as the sort of nerdy club king of romanticism, but "You and I" takes the world he created there even further, letting synths waver and ripple, before pulling off the inclusion of a cheesy '80s pop-metal guitar solo. It shouldn't work, but it does. —Sam Hockley-Smith
Poliça, "Forget Me Now"
"Forget Me Now" isn't your typical breakup song; it's exempt from the regret that categorizes so many soured love stories. "What about me, what about me, what about me makes you lie right into my face. Laying alone in your mistake. Make it up to me someday. No, I'm gone." Singer Channy Leaneagh builds her chorus one line at a time. Her lyrics expose layers of frustration yet her delivery is (almost eerily) serene. Blunt lines like "All the good men that I know / Lost their light to pills and blow" hit like a sucker punch nonetheless. Sometimes there's no making good, there's just moving forward. Poliça's expression is one of confidence and grace. —Corinne Osnos
Kali Uchis, "Solita"
There's a saying in Spanish that goes, "Mejor sola, que mal acompañada," or better to be alone than in bad company. Kali Uchis took the saying to heart and is taking it one step further on "Solita" ("Alone"), the singer's latest single since the January release of her debut Isolation. "Bailando aquí sola / Es mejor que con el diablo," she sings, roughly translated to "I'd rather dance alone than with the devil." Uchis sounds unhappy as she mourns a relationship, but don't get it wrong: This song is not one for wallowing. During her Beats 1 interview, the singer said of the "sad yet horny" single, "I think that just goes back to wanting to feel empowered about independence, rather than feel like, 'Poor me, I'm alone.' It's not really like that. I just feel like if you're not adding value, you're polluting my space." There you have it: Uchis has no time to waste — and neither do you. Think of "Solita" as your theme song for the new year. —Daise Bedolla
Porridge Radio, "Lilac"
There is no way I would ever have predicted the existence of a band called Porridge Radio but now that one exists I cannot understand a world without one. Porridge Radio, who met in the U.K. seaside town of Brighton some years ago, actually sound like their name: Their musical landscape has a viscous, gummy heaviness that is incredibly satisfying to prod around in. "Lilac" is the band's first release after having just announced a deal with Secretly Canadian. It begins with emergency guitars, strings, and a rhythmic patter that's then interrupted by vocalist Dana Margolin's assertions of hitting a brick wall. "I'm stuck, I'm stuck, I'm stuck, I'm stuck," she frets, trying to work out how to be a well-intentioned person. "I don't want to get bitter, I want us to get better" is a very relatable plea for the things we face as we strive to be better to each other and often find it's much harder than we'd like to admit. But this Porridge Radio refuse to give up the fight as they screech through a final crescendo toward the light. —Eve Barlow
NoMBe, "Paint California" 
NoMBe serves up a much-needed dose of vitamin C on "Paint California." While New Yorkers are pulling on their puffer jackets, Angelinos are frolicking in Y2K midriff-baring tops barefoot on the beach. The music video proves nothing more and nothing less. This isn't the first time the German-born artist has aired his appreciation for his adopted home (see "California Girls" from 2016) and it probably won't be the last. Rippling synths and electric guitar color this Technicolor beat. —Corinne Osnos
Friday, November 22
Maggie Rogers, "Love You for a Long Time"
Maggie Rogers's "Love You for a Long Time" is overflowing with hope. "I saw your face and I knew it was a sign / And I still think about that moment all of the time," she sings. "And in the morning when I'm waking up / I swear you're the first thing that I'm thinking of." The song comes straight on the heels of her Grammy nomination for Best New Artist — perfect timing as Rogers herself noted this was actually written before she finished her debut album Heard It in a Past Life. "It's a song about love in all its forms … I wanted it to sound like the last days of summer. I wanted it to sound as wild and alive as new love feels," she said. In other words, it's the perfect antidote to your end-of-year blues. —Daise Bedolla
Tinashe, "Link Up"
In April 2018, I told you Tinashe wasn't a music-industry prisoner. Now here she stands a year later, one label down and one project up — this time, under "Tinashe Music Inc." This week's Songs For You is her first independent release, 15 songs reminiscent of her early mixtapes released between bickering with her former label home, RCA, over her albums. The distinction here is that, now, Tinashe answers to herself. But truthfully, she's always had the mind of an independent, DIY by-any-means-necessary creator; Songs for You is an extension of this ethos. Even a track like "Link Up," a made-for-Instagram pussy-stunting anthem, shoots above algorithm basics to experiment with a beat and even cockier attitude change halfway through. Give Tinashe her things! —Dee Lockett
HAIM, "Hallelujah"
Well, I don't know who hurt HAIM, but it is inspiring some of their best work since the initial buzz that made them a household name (and worthy of Taylor Swift's inner squad). No, but on a serious note, HAIM have been candid about all the shit they've worked through on their forthcoming album (here's Alana sharing the awful story of the loss of her best friend that inspired her verse on "Hallelujah"). For awhile there, I thought HAIM might've run out of steam once they started to coast on PTA-directed music videos. (Their streak continues, but at least now the music and visuals enhance each other.) It's so cruel and kind how tragedy and pain will bust open the creative juices. In this case, "Hallelujah" processes death with a level of vulnerability (and Stevie Nicks energy) I don't think we've yet heard from the sisters HAIM. I'd love to hear more. —Dee Lockett
Soccer Mommy, "Yellow Is the Color of Her Eyes"
Ahead of 2020, I'm also incredibly excited for Soccer Mommy's (a.k.a. Sophie Allison's) future releases. There has been a glut of confessional female singer-songwriters with an emo bent in their late teens to early 20s in the past few years, but this Nashville singer-songwriter is the best of her ilk, and she's only getting better. This song was written while Allison was on the road, thinking about the time she was losing out on with her mother. "'Cause every word is a nail that slips in slowly/And I can't hammer it down enough to keep holding in," she sings. Time! It is evaporating through our fingers. —Eve Barlow 
Bad Bunny, "Vete" 
Listen, I've had a hard week (month), and Bad Bunny isn't helping. The Puerto-Rican reggaetonero may have just been nominated for two Grammys for X 100PRE and Oasis (with J Balvin), but his latest single "Vete" ("Go away") is a break-up song that sees him in his feelings. The song interpolates Noriega and Kartier's "Si Te Vas" as he sings, "Nadie te está aguantando y la puerta está abierta, eh / No te preocupe' por nosotro' do', nuestra historia ya está muerta … Se acabó, por ti ya no siento nada." His sadness is tinged with anger as he tells his partner that the door is open for her to leave because their love is dead. Add this song to your breakup playlist, and pray you won't need it any time soon. As for me, I'll be listening to the song on a loop this weekend, not to mourn a relationship but to mourn my messy week. —Daise Bedolla
Grimes, "So Heavy I Fell Through the Earth" (Algorithm Mix)
Was it the final mercury in retrograde of the decade that had me feeling some type of way this week, or do the latest releases from galactic goddesses FKA Twigs and Grimes have me more in my feels than usual? A few weeks after Twigs dropped MAGDALENE, a masterpiece full of glitchy, haunting tracks like "Fallen Alien," Grimes released not one, but two, mixes of "So Heavy I Fell Through The Earth," the second release from her upcoming LP Miss_Anthropocene. Lyrically, both tracks traffic in detachment, defeat, and impending doom. If listening to "Fallen Alien" feels like living a dystopian nightmare out loud, "So Heavy I Fell Through The Earth" feels like the out-of-body experience that precedes it. The Algorithm Mix is a mind-numbing blend of softly layered synths and relaxed vocals. Liquid novocaine. —Corinne Osnos
The Big Moon, "Take a Piece"
Based off singles alone, The Big Moon's forthcoming second album Walking Like We Do is currently my frontrunner for 2020. It's about time you knew more about this London-based fourpiece, so let me tell you about them. They put out a debut album in 2017 and were nominated for the coveted Mercury Music Prize in the UK. Although they did not win the gong, they took the success of that first outing into the world and now appear to have channeled an even greater confidence into the debut's follow-up. As with all great indie bands, the four members of The Big Moon are such bright and differing personas that it won't be long before you choose your favorite. They're having fun with it all, too. "Take a Piece" is their poppiest number ever, and an ode to the craziness of life as a pop star, so naturally the music video sees them embody all their pop dreams, performing dance routines in perfect '90s boy-band garb. Remember East 17? The Big Moon do. That's why they're legends. —Eve Barlow
Friday, November 15
Billie Eilish, "everything i wanted" 
Just eight months after her debut album, When We All Fall Asleep, Where Do We Go?, Billie Eilish is back with a song cataloguing her meteoric rise — and the pressure that comes from her newfound fame. "I tried to scream / But my head was underwater … 'Cause everybody wants something from me now / And I don't wanna let 'em down," she sings on the Finneas O'Connell–produced track. The 17-year-old told DJ Annie Mac on air, "Pretty much that whole song is about me and Finneas's relationship as siblings. We started writing it because I literally had a dream that I killed myself and nobody cared and all of my best friends and people that I worked with basically came out in public and said, like, 'Oh, we never liked her.'" So what happens when you get everything you wanted, and you're still not happy? Would you do it all over again? These are the questions Eilish finds herself asking, and while there's no turning back time, she finds a lifeline through her brother. At the end of the day, isn't unconditional love and support what we're all after? Eilish knows she has it —Daise Bedolla
Labrinth, "Like a Movie"
The brainchild behind 2019's breakout series Euphoria's epic finale song is English singer and producer Labrinth. (No matter how you felt about the show, the score slaps.) His latest release, "Like a Movie," also has cinematic flair. The record begins with a spoken-word bit: "Be careful what you wish for son, you may wake up and one day you fucking get it." Labrinth is on the receiving end, stretching his voice to new heights with the line, "So many bottles of Champagne, I'm in a room with famous faces." Labrinth braids dance-y pop formulas with quick-paced piano, bluesy strings, and a scat rendition. If Diplo remixed a Michael Kiwanuka song, I imagine it would sound something like this. (Diplo is a frequent collaborator of Labrinth's, in fact, the pair recently formed a pop group with Sia called LSD.) Warning, the chorus — "This shit is like a movie. I feel like Scorsese" — is bound to stick in your head. —Corinne Osnos
Moses Sumney, "Virile"
"Virile" is a highly dramatic return from the former L.A.-based, currently North Carolina–dwelling visionary Moses Sumney. With theatrical strings, rolling drums, and an ever-crescendoing vocal, Sumney is teasing a double LP titled grae, an album that's supposedly themed around "greyness" — but the track is anything but middling or drab. It's forceful without being excessive, its strength enforced by delicate instrumental runs that, when cascaded on top of one another, form an army of melody. —Eve Barlow
J Balvin, "Blanco"
J Balvin's new music video has everything: flying cats, hypnotic dancers, an array of animal sculptures, and Balvin himself covered in monochromatic paint. The Colin Tilley–directed video illustrates his latest single, "Blanco" (or "White"), the followup to his most recent feature on Major Lazer's "Que Calor." The Colombian reggaetonero takes "Blanco" as an opportunity to remind us that, in case you forgot, "Hago solo éxitos a lo Benny Blanco / No puedo parar, si paro me estanco / Sobra prosperidad, eso lo sabe el banco." In other words, he only makes hits "like Benny Blanco" — and his bank account has the proof. It's a good addition to the reggaetonero's collection of, yes, hits, but don't read into it too much. It's fun. It's made to dance. You know what to do. —Daise Bedolla
Lily Kershaw, "Now & Then"
Today the L.A.-based troubadour celebrates the release of a new album, Arcadia, after a month on the road opening for Joshua Radin and the Weepies. I caught the first night in L.A. at the Troubadour, and had my heart captured by Kerhsaw and this deeply honest ode to an old flame. It's lyrically bereft ("You kept me on the line but never close to be mine") but the sweetness of her rooted vocal ensures that it could never, ever be bitter. For all those feeling a little pensive as the winter kicks in. —Eve Barlow
Friday, November 8
Niall Horan, "Nice to Meet Ya" (Diplo remix)
Reader, look, I hear you: How the fuck are we meant to process the existence of a Diplo house remix of former One Directioner Niall Horan's little pop-rockish banger? Well, like everything with Diplo these days (and always?) just go with it, I guess. 2019 has seen Diplo go full yeehaw culture, full Latin trap, and full literally whatever insanity he can think of next. The beautifully ridiculous video for this remix has Diplo in Niall Horan cosplay; the actual remix, though, is Diplo in Calvin Harris cosplay. That sounds like a diss, but I can assure you it's not! Calvin Harris remixes always slap; Diplo's are … hit or miss. But Diplo's always at his best when he uncomplicates the art of club music, stripping it down to its purest form and remembering what this shit's all about. His "Nice to Meet Ya" is good enough to make you want to go back and check out the original – the marker of any successful remix. —Dee Lockett
FKA Twigs, "Sad Day"
FKA Twigs's brand-new release Magdalene is a breakup album littered with biblical allusions and recovery spun into the lyrics. It's crazy to believe that heartbreak with Robert Pattison could create this much elegant content, but it's intoxicating nonetheless. On the single "Sad Day," she delicately negotiates with a lover, asking for permission to proceed, as her obsession becomes all-consuming. The track creates a high energy, low energy dynamic, and dances with the idea of this new relationship, or a new phase of a preexisting one. She begs them to "Taste the fruit of me / Make love to all you see" and asks "Would you make a, make a, make a wish on my love?" The lyrics are full of anxious requests, yet she seems content with any outcome. —Clare Palo
Rosalía, "A Palé"
Is Rosalía here to save humanity? The question is on many people's lips. When she emerged with her debut album a year ago this week, she already seemed to have woken up like Beyoncé (or Björk, or both). And since, she has raised the bar with every visual and sonic offering she's gifted her followers, who are increasing in numbers all the time. It's hard to imagine that the album only landed 12 months ago; such is her impact. You could argue the Spanish performer and producer is single-handedly catalyzing the globalization of pop music, and using her spotlight to showcase the art, history, and culture of her own roots. In the video for the flamenco-cum-hip-hop smash of "A Palé" she sports a unibrow à la Frida Kahlo and the title makes reference to her upbringing in a town outside Barcelona. Mainly though, the song fucks. —Eve Barlow
Prateek Kuhad, "Hopelessly"
India's indie singer-songwriter Prateek Kuhad is debuting new tracks on his American tour, which is a mix of sets from his 2018 confessional, breakup EP cold/mess, his 2015 album In Tokens & Charms, and incredibly engaging crowd-pleasers, which are sung solely in Hindi (made famous from Bollywood projects). His latest YouTube release plucked from his tour is "Hopelessly," a vulnerable ballad with a devastating vibe. Kuhad looks back on being hopelessly in love, grieving a relationship that once was. Once referred to as a combination between "Simon and Garfunkel by way of Damien Rice," and most recently compared to James Taylor and Joni Mitchell, Kuhad has a reserved embodiment that elicits incredible empathy. I just want to give this guy a big hug. —Clare Palo
Jessie Ware, "Mirage (Don't Stop)"
Jessie Ware has proven herself to be a slinky chameleon, as capable of dramatic balladry or funky house as she once was dubstep cameos in the early 2010s. With "Mirage (Don't Stop)" — her third song release of the year — she throws herself under the mirrorball with a more club-ready disco groove. Still based in London, Ware has collaborated with a host of top tier producers here in James Ford, Benji B, and Matthew Tavares, and reportedly there's more to come on an album in 2020, including some tunes with Metronomy's Joe Mount. For now, she's serving a refined glamor for nights out on the town. —Eve Barlow
Exitpost, "Two Dreamers"
Dreams take hold slowly; we slip from unconsciousness to otherworld. Listening to "Two Dreamers" feels like occupying the space between. Exitpost is the moniker of Japanese-American producer Ken Herman. Born in Tokyo, Herman moved to New York at a young age. Inspired by a recurring dream from the artist's childhood, where waking up in one city meant losing the other, "Two Dreamers" explores the spaces between our mental and physical states; the objects that tether us to our realities and the identities that color our dreams. Japanese vocalist Unmo's delicate delivery of Japanese and English lyrics coddle the beat like a lullaby. Around the 1:30 mark, a fluttering of synths disrupts the ethereal soundscape. The music video (directed by Lee Arkapaw) features a collection of animations informed by Herman's memories, real and imagined. Ordinary images take on shapes and sounds: chopsticks pinch, pages ruffle, and legs elongate. It's a touch melancholy, wholly hypnotic. —Corinne Osnos
Friday, November 1
Tame Impala, "It Might Be Time"
Tame Impala's transition from psych-rock project to vaguely proggy electronic music that fits within the structures of rock music is fascinating because it happened in plain sight. The shift from the guitar-centric Lonerism to the synth-focused Currents made sense because everything still bore the mark of Tame Impala mastermind Kevin Parker: an obsession with transition, with the feeling of being an outsider looking in, and then later, an insider looking out at the world he used to occupy with a sort of weary and wary acceptance. "It Might Be Time," the first song to be released since the announcement of Tame Impala's upcoming The Slow Rush, fits perfectly into the ongoing Tame Impala narrative. Think of it as a spiritual — if not sonic — sibling to Parker & Co.'s now-classic "Feels Like We Only Go Backwards." Here we find Parker ruminating about aging and coolness over a track that'll sound great at the next brand-sponsored Coachella-adjacent pool party you'll find yourself at. That he's smuggling hard truths like "It might be time to face it … you're not as cool as you used to be" into that scenario says a lot about how and why Tame Impala have been able to stick around while some of their contemporaries have receded into the mists of a volatile music industry. Well, that and the dynamic drums of this song. —Sam Hockley-Smith
HAIM, "Now I'm In It"
In 2019, HAIM sounds like a band that isn't afraid of the shifting sands. At the turn of the decade, it was one of the first rock acts to contend with being asked about what genre it fit into just as the age of indie tribalism was dying. Now such bands are expected to genre-hop. "Now I'm in It" is HAIM'sbest song in a minute, following the jazzy, relaxed "Summer Girl" with a far more maddening synth track, whose lyrics read as erratically as the verses' racing, newly icy vocals. It's also their most emotionally open song yet and thus protected by their hardest, tightest, most synthetic beats ever. Many a 2010s band that followed this sister trio have molded themselves in HAIM's image, so it's impressive to hear them advance their own take on FM rock once more. —Eve Barlow
Clams Casino, "Rune"
Clams Casino's instrumentals are pure texture. You know how when you're a kid and you see a cloud and you imagine what it must feel like to dive into that cloud — before you ever learn that you'd just fall right through it? That's what Clams Casino's music sounds like. Even at its most low-key, as on this track, his music is fun to listen to and really get inside of. That he helped A$AP Rocky define his sound on the now-classic (yeah, I said it) Live.Love.A$AP doesn't hurt either. It's generally easier to talk about how Clams works with rappers like Rocky or Vince Staples or Lil B than it is to talk about his solo instrumental work, but most of his more interesting ideas manifest in that solo work. On "Rune," he's still the master of the buildup, and a master of a sort of inverse drop, where instead of detonating, the song turns inward, then virtually shudders. —Sam Hockly-Smith
Dua Lipa, "Don't Start Now"
It's the morning after Halloween, which means it's now Christmas, and international superstar Dua Lipa is giving the seasonal party people exactly what they want. Back with a disco bang (accent strings, a Chic-like bass line, etc.), Lipa sets the tone for every dance floor you're about to sparkle on, and her silky yet sturdy voice is the most worthy successor to a Gloria Gaynor or Diana Ross that we've got. "Don't Start Now" finds her taking a final strut away from a heartbreaker who couldn't appreciate her when she was under their nose: "If you don't wanna see me dancing with somebody / Don't show up," she sings. Dua, wop that thing, girl. —Eve Barlow
Torres, "Good Scare"
In a statement about "Good Scare," Mackenzie Scott, who records as Torres, likens falling in love to the "Superman crawl," which is apparently a spelunking move that involves sticking one arm in front of you and one at the side of your body so you can squeeze through tight spaces. It sounds absolutely terrifying, which is kind of her point. Falling in love can be scary — fear of the unknown, etc. — but I'm now more curious about how Scott is so up on spelunking moves. If she weren't so great at writing songs of love and tragedy, I'd suggest an entire spelunking concept album, but then we'd lose the brilliant, heartbroken optimism she's able to conjure in favor of, like, a song about stalagmites. Stalagmites are cool, but that would be a real loss. —Sam Hockley-Smith
CocoRosie, "Smash My Head"
Following their lukewarm collaboration with Chance the Rapper, sister duo CocoRosie delivered an eerie comeback track. At its worst, "Smash My Head" sounds like one of MS MR's better songs. It's the added touch of chaos (Die Antwoord flair?) that saves this track from being relegated to the pop graveyard. Around the two-minute mark, we're treated to a high-energy instrumental interlude. "For us, our song 'Smash My Head' is a running-on-fire cry from the teenage heart, an inner scream we never dared to let out," the band said in a statement. Big Halloween Energy. —Corinne Osnos
Deerhunter, "Timebends"
One of the great bummers about the way we listen to music now is that it's hard to be a career band. Plenty of bands go on to release albums for decades, but their fan base and the discourse around them sometimes diminishes. Rather than follow an artistic progression, we just jump to the next thing before the last thing even has time to breathe and figure their shit out. Deerhunter, thankfully, is a band that has had time to breathe and explore new worlds with each album. "Timebends" is not an album; it's just one very long song with multiple movements that basically acts as a new EP, unfurling with the sort of confidence that can come only from a decade-plus of making music. Across its 12 minutes, it moves seamlessly from strutting bar rock to long, almost dubbed-out piano vamps. Frontman Bradford Cox is an expert at translating vitriol to sadness and back again, but working with a run time like this, he disappears for minutes at a time, allowing the very accomplished band the space to explore all sorts of musical terrain, creating a hypnotic song that never really feels repetitive. —Sam Hockley-Smith
Friday, October 25
Selena Gomez, "Love You to Lose Me" 
Selena Gomez and her middle part star in the music video for "Love You to Lose Me," the first single the singer and former Disney star has released this year. Collaborators include the iPhone 11 Pro, Billie Eilish's brother and collaborator Finneas O'Connell, and Pantene. Seriously, how does she get her hair so good??? Lyrics suggest this song is about an ex; it doesn't take a Selenator to detect which one. Our culprit is newfound Wife Guy Justin Bieber.
Over the course of the last decade, Gomez endured a tumultuous on-and-off-again relationship with the artist, who would be engaged and married to Hailey Bieber six months after his breakup with Gomez. "Love You to Lose Me" may celebrate self-love, but it's a postmortem for a relationship deferred and now done. Gomez has examined the remains ("this dance, it was killing me softly"), cremated the body ("set fires to my forest"), and made peace with death ("the chapter is closed and done"). Seen through this lens, the video is an exploration of the seven stages of grief. The video focuses entirely on Gomez's facial expressions as if from behind a screen or through a picture frame, implying a separation of who she was then from who she is now. In one particularly gut-wrenching line, Gomez sings, "In two months you replaced us / Like it was easy." Onscreen, she slams her hand down between stanzas; the image dissipates and we move on to the next chapter. —Corinne Osnos
Destroyer, "Crimson Tide"
Is there a better songwriter than Dan Bejar? Surely he's somewhere at the top by now, depending on your tolerance for hyperliterary introspection sung by a dude who sounds kind of like a gnome (it goes without saying that he is not overly gnome-y, or else his whole thing wouldn't work). My tolerance for the music of Dan Bejar stretches into infinity, and it should for you too, because he is consistently making music that plays with genre and nostalgia as a starting point, moving on to explore the weirdness of life against whatever instrumental backdrop he decides to go with. In this case, "Crimson Tide" is an upbeat, but still melancholic synth jam that gestures at the sunset yacht-rock excess of 2011's crossover classic Kaputt, but breaks out of the mold of that record with a mini epic with vivid lyrics like, "A circus mongrel sniffing for clues / you watch the blonde make mincemeat of the brunette/ an actress pays her debt / to satan again and again" and also some stuff about following a salary to the bottom of the ocean. Is this a song about how we're all valiantly and absurdly struggling to survive in a world that is perpetually stacked against us? Maybe! However you want to read it, you'll find something to love here. —Sam Hockley-Smith
Frances Quinlan, "Rare Thing"
Do yourself a massive favor after you stream this song — find a copy of all about love by bell hooks, fully consume it from front to back, and then thank me later after you've digested everything. "Rare Thing" marks Frances Quinlan's debut solo single, although it very much sounds like what we're used to hearing from Hop Along. As per usual, she examines matters of the heart and in this particular case, she nonchalantly declares "I know there is love that / doesn't have to do with / taking something from somebody." It's a sentiment that more of us should be keeping in mind as we seamlessly enter and exit relationships. (Side note: Did you hear the harp?!) —Sydney Gore
Dev Hynes, "Scoring, scoring" Instagram video
Blood Orange is "scoring, scoring," and I'm … crying, crying. In a new Instagram video, Dev Hynes softly strums on the cello for 17 glorious seconds, for what is presumed to be a score for a new film or project, possible Lena Waithe's Queen and Slim, out in November. In July, it was announced the Negro Swan artist would produce the film's score for the soundtrack, out November 15. Hynes has a history of scoring for films like Brad Pitt's Ad Astra, and for fashion shows like Louis Vuitton's Fall 2019 Men's Show, among others. Although this is most likely for a film project, I'd like to request this particular score to be sampled in an upcoming song, featured on a new Blood Orange single that I can listen to immediately, set as my morning alarm or phone ringtone (do people still do this?), really any of the above. I've already downloaded the video and played it repeatedly throughout the day when I needed some solace. How long does Dev make chilling eye contact with his phone camera? It's exactly one second, thanks for asking. This score video is its own kind of music therapy. —Clare Palo
Donna Missal, "You Burned Me"
Donna Missal played an iHeartRadio gig in March of this year with a few other women (Karen O, St. Vincent, Lykke Li, to name a few), and — for me — Missal was beyond a doubt the voice of the night. She stunned everyone into a spellbound silence with her cover of REM's "Everybody Hurts." Missal has the Midas touch of the great legacy singers, the grit of a Joplin or a Slick, and the singed honesty of a Winehouse or a Morissette. The way she tears a stage apart squares up to the muscle of any of her male ancestors too. "You Burned Me" is her first taste of new material since her 2018 debut LP and it's by far her best song ever — a goodbye address to a former flame whom she shuts out as her voice erupts like a phoenix rising over a '90s horn section and a soul-drenched chorus. Think the winking clap back of a song like Sheryl Crow's "My Favorite Mistake." Everyone will know her name soon enough. —Eve Barlow
Briston Maroney, "Chattanooga"
Briston Maroney's latest release kicks off with a confessional. "Way back before I knew you, I met a girl in Chattanooga, and I think she might even be the one / Still stuck on second chances, cigarettes, and old romances. Doing things I know shouldn't be done." This song is an anthem about two very unsexy topics: indecision and vulnerability. The pace and phrasing are designed to feel like we're backseat to someone's else's stream-of-consciousness ("spent six months trying to plan out what I think I want to say to you"). In an industry full of plants, it's refreshing to see a 21-year-old artist that sounds and looks his age. Recorded in London with producer Jim Abbiss (Adele, Arctic Monkeys), "Chattanooga" bends toward the underdog. —Corinne Osnos
Friday, October 11
Harry Styles, "Lights Up"
"Lights up and they know who you are," sings Harry Styles on the chorus of his surprise comeback single. It's a nod to illumination, identity, and self-assuredness, but as with everything solo Styles, he is a master of suggestion, not proclamation. Released on the LGBTQ-celebrated Coming Out Day, the ambiguity and freedom of the song's sentiment, and the video's array of gender representation with partiers raving body-to-body against the shadows of the night, are ever more powerful. Styles refuses to be defined. Where Styles's smart and tactful debut LP was rooted in tasteful traditionalism — still wedded to Styles's personality, or as much of it as he felt comfortable sharing — the palette was wide enough to lead in any direction. This brighter R&B track isn't too much of a curveball, but it does feel different, a little grown, somewhat emancipated. "Lights Up" sets Styles in motion for an intriguing next chapter. —Eve Barlow
JoJo, "Joanna"
My teenage soul is singing. In her self-described "new chapter," R&B pop vocalist JoJo released heartfelt ballad "Joanna," the first single off her new album. The track is a self-addressed letter, full of self-critiques, notes from the negative voice in her head, and accumulating anxiety from outside sources, questioning her purpose as an early-aughts entertainer. She hints at frustrating pressure from past labels, "You should date somebody famous / That'll probably put you on the A list / That'll probably get you on them playlists." JoJo's the first to acknowledge that you think she peaked and is washed-up: "It must be something that you did / Did you go and have somebody's kid?" She suggests that her revival was rushed, but she was adamant about coming back on her own terms. The lyrics are so raw that it seemed almost necessary to start out with a brutally honest take for her never "Too Little, Too Late" comeback. We're so happy you're back, Joanna. —Clare Palo
FKA Twigs, "home with you"
You already know what's going on, do I really have to spell it all out? I love nothing more than Twigs activating rapper mode as heard in the first verse when she spits "I'm so wired for it, seen it, tried it / I'd die for you on my terms / When I get my lessons learned." Whether we want to admit it or not, we're all needy; the lesson is learning how to live with it gracefully. MAGDALENE is coming, I pray you'll be ready for her to destroy and rebuild you. —Sydney Gore
Mammút, "Forever on Your Mind"
On their last album, 2017's "Kinder Versions," Icelandic fivesome Mammút decided to switch to English as their language of choice. It's a decision they've stuck with on their return, two years later, with a brand-new song about dealing with internalized demons. As with some of their alt-rock Icelandic peers, the former teenage stars have become masters at evoking as much emotion and storytelling in the musicality of their compositions as they do in the lyrics. You hear it in the fatigued snarl of vocalist Katrína Mogensen's verses, in the industrial drum beats, and the cold, muscular guitar parts. The tension is released on the chorus though, as they search for a breakthrough in seemingly eternal darkness. —Eve Barlow
Marcus King, "The Well"
I don't dislike Greta Van Fleet's music, but at times the group's Zeppelin-like tendencies border on distasteful. At what point does fringe become infringement? Revering your musical predecessors is one thing. Profiting from the past is another. Though aptly compared to the Allman Brothers, Marcus King is no anachronism. (The Allman Brothers' guitarist Warren Haynes is a mentor of King's.) Country-rock meets Chicago blues on "The Well," the first release of King's inaugural solo album. El Dorado, produced by wunderkind Dan Auerbach of the Black Keys, debuts this January. Twenty-three-year-old King bends genres to his vocals, which possess a soulful grit, not unlike freshly greased tires on a dirt road. When King howls, "The good Lord give me that rock 'n' roll," you believe him. —Corinne Osnos
Jacques Greene, "For Love"
If I only had one chance to show someone an example of a mating call for cuffing season, I would play them this song. Jacques Greene's latest single initially draws you in with the drums, then switches gears with a scrumptious sample of THP Orchestra's "Too Hot for Love" that solidifies it as a modern disco bop for the dumpster-fire generation. Dance like everybody is watching, we're living in the age of hypersurveillance! —Sydney Gore
Cherry Glazerr ft. Portugal The Man, "Call Me"
Cherry Glazerr, spearheaded by Clem Creevy, remains one of the most gratifying bands to follow in L.A. With every release, be it album, EP, or one-off collaboration, they display a hunger for endless types of music, without ever losing their DIY punk roots. The Midas touch of Ariel Rechtshaid joins Creevy and her bandmate Tabor Allen in the co-production hot seat, while Portugal. The Man's John Gourley's soulful, feline voice is a perfect trade-off with Creevy's saccharine ennui. "Call Me" is a groovy, psychedelic, conga-infused track that could be the theme song to a '60s cartoon series. Its guiding principle seems to be to have fun. "I've got a message you won't believe (call me) / I've got a secret that you can't see (call me)," goes the chorus, stoking the intrigue further. —Eve Barlow
Flume ft. Vera Blue, "Rushing Back"
Sometimes you retain only fragments, loose threads that leave more questions than answers; other times memories floor you in their totality. On "Rushing Back," Australian collaborators Flume and Vera Blue bottle this feeling into a record. Stripped of Flume's warped beats, Blue's voice reads more Kacy Hill than Ariana Grande. Her voice carries emotional depth, but it's Flume's production that infuses this track with urgency. "Sometimes I dream about going back, keeping all the things I left behind. But now I know you can't change the past, way too young to know the reason why," she floats over the verses; he throws a curveball, hits the snare. Say what you want about Flume's extracurricular activities, but this track packs an atmospheric punch. —Corinne Osnos
Friday, September 27
Tei Shi ft. Blood Orange, "Even If It Hurts"
If you've been sleeping on bedroom-pop queen Tei Shi, here's an excellent gateway into her lush little world. The Colombian-Canadian singer's upcoming sophomore album, La Linda, only has one feature because, sometimes, being selective is the way to go. Enter: Blood Orange, who duets with Tei on "Even If It Hurts," a retro-leaning fever dream about the allowances we make for the sake of love and the ways we'll compromise our boundaries to make it work. "The concept is really the realization and acceptance that pain is a natural consequence of love," she said of the song in a statement. The underlying message is deeply sad and deeply true, but like most Tei Shi songs, it is still somehow a bop? That word gets thrown around a lot, but I dare you not to get caught up in this song's silky groove. ⁠—Dee Lockett
Empress Of, "Wild Girl" 
The Empress is back! First-gen Honduran-American electro-pop singer Empress Of has released another incredible hazy and electric dance track following her 2018 album, "Us." The L.A. native collaborates on the latest track with Australian record producer and DJ, Kito, to create a freeing bop that encourages whirling and jumping around your room like an idiot, similar to her tourmate Maggie Rogers's music. "Wild Girl" convinces you you might truly be an audacious flirt, persuading you to sift through the fire, and daring you to send that flirty IG DM. Turn this track up for the freaky Fall weekend. —Clare Palo
HAIM, "Panini"
Earlier this week, HAIM served up a genre-bender in the Live Lounge. The sister band delivered a stripped-down rendition of Lil Nas X's "Panini." If you listen closely to Lil Nas X's version, you'll notice the breakout artist samples Nirvana's "In Bloom." While making the record, Lil Nas X said he didn't realize he was using almost the exact same melody. (Nirvana's late frontman Kurt Cobain is credited on the record.) For their cover, HAIM plays up the connection to Nirvana, interspersing lyrics from "In Bloom" and playing up the track's sub-pop elements. Thanks to dizzyingly clear audio from the BBC Radio 1 studio, lead singer Danielle Haim reaches new heights. —Corinne Osnos
DaBaby ft. Stunna 4 Vegas, "Really"
Between Billie Eilish, Megan Thee Stallion, Lizzo, and Lil Nas X, the Best New Artist field is stacked for awards season. But I'd bet on DaBaby to pull off the upset. To cap off his breakout year in which he burst out of nowhere to steal the show on pretty much every song he featured on, not to mention the success of his own songs like "Suge," he's dropped his second project in six months, Kirk (his real name). Now that he's got your attention with his whip-smart bars, this project's mission is twofold: bring you in a bit closer and also flex like a winner. "They wanna know if he can rap, I tell 'em, 'Really,'" he begins on "Really," buried in the project's back half, having already answered the question about a dozen times this year ⁠— and that's just on this project. DaBaby is perhaps rap's most exciting new voice, along with Megan the Stallion (see: "Cash Shit" for what happens when you put 'em together); I look forward to hearing whatever else he has to say. –Dee Lockett
Wiki, "Eggs"
Wiki is a perfect New York rapper because his combination of reverence, frustration, and love for the city that birthed him is palpable in every single one of his songs. That is a great place to be when you're staring the entire sonic landscape of New York rap in the face, trying to fit in between new artists making waves and the oppressive weight of being surrounded by living legends in a city that doesn't so much bulldoze its musical past as it does sloppily build over it. But all that aside, "Eggs" is Wiki at his best. His voice spikes and stabs through Madlib's sloppy beat chop. It's a harsh, prickly rasp that forces you to pay attention. He's not the kind of dude who ever glides over a song. He is always bobbing just above the beat, barely staying afloat. He's cocky but self-effacing and warm, and that is the reason why he's indelibly connected to New York, even when he's working with a producer from California. —Sam Hockley-Smith
Allie X, "Fresh Laundry"
L.A.-via-Toronto pop visionary Allie X has been consistently writing, performing, and visualizing some of the best hard-edged synth pop out there, and those who know have been rewarded plenty on her previous bodies of work. "Fresh Laundry" is her return and one of her most sophisticated songs yet, built on a noir-ish minimal beat that reminds me of St. Vincent or Nine Inch Nails. She writes about solitude, change, and wanting better connections. "I think I've had enough of hard mornings," she sings delicately. "These days no one's bothering me 'bout nothing." A Spanish guitar leads into a toothsome chorus that sees her questioning how to find something new. If art truly imitates life, and vice versa, then her reinvigorated sound will hopefully reap dividends. —Eve Barlow
DIIV, "Blankenship"
In 2012, DIIV released their debut album, Oshin, which featured a song called "Doused" that captured everything that was great about the band. It had a bummer energy transmuted into frantic, gothy-guitar work that lent the whole thing a sort of tightly wound urgency. There have been a lot of other great DIIV songs since then — most of them, in fact — but "Blankenship" is the first to capture that same compelling sense of discomfort. DIIV frontman Zachary Cole Smith makes an effort to turn brooding moments into legitimately pretty songs, even if he's denying himself, and his listeners, any kind of catharsis. I'm not sure frustration has ever sounded this good. —Sam Hockley-Smith
LIZ feat. Aja, "Lottery"
It's hard to stray away from Charli XCX now that Charli has finally arrived, but LIZ dropped yet another banger that deserves the highest of praise on the nearest dance floor. Spicy girl fall is here and "Lottery" is the name of the game because your girl needs to get on top of her finances with this "Black Card heart!" Everything that LIZ touches turns into glitter confetti and I'm hooked on it like Phonics. FYI, my new motto is officially "You want it / Can you afford it? / Will you support it? / Let me extort it." —Sydney Gore
Friday, September 20
Jhené Aiko, "Trigger Protection Mantra"
The hardest part about mental illness, I find, is the inability to get any consistent goddamned peace and quiet. The mind is always buzzing, always overactive, always locked in its own internal dialogue. And until ~science~ figures out how to implant a "mute" button up there, those of us who suffer remain fucked. It's a good thing, then, that Jhené Aiko has more homeopathic solutions to offer in the meantime. She has released "Trigger Protection Mantra," which, as its title suggests, is less a song than a guided meditation. A mood stabilizer, if you will, in which she chants affirmations ("Calm down eventually" / "Protect your energy") while playing a singing bowl and nothing else. This goes on for over six minutes and, reader, it is a dream state. If you or anyone you know suffers from anxiety or any sort of unruly mind, this is a godsend to cancel out the noise. —Dee Lockett
Caroline Polachek, "So Hot You're Hurting My Feelings"
Ever since launching her own solo project, the former Chairlift singer has been making some of 2019's most fascinating synthpop. This fourth single off her forthcoming debut, Pang, recalls the 1975 or the Japanese House, which is compelling given just how consistent it is with Chairlift's oeuvre — a peerless catalogue that always had the mileage to be more widely recognized than it was. Polachek's voice gasps for oxygen as she tries to grapple with an insatiable object of affection. "Don't send me photos, you're making it worse!" she sings, while the track brims with '80s guitar and Fleetwood Mac synths. It's a nostalgic John Hughes soundtrack for the type of crush that reminds you of the first ones. —Eve Barlow
Anderson .Paak, "Old Town Road" 
Well, now that we've hit the ceiling (I hope) on remixes, bring on the covers! The whole point of "Old Town Road" is that it's literally whatever genre you want it to be and, really, whoever's performing the song determines how you'll perceive it. So while it was trap-country meme music in Lil Nas X's hands, with Anderson .Paak at the helm for the BBC Radio's "Live Lounge," it's … easy listening? Jazz? A hint of funk? It's damn good and groovy is what it is. Let's just all stop questioning it. —Dee Lockett
Masego, "Big Girls"
Nothing moves the needle quite like positive reinforcement: Earlier this week, jazz musician Masego dropped the video for "Big Girls," a song about thirsting after full-bodied women. According to the "Big Girls" singer, the song was inspired by a group of women at a party in Nairobi, Kenya, who were delivering "Lizzo energy." Welcome to the Cake Club, where Masego pays homage to the curve of her hip, the jiggle of flesh. In the video, electric purple-and-green hues decorate a low-lit living room setting commanded by several plus-size models with cheekbone highlights worthy of a Glossier campaign. Members of Masego's signature TrapHouseJazz band serve up glittering instrumentals featuring a particularly buoyant bass section by special guest Alissia Benveniste. It's no "Soulmate," but we'll take it. —Corinne Osnos
Soccer Mommy, "lucy"
Soccer Mommy, a.k.a Sophie Allison, is so good at writing about temptation and the allure of damaging people and situations. "Lucy," her first new song of 2019, is the perfect follow-up to her debut album, last year's Clean, as it tries to dig at the root of the attraction. Ultimately, the song turns inward to find that the pull has less to do with the thing she's being inexplicably drawn to and more with how she's inviting these demons into her life and letting them take up residence where they don't belong — which is to say she's her own worst enemy. Crazy how that works! —Dee Lockett
Brent Faiyaz, "Rehab (Winter in Paris)"
Welcome to Sad-Boy Fall. The Weeknd is going full album mode post-breakup, sweet Shia is … doing something, and Brent Faiyaz is releasing new singles. On his second single this year, Faiyaz, originally of R&B group Sonder and that really good Goldlink song, opened up about loving someone who loves drugs just as much he loves the object of his affection. After spending the summer in London, Faiyaz has moved on to "Winter in Paris," on which he sings about regrettably choosing to spend time with his crew over his crush but realizes they're spending more time with the blow than them anyway. And it makes him kind of jealous? It's unclear, but our R&B king has a lot of feelings, and he's feeling all of them — and hopefully putting them on a whole new mixtape about his trip abroad. Only Brent Faiyaz can make "If you ain't nasty, don't at me" sound kind of sweet? —Clare Palo
Okay Kaya, "Ascend and Try Again"
It's been a weird couple of weeks. It feels like the simulation is on fire and chaos is erupting at every second, between Caroline Calloway, Lauren Duca, and whatever other nonsense involves Donald Trump. All I've wanted to do is dunk my head underwater and drown out all the noise pollution. Oftentimes, the directions we're given to complete specific tasks can be applied to real life, so the fact that Okay Kaya was able to find a beautiful metaphor within instructions for scuba diving was refreshing. "Blow your nose gently / You shouldn't ever feel pain," she sings in the song's opening verse. "You could try wiggling / You could try swallowing." If only I could retreat to a hot spring as she does in the accompanying video. —Sydney Gore
Friday, September 13
Halsey, "Graveyard"
It's easy to get a bit ahead of ourselves once things start going our way and the pressure mounts to want to outdo our last big thing. Halsey's had a tendency to slip into patterns of overcompensating so as to appear provocative and avoid boxes to the point of pushing her sound, at times, past its limits (see: the recent "Nightmare"). "Graveyard," then, like "Without Me," works because it gets back to Halsey fundamentals: aching candor about struggling to quit the shit that's no good for us, packaged in melodies that are as addictive as the toxic love described in the song that's driving her to an early grave. It's as simple as that. If Halsey can continue to get out of her own way for the rest of her forthcoming third album, Manic (note that the self-portrait she paints in the "Graveyard" video is also the album cover), it'll be better for it. —Dee Lockett
Danny Brown, "Dirty Laundry"
As a producer, Q-Tip is extremely versatile, and though he's probably mostly thought of as a guy who knows his way around a jazz loop, his tendencies lean more experimental than that. Still, it was surprising to hear that he'd be responsible for executive-producing the forever craggy-voiced Danny Brown's upcoming uknowhatimsayin¿ In addition to being a guiding light for Brown's next album, he also produced the first single, the wonky, cartoony, and dirty "Dirty Laundry," which manages to be a highlight of Brown's catalogue while exemplifying everything he's been doing so well for his entire career. Danny Brown's voice is an acquired taste, but when you sync with it, it's like nothing else in rap right now. On "Dirty Laundry," Brown plays the dirtbag, running through unfortunate sexual encounters, light scams, and other unsavory incidents. It works because it's self-deprecating — and because Brown is ultimately a charming guy. It's memorable because of the chemistry he has with Q-Tip, but you'll return to it because it drops you right into the off-kilter world the pair have constructed. —Sam Hockley-Smith
Ariana Grande, Miley Cyrus, and Lana Del Rey, "Don't Call Me Angel"
Did Ariana, Miley, and Lana possibly create an anthem to combat … catcalling?! No, probably not, but if this was 2008, I would download this song as my ringtone on my LG Xenon slide and just have my friends call me every time I was catcalled on the street (yes, this is a thing I've thought about many a time). It seems excessive, but I'm getting that vibe from this breakup anthem, which has a tinge of anti-misogynist sass. In what for sure are my dreams manifesting to reality, three of pop's angels collaborated on a song and music video for the Charlie's Angels reboot soundtrack (out in November), which is co-executive-produced by Ariana Grande. While in the reboot the three angels are portrayed by Kristen Stewart, Naomi Scott, and Ella Balinska, we're clearly meant to believe the music-world version consists of Ariana Grande, Miley Cyrus, and Lana Del Rey. Ariana is most definitely the ringleader to this corrupted, dark gang. I don't know how much hotter these three can be as they strut about a mansion, box a model, and eat grapes erotically in the video above. I had to fan myself to cool off. —Clare Palo
The Big Moon, "Your Light"
"Your Light" is the best song London-based quartet the Big Moon have written yet. The indie troupe have been working away at the followup album to their 2017 debut, Love in the 4th Dimension, and are talking up the leap they've made in both songcraft and message. So far, the tracks they've unveiled have provided ample evidence to support their claims. "Your Light" is a reflective track about the anxieties of being young in a world that looks to be falling apart, beginning with dirge-y bass lines and a running drumbeat. Yet by the time the chorus bursts through, it becomes as airy as the sentiment it's intending to chase, shimmering with vocal harmonies. The song urges to find a brief minute in which you don't need to feel guilty for taking a momentary breather from the chaos. Sometimes a song can do that; help you recalibrate before you have to face the other music again. —Eve Barlow
Angel Olsen, "Lark"
I first became acquainted with Angel Olsen's music via her Strange Cacti cassette in 2010. It was a low-key collection of folk songs that showcased promising writing and an intangible otherness that pointed toward something special that I couldn't quite put my finger on. Subsequent releases clarified Olsen's talent: She's an incredible songwriter with an ability to wring anthemic moments from the most intimate songs. So what would happen if she made an actual, real-deal anthem? "Lark," it turns out, is that anthem. Warped strings crash around thunderous drums, and by the end, when Olsen is performing a sort of controlled wailing, it becomes clear that while the song approaches familiar topics — love and growth and how it can shift and change and disappear as we get older — its sound is something else: an abandonment of nostalgia and warmth in favor of catharsis and unflinching reality. —Sam Hockley-Smith
King Princess, "Ain't Together" 
Every good origin story includes what used to be called "the talk" (as in, "have you had 'the talk' yet?"), defined as the moment a couple decides to take their relationship to the next level. Once upon a time, it was as simple as typing out an AIM message ("wanna be bf gf") and sealing it with a profile shoutout. Settling down isn't what it used to be. From Bushwick to Bachelor in Paradise, couples are struggling to define relationships in the face of increasingly fluid dynamics and choice paralysis. "I know you're with me," the 20-year-old pop artist sings, addressing a love interest. When she sings, "Everybody knows, you and I got that something," her voice trails off, like she's trying, desperately, to hang on to the sentiment that comes with the line. The lyrics capture the threshold between significant and significant other. There's a softness to this track that reminds me of Liz Phair. On "Ain't Together," the emotional resonance is in the undertow. We feel our narrator's resistance to her own desire to label the thing. As if the act of labeling might asphyxiate this living, thriving thing that's doing just fine on its own. "Being chill, being chill with you, oh it kills, I ain't chill at all, at all. We say 'I love you,' but we ain't together, do you think labels make it taste better?" Commitment, you elusive beast. —Corinne Osnos
Friday, September 6
Camila Cabello, "Liar"
This week we got a very dark, very gooey Billie Eilish as a fallen angel and a naughty, angelic Camila Cabello. In a jazzy Latin track, Camila asks us to continue our Hot Girl Summer shenanigans into the fall. Camila wants you to make her a liar — she's begging you (it's either you or Shawn Mendes, and I choose to believe she's speaking to me, personally). The track is filled with very horny, saucy beats, as she sings about a steamy romance she's really "trying to avoid." Here's to hoping we get a sexy performance of this song on SNL this fall, horns and all. —Clare Palo
The Highwomen, "Highwomen"
"Highwomen," the opener and cornerstone of country supergroup the Highwomen's self-titled debut, is a chilling montage of destruction. In five verses, vocalists Brandi Carlile, Amanda Shires, Yola, and Natalie Hemby take turns recounting the moment the life was snuffed out of an ambitious woman. Each story is more crushing than the last. After Carlile's character gets caught up in the Nicaraguan revolution, and Shires's New England mystic is hanged in Salem, Massachusetts, Yola plays a freedom fighter who risks everything to fight for equality, and Hemby embodies a preacher killed for daring to take a role in church leadership as a woman. Verse five is the kill shot: "We are the daughters of the silent generations / You send our hearts to die alone in foreign nations / It may return to us as tiny drops of rain / But we will still remain."
"Highwomen" is a sister song to Johnny Cash, Kris Kristofferson, and Waylon Jennings's 1985 single, "Highwayman," which detailed "Wichita Lineman" writer Jimmy Webb's lurid dream about a life on the run. Played by outlaw-country elders in a commercial lull, it is a word about resilience. The updated version scans over 300 years of oppression in less than four minutes, the message being that in spite of radical changes in the human experience, the main theme — people in power keeping other people out of power — endures. These women just wanted to live, love, and be loved, but the planet couldn't handle that. Coming from musicians working in an industry so hungry for fresh perspectives on gender that it's spawning singles like "Different for Girls," "Woman, Amen," "Speak to a Girl," "Woman," "Girl," "Women," and "Girl in a Country Song," "Highwomen" is protest music. —Craig Jenkins
Grimes, "Violence" 
On "Violence," an abusive relationship is explored from the victim's perspective, its parasitic qualities intact. In the opening to the artist-directed video, Grimes kneels on marble steps clad in her signature dark-fairy attire reading The Art of War. An ancient Chinese treatise considered to be one of, if not the, oldest living military documents, The Art of War outlines 13 preeminent strategies, one chapter at a time. "Violence" will likely appear on Grimes's upcoming record, Miss_AnthropOcene, which the artist described as "a concept album about the anthropomorphic Goddess of climate change." Will Grimes tackle the major ways in which we exploit nature on a song-by-song basis (à la The Art of War) on her new album? Furthering this premise, "Violence" is a fitting first release. It introduces our characters, Miss_AnthropOcene and the Earth. The pair revel in their hedonistic ways: "You feed off hurting me … And I like it like that," sings Grimes, as spellbinding synths speak the language of mutual destruction. Listen if you like Taoism, Burning Man, and Arca. —Corinne Osnos
Charli XCX ft. Clairo and Yaeji, "February 2017"
At approximately the 1:58 mark, Charli XCX's new pop collaboration with Clairo and Yaeji gets so emotional I had to set my drink down to listen to it five more times over. The track starts off trippy and techno, a number you're definitely going to hear on a club playlist in the LES for the next six months, and fuses the electronic synths with an earnest apology letter. The three artists mourn the mistakes they made to their past lovers and ask for a reply to an apology text left on read (!!!). Charli pleads, "Hope you can forgive the things I've done." But in the outro, things slow down, and the anxious determination for forgiveness goes soft. Korean-American electronic artist Yaeji gets intimate, sincerely asking, in Korean, if it's too late for another apology. If you're not already tuned in to Yaeji, and her collabs with Charli, get on that, stat. —Clare Palo
Pom Pom Squad, "Cherry Blossom"
Pom Pom Squad's latest lo-fi lullaby is giving me some strong Michelle Branch vibes that I don't want to fight off. "Cherry Blossom" is a prime example of projectile word vomit as Mia Berrin blurts out delayed apologies ("I'm sorry that I made you carry all that weight"), bittersweet memories ("It's hard to forget waking up to your face / On Tuesday mornings when I got to sleep in late"), and wishful thinking ("You're gonna wanna be my friend one day") while reflecting on another unhealthy relationship. Even though she's made a mess of her raw feelings, there's still a level of control maintained with support from a steady guitar and bass. At the end, she calmly concludes with "I hope you're happy with the choice you made" like the nail that seals the coffin shut. —Sydney Gore
Brasstracks ft. Kyle Dion, "Professional" 
Last week, Brasstracks slid into my Release Radar playlist with their latest track. Welcome "Professional," a song that's playful and easy on the ears. It features Brasstracks' signature mix of jazzy horns and R&B stylings. "Professional" sounds suspiciously like a Bruno Mars song, and yet, collaborator Kyle Dion's funk-filled falsettos drip with sexual energy. (Mars's vocals do not.) Let this feel-good track quell your end-of-summer woes. —Corinne Osnos
Friday, August 23
Taylor Swift, "I Forgot That You Existed"
The diabolical laugh in the last chorus of Taylor Swift's "I Forgot That You Existed" is my energy for 2019. Senseless cruelty is tough to grasp. You live with the immediate effects, the hurt and self-doubt that stew in your thoughts during the worst of it, but then you dwell on what motivates people to act on their worst impulses, to betray trust, to tear each other down. The letting go can be as bitter as the strike itself. The wondering why can cloud your mind long afterward, like the pervasive smell of smoke that follows a fire. The feeling is quite like having another person take up residence inside your head, soaking up time and emotional resources, just making you angry. "I Forgot That You Existed," the opener to Taylor's new album, Lover, is about the day the fog lifts, when you manage to put enough time between your bad days and your present that they start to slip your mind. It's a great sentiment to kick off the album after Reputation, a recalibration that steers the artist in another direction without completely divorcing her preexisting catalogue. On that front, "Forgot" is a success. —Craig Jenkins
Charlie Puth, "I Warned Myself"
If you broke Charlie Puth's heart, square up! On Wednesday, Charlie, with a buzz cut and that same beautifully scarred eyebrow, released his new single "I Warned Myself." It is a song about love and loss, secrets and lies — basically a breakup. But Charlie knew better, warned himself, and hooked up with this woman anyway! "I warned myself that I shouldn't play with fire," he sings. "But I can tell that I'll do it one more time / Don't trust in myself, no good for my health / You messed with my heart, now you're the reason why." Okay, but who exactly is the reason why? Was it his ex-girlfriend Halston Sage? Was it his old "We Don't Talk Anymore" flame Selena Gomez? Was it this season's Chuck-Wendy conflict on Billions, a show Charlie has proved himself a fan of? CP Family, we await the results of your federal investigation. —Hunter Harris
Missy Elliott, "Throw It Back"
Rejoice: Missy Elliott has released a new mixtape, Iconology, and a new video to go with. "Throw It Back" imagines my greatest fear (people have forgotten about Missy "Misdemeanor" Elliott) and hope (there is a museum dedicated to her). We're then treated to a panoply of good old-fashioned Missy weirdness. Bald backup dancers; Missy on the moon, jumping rope with braids; and enough wild lipstick colors to go around. —Bethy Squires
Lana Del Rey, "Fuck it I love you"
I had the honor of being in Los Angeles when this big mood dropped, which only enhanced my listening experience as I deeply tapped into Lana's golden state-tinted mindset. As I made my way through the hills from West Hollywood to Echo Park, I was tempted by the fantasy of missing my flight back to New York and completely uprooting my lifestyle in favor of this sun-kissed bliss. When you spend a whole afternoon streaming a song on loop, it changes you. Please bury me in the sand, Lana. —Sydney Gore
The 1975, "People"
Youth is a feeling most of us forget. It gets ripped out from us as life becomes more about tasks, responsibilities, consumption, and capitalism. We forget what it's like to feel young. We infantilize the idea of it. We think they have it easy, that we know better. We don't. This week, the 1975 have made their second plea to listen to the youth (their first came via activist Greta Thunberg and their last single) and they've done so by bottling the sound of adolescence; the sound of confusion, of anger, of energy so suffocating it has to be screamed out for fear it will rupture the organs that keep you breathing. "Wake up!" shouts Matthew Healy, waking his younger self up, too. The 1975 have often talked an angry game but they've never sounded this angry. They are so angry that they've made a punk song. A straight-up Sex Pistols/Sonic Youth anti-fascist, pro-youth, big ol' shout-y anthem that wishes to make as much noise as possible, because if you can't be happy with the status quo, at least you can find your purpose. —Eve Barlow
Finneas, "Shelter"
In one day, Finneas gave us a headlining tour schedule, an EP announcement, and a brand-new song. "Shelter," the first single from his upcoming Blood Harmony, is a "feverish" love song written long before he was touring the world with his sister, Billie Eilish (and knocking Lil Nas X off his horse with their co-produced "bad guy"). "I wrote this song a couple years ago and just let it percolate for a while, seeing how it would age," Finneas said of "Shelter." "I wanted this song to have an urgency to it when I recorded it, the same way that the lyrics do — the kind of feverish feeling that accompanies loving someone." He sings urgently over a collection of drums, hand claps, and acoustic beats, "I don't wanna think about a life without you … I don't wanna go to war, but I'm about to / Give me, give me shelter, from the storm." It's not quite as melancholic as his previous releases, but there seems to be trouble on the horizon as he claims, "They call us lucky, but I think we might be cursed." Still, it's his most danceable release yet, and you can bet the energy will be just as feverish when Finneas performs "Shelter" on tour. —Daise Bedolla
Brockhampton, "SUGAR"
Bless this beautiful Friday. Brockhampton's fifth studio album Ginger, released just a year after Iridescence, is a soft banger, filled with hard rap hits and thoughtful, unconventional R&B tracks. Their track "SUGAR," which features four of the group's members, was released prior to the group's album drop and is easily one of the best songs on the album. It's a perfect song to end a very heated hot gal summer. Ryan Beatty opens the song with the chorus, an anxious confessional to a crush, divulging that he just can't sleep without this person on his mind, and he needs answers, now! which … same. Don McLennon and Matt Champion spit two verses of unapologetic raps on an otherwise confused and melancholy song. Our favorite empath, (one the group's best singer-songwriters) bearface promises his love is real, but fades out the song with "do you love me?" It's a fair question, bearface. Towards the end of the track Kevin Abstract (yes, I know just his name gets you hot) chimes in on the bridge, rapping once again about … passports. They're really hard to get, so we understand the fascination. —Clare Palo
slenderbodies, "arrival"
Wake up, drive to the beach, iron out some melodies, rinse, and repeat. At a dinner party in Williamsburg, band members Max Vehuni and Benji Cormack outline the daily routine that went into the making of their upcoming album, komorebi, due in September. The California-based musicians started playing music together in college under the moniker slenderbodies, a name that bears no connection to the creepypasta meme, but rather, "implies a light, airy feel while also being grounded." The band produces soundscapes: music that feels like an extension of nature. On "arrival," Vehuni and Cormack's spellbinding vocals float over a looping electric guitar bit, creating an ethereal vibe reminiscent of alt-J's "3WW." The band started writing the song by asking, "If you could immediately communicate with someone who was just born, what would you say to them?" Writing over email, the band supplies one version: "Overall, enjoy the highs and lows of life, welcome the awe of nature, fill your life with those you love, let the light in, accept things as they come and see them through." —Corinne Osnos
Friday, August 16
Miley Cyrus, "Slide Away"
Cyrus's "Slide Away" manages to feel quiet and intimate without any flatness. Producers Mike WiLL Made It and Andrew Wyatt mix hip-hop drums, warm guitars, sweeping strings, and layered samples as Miley eulogizes her marriage to actor Liam Hemsworth, a split made public mere days ago as rumors swirl that the singer is seeing Brody Jenner's ex Kaitlynn Carter. "Slide Away" isn't vindictive or tabloid-y. It's just about knowing when to cut your losses and move on. The music suits Miley's voice, pushing her without overwhelming her. The mix doesn't sound like anything else from this decade; this is the kind of record the gifted British singer-songwriters landed on at the end of the '90s, when everyone started jet-setting around genres and playing with samples. It's much more like Blur's "Tender" or the Verve's "Bittersweet Symphony" than anything on Bangers, Dead Petz, or Younger Now. It's a fitting end to a ten-year period of wild swings and big changes for Miley to find sturdy middle ground between jibing her interests and making a record that sounds like all of her, all at once. Time will tell. —Craig Jenkins
Taylor Swift, "Lover"
"Lover" is the ideological inverse of her first two Lover singles, a song about shutting out the world and shacking up with a significant other one assumes to be her boyfriend of three years, Joe Alwyn, presumably for the long run. It's the quietest music to come out of her collaboration with pop producer Jack Antonoff since Reputation's closing piano ballad "New Years Day." The smoky low end is reminiscent of '90s country and country-adjacent gems like the Cowboy Junkies' cover of Lou Reed's "Sweet Jane," or Mazzy Star's "Fade Into You," but in burying pretty piano and guitar notes under a hokey walking bass line in the interest of effecting a slow build, "Lover" doesn't take flight until the last chorus. —Craig Jenkins
Normani, "Motivation"
Normani "That Bitch" Kordei's new single "Motivation" is deservedly being overshadowed by its terrific video, an homage to 2000s R&B (namely, Beyoncé), from which Normani draws pretty much the entirety of her influences. But don't sleep on the song. One of the best things Normani has done since departing Fifth Harmony was find mentorship in Ariana Grande (Normani opened for Ari's Sweetener tour). Ariana has since loaned Normani her MV director (Dave Meyers), producers (Max Martin, Savan, and Ilya), and even her own pen (she has a co-writer credit on the single). The result is "Motivation," a loose "Check on It" remake that plays to all of Normani's (many) strengths with its layered, honeyed vocals and light feel. Its nostalgic simplicity is nostalgic in that way — going back to the basics of the genre suits Normani well. (And because it's fun to play this game, please note: While Camila Cabello has been sold as the Beyoncé of 5H, here's Normani cheekily naming her single after one of Kelly Rowland's best. We see you.) —Dee Lockett
Big Thief, "Not"
Last September in Long Beach, Big Thief were playing a mid-afternoon slot at a festival to an unfamiliar crowd. The more songs they played, the closer the audience moved toward the four-piece, and with that, more Big Thief fans were converted. They are a traveling band in every sense, hawking their gorgeous songs about tiny and enormous catastrophes from pillar to post. On that day in Long Beach, they played "Not." I'd never heard it before, and its verses, choruses, and epic guitar solos floored me so much that I went home and combed through their back catalogue, including the works of vocalists Adrianne Lenker and Buck Meek, desperate to find it. But no dice. Until now. "Not" is a surprise release this week, accompanied by a surprise announcement that Big Thief have a second album due in 2019 (as if U.F.O.F. wasn't spellbinding enough) following a past pattern of releasing two albums in quick succession. This just might be their finest song ever — adding to their catalogue of near supernatural excellence. —Eve Barlow
Rosalía and Ozuna, "Yo x Ti, Tu x Mi"
After her wildly successful collab with J Balvin and El Guincho on "Con Altura," it was only a matter of time before Rosalía released another urbano single. And it's finally here in the form of "Yo x Ti, Tu x Mi," her first duet with Ozuna — and her sixth single this year alone. Translated from Spanish as "Me for You, You for Me," "Yo x Ti, Tu x Mi" sees the Catalonian singer and the Puerto Rican rapper and singer combine reggeaton and flamenco (along with some steel drums) for a flirty back-and-forth. "Se me para el cora' sólo con mirarte / Porque a ti te canto pa' que tú me cantes" (My heart stops just looking at you / Because I sing to you so that you sing to me), they sing to each other. The flirting continues in their lavish music video, directed by Cliqua, RJ Sanchez, and Pasqual Gutierrez. Clad in a pink fur coat, a flower helmet (no flower crowns here, thank you), rhinestone-studded nails, and a floral bodysuit throughout the video, Rosalía cozies up to Ozuna as they face the paparazzi's cameras together. It doesn't have the infectious bite of "Con Altura," but we're also not at the height of summer anymore. "Yo x Ti, Tu x Mi" is a love song to lead you into the fall. —Daise Bedolla
Shura, "Skyline, Be Mine"
The final track from Shura's new album Forevher, released today, is so flighty it will send you levitating above its pattering drums, whirling synths, and deep bass lines. It suits the fact that the song is an ode to the New York skyline, capturing a moment of throwing open the curtains and staring out at the man-made beauty of those tall towers stacked proudly next to one another. Shura's second record was written during a time in which she relocated from London to Brooklyn. She also fell in love in that time. This chorus is lyrically sparser than the rest of the record, but it's all said in the instrumentation. You can hear her heart swell as the body of it builds. It'll remind you of Moon Safari–era Air, or early-2000s Zero 7 and Boards of Canada — a throwback to ambient electronica. Chill, sophisticated, high as a kite. —Eve Barlow
MUNA, "Stayaway"
I share a few things with the powerhouse trio that is Muna, among them a love of Y2K fashion and a scandalized alma mater. I've been quietly following the group since 2015, from backyard performances in Los Angeles to their breakout EP About U. Their latest release, "Stayaway," might be my favorite track to date. Grounded in emotional reality, "Stayaway" kicks off with a series of hypotheses that pick up speed as the song progresses, mirroring the pace at which anxiety supersedes logic. "If I see my old friends, we'll go out dancing. If we go out dancing, then we'll go to the bar. If we go to the bar, then there's gonna be drinking. If I drink I'll want to see where you are. So I don't see my old friends, I don't go dancing, I don't do most things I used to do. Actually, now that I'm thinking about it, I did most things to get to you." The chorus provides a much-needed release, accompanied by an acute realization: Breaking the habit is often harder than breaking up. —Corinne Osnos
(Sandy) Alex G, "Near"
The Porches' influence is so strong on this one, there's truly nothing anyone could tell me to change my mind! I dare to ask this question for the room: When is the last time that someone told you, "All I want is to be near you"? Now that I've had a few days to mediate on it, I don't think I've ever had the pleasure. Alex G, you got me again. —Sydney Gore
Friday, August 9
Megan Thee Stallion ft. Nicki Minaj and Ty Dolla Sign, "Hot Girl Summer"
God, in Her divine wisdom, could not have prepared me for the Megan Thee Stallion–Nicki Minaj collab. Alongside Ty Dolla Sign, they've flipped City Girls' "Act Up" into the song of the summer. It's all brash, ebullient fun, the kind of music to keep on repeat, to play during the pregame, to make you blush on your way into work Monday morning. (Also: the incredible generosity of this trio to release it on my birthday. Their minds!) The Hot Girl Summer gospel has gone global — coffee shops in Williamsburg have etched it on their chalkboards to be cute — but this record is a welcome reminder of the movement's roots: "I can't read your mind, gotta say that shit," Meg raps. "Should I take your love? Should I take that dick?" Send my regards to every boy I'm not texting back: Meg and Nicki said it's a hot girl summer! – Hunter Harris
Lana Del Rey, "Looking for America"
If you've spent the past week shell-shocked and emotionally battered by the country's continued descent into terroristic gun-toting madness … this song won't stop the tears from flowing. Which is fine. This is a time to cry and mourn and feel the exhaustion, but to also channel the pain into action. Lana Del Rey took a flight back from Montecito, phoned her producer Jack Antonoff, and immediately hit the studio to process her feelings about the multiple massacres over the weekend. The result is "Looking for America," continuing a streak of excellent songwriting from Lana. She typically has deep affection for the past, particularly as it relates to American iconography and patriotism, but "Looking for America" can't be nostalgic for an America that has never existed. This is a rare moment where Lana, as a voice of reason, is looking ahead: "I'm still looking for my own version of America / One without the gun, where the flag can freely fly." It's not what America was or is; Lana sees what America can be. I hope she's right. —Dee Lockett
The Big Moon, "It's Easy Then"
"I'm so bored of being capable," sings Juliette Jackson over a bed of piano chords. It's her first statement, and a returning one at that, on her band The Big Moon's comeback. And significantly it apes the reach of the band's creative choices on this song. They've put the instruments away that defined their initial success, for now. "I'm just waiting for the piano to fall," she continues, before her bandmates chime in on a beautifully harmonized chorus, lifting her from her doubts and stress. The Big Moon are typically a twangy-based indie fourpiece from London. They experienced the type of success on their debut LP that most pub-dwelling British bands could only dream of, including a prestigious Mercury prize nomination. The test for such bands is always in proving that they have more tricks up their sleeve. On "It's Easy Then" they immediately throw the baby out with the bathwater. It follows in the great British traditions of Britpop bands who didn't fear a lofty arrangement, a full breakdown, or both! They make it look like a breeze but it's anything but. –Eve Barlow
Cashmere Cat, "EMOTIONS"
Maybe I've been watching too much Euphoria, but this song would have been perfect for any of the scenes where the teens are high out of their minds. The thought of being that reckless gives me hives, but there's something to be said about feeling so strongly about things with a sense of urgency. I haven't listened to Cashmere Cat in what has surely been years, but this single reminded me why I was drawn to his music way back when I was in college, how it made me want to escape to the nearest dance floor for a few hours of peace in motion. This should be you after listening to "Emotions" for the first time. —Sydney Gore
Hana Vu, "At the Party"
In the wake of the after-party, the 19-year-old artist sits on the floor wearing a deadpan expression. A smartphone-shaped fixture on her forehead activates a flashback; captured scenes from the night before play, preserved by technology's gaze. "Do you care? Does it make you fall in love with me?" our protagonist asks, analyzing read receipts and blurred signals. No, this isn't a Black Mirror episode; it's a music video. "At the Party" is an evocapop anthem, fueled by icy synths and Vu's dark lower register. Her upcoming double EP, Nicole Kidman / Anne Hathaway, is out in October. We'll be here drowning in our feels until then. —Corinne Osnos
Friday, August 2
Haim have consistently been a band about joy — joy for the love of music, which they are dedicated students of. Eldest sister Este studied Ethnomusicology at UCLA. Middle sister Danielle only just graduated high school before going on the road with Julian Casablancas's band. Youngest sister Alana barely even applied to colleges, so certain that she was going to be in a band with her sisters. In music, they find happiness. In music, they escape indulging life's suffering. "Summer Girl" is probably their most joyous song, and perhaps their most sophisticated, and yet comes from the darkest place. It's trickier to do happy sophisticated than sad. It's bold. So Haim turn to the masters. This time it's Lou Reed.
"Summer Girl," their first release since 2017 album Something to Tell You, is inspired by one of the best pop songs of all time: "Walk On The Wild Side." It's perfect, given Haim grew up in the '90s, as much influenced by the rhythmic world of hip-hop giants such as A Tribe Called Quest as they would have been by New York '70s punk. With a jazzy saxophone line and a "doot-doo-doo" chorus, sung as though reaching for a familiar tune, the trio do not hide from the fact. The lyrics tease: "Walk beside me, not behind me." The song's joy is also in its purposefulness. As Danielle explained in a social media post, the song began to come together as a little ode to cheer her partner (and its co-producer Ariel Rechtshaid) while she was on the road and he was at home sick with cancer. That's pop's best power: It can lift the spirits. It can provide a smile through struggle. It can bring sun to gray skies. It can reignite your faith in love when all you want to do is cry. —Eve Barlow
When I was in high school, I was obsessed with '80s movies — specifically films directed by John Hughes. I felt so seen in the narratives of misfits that refused to conform to the status quo, desperate to fast-forward to the next stage of their young adult lives where they would be accepted as their truest selves. Angel Olsen's "All Mirrors" feels like putting yourself into that type of cinematic experience as soon as the '80s synths arrive, although it's probably more fitting for a title like Donnie Darko. In a press statement, she revealed that the swooping ballad is about "owning up to your darkest side, finding the capacity for new love and trusting change even when you feel like a stranger." The accompanying visual depicts a women lost in a labyrinth, forced to face all of her selves in order to evolve into the person the universe has always destined her to be. Gah, the minds of women are so powerful! —Sydney Gore
Alchemist and Schoolboy Q, "W.Y.G.D.T.N.S"
Rap music moves faster than we can process it. Styles and flows pop up, get imitated, and then disappear before we even have time to decide if they're played out or not. It's one of the best things about rap — a genre that will never not be creatively fertile, will never become stale, and will always be pushing boundaries. Because of this perpetual forward movement, fans are always looking for the next thing. It's why, not 24 hours after Kendrick Lamar released DAMN., rumors began circulating that Kendrick was going to drop another surprise album imminently. Of course, he did not do that. It would have been ridiculous and unnecessary. On this collaboration with the producer Alchemist — who is just at adept at creating hardcore New York rap instrumentals as he is jazzy, sipping-beers-at-sunset-while-passing-around-a-blunt tracks like "W.Y.G.D.T.N.S" — Schoolboy Q skewers our obsessive need for more (W.Y.G.D.T.N.S. stands for When You Gonna Drop That New Shit), but more importantly, he talks a bunch of shit, talks about a bunch of bad and crazy stuff that has happened in America, and oscillates between muttered thoughts, stream-of-consciousness digressions, and a brief foray into the biting growl that has become his signature. At first, it feels like an outro, but it quickly becomes something more than a throwaway capstone. It's a track that plays with time and expectations and comes out the other side as a compelling collaboration between two rap greats. —Sam Hockley-Smith
An earlier Vulture profile describes Starcrawler's "scuzzy glam that evokes the teensploitation films of the 1970s and that decade's street-level Hollywood depravity." You may recognize their sound from Jason Clarke's 2019 adaptation of Pet Sematary; a film I am personally triggered by, as someone whose childhood bedroom looked out upon a "garden" of Dead Petz (including one albino guinea pig named Chloe). The young pop-punk band is known for their high-octane live performances and their simultaneously zany and disquieting music videos; the group's latest release "Bet My Brains" is no exception. In the video, lead singer Arrow de Wilde makes clown makeup great again while practicing her exorcist routine. Meanwhile, the boys look like they ambushed a Depop store. They seem cool. —Corinne Osnos
Brockhampton, "I Been Born Again"
Even when Brockhampton makes low-key or overwhelmingly dark tracks, the rap group that has decided to call themselves a boy band tends to lean cartoony. Usually this manifests in brightly colored videos, or moments of childlike exuberance. "I Been Born Again," which is accompanied by a black-and-white video of the members rolling around and doing pushups on some sidewalk somewhere, is relatively subdued, and not cartoony at all. Instead it seems designed to rebuke those who felt like Brockhampton were riding the boy-band gimmick too hard — this is purely a strong, unflashy mid-album rap track recontextualized as a single. It's vibe music, and there's absolutely nothing wrong with that. —Sam Hockley-Smith
Friday, July 26
This is called growth, people (*signals Kelly from Insecure's growth hand gesture*). Taylor Swift's melodic new single, "The Archer," is one of the most self-aware tracks from the songstress yet. Finally, finally Taylor will let her guard down and rest — fighting is so exhausting. Part of the thing with therapy and healing is acceptance — acceptance that you can be "the archer" and also "the prey" and look at your mistakes just as critically as your enemies, and finally heal. In addition to the song sounding eerily like Reputation's "Delicate," we are also blessed with some Old World Taylor imagery: As her anxiety envelops her she sings, "I wake in the night, I pace like a ghost, The room is on fire, invisible smoke." In the bridge, Taylor self-actualizes, "They see right through me … Can you see right through me? … I see right through me." This must have been a breakthrough during her therapeutic songwriting sessions, or at least we hope so. Here's to hoping the rest of the album is as honest as "The Archer." —Clare Palo
Chance the Rapper feat. Death Cab for Cutie, "Do You Remember" 
Well, the summer of features has come to this: Chance's long-anticipated album, The Big Day, has just dropped, and the second track features none other than … Ben Gibbard? Yes, Ben Gibbard! The Death Cab for Cutie frontman, employing his unmistakable, soulful whine while presumably wearing a "3" cap over his floppy hair, sings: "Do you remember how when you were younger/The summers all lasted forever?" Gibbard is the archer and I am the prey; the line pierces me the way The Photo Album did my sensitive 16-year-old self all those years ago. Chance, of course, is excellent on the track as well, romantically remembering days past (velcro shoes) and not-so-past (Will Smith as Genie). The song melts various memories into one long summer — perhaps, even, 500 days of them? —Ray Rahman
You wonder if Matthew Healy likes being the "millennial that baby boomers like" (the lyric from last year's "Give Yourself A Try"). It's the most powerful position. He has a diverse captive audience at the bottom of his pulpit and he's not about to waste it. In the great tradition of rock and roll, his band — the 1975 of Manchester, England — has reached the point at which they all want to put causes first, because last year's A Brief Inquiry Into Online Relationships certainly proved that they matter musically, that they matter culturally, and that people are listening. Unlike the great tradition of rock and roll, they're not interested in cashing in on what could be their most defining moment as they prepare to release their next effort, Notes on a Conditional Form, this year. The 1975 have done the punk-becomes-pop thing, they've done the narcissist-in-crisis thing, and now they're doing the everything's-fucked-so-we-may-as-well-save-the-world thing.
Notes on a Conditional Form then begins as all their other albums do — with a track titled "The 1975." Except this time, the 1975 don't take the lead. Greta Thunberg, a 15-year-old climate-change activist, does. I was sent this a week before its release while in a mire of extreme anxiety about a whole load of personal nonsense that doesn't actually matter. When I listened to what Thunberg had to say, when I heard the way the 1975 were engaging with their audiences, when I imagined Matthew Healy giving his stage to another leader half his age because she believes that we still have time to make a difference, it actually calmed me down. All the money acquired from this song will go to the climate-change movement Extinction Rebellion, and the instruction is that we all "wake up!" There's work to do. Let's do it. —Eve Barlow
While I'm fully aware that the phrase "everything was beautiful and nothing hurt" was meant to be ironic during the Tumblr era, I feel like we as a society are only now facing the reality that so many of us are suffering in silence. But people don't have to hide alone in their pain anymore; you can find support through the struggle, and that's the beauty of "Skin Game." For me, the most chilling line is "Holding in coughs, hiding my head/ Everybody respects the dead" — it reminds me of all the lives that were lost too soon from overdoses. (RIP Mac Miller and Lil Peep.) DIIV's forthcoming album, Deceiver, delves into the vicious cycle of addiction and unpacks the many dimensions of the disease. There's no better time to open the dialogue; this subject is extremely relevant. —Sydney Gore
"Many people thought I was done. Part of this documentary is to show everybody that I'm not done. Working on this new record in the mountains and it's my best work. I've been so focused. Not just physically, you can see that, it's crystal clear, but it's not just about that. I'm a musician … We're going to touch everybody, I mean, babies, grandmothers, teenagers, twenty-somethings, thirty-somethings, forty-somethings as well, fifty-somethings, black, red, yellow, white, green, blue, purple. Especially purple, we're going to touch a lot of the purples. I think this is going to be a worldwide phenomenon." So begins the spoken introduction to "Ready" before launching into tropical funk. "Girl let me take you on a journey," PJ Morton implores his love interest to go steady. The New Orleans artist and songwriter passes the test with aplomb. May you finish your summer with the same confidence. —Corinne Osnos
Friday, July 19
Beyoncé ft. Jay-Z and Childish Gambino, "MOOD 4 EVA"
Beyoncé's hardest bar, her greatest line, her sickest burn, is just her reciting her government name: "I am Beyoncé Giselle Knowles-Carter," releasing every syllable with a snarl, like a threat and a promise all at once. (Obviously, she follows that by listing her royal résumé: "I am the Nala, sister of Yoruba / Oshun, Queen Sheba, I am the mother.") Beyoncé on "MOOD 4 EVA" is the mother I never had. (To both my actual mother and Laurie Metcalf in Lady Bird: Please don't read this.) She is the sister everybody would want. She is the friend everybody deserves. I don't know a better person. I don't know a better person! —Hunter Harris
And now for an indie-rock reunion that doesn't feel like cheap nostalgia, or a maladroit play for your wallet. Vivian Girls, disciples of the 2000s noise-pop implosion, took their love of joyful girl-group harmonies, the Ramones, and bright, blown-out guitar fuzz and transformed into extraordinary mp3 blog fodder. Except, of course, their songs were timeless compared to the forgettable riffing that dominated New York City warehouse venues and college radio in 2009, and as women in a DIY network ruled by dudes, they were progenitors of whatever progress the space has encountered in the years since their disbandment. "Sick" is the lead single from their forthcoming full-length, Memory, their first LP in eight years, and it's as if no time has passed — but it has, and they've simply aged into it. If "Sick" is any indication, Vivian Girls' sound is still a hodgepodge of all their musical touchstones, indecipherable beneath the haze, continuously confronting and morphing into something much, much grander. —Maria Sherman
Wilco, "Love Is Everywhere (Beware)" 
What an effortlessly breezy and beautiful new song from Chicago greats Wilco, whose 14th(!) studio album, Ode to Joy, is due out this fall. Jeff Tweedy & Co. typically work in two amorphous modes: tuneful, melodic folk-rock and the type of left-field experimental alchemy that made 2000s classic Yankee Hotel Foxtrot so striking. On "Love Is Everywhere (Beware)," they're firmly in the former mode, with a spindly and hypnotic guitar line oscillating behind Tweedy's hushed vocals — like a stone skipping across a lake, gently disruptive in its meditative calm. —Larry Fitzmaurice
Charli XCX and Christine and the Queens, "Gone"
British pop fiend Charli XCX has become as much a purveyor of taste as she has a pop star in her own right. Her forthcoming third album, Charli, is all about finding strength in collaboration, and "Gone" is inarguably her greatest collaboration to date. "Gone" manages to capture the qualities of both artists without dwindling either. It's an ideal marriage — an ox of a song that serves to house and protect both of their struggles. On "Gone," Charli and Chris separately bleat about disappointment in human relationships, about the solitude of needing to rely on yourself. It's perhaps a comfort to them that they are aligned in this experience. Yet aside from their adjacent narrative, there's nothing they can do to free each other from these shackles — or indeed the ropes they're tied to a car in the song's sensationally autoerotic video. That adds to the tension and release of the track's titanic production. Its drums sound like fireworks being set off inside a closed steel container. That's how it feels to be terrified to speak the truth, and yet also incapable of letting those truths eat you up inside. "I feel so unstable, fucking hate these people / How they're making me feel lately," sings Charli, in her most vulnerable state ever. Chris's open-wound songwriting has clearly rubbed off on Charli, while Charli's zero-fucks-given aspirational vision has lent Chris her hardest floor-filler yet. "Gone" is the song to beat this year. —Eve Barlow
(Sandy) Alex G's "Hope" begins with a few devastating short lines: "He was a good friend of mine / he died / why write about it now? / Gotta honor him somehow / Saw some people crying that night / Yeah, Fentanyl took a few lives from our life / Alright." It's a brilliant moment that manages to capture the frustration of facing down death, the helplessness that gives way to hope, and the loneliness that comes with being consumed by shock and grief. "Hope" is one of many excellent songs by (Sandy) Alex G, who has gone from bedroom artist to collaborating with Frank Ocean, but it stands out as maybe his best to date for the way he plays the somberness of the lyrics off an almost bouncy acoustic-guitar strum, making for a sort of covertly sad listening experience. The song closes with the residents of a house calling out the name of their dead friend, throwing bottles out the window. It's a snapshot of American life and American death and it's beautiful and sad and as perfect a portrait of devastation that could possibly exist. —Sam Hockley-Smith
Long Beach, New York, boy Jade Lilitri's Oso Oso project has been one of the worst-kept secrets in emo and indie rock (two subgenres of rock music that, in 2019, are practically one and the same) since his 2017 release, The Yunahon Mixtape, made the rounds. That record's follow-up, Basking in the Glow, is due out next month, and "Impossible Game" might be its strongest single yet — all charging power-pop guitars and Lilitri's affecting vocals, wistful and soul-nourishing in the way that music that "sounds like this" can be at its best. —Larry Fitzmaurice
The press release for "Valleys (My Love)" explains that the song is about "the anxiety of being away from a loved one," and it's pretty clear from the first line that the dudes in Whitney — the most comforting-sounding band we've got — are feeling that anxiety pretty hard. The song opens with the line, "There's got to be another way," but instead of getting too hung up on what that other way might be, or the fact that there maybe is not another way for a bunch of touring musicians, Whitney does what Whitney does best, which is write songs that manage to evoke Van Morrison without sounding at all like Van Morrison, and I mean that as a huge compliment. Van Morrison, at his best, writes wistful songs that feel almost vaporous. You don't so much listen to his music as you do inhabit it. "Valleys (My Love)" takes on a similar intangible but emotional quality. Even without knowing what this song is about, you'll hear the melancholy in every lilting horn or plucked string. It's the kind of track that you can play for anyone, anywhere, but it'll still make everyone stop what they're doing and get reflective. —Sam Hockley-Smith 
Wave Racer ft. Kwame, "Summer Rain" 
Your latest guilty pleasure has arrived, courtesy of Australian producer Wave Racer. "Summer Rain" features fellow Aussie rapper Kwame, who serves up mildly nonsensical, wholly delightful rhymes. "I saw you dancing in the summer rain. You were looking weird, you were moving kinda strange. Don't know what it was but I had to know your name," Kwame raps over maximalist beats: the soundtrack to flings, festival season, and shorts that stick to you on the subway. —Corinne Osnos
British composer Anna Meredith's been around for a minute now, but you've probably heard her music without even knowing it. Her intense, electro-acoustic compositions largely scored Eighth Grade, Bo Burnham's hilariously touching coming-of-tween-age comedy from last year. Meredith's spiky, hypnotic touch guarantees nothing but drama, and "Paramour" — the first taste from her forthcoming sophomore album FIBS — is loaded with the good stuff, with melodic lines that tickle your spine and an overall rush that's impossible to pull yourself away from. —Larry Fitzmaurice
Friday, July 12
Norwegian avant-pop wizard Jenny Hval's charted a prolific and fascinating career over the past decade, with releases swerving toward either side of accessibility while embracing high-minded conceptual arcs on femininity and personal politics. A friend recently remarked that sometimes it's more interesting to read about her music than it is to actually listen to it — an argument I don't quite agree with, but "Ashes to Ashes" nonetheless can be appreciated by anybody with two ears and an open mind. The first taste from her forthcoming The Practice of Love is gently pulsing electronic music, crescendoing to a heavenly peak while Hval ruminates on the act of songwriting itself, comparing it to "Like I used to dream of fucking / Before I knew how." —Larry Fitzmaurice
Sampa the Great left a huge impression on me during a showcase at Australia's very own SXSW, a.k.a. Big Sound Festival, back in 2016. She was based there at the time as a student by way of Botswana. So when a missive from London-based label Ninja Tune came this week with news of her debut LP, I was highly intrigued. "OMG" is more than I'd anticipated; a short, sharp teaser that plays out more like a theme tune than a lead single. It's filled with as much attitude as that full live showcase, providing a taste of her no-messing rap style and hunger to infuse the rhythmic celebratory sounds of her roots (via the help of producer Kwes) with the edge of modern hip-hop. —Eve Barlow
Billie Eilish, "Bad Guy" (Justin Bieber Remix)
Even after Justin Bieber (cryptically) hinted at a collaboration earlier this week, he's the last person I thought I would hear on a remix of Billie Eilish's "Bad Guy." But there it was on Instagram: a throwback photo of Eilish standing in front of a wall of Bieber posters announcing the collaboration. At first listen, Bieber doesn't quite belong on the track. "Gold teeth, my neck, my wrist is froze (So icy) / I got more ice than, than the snow / That guy, don't act like you don't know / That guy, so critical (Skrrt)," he sings in his first verse. Part of the magic of "Bad Guy" is its dark undertones sung by Eilish's airy voice. This is the girl who has suspended herself on a floating bed throughout her tour, cried a combination of "xanthan gum mixed with charcoal water" for a music video, and wiped blood on her face in her "Bad Guy" music video. Behind the voice that gave us "Ocean Eyes" and "Bitches Broken Hearts" is a 17-year-old who's not afraid to get weird. Justin Bieber's feature doesn't quite give us that. A flawless voice? Sure. Matching Eilish's penchant for the eerie on a song where she repeatedly warns us she's the "Make your girlfriend mad type / Might seduce your dad type?" Well … no. Still, the song is a win for both teams. Bieber's last album was released in 2015. Meanwhile, Eilish once called Bieber her "first love" in an interview with Marie Claire ("I've been in love before, and it was with him"). Beyond the actual song, this remix proves how far the teen has come — and in such a short time. Eilish said it best, "OMGFFFFGGG ANYTHING IS POSSIBLE MAN." It's especially possible if you're Billie Eilish. —Daise Bedolla
The first single from indie wunderkind Jay Som's forthcoming Anak Ko, "Superbike," was a slab of beautiful and drifting shoegaze sounding both indebted to the rock subgenre's '90s peak and totally from the present day. But anyone who adored Melina Duterte's last album under the moniker, 2017's excellent Everybody Works, knows that her sound contains multitudes — so "Tenderness" is another left turn for the shape-shifting artist. It's a smooth, disco-y tune made for the dance floor, with a chorus that gets at the literal heart of Duterte's expressive indie rock: "Tenderness is all I've got." —Larry Fitzmaurice
Blood Orange ft. Toro y Moi, "Dark & Handsome" 
On Blood Orange's new mixtape, Angel's Pulse, Dev Hynes collaborates with chillwave artist Toro y Moi on single "Dark & Handsome," a self-aware, sorrowful anthem. In the chorus, Dev criticizes his own naïveté: "Nothing lasts forever, and I told you." He confesses he's "losin' touch of everything I know, prayin' for my heart to turn to stone," asking for his wrongs to be punished. And if you weren't already starting to tear up, he pays tribute to Mac Miller ("Cryin' for the ones I lost in '18"), with whom he closely collaborated. Toro y Moi comes in on the second verse, rapping the track's title and self-deprecates, "Don't be actin' dumb, cookie's gonna crumble … Happens all the time, plus I'm dark and handsome." This song makes me feel like I came out of a very intense meditative therapy session with my psychiatrist. Do your therapy homework y'all or you'll have to do it all in one hour! Forget Hot Girl Summer; this is Sad Girl Summer. —Clare Palo
There really aren't enough odes to friendship out there — maybe it's because we're being told to make more acquaintances instead of strengthening the bonds of our inner circles? Gabby's World once sang about how "nothing in this world is holier than friendship," and where is the lie? Whatever the case may be, I appreciate the sentiment behind Chastity Belt's new single "Ann's Jam." Nobody ever wants a band to go on hiatus, but the distress often comes from not understanding that breaks are perfectly healthy and should be normalized in our culture. We're not encouraged to have our own space and use the time we spend apart to figure out the best method to rebuild the foundation of our connections. This mellow, laid-back track is the lead single off Chastity Belt's long-awaited fourth studio album, which is co-produced by Melina Mae Duterte, a.k.a. Jay Som. Save the date for September 20! —Sydney Gore
Post Malone ft. Young Thug, "Goodbyes"
The fifth stage of living under Post Malone is acceptance, and it does seem like our dirtbag pop king has worn down many a skeptical listener over the last year (his perpetual chart presence, at the very least, more than confirms this). His latest single, "Goodbyes," won't likely topple the still-dominant "Old Town Road" from the top of the Hot 100 — but it goes down so easy that you're likely to hear it for months to come regardless. Young Thug sounds like just another instrument in Post's sonic world, and even Mr. Malone himself might fade a little too well into the background on "Goodbyes." But this is music practically made for pop ambience, and in that regard, the duo gets the job done. —Larry Fitzmaurice
Upon first listen, I heard the lyrics as "terra lingual." As in, fluent in the land. Though Mae wrote the song as a teenager in her native town of Terlingua, Texas, the song functions as both a love letter to the south-Texan desert and a portrait of the girl who left it behind. Lillie Mae is part of a new generation of country singers. Honey-dripped vocals and earnest reflections remain center stage, but the image of the artist herself is grittier, the stories darker, and the characters relatable on a more visceral level. The milestones Mae sings of are murkier, more elusive, than first dates and Friday nights. "Terlingua Girl" follows "You've Got Other Girls for That," Mae's spellbinding meditation on cheating released earlier this summer. Mae is a trained guitarist and pianist, but it's the fiddle she plays with abandon. "Wonder why you're so afraid, wonder what you're running from. You can't run out of this world, Terlingua girl. Face of a stranger, eyes so familiar," she sings, an ode to leaving home, returning, and everything in between. —Corinne Osnos
Friday, June 28
Bad Bunny and J Balvin, "CUIDADO POR AHÍ"
Rumors had been swirling around for months about a joint album from Bad Bunny and J Balvin, and the reggaetoneros finally confirmed the chatter last night with a surprise announcement on Instagram: Oasis, an eight-song set, was dropping at midnight. The pair met through DJ Luian in 2016, and since then, both have built formidable careers. But it was apparent from their first collaboration in 2017, "Si Tu Novio Te Deja Sola," that the duo paired well together, their voices blending in and out as they built on each other's verses. The same is evident on "CUIDADO POR AHÍ" (Careful Around There). The song's beat is eerie and heavy with anticipation. It's the song that hypes you up on the way to the party, and it'll no doubt be on plenty of summer playlists. Their voices are low, weaving around each other to the point where each individual artist is almost indiscernible. Welcome to the Oasis. —Daise Bedolla
If Radiohead's Kid A taught us anything, it's that lots of emotion — anxiety, fear, defeat, desperation, and twisted, ecstatic joy — can be wrung from vagueness. That album succeeded because it captured everything Radiohead was great at, while emphasizing one of front man Thom Yorke's great strengths: He is good at nailing a specific vibe, even if no one is sure exactly what he's talking about. Kid A looms large over the band (they released many great records after it, but none pushed their sound so far into the future), but it looms largest on Yorke's solo career, which has involved a steady stripping back of the chaotic elements of Kid A, only to get to Anima, the closest Yorke'll probably get to making a traditional singer-songwriter album, but with an acoustic guitar switched out for the blue glow of a laptop or a lone synth rippling through a cobblestone street at dusk.
The album's best moment — there are many very good ones — comes in the form of "Dawn Chorus," a percussionless, nearly ambient meditation on death and regret and loss. Over a lone synth echo, Yorke half sings, half talks in a mixture of overworked phrases like "Come on, chop chop" and "Come on, do your worst," while breaking into breathtaking moments of incisiveness. Hearing the depletion in his voice when he sings an antagonistic phrase like "Big deal, so what? Please let me know when you've had enough" will shock you to silence. "Dawn Chorus" is great because of what it is ostensibly about, but it's memorable for the way that it slows time down, the way its foreboding calmness overtakes everything. The song is its own singular world and one of the best things Yorke has made without the rest of Radiohead. I hope he never makes another song like it. —Sam Hockley-Smith 
Brittany Howard, "History Repeats"
I don't make too many hyperbolic statements about music on the internet, but I'm confident in this one opinion: Brittany Howard is our greatest living vocalist. The Alabama Shakes front woman can sing with the thunder and soul of Aretha Franklin, but what impresses me most is how that same force translates even when she's taming the beast of her voice. On "History Repeats," the lead single from her upcoming debut solo album Jaime (named after her late sister), her voice is malleable. The performance is not the main attraction. Instead, her voice is softened and distorted, melted into the free-form funk instrumentation. There aren't many lyrics either, just this one sentiment echoed several ways: You won't catch her reliving the same story over and over again ("I mean, I've already been / I came and went / I washed my hands with it / I don't wanna do it again"). Brittany Howard won't do what's expected — even if it means putting the Shakes on hold to challenge herself on her own. She's restless. And I'm ready for whatever Jaime has in store. —Dee Lockett
Have you ever found a song that's a combination of all your favorite bands from high school? That's what happened to me when I listened to Chastity's new single, "Sun Poisoning." It filled me with so much joy that my toes were tingling for hours after listening to it and the memories of Warped Tour came flooding in. While I was looking for the right word to describe the perfect balance of bliss and melancholy, I was directed to the Portuguese term "saudade" which Portuguese writer Manuel de Melo once described as "a pleasure you suffer, an ailment you enjoy," and I think that's the most accurate description for "Sun Poisoning." The emo-licious track is featured on the Ontario-based rock band's sophomore album, Home Made Satan, due out on September 13. (I'll save you the time and confirm that it the release date is on Friday the 13th.) —Sydney Gore
Well thank goodness MUNA returned to announce their second album with a positive mental attitude slapper called "Number One Fan" earlier this month because its follow-up is cataclysmically sad. "Who" is a whodunnit, kind of. It's an address to a former flame who had a heart of stone and "never let your feelings show" and yet said emotionless ex is singing a love song to *somebody else*? The chorus comes and singer Katie Gavin asks the same question you're asking: "Who?! Who?! Who are you singing about?!" with a frog still in her chest. By the middle section she paints herself hearing this "sweet melody" for the first time and realizing it wasn't intended for her. Gutted. But also - as is Gavin's way - there's a necessary lesson to be gleaned. And all of it is wrapped up in a sweet melody of MUNA's own, including cascading drums and dramatic chorus production that is to die for. To be entirely frank 'Who' is probably ten times the song it was written about. —Eve Barlow
Lucy Dacus, "Forever Half Mast"
Political songs are hard to pull off. Get too specific about what you're singing about, and you risk coming across as didactic or fussy; take the more general route, and you may as well be Lee goddamn Greenwood. It takes a deft, wise songwriting hand to hit that sweet spot—and as it turns out, Lucy Dacus is just the songwriter for the job. The Richmond, VA indie rocker broke out with her Matador debut Historian last year, and she's since been releasing a series of holiday-specific singles that will be collected in a single release later this year. "Forever Half Mast" has arrived right on time for the 4th of July, and it's the perfect anti-patriotic anthem at a point when more people than ever aren't exactly feeling that political spirit. "They were wrong when they said forget the past," she sings over easy guitar before suggesting we lower the stars-and-bars to the titular position — not quite love, not quite hate, just that miserable in-between feeling that isn't going to go away any time soon. And she makes it sound so good, too. —Larry Fitzmaurice
Chick rock is a hard genre to nail. Veer towards the experimental and you risk turning off mainstream listeners. Too soft? Sellout. Australian singer-songwriter Ali Barter hits it just right on "Backseat," the first track released from her sophomore album Hello, I'm Doing My Best. In the "Backseat" music video, Barter plays the awkward cool girl (a subset of the "Cool Girl" trope) soliciting attention from a male guitar player. "I know that you play in bands" she screech-sings on repeat in high tones strapped to the beat of her electric guitar. Barter's take on affection, one that's clumsy, cute and a tad cringey, brings back memories of first crushes and school dances. And like any good suburban love story, it begins and ends with a license; in the video's last scene, Barter and her new beau sit side-by-side in her Triumph TR4 two-seater. —Corinne Osnos
Drake feat. Rick Ross, "Money in the Grave"
Drake's new single has been stuck in my head this whole week. The Toronto native released "Money in the Grave" after the Raptors won their first NBA Championship, and although it didn't hit me fully at first, I'm glad the song is now out because I've become completely obsessed with it. Against the backdrop of a steady, bass-heavy beat, Drake raps about how rich and on top of his game he is. It isn't his best from a lyrical perspective, but it's still catchy and sometimes that's all you need. Rick Ross's verse comes a bit later, and his voice is just as memorable as it's always been. It reminds me of a campfire, in that it's warm but gravelly, like the embers will light you on fire if you get too close. I love it. —Alexia LaFata
Florist, "Time Is a Dark Feeling"
You've likely heard Emily Sprague's music without even knowing it. Earlier this year, a portion of her work as Florist — specifically, "Thank You," from the lovely 2016 album The Birds Outside Sang — was used in Beyoncé's epochal concert film Homecoming. The music of Florist (Sprague also produces ambient music on her own) is intimate, tender, and reminiscent of the rawer material from Phil Elverum's the Microphones project — the type of soft-focus indie-pop that marvels at the particles that make up the world around us, even when melancholy is abundant. "Time Is a Dark Feeling" is taken from the upcoming Florist album Emily Alone, and it stays true to that album's title; the song is little more than Sprague's wispy vocals and gentle fingerpicking, tailor-made for those quiet moments in between the thrush of modern life. —Larry Fitzmaurice
Purple Mountains, "Margaritas at the Mall"
Without question, the first time I felt like a real adult was when, in my early 20s, I was stuck at the airport and with nothing else to do, I killed time by drinking at the airport bar. Looking back, it's sort of messed up that my brain equated adulthood with carefully portioned whiskey in a bar at the airport, a place that no one ever really wants to be. The music of David Berman, whether he's recording as Silver Jews or here, with members of the band Woods as Purple Mountains, always evokes that same feeling in me: a weird mix of sadness and weight that is appealing because of the clarity it can provide. Sometimes personal epiphanies arrive in the form of well whiskey at the airport, or in this case, drinking margaritas at the mall. (Darker or less dark than drinking at the airport?) In David Berman's world, sometimes the best place to question the existence of God and the future of our planet is a chain bar at a mall. Something like this probably happens every day at the remaining malls in the U.S. That David Berman is able to make it sound noble (but still sad) is a great skill. —Sam Hockley-Smith
The master of "manic poetry" is back. In the music video for his latest release "Typical Story," we find Hobo Johnson raving poolside among bikini-clad goblins, bodybuilders, and other misfits. Though vivacious, "Typical Story" is a meditation on struggle: from the dad who loses everything to the "dog who wanted to run away 'til he learned that his life is way safer inside a cage." And for 24-year-old Johnson, who endured a difficult upbringing that resulted in stints of homelessness and jail time during his formative years, struggle is perhaps more familiar than his budding (Internet) stardom. Compared with his initial hit "Peach Scone," Johnson manages to ramble less on "Typical Story" without sacrificing his trademark erraticism. The California artist doesn't shy from the wacky, but his lyrics often hold more weight than his videos suggest. This may be "the story of the kid who clearly won't know what to say," but Johnson lets us into his anxieties. When he raps the line, "I'm afraid of everything staying the same or worsening / So what's the point of finding calm when calm to me is unsettling," he moves in slow motion, eyes wide open, before the rambunctious scene engulfs him once more. —Corinne Osnos
Friday, June 21
Let's just get straight to it: Lil Nas X's new EP is a hot ass mess and he may never make a better song than the one he's known for. Sometimes we peak early. Shit happens. That said, where Lil Nas X may already be running out of road, the young NYC production duo Take a Daytrip are just starting to find their lane. They struck accidental gold last summer with Sheck Wes's viral "Mo Bamba" and have now scored double placement on the Lil Nas X EP, producing its two best non-"OTR" songs, "Panini" and "Rodeo." (And that's with contributions from veterans Boi-1da, Ryan Tedder, and Travis Barker elsewhere on the project.) Most of the songs on the EP sound like they were microwaved a few seconds before release time. "Panini" has been cooking for awhile, though, first debuted back in April. (I've even heard it played live twice since then.) Lil Nas X doesn't want to be just a rapper, so Daytrip gave him some wiggle room with a rap song and a rap-ish/country-ish song. He gets outshone on the latter, "Rodeo," by Cardi B because he's not as adaptable as he thinks. But in "Panini," over booming 808s and some Western-parody whistling, singing about how expectations are just plain weird, he sounds in his bag. —Dee Lockett
The Hold Steady, "Denver Haircut"
It's been five years since the Hold Steady have released a new album, but in that time frontman Craig Finn released a bunch of solo albums, and the band dropped a few singles here and there. Plenty of bands go on hiatus, but with the Hold Steady it made a bit more sense. Each song is a short story: a collection of misguided nostalgia transmuted into tiny details that evoke a feeling of sentimentality. It's a hard trick to pull off, but Finn is such a great writer that it always seems to work out fine.
So even though the band's been gone for a bit, you wouldn't know it, because "Denver Haircut" is prime Hold Steady — characters have drug-induced hallucinations, yearn to escape the place they live, listen to Metallica, get robbed, and go through personal transformations at the airport. All this happens in just a few minutes, and its a lot to absorb, but one lyric stands out above the rest: "Found a man with a handful huddled over some car keys / it doesn't have to be pure, it doesn't have to be perfect / just sort of has to be worth it." Sure, Finn is singing about drugs, but there's no line more heartbreakingly real and applicable across a wide spectrum of experiences than "just sort of has to be worth it." —Sam Hockley-Smith
Chloe x Halle, "thinkin' about me"
Hot Girl Summer is a meme, sure, but it is first and foremost a way of life. It is bad bitches living their baddest bitch truth. Now, of course, Chloe x Halle are a bit more wholesome in their portrayal of this attitude, because they're 19 and 20, but if you've seen them on Grown-ish, you know they, too, are about this life. (Like they said on their debut album, "If I'm in the mood, I'll get as ratchet as I wanna.") The duo have released two new songs for the show. One is a very pretty ballad about catching feelings; the other, "thinkin' about me," is full-on flex about catching dudes' attention. It's about playing games. It's about toying with some boy's emotions and messing with his head for shits and giggles and a confidence boost. ("When you text me, I'm curving, my girls say, 'Hold up, don't hurt 'em" LOL.) It's some true fuckgirl behavior, honestly, but you won't catch me judging! —Dee Lockett
Mark Ronson ft. Angel Olsen, "True Blue"
Mark Ronson locked in some power collaborations for Late Night Feelings, but "True Blue" is the winner of the bunch because it is so unexpected. There's no better person to recruit for a timeless breakup record than Angel Olsen, and I did not know that I wanted her to go pop until today. Now that we're here, I need more! As the modern classic opens with "Fucking around, I'm falling in love / Saying good-bye 'cause you're giving it up / All that you were, all that you lost/ Who ever thought it came with a cost," I can visualize disco balls getting into rotation. Anyone else planning on texting their next target "love the way you read my eyes" or is that just me? —Sydney Gore
Atlanta fans may recognize Yellow Days — a.k.a. 19-year-old British artist artist George van den Broek — from the show's season two trailer, which features the song "Gap in the Clouds." On his latest release "Just When," van den Broek delivers yet another track that's as moody as it is mellow. His knack? Writing songs about feeling exhausted that sound decidedly unbothered. "And just when I think everything's okay / A cloud comes along and it pours with rain / And I can't help but feel like I'm wasting away / And I know that you love me baby and it must hurt to hear me say that, yeah" van den Broek croons over a reggae-inspired beat. —Corinne Osnos
E-40 f. Quavo, Roddy Rich, ASAP Ferg, and Schoolboy Q, "Chase the Money"
E-40 did it to himself. He's been so insanely prolific in recent years that it's hard to find the time to absorb his music before he's moved on to the next thing. Still, line for line, he's one of the most fun rappers to listen to — his voice is full of peaks and valleys, and he can fit pretty much any phrase into any beat. There's a reason that he got other weird voiced guys on this track — both ASAP Ferg and Schoolboy Q owe a considerable debt to 40 — who made having a weird perspective on pretty much everything under the sun a marketable skill. "Chase the Money" which is the name of the song, and the name of the guy who produced the song (you may recognize his infectious "chase the money" drop from approximately 65 million other songs), is kind of a sleeper: At first it seems like a run of the mill single from a bunch of big names, but then all of a sudden you're playing it again and singing along with Roddy Rich's chorus about driving down Fairfax. —Sam Hockley-Smith
When Sam Shepherd broke out as Floating Points at the turn of the decade, his sound was pure, expansive techno — the type that caught the ear of influential left-field listeners like Radiohead's Thom Yorke, tuneful and winding like a staircase built out of synthesizers. On 2015's lovely breakout Elaenia, he took his compositional know-how to new levels, crafting jazzy and psychedelic electronic music that was less made for the dancefloor and more for contemplative headspaces — but on his new single "LesAlpx," he's back with the thump, and how. It's the most bodymoving single he's put out since 2010's "People's Potential," with an insistent beat and trickles of melody mingling with Vangelis-esque synths. The tune runs just under five minutes, but in the right groove you could imagine listening to it for hours on repeat. —Larry Fitzmaurice
Michael Kiwanuka & Tom Misch, "Money"
It's fitting that the return of Big Little Lies syncs with a Michael Kiwanuka release. That he collaborated with fellow Brit Tom Misch to serve up some sinister funk is almost too much. On "Money," Kiwanuka experiments with falsetto notes while YEBBA contributes backup vocals. In an email exchange with FADER, Misch called out their "common love for 808s and disco." Though it rings bright and dancey, the song's lyrics issue a warning. "The premise of 'Money' is that, at first listen, it's a song about money and how much I want it and love it," according to Kiwanuka. "I want to use money to meet people and be around people that have a lot of it. But as you listen closer, it's actually about how too much love for money can be dangerous." —Corinne Osnos
Metronomy, "Salted Caramel Ice Cream"
Metronomy is the five-piece lovechild of producer, songwriter, and performer Joseph Mount, and for those in the know, they're the chicest band around, capable of navigating away from their nu-rave roots towards classic disco and groove-laden indie. Coming in melting after Mount's recent collaborative efforts with Robyn on her LP Honey, "Salted Caramel Ice Cream" might be the apex of all Metronomy's experiments so far. It marries Mount's clever nods to the past (hello, Lipps Inc.'s "Funkytown") with his English-indebted quirks, likening an object of affection to salted caramel ice cream. "Oh God she's coming, don't look up!" go the lyrics, fizzing with the heart murmurs of an early stage crush. I'll have another scoop please. —Eve Barlow
Dearly departed synth-pop heroes Chairlift were always underrated for how weird they could sound — an expert mingling of the strange and the accessible, as Caroline Polachek and Patrick Wimberly tinkered in the studio like mad synth-pop scientists. On her own, Polachek has previously gone headlong into wilder territory as Ramona Lisa, but her new solo single under her own name is a perfect merge of Chairlift's skyscraping approach and her more inscrutable tendencies. "Door" skips and slithers like a trail of smoke before opening up into an expansive chorus, with tons of production gew-gaws buried in the mix. It's fascinating and endlessly repeatable, and it has us wondering what else Polachek has up her sleeve, too. —Larry Fitzmaurice
June 14, 2016
Kali Uchis, Mac Miller, and Free Nationals, "Time"
Anderson .Paak's the Free Nationals and Kali Uchis have released a track with the late Mac Miller, leading as a single for the group's upcoming self-titled album. "Time" is the first song featuring Mac's vocals since his death in September 2018. Over Kali's hazy chorus and the group's jazzy beat, Mac raps about his relationship struggles, asking his partner not to leave him: "We just need some time." He starts out pessimistic while referencing a line from his 2018 album Swimming, "Well, I don't trip, but I slip, I fall," but promises it'll all work, "in the end, everything will be fine, that's by design." Although this is the first music released after Mac's death, we can probably expect the late rapper to lend his voice to more tracks in the future. —Clare Palo
Benny the Butcher ft. Pusha T, "18 Wheeler"
Pusha T's post-Clipse rap career has been a fascinating one. By all conventional metrics of popular rap music, he should not be as popular as he is because Pusha is a rapper's rapper. He raps everything at pretty much the exact same speed, and like some kind of menacing but not especially emotional Godzilla, he destroys everything in his path. In the wrong hands, his rap style — dead-eyed drug talk and steel-mouthed threats combined with a penchant for not flaunting what he's got — would be a snooze. In Pusha's hands, it's the sort of flow that could ruin Drake's summer. Now, a little over a year after the release of Daytona, Pusha's linked up with Benny the Butcher, the gravelly voiced Buffalo rapper who sounds like the kind of dude who would be named Benny the Butcher. In other words, he's a mercenary, which means that he and Pusha play well off each other. "18 Wheeler" should be listened to while standing in the general vicinity of a cemetery on a cold February day. Okay, fine, it's almost summer but that doesn't mean you can't throw on a bubblegoose and go lurk around some crumbling headstones with this in your headphones right now. —Sam Hockley-Smith
Finneas's "Angel" is not your typical song of the summer. The moody ballad, written while on tour with his sister Billie Eilish in November, is not what you turn to on a blazing summer day on your way to the beach, but it is the song you play when you're in the back of a car, sleepy, slightly sunburned, on your way home. In other words: You're probably going to feel a little sad after listening to it, even if the song is about "falling in love with someone and feeling so in awe of them that you wonder if they're even real." "I bought a house to live in / But you're the home I'm missin'," he croons. "Nothing good lasts forever / But nights with you are better." As the follow-up to his April release "I Lost a Friend," O'Connell continues to solidify his space not just as a producer and a writer, but as a singer in his own right with an intensely personal sound. He may have just landed himself, at No. 1 no less, on Billboard's inaugural Hot 100 Songwriters and Hot 100 Producers charts, but I'm personally waiting for the moment he lands himself at the top of the Billboard 200 albums chart. —Daise Bedolla
GoldLink (ft. Tyler, the Creator and Jay Prince), "U Say"
D.C.'s favorite rapper GoldLink is back with his latest release, Diaspora. Packed with plenty of features — from Pusha T, Tyler, the Creator, Khalid, Bibi Bourelly, and more — the debut album (the others were technically mixtapes) is a certified bop. It's hard to pick one great track on this album, as every song blends together seamlessly into a perfect dancehall playlist, but "U Say" is a standout single. Featuring Tyler, the Creator and Jay Prince, this song will be booming loudly on every block this summer. It's as much of a song about that steamy summer romance as it is about falling in love with your dance partner in the club. GoldLink, thank you for the perfect summer vibe. —Clare Palo
The Appleseed Cast, "Chaotic Waves"
The more-multifarious-than-you-think sound of emo has, arguably, become the predominant style in indie rock over the past five years — in other words, the perfect time for the Appleseed Cast to return. The long-running Lawrence, Kansas, outfit have been at it for two decades now, mixing prog's knottiness and post-rock's epic sweep with traditional first-wave emo signifiers to glorious effect. "Chaotic Waves" is the first single from Fleeting Light of Impermanence, their first album in six years; from the sound of it, they haven't missed a beat, with a gorgeous and cascading guitar line punctuated by Christopher Crisci's expressive vocals. It's a great entry point into the Appleseed Cast's dense catalogue; if you weren't familiar before, now's your chance to catch up. —Larry Fitzmaurice
Vagabon is one of the most progressive artists that you probably don't know about, but the power anthem "Flood Hands" is about to change that, along with the rest of the material from her sophomore album. "I know even if run from it I'm still in it / I know I'll hold you so close," she chants. "I know even if I run from it I'm still in it / I know in my heart." It's the most pop-forward song we've ever heard from Vagabon, yet it doesn't sound out of her element at all. Lætitia Tamko is shifting the music landscape as we know it, remember her name and follow her lead now. —Sydney Gore
L.A.-based pop star Caroline Smith (now known as Your Smith) has another Caroline Smith within her. And she comes at night just as the singer is about to give up and fall asleep. This other person is loud and unpredictable. You can't take her anywhere and yet still … There's something about her, something that can't be tamed, and it sets her free. Don't we all have a "wild, wild woman" inside of us? If not, why not? We damn well should. Smith's latest single is a delectable, synth-pop injection of pure funk that eventually descends into a minimal, sexy breakdown. If the song was indeed a person, you'd be crazy to refuse a night on the tiles with her. —Eve Barlow
Banks ft. Francis and the Lights, "Look What You're Doing to Me"
I always forget that I'm a fan of Francis and the Lights until he puts something new out. This new single with Banks might be my favorite collaboration she's ever done? You have my attention again, Jillian. I'm actually addicted to it, please send help! —Sydney Gore
Freddie Gibbs and Madlib ft. Anderson .Paak, "Giannis"
If you've spent any time listening to new music on YouTube, you've probably come across the visual tool that everyone loves to use right now: a still image with just the slightest movement to keep your attention. In the case of "Giannis," the latest single from the fruitful collaboration between the psychedelic, perma-stoned producer Madlib and Freddie Gibbs, one of the finest technical stylists we've got right now, the visualizer feels especially effective. Sometimes these things are a total snooze: It'll be, like, some salt-and-pepper static inside a letter or some other tiny movement that gestures at the fact that we're not looking at a still image. Here, we get a Jeff Jank animated loop of Madlib's alter ego Quasimoto smoking a joint, holding a brick, and staring at a record spinning. It's hypnotic, which is supposed to be the point, but it perfectly illustrates the circular way that Gibbs and Madlib work together. Madlib works with loops, but there's often other extraneous noise in his samples, usually due to a rough beat chop or ambient record crackle — it creates the illusion of change where there maybe isn't much. Here, there's some of that, but mainly there's Gibbs, switching up his flow, not so much barreling through the beat as riding it, pitching his voice against the rise and fall of the sample. Like many other Freddie Gibbs songs, with and without Madlib, he's presenting a nonstop barrage of imagery: something about Dora the Explorer, something else about Ace Hood (sidenote: Ace Hood is much more prolific than people realize. Between 2008 and 2019, he released 25 full-length projects), and then he's out just in time for Anderson .Paak to ooze out a melodic rap that calms things down and closes out the song. —Sam Hockley-Smith
In a cramped recording studio in Soho, a shoeless Jacob Collier hits play. A handful of critics, friends, and collaborators form a crescent around the 24-year-old Brit. Some recline on velvet couches while others sit cross-legged on the floor. Barely audible bird chirpings float on airy vocals that grow into bellows, easing the listener into Collier's world. Nine minutes and 5,000 vocal parts later, the curtain drops. While Collier isn't the first to try his hand at the Andy Williams 1960 original (Frank and Frank produced notable versions), Collier's adds something new to the mix. It turns a staid lullaby into a living chorus that sticks with you long after its final note. It builds into a cacophony of voices (144 in total) singing overlapping, elongated parts. Collier reached out to featured collaborators with a simple ask: record yourself singing moon in B-flat and send the video clip his way. That he managed to get Chris Martin and Ty Dolla $ign on the same track is reason enough to press play. —Corinne Osnos
Friday, June 7
BTS and Charli XCX, "Dream Glow"
Today in things I didn't know my soul required: BTS and Charli XCX, leaders of the pop free world, have collaborated. And while it could've been totally phoned-in – as gimmicky as the band's new mobile game, which the song was made to promote, probably is (sorry, don't come for me!) – but BTS and Charli do nothing without intention. They are, respectively, impossibly prolific and yet rarely sacrifice quality in saturating the global market. Their first-ever collaboration is produced by Stargate, the legendary Norwegian duo responsible for some of the best Britney, Rihanna, Beyoncé, and Katy hits; BTS and Charli were not fucking around. It's arguably the most straight-forward constructed pop song BTS have ever made (note that it features only vocals from Jungkook, Jin, and Jimin – no rapping – though it's credited to all of BTS), a product of the Charli-Stargate Midas touch. (Those larger-than-life synth swells are the DNA of Scandinavian pop production, and are also the foundation of this song.) BTS have zero need to bend to trends to make themselves more accessible to the English-speaking world (which is why those Halsey and Nicki Minaj collabs always felt kinda forced), so it's incredible to watch them make that tired industry school of thought work for them, and not the other way around. This is BTS' best Western collaboration to date. —Dee Lockett
Randall Park, "I Punched Keanu Reeves"
Last Friday night, while I ate take-out Thai food that tasted absolutely nothing like Sasha Tran's (Ali Wong) Korean cooking in Always Be My Maybe, I found the Song of the Summer. That's right, Randall Park has dropped the hottest song this week. In the film, that Vulture essentially willed into being, Park plays Marcus Kim, the lead singer of Hello Peril, a good? San Francisco local band that has exactly one hit. The track, which was freshly released on the film's soundtrack, features three (!) Hello Peril songs, the hit Mariah Carey song that inspired the film's title, a sexy D'Angelo track that makes a rightful cameo in the movie, and more. But clearly the highlight is Hello Peril's "I Punched Keanu Reeves," which originates from a riveting scene where Park punches real life Keanu Reeves in the face, at Reeves's request. The punch was "better than any scene you could see in Speed," which I can confirm is in fact true. Something about seeing Reeve's asking to be hit is extremely delightful. —Clare Palo
It's harder than ever to be surprised by anything these days, but British musical polymath Jai Paul's sudden return last weekend was one of the most truly shocking (in a good way) musical moments of the year so far. His legendary, leaked collection of demos are now available on streaming, so if you haven't heard those—well, what are you waiting for? Paul also dropped a new two-tracker, "Do You Love Her Now" b/w "He"; both are great, but it's the b-side that's sounding especially good at the moment. There's some DNA from Paul's classic 2012 single "Jasmine" in here, but the mood is even duskier and more intense, with a soft bassline pulse reminiscent of the "Love on a Real Train" scene in Risky Business. Let's hope Paul's back for good—by the sound of these new songs, we need him in our lives. —Larry Fitzmaurice
I haven't thought about any of the Grimm's Fairy Tales in over a decade, but leave it to (Sandy) Alex G to find a way to rework Hansel and Gretel into an eerily charming narrative of his own. "Gretel" serves as a cautionary tale about the toxic nature of greed and overindulgence. Alex eases us in with a familiar feeling of comfort by using an acoustic guitar, metallic piano, and faint pitter-pattering drums before coming in hot with synthesizers and manipulating his vocals by shifting the pitch. "I don't wanna go back/ Nobody's gonna push me off track/ I see what they do/ Good people got something to lose," he sings without breaking his stride. This song tastes like a scoop of your favorite flavor of water ice from whatever local shop that has your loyalty, a luxury that only South Jersey and Philly natives know what I'm talking about. I'll admit that I didn't love Rocket as much as the rest of the industry, but I'm salivating at the prospect of House of Sugar. —Sydney Gore
Indie rocker Jay Som unleashed a quiet riot with her breakout 2017 LP Everybody Works, and this first single from her forthcoming third album Anak Ko suggests that her hot streak of emotive, youthful-sounding indie rock is tough to break. Fans of shoegaze's swirling guitars and gently warped vocals wont be disappointed here, and the first two-thirds of "Superbike" sound perfectly ripped from some dreamy past life; then, a searing guitar line rips through the closing minutes' cloudiness, sticking the landing perfectly in a way that has us excited to hear what the rest of the album sounds like. —Larry Fitzmaurice
Could it be there exists a very funny pop song that also belongs on the dance floor while at the same time contains a realistic message of self-worth that's as attainable as it is catchy? "Number One Fan" is the song you didn't know you needed so badly until it arrived right in front of your face. It's just the right side of poptastic insanity, loaded with bouncing synth lines and bass tones that are as likely to recall hours spent idly playing '90s games consoles as they do hits of the era such as Len's "Steal My Sunshine" or The New Radicals. Lyrically, it's a conversation between the voices in your head, and it chooses to bat away your inner dickheads in favor of your own cheerleader. "Oh my god," it says, with a sudden surprise. "I'm your number one fan?!" I guess you can choose: do you want to be a band capable of holding a mirror up to society, or do you want to be a band capable of holding a mirror up to yourselves? MUNA do both. With their second album confirmed for later this summer, 2019 is about to be theirs. —Eve Barlow
What is Bon Iver up to? Justin Vernon premiered new material at a concert last weekend, and before you knew it he was unveiling a new website with some of those new songs for your home-listening pleasure. One of those new cuts, "U (Man Like)," is a collab-loaded cut featuring Bon Iver Cinematic Universe members like Bruce Hornsby and Moses Sumney — but it's "Hey, Ma" that stands out most out of the two new cuts we've heard from the project so far. Unfortunately, it's not a Cam'ron cover, but "Hey, Ma" should resonate well with anyone who felt entranced by Bon Iver's last album, 22, A Million in 2016, with similar electro-pop pinnings and Vernon's impossibly holistic vocals taking center stage yet again. If you'll remember, 22, A Million was effectively Bon Iver's return after a six-year hiatus; seems like we might get the follow-up much sooner than that span of time, which is a good thing. —Larry Fitzmaurice
I feel like I've been waiting an eternity for the arrival of Whitney's sophomore album, but all that patience paid off now that "Giving Up" is here. 2016's Light Upon The Lake saw the Chicago band ushering in a wave of "country soul" and now that the yee-haw agenda is in full swing, the timing of their return couldn't be better planned. Three years later and the boys are back to kickoff the start of summer with a batch of fresh tunes that make you feel alive. While I never want them to depart for that long again, I fully respect their process. —Sydney Gore
For at least fifteen years, the eclectic and multifarious electronic pop that Roisin Murphy sounds has been one of the worst-kept secrets in indie circles. Her solo albums are as fascinating and rich as her work with egghead house producer Matthew Herbert, and she notched a star turn on the glitchy "Illumination," off of one of last year's best albums, dance god DJ Koze's earthy and blissful Knock Knock. Her latest solo single is eight and a half minutes of sneaky, brilliant house music—the type of tricky bliss that Vladislav Delay once achieved on his classic Luomo record Vocalcity, only these grooves come from frequent Murphy collaborator Crooked Man. Listen to this in the dark — or anywhere else, really. —Larry Fitzmaurice
Friday, June 7
Katy Perry, "Never Really Over"
Justice for Witness! I make that proclamation with all seriousness — even though Perry's last album was seemingly bereft of the type of smash hits she's built her career on, it's likely to age well as a gently experimental, electro-focused pop album that diverged from her time-tested brand of inspo-pop. Still, she obviously had to change it up a little for her new era, and her latest single "Never Really Over" comes off as a capable and surprisingly effective split between her previously established talent for soaring anthems and the gooey dance sound that was smeared across Witness, with a synth-led chorus that Robyn would more than appreciate. Check the video, too, which gives off a serious and (hopefully) self-aware cultish vibe suitable for anyone that's steeling themselves for Midsommar. —Larry Fitzmaurice
Sufjan Stevens, "Love Yourself" and "With My Whole Heart"
Is there anything that needs to be said other than my heart is full? Sufjan Stevens continues to be the gift that keeps on giving, and "Love Yourself" and "With My Whole Heart" are exactly what the world needs post–Call Me by Your Name. This is quite possibly the best way to kick off Pride. While we (the world) probably don't deserve this, we should be eternally grateful anyway. —Sydney Gore
Miley's not dreaming on her new EP, but she is doing a collab with Ghostface Killah. On She Is Coming, Miley sings about her loving relationship with drugz in "D.R.E.A.M." In a trancelike opening, she sings about outer space and UFOs, and fucking on an airplane — just normal 20-something stuff. The track is a homage to Wu-Tang Clan's "C.R.E.A.M," and, with trademark Miley subtlety, spells it out in the chorus: "Drugs rule everything around me." Then comes Ghostface rapping at the tail end of the song, adding a little more credibility to her fluctuating hip-hop career. Sound like a lot? Well the chorus is contagious, so watch out. —Clare Palo
Sleater-Kinney, "Hurry On Home"
It was too much when Sleater-Kinney posted a photo of the three of them with St. Vincent at the start of the year, but it was also welcome. They hadn't released a record for four years. St. Vincent had since continued to become one of the most versatile and vital gifts in alternative rock. For Annie Clark to be the announced producer on the pioneering riot grrrls' new material was immediately beyond logical — so clear you wonder why you didn't think of it. It also created a palpable thrill for what such a collaboration might sound like. Well, it sounds like an angular guitar battlefield in which nobody crosses the desires of the women instigating this party. "You know I'm unfuckuable, unloveable, unlistenable, unwatchable, just hurry on home to me …" sings Carrie Brownstein, throwing acid on her own self before also chastising her lover for validating her own nagging self-doubts. What an invitation. —Eve Barlow
Ready for a hot take? Here goes: At this point, I'd take a thousand more albums from Strokes front man Julian Casablancas's freakazoid-rock project the Voidz instead of a single new Strokes song. Call me crazy, but over the past five years the Voidz have gone from brown-sound annoyance to one of the most interesting rock bands going right now. "The Eternal Tao" is their latest single, presumably from the forthcoming follow-up to their fascinating sophomore effort Virtue; it was co-produced by indie provocateurs Mac DeMarco and Kirin J. Callinan, it sounds a little like house music, and features liberal amounts of Auto-Tune. Yup, sounds about right. —Larry Fitzmaurice
Swim Deep are a once NME-championed band from the early 2010s London indie scene; they came from Birmingham with enormous ambition and even bigger hearts, were signed to a major label, and became the alternative equivalent of a boy band. The music was always good, but somehow as the music got better, the band found themselves in more perilous situations. Some lineup shifts and life struggles later, front man Austin Williams, bassist Cavan McCarthy, and keys man James Balmont now return with new players. "To Feel Good" employs the gospel chorus from "Everybody's Free (To Feel Good)" as a backdrop for Williams's spoken word tale of ordinary life, where reality bites and glimmers of hope remain in the most uninspired of places. When Williams speaks of the man in the job center who would humor Williams's own dreams to pursue music in exchange for more time on the dole, there's nothing sweeter than the gratitude he extends to a kind stranger's words: "Don't forget me when you're famous." —Eve Barlow
Burial back! New music from William Bevan — one of the most influential dance producers of the last 20 years, full stop — is always cause for celebration, and the heads surely salivated this week at the announcement of a new two-tracker out next month from his longtime label home Hyperdub. "Claustro" is one half of that release, and it's both very Burial-y and a bit of a changeup: His dusty, decayed approach to U.K. garage is still present and accounted for, but there's a sense of tonal playfulness that's not always found in his work — more proof that his genius remains uncompromisingly surprising as ever. —Larry Fitzmaurice
I wasn't sure if King Princess would be able to top "Pussy Is God," but her latest single is a bop that won't stop. "Cheap Queen" straight-up put me in my place as Mikaela Straus dragged me for every time that I've ever pretended to be low maintenance. The day that you recognize that you're a queen is honestly life-altering, I hope more women get to experience that through this meditative song. Cue the King Princess drop-your-debut-album challenge. —Sydney Gore
May 24, 2019
I do not hold half as much affection in my heart for Charlie Puth as, ahem, my colleague Hunter Harris does (no one should! It's unhealthy!), but I have conceded at least one point to her: The boy can fuck around and make a hit in his sleep. Which is why, if you play 1D successors 5 Seconds of Summer's new single, "Easier," and find yourself irrationally obsessed, I encourage you to take a gander at the credits. The Puth co-wrote and co-produced the thing! To be fair, giving a "co" credit to anyone else involved is generous; this baby's got the Puth's DNA all over it, from the aggressively mid-tempo synth structure to the moody lovelorn lyrics to the exclusively falsetto vocal performance (respect to Luke for pulling that off). This is the reset 5SOS deserve and if it's all credit to the Puth then, damn it, Hunter, you win! —Dee Lockett
The Compton-based producer, songwriter, and multi-instrumentalist known for his work as a member of the Internet has unleashed his debut album Apollo XXI today, and the hype has not been unwarranted. The full LP is a psychedelic R&B ride: Very wow, very melodic, and so cool I wonder if I qualify enough to listen to it. Certain moments vibe much harder than others. One such track is solid standout "Playground." Lacy told Zane Lowe he was channeling Prince and the Dirty Projectors in this one. On paper that sounds untenable, but in actuality it's spot-on. It's a wonder Prince didn't write a song that breezily compares sex to being in a playground? This hard-to-resist jam is built around the Paisley Park hero's guitar-funk style and features Lacy in high-strung falsetto mode — a bold move, and one he shows no signs of struggling to pull off. It's brutally hot. —Eve Barlow
If you're a kid, you've probably heard of Clairo — she's the 20-year-old internet-pop micro-phenom who broke sorta-big in 2017 with "Flaming Hot Cheetos" and has since opened for Dua Lipa and worked with the similarly post-juvenile, genre-blending Cuco. And if you're an adult who follows the general trajectory of popular music? You're probably going to end up needing to form an opinion on Clairo this year, and "Bags" — which may or may not end up on her proper full-length debut that should be dropping later in 2019 — is a good place to start trying to figure out what's up with her. The song was co-produced by Rostam and is cloaked with dusky guitars and close-mic'd vocals that will remind any aging millennial of what it was like to listen to Bright Eyes with wide eyes, or any of the early-to-mid-2000s Saddle Creek catalogue in general. In other words, another curveball from Clairo, and undoubtedly not the last, either. —Larry Fitzmaurice
Apparently this song was originally written for Nelly Furtado, and now I can't un-hear it? This single smashes so hard, I want it to come on every time I step out on a rooftop. —Sydney Gore
Jordan Rakei, "Rolling Into One"
No, you didn't click on an ASMR video by accident, though the first few seconds sound suspiciously so. On "Rolling Into One," Jordan Rakei embraces the unpredictable. Per press release, the (newly) 27-year-old explores "technological growth and how it affects our sense of humanity" on his upcoming album Origin, which sounds suspiciously like the title of an elective course I took in college. (I was a philosophy major.) "In the wake of the madness / I held it until it came right, yeah / I'm looking on the bright side / While they wreak and they havoc, huh"; silken vocals settle a restless, funk-driven beat while Rakei champions a "grin and bear it" approach. The "ooh" right around the 3:40 mark hits like a snare. Dystopian, but make it disco. —Corinne Osnos
Miya Folick's Premonitions album was grossly underrated last year, but all that matters is that it exists for our listening pleasure. "Malibu Barbie" is an unexpected release that I didn't see coming, and I am thrilled to say that it is an absolute gem of a track that sees her leaning further toward the pop spectrum. "'Malibu Barbie' is about my exploration of what being a woman means to me — it's a longing for an ideal," she said in a press release. "It's realizing that I can go to an extreme in pursuit of physical perfection, look around, and realize that I haven't changed. I am still longing and seeking something more. Who I am is not a place at which I can arrive." Amen, sister! —Sydney Gore
May 17, 2019
"Not a day goes by that I don't listen to at least one Sublime song," Lana Del Rey issued in a statement accompanying this cover of the late Long Beach alt-rock icons' cut from their 1996 self-titled and accidental swan song. "They epitomized the SoCal vibe and made a genre and sound totally their own." Indeed, Sublime were ahead of their time, and even if Lana hadn't chosen to cover this song with producer Andrew Wyatt (who previously worked his magic on Lady Gaga and Bradley Cooper's soundtrack to A Star Is Born), her kinship to the band as a genre-blurring artist known to stoke divisiveness was already readily apparent. So it's no surprise she sounds totally at home on this cover, and its inclusion on the forthcoming Sublime documentary now means there's at least one positive aspect associated with the mediocre, industry-powered doc itself. Given the solemn singer-songwriter vibes of the material we've heard thus far from her forthcoming Norman Fucking Rockwell, it doesn't seem like the warm and hazy approach showcased here is indicative of what's to come from that album — but if there's one thing Lana is, it's unpredictable, so who really knows. —Larry Fitzmaurice
Megan Thee Stallion, "Cash Shit"
I woke up this morning and checked the temperature, and the official degrees are "warm enough to ho." It's hottie season! On Fever, Megan Thee Stallion bounces between freaky and greedy, rapping about doing hood-rat shit with her friends, going to Pappadeaux (real ones know), and ignoring every man until they start talking about having sex with her. It's easy to stan: There's plenty of music to twerk to, anthems for your pregame playlist, a soundtrack to inspire you to leave someone on read. My personal favorite is "Cash Shit," which features DaBaby, but frankly his contributions aren't even that necessary, Meg needs no hype man. "He say he hungry, this pussy the kitchen!" Thee Stallion always delivers, and Fever is some real hot-girl shit! —Hunter Harris
Tyler, the Creator, "A Boy Is a Gun"
Some early impressions of Tyler, the Creator's latest album: It's hard to pin down! That might sound like a critical way of taking the easy out — and especially ironic since the record barely clocks 40 minutes in length — but even setting aside that the thing's only been available to hear for half a day, there's enough going on in the follow-up to 2016's sunny, sad Flower Boy that it's gonna take a few listens to stick in. One thing that's for certain is that IGOR continues the path of maturation shown on its predecessor; if that previous record explored the DNA-strand-like intertwining of regret and nostalgia, Tyler's newest statement seems to dive deep into heartbreak and unrequited love, complete with Call Me by Your Name references. A lot of his sonic influences are present here — the Neptunes' spacey jazz-fusion bounce, Kanye West's chipmunk-soul sample past, the spiraling piano cosmos of Stevie Wonder's catalogue — and early standout "A Boy Is a Gun" represents a solid collision of those sounds, along with the slippery influence of Frank Ocean's moody classic Blonde that looms over IGOR as a whole. Lot to unpack here, so pull up a chair. —Larry Fitzmaurice
Maluma, the Colombian singer who recently collaborated with Madonna on "Medellín," is following up last year's F.A.M.E. with 11:11. The 25-year-old has been teasing his fourth studio album for months now, and it certainly packs a punch with a range of features that include Nicky Jam, Ricky Martin, Ty Dolla $ign, and, yes, Madonna. But Maluma and Ozuna's "Dispuesto" stands above the rest. The song combines the infectious energy that has catapulted both Ozuna and Maluma to the global stage over the past year. Together, they're showing that reggaeton is worthy of the big leagues. The duo has 13 videos with more than one billion views on YouTube, and it's a safe bet that "Dispuesto" will get the music video treatment and follow in their lead. Madonna told Maluma to "slow down, papi" on "Medellín," but if 11:11 is any indication, that won't be happening anytime soon. —Daise Bedolla
Bren Joy, "Henny in the Hamptons"
Indie gospel R&B artist Bren Joy, who seemed to emerge out of nowhere, surely propelled by his thousands of Spotify streams, has released his debut album, Twenties. Joy is Nashville-born, but his tracks "Henny in the Hamptons" and "Upper East Side" are focused on thriving in New York. The new project will be at the top of your feel-good New York summer playlist: "Henny in the Hamptons" is the song you play so often on repeat, you begin to embody Joy's silky, sweet positive energy. If one song has drastically changed my mood, it's this one. The aspirational, lofty summer vibe transports you, helping you forget you live in a three-bedroom in Bed-Stuy — you're now on a private beach, dressed in Gucci, drinking an Aperol Spritz. —Clare Palo
Men I Trust, "Norton Commander (All We Need)"
In my mind, this song is the manic pixie dream girl version of "Summer Nights" from Grease. Where I pulled that comparison from goes beyond my own understanding, but I said what I said! Nobody knows when Men I Trust's Oncle Jazz album is coming out, but for once I don't feel the need to rush a record release. Summer is right around the corner and this album will have been worth the wait whenever the Canadian trio is ready to share it with us. Let's be present and enjoy this moment of musical bliss. —Sydney Gore
The ability to connect with a live audience is what distinguishes great from good performers. Tones and I's Cinderella story begins in a small town in Australia, where busking culture is particularly salient. The web gives street performers the potential to turn once ephemeral fame into global fandom, as in the case of fellow Australian Tash Sultana or New York City's Pinc Louds. Plucked from her retail gig after a stint playing on the streets of Byron Bay made her an overnight sensation, Tones and I delivered her second single earlier this week. "Dance Monkey" is an infectious pop number that highlights Tones's tangy vocals. Its chorus lends itself to mass appeal much like her breakout hit "Johnny Run Away." Yet, in a Velázquian twist, the song's lyrics reveal its creator's own discomfort with her newfound fame. —Corinne Osnos
Kaina wields the kind of voice that dislodges whatever she's singing from the immediate environment. A song like "Ghost" sucks you out of your normal temporal continuity and spits you out in a more expansive and welcoming timeline. This is the second track from the Chicago artist's forthcoming debut album Next to the Sun, and it takes on a more languid tempo than the first single "Green." But even though the guitars are lazy and calm like Frank Ocean's were on "Ivy," "Ghost" hides a restlessness in its waters. There's something stirring there underneath the surface in the way the instrumentation buzzes like cicadas in late summer, in Kaina's careful poise as she loops through arresting vocal melodies. "No one feels the way I do," she sings, and haven't we all felt that way? Hasn't everyone felt like screaming at a picturesque sunset, angry that it doesn't reflect what's inside us? —Sasha Geffen
Irish punk is alive and well in the Limerick trio Whenyoung, who'll soon release their debut album Reasons to Dream. When you come from a small town in the Republic of Ireland, you need many of those if you're going to try to make it as an indie band in the streaming age. "The Others" is a song that was written in response to the fall of the Grenfell Tower in London. It's a cry for all the innocent lives that were lost unnecessarily and a reminder that these aren't just past events — history repeats itself, and so forth. Not exactly a cheery sentiment but an indie bop for fans of the Cranberries and, naturally, the Pogues. "Go on and turn the news off, crying, screaming, shouting …" sings Aoife Power. "Forget about it, drink up!" —Eve Barlow
May 10, 2019
I'll admit to doing a double take when I heard Saint Jepsen's latest single for a few reasons: For one, the opening seconds of "Too Much" sound a lot like Rachel Platten's "Fight Song," an uncanny resemblance strong enough to give anyone who recalls the 2016 DNC an immediate sense of the spins. Also, it's really good! I'm surprised by this because I haven't been taken by the material from her forthcoming album — or the much-beloved E•MO•TION, for that matter — but the low-key Body Talk vibes (or, put another way, "Heartbeat"-esque construction) of "Too Much" is just the right balance of effervescence and lushness sure to soundtrack plenty of late-night ragers this summer. —Larry Fitzmaurice
Ed Sheeran and Justin Bieber, "I Don't Care"
If you don't count the backing vocals Ed laid down for "Love Yourself" or the fact that they both cameoed in Lil Dicky's "Earth" (about which the less said, the better), "I Don't Care" is the first official Bieber/Sheeran (Bieran?) duet. It's a smart pairing of Justin's ear for pop sounds that work on a global scale and Ed's knack for a soaring melody, both tighter than "Shape of You" and sadder than "Friends." Both singers are at their best when they're playing vulnerable — the Sheeran hits that will endure are the ballads, and the most relatable Bieber songs are the ones where he seems bone-tired and desperate for companionship — and "I Don't Care" gives the duo a vehicle to pout about bad parties and good girlfriends. —Craig Jenkins
Ari Lennox's silky voice is back and jazzier than ever. The D.C. native is croonin' again on even more sensual, neo-soul songs in a new single from her freshly released debut album, Shea Butter Baby. She's up late, again, crushin' and real horny. Can't relate at all. The track features "traphousejazz" artist Masego climaxing on the saxophone, as Ari begs for her lover to get to her apartment faster ("Fifth floor, give your ass a duplicate fob"). It's a love-making mirage, as she anxiously awaits to "devour that body like corn on a cob." She even kindly offers to "fake watch the news," if it'll get her satisfied faster. Ari knows what she wants, and just wants you to stay a little longer. —Clare Palo
Jhene Aiko, "Triggered (Freestyle)"
Are the lyrics from this new loosie from stoner-R&B auteur Jhene Aiko aimed at her ex Big Sean? She says no, but it doesn't matter: This allegedly off-the-dome take is impressive even when taken in devoid of context, with surprisingly airy fingersnaps and a sunken-sounding piano backing her gleefully profane and emotionally raw vocal take. Aiko's a master of vibe music, to the point where she's often come close to completely disappearing amidst her swirling, gorgeously purple music — so "Triggered (Freestyle)" is a breath of fresh air, then, in which her personality is front-and-center and impossible to dial down to mere background music. —Larry Fitzmaurice
If you've got a RAYA dating app account, you will know that even the most upper of social echelons are drowning in what we call "fuckboys." Fuckboys are dudes who don't call you back, who shoo you out of their bed the second they're done, who send you a Venmo request after a date because they felt awkward about splitting the bill there and then. Fuckboys are everywhere. But they're not exclusively male. Us girls can be fuckboys too. In fact, many of us wear the badge proudly. "It takes one to know one," sings 21-year-old BAUM, with a cock-eyed assurance, on this synth-pop piano-led ballad — her first release in a year. The LA-based New Yorker is using her platform for great things: body positivity, queer visibility, humor! But being public-facing good humans doesn't mean we'll always play nice. —Eve Barlow
TOKiMONSTA's (aka Jennifer Lee) previous album Lune Rouge is a reaction to a world that can feel more cruel than colorful. The first album Lee produced after recovering from the incredibly rare brain disease Moyamoya, Lune Rouge is a compilation of melancholic vocals lifted by frenetic beats. It's dressed-up depression. In the months following her surgery, Lee experienced the temporary derailment of her music career. "I tried to make music and it was just garbage. The part of my brain that knew how to put sounds together was broken," recounted Lee in an interview with Pitchfork in September 2017. "Dream Chorus" is part of a 16-track collaborative album off Lee's label Young Art. Released earlier this week, Volume II features up and coming artists (Robotaki, Two Fresh) and two of TOKiMONSTA's own creations. "Dream Chorus" is decidedly more chill than any of the tracks off Lune Rouge; it's a return to the melodic vibeyness of Midnight Menu. Lo-fi, high impact. —Corinne Osnos
Gemma, "'Til We Lose the Feeling"
None of Felicia Douglass's projects can seem to sit still. She's in that multi-hyphenate powerhouse of a band Ava Luna, she's worked recently with the Dirty Projectors, and now she's back with Gemma, a synthpop collaboration with Erik Gundel that, true to form, jitters all over the map. Gemma's third single from the forthcoming Feeling's Not A Tempo LP is "'Til We Lose The Feeling," an upbeat number pairing Douglass's summery vocals with lightning-quick percussion and hairpin instrumental turns. It's a treat for the ears, full of restless energy that dissipates stress into the breeze. —Sasha Geffen
Once again, Crumb drenches us with another psych-jazz bomb that melts your mind into a puddle of mush. Is anyone else craving the gentle embrace of summertime sadness paired with the warmth of sunshine, or is that just me? "Come on now, don't let this go/ Don't let my love fade away," Lila Ramani sings. "People come and people go, but I stay." Despite those comforting words, I couldn't shake off the fact that letting go is a part of life. So many of our relationships have expiration dates, and growing apart is a natural part of the process; sometimes it's not worth the energy to put up a fight. Anyway, Crumb is self-releasing their Jinx album on June 14, and I can't wait to get dizzy dancing to it in the New York heat. —Sydney Gore
May 3, 2019
"You can call me that bitch": Los Angeles–based artist Banks serves up a series of provocations in "Gimme," her first release since 2017. Whereas her earlier albums center on the emotional toll of relationships gone awry, "Gimme" asserts newfound confidence. It's a song about unapologetically taking what you want. Her 2014 breakout album Goddess is full of gut-wrenching lines coated with syrupy vocals. ("Cut me to pieces while you watched me disintegrate because you like to tell me how you hate all the ways I'm not enough for you," she sings in "Change," a probe of toxic love.) But we've glimpsed this tougher side of Banks before, in tracks like "Fuck With Myself," the lead single off her 2016 release The Altar. If "Gimme" is a litmus test for her third studio album, fans can anticipate sultry beats that hit harder. Perhaps a reaction to being treated "like a dog that needs water" ("Gemini Feed") one too many times, the guttural bark just after the three-minute mark is one of several signals that Banks bites back. —Corinne Osnos
It's bizarre that so much of what makes a song pop these days rests on its meme-ability, but there's something to be said for when it happens organically. (Too often, there's been some executive's meddling in what you're seeing go viral. Don't be fooled.) I find it incredible that what Schoolboy Q likely figured would be an overlooked album deep cut, "Water" (though maybe not; it does feature recent chart mainstay Lil Baby, after all), will now have a high chance of being propelled to a hit thanks to one very swaggy little girl. If your eyes have not been blessed by this clip yet, please behold 4-year-old Zahara Noel turning all the way up to this song. First, she starts singing a cappella the song's producer Cardo's pitched-up "I got that water" hook; stops to adorably asks the camera in her little voice, "'member?"; then starts hitting some of the smoothest moves you'll ever see, with the finesse of a li'l baby G. Look at her mean muggin' next to her little Fisher-Price whip! I did not care about this song before I watched this child do her thing to it. (This was originally gonna be a blurb about a different Q song, "Floating.") Now it's all I can listen to, and a fucking 4-year-old put me on. 2019 is nuts! —Dee Lockett
If "whispercore" is really a thing now, then Mike Milosh should be credited as being at the forefront of it. Rhye's entire discography is enough to prove my entire case, but their latest single further validates it. It's the sexier version of Ariana Grande's "Needy," except the message is more about yearning for the person that you love to need you so you feel a greater sense of purpose as opposed to craving their general attention through the reaffirmation of every little thing that you do. Bop goes my heart! —Sydney Gore
What exactly are Bleached cooking up with their new album? After dancing a raucously acoustic "Shitty Ballet" on the first single from their forthcoming third LP Don't You Think You've Had Enough?, the Clavin sisters continue steering away from the punkish sound that they previously made their name on with this disco-stepping new single. An easy comparison point to reach for here would be peak-era Blondie; if you wanna get nerdy with it, the bold and cowbell-dotted "Hard to Kill" also recalls late U.K. indie heroes the Long Blondes' own indie-disco fantasias. And for the contemporary crowd — if you're into this, D.C. punks Priests' latest, The Seduction of Kansas, explores similar territory as well. —Larry Fitzmaurice
Kindness ft. Seinabo Sey, "Lost Without"
Honestly, anything that gets the Robyn co-sign of approval is going to turn my head, but her frequent collaborator and tour buddy Kindness has been on my radar anyway since their debut record in 2012, especially single "House." "Lost Without" is their second single this year following a prior Robyn collab, "Cry Everything." It starts with similar playful sound effects as Robyn's "Beach 2K20," before Swedish soul singer Seinabo Sey comes in with a sweet attitudinal verse reminding us to steal life's most precious moments when they're within our grasp. "If I never feel how I say, and if I never say how I'm feeling, gotta find a better way," Sey sings on the pre-chorus, before the beat comes back in, along with tropical funky bass lines. It's one thing to know what you want, and quite another to go out and grab it. —Eve Barlow
Is there a more millennial sentiment than flat-out blanket refusal? Mal Blum's new single runs down a whole list of sticky situations, from watching an ex move on with their life to doing yoga and feeling weird about it, and answers each of them with a solid, unmoving "no." "I Don't Want To" follows in a long punk tradition of complaining as a queer survival strategy. Like the Buzzcocks's late front man Pete Shelley, Blum has a firm grip on the cathartic whine, and knows how to bend a negation into a celebration with the power of an electric hook. —Sasha Geffen
I'd like to introduce you to emo crybaby music for the next generation! If you haven't been following Role Model, a.k.a. Tucker Pillsbury, for the past year and a half, you're in luck because he's in the process of rolling out a bunch of singles to build up anticipation for his next big project. "Minimal" really tugs at the heart as he makes his own mottoes, like "Smoke cigs, break hearts, get high," while plucking the strings of a twangy guitar — it's moody AF. (I promise he's not like the sad boys that we left behind in, like, 2017; there's more depth here as he tenderly exposes pain and suffering.) I, too, would prefer to keep things minimal in my adult life — why make things complicated for no reason? Also, who even likes going to the club past the age of 22? I'm with Tucker, fuck VIP! —Sydney Gore
ML Buch, "I Feel Like Giving You Things"
Mmm, whatcha say … Even without the memes that have reverberated through cyberspace since its fateful sync on The O.C., Imogen Heap's "Hide and Seek" has endured due to sheer ingenuity — a cappella self-harmonizing, spiraling into some sort of gorgeous oblivion and with little else accompanying it. And that's exactly the name of the game that Danish singer and composer ML Buch is playing on this first taste from her forthcoming debut, Skinned. I've heard whispers that this track — an eerie and beautiful sliver of vocal acrobatics that sounds like dark-dyed cotton candy — isn't necessarily indicative of the rest of Buch's album. Color me intrigued. —Larry Fitzmaurice
April 26, 2019
Well, I've never made a single song in my life, so who am I to say Lizzo's "Soulmate" is one of the best songs of the year? I don't know, man, sometimes facts are facts. Lizzo gets a lot of praise and, suddenly, now more and more flak for her very specific branding of self-love. But she only does it because (a) she does it so well she oughta patent the phrase, and (b) because sometimes this shit's deeper than an Instagram feed. For Lizzo, loving herself is what keeps her alive and fulfilled. Loving herself is what got her this far and if it's carried her to this level of fame, why wouldn't she preach that gospel to uplift anyone else who needs to hear it? This is the best lyric I've heard all year and I will repeat it to myself in the mirror every day: "True love ain't something you can buy yourself / True love finally happens when you by yourself / So if you by yourself, then go and buy yourself another round from the bottle on the higher shelf." "Soulmate" is not a song about not wanting anyone else; it's about not needing anyone but yourself. —Dee Lockett
Many months ago I randomly scrolled upon a tweet that said something along the lines of "FKA Twigs music is basically whispering about sucking dick over some trap beats" and all I could do is laugh. Obviously, those of us that have been keeping tabs on her since 2012 are fully aware that her music digs way deeper than that, but I can't deny that there's always been this strong sexual female energy that completely bodies the tracks. I didn't know what to expect from "Cellophane," but a stripped-down breakup ballad was not what I had in mind for a grand comeback and I am truly, madly, deeply BLOWN AWAY. Vulnerability has never sounded so powerful, I am shaken to the fucking core. The line that softly destroys me from the inside of my gut is "I try, but I get overwhelmed/ When you're gone, I have no one to tell." She has completely broken me, I am typing this from my grave! Truly worth the wait. —Sydney Gore
Beyoncé, "Sorry – Original Demo"
So rarely do artists let us see their raw emotions in real time, when the wounds are still fresh, exposed, and hemorrhaging. Beyoncé was a mentally battered woman on Lemonade, and it took guts to admit those feelings of defeat she suffered in such a public way; it also took time and a lot of clarity, being removed from the pain and having reached a resolution. It makes the vitriol and spite on the version of "Sorry" we've known for three years now seem performative — though still very much rooted in genuine disgust — in comparison to its original demo, which she's now shared with Lemonade's wider streaming release. The Beyoncé we hear on the OG "Sorry" didn't have the emotional wherewithal to spit snappy one-liners for IG captions (you won't find "suck on my balls, pause" or "boy bye"). Her snarling "hell nah" is just a meager "hell no" here. There's no sheen on the production yet either, just placeholder synths. Bey sounds spent, but also more in touch with her humanity in this stream-of-conscious, spoken-word approach ("tryna keep my family right" just kills). She's showing open nerve endings; showing how she processes and creates spectacular art out of spectacular trauma; and also showing, once again, that she works damn hard at perfecting her craft. Neither version is superior to the other. They merely represent Beyoncé at different stages of grief. —Dee Lockett
Marika Hackman, "I'm Not Where You Are"
After the career-best I'm Not Your Man LP, Hackman returns with a sonic bravado that may feed off the confidence she built last time around. This first peek at her next album is completely unlike anything she's ever lent her voice and songwriting chops to. It sounds more like a stripped-down New Order disco banger than it does any of her prior influences or musical bedfellows. It features licks so iconic, you'll think you've heard them before. Via an irresistible mid-song breakdown, Hackman makes way for a multilayered vocal on the final chorus and some deeply satisfying guitar shredding. Her state of confusion and bewilderment in the lyrics creates a sense of giving zero fucks about taking risks for the future. "I'm not where you are," she sings, with nothing left to lose. —Eve Barlow
Our parents pass on their genes to us, and in turn, their peculiarities. Singer/songwriter Lucy Dacus' latest release "My Mother and I" is a poetic exploration of parenthood. "My mother hates her body / we share the same outline / she swears that she loves mine," Dacus sings at the song's onset: a nod to the complicated relationship between self-image and maternal love. With her lullaby vocals and introspective musings, Dacus tells her own tale while transporting the listener to their own memories. She delivers her lyrics slowly, purposefully, over simple guitar harmonies. As in "Night Shift" and "Me & My Dog," storytelling is at the heart of Dacus' work. In "My Mother and I," her solemn poeticism really comes through. —Corinne Osnos
Of all the wonderful hip-hop and indie-rock acts to have come out of Philadelphia in the last few years, Mannequin Pussy (which falls under the indie-rock category) is one of the most tragically underappreciated. Their first two albums, 2014's Gypsy Pervert and 2016's Romantic, solidified their position as your new favorite band's new favorite band — searing, sneering, smart, shoegaze punk that jolted the listener with panicked enthusiasm via songs that rarely ran longer than two minutes. But "Drunk II," the first single from their forthcoming third LP Patience, is undoubtedly their best work. The five-minute rock ballad speaks truth to hedonistic self-destruction in infinitely quotable sung-not-screamed lyrics like, "I still love you, you stupid fuck," and a line so biting about a "pathetic" ex, vocalist Marisa Dabice's enunciation rivals Taylor Swift's venomous delivery in "Mean." Musically, Mannequin Pussy has never sounded crisper: a punk-goes-pop victory if there ever was one. —Maria Sherman
While I wouldn't necessarily label myself a hard-core Brockhampton fan, I have so much respect for their come up, specifically the journey of Kevin Abstract. I remember seeing him perform live at a Pigeons & Planes event back in 2013 and the collective confusion that ensued when when he came out with a bag over his head and sat on the stage in silence for at least ten minutes. We were all thinking, Who does this guy think he is? Now, he's a household name for young people all over the world, as he deconstructs the American identity in the traditional sense. "Peach" is a straight-up juicy jam that is sugary sweet on the ears. It took me a few days to pin down, but the back-and-forth flow between Dominic Fike, Joba, and Bearface reminds me of the structure of Frank Ocean's 2017 one-off "Biking" featuring Jay-Z and Tyler, the Creator. I thought that the peach would have peaked by now with Call Me by Your Name running its course and all, but it still seems to be in its prime. —Sydney Gore
A brand-new signing to Columbia in the U.K., the 21-year-old Londoner is a pianist and guitarist who's been writing songs as far back as she can remember. "Temptation" is the track that changed her life; after she played it at an early London gig, she was immediately approached by a flurry of industry folk. Montagu, however, hasn't been compromised in her own vision and voice. "Temptation" will cut to the core of anyone who's experienced unrequited love, its poetry direct and shattering. "I think about you daily," she sings. "But all I ever get is maybe …" Montagu's way around a piano will remind you of the balladry of Coldplay and Keane, but her vocal reaches from a far more soulful place. Delicate and self-assured. —Eve Barlow
I discovered this song on Spotify's POLLEN playlist, and now I can't stop playing it. Grace Ives's sophomore album dropped earlier this week, and while there are many noteworthy tracks on 2nd ("Anything," "Mirror"), Ives hits her stride midway through with "Lucky," a song that evokes the gentle euphoria that accompanies settling into a new relationship. Ives crafts poptronic music with an indie flare from her bedroom in Queens. Brooklyn-born Ives is emblematic of a new kind of triple threat: a female artist who writes, sings, and produces her own tracks. (Music production is a historically male-dominated industry.) There is an addictive eclecticism to her sound. Unsurprisingly, she quotes a range of influence, from M.I.A to Britney Spears (guessing she's an early-'90s kid too). When she sings "yeah," she elongates her vocals, plays around with looping, and incorporates some funky synth chords. Hit play and coast. —Corinne Osnos
April 19, 2019
Very little shocks me about Beyoncé these days. (If by now you aren't conditioned to expect greatness beyond comprehension from whatever she does, whenever she chooses to do it, you haven't been paying attention.) But one thing still confounds me: How can someone with such universal appeal — to be human is to be a Beyoncé fan — remain so loyal to her base as to cater to them, even now, without a care for how doing so might exclude the masses? On Homecoming, the live-album version of her Coachella set that corresponds with the Netflix film, she's covered a song whose cultural significance will surely fly over the heads of anyone who wasn't raised on it. Tragically, too much of the population does the Electric Slide to only one song, but black people been knowin' better. We've long line-danced to Cameo's "Candy" and Frankie Beverly and Maze's "Before I Let Go" — if you didn't know, allow Beyoncé's fusion of the two in her updated cover of the classics to educate you. Just as Beychella was a history lesson on the black collegiate experience, her "Before I Let Go" — complete with Tay Keith production and a rap breakdown — is designed to take black folk back while also carrying the culture into the future by inviting the rest of the world to the cookout. Just, please, don't fuck up the potato salad. —Dee Lockett
Madonna ft. Maluma, "Medellin"
You wonder what motivates Madonna after a bout of recently less-than-desirably-met LPs. Not since 2005's Confessions on a Dance Floor has a new era from the Queen of Pop been received with such awe and praise. "Medellin" is her best lead single since that era's ABBA-referencing "Hung Up." Similarly, it takes advantage of a burgeoning sound while also harnessing a prior classic oeuvre of hers. In the 2000s, she was riding the electro-clash trend. Now, she's chasing that Latin flair, eyeing successes such as Rosalía, J Balvin, and probably the enormous hit "Despacito." "Medellin" is "La Isla Bonita" for 2019, not just a reminder that she was the pioneer of every flavor of pop, but that she can compete with the hottest of the moment. Also, at the age of 60, her delivery of the line "slow down, papi" over a more gradual dance number is delectably commanding. —Eve Barlow
Mark Ronson ft. Lykke Li, "Late Night Feelings"
Mark Ronson, creative companion to the likes of megastars like Miley Cyrus and Bruno Mars, is no sidekick. Though his collaborators often receive more notoriety from their vocals, Ronson is paramount in the production world. Ronson has been teasing hits from his fifth studio album all year, but his collaboration with underground bedroom-pop sensation Lykke Li feels different. It leans into discotheque and away from pop tropes. Title track "Late Night Feelings" is a song about voids you feel alone in the dark. "Make me psychotic / you pull away / you take the sane in me / and tear it like a page," Li sings of unrequited infatuation. The sparse beat creates maximum feels. —Corinne Osnos
Anderson .Paak ft. Brandy, "Jet Black"
The world didn't know it needed "We peakin.'" But for every tired iteration of "let's get lit," in a Bitmoji-sphere where everything is a "mood," Anderson .Paak has gifted us a new catchphrase. The California native made waves this week, from Indio to the internet. Last Friday, he dropped his latest album, Ventura, before taking the main stage at Coachella to play one of the coveted dusk sets. It hasn't even been six months since .Paak released Oxnard, an album that polarized fans and critics alike. On Ventura's "Jet Black," the artist punctuates his rap verses with steep exhalations of breath before flowing into a chorus that features R&B matriarch Brandy. Over a high-energy beat, .Paak incorporates a seductive playfulness into the lyrics. Notable stanzas include, "Who gon' love you when your love ain't there? / Baby, that ass is just unfair / Jet black hair, baby, jet black hair / At least two grams in your blunt wrapped there / These two hands always land up on the small of your back / Should I ask if eyes can go there?" For all the gripes Oxnard produced, Ventura proves that .Paak is far from reaching his peak. —Corinne Osnos
In this mellow, somber cover of Lil Nas X's hit — just kidding. If the phrase "Cupcakke's remix of 'Old Town Road'" makes even a stitch of sense to you, you are likely well aware of what you're gonna get here, and Cupcakke definitely delivers. As it goes with most of the Chicago rap phenom's work, every single line is a filthy quotable as clever as it is crass. Listen, Cupcakke knows what she's doing here: remixing a hot song is the oldest trick in the book, and done the wrong way it more often than not lands with a thud. But Cupcakke kind of makes "Old Town Road" her own, somehow — a tribute to her impressive talent, as well as the original's strange endurance. —Larry Fitzmaurice
Lydia Ainsworth, "Diamonds Cutting Diamonds"
A lot of what this song does with voice hits me right: the Kate Bush–style layered vibrato; the corroded, spoken-word backup vocals; that synth patch that mimics human timbre. But the bright, chintzy keys are the star of Lydia Ainsworth's latest single. The bass tone sounds like you could wring a full glass of orange juice out of it. The leads are glassy and vintage, so much so that when Ainsworth asks us to "double dare the old world away," I get the sense that she's banishing the past by first drawing it as close to her as possible. —Sasha Geffen
"Contemporary pop" dancer Michael Taylor is the real star of Local Native's latest single, "Tap Dancer." Directed by Jonathan Chu, the single's music video shows Cole in a satin red dress, gliding across a white screen that slowly fades to different colors, and Cole is absolutely mesmerizing. "Tap Dancer" merely can't exist without the music video. When Cole's eyes spring open at the beginning of the video, I also spring awake! I didn't truly understand the song until Cole showed me what emotions look like in their most beautiful form. This girl is begging to be featured in all of your hipster music videos. —Clare Palo
I still don't understand why Danish pop gets so much hate, but after going two years without hearing anything from Liss while they were on hiatus, I no longer have to hide my enthusiasm. Their latest single is the soft-pop bop I've been waiting for, and I'm elated to share this special moment with all my friends, lovers, and haters. Villads Tyrrestrup said that the track is about "the ups and downs of being a young adult in this world; sexuality, being in and out of relationships, and self-care," so basically the entire experience of being a 20-something seeking closure for numerous things in your life. "Talk to Me" is fresh off Liss's forthcoming Second EP, which is due out on June 18. Look for it.
—Sydney Gore
"I like choosing things," Ky Brooks declares repeatedly throughout the first single off Lungbutter's upcoming debut album, Honey. It's a sarcastic refrain, like the introductory monologue to Trainspotting, and while it's delivered over a guitar tone that hearkens back to the early days of Sonic Youth, it carries more menace than its Gen-X ancestors. Lungbutter weighs down their noise rock with the sense that time is running out, that they could be cut off at any second. There's more at stake this time than being phony. —Sasha Geffen
April 12, 2019
If you like your Frank Ocean with a side of lo-fi '70s psychedelic flourishes and a pinch of funk, Steve Lacy is the man for you. The Internet's secret weapon (that's his band with Syd, not, like, the web) is back with more solo music, just as his main crew has promised that two new albums are already in the can; these are blessed times! Lacy has established himself as the Internet's star utility player (on bass, guitar, and sometimes production), as well as on projects for other people (like, most recently, Vampire Weekend's "Sunflower" and Solange's When I Get Home), but it's time we show some love for his songwriting. Here's a song that on first pass will read as just some sexual bargaining — to be clear, "I'ma kiss ya neck and grab ya ass" will effectively impregnate you — but Lacy's smoother than that. He's on an even bolder quest of penetrating the deepest, most difficult sexual organ: the heart. We're talking real grown folks business now, whew. Once again, Steve Lacy just gets it. Now, give us the debut album! —Dee Lockett
Faye Webster, "Flowers" ft. Father
Spring has sprung with this dreamy collab between a pair of Atlanta's finest artists in bloom! Faye Webster is an ideal candidate for the yee-haw agenda, not that she's trying to saddle up or anything, but I appreciate her knack for authentic Americana-esque music. (I love "Old Town Road" as much as the next person, but I need a recess so I never get sick of it.) That said, this slow jam is more in line with her older work that falls under the trip-hop and R&B spectrum. "Flowers" comes fresh off Webster's forthcoming album, Atlanta Millionaire's Club, which drops in May. We can't wait. —Sydney Gore
Courtney Barnett, "Everybody Here Hates You"
We're really lucky to have Courtney. When you think of original, witty, relatable, consistently on-point songwriters of the past decade, the Perth-dwelling Barnett is the first that springs to mind. Still touring her brilliant second album, Tell Me How You Really Feel, she's decided to treat us with a one-off new release. The title is an inversion of the Jeff Buckley song "Everybody Here Wants You." It's as self-deprecating as you'd imagine and speaks to our constant desire to portray a rosy image of life so as not to burden everyone around us with our problems. On the chorus she offers the perspective of someone else for a change, telling her she's not alone in her thoughts. It's another perfect exposé on the trappings of anxiety and self-loathing. "Everybody hurts, everybody breaks and everybody fades," she says, before a little chuckle. "We're gonna tell everyone it's okay." —Eve Barlow
Lil Uzi Vert, "Sanguine Paradise"
Is anyone else on the kind of run Uzi is right now? On "Free Uzi," he blasted off beyond his label troubles with bar after bar of frantic, trippy lyrical fire, and "Sanguine Paradise" continues the streak. The beat is truly off to the races, with a skipping horn atop layers of cavernous bass and tricky percussion as Uzi zones out and does his thing so effortlessly that someone should check in to see if he's become purely AI. At his best, Lil Uzi Vert's flow sounds like an iTunes visualizer — endless and colorful, the type of thing you can just focus on for hours. "Sanguine Paradise" is but the latest evidence of that sensory phenomenon, and here's hoping he keeps it up. —Larry Fitzmaurice
Icy synths set the stage for "The Prayer," which is then punctuated by a woman speaking in a telephone-operator voice over a twangy beat: "You know what they say; life isn't meant to be easy, baby — it's meant to be lived. So enjoy the ups and downs, and remember; when it gets too hot, don't lose your cool." Future funk artist GRiZ is back in a big way with Ride Waves, the by-product of a yearlong social media and creative hiatus. Grant Kwiecinski, the 28-year-old wunderkind who performs as GRiZ, mixes hard-hitting, wet electronics with juicy instrumentals to maximum effect in "The Prayer." Its experimentalism doesn't compromise its emotional resonance; gospel elements play into the overarching message of positivity. Heavy on the collaborations (Bootsy Collins and Snoop Dogg have cameos), Ride Waves is worth a full listen. Let's boogie. —Corinne Osnos
Kaytranada ft. VanJess, "Dysfunctional"
Kaytranada's latest track burbles with the kind of warm synthesizer bass that flowed from the golden era of Chicago house. It's a Mr. Fingers bass tone, and it doesn't sound out of place in 2019 because in 1988 it projected itself into a serene and open future. That future never exactly came to pass — we're living in a different one — but Kaytranada, with his perfectionist ear and delicate touch, drums up his own pristine and euphoric vision. The frothy, shuffling backbeat, the bunching up and spilling of sister duo VanJess's vocals — these flourishes relish house music's utopian potential. —Sasha Geffen
Jazzy psycho-pop is exactly what the doctor ordered for me this week when I was feeling low and needed a major pick-me-up. Crumb is a Brooklyn-based four-piece band that reminds me of the music that my buds from Boise, Idaho, make — which is meant as a huuuuuge compliment. Their debut album Jinx drops on June 14, and I can only imagine that the other nine tracks are just as promising as this standout single. —Sydney Gore
Sometimes, you have to switch it up a bit, and that's exactly what Cali duo Bleached are doing here. After a few records of hard-charging, sugary indie rock, "Shitty Ballet" finds sisterly duo Jennifer and Jessica Clavin stripping down their sound not unlike an acoustic-based flip of the brittle sound they explored in defunct punk act Mika Miko. "You take me so seriously," they sing in unison, "but I'm pretty serious." Then the guitars kick in because, hey, they mean business. —Larry Fitzmaurice
Amyl and the Sniffers, "Got You"
Fabulously named Australian punks Amyl and the Sniffers are developing a rampant live reputation with every town they rock in across the globe, particularly following SXSW. Front person Amy Taylor sports a mullet and performs with a dangerous cheek — she has to be seen to be believed. On the record, she's as effective as grabbing your attention. The short, sharp, fat-free "Got You" has arrived with the announcement of their debut self-titled album this week. It's a jammer about the giddy early excitement of dating a new love interest: "A classy bloke with a half-full cup," she offers in her Aussie twang. It's fun; it's catchy; it's gonna make you want to get down to the local boozer and find your next victim. —Eve Barlow
Deliberately evoking the concept of the Nereids (sea nymphs from Greek mythology), the all-female band Fémina pose nude in a desert landscape on the cover of their third album Perlas & Conchas. Following the sun-drunk opening track "Brillando," "Plumas" is an ethereal, upbeat exploration of sexuality. The lyrics "Sabe que saben a dulzura / Sabe que sabe" (which translates to "He knows they taste sweetly / He knows that he knows") are repeated throughout "Plumas," referring to the Spanish word for feathers. The all-female trio cites Erykah Badu's influence on their art; in "Plumas," the layering of poeticism over percussion is acute. Sisters Sofia and Clara Trucco are behind the instrumentals; a cajón flamenco fuels the beat that crystallizes Clara Miglioli's alluring vocals. It whispers come hither from the shore. —Corinne Osnos
April 5, 2019
Lil Nas X ft. Billy Ray Cyrus, "Old Town Road Remix"
I was today years old when I became a country-rap-music stan. I'm on my way to Nashville buying cowboy boots, a cowboy hat, looking to take my horse to the old town road and ride till I can't no more. TikTok savant Lil Nas collaborated with our old friend Robby Ray Stewart to make the best country-rap song that ever existed. Forget trap music, I want to stand atop a tractor and belt this remix till the cows come home. After getting booted from Billboard's country-music charts, Lil Nas X is back with an even sweeter remix, with help from Miley's dad. After listening to the remix 12 times this morning, and letting the YouTube link crash my Chrome twice, I'd say Lil Nas X deserves a CMA at least. As for Bill Ray's resurgence, I have many questions. Most importantly, do we think Tish Cyrus actually has a bad Fendi sports bras habit? —Clare Palo
Ariana Grande & Victoria Monét, "Monopoly"
Ariana Grande is never not working. So to celebrate how the last six months of her life have amounted to an extended victory lap — unstoppable even despite various personal tragedies — rather than, say, taking a vacation, she's gone and released more music. "Monopoly" is an absolute gem of a flex, recorded mostly for shits and giggles with her songwriter Victoria Monét, and seemingly done on the fly while the two were messing around on some downtime while touring. (Because, of course, Ari spends her off time still very much on.) Play this song and visualize Ari sitting atop her throne, surveying what is now her pop kingdom, and serving withering stares at the ones who can't keep up. Look, her success has reached the point where she can turn forfeiting 90 percent of the songwriting royalties for "7 Rings" to Rodgers & Hammerstein's estates into a punch line on this loosie for the fans. Even her losses are a Goddamned win. —Dee Lockett
The rollout for Vampire Weekend's long-awaited fourth album Father of the Bride has been divisive in certain corners. Clearly, this is shaping up to be the indie-pop titans' most eclectic album yet, and some of the left turns we've heard so far might have caused you to ask, "What happened to the band I used to know?" That's where "This Life" comes in: Its opening lick carries a brief flash of "A-Punk" before unfolding into a golden, Van Morrison-esque sway that interpolates an old ILoveMakonnen song and features contributions from Danielle Haim and Jake Longstreth. It feels familiar and new, like seeing the sun rise and marveling at the uniqueness of another day. —Larry Fitzmaurice
2019's Rock and Roll Hall of Fame Induction Ceremony: "All the Young Dudes" With Def Leppard, Brian May, Ian Hunter, the Zombies, Susanna Hoffs, and Steven Van Zandt
I'll be honest: I muttered a li'l meh when this particular group of performers came out to perform the Rock Hall's closing "all-star jam" at the induction last week, mostly because I was thinking of all of the musicians who didn't come to the stage. (Stevie Nicks. Janet Jackson. Robert Smith. David Byrne.) But whatever. I can be a cynic sometimes. This was really fun! Name me another setting — besides the rare fundraiser — that gives this many legends the opportunity to cross-pollinate and rock out for a few minutes, just because they can! Besides, "All the Young Dudes" is also a terrific "we need a crowd-pleaser of a song" choice. Would relive again. —Devon Ivie
The forthcoming seventh album from Hot Chip is called A Bathful of Ecstasy, which is a great descriptor for how I feel about house music. House music has taken on a new role for me in the past 18 months. On January 1, 2018, I decided I was going to stop drinking. Since then I have sought healthier avenues for release, ways to access the tips of my neurons and the flush in my cheeks and the flurry in my chest without making a tit of myself. Hot Chip's single "Hungry Child" reminds me of the buzz I feel on the dance floor beneath an average-size mirror ball when the drum beat from New Order's "Blue Monday" kicks in and hours of buildup finally erupt with this euphoric climax of strange limbs and a familiar soul. House music can be sustenance, and Hot Chip have become masters of the craft. Reportedly they've worked with other producers for the first time, including Philippe Zdar (of Cassius) and Rodaidh McDonald (The XX). It makes sense that it's gifted them with something even bigger, warmer, and brighter — because if you're going to build house music, the more the merrier. "A moment like a heart attack, stop my life, it's momentary," repeats vocalist Alexis Taylor on the chorus, asking you to be right here, right now. Such clarity is fleeting and they've grabbed it. —Eve Barlow
Khalid ft. Safe, "Don't Pretend"
Khalid misses someone so much he's having phantom text syndrome. Can't relate! Not at all! In a single from his new album, "Free Spirit," Khalid croons about keeping his phone fully charged, hoping his crush calls him back soon. They must … just be super busy, right? On the chorus, the track features 20-year-old Toronto artist, Safe, who's known for his collaborations with fellow Toronto rapper Drake. Khalid's new album is once again loaded with soft tracks relating to our greatest dating complications in the digital age. Send your location to Khalid, and please ring him back, it's rude not to! —Clare Palo
Mac DeMarco, "All of Our Yesterdays"
Indie-rock prankster Mac DeMarco's been undergoing an evolution-in-reverse over the past few years: While his first few albums were warped, sour-sweet takes on Paul McCartney's own homespun and intimate '70s solo output, his last LP This Old Dog pared back the sweetness a bit, letting his songwriting stand more starkly in contrast to the simple audio setup that surrounded it. If the appeal of this approach is lost on you, that's fine — but if not, "All of Our Yesterdays" might be right up your alley. The latest taste from Here Comes the Cowboy is simple and wistful, a single bent guitar line slithering between his voice, brushed drums, and a simple strum. The lyrical sentiment is all in the title, really — sometimes, things are just simple that way. —Larry Fitzmaurice
Finally, an Australian band to obsess over that isn't Tame Impala! Hatchie's music reminds me of everything that I loved about the Mary-Kate and Ashley franchise when it was still going strong in the '90s. Her latest single is a delicious slice of dream-pop that sugarcoats the gradual unraveling you go through after a break up. "Stay with me / Why don't you stay with me," she sings in the chorus. "'Cause I'm not done / I've come undone." I don't know why Hatchie is still so underrated, but I'll continue to enjoy keeping her to myself until her debut album, Keepsake, drops in June. —Sydney Gore
Tank and the Bangas, "Nice Things"
Tarriona "Tank" Ball of Tank and the Bangas has no problem asking for what she wants (no, deserves), and I'm here for it. "Nice Things" is basically the antithesis to Taylor Swift's pop anthem. It's a bop from the beginning, set up by the first utterance of "Later, later, later, later alligators." The New Orleans–based group's sound is steeped in soul. There is a genre-bending quality to their music I find irresistible (NPR agrees). Seeing them perform live back in 2017 only intensified my obsession, and I've been angstily awaiting their next release ever since. This track is more playful than "Oh Heart" and "Rollercoasters," but lead singer Ball still demonstrates an impressive range of vocals, interjecting the chorus with rap verses ("Gucci purse, Gucci watch") and belting out individual lines ("I need a OG with a goatee"). The playful screeching five seconds in, the sucker punch of an "Uh" delivered at the two-minute mark — it's the little details that set Tank and the Bangas apart. Please forward to my future romantic prospects. —Corinne Osnos
True love is hard to find in this economy, so when you seem to have stumbled upon something pure, it's natural to go into defense mode by keeping it on the low — especially if your friends express their disapproval. I've been on the other side of this equation too many times and I would like to go on record stating that MY SENSES WERE ALWAYS RIGHT WHEN I GET A WHIFF OF TRASH. Sometimes it's in your best interest to keep your mouth shut and let your friends learn the lesson on their own … Since Snoh Aalegra insists on choking me with my feelings as she narrates yet another complicated love story, I will oblige. Go forth, bury me! —Sydney Gore
Lion Babe is back with an album brimming with slow jamz. Layering sultry vocals over a tribal beat in Solange fashion, vocalist Jillian Hervey and producer Lucas Goodman find their groove with Cosmic Wind, their 15-track album released earlier this week. "Looking for energy / Need a taste, fantasy," purrs Hervey, setting the mood for the track. This song feels like awakening from a winter sojourn to find your sex drive intact (yay!). Double-time drums and cascading piano notes are the lifeblood of this song. Like most catchy things, it's repetitive. The shelf life of "Sexy Please" remains to be seen, but you can find me playing it on repeat until my next hibernation. —Corinne Osnos
March 29, 2019
Sky Ferreira, "Downhill Lullaby"
The Earth has moved around the Sun six whole times since Sky Ferreira last put out music. When Night Time, My Time was released in 2013, Ferreira became as great a question mark to pop as Frank Ocean was to R&B. She was a muse. She was an enigma. She was an actor. She was a recluse. She was a fantastic pop star. In luminaries like Debbie Harry and David Lynch, she found the greatest of champions. And everybody has anticipated its follow-up since. Last year, she released a perfect Soundcloud cover of "Voices Carry" by 'Til Tuesday, which may have made some indication as to her more recent interests. Now comes "Downhill Lullaby," which reintroduces her with… a flurry of strings. Huh?! It's cinematic, it's gothic, it's elegant. Her vocal breathes over NIN-style turgid depths before she flies up into a chorus that has more in common with PJ Harvey or Tori Amos than any of her current peers. Deliciously interesting and well worth the wait. —Eve Barlow
Billie Eilish, "my strange addiction"
Billie Eilish sampled The Office in a song! At 12:17am, I heard Steve Carrell's voice in my ears and thought a roommate had, once again, started watching the TV show in my thin-walled apartment — but no, Eilish just did that to us, with no warning. The Soundcloud-born star's debut, WHEN WE ALL FALL ASLEEP, WHERE DO WE GO? (yes, her album title is aggressively capitalized, but her song titles are uniformly lowercased, so it evens out?), strategically places the surprise Dunder Mifflin cameo in the middle of an otherwise dark, depressing album — and on an entrancing ode to self-destructive tendencies, no less. It may sound gimmicky, but Eilish weaves it all together perfectly. Just an instantly memorable moment on an album full of them. —Clare Palo
What can I say, I'm a sucker for songs that open with a skipping, tactile drum beat. A few weeks ago, I wrote about Grace Ives' brief but just-real-enough-to-touch "Mirror," and now there's Manchester singer/songwriter Phoebe Green's new single "Dreaming Of," the percussive opening of which reminded me of Primitive Radio Gods' "Standing Outside a Broken Phonebooth…" at first blush. Appearances can be deceiving, though, because "Dreaming Of" opens up to reveal a miles-wide chorus anchored by Green's aching voice, making for your latest tried-and-true headphones anthem. —Larry Fitzmaurice
Remember Marina & the Diamonds, light of our pop lives? Don't insult me, of course you do. She has since rebranded as just MARINA, and in removing the character that never fully felt quite right for her, she inevitably finally sounds like herself. "Orange Trees" was written in tribute to the Greek island Lefkada where her family originated, so while it carries that same light ease that Instagram models sipping Sangria poolside on their sponsored vacations definitely try to present — every note of this is practically sun-kissed — it still maintains the spirit of home. –Dee Lockett
For an artist as consistently forward-thinking as Jlin, this Adult Swim one-off almost rings nostalgic. The candy-crusted synthesizers, hi-hat blasts, and (subtle) bass drops bring me back to early Skrillex singles, which mined YouTube when YouTube was not yet a repository for fascist propaganda. Of course, Jlin outpaces Skrillex and his cohort of web-native millennial men by a mile in terms of technical dexterity. "No Name" maps the irreverence of late aughts dubstep onto the razor-sharp sensibility of one of the most exciting and precise contemporary producers, like a xenomorph wearing a Care Bear's skin. —Sasha Geffen
Rosalía and J Balvin ft. El Guincho, "Con Altura"
Before she even had a chance to flex her versatility, it seemed like Spanish singer Rosalía had already been boxed into some sort of neo-classic Latin genre that a certain type of purist craves. She makes flamenco accessible to a new generation, yes, but even Rosalía herself isn't so sure that's all she is just yet. Her new song, "Con Altura," proves it's certainly not all she's capable of: "When I was younger I loved listening to reggaeton and it could have been natural for me to make a song like this before, but I don't like to force anything," she explained in a statement. Collaboration, then, offers a more organic step in a new direction, which is exactly what happened when she joined forces with J Balvin, producer Frank Dukes, and Spain's El Guincho. Together, they have created Rosalía's take on cross-regional reggaeton. It sounds unique, fresh, and a challenge for any other artist to reproduce, at a time when so few songs ever do. —Dee Lockett
Show Me The Body, "Not For Love"
#20ninescene has never been more alive now that Show Me the Body's Dog Whistle is officially out. The album is 28 minutes of bittersweet bliss as the New York band tackles the devastation of loss by turning to their community for support. "Not For Love" reminds me of the golden days of high school, when friends were motivated to do things solely for the thrill of it. (With that said, I'm mostly referring to stuff like going to Warped Tour.) The last 16 seconds of this track, where all the noise fades and all you can hear is Julian Cashwan Pratt's screams transitioning into panting, chills me to the bone. Open this pit up, y'all. —Sydney Gore
Georgia, "About Work the Dancefloor"
Georgia Barnes has been around for a minute: Her self-titled Domino debut in 2015 was a pleasant grab-bag of au courant and pop-adjacent sounds that suggested greater talent lying underneath. Consider "About Work the Dancefloor" that promise fulfilled, then — it's bold, beaming electro-pop with flashy, house-indebted production touches and a hell of a synth-led earworm making up its beating heart. It evokes nostalgia at its core, and not for the 1980s — rather, for about five or six years ago, when every single band and artist coming forth seemed committed to reviving the slick and weird synth-pop sound that the Knife froze in amber with their 2000s classic Silent Shout. Barnes is clearly keeping the dream alive. —Larry Fitzmaurice
There are some songs created, almost as if by algorithm, exclusively to soundtrack IG baddies' content. This, from Harlem rapper/singer/flexer, is that. What we have here is a mishmash of meaningless words — one of many from her new project, phAses — that serve no other purpose than to make Melii, and anyone listening to Melii (woman especially) feel like the absolute shit, even if it could be further from the truth. ("I'm fuckin mental / No incidental / Speedin' in the rental.") It's like you woke up hungover with a dollar to your name but, still, no one can tell you nothing. You are that bitch. I classify this genre as the social media spiritual and I want 1,000 more like it. —Dee Lockett
Between Billie Eilish, the new Palehound song, the Sky Ferreira comeback single, and Foie Gras's "Psychic Sobriety," 2019 is shaping up to be the year of the Girl Creep: a gender archetype defined by excessive feminine desire, scheming, and menace. "I'm a bad lay, but I want you/I want you to choke me until you love me," this latest installment begins, a great couplet that only gets better as the song progresses. "I'm a bad lay, but I'll keep you safe/In my ashtray," she continues, a pair of lines that kicks me back to Placebo at their acid glam heyday. No, I will not perform well, but yes, I will get what I want, and God help the one who tries to stop me. —Sasha Geffen
Reminiscent of Linkin Park's "Numb", a moody, ambient opening precipitates a screaming chorus in "My Empire." Where LP was a boy band masquerading as a punk band (remember Lil J?), Windwaker feels different (Meet The Pretty Reckless). The all-male quintuplet who make up the Australian metalcore band Windwaker got their start inland, in the city of Wagga Wagga. And for the punk faint of heart, this is one of the group's more palatable tracks. "They'll never give you a way out / They'll rise up like kings / Summoning oppression / Carried out on a whim to live," screams lead singer Will King as the guitar-heavy buildup reaches an overdue climax. Whispers loom before hard-hitting growls; the contrast is nothing short of magnetic. Aggressive vocals haven't been muted in production to appeal to a Top 40 crowd (I'm looking at you, Future Islands). These Triple J darlings are worth keeping your ears on in 2019.
March 22, 2019
Lizzo ft. Missy Elliott, "Tempo"
There is no one churning out BBW anthems better than queen of thick bitch nation Lizzo. But before her, there was Missy Elliott as its lone delegate, as far as the music industry allowed for plus-size black women, anyway. With Lizzo as Missy's heir apparent, the two were destined to collaborate. Their resulting track together, "Tempo" — off Lizzo's can't-miss upcoming major label debut — makes for a seismic shift in the way juicy bodies ought to be served. As Lizzo puts it, "Slow songs, they for skinny hoes / can't move all of this here to one of those." And who better to accommodate Lizzo's divine right to gyrate without being stifled by the barely twerkable bops crowding the clubs (shockingly almost always made by men) than her damn self? It's a woman's work to self-represent in order to be seen. In the truest spirit of Missy, who contributes here mainly as a hype woman, Lizzo even invents a word for what she's doing on this track: "My ass is not an accessarary" — not a trend, not an afterthought, and certainly not small. —Dee Lockett
The Cranberries, "Wake Me When It's Over"
When I feel like aggravating certain men I'll sometimes say that the Cranberries are my favorite grunge band. Songs like "Zombie" tap into the same abject willfulness as Soundgarden or Stone Temple Pilots, and "Wake Me When It's Over," a newly released song from the band's forthcoming In the End, bristles in a similar vein. The texture of Dolores O'Riordan's voice, as well as the band's use of clean guitar and reverb alongside the classic power chord chug, keeps this song from serving as a time capsule. It's not nostalgic, but it is one of the last places we'll hear the late O'Riordan's voice, which lends it an air of scarcity and therefore urgency. Mostly it's a sharp hook with a solid punch behind it, steamed up by a little wistfulness — everything great about the Cranberries, then and now. —Sasha Geffen
Flume, "How to Build a Relationship" ft. JPEGMAFIA
I was not expecting Flume to surprise-drop a mixtape anytime soon, but I finally got around to streaming Hi This Is Flume and, well, thank you so much, Harley Edward Streten. And as it happens, while I've been hiding from the world at Treefort Festival this week, I managed to catch JPEGMAFIA throwing his vest-protected body around onstage in front of predominantly white youths in the middle of Boise, Idaho, and I was blown away by how they were losing their minds over him. But back to the track … Social climbers really get you in a cold mood, and sometimes you need to vent about it! Maintaining healthy relationships as an adult is way harder than it should be, so instead let's direct our attention to JPEGMAFIA's wholesome outbursts of laughter and manifest THAT energy instead. —Sydney Gore
Cate Le Bon, "Daylight Matters"
Welsh singer-songwriter Cate Le Bon has been getting weird in her own little corner of the world for a minute now, but she rose to greater prominence this year through her worthy contributions to Atlanta gentle-aggressors Deerhunter's latest LP Why Hasn't Everything Already Disappeared? In other words, the perfect time for another solo album from her — and the poppy gait of "Daylight Matters," from her forthcoming Reward, carries the art-rock charms that Deerhunter often possesses with just the right amount of off-kilter sonics she's become known for. It sounds like spring, and Lord knows we could all use a little more daylight these days. —Larry Fitzmaurice
Formerly known as Los Angeles Police Department, the L.A.-based singer-songwriter and bedroom producer Ryan Pollie has recovered from a cancer diagnosis in 2018 and made a new batch of material while in recovery. The first tidbit, "Aim Slow," decides not to shy away from that recent personal history by complementing video footage from Pollie's childhood next to clips of him in his room in a hospital ward, smiling amid life's challenges. The song itself presents in the vein of classic Californian melodies, a series of moderately traveling piano chords that usher on Pollie's gentle vocals, while a little guitar line adds a smidgen of soulful groove to an otherwise philosophical march, steeped in questions about religion and mortality. "Though I aim slow, my god's insane," he repeats. —Eve Barlow
Lydia Ainsworth, "Tell Me I Exist"
"Tell Me I Exist," off Ainsworth's upcoming album Phantom Forest, speaks to an all-too-familiar millennial anxiety surrounding the role external validation plays in a digitized world. "Tell me I exist / Look what I've become / Prove that I'm still here / Prove that I'm enough" the chorus goes; equal parts plea and self-critique. The song finds Ainsworth revealing her desire to transcend the loneliness of the 'like.' "I fantasize the private life / With my DNA's unsigned contracts," she admits, one of several half-baked introspections weaved throughout the song. Affecting strings and layered vocals hauntingly echo over frenetic chords. It's a potent mix of synth-pop and existentialism, straight up. —Corinne Osnos
Natalie Mering has spent the last decade navigating the psychedelic folk wilderness as Weyes Blood, and "Movies" — the latest single from her forthcoming Sub Pop debut Titanic Rising — is basically her big close-up moment. A throat-tickle of a synth arpeggio runs throughout, before being broken up by scraping strings and pounding drums, but Mering's voice is ascendant through the chaos. "The movies I watched as a kid / The hopes and dreams / Don't give credit to the real things," she opines, before turning what sounds like a negative sentiment into a pure positive: "I love the movies." Nothing quite as satisfying as a twist ending. —Larry Fitzmaurice
Dazzle painting, for those who lack knowledge of naval vernacular — including myself before writing this blurb — originated in World War I as a new, artful, geometric form of warship camouflage meant to disorient enemies with bold, zebralike patterns. (You know, the opposite of camouflage's intended purpose.) As technology advanced, the necessity to trip adversaries up with M.C. Escher–like confusion ceased to exist, but the metaphor remains apt for Austin- and now New York–based post-punks Institute, and their perception of society. Cleverly critical and undoubtedly furious with the political world around them, "Dazzle Paint" suggests solutions offered up by even the superficially progressive candidates are just that: surface level, temporary, shortsighted, razzle-dazzle. The first single from the band's forthcoming third LP, "Dazzle Paint" is short, brooding, dare I say snarling, and chock-full of riffs that can't quit. And I can't quit listening to it. —Maria Sherman
I'm a bitch. You're a bitch. We're all that bitch. And it takes a bitch to know a bitch — just as Canadian teen pop singer Lennon Stella sings in her new single "Bitch." Known for her starring role on Nashville, Stella is one steamy upbeat pop vocalist to watch. Her solo EP "Love, me," including soft singles "Bad" and "Fortress," showcases her ability to have honest, meaningful pop music. (Her other recognizable feat is her viral 2012 YouTube cover of Robyn's "Call Your Girlfriend.") "Bitch" is the track you DM to that dude who called you bitchy, or your frenemy who makes those backhanded compliments, or to the girl at the gym who steals your spin bike. There's no time for that, bitch. Stella's a teen who sings about teen things, hitting every note and every vulnerable, ephemeral feeling at its core. —Clare Palo
Anohni ft. Jade Bell and J. Ralph, "Karma"
I've gotten so used to hearing Anohni's voice soaring over chaotic electronic landscapes that it's actually a surprise to hear her accompanied by a guitar again. "Karma" brings me back to her work with the Johnsons, where I first heard her, where the order above all else was as much gentleness as possible. The way her voice cascades across the audio channels when she repeats the words "just let go" is a testament to her power as a vocalist, which hinges on the interplay between delicacy and power. This is a benefit single for Jade's Kids, a nonprofit aiming to insulate young people from the risks of substance abuse by getting them involved in art, and it speaks to that light that sometimes shows up at rock bottom: the sudden realization that, after all doors have seemed to close, there is a way forward into the world, that the human animal is infinitely malleable and capable of growth, that this life is more than whatever it's been so far. —Sasha Geffen
Nilüfer Yanya, "The Unordained"
Sometimes my colleagues try to tell me that rock isn't good anymore and I feel my blood begin to boil, because if they were familiar with women like Nilüfer Yanya, then they would know the truth! Our attention spans are shrinking by the minute, so the fact that Miss Universe runs 17 tracks long is a high risk, but it's one of the most polished projects I've heard in months. The distorted guitars are enticing enough, but when Yanya chants "Look at you, I can't look at you / Standing there, all your problems solved" with complete control, I really lose it. Don't mind me drifting over here and drowning in a sea of my emotions. I could go on and on about how talented Nilüfer Yanya is, so I'll just shut up and let you listen to the record. —Sydney Gore
March 15, 2019
It's been three years since the British songwriter-and-producer Shura put out her debut synth-pop album Nothing's Real, so to have her name pop back up is as lovely as a surprise knock on the door from an old friend. The first single from her next album is the dawn of a new phase, and benefits from a generous incubation period. It's possessed of all the slow-jam broodiness of a late-'90s Janet Jackson deep cut, inspired by a sudden rush with romance in all its breath-stealing palpitations and mental paranoia. "This is a love, this is an emergency!" comes the chorus, narrating Shura's move to Brooklyn from London to be with her partner. The final minute features a playful transition to an uptempo beat signifying her arrival Stateside. It skips with glee toward new beginnings. —Eve Barlow
Maren Morris, "Make Out With Me"
On Friday night, as I was going about my weekend and doing nothing in particular, I started laughing hysterically thinking about what Leonardo DiCaprio does when he's, say, at a pregame and someone's iPhone shuffles to the Rihanna song "Higher." Does he tear up? Does he sit there in silence, zipping up his hoodie? And does Tobey Maguire roll his eyes and make an excuse to the gaggle of 20-somethings that are perma-installed wherever Leo DiCaprio lives? Does Lukas Haas just point to the speaker and ask someone to skip the song? Truly, I would love to know. Anyway, a song that is a lot like "Higher" but not exactly like "Higher" is Maren Morris's new song, "Make Out With Me." It is a brief ode to being a little drunk and a lot horny, and it sounds like we've arrived late to a poet's drunken ramblings, unedited. "Come put your things down, I'll order take out / No more to say now, baby, just make out with me," Morris sings. Yes. —Hunter Harris
Holly Herndon made her forthcoming third album Proto in concert with a piece of software she trained to sing. Her latest single from that record, "Eternal," throws into disarray the impulse to locate the "human" part of a given sound. It's impossible to tell where Herndon ends and her machine begins; processed voices coagulate and dissipate across the beat, which makes use of a string chord that sounds like an old Windows error tone. If human beings, as a species, are defined by our use of technology, what's the use in fortifying the false binary between person and machine? We spread ourselves into the devices we use daily. In the late '90s, I read an online guide to Wicca that included spells for purifying and protecting home computers, like they were bodies or extensions of bodies. The body, the home, the desktop computer, the iPhone — they all form a living circuit. "Eternal" tracks that flow. —Sasha Geffen
Gus Dapperton, "Fill Me Up Anthem"
As a mo0o0o0dy teen, you couldn't have convinced me to slow dance. I found the whole idea of it eyes-rolling-in-the-back-of-my-skull boring, confused as to how anyone would have the desire to invade the personal space of someone else while waddling like a pair of awkward penguins with nowhere to go. Post-pop artist Gus Dapperton's latest single sees him leaning further into his cinematic tendencies with a charming slow jam about the kind of mushy, gushy love that I swear only exists in '80s movies, a time where slow dancing wasn't so cringe-worthy because it really MEANT SOMETHING as all the synths worked their magic in a toxic atmosphere polluted with social stigma. The way that Dapperton belts out "I only hope he's making / 'cause my hoe brings home the bacon" is slightly reminiscent of King Krule's growls, which also really get me going. The outro also hits me hard in the gut as he repeats variations of the line "Fill me up and kill me softly like a true romance." For once, I feel a little less empty inside. —Sydney Gore
Up to this point, Grace Ives has come across as a bit of a weirdo. The Astoria-residing homebody's fascinating debut EP, 2016's Really Hot, contained equal parts Suicide's brittle-sounding dead-eyed stare, John Maus's wavering synth emissions, and the left-of-center indie-pop once associated with storied indie label K Records. (A sample song title: "Weirdwordsworms.") On "Mirror," Ives retains the intimacy of her previous work while embracing a distinctly poppier sound, a crisp backbeat and watery melodic mist serving as the backbone for her wistful vocal take. "I think I finally got it f-figured out," Ives sighs before "Mirror"'s breakbeat-burst of a chorus — a statement that's much a relatable millennial wish as it is a tilt toward her continued artistic maturation. —Larry Fitzmaurice