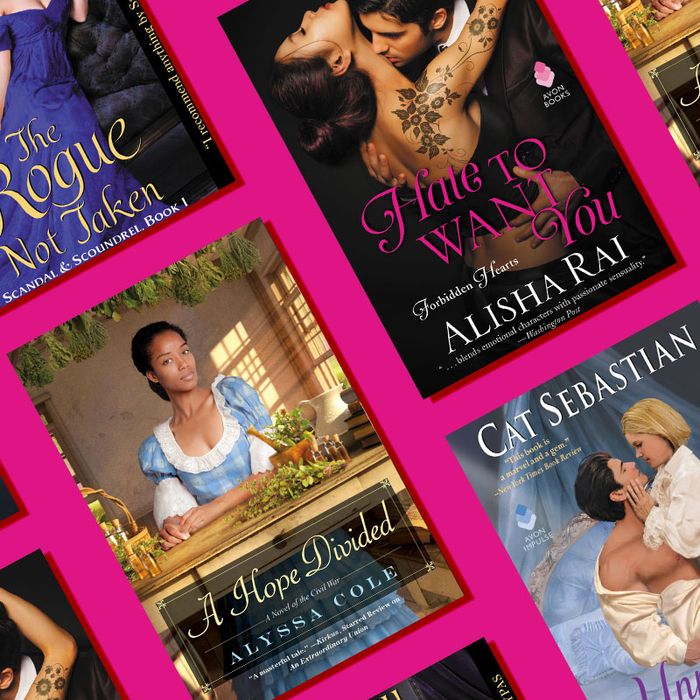 So, you want to get into romance novels, but you don't know where to start. It can be intimidating, to be sure — the genre is rich, time-honored, and full of die-hard fans. It can be a hard nut to crack for a newcomer.
Unlike most other genres, the way to get into romance novels is not through the classics. All books are a product of their cultural moment, but for romance this means that older books can have some older sensibilities about love and sex. If you want to get started reading romance — and you should — here are some books from the last few years that will hook you on the genre.
This book's subtitle is crucial for two reasons: One, it helps you clear your search results of a kids' book series; two, it tells you exactly what you're going to get. He's buff, he's a male nanny — we're in magical fantasy territory already, and it's great. Star surgeon and single mother Sloan Copeland is in a pinch for child care. Enter Rafe, exactly as the title describes. As a bonus: He's eminently capable of talking about, and working through, his attraction to his new boss. This is the fantasy of romance at its finest, as sweet as the piles of sugar cookies Rafe bakes. Nothing here is magical or implausible, just a hot guy who knows how to talk to your kids like they're people, and what to do with you after they've gone to bed.
Just as essential to today's romance as contemporary romances like Rafe is historical romance. It's usually set in England during the Regency period, and it usually concerns the courtship habits and scandals of the aristocracy. Yes, there are lots of dukes. There's also lots of banter and smoldering gazes across ballrooms, plus women fighting, in their own ways, the smothering strictures of society. In The Rogue Not Taken, Sophie Talbot wants to leave aristocratic society, with its scandals and gossips, entirely behind. Of course the carriage she stows away in turns out to contain a notorious rogue … who of course turns out to hardly be the cad society thinks he is. There's no banter better than that between two people who think they hate each other but are rapidly falling in love.
Cole's Loyal League series takes a different approach to historical romance, bringing it to American shores and a much more challenging situation for happily-ever-after: among black Union spies during the Civil War. Cole is a deft and sensitive writer, balancing historical (and emotional) realities with a commitment to love and justice even under the worst circumstances. Book two in the series, A Hope Divided, is my favorite. It tells the story of a free black woman and the escaped prisoner she shelters. Marlie is a brave, vulnerable heroine, and knowing that she and Ewan will get a happy ending doesn't detract at all from the stakes of their story.
Livvy and Nicholas are former high-school sweethearts, pulled apart by their feuding families. They allow themselves one night together a year, but when Livvy doesn't show, all their fragile rules and restraint go out the window. Contemporary romance can be angsty, too, and Alisha Rai's Forbidden Hearts series is the very best for romance that balances its highs with emotionally resonant lows (and that also balances romance's pervasive rich-people tropes with real-world ramifications).
In this Regency romance, Charity Church has been living for years as Robert Selby, figuring she'll worry later about the ramifications of impersonating a dead nobleman, not to mention worrying about what she'll do with her life when the real Robert's sister finds a husband and the whole charade can end. Going back to living as a woman certainly isn't in the cards. Luckily, the irresistibly grumpy Marquess of Pembroke makes no such demands of Charity — on whom he bestows the fittingly nonbinary nickname "Robin"—when they fall in love. This is a truly lovely — not to mention fun, sexy, and smart — book.