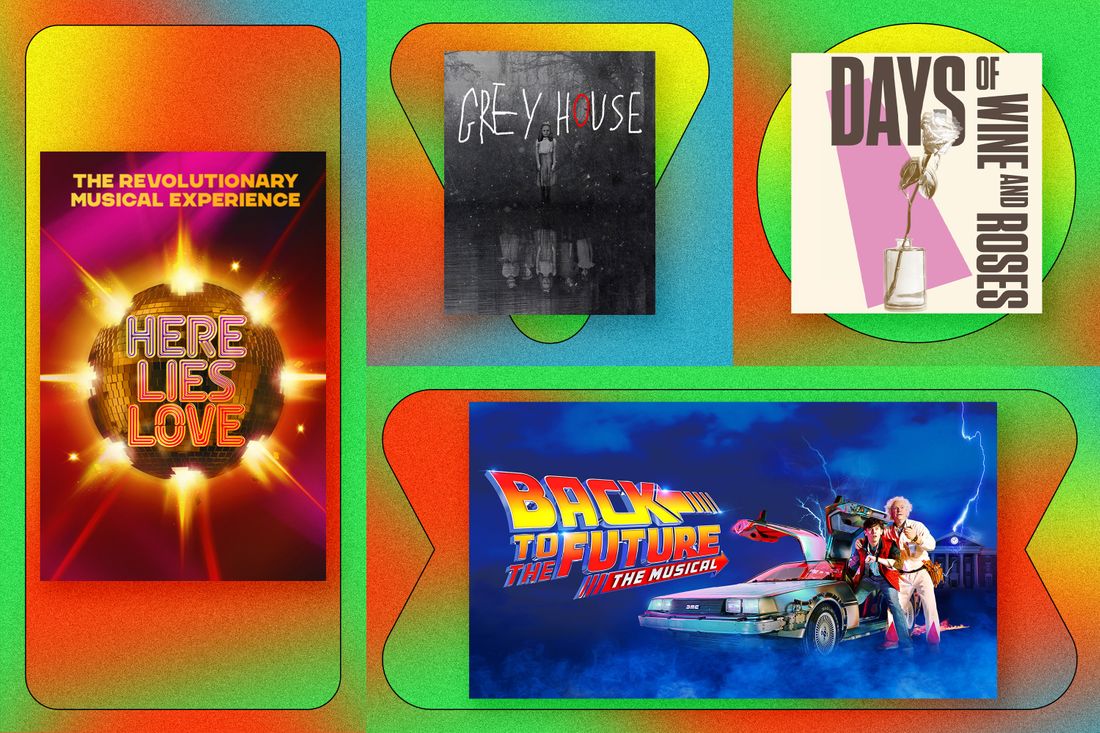 Photo-Illustration: Vulture; Photos: Atlantic Theater Company, Broadway Theatre, Lyceum Theater, Winter Garden Theater
Summer this year is atypically busy on both big stages and small. A whole fleet of Broadway productions has set its sights on opening in the hotter months — featuring everything from a theater outfitted with a huge dance floor to the songs of Britney Spears to a bunch of outer-borough Nazis. Off Broadway, a surprising number of theaters promise onstage basketball. Expect an unusually high number of weekends you'd prefer to stay in town.
Shows are listed by opening date.
May
Summerworks
Clubbed Thumb
May 18–July 1
The descriptions of the annual festival's plays are irresistible: one that's "not about Jeff Bezos and certainly not about Elon Musk," one set on a small island where "no one can find the whales," and another where "Aunt Bobbi's going to try to make everyone feel better, even though her parties are cursed."
Bees & Honey
MCC Theater
In previews May 4, opening May 22
A young Washington Heights married couple's relationship is strained in this play by Guadalís Del Carmen and inspired by the Juan Luis Guerra song "Como Abeja al Panal."
Monsoon Wedding
St. Ann's Warehouse
In previews May 6, opening May 22
Director Mira Nair musicalizes her classic 2001 film set around an over-the-top arranged marriage in Delhi.
Bernarda's Daughters
Pershing Square Signature Center
In previews May 2, opening May 22
Diane Exavier adapts Federico García Lorca's The House of Bernarda Alba to the present day with a group of Black sisters making it through a hot summer in Flatbush.
Primary Trust
Roundabout Theatre Company
In previews May 4, opening May 25
William Jackson Harper (of The Good Place and many an Off Broadway play) is a man searching for meaning after suddenly being laid off in a new play by Eboni Booth.
Grey House
Lyceum Theatre 
In previews April 29, opening May 30
This is a horror play, which is not so common on Broadway. It's opening in the midst of Tony campaigning for last season, and the marketing has kept the plot obscure. But we know it stars the unbeatable Laurie Metcalf and is directed by her frequent collaborator Joe Mantello — and that alone should be enough to get everyone interested.
Love Letters
Irish Repertory Theatre
May 30–June 9
Someone somewhere is always staging A. R. Gurney's epistolary drama — though not always with stars like Matthew Broderick and Laura Benanti. How often do you get to see that level of wattage in a 148-seat house?
June
Days of Wine and Roses
Atlantic Theater Company
In previews May 5, opening June 5
Composer Adam Guettel and playwright Craig Lucas are back together nearly two decades after The Light in the Piazza — this time for a musical based on the Jack Lemmon–Lee Remick film about an alcoholic couple. The pair will be played and sung onstage by Kelli O'Hara (who starred in Piazza on Broadway) and Brian D'Arcy James.
A Simulacrum
Atlantic Theater Company
In previews May 25, opening June 14
Playwright Lucas Hnath is a fan of formal experimentation — as seen in his eerie, lip-synced Dana H. — and this new work is a mysterious collaboration with sleight-of-hand magician Steve Cuiffo.
The Comeuppance
Signature Theatre
In previews May 16, opening June 5
Branden Jacobs-Jenkins may have taken a detour into television (with Watchmen and the recent Kindred), but he's back to the theater with a play about a "Multi-Ethnic Reject Group" returning to their 20th high-school reunion and a cast that includes Off Broadway standouts like Shannon Tyo and Brittany Bradford.
Wet Brain
Playwrights Horizons
In previews May 17, opening June 6
Expect something strange and fun from John J. Caswell Jr.'s play about a family in Arizona plagued by both addiction and alien abduction. It's directed by Dustin Wills, who has staged inventive productions of Wolf Play and Montag.
The Doctor
Park Avenue Armory
In previews June 3, opening June 13
The Armory's on a big Robert Icke streak. After staging the British director's Hamlet and Oresteia last summer, it's bringing over this production, "very freely adapted from" Arthur Schnitzler's 1912 play, Professor Bernhardi. Juliet Stevenson won acclaim last year for playing the doctor who denies a priest access to read the last rites to a young patient who is dying after a self-administered abortion.
Liz Kingsman: One Woman Show
Greenwich House Theater
In previews June 14, opening June 20
A skewering of Fleabag and its ilk (and born, like Fleabag, out of the Edinburgh Fringe Festival), this show stars Liz Kingsman as a quirky, fourth-wall-breaking heroine who isn't like all of those other quirky, fourth-wall-breaking heroines.
Once Upon a One More Time
Marquis Theatre
In previews May 13, opening June 22
Just when you thought we'd already reached the limit of revisionist-feminist vaguely medieval musicals with & Juliet, Six, and Bad Cinderella, this one has a group of fairy-tale princesses getting their hands on The Feminine Mystique and singing the songs of Britney Spears.
Just for Us
Hudson Theatre
In previews June 22, opening June 26
Jewish comedian Alex Edelman is bringing his solo show, in which he describes secretly going to meetings of white nationalists in Queens, to Broadway after an extended run downtown. It's produced by Mike Birbiglia, who has had success with similar one-man storytelling on Broadway.
Hamlet
Delacorte Theater 
In previews June 8, opening June 28
After last season's year of Hamlets at the Armory, BAM, and on Broadway with Fat Ham, Shakespeare in the Park is getting Danish again. Kenny Leon directs. (In 2019, he staged a Much Ado About Nothing in the park set among Black characters in contemporary Atlanta.) This time, Ato Blankson-Wood plays the melancholy prince.
July
Orpheus Descending
Theatre for a New Audience
July 9–August 6
A lesser-known Tennessee Williams play gets an appealing star in Maggie Siff (of Billions) — to be directed by Mac Beth's Erica Schmidt.
Flex
Lincoln Center Theater/Mitzi E. Newhouse Theater
In previews June 23, opening July 20
Candrice Jones's play focuses on a high-school basketball team of Black women in rural Arkansas in 1997 who dream of making it to the state championships, getting noticed, and hopefully going pro. Directed by Marys Seacole's Lileana Blain-Cruz.
Here Lies Love
Broadway Theatre
In previews June 17, opening July 20
It has taken David Byrne and Fatboy Slim's concept musical about the infamous Imelda Marcos (who, despite the title's implication, is still alive and back in power, as her son is now president of the Philippines) nearly a decade to return to New York after its acclaimed run at the Public. The show's conceit relies on transforming a theater into a disco (Imelda frequented Studio 54), so the enormous Broadway Theatre is losing its orchestra seats in favor of a giant dance floor.
The Cottage
Helen Hayes Theatre
In previews July 7, opening July 24
Jason Alexander (of Seinfeld, of course, but also the original Merrily We Roll Along) makes his Broadway directorial debut — a sex comedy with a cast that includes Will & Grace's Eric McCormack and SNL's Alex Moffat.
The Half-God of Rainfall
New York Theatre Workshop
In previews July 13, opening July 31
Another basketball play! A part-mortal Nigerian god takes up basketball in a play by Inua Ellams and directed by Taibi Magar (something of an expert in onstage basketball after The Great Leap).
August
Back to the Future
Winter Garden Theatre
In previews June 30, opening August 3
Summer is the time for big, especially tourist-friendly, perhaps not awards-minded Broadway spectacles. So here comes an adaptation of the Robert Zemeckis film — itself adapted by original screenwriter Bob Gale and with music by original composer Alan Silvestri and Glen Ballard. (Although, of course, they'll still perform "Johnny B. Goode.")
The Shark Is Broken
Golden Theatre
In previews July 25, opening August 10
Theater goes behind the scenes of the movies: a show about the making of Jaws co-written by Ian Shaw, who stars as his father, Robert Shaw (Quint), that got strong reviews on the West End.