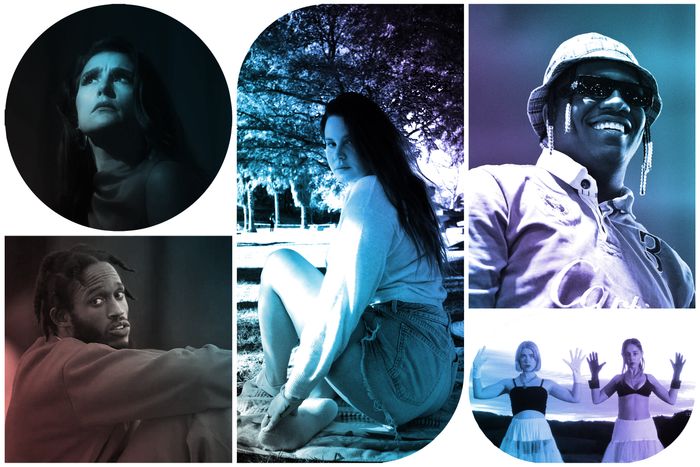 Photo-Illustration: Vulture; Photos: Getty, Pulse Recording, Sony, UMG
Yes, we know, it's not even spring. But that won't stop us from celebrating the best songs (so far, of course) from this young year. For the first round of selections, there was, surprisingly, a lot to choose from. Our initial crop includes a Lana Del Rey epic, a "cloud rap meets psych rock" experiment, a disco anthem, and some supergroup harmonies. Make sure to check back throughout the rest of 2023 as this list will be continually updated.
All songs are ordered from newest to oldest.
"A&W," Lana Del Rey
The first half of "A&W" is Lana Del Rey at her purest: a chronicler of dark Americana, eight albums distilled. The singer-songwriter goes inside the mind of a sex-addled California girl, murmuring and mumbling in the sweet spot of '70s soft pop she's found since working with super producer Jack Antonoff. A line like "This is the experience of being an American whore" could veer toward caricature if Del Rey weren't as committed as she is here. "A&W" then takes an unpredictable turn: The bass begins to wobble, the drums kick in, and before you know it, she's flipped "Shimmy Shimmy Ko-Ko-Bop" into a rap about a manipulative man named Jimmy. She's closer to self-parody at this point, but as Del Rey — and the character she's singing about — knows, there's no excitement without a little risk. — Justin Curto
"Free!," Maxo
On "Free!," the second single off Maxo's Even God Has a Sense of Humor, the Los Angeles rapper yearns for a moment untethered from daily anxieties. He worries about providing for his family, about not being able to rely on his friends, about not screwing up "everything I touch." "Them dark thoughts gon' pick at my brain / Sometimes it's hard to run when yo foot in the chains," he raps over a jazzy sample. Maxo tries to get out of it ("My bones always pick me up") before landing on a hook that feels like a question, plea, and mantra wrapped in one: "I'm just trying / Aye, I'm just tryna be free." — Alex Suskind
"Raven," Kelela
"Raven" envelops you like a slow-moving cloud. Here, the titular bird (a possible stand in for Kelela herself) is freshly resurrected after a painful episode: "Through all the labor / A raven is reborn / They tried to break her / There's nothing here to mourn." Kelela puts that last line into literal practice as co-production from her, AceMo, Fauzia, and Asmara mutates from a lone drone-bending effect into a four-on-the-floor club thumper drowned in jumbled vocals and muddy tones. After a long absence — the song is off Kelela's first album in nearly six years — "Raven" feels like a defiant mission statement: She's back in the fold and ready to take what's hers. — A.S.
"Ain't No Harmin' Me," the War and Treaty
Tanya and Michael Trotter, who perform as the War and Treaty, have a knack for turning the smallest amount of time into a moment. At the 2021 ACM Awards, for instance, the couple stole the show with just a few lines during Dierks Bentley's bluegrass cover of U2's "Pride (In the Name of Love)." That sort of raw passion doesn't always translate to an original song recorded in a studio, but it does on "Ain't No Harmin' Me." The single leans closer to the country side of their southern soul blend with Michael's rugged opening cry recalling Chris Stapleton. The song quickly builds to a vocal face-off between Michael and Tanya with each belt more impressive than the last. It's a show of vocal strength that can't be touched, let alone harmed. — J.C.
"Pearls," Jessie Ware
Before her metamorphosis into, as she sings on "Pearls," "a perfect prima donna," Jessie Ware was a soul singer with a voice that could go toe to toe with British peers like Adele and Amy Winehouse. Well, Ware still has the voice. "Pearls" is her most impressive vocal workout since 2017's "Midnight" — this time delivered with the breezy touch of a self-assured star. Like last year's "Free Yourself," it's clear that Ware's turn toward the dance floor has given her new freedom as a performer. Here, she's more fun, playful, and sexy — on a song about having just that sort of night. "I'm a lady, I'm a lover, a freak and a mother," Ware sings, now able to show all those sides through this music. — J.C.
"Radio," Margo Price feat. Sharon Van Etten
On "Radio," a short but sweet B-side from Margo Price's 2023 album Strays, the "whatever genre you want to slot her in" singer collides with Sharon Van Etten's pleading warble. "Don't get confused about how I feel / Don't let 'em fool you about what is real / I think thе whole world's going crazy," Price tells us. The track alternates between some minimal production in the verse — a pulsing synth tone, a few drum-machine bleep bloops — and a big and bright full-band riff: "People try to push me around / Run my name straight in the ground I can't hear them, I tuned them out," the duo sings in unison; the hook is so good they don't even bother with a bridge. — A.S.
"Running Out of Time," Lil Yachty
You get put in music-writer jail for saying something is a vibe these days, but sorry: This song is a vibe. "Running Out of Time," the lead single from Lil Yachty's new quasi-left-turn psych-rock album, is a funk track with a slap-happy bass line and a synthy horn. On its own, it would feel a bit rote, but the rapper's gift for quirky top-line melodies ties the whole thing together. "Stayyyy up all night / Stayyyy up and watch the sun" warble Boat and an uncredited Justine Skye like they've got a few of those industrial-size fans pointed at their faces. Call it cloud rap by way of Maggot Brain. — A.S.
"$20," boygenius
The appeal of a supergroup like boygenius is bringing together three artists who excel in the same mode: writing poignant and visceral lyrics set to delicate rock. But being among close friends also allows Julien Baker, Phoebe Bridgers, and Lucy Dacus to explore new sides of themselves. That's clear on "$20," one of three lead singles from their upcoming full length — and one of the most upbeat songs any of them has ever made. It's a jaunty vignette of younger years, the sort of song that feels, in the best way, bound to soundtrack an indie coming-of-age movie. "$20" started as a solo write by Baker until she felt like it made more sense to bring it to the group. In its final moments, as the three sing a chaotically beautiful harmony, it's hard to imagine it as anything but a boygenius track. — J.C.
"Find Out," Liv.e
On "Find Out," Liv.e's internal monologue is rife with conflict. Over a sly flip of Red and Meth's ferocious "Da Rockwilder" — along with a slight nod to Paul Simon — the singer delves into a moody examination of self. "I'm steady losing my cool / Can I go on go through / Being in love with you?" she asks over flecks of saxophone and what sounds like a reverbed woodpecker effect. Her description of the song gives a bit more insight into her thinking — in a statement, she called the track "having a realization of what it means to really love yourself" — without giving up the entire game. Liv.e doesn't deal in absolutes here: "I hope you know I love you like no other / I guess you'll find out find out baby / The hard way." — A.S.
"Sea Lions," Samia
"Sea Lions" is Samia in all her idiosyncratic glory. "Screaming porn kills love," she coos, "outside your window with the Adventist." It's vivid yet odd, the mode where she best commands attention as a writer. The second half, which has no lyrics at all, sees the tempo pick up as Samia slides and stretches her voice around an LCD Soundsystem–like drop before it gives way to a clip of a word-association game. Like the breakup she had been singing about, it's difficult to find meaning in it but equally hard not to try. — J .C.