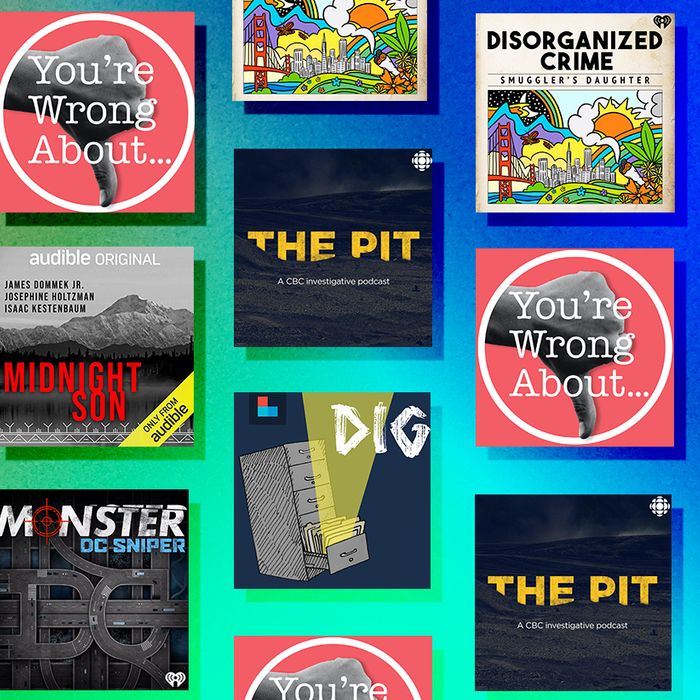 The true-crime podcast universe is ever expanding. We're here to make it a bit smaller and a bit more manageable. There are a lot of great shows, and each has a lot of great episodes, so we want to highlight the noteworthy and the exceptional. Each week, our crack team of podcast enthusiasts and specialists will pick their favorites.
Monster: D.C. Sniper, "A New Terror — Parts 1 and 2" and You're Wrong About, "The D.C. Snipers" 
Whether owing to a high-profile anniversary or the simple coincidence of simultaneous invention (like when No Strings Attached and Friends With Benefits hit theaters just seven months apart), true-crime retrospectives often come in multiples. (Remember 2016 when we were all talking about O.J. Simpson again?) Such is the case now for the 2002 rash of killings known as the D.C. sniper attacks, in which John Allen Muhammad (then 41) and Lee Boyd Malvo (then 17) went on a shooting rampage, murdering ten people over the course of three weeks. (Their total body count would be 17 before they were finally apprehended.)
The first podcast to reexamine the case is the Payne Lindsey–backed series Monster, which in earlier installments covered the Atlanta Child Murders and the Zodiac Killer. Hosted by Tony Harris, who worked as a news anchor in Baltimore at the time of the attacks, Monster: D.C. Sniper largely follows the script of its predecessors, detailing each shooting one by one and talking to the eye witnesses and first responders who were on the scene. Through these chilling accounts, we relive the panic felt not only by the victims but by people in the D.C. metro area at large, who were given no explanation for the crimes and no way of knowing who would be next.
Harris promises to investigate the real story behind the D.C. sniper attacks over the course of the podcast, but in just one episode, You're Wrong About host Michael Hobbes seems to have alighted on the heart of the matter — illuminating an integral and underreported aspect of the crime. Hobbes's story is told from the vantage point of Muhammad's ex-wife, Mildred, relying heavily on the text of her 2009 autobiography, Scared Silent. According to Hobbes, little reporting was done on the life and crimes of the attacks' mastermind, so most of what we know about his internal workings stems from his wife's account — and what emerges is a portrait of a domestic abuser who unleashed his petty grievances on our nation's capital, holding it hostage in a horrific display of anger and narcissism. And, honestly, his is the least interesting narrative here. Mildred is the real revelation, as she rises above to not only escape Muhammad's control but help other women who have been ignored or sidelined by the system. In short, we need more Mildreds in this often-dreadful world. —Amy Wilkinson
Dig, "Cleared by Exception"
In January 2018, Louisville resident Jen Sainato reported her rape to the Louisville Police Department. One man's DNA was found in her rape kit, and yet, detectives failed to move forward with any prosecution and were not convinced that a crime had taken place. Dig, a podcast from the Kentucky Center for Investigative Reporting, looks at why Sainato's case isn't an exception — it's actually the norm in Louisville, where the majority of rape cases are cleared because of the relationship between the police and prosecutors.
In this latest episode, host Eleanor Klibanoff examines what the super-low number of reported rapes in Louisville actually means (spoiler: it's not that rape is happening less frequently), and what it takes for a rape case to be "cleared by exception," as Sainato's was. To do so, you need to have a suspect, know where he is, and have probable cause to charge the suspect. According to prosecutors, one of these things didn't exist in Sainato's case, but it was still cleared as though it was solved. Taking a close look at Louisville's disturbing handling of rape and rape victims isn't just about the examination of one small city's political and legal structures, it's about how rape culture has impacted American life and continues to do so. To say that Dig is an important listen would be an understatement. —Chanel Dubofsky
Disorganized Crime, "Mary Jane Mamas"
Disorganized Crime, the new podcast from iHeartRadio, could very well have been titled My Father Was a Pot Dealer. Through extensive interviews with her parents, friends, and others, host Rainbow Valentine tells the story of her parents' experiences, beginning as "psychedelic pioneers" on opposite coasts and then as a married couple with a kid, moving large quantities of marijuana and hashish from their home in Northern California in the '70s and '80s. "Rainbow Valentine," you ask? Almost nobody in this podcast uses their real names. Instead you get a variety of colorful noms de guerre, including the Sugar Bowl Man, the Brooklyn Boys, and Rainbow's parents, Taffy and Walter Lemur. In "Mary Jane Mamas," we hear the stories of two women, contemporaries of the Lemurs, who were involved in the trade. Their names are Candy Can and Peach Blossom. As smugglers with young children, they take what seem like extraordinary risks, though their experiences and roles are quite different. But they are both mothers trying to raise kids while facing the challenges that come with a business that carries the threat of jail time and/or removal of their children. It's apparently hard to get a babysitter when you're in this line of work. —Toby Ball
The Pit, "Needle in a Haystack"
Full transparency: I initially listened to The Pit because of its title, which immediately brought to mind truly macabre murder scenarios that I of course had to hear about. In actuality, The Pit is an engrossing (and troubling) CBC podcast in which journalists Alicia Bridges and Victoria Dinh investigate the 2015 disappearance of Sheree Fertuck from Saskatchewan, where she worked hauling gravel. Her truck was found the day after she vanished in, yes, a gravel pit. To this day, Fertuck's body has never been found.
In the latest episode, which precedes Sheree's husband Greg's trial for her murder, Bridges and Dinh examine the possibility that Sheree's body was dumped near the gravel pit where her truck was found, and question why it is that she hasn't been found yet. Are they looking in the wrong place? Did they just overlook her remains? What does it mean for the case if Sheree's body is never found? (Listen for a video clip from a wedding in which Sheree makes a joke that doesn't exactly age well.)
The Pit is fascinating and in-depth thanks to the Bridges and Dinh's thorough research (they want to know everything about Sheree, including what her voice sounded like), which has taken them all over Western Canada and into the homes and workplaces of those who knew Sheree. Delegate some meaningful time and attention to listening, because you'll hang on every detail, and because it's well-deserved. —Chanel Dubofsky
Midnight Son 
Midnight Son, an Audible Original, begins with a legend about two tribes, the Iñupiaq and the Iñukuns, who once lived side by side until an incident caused the Iñukuns to retreat into the Alaskan wilderness. Host James Dommek Jr., the great-grandson of an Iñupiaq storyteller, relates the story of Teddy Kyle Smith, an Alaska Native and film actor, who, upon finding his mother dead in her home, fires a rifle toward villagers who have come to help and disappears into the Alaskan wilderness. The story largely takes place in extremely remote Alaskan villages, reachable only by airplane, and in the wilderness itself. In chapter four of the podcast, which is packaged like an audiobook rather than as a series of episodes, Dommek interviews Paul Buckel about the incredibly harrowing encounter that he and his brother Charles have with Smith at a cabin on the banks of a river they were traveling while on a bear hunt. Midnight Son takes on many things, including life in these tiny communities, the movie industry and Native Alaskans, the tragic story of Teddy Kyle Smith, and, eventually, the fabled Iñukuns, small, hairy people whom Smith claims to have seen watching him from across the breadth of the Squirrel River. —Toby Ball