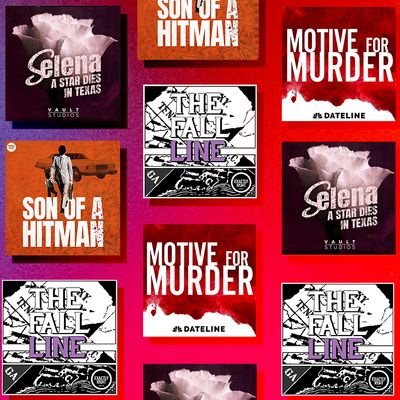 Photo-Illustration: Vulture
The true-crime podcast universe is ever expanding. We're here to make it a bit smaller and a bit more manageable. There are a lot of great shows, and each has a lot of great episodes, so we want to highlight the noteworthy and the exceptional. Each week, our crack team of podcast enthusiasts and specialists will pick their favorites.
Son of a Hitman, "Everybody Liked Charlie" 
In 2007, Charles Harrelson, father of actor Woody Harrelson, died in prison in Colorado. At the time of his death, he was serving two life sentences for the murder of U.S. District Judge John H. Wood Jr. In this ten-part series, host and journalist Jason Cavanagh takes a look at Harrelson, his crimes, who hired him, and how they remained secret for so long. In chapter two of this Spotify exclusive, Cavanagh looks at Harrelson's early life (including holding the record for the most words ever crammed onto a business card), and the murder of carpet salesman Alan Berg. He was found not guilty for Berg's murder, as was Frank DiMaria, who allegedly hired Harrelson to kill Berg. The central question of Cavanagh's search: Are there more crimes? Did Harrelson kill people he wasn't contracted to kill? Check out this episode and everyone in this series for a deep, absorbing dig. —Chanel Dubofsky
Selena: A Star Dies in Texas, "La Flor" and "March 31, 1995"
Given the proliferation of true-crime podcasts over the past five years, it's rather surprising no one has produced a splashy long-form series on the murder of Tejano singer Selena Quintanilla-Pérez — that is, until now. Hosted by Kii-TV anchor Rudy Trevino, Selena: A Star Dies in Texas tells not only the tragic story of the slain 23-year-old, who was on the cusp of superstardom, but also that of her killer, her friend and fan-club president Yolanda Saldívar. What could possibly have driven Saldívar to murder the woman she claimed was her only real friend? In exploring these dual narratives, the podcast makes ample use of archival footage from local Texas television stations — and practically everyone involved seems to have some connection or history with Selena, her family, or her associates — giving the podcast a real air of authority and authenticity. Unsurprisingly, 25 years on, the details of Selena's life and death are no less heartbreaking. —Amy Wilkinson
The Fall Line, "The Richland County Jane Doe, Part One"
The eighth season of The Fall Line kicks off with a two-parter about a Jane Doe who died in 1982 under mysterious circumstances at the South Carolina Mental Hospital in Columbia, South Carolina. Laura Norton, Brooke Hargrove, and the rest of the team behind The Fall Line do a great job as usual giving listeners a historical context, from the history of the sprawling mental hospital campus to how mental-health care has evolved over the decades, right up to the deinstitutionalization movement that led to a national crisis that inextricably linked mental health, home insecurity, and incarceration. (The mental hospital and its grounds, known colloquially as Bull Street, are apparently being developed into a kicky "mixed-use" district. Yikes.)
In this living Jane Doe's case, the police brought her into the Richland County emergency room, where she was unable to identify herself. She was eventually taken to Bull Street, where she was given psychiatric drugs and assigned to a room, where she died from a fall. The episode is meaty with interviews — they've got journalist William Buchheit, who has written extensively about Bull Street; deputy coroner and forensic anthropologist Dr. Bill Stevens, who does admirable work identifying remains in cold cases; and Wilhelmina Rivers, a mental-health specialist at Bull Street who discussed the inner workings of Bull Street and what it was like there in 1982. Who was this Jane Doe? And how did she really die? The Fall Line aims to find out. But even if they're not able to uncover her identity, they are shedding some much-needed light on a crisis that's only getting worse the more we ignore it. —Jenni Miller
Dateline: Motive for Murder, "A Scream. Then Silence." and "Was It Love?"
Following its wildly successful foray into serialized podcasting in 2019, The Thing About Pam, NBC's true-crime juggernaut Dateline returns with a new season hosted by veteran reporter Josh Mankiewicz. (While Mankiewicz may not boast colleague Keith Morrison's florid prose or dulcet tones, he's always been one of my favorites purely for his no-bullshit attitude toward interviewing suspects.) Motive for Murder investigates the case of Gelareh Bagherzadeh, a 30-year-old Iranian-born graduate student who was gunned down in her family's Houston driveway in January 2012 — all while one of her close friends was on the phone with her. With multiple avenues of investigation (the friend on the phone, who happens to be an ex-boyfriend; a newish love interest, who was the last known person to see her alive; Bagherzadeh's activism work), Mankiewicz explains that the key to finding the woman's murderer will be to first establish a motive. Having seen the episode of Dateline upon which this podcast is based, I can attest that this case is incredibly twisty and turny — and one whose outcome you surely won't see coming. —Amy Wilkinson
Friday, May 1
Somebody, "The Two-Year Anniversary" 
On March 4, 2016, after being shot in the back, Courtney Copeland, a 22-year-old black man, drove himself to the police station on Chicago's West Side, where he got out of his car (a BMW convertible), collapsed, and died at a nearby hospital. In this seven-part podcast — a project of the Invisible Institute, the Intercept, Topic Studios, and iHeartRadio, in association with Tenderfoot TV — Copeland's mother, Shapearl Wells, is investigating her son's death and all of the unanswered questions around it. Why won't the Chicago Police Department release the video footage from that night? Why was Courtney handcuffed to his hospital bed? Why was no one in the neighborhood asked about what they heard and saw that night?
In the latest episode of Somebody, investigators Alison Flowers and Bill Healy speak with Elena and her husband Edgar, who did call 911 the night Courtney was shot, but the police never spoke with either of them. At a vigil/protest she holds on the two-year anniversary of Courtney's death, Shapearl speaks with Elena and Edgar for the first time, and more disturbing pieces in this important story about race and injustice begin to slide together. —Chanel Dubofsky
Criminal, "Starlight Tours"
The abuse and mistreatment of indigenous people are hardly a new story, but the latest episode of the Phoebe Judge–fronted Criminal introduces a chapter likely unfamiliar to most Americans. It's January 2000 in Saskatoon, Saskatchewan, Canada, and a 30-year-old man named Lawrence Wegner is found frozen to death on a lonely road. As a journalist and a cop simultaneously begin to dig into the incident, they discover that Wegner isn't the only First Nations man to freeze to death that month in Saskatoon's frigid 40-below weather. In fact, the locals have a term for what most likely happened to Wagner — it's called a "starlight tour," in which a police officer allegedly picks up an intoxicated subject and drops them off in the boonies to "walk it off." This practice, as they would soon discover, dates back years, if not decades. And I probably don't need to tell you that the road to justice for these poor men is long, bumpy, and full of many dead ends. —Amy Wilkinson
Jensen & Holes: The Murder Squad, "Murderers Let Loose During the Coronavirus" 
Everything is a mess right now, and that includes crime, prisons, and the law. In this episode of The Murder Squad, Billy and Paul talk decisions, made and pending, about releasing violent criminals from custody right now due to conditions in prison concerning COVID-19, with former prosecutor and legal commentator Loni Coombs. How do you protect prisoners and prison staff from what is basically, in Coombs's words, a "petri dish"? What does it mean for survivors of domestic and sexual violence to have a perpetrator set free when people are sheltering in place and can be easily found? (Speaking of which, someone who will not be getting released from prison in spite of his compromised immune system? Bill Cosby.) Might it actually be easier to solve crimes in this world in which things are upside down? Maybe. Listen also for the case of Walter Ogrod, on death row in Pennsylvania for the 1988 murder of Barbara Jean Holmes. Ogrod's DNA indicates that he probably didn't commit the murder, and he's currently waiting for a hearing with a fever of 106. —Chanel Dubofsky
Wrongful Conviction With Jason Flom, "Nick Yarris in the Time of COVID"
A four-part series of interviews from Jason Flom, the founder of Lava Records and a righteous advocate for those wrongfully incarcerated, threads the needle between feeling good and lusting for justice without getting bogged down from blind optimism. So far, Flom has interviewed Damien Echols, Amanda Knox, and Nick Yarris about how COVID-19 is affecting them and what tools they developed while incarcerated to cope with isolation, lack of control, and loneliness, with one last guest to come next week. It's inspirational without being saccharine, and I've listened to the episodes multiple times.
Echols talks about intellectual and spiritual nourishment alongside the grim realities of death row, as well as the importance of humor, even if it's the gallows kind. Knox movingly describes the pain of isolation and the tools she used to cope as best as she could, from yoga to learning languages and reading. Yarris, whose story I wasn't familiar with until I went back and listened to previous episodes about him, waxes poetic about The Prophet and staying humble.
There are no good answers on how to cope with a global pandemic, really, but the insight they offer, along with Flom's warmhearted curiosity, was quite soothing. I was especially comforted hearing Echols describe his love for NYC, where I've lived for my entire adult life and hope to appreciate again soon, as well as Knox's tender take on skin hunger, boundaries, and Weird Al. Yarris's insights about how we could learn a lesson about community and selflessness from COVID-19 instead of being aggrieved at and blaming others for inconveniencing our lives is a crucial message. I'm looking forward to the fourth guest next week, although this could be a great ongoing miniseries within a series, too. —Jenni Miller