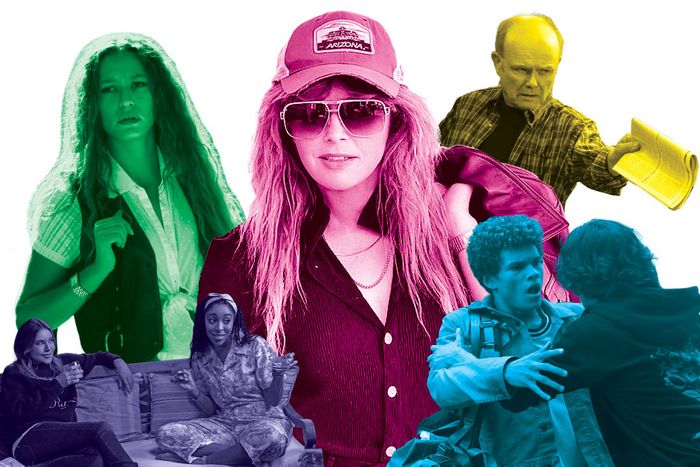 Photo: Netflix (90's/Shahmaran); Steve Dietl/Paramount+ (Pack); Evans Vestal Ward/ Peacock (poker); Apple TV+ (Shrinking)
To Do: January 18–February 1: Our biweekly guide on what to see, hear, watch, and read.
That '90s Show
Guys: Remember Zima?
Netflix, January 19.
That '70s Show makes a comeback of sorts in this sitcom centered on Kitty (Debra Jo Rupp) and Red Forman (Kurtwood Smith) as they welcome their teen granddaughter, Leia, into their home for the summer. Leia spends much of her time in their basement with her friends, much the way her parents, Eric (Topher Grace) and Donna (Laura Prepon), did on That '70s Show, but this time with references to Deee-Lite and Clerks! —Jen Chaney
Poker Face
Lie detecting.
Peacock, January 26.
This mystery-of-the-week series comes from Glass Onion creator and current whodunit champion Rian Johnson and stars Natasha Lyonne as a Columbo-like detective who regularly stumbles into murders that need solving. Maybe this is Peacock's year? —Kathryn VanArendonk
Wolf Pack
Beware the full moon — and wildfires?
Paramount+, January 26.
Sarah Michelle Gellar dips her toe back into TV work with this show based on a book series by Edo Van Belkom that centers on a foursome whose lives are affected by a monstrous creature and the mysterious wildfires that seem to occur whenever it attacks. —Roxana Hadadi
The 1619 Project
Based on the New York Times initiative.
Hulu, January 26.
Journalist Nikole Hannah-Jones, who led the Times' "1619 Project," hosts this docuseries that reframes our understanding of American history by placing Black Americans and the impact of slavery at its center. Even though this series takes a rigorous approach to its subject matter, expect conservatives to have a complete fit about it. —J.C.
Shahmaran
Spooky, sexy, snaky.
Netflix, January 20.
This Turkish series follows a young woman who tumbles into romance and strange encounters with the supernatural while trying to reconnect with her estranged grandfather. The trailer promises moody atmospherics and some steamy sex scenes — if you've been searching for something to fill the True Blood–size hole in your heart, this might do it. —R.H.
Shrinking
From a creator of Ted Lasso.
Apple TV+, January 27.
Like Bill Lawrence's other work, this new series features a middle-aged man asking himself about the meaning of life while having silly hangout times with his nice friends. In this case, the man is a therapist played by Jason Segel and one of his silly friends is Harrison Ford … Sure! —K.V.A.
Movies
One Fine Morning
A melancholy Parisian romance.
In select theaters, January 27.
Léa Seydoux is radiant as a widowed single mother in this drama from Mia Hansen-Love, which tracks its heroine through two complicated relationships — one with her aging father (Pascal Greggory), who has a degenerative condition, and the other with an old friend (Melvil Poupaud), with whom she has a (likely doomed) affair. —Alison Willmore
Lost Highway
A mysterious caller.
Roxy Cinema, January 18, 20, and 21.
Once derided as a dud, David Lynch's 1997 thriller, in which saxophonist Bill Pullman is besieged by mysterious forces and then somehow transforms into auto mechanic Balthazar Getty, has been reclaimed as the masterpiece it so clearly is. Don't miss this 35-mm. print. —Bilge Ebiri
Snubbed: Great Movies, No Nominations
Because the Oscars aren't everything.
Museum of the Moving Image, January 20 through March 12.
As a reminder that awards season isn't a reliable measure of cinematic worth, MoMI has programmed a series of masterpieces that didn't get a single Oscar nomination, from silents (the Charlie Chaplin classic City Lights) to noir excellence (In a Lonely Place) to more recent Academy neglectees (Uncut Gems), among others. —A.W.
Jirí Menzel X2
A pair of films from the Czech New Wave great.
Metrograph, January 27 through 29.
Check out this weekend showcase of two films from pioneering Czech filmmaker Jirí Menzel: his acclaimed 1966 WWII film, Closely Watched Trains, which won the foreign-language Oscar, and his 1969 satire, Larks on a String, which was shelved by censors until 1990. —A.W.
Blair Witch Project
Lo-fi fright.
Metrograph, January 20 and 21.
Yes, it inaugurated a whole generation of subpar found-footage horror films, but this fake documentary chiller still has the ability to terrify — especially on a big screen. —B.E.
Music
Mercy
New original songs by John Cale.
Domino Recording Company, January 20.
On Mercy, Velvet Underground co-founder John Cale sits at the crossroads of past and present, memorializing David Bowie and Nico while working alongside newer acquaintances like Weyes Blood, Sylvan Esso, and Animal Collective to dress these musings on maniacs and melting glaciers in gossamer synths and chilly electronic drums. —Craig Jenkins
Five Easy Hot Dogs
Hit the road.
Mac's Record Label, January 20.
After a gig in San Francisco last year, Canadian indie-rock oddball Mac DeMarco drove north with a bare-bones recording setup, hammering out hazy instrumentals in hotels along the way. Five Easy Hot Dogs documents stops in the Midwest, Pacific Northwest, and Canada in laconic folk-rock song sketches that drift delicately by like roadside scenery. —C.J.
Gloria
Stay with me.
Capitol Records, January 27.
The fourth album from British pop star Sam Smith maintains his recent streak of outfitting ostentatious vocals in production from Jimmy Napes and the storied hitmaking duo Stargate. Advance singles like "Unholy," the chart-topping duet with Kim Petras, suggest that Smith is easing off ballads and taking advantage of Stargate's proven hip-hop and R&B chops. —C.J.
Books
Night Letter
With a dangerous point of view.
Akashic Books, January 31.
Travis Hollister, 18, returns from reform school to the now-booming Florida burg where a romance with his aunt Delia once led him astray. Armed with his manuscript recounting the forbidden affair — and possible deaths in its wake — Travis attempts to write himself back into the family. Amid the classic noir elements, author Sterling Watson slow-rolls a moving reflection on the costs to the human heart of vast social and economic change. —Carl Rosen
The Chinese Groove
A California picaresque.
Counterpoint Press, January 24.
In Kathryn Ma's buoyant social satire, the optimistic Zheng Xue Li — soon known as Shelley — shows up to San Francisco from Yunnan province expecting to be taken in by fabulously rich American relatives. Instead, he's met with menial work, a gloomy cousin, and the various indignities of gentrified San Francisco. —Emma Alpern
Podcasts
Strange Customs With Sasha Sagan
Simple questions, big scale.
OnlySky Media.
How would everyday aspects of human social experience — marriage proposals, slang — come across to aliens? That's the universe-brain question posed by this new podcast from Sagan, which she explores with the help of guests including novelist Kiley Reid and Sounds Like a Cult co-host Amanda Montell. —Nicholas Quah
Not Lost Chat
Who are we when we travel?
Pushkin Industries, Topic Studios, and iHeartMedia.
Last year, Brendan Francis Newnam applied his radio talents to the travelogue genre with great results. As he works on the next batch of episodes of Not Lost, the show returns in the form of an interim interview series about the concept of travel called Not Lost Chat with Less author Andrew Sean Greer as an opening guest. —N.Q.
Theater
Wolf Play
Family with strings attached.
MCC Theater, in previews January 26.
First seen at Soho Rep last summer, Hansol Jung's thrilling and unsettling play presents an off-books cross-cultural adoption that becomes contentious; it depicts the adoptee with a childlike puppet. —Jackson McHenry
Lucy
Would you trust her with your daughter?
Minetta Lane Theatre, in previews January 27.
Erica Schmidt of the delightfully chaotic teen-girl-based Mac Beth and winsome musical Cyrano writes and directs this drama about a nanny who seems a little off, which at times appears to verge into both horror and dark comedy. —J.M.
Art
Katherine Bernhardt
Confident and colorful.
Canada Gallery, 60 and 61 Lispenard Street; through February 25.
Paintings that look like tapestries teem with figures like ET, Bart Simpson, and the Pink Panther from some mad cave wall. These wild-style images of cigarette butts, bananas, and other everyday items take on the power of magic carpets. —Jerry Saltz
David Dupuis
Works from memory.
Derek Eller Gallery, through February 4.
David Dupuis's new landscape drawings are alive with marks that meander like riverbeds and feel enchanted by spirits in the night. See what might be a mountain lake in the moonlight and feel suspended in Dupuis's ability to make the energies of the mind and body slow down. —J.S.
Classical
yMusic
New sounds.
Zankel Hall, January 19.
Any old superstar ensemble could whip off premieres of complex works by Allison Loggins-Hull and Andrew Norman and make them sound like the scores have been simmering for decades. But this new-music special-ops team has collaboratively composed its own suite of fresh pieces. —Justin Davidson
Pauline Oliveros at 90
A tribute.
Zankel Hall, January 21.
For Pauline Oliveros, performing, composing, and listening were inseparable activities, making each of her concerts a kind of meditative workshop. Flutist Claire Chase leads a handpicked ensemble — and the audience — in assembling two works in real time. —J.D.
Yuja Wang and the Philadelphia Orchestra
A Rachmarathon.
Carnegie Hall, January 28.
If you like your Rachmaninoff in mountainous helpings, you can't miss the tireless Yuja Wang with the Philadelphia Orchestra, conducted by the indefatigable Yannick Nézet-Séguin, performing all four of the composer's piano concertos plus the Rhapsody on a Theme of Paganini. —J.D.