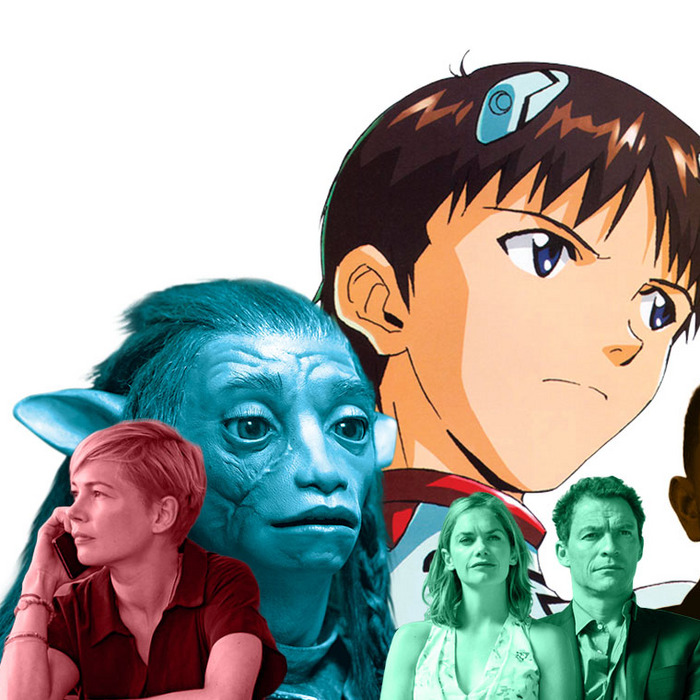 Photo: Courtesy of the networks (Marling, Hader); Patrick McMullan (Rodriguez)
Pop Music
1. Listen to Lover
I promise that you'll never find another like …
After going heel on 2017's Reputation, Taylor Swift looks to stage another turn with Lover. Singles "ME!" and "You Need to Calm Down" and stunning ballad "The Archer" deal with how to shrug off animosity rather than channel it, as her last set's feistier moments did. Will she scale back the brash hip-hop aesthetics of Reputation or double down? Tune in to find out. —Craig Jenkins
Republic, August 23.
Books
2. Read Inland
An epic journey.
The lyricism of Inland is familiar to anyone who read Téa Obreht's acclaimed first novel, The Tiger's Wife, but in other ways her follow-up is a brave and (successfully) ambitious departure. Two guilt-ridden people wander the Arizona desert in 1893, on parallel tracks that appear to meet in the distance. One is an outlaw, the other a wife and mother laden with grief. —Boris Kachka
Random House.
TV
3. Watch Hitsville: The Making of Motown
True sounds of Detroit.
This documentary by Benjamin and Gabe Turner was smart to concentrate on the early years of Berry Gordy's hit factory, before it moved to L.A. That's where the real action was, historically as well as musically speaking, with Gordy and an unbeatable armada of pop geniuses releasing hit after hit, a shocking number of them in direct conversation with the American Zeitgeist. —Matt Zoller Seitz
Showtime, August 24.
TV
4. Watch The Affair
An end to this relationship.
With Ruth Wilson and Joshua Jackson gone, Dominic West and Maura Tierney are the last cast principals still standing for the final season of the equal parts maddening and absorbing Showtime drama. If you haven't been able to divorce yourself from this drama for four previous seasons, at least this, the fifth, will bring closure. —Jen Chaney
Showtime, August 25.
Movies
5. See After the Wedding
Remaking Susanne Bier's 2006 drama.
Bring a hankie to Bart Freundlich's American remake of Danish director Susanne Bier's gorgeous weeper, the emotionally convoluted — in a good way — story of a do-gooder (Michelle Williams) reluctantly forced to fly from an Indian orphanage to New York at the summons of a magazine impresario (Julianne Moore) thinking about donating a couple of million. There's a big twist and then another big twist and then a couple more big twists to round things out. There's a third superb performance after Moore's and Williams's: Abby Quinn as Moore's upended stepdaughter. — David Edelstein
In theaters.
TV
6. Watch Wu-Tang: An American Saga
The story "ain't nuthin' ta f' wit."
If Showtime's doc Wu-Tang Clan: Of Mics and Men wasn't quite enough Wu for you, Hulu offers this scripted series about the rise of one of the greatest hip-hop acts of all time.
—J.C.
Hulu, September 4.
Books
7. Read Fleishman Is in Trouble
Toby Fleishman, ladies' man.
For years, Taffy Brodesser-Akner has written swoon-worthy celebrity profiles with superhuman levels of empathy, writes Vulture's Maris Kreizman, so it's no wonder that her debut novel features blistering observations about unforgettable characters, some of whom are more flawed than others. Fleishman Is in Trouble subverts the narratives that Great Male Writers have been putting out for centuries and does so with authority and grace.
Random House.
Pop Music
8. Listen to Forever Turned Around
Via Chicago.
Chicago indie rockers Whitney formed in the wake of the Smith Westerns, serving up feathery, fey folk-rock tunes on 2016's Light Upon the Lake. Forever Turned Around is a wonder; smooth and slight but somehow filling. It crosses the creative arrangements of indie outfits like Beirut with earnest vocals and peak yacht rock's laconic beauty. —C.J.
Secretly Canadian, August 30.
TV
9. & 10. Rewatch The Dark Crystal and Watch Age of Resistance
You've been (theoretically) waiting nearly 40 years to see this prequel.
Fans of Jim Henson's 1982 movie The Dark Crystal will undoubtedly be intrigued by this Netflix prequel series. The Dark Crystal: Age of Resistance brings to life events that occur in the world of Thra before the movie with a combination of old-school puppets and new-school visual effects. If you need a refresher, The Dark Crystal is also streaming on the platform. —J.C.
Netflix, August 30.
Books
11. Read The World Doesn't Require You
Magical realism.
We know Cross River, Maryland, the setting of Rion Amilcar Scott's stories, is fictional because it's supposed to have been founded by slaves who successfully overthrew their masters. We also know this because God was resurrected there, which we learn from his progeny in "David Sherman, the Last Son of God," and because in another futuristic story, slave history is reenacted by cyborgs. Scott joins a growing tradition of African-American authors fusing the folksy dystopian humor of George Saunders with the charged satire of Ishmael Reed and expands on it brilliantly. —B.K.
Liveright.
TV
12. Watch Neon Genesis Evangelion
Starring eerily humanoid robots.
Dedicated anime fans have always found creative ways to watch their favorite shows, but now that Netflix and other streaming services have entered the game, anime can have new audiences. The controversial Neon Genesis Evangelion, widely regarded as among the greatest anime of all time, was added to the platform this summer and holds up well for being almost 25 years old.
Netflix.
Books
13. Read Empty Hearts
A dark, funny dystopia.
The German author Juli Zeh's latest novel is about as plausible as any fast-paced thriller — which is to say, not very. Protagonist Britta runs a website that links up the deeply depressed with organizations in need of suicide bombers, which makes a little more sense in 2025, by which point the EU has fallen apart and sinister populists run Germany. Britta is forced to go white-hat when confronted with a competitor who threatens far more than her livelihood. —B.K.
Nan A. Talese.
TV
14. Watch Mayans M.C.
The next chapter.
This Sons of Anarchy spinoff took a while to find its footing, but its story of assimilation and infiltration in the world of Mexican-American motorcycle gangs added a unique new flavor to the gangster genre. More leisurely and introspective than you might expect, but peppered with the expected bursts of savage violence, the show at its best has a boozy Peckinpah vibe. —M.Z.S.
FX, September 3.
*A version of this article appears in the August 19, 2019, issue of New York Magazine. Subscribe Now!