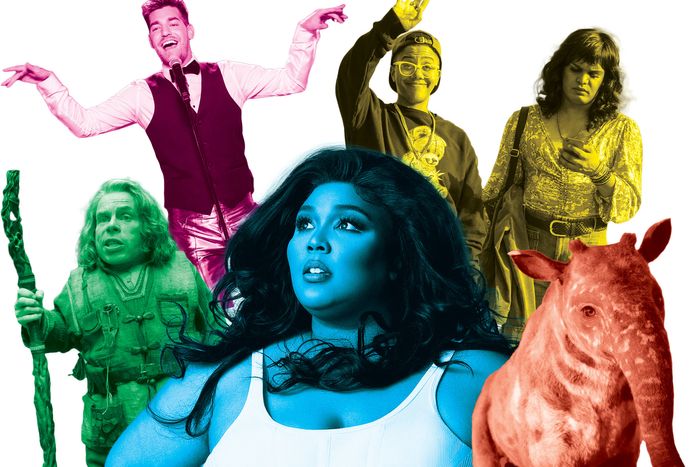 Photo: Scott Gries/SHOWTIME (Rogers); HBO Max (Sort of); HBO Max (Lizzo); Lucasfilm Ltd. & TM (Willow); HBO (Materials)
To Do: November 23–December 7: Our biweekly guide on what to see, hear, watch, and read.
Sort Of
Putting the "kind" in "kinda."
HBO Max, December 1.
The first season of this series from Pakistani Canadian performer Bilal Baig is a lovely portrait of a nonbinary nanny learning what it means to be a caretaker to a family and to themselves. TV, despite the rule of the Gods of Existing IP, has deigned there be a second season. — Jen Chaney
Matt Rogers: Have You Heard of Christmas?
Very holly, very jolly.
Showtime, December 2.
Matt Rogers's new comedy special promises to be sparkling, sexually explicit, deliciously musical, and very, very gay. — Kathryn VanArendonk
His Dark Materials
Biblically incorrect.
HBO, December 5.
Yes, this show has been uneven in the past, but it's worth checking out the last season just to see how it will pull off the challenging adaptation of this trilogy's fully bananas final book. Here come the angels! They're going to try to destroy a simulacrum of the Catholic Church! What will the aliens who roll around on wheels look like?! — K.V.A.
Andor
We know how this ends, and yet.
Disney+, November 23.
The finale of this Star Wars show's first season caps off a fantastically well-executed tour of the Empire's iron-fisted grip on power. Kino Loy's instantly iconic "Never more than 12" line, from the ninth episode, thankfully doesn't apply to the series as a whole: The second season (another dozen installments) is filming. — Roxana Hadadi
Willow
A cult classic's splinter group.
Disney+, November 30.
More than 30 years ago, Ron Howard's fantasy film Willow became a deep-cut favorite thanks to an elaborate mythological world, then-cutting-edge visual effects, and a star-making performance from a young Val Kilmer. Kilmer isn't expected to return for this sequel series, but Warwick Davis and others will be back for a story that brings together a set of heroes to explore other corners of this magical realm. — R.H.
Love, Lizzo
An intimate, small-screen look at the Big Grrrl.
HBO Max, November 24.
Lizzo won an Emmy this year for her reality competition series Lizzo's Watch Out for the Big Grrrls, and her next television trick is this movie, filmed over three years of her Cuz I Love You world tour through the recording of her latest album, Special. — J.C.
Shaq
An inside look at the NBA great.
HBO, November 23.
This four-part docuseries traces the career of legendary NBA center and broadcaster Shaquille O'Neal. Hopefully, it focuses a good chunk of its critical focus where it belongs: on Shaq's contributions to the magical-realist gem Kazaam. — J.C
Slow Horses
Wait patiently.
Apple TV+, December 2.
You could start watching the new season of Slow Horses as soon as early December, but the smart move here is to save up several episodes of this wry, world-weary spy thriller to binge with your parents over Christmas break. — K.V.A.
Movies
Hunt
Presidential assassins in South Korea.
In select theaters, December 2.
Squid Game star Lee Jung-jae's directorial debut is this knotty spy thriller set during South Korea's '80s military dictatorship. It's got more intrigue, shoot-outs, and double crosses than two hours should be able to contain. — Alison Willmore
The African Diaspora International Film Festival
Love your Blackness, and theirs, and …
Select Manhattan venues, November 25 to December 11.
Catch glimpses of the Black experience in 42 countries, from Brazil to Bangladesh. Opening night is The Woodstock of House; also see a screening of Sidney, the Poitier love letter; socialist romance Dancing the Twist in Bamako; and docs on civil-rights icons Ella Baker and Fannie Lou Hamer. — Melvin Backman
All the Beauty and the Bloodshed
Venice's big prize winner.
In select theaters, November 23.
Laura Poitras's doc follows Nan Goldin as she leads protests against opioid-magnate art-world patrons the Sacklers at city cultural institutions. The film ingeniously weaves Goldin's life and career into her activism. — Bilge Ebriri
The Deer Hunter
Yep, still a masterpiece!
Metrograph, November 26.
Never miss a chance to see Michael Cimino's 1978 Best Picture winner, an emotionally scarring epic that begins in the Rust Belt and winds up in Vietnam, on the big screen in 35-mm. Afterward, you'll understand why United Artists gave Cimino everything he wanted for his next movie — the calamitous Heaven's Gate. — B.E.
The New World
A prodigal film maudit returns.
Museum of the Moving Image, November 25 to 26.
Terrence Malick's 2005 film about Pocahontas and John Smith has since entered the modern canon, but it received a much chillier reception upon initial release. There are three versions out there, but for its "See It Big: Extended Cuts!" series, MoMI is bringing back the film's 150-minute theatrical print. — B.E.
Yoshimitsu Morita
Film from a changing Japan.
Lincoln Center, December 2 to 11.
Filmmaker Yoshimitsu Morita's yawning career — from softcore "pink" features (1982's Top Stripper) to darkly comic movies about middle-class domesticity (1983's The Family Game) — gets a sprawling retrospective in New York. — A.W.
Music
Busta Rhymes, the LOX, Raekwon, and Ghostface Killah
Increase the peace.
St. George Theatre, November 26.
In a year of jarring losses in hip-hop, including the untimely deaths of Atlanta's Trouble and Takeoff, Philly's PnB Rock, and Memphis's Snootie Wild, difficult conversations about violence abound. So New York legends Busta Rhymes, the LOX, Raekwon, and Ghostface Killah join Hot 97's Funk Flex with an '80s-movement-inspired "Stop the Violence" concert. — Craig Jenkins
LCD Soundsystem
Tell all your friends "I was there."
Brooklyn Steel, through December 17.
A lively residency at Brooklyn Steel from veteran New York dance-punk outfit LCD Soundsystem ended abruptly last year when December's COVID spike littered havoc and cancellations around the city. The band known for the muscular grooves of "Daft Punk Is Playing at My House" and the wistful mood of "All My Friends" returns to East Williamsburg for a monthlong string of dates knowingly titled "Live (Again)." — C.J.
Books
Stella Maris
Quantum panics.
Knopf, December 6.
Sixteen years after The Road, Cormac McCarthy has emerged with a pair of new novels. October's The Passenger deals with two siblings' darkly interconnected dynamic; Stella Maris, its shorter companion and exegesis, is made up mostly of conversations between one half of the pair, who is a profoundly gifted mathematician, and her therapist in a psychiatric hospital. — Emma Alpern
Between Catastrophe and Revolution
Carrying on the fight.
OR Books.
The leftist scholar Mike Davis died in October from esophageal cancer. Best known for his portraits of noirish late-millennium California, undergirded by municipal corruption, racism, and corporate skulduggery, he leaves behind an extensive corpus of writing. In this recent Festschrift, writers, activists, and scholars celebrate one of Davis's most valuable contributions to the left: a theory of catastrophe that harnesses ecological, colonial, and spatial histories in the service of self-determination. — Brandon Sanchez
A Coastline Is an Immeasurable Thing
Memoir as "a task of nuance and nuisance."
Ecco, November 29.
The poet Mary-Alice Daniel's scholarly parents left Nigeria in their 20s; to her boisterous family, the U.K. looked "like all color had been boiled out of it." Their resettlement set off a strain of restlessness in Daniel's life, one she mines for insight in her memoir. Her account of their continued moves, and of West Africa's knotty postcolonial scene, is lucid and poetic. — E.A.
Theater
The Far Country
East to the Wild West.
Atlantic Theater Company, opens December 5.
Lloyd Suh, who has dramatized many aspects of Asian American history, has written a new "intimate epic" about a family traveling from Taishan to California after the Chinese Exclusion Act. — Jackson McHenry
A Man of No Importance
Singing? With Irish accents?!
Classic Stage Company, through December 18.
Jim Parsons leads some stalwart New York thespians (Mary Beth Peil, Mare Winningham) in a smaller-scale revival of this Ahrens, Flaherty, and McNally musical about a closeted Irish bus driver and his ragtag theater troupe. — J.M.
Becky Nurse of Salem
Stage witchcraft.
Lincoln Center Theater, opens December 4.
It's always intriguing to witness the latest doings of Deirdre O'Connell, who won a Tony for her lip-sync performance in Dana H. And lately, she's in a new Off Broadway comedy from Sarah Ruhl, playing the descendant of a Salem woman executed after being accused of witchcraft. — J.M.
Art
Bill Albertini
Keep your "hands off."
Theodore Gallery, 373 Broadway, tenth fl., through December 10.
At Stephanie Theodore's gallery, there's the glowing geometric recycling of Bill Albertini's early work using all sorts of new technologies. The result is a combination of the inside of a wasp's nest and kaleidoscopic hallucination that seems to whisper, "Enter here." — Jerry Saltz
Classical
The New York Philharmonic
Not quite a historic echo but a rhyme.
David Geffen Hall, December 1 to 3.
Rafael Payare, in his Philharmonic debut, conducts the orchestra's first performance of Shostakovich's Twelfth, The Year 1917. The work is a portrait of Russian tumult and violence that's hard not to hear as a comment on 2022. Pianist Emanuel Ax softens the tone with Beethoven's Piano Concerto No. 2. — Justin Davidson
Junction Trio
Popular music.
Washington Irving High School, December 3.
Pianist Conrad Tao, violinist Stefan Jackiw, and cellist Jay Campbell perform in the low-cost, high-standards Peoples' Symphony Concerts series with a program of Tao's own Eventide, plus trios by Ives and Ravel. — J.D.