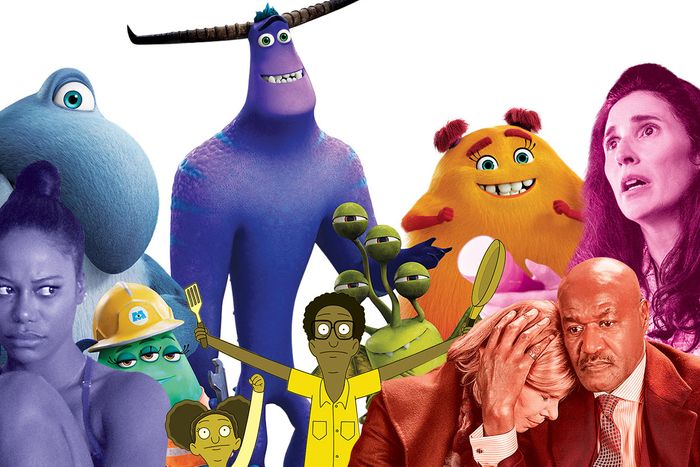 Photo: Courtesy of A24/Disney+/Apple TV+/Patrick Harbron/CBS ©2021 Paramount+/Courtesy of Sabrina Lantos
To Do: Our biweekly guide on what to see, hear, watch, and read.
TV
Conan Finale
Team Coco is forever.
The TBS talk show that gave Conan O'Brien a place to land after The Tonight Show debacle of 2010 airs its final episode. But do not cry for Coco — he has plans to launch a variety series in the near future on HBO Max. Instead, smile because Conan happened. —Jen Chaney
TBS, June 24.
The Good Fight
Still wacky.
The last image of the fourth season was Jeffrey Epstein's dismembered, er, member, left dangling at the end of the episode as a perfectly surreal finale before the COVID shutdown prematurely ended the season. Season five will bid farewell to two of the show's regulars but nevertheless promises a return to all the absurdist, zany, Kafkaesque scenarios the show excels in exploring. —Kathryn VanArendonk
Paramount+, June 24.
Sex/Life
Armchair pseudo-porno.
This series, based on BB Easton's memoir, 44 Chapters About 4 Men, concerns a housewife who tries to reclaim her more sexually adventurous past. I believe one is required to use the word steamy to describe it. So: steamy. —J.C.
Netflix, June 25.
Monsters at Work
Okay, but is Boo in it?
The Pixar-inspired TV workplace comedy you've been craving, an offshoot series of Monsters, Inc. and Monsters University, is about a recent Monsters U. grad (voice of Ben Feldman) who gets a job at Monsters, Inc. only to realize to work alongside Mike (Billy Crystal) and Sulley (John Goodman), he'll need to learn to make kids laugh. —J.C.
Disney+, July 2.
Central Park
Season two.
A bit of a sleeper release in its first season, Apple TV+'s Central Park is worth checking out if you have an affinity for animated comedies, musicals, or Stanley Tucci playing a wealthy villainous Manhattan dowager bent on ruining all the best parts of New York's public spaces. —K.V.A.
Apple TV+, June 25.
Movies
Zola
"The greatest saga ever tweeted."
That raucous Twitter about a "ho trip" gone wrong has been turned into a shrewd movie about storytelling and trauma by director Janicza Bravo and co-writer Jeremy O. Harris. Zola (Taylour Paige) heads to Florida with new friend Stefani (Riley Keough, going big) to dance. As things start to go wrong, the gap between Zola's online narration and her onscreen experiences becomes a space to explore the power of getting to reframe a story. —Alison Willmore
In theaters June 30.
Holler
More than scraps.
In this rough, beautiful drama, a teenage girl living in a dead-end Ohio town struggles with her choices — whether to continue eking out an existence alongside her older brother, working dangerous jobs for a local scrap-metal business, or find a way out of this place. Not as bleak as it sounds: Director Nicole Riegel has a no-nonsense style that achieves a cinematic poetry. —Bilge Ebiri
In select theaters and VOD.
BAMcinemaFest
BAM is back.
Brooklyn's best annual showcase of indie film is back in virtual form with, among others, Christopher Makoto Yogi's meditative Hawaiian drama I Was a Simple Man and Bassam Tariq's Mogul Mowgli with Riz Ahmed. —A.W.
bam.org, June 23 to 29.
I Carry You With Me
A Spanish-language drama.
Documentarian Heidi Ewing (Jesus Camp) takes a half-step into the scripted world. Her fascinating hybrid film I Carry You With Me crosses borders, decades, and genres to tell the love story of Iván (Armando Espitia) and Gerardo (Christian Vázquez), who meet in Mexico and make enormous sacrifices to start a life together as undocumented immigrants in New York City.
In theaters June 25. —A.W.
Werewolves Within
Based on a VR game.
Sam Richardson (Veep) stars in a horror-comedy about a forest ranger investigating a small town's werewolf problem. Sure, it's based on a video game, but it has a fantastic cast. Plus werewolves make a nice break from all the vampires of the past several years. —K.V.A.
In theaters June 25; VOD July 2.
Robert Downey: Moment to Moment
Plus more films by Downey Sr.
Probably best known today for his son, Downey Sr. made freewheeling experimental films, leaping to slightly more narrative work with the cult classics Putney Swope and Greaser's Palace. A new doc by Sean Price Williams accompanies the legendary director's most essential films. —B.E.
The Criterion Channel, June 24.
➼ See the Full Calendar of Digital Movie Rentals
➼ See the Full Calendar of Movie-Theater Releases
Art
Carl D'Alvia
A series of "monoliths."
Sculpture is in eternal struggle and perpetual conversation with gravity. In his anthropomorphic, quasi-figurative, abstractly suggestive large aluminum sculptures coated in strong colors of opaque auto paint, Carl D'Alvia addresses this head-on. The results are humble but ambitious philosophical sculptures — mesmerizing, almost mystical configurations that make you feel precious love for shape and states of being. —Jerry Saltz
Hesse Flatow, 508 West 26th Street, through July 10.
Huma Bhabha
"Facing Giants."
In its huge, exquisitely restored UES mansion HQ, Salon 94 hosts an astounding show of sculptures by Huma Bhabha, whose powerful, almost archaic, distantly mystical standing figures evoke gods, monsters, monuments, plinths, and statues on the moon. Walking through the gallery is like walking among shamans, volcanic rubble, and ideas about beauty and ugliness that few artists tackle. —J.S.
Salon 94, 3 East 89th Street, through June 26.
Joan Linder and Maureen O'Leary
In "Slightly Surreal Suburbia."
The two female artists in this show offer a look at the suburban life that newly took hold of them during the pandemic. Paintings by Maureen O'Leary capture moody domesticity on Long Island; paper works and sculpture by Joan Linder, who lives in Buffalo, include a painstaking replica of a Wet Ones container — the kind of item we may never view the same again. —Jessica Silvester
Cristin Tierney Gallery, 219 Bowery, second fl., through August 6.
Immersive van Gogh
It makes a good (post-)impression.
It's something of a guilty pleasure to view giant moving versions of van Gogh's work. Would the artist himself hate it? Probably. But honestly, after this year, who cares? —Sangeeta Singh-Kurtz
Pier 36, 299 South Street, through September 6.
Books
The Great Mistake
New York, past and present.
Jonathan Lee's novel, set in turn-of-the-century Manhattan, involves the ludicrously rich and a shooting in broad daylight. From a brilliant weaver of multi-thread historical narratives, The Great Mistake promises more than a whodunit and Edwardian tea gowns. —Hillary Kelly
Knopf.
The Woman in the Purple Skirt
Female friendships.
This awarding-winning 2019 Natsuko Imamura novel, translated from the Japanese by Lucy North, follows the titular woman, who is watched by the Woman in the Yellow Cardigan. They become friends, their lives begin to mesh, but something is off: One is not who she seems. —H.K.
Penguin Books.
Pop Music
Mood Valiant
A nod to the Valiant station wagons of Nai Palm's late mum.
After being sampled on albums by Kendrick Lamar, Drake, Beyoncé, and Jay-Z, Australian soul band Hiatus Kaiyote — comprising powerhouse vocalist-guitarist Naomi "Nai Palm" Saalfield and an airtight trio on bass, drums, and keys — signed a deal with jazz-funk producer Flying Lotus's Brainfeeder label to follow up its breakthrough 2015 album, Choose Your Weapon. The advances for album three, Mood Valiant, all serve exquisite, otherworldly grooves. —Craig Jenkins
Brainfeeder, June 25.
The Golden Casket
Modest Mouse returns.
Twenty-five years after the Pacific Northwest outfit's winning 1996 debut album, Modest Mouse's latest set provides offbeat and engaging riffs; co-founder and front man Isaac Brock remains a fount of trenchant wit and unrestrained individualism. —C.J.
Epic, June 25.
Blue Banisters
Heavy on piano.
Last summer, mired in a string of minor controversies, Lana Del Rey promised to exact her "revenge" and "challenge" her detractors on a new album, her second this year. Although the set's singles — a trio of seemingly autobiographical folk songs including the slow-boiling "Wildflower Wildfire" — don't feel vengeful or defensive. —C.J.
Interscope/Polydor, July 4.
Theater
Red Stage
A Speakers' Corner of sorts.
Smack-dab in the middle of Astor Place, artist Rashid Johnson has installed a fire-engine red stage. It functions as both an open-air venue and an open-invitation site for public participation. Highlights: Charlotte Brathwaite hosts a marathon reading of Un-drowned: Black Feminist Lessons From Marine Mammals, by Alexis Pauline Gumbs (June 24); the divinely hilarious Morgan Bassichis will spend 12 hours devising a new musical (July 3). —Helen Shaw
creativetime.org, through July 4.
The Dumb Waiter
What goes up must come down.
The London Old Vic's latest production is Harold Pinter's classic black comedy The Dumb Waiter, in which two hit men (David Thewlis and Daniel Mays) wait in a basement for orders delivered from above. It was first produced in 1960, but its themes of existential isolation and ordering food when you'd rather go out will surely strike a contemporary chord. —H.S.
oldvictheatre.com, July 7 to 10.
Classical Music
21c Liederabend Op. World Wide
Plus an interview with Renée Fleming.
Williamsburg venue National Sawdust and Beth Morrison Projects reconceive a 19th-century Liederabend (home performance) as a global get-together with songs by Holland Andrews, Amyra León, Lido Pimienta, Paola Prestini, Theodosia Roussos, and Diana Syrse. —Justin Davidson
nationalsawdust.org and bethmorrisonprojects.org, June 27 at 8 p.m. ET.
Gil Shaham and the Knights
At dusk.
The show, part of the "Death of Classical" series, dispenses with the orchestra and adds a tasting of spirits, a chaser of jazz, and a twilight walk. After all that, violinist Gil Shaham plays a "pocket edition" of Beethoven's Violin Concerto with a string quintet. —J.D.
Green-Wood Cemetery, June 25.
Chamber Music Society of Lincoln Center
All Brahms.
Stalwarts of the Chamber Music Society, including violinist Ida Kavafian and cellist Paul Watkins, bring Brahms's Second Cello Sonata and his First Piano Quartet to the great roofless concert hall for a festive program. —J.D.
Damrosch Park, Lincoln Center, June 26.
Every editorial product is independently selected. If you buy something through our links, New York may earn an affiliate commission.