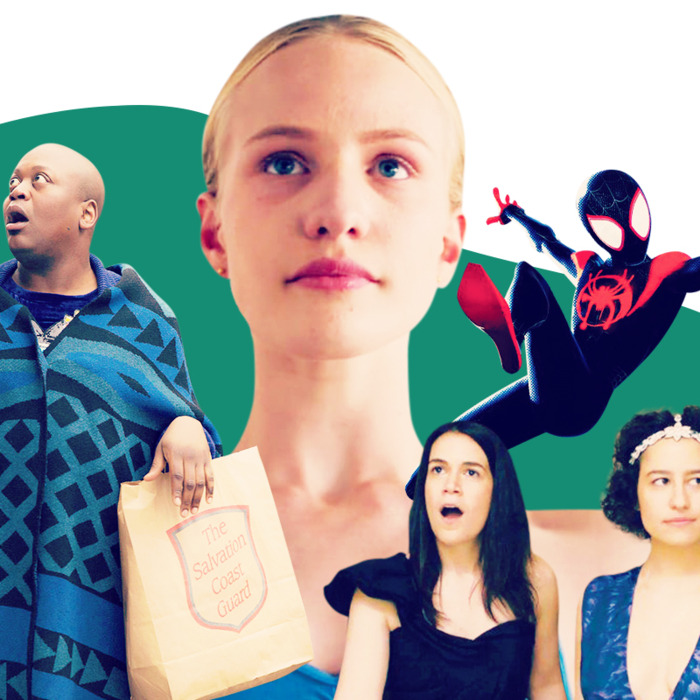 Photo: Vulture/Courtesy of Netflix/Courtesy of Comedy Central/Courtesy of Sony Pictures Entertainment
Movies
1. See Spider-Man: Into the Spider-Verse
Really, go now.
It's been out for over a month, which means you need to rush to see it while you still can, on the biggest screen you can find, and in 3-D. This animated instant classic (a sure Oscar winner), in which misunderstood and lonely people from multiple universes briefly come together, homes in on the overlap between comics and cinema to create something both madly inventive and emotionally transcendent. —David Edelstein
In theaters.
TV
2. Watch Broad City
Cha-chinga.
The First Ladies of the Five Boroughs, Abbi and Ilana, a.k.a. Abbi Jacobson and Ilana Glazer, begin their final farewells in the premiere of the fifth (and last) season of this female buddy comedy.
Comedy Central, January 24.
TV
3. Watch The Other Two
My brother, my sister, and me.
Imagine being the less accomplished adult sibling of a kid who may be the next Justin Bieber. Now you understand the premise of this funny new series from former Saturday Night Live writers Chris Kelly and Sarah Schneider.
Comedy Central, January 24.
Movies
4. See Girl
Movement building.
Identity politics once again dominates the Zeitgeist with Lukas Dhont's deeply empathetic Girl, which won four prizes at Cannes (including the Camera d'Or for Best First Film) but has since stirred up anger in part because the 15-year-old transgender dancer at its center is played by a cisgender actor, Victor Polster. He's wonderful, in any case. —D.E.
Netflix.
TV
5. Watch The Unbreakable Kimmy Schmidt
She's baaaack.
The final six episodes of TV's most madcap series about a terrible kidnapping arrive on Netflix, complete with a continuation of the #MeToo story lines explored in the initial episodes of the past season. And yes, there are puppets involved. Obviously.
Netflix, January 25.
Pop Music
6. Listen to new breed
Warm up.
Former Diddy and Danity Kane collaborator Dawn Richard chases a solid solo catalogue of interstellar R&B concept albums this winter with this sultry, grounded release. The new album finds the singer revisiting her Louisiana roots over a batch of state-of-the-art contemporary soul slaps produced by Richard with help from Hudson Mohawke and sought-after Cali producer Cole M.
Greif-Neill, among others. —C.J.
Local Action Records/Our Dawn Ent, January 25.
TV
7. Watch Rent: Live
You'll see.
The live production of Jonathan Larson's beloved bohemian musical will last for three hours, not the 525,600 minutes you may have heard.
Fox, January 27.
TV
8. Watch Russian Doll
Around and around.
Natasha Lyonne stars in this series she co-created with Amy Poehler and Leslye Headland as a woman who keeps trying to leave a New York party, winds up dying, then wakes up and has to try to get out of the party again. So, you know: typical Saturday for most of us.
Netflix, February 1.
Pop Music
9. Listen to Goes West
Modern Americana.
Nashville guitarist William Tyler's new LP is yet another highly thoughtful — and achingly beautiful — tribute to the American experience. True to the record's title, Tyler's songs evoke visions of starlit nights and wide-open vistas that manage to feel freeing, even if you're listening in the Bushwick one-bedroom you share with two roommates.
Merge Records, January 25.
Books
10. Read We Cast a Shadow
Hits close to home.
This propulsive debut novel from Maurice Carlos Ruffin follows an unnamed black man who desperately wants to shelter his son from racism, which runs even more rampant in a future America. When skin bleaching is not enough, he'll turn to experimental medicine to make his son "white," but of course it comes at a great cost.
One World, January 29.
Pop Music
11. Listen to What Chaos Is Imaginary
Jangly and self-deprecating.
Los Angeles duo Girlpool make lean, propulsive indie rock that rips without relying on live drums for the low end. Album No. 3 is a wistful batch of guitar licks and reflections from singer-bassist Harmony Tividad and singer-guitarist Cleo Tucker. —C.J.
Anti-, February 1.
*A version of this article appears in the January 21, 2019, issue of New York Magazine. Subscribe Now!