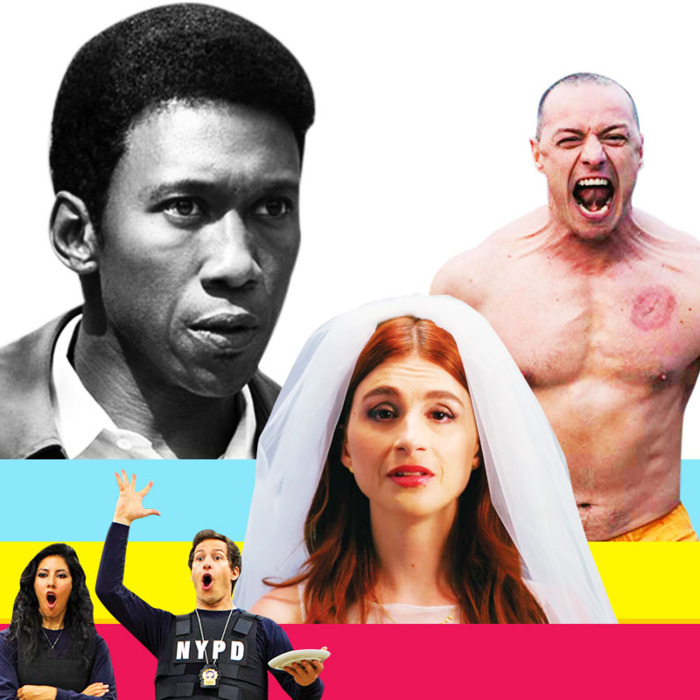 Photo: Courtesy of HBO/Courtesy of Universal Pictures/Courtesy of FX/Courtesy of CBS/Courtesy of FOX
Movies
1. See Glass
Hell of a group-therapy session.
Say what you will about M. Night Shyamalan's pretensions, he knows how to conjure a metaphysical sense of evil. In Glass, the Shyamster returns with would-be supervillain Mr. Glass (Samuel L. Jackson) and would-be superhero David Dunn (Bruce Willis). Sarah Paulson is the shrink at the asylum where they land. —David Edelstein
In theaters January 18.
TV
2. Watch True Detective
The haunting.
Nic Pizzolatto's gothic anthology series returns for a third season with an opening chapter that bears a suitably grandiose title: "The Great War and Modern Memory." Oscar winner Mahershala Ali plays a retired Arkansas police detective who recalls investigating the still-unsolved disappearance of a brother and sister 35 years earlier. —Matt Zoller Seitz
HBO, January 13.
Theater
3. See Oscar Short-List Documentaries
The best of the best.
Get busy and catch up with some of 2018's hottest docs, chosen by critic Bilge Ebiri in Vulture and on the Oscar short list. The fascinating meta-doc (also on critic Emily Yoshida's "10 Best" list) Shirkers and the amazing Orson Welles saga They'll Love Me When I'm Dead are on Netflix. The powerful skateboard/parental-abuse doc Minding the Gap is a Hulu release. The searing And Did You Wonder Who Fired the Gun? can be rented on iTunes. —D.E.
Various streaming services.
TV
4. Watch Valley of the Boom
Computer class.
Bradley Whitford, Steve Zahn, and Lamorne Morris star in a six-part series about the tech explosion in Silicon Valley in the 1990s, when some of the most recognizable brands in the modern landscape were created. —M.Z.S.
National Geographic Channel, January 13.
TV
5. Watch You're the Worst
Going to the chapel.
The final season of the FX comedy about very damaged people follows Gretchen (Aya Cash) and Jimmy (Chris Geere) as they prepare to get married, a commitment they will naturally make with no doubts and while facing zero obstacles.
FXX, January 9.
Books
6. Read The Best Bad Things
Crackling with tension.
The heroine of Katrina Carrasco's raucous novel goes by the name of Alma, except when she binds her breasts to pose as scrappy Jack Camp. The plot follows Alma/Jack's excesses — sex, violence, booze, opium, greed — in the Washington Territory in the 1880s, and the action scenes (not to mention the sex scenes) are plentiful.
MCD/FSG.
TV
7. Watch Brooklyn Nine-Nine
The fuzz is back.
The funniest police precinct on television slides from Fox to NBC, but aside from its network location, little has changed. In other words, the season-six premiere crams in tons of silliness, including a gag explained using these five glorious words: Andre Braugher in novelty T-shirts.
NBC, January 10.
Pop Music
8. Listen to Outer Peace
Warm up.
Singer-songwriter and producer Chaz Bear's sixth studio album as Toro y Moi is hot-weather party music that'll make you forget the freezing temperatures outside. Come for the hypnotic beats and stay for guest spots from the Atlanta singer Abra. —C.J.
Carpark Records, January 18.
TV
9. Watch Star Trek: Discovery
Klingon to this.
The prequel series returns after a bold but controversial first season.
Michael Burnham (Sonequa Martin-Green) and the crew of the Discovery follow up on the their climactic reception of a distress call from the Enterprise and join forces with Captain Pike (Anson Mount) to investigate seven mysterious red signals. —M.Z.S.
CBS All Access, January 17.
Pop Music
10. Listen to Phoenix
Even better than the real thing.
Indie-rock singer-guitarist David Bazan's first album as Pedro the Lion since 2004's Achilles Heel makes good on the promise of rebirth hinted at in its title with an hour of gutting, observational storytelling and toothy guitar riffs. The killer single "Yellow Bike" wasn't a pump fake; this one's playing for keeps. —C.J.
Polyvinyl, January 18.
*A version of this article appears in the January 7, 2019, issue of New York Magazine. Subscribe Now!