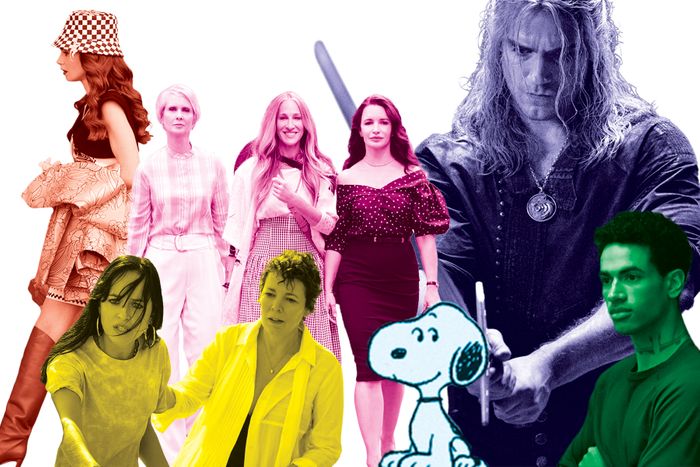 Photo: From left: Carole Bethule/Netflix (Emily in Paris); Yannis Drakoulidis/Netflix(Lost Daughter); HBO Max (And Just Like That); Apple/Peanuts Worldwide (Peanuts); Jay Maidment (The Witcher); Amazon Studios (The Expanse).
To Do: December 8–22: Our biweekly guide on what to see, hear, watch, and read.
And Just Like That …
We couldn't help but wonder …
HBO Max, December 9.
We haven't seen a single minute yet of the Samantha-less Sex and the City sequel, so we have no idea if this is a quality series or not. But, of course, we have to watch. —Jen Chaney
The Witcher
Now the Witcher-verse.
Netflix, December 17.
The breakout bonkers-goofy nonsense hit of 2019 is back. Bridgerton's Adjoa Andoh and Chris Fulton, as well as Graham McTavish and Simon Callow, join the cast. Henry Cavill's muscles return in a starring role. —Kathryn VanArendonk
The Expanse
Space wars.
Prime Video, December 10.
The science-fiction series about inequality and labor exploitation in space returns for its final season. After The Boys, Amazon Prime's superhero show about the nightmarish possibilities of corporate power, The Expanse clocks in as the second-most thematically on-the-nose TV show to be owned by Jeff Bezos. —K.V.A.
For Auld Lang Syne
A new "Peanuts" holiday special? That's what Christmas is all about, Charlie Brown.
Apple TV+, December 10.
This New Year's–focused cartoon marks the first new "Peanuts" special in more than a decade. In this one, Lucy tries to throw a great New Year's Eve party, a job I assume she will approach by being super-chill and not yelling at anyone, definitely not at Linus. —J.C.
Saturday Morning All Star Hits!
A Netflix time warp.
Netflix, December 10.
Kyle Mooney of Saturday Night Live co-created and stars in a new show that plays like a VHS tape recorded in the 1980s or '90s and filled with a Saturday morning's worth of cartoons, interstitials, and commercials. The cartoons have a more adult edge, though, as in, for example, a story about a dinosaur with a drinking problem. —J.C.
Emily in Paris
Sacré bleu, it's back.
Netflix, December 22.
Your favorite hate-watch has returned for a second season packed with even sillier outfits and plot machinations than the first. But unless you're spending the holidays in Paris, Lily Collins and her frothy French adventures are really as close as you're going to get. —Sangeeta Singh-Kurtz
Station Eleven
A lush apocalypse series.
HBO Max, December 16.
The first three episodes of Patrick Somerville and Hiro Murai's adaptation of the Emily St. John Mandel pandemic novel are being released at once — a smart move for the limited series. It is a gorgeous, tender, oblique adaptation, but it takes those first three episodes to appreciate the scope of its tone and the wide sprawl of its character network. Sit down with this one, give it some time to win you over. —K.V.A.
Movies
The Lost Daughter
An Elena Ferrante adaptation.
In theaters December 17; Netflix, December 31.
Maggie Gyllenhaal's stunner of a directorial debut exploring the forbidden topic of material ambivalence is powered by Olivia Colman and Jessie Buckley as present-day and past versions of the same character. —Alison Willmore
Miracle in Milan
It won the Palme d'Or in 1951.
Film Forum, through December 16.
After the triumphs of such classics as The Bicycle Thief, the Italian director Vittorio De Sica mixed neorealism with magical realism for this story of a man who transforms a Milan shantytown with good cheer and selflessness — leading to one of the great climaxes in all of cinema. —Bilge Ebiri
Deepfake: Unstable Evidence on Screen
A form of artificial intelligence.
Museum of the Moving Image, December 17 to May 15.
This exhibition about AI-enabled fabrications centers on Francesca Panetta and Halsey Burgund's In Event of Moon Disaster, an installation that uses deep-fake technology to present an alternate history of the Apollo 11 mission. —A.W.
Once Upon a Time in China
Highly giftable.
The Criterion Collection.
Tsui Hark's legendary martial-arts epics, which set new standards for expressive style and wire fu theatrics, have now gotten the Criterion treatment. Those of us who hunted these down in Chinatown movie theaters and dingy bootleg shops back in the day can rejoice. —B.E.
Art
'Brice Marden: These Paintings Are of Themselves'
"These paintings are of themselves."
Gagosian Gallery, 541 West 24th Street, through December 23.
Marden's majestic new paintings of looping lines forever flirt with edges of canvases, diving and spiraling, forming archipelagoes of shapes that look like scholar rocks and odd puzzles. All is cast in scumbled, rough tones of secondary color and physical surfaces, slowing painting down to the speed of revelation. —Jerry Saltz
'Joel Shapiro'
Asymmetry shines.
Paula Cooper Gallery, 524 West 26th Street, through December 23.
A magnificent return to his origins for this 80-year-old sculptor well known for his endless variations of oversize metal and wood painted stick-figures. Here, Shapiro excavates to magical effect his house and ramp shapes from the 1970s. Some are suspended in mid-air; others are Hindenburg-like shapes that defy gravity, activate the surface, and reengage with the viewer, who walks around these strange things marveling, grateful for this brave move. —J.S.
Books
Beasts of a Little Land, by Juhea Kim
Connected fates.
Ecco, December 7.
Juhea Kim's historical novel follows an expansive cast of characters, their relationships and fortunes shifting dramatically during the Korean independence movement. At the center of the action is Jade, born to a poor family of farmers, who ascends to movie stardom. —Emma Alpern
The Death of My Father the Pope, by Obed Silva
Growing up on the border.
MCD, December 7.
Obed Silva's father, a drinker, died at 48. In Silva's bracing memoir, he assesses the decades of disorder endured by his family, straddling the U.S.-Mexico border, and his twinned anger at and fascination with this imposing figure. —E.A.
Comedy
Isaac Oliver's Lonely Christmas
Holly-jolly melancholy.
Ars Nova and arsnovanyc.com, December 10.
It's with some relief that the self-deprecating memoirist, TV writer, and comedian Isaac Oliver (a.k.a. "everyone's favorite yuletide gay") can bring his holiday variety spectacular back live, and he promises to welcome several special guests to share his boxed wine. It's $125 for the in-person event or $10 for the Ars Nova Supra streaming option. —Helen Shaw
Podcasts
Feeling Seen
Intimacy in cinema.
Maximum Fun.
This new film podcast by the writer (and Vulture alum!) Jordan Crucchiola comes with a specific conceptual hook: filmmakers, artists, writers, and comedians are brought on the show to talk about the characters in movies that make them feel the most seen. In doing so, the podcast offers listeners a sense of what it's like to view a film through someone else's eyes. Upcoming guests include the writer Susan Orlean, the filmmaker Chelsea Stardust, and the comedian Hari Kondabolu. —Nicholas Quah
Haileywood
That time Bruce Willis sort of tried to buy a town.
iHeartMedia, through December 22.
Hosted by Noble Blood's Dana Schwartz, Haileywood is an eight-part series recounting the strange and unexpected tale of what happened when Bruce Willis, amid his meteoric rise as Hollywood celebrity in the '90s, sought to radically transform a small Idaho town through the awesome power of real estate. Expect a clash of cultures, values, and economic classes. —N.Q.
Pop Music
Alicia Keys, KEYS
Unlocking the Keys process.
RCA Records, December 10.
R&B vet Alicia Keys's latest set has an "Originals" and an "Unlocked" side. The "Originals" comprises sultry, self-produced songs; "Unlocked" reworks each track alongside Atlanta producer Mike WiLL Made-It. —Craig Jenkins
Rick Ross, Richer Than I Ever Been
From the "Florida Boy" creator.
Epic Records, December 10.
Lead single "Outlawz" sets the tone on Rick Ross's 11th studio album with lavish raps from Ross and Atlanta's 21 Savage and exquisite vocals from Jazmine Sullivan. Expect Richer Than I Ever Been to deliver a fresh serving of the great beats, cool collaborations, and iconic boasts we've come to expect from the Florida-based rapper. —C.J.
Theater
History/Ourstory: The Trail to Tulsa
Getting from there to here.
Ellen Stewart Theatre, December 9 to 12.
In 2019, curator–theater artist James E. Reynolds staged a town hall called History/Ourstory as part of La MaMa's observation of the 400th anniversary of 1619. Now Reynolds observes another terrible anniversary. A century after the 1921 Tulsa Race Massacre, a new History/Ourstory discusses the violent destruction of Tulsa's all-Black Greenwood section (a.k.a. "Black Wall Street") with contributions by Justin Hicks, Isabel Leight, and Henu Josephine Tarrant. —H.S.
Classical Music
The Knights
The orchestral collective-in-residence at 92Y.
92nd Street Y, December 11.
Brooklyn's hometown chamber orchestra takes up residence on the Upper East Side. The series begins with Schubert's "Unfinished" Symphony and Vaughan Williams's The Lark Ascending (with Colin Jacobsen as violin soloist), plus Jessie Montgomery's brand-new Records From a Vanishing City and Louis Moreau Gottschalk's 1868 Symphony No. 2.  —Justin Davidson
Solo Bach
Solo instrumentals.
Alice Tully Hall, December 10 and 12.
J. S. Bach's solo works feel almost uncomfortably intimate and epic at the same time, and the Chamber Music Society of Lincoln Center doles out a handful of them, for (in turn) piano, organ, violin, cello, and lute. —J.D.
Kati Agócs
A composer portrait.
Miller Theater, December 9.
Agócs's music has a liquid clarity that burbles down various stylistic tributaries, flashing past French salons, old stone churches, and reverent dawns without ever losing its way. Miller Theater returns to in-person performances with the world premiere of her chamber cantata, Voices of the Immaculate. —J.D.
Conrad Tao
On the main stage.
92nd Street Y, December 18.
The concert world, scrambling to reassemble itself after a long pandemic pause, has discovered flexibility, which means it has finally caught up with Conrad Tao. A composer as well as prodigious pianist, Tao is always looking for ways to imbue his concert life with timeliness, and if that means sprinkling his own pieces, and some by Jason Eckardt and Fred Hersch, in among the certified greats, who's to say he shouldn't? —J.D.
Timo Andres
A piano dialogue.
Merkin Hall, December 16.
Composers express affection in music, and Andres's writing life has been entwined with that of two friends and colleagues, Eric Shanfield and Sarah Goldfeather. In a solo piano recital, he performs works that the three have written as tributes to one another. —J.D.