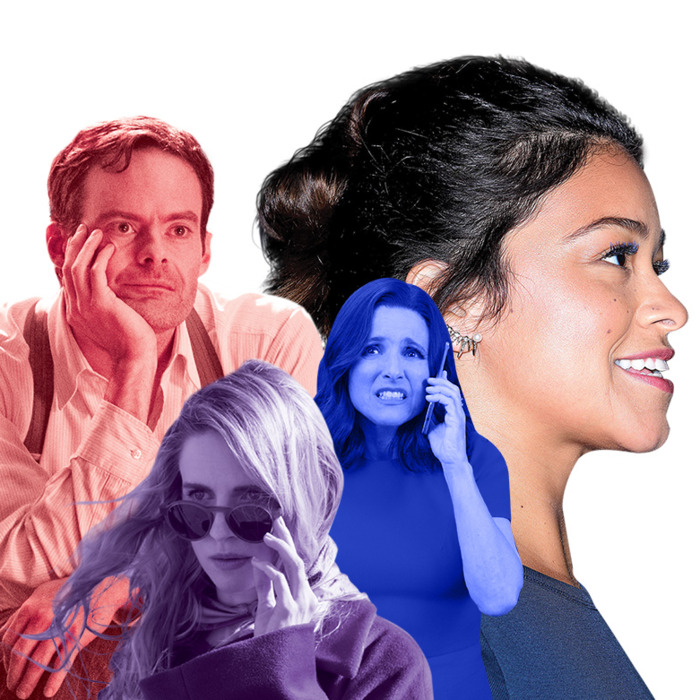 Photo: Courtesy of the networks (Marling, Hader); Patrick McMullan (Rodriguez)
TV
1. Watch The OA
A new dimension.
Remember that trippy Brit Marling series that you furiously binged in December 2016? Well, the second season is here, and yeah, you should probably refresh your season-one memories about "the movements" before watching. —Jen Chaney
Netflix, March 22.
TV
2. Watch bublé!
In concert.
There should be space in popular culture for things that aren't remotely cool and aren't trying to be — like this, the seventh NBC special by Michael Bublé, in which the singer leads a 36-piece orchestra for a musical tour of his life and career, including the performance of covers from his latest album. —Matt Zoller Seitz
NBC, March 20.
Pop Music
3. Listen to American Football (LP3)
Sad songs.
Midwest emo veterans American Football's third studio album (their second since re-forming in 2014) might share a name with its self-titled predecessors, but the new songs represent lead singer–guitarist Mike Kinsella's most concise and accessible writing to date. Guest vocalists include Rachel Goswell of Slowdive and Hayley Williams of Paramore. —Craig Jenkins
Polyvinyl, March 22.
Books
4. Read Gingerbread
A fantastical bedtime story.
Helen Oyeyemi is this generation's torchbearer for revisionist fairy tales. Here, she tackles "Hansel and Gretel" through the prism of Harriet, an immigrant to England from a fictional country; her teenage daughter, Perdita; and a dangerous gingerbread recipe. All stories should have this much to say about resilience, politics, memory, and love.  —Boris Kachka
Riverhead.
TV
5. Watch Jane the Virgin
Team Michael.
The fourth season ended on a cliffhanger with the reveal that Michael (Brett Dier), Jane's husband, who died in season three, is actually — da-naaaa! — still alive. How? And what does this mean for Jane (Gina Rodriguez) and her relationship with Rafael (Justin Baldoni)? As the fifth and final season begins, we will find out. —J.C.
The CW, March 27.
Pop Music
6. Listen to You're the Man
Lost and found.
After the Motown Records classic What's Going On, singer Marvin Gaye cut a second album of political songs. A single was released, but the album vanished. To appease his label, Gaye eased off politics and instead produced the largely instrumental soundtrack for the underrated Blaxploitation flick Trouble Man. Both film and album were forgotten by time. In time for what would have been Gaye's 80th birthday, Motown has reconstructed the scrapped album, which includes lesser-known gems like "Where Are We Going?" and "The World Is Rated X." —C.J.
Motown, March 29.
TV
7. Watch Veep
Selina 2020.
Selina Meyer (Julia Louis-Dreyfus) is back for one final season of the acclaimed and freakishly prescient political comedy, and guess what? She's running for president again! Because if it didn't work out the first time, surely it will go much more smoothly on the second attempt. —J.C.
HBO, March 31.
Books
8. Read The Other Americans
Lalami's most elaborate novel yet.
Laila Lalami turns to the contemporary U.S., spinning a kaleidoscope of first-person narratives around the mystery of a hit-and-run accident that kills a Moroccan immigrant. All the members of the Guerraoui family have their say — including the patriarch whose death sets the story in motion — along with an incidental witness, a neighbor with grudges, and a detective. —B.K.
Pantheon, March 26.
TV
9. Watch Barry
The best actor on television is back.
In season one, every time the hit man attempting to turn actor played by Bill Hader tried to get out of the murder racket, something pulled him back in.
As the second season begins, he's still trying to get out and still getting pulled back into some ugly business. —J.C.
HBO, March 31.
TV
10. Watch Action
March madness.
This doc-series explores the impact of a 2018 Supreme Court ruling that legalized sports betting on oddsmakers, gamblers, bookies, and the community around them. Unsurprisingly, it's filled with eccentrics and blowhards who could fit into a latter-day Damon Runyon story. The only thing missing is musical numbers. —M.Z.S.
Showtime, March 24.
Books
11. Read I.M.
A Renaissance man.
New York designer Isaac Mizrahi's memoir of his rise to fashion fame is as you would expect. "The book is so honest and funny and extremely touching in its clarity about the layered world of fashion, celebrity and family," says New York design editor Wendy Goodman.
Flatiron Books.
*A version of this article appears in the March 18, 2019, issue of New York Magazine. Subscribe Now!