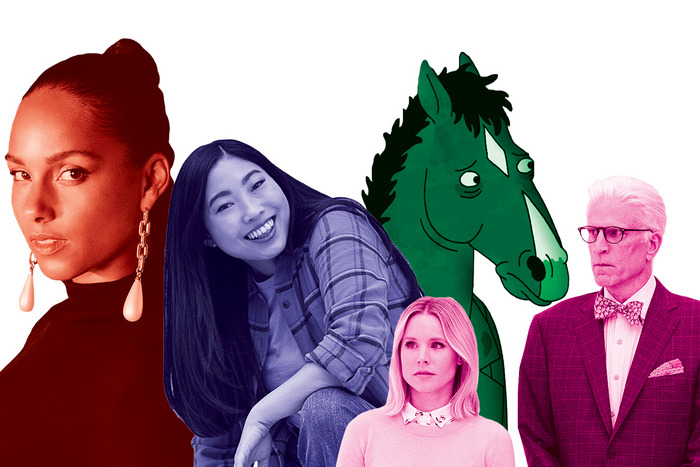 Photo: Courtesy of Alicia Keys/Danielle Levitt/Netflix/Colleen Hayes/NBC
TV
1. Watch Awkwafina Is Nora From Queens
Plus an all-star cast.
Coming off her Golden Globe win for The Farewell, Awkwafina plays a millennial living at home with some extremely well-cast relatives: BD Wong as her dad, Lori Tan Chinn as her grandmother, and SNL's Bowen Yang as her cousin. —Jen Chaney
Comedy Central, January 22.
Books
2. Read Cartier's Hope
Not an advertorial. 
M. J. Rose adds luster to a growing collection of historical thrillers with the tale of a muckraking suffragette in the mold of Nellie Bly investigating the cursed-by-greed Hope diamond, which left a trail of death behind it, and a murder closer to home.
Atria Books, January 28.
TV
3. Watch The Good Place Finale
So where does that place us in Jeremy Bearimy?
It's over? This wonderful, existential, hilarious show is forking over? Sadly, it is, but it goes out with a bang, including the last episode and a postshow hosted by Seth Meyers. —J.C.
NBC, January 30.
Pop Music
4. Listen to Have We Met
Crest of Canada's indie wave.
The 12th album from Destroyer, led by Dan Bejar, formerly of the New Pornographers, finds Bejar's singular voice and poetic lyricism in fine working order, especially on crystalline synth-pop/New Wave tracks "Crimson Tide" and "It Just Doesn't Happen." —Craig Jenkins
Merge Records, January 31.
TV
5. Watch BoJack Horseman
No more horsin' around.
This biting Hollywood satire that has followed a former '90s-sitcom star for six seasons is coming to a close. Will BoJack, voiced by Will Arnett, finally find some peace? It's unclear, but we know we will miss this Easter-egg-heavy, brilliant series. —J.C.
Netflix, January 31. 
Pop Music
6. Listen to High Road
When they go low.
Kesha's new batch reconnects with the freewheeling spirit of party anthems like "Tik Tok." She's in pure pop mode on "Raising Hell," but still gives out rock and country vibes in "Resentment," paired with Sturgill Simpson and Brian Wilson. —C.J.
RCA/Kemosabe Records, January 31.
TV
7. Watch The Grammy Awards
Ariana Grande to perform.
Awards shows proliferate on Sunday-night TV for a stretch, but the Grammys are can't-miss. Hosted (again) by Alicia Keys, with Billie Eilish, Lil Nas X, and Lizzo competing in the big categories. —J.C.
CBS, January 26.
Movies
8. See The Turning
Creepy and creeped-out kids.
Weird-music-video specialist Floria Sigismondi directs this modern-day take on Henry James's The Turn of the Screw, a ghost story rooted in sexual repression. It stars the splendid Mackenzie Davis as the governess who fights a war with unseen entities for the souls of a pair of rich kids. —David Edelstein
In theaters January 24. 
*A version of this article appears in the January 20, 2020, issue of New York Magazine. Subscribe Now!