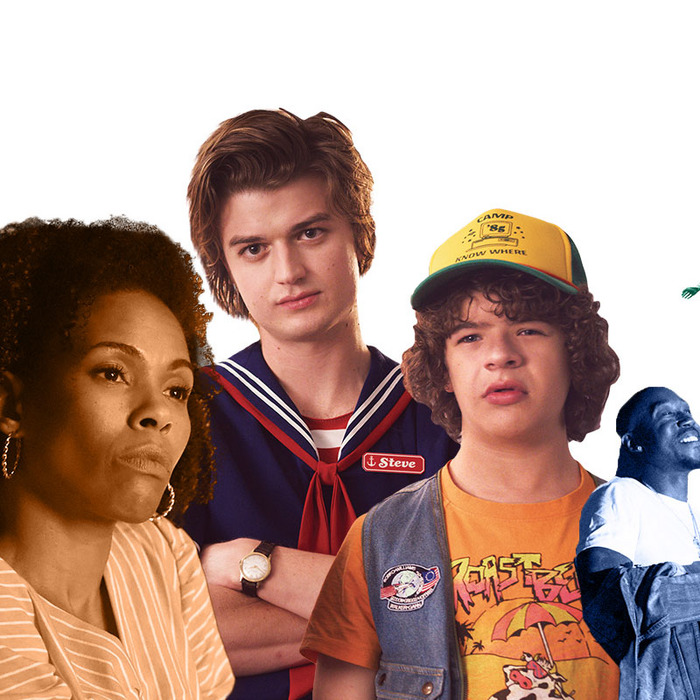 Photo: Courtesy of the networks (Marling, Hader); Patrick McMullan (Rodriguez)
Pop Music
1. Relisten to How to Solve Our Human Problems by Belle and Sebastian
At their best.
The Scottish indie-pop vets make plush, smart songs about fascinating people falling in and out of love. Their 1996 If You're Feeling Sinister is a cult classic, and they've gotten looser and stranger since. Last year's Human Problems harks back to the group's fruitful early years in form but not so much in style, incorporating aspects of funk, soul, psych, and house music. Enjoy a band at ease with a wispy folk tune, a glathe m-rock stomper, synth pop, and more. —Craig Jenkins
Brooklyn Steel, July 10; Matador.
Books
2. Read The Need
Don't tell Mama.
Plotted like a thriller but seemingly born of a ménage à trois among an Italo Calvino novel, a mommy blog, and Shirley Jackson's "domestic memoirs," Helen Phillips's surrealistic story about an intruder in a young mother's home is the new novel moms will be passing around like illicit candy, says Vulture's Hillary Kelly.
Simon & Schuster, July 9.
TV
3. Watch Divorce
Growing apart together, season three.
Sarah Jessica Parker and Thomas Haden Church continue navigating post-marriage life in the HBO comedy that not enough people talked about during its second season. (It was quite good. Fingers crossed for season three.) —Jen Chaney
HBO, June 9.
TV
4. Watch Stranger Things 3
Once more into the Upside Down.
The third season of the retro Netflix thriller catches up with the kids from Hawkins, Indiana, in the summer of 1985, a prime moment for New Coke, shopping malls, and, this being Stranger Things, more weird monsters and stuff. —J.C.
Netflix, July 4.
Pop Music
5. Listen to Bandana
Don't miss it.
Indiana rapper Freddie Gibbs and L.A. producer Madlib expressed impeccable skill and chemistry on their debut set, Piñata, in 2014. This sequel is a summit of the sharpest of rhymers and a beatmaker of long-term excellence. —C.J.
Madlib Invazion, June 28.
TV
6. Watch The First Democratic Debate
And so it begins, again.
In the first of two Democratic presidential debates (the second airs the next night, same time and networks), viewers may find out which would-be president excels at producing iconic video fragments of a few seconds in length — a skill that's not just more necessary now than ever but essential for anyone hoping to defeat the office's current occupant, a reality-show host who dabbled in professional wrestling. —Matt Zoller Seitz
NBC, MSNBC, and Telemundo, June 26 and 27.
Pop Music
7. Listen to Woodstock 50 — Back to the Garden
An exhaustive document of the 1969 festival.
Fifty years ago this summer, the best and brightest of the '60s counterculture converged on a sleepy upstate town for "three days of peace and music." This massive 38-disc definitive edition captures nearly every song played that August weekend. —C.J.
Rhino, June 28.
Books
8. Read Three Women
A thoughtful beach book.
Journalist Lisa Taddeo spent eight years immersed in the sex lives of three American women, documenting their text messages, sex positions, and basest desires. Vulture's Hillary Kelly says the result is the most in-depth look at the female sex drive and the social, emotional, reproductive, and anthropological implications to be published in decades.
Avid Reader Press, July 9.
TV
9. Watch Snowfall
New and improved.
Snowfall is an increasingly Elmore Leonard–ish show about the intersection of the CIA and street drugs in '80s SoCal, combining Breaking Bad–style exploits with borderline satirical commentary on government ineptitude. —M.Z.S.
FX, July 10.
Pop Music
10. Listen to Let's Rock
An "homage to the electric guitar."
Black Keys drummer Patrick Carney and singer and multi-instrumentalist Dan Auerbach stepped into the latter's Nashville recording space last fall with no plans or pre-written music and walked out with their first new songs together in five years. The early singles suggest the title is also the mission statement. —C.J.
Easy Eye Sound/Nonesuch, June 28.
*A version of this article appears in the June 24, 2019, issue of New York Magazine. Subscribe Now!