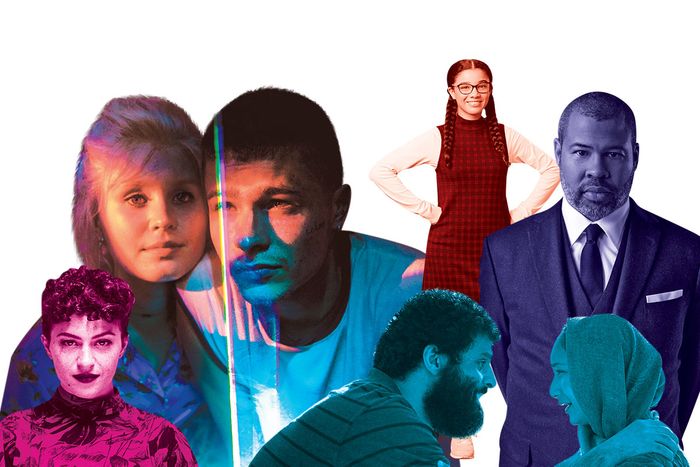 Photo: Jon Pack/Courtesy of IFC Films/Jesse Austin/Netflix/Ben King/Netflix/Robert Falconer/CBS
Art
1. See Toyin Ojih Odutola
A visual novelist.
The social withdrawal of COVID-19 and psychic outrage over police brutality smash into one another and make sparks in Toyin Ojih Odutola's new series of drawings, "Tell Me a Story, I Don't Care If It's True." Her palette and dense figurative compositions are prismatic laceworks of heaven, glimmering, shifting graphic fields of flickering color that congeal into images, narratives, and abstractions. Ojih Odutola has pushed her art to greater visual intensity and more complex compositional power. This body of work leaves her at the apex of her artistic powers and ready for even greater heights. I can imagine Rubens-size images adorning municipal halls. —Jerry Saltz
jackshainman.com.
Movies
2. See Welcome to Chechnya
Activism.
David France, director of the seminal AIDS doc How to Survive a Plague, returns with another infuriating and devastating film. In looking at the horrific, government-approved brutalization of LGBTQ people in Chechnya — where they are imprisoned, tortured, and killed — and the clandestine networks created to help persecuted people flee to safety, he delivers a movie that is both shocking and, in its own way, hopeful. It's also technologically revolutionary: To hide the identities of his subjects, France employs digital facial replacement, so we can see their emotions even as we don't see their (real) faces. —Bilge Ebiri
HBO, June 30.
Pop Music
3. Listen to KiCK i
From a Frank Ocean–approved producer.
Arca's new set is the enigmatic Venezuelan's most concise work yet. Ebullient singles like "Nonbinary" anchor dance-floor scorchers. Vocals include Sophie, Rosalía, and Björk. —Craig Jenkins
XL Recordings, June 26.
Books
4. Read This Is What I Know About Art
Penguin Workshop.
Art curator and writer Kimberly Drew calls her debut "a manifesto about loving art so much that you want to see it change for the better."
Small book, big ideas.
TV
5. Watch Search Party
A cult hit.
The series about millennials who bumble their way into murders and cover-ups is back for season three on a new outlet. And yeah, things are really starting to unravel for Dory (Alia Shawkat) and her Brooklyn friends. —Jen Chaney
HBO Max, June 25.
Opera
6. See A Midsummer Night's Dream
A fairy-tale comedy.
Benjamin Britten's Shakespearean opera is a deeply English work of whimsy and woodsy magic. Ted Huffman's staging is sparing with sets but brims with fantasy: a top-hatted aerialist, a ladder to the moon, a pair of giant puppets. OperaVision streams this co-production of Opéra Orchestre National Montpellier Occitanie and Deutsche Oper Berlin. —Justin Davidson
operavision.eu, through December 22.
Theater
7. See Lungs: In Camera
Stream a little stream.
Many of us were looking forward to Duncan Macmillan's Lungs, a play about a couple debating climate change and procreation, with The Crown's Claire Foy and Matt Smith. Now London's 202-year-old Old Vic has decided to stream live performances with the two actors playing to banks of empty seats. The number of virtual attendees will be capped at the capacity of the physical house. Hopes persist that it'll extend to meet demand. —Helen Shaw
oldvictheatre.com, June 26 to July 4.
Pop Music
8. Listen to Women in Music Pt. III
Haim's strongest album yet.
The California sisters widen their style, with producers Ariel Rechtshaid and Rostam Batmanglij, to include the country-pop "The Steps," twee indietronica "I Know Alone," and much more. —C.J.
Columbia Records, June 26.
TV
9. Watch The Twilight Zone
Jordan Peele returns as host.
2020 has been an extreme episode of The Twilight Zone, so sure, you may as well watch the actual thing. The second season of the anthology-series reboot includes episodes with Tony Hale, Billy Porter, and Tavi Gevinson. —J.C.
CBS All Access, June 25.
Art
10. See Lockdown Loft
Pride.
For the Pride March's 50th anniversary, the Leslie-Lohman Museum of Art is throwing a glittering party online that evokes the museum's origin story — co-founders Charles Leslie and Fritz Lohman first exhibited gay artists in their Soho loft in 1969 — in a series of virtual rooms (rooftop, fire escape, basement, bathroom) that host music performances, screenings, poetry readings, makeup tutorials, and a dance party.
The Leslie-Lohman Museum of Art, lockdownloft.org, June 28, 1 p.m. ET
Books
11. Read Mexican Gothic
Dark secrets.
Picture the spooky mansion, where, say, a Brontë heroine used to live, and transport it to a remote mountainside in the '50s, and you have Mexican Gothic. Silvia Moreno-Garcia's new horror novel follows Noemi Taboada, who leaves her deb life to check on her newly married cousin, Catalina, who has been sending some alarming letters home.
Del Rey, June 30.
Movies
12. See Babyteeth
Better than The Fault in Our Stars.
A terminally ill teenager strikes up a romance with a sweet drug-dealing dirtbag in Shannon Murphy's feature debut, a sharp-edged exploration of falling in love for the first (and possibly last) time. A true showcase for up-and-comer Eliza Scanlen (Sharp Objects). —Alison Willmore
VOD.
Classical Music/Festivals
13. Hear Tanglewood
An online fest.
The venerable summer festival kicks off — well, not exactly as usual, and not exactly in the Berkshires. Instead, it goes digital, with a slender lineup of live events, like a July 3 performance of the Brahms Piano Quintet by Boston Symphony Orchestra members, fleshed out by archived performances by Tanglewood regulars, like Gil Shaham and Yo-Yo Ma. A poor substitute, but a fine soundtrack to accompany a barbecue at home. —J.D.
bso.org, opens July 1.
TV
14. Watch I'll Be Gone in the Dark
Infamous.
The late Michelle McNamara's best-selling true-crime memoir, about her Golden State Killer investigation, gets docuseries treatment. —J.C.
HBO, June 28.
Art
15. See Elizabeth Ibarra
Alongside her Rilke-esque poems.
After closing his LES gallery, Joel Mesler opened a wee space in East Hampton. Lest you think he was just showing rich-people's art for rich-people's homes, he's still blazing artistic trails, like this show of paintings and drawings from the shamanic strangenesses of Elizabeth Ibarra. With a brushy touch recalling the late Susan Rothenberg and a feel for abstraction à la Victor Hugo's smudged romantic abstractions, Ibarra lets us see the shades of those standing in the shadows. —J.S.
Rental Gallery, 87 Newtown Lane, East Hampton, through June 30.
Books
16. Read Antkind
Charlie Kaufman, novelist.
Charlie Kaufman's debut novel follows a failing film critic who stumbles across perhaps the greatest film of all time — a three-month-long stop-motion masterpiece that took 90 years to make and has since been destroyed, save for a single frame. "If you loved Being John Malkovich," writes Vulture's Lila Shapiro, "I shouldn't have to tell you anything else to convince you to read it."
Random House, July 7.
Theater
17. See The Present
Presto.
Magician Helder Guimarães manages to reach through the screen from the Geffen in L.A. to perform card-based prestidigitation and sleight-of-mind techniques for a small virtual audience. Sometime after you buy your ticket, a box arrives in the mail (magic trick No. 1), though you may not open it until the show begins on Zoom. —H.S.
geffenplayhouse.org, through October 10.
Opera
18. See To My Distant Love
Take the call.
Beethoven knew a thing or two about isolation, and his cycle of yearning, An die Ferne Geliebte (To the Distant Love), feels poignantly timely. On Site Opera, which usually performs little-known stage works in non-theatrical settings, has rethought the piece as a 20-minute music drama that highlights both intimacy and separation. A singer and pianist perform (in reserved time slots) for a single listener at the other end of the phone. —J.D.
osopera.org, through July 6.
Pop Music
19. Listen to Mordechai
Beyond instrumental.
Texas instrumental trio Khruangbin makes beautifully uncategorizable music that sprinkles rock, funk, soul jazz, and dub in a pan and stir-fries them. New set Mordechai has the whole band singing on almost every song, most delightfully on the disco-funk lead single "Time (You and I)." —C.J.
Dead Oceans/Night Time Stories, June 26.
TV
20. Watch The Baby-Sitters Club
Based on Ann M. Martin's beloved series.
If you grew up on The Baby-Sitters Club books, you will likely enjoy this. If you are a parent and enjoy foisting your nostalgia on younger generations, watch with your kids. —J.C.
Netflix, July 3.
Movies
21. See Almost Famous
A semi-autobiographical film.
Cameron Crowe's 2000 dramedy follows fledgling journalist William Miller (Patrick Fugit) as he gets "kidnapped by rock stars." It's a nostalgic, perfectly scored look at 1973, when a 15-year-old could land a Rolling Stone cover and a famous person could get stoned and jump off a roof without leaving video evidence. Watch live with Vulture's Rachel Handler on June 26 at 7 p.m. ET on Twitter.
Hulu, VOD; Vulture's Friday Night Movie Club, June 26.
Classical Music
22. See Mostly Mozart Festival Orchestra
Remembrance.
Lincoln Center's ongoing series on the lives lost to COVID, "Memorial for Us All," expands to symphonic scale with a prerecorded performance of Arvo Pärt's Cantus in Memoriam Benjamin Britten and Mozart's Masonic Funeral Music, played by orchestra members safely at home. —J.D.
lincolncenter.org, June 28.
TV
23. Watch Stateless
A detention center in the outback.
Cate Blanchett co-created and co-stars in this immigration drama that aired earlier this year on Aussie TV. Cast includes Dominic West and Yvonne Strahovski (The Handmaid's Tale). —J.C.
Netflix, July 8.
Movies
24. See The Ghost of Peter Sellers
Oh boy.
In the early '70s, director Peter Medak was approached by his friend Peter Sellers to make pirate comedy Ghost in the Noonday Sun. What ensued was one of the most catastrophic shoots ever, as the unpredictable Sellers nearly brought down the production and alienated cast and crew alike. Constantly rewritten and nearly aborted many times, the film was never properly released. Now, Medak returns to the scene of the crime with this hilarious and heartbreaking doc about his experiences with the film. —B.E.
VOD, via virtual cinemas nationwide.
Books
25. Read Cool for America
Artsy.
Andrew Martin's 2018 debut Early Work scratches the same itch as Sally Rooney novels, with cerebral characters and tender discoveries and enough acid to keep the thing balanced. His follow-up is a collection of short stories that explores the search for transcendence through art.
Farrar, Straus and Giroux, July 7.
*This article appears in the June 22, 2020, issue of New York Magazine. Subscribe Now!