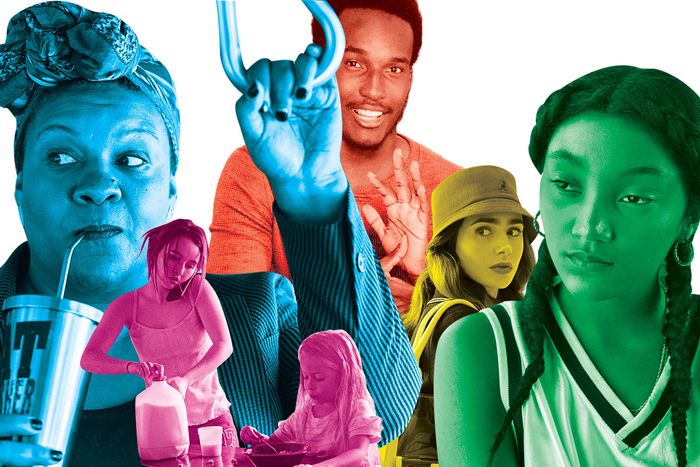 Photo: JEONG PARK/NETFLIX/Barbara Nitke/Hulu/Courtesy of Netflix/STEPHANIE BRANCHU/NETFLIX/Yannis Drakoulidis/HBO
TV
1. Watch Saturday Night Live
The 46th season.
The pioneering sketch-comedy show will return to Studio 8H, feature Jim Carrey as Joe Biden, and try to figure out how to safely do a live broadcast in the middle of a pandemic. —Jen Chaney
NBC, October 3.
Pop Music
2. Listen to The Rarities
Mimi's vault.
Mariah Carey, the inimitable R&B and pop diva, shares B-sides and outtakes including a song with Lauryn Hill and a wealth of great tracks that never made her studio albums. —Craig Jenkins
Columbia Records, October 2.
Books
3. Read Leave the World Behind
On the National Book Awards longlist.
A white family is surprised when the Black owners of their Long Island rental show up unexpectedly with news of a blackout in the city. Already slated for a Netflix adaptation starring Julia Roberts and Denzel Washington, Rumaan Alam's latest novel is an unsettling, prescient breakdown of race and class at the onset of the apocalypse.
HarperCollins, October 6.
Movies
4. See Time
Harrowing home movies.
Garrett Bradley's haunting doc follows the eloquent Fox Rich as she spends decades fighting for husband Rob's release from a 60-year sentence while raising six kids. With reams of video footage shot by Rich included, Bradley has an impressionistic approach; she focuses on faces, gestures, and glances and loves to luxuriate in passages of everyday intimacy. —Bilge Ebiri
In select theaters, October 9; Prime Video, October 23.
Classical Music
5. Hear Brentano String Quartet
A spellbinding livestream.
The concert season comes alive when one of the most electrifying quartets perform Haydn and Mendelssohn from the 92nd Street Y for an audience of cameras and mics. —Justin Davidson
92y.org, October 13.
TV
6. Watch The Good Lord Bird
Based on James McBride's masterpiece.
In this once-postponed limited series, Ethan Hawke executive-produces and stars as John Brown, who tried to organize a slave revolt and, in the process, kick-started the Civil War. —J.C.
Showtime, October 4.
Art
7. See Stefanie Heinze
Another excellent show at Petzel.
The works of Berlin-based Stefanie Heinze look like conglomerations of illuminated Persian manuscripts, pulled-apart Surrealistic bodies, mid-century Abstract Expressionist paintings (with the boxes and pedestals of Francis Bacon), and the full-on graphic candy-colored configurations of Pop. They're wildly seductive. —Jerry Saltz
Petzel Gallery, 35 East 67th Street, through November 7.
Fashion
8. Watch Savage X Fenty Show Vol. 2
Victoria's Secret who?
Round two of Rihanna's groundbreaking, jaw-dropping, unapologetically sexy Savage X Fenty lingerie show is poised to be even more of a blockbuster event than last time, writes the Cut's Emilia Petrarca. Lizzo, Demi Moore, Paris Hilton, and many others will take the stage for the first time, alongside vets like Bella Hadid, Cara Delevingne, and Normani and musical performances from Travis Scott, Bad Bunny, and Rosalía.
Prime Video, October 2.
Movies
9. See Dick Johnson Is Dead
You'll laugh. You'll cry. You'll want to hug him.
When her father's progressive dementia leaves him incapable of living alone, documentarian Kirsten Johnson moves the 86-year-old into her New York apartment and starts filming. The result is an absurd and achingly poignant act of preemptive mourning in which Johnson and her dad envision all the different ways he could die while trying to make the most of their time together. —Alison Willmore
Netflix, October 2.
TV
10. Watch The Haunting of Bly Manor
A ghost story.
A follow-up anthology to 2018's horror hit The Haunting of Hill House, this season centers on the tale of another potentially haunted house inspired by Henry James's The Turn of the Screw. —J.C.
Netflix, October 9.
Pop Music
11. Listen to CMFT
Corey MF Taylor.
After years of fronting Slipknot and Stone Sour, Corey Taylor is releasing a solo album that bridges his vast tastes and influences, dabbling in punk rock, metal, reflective acoustic tunes, plaintive piano ballads, and hip-hop, with Taylor's powerhouse vocals and introspective lyrics acting as a guide. —C.J.
Roadrunner Records, October 2.
Classical Music
12. Listen to Falling Out of Time
Musical poetry.
Two decades after La Pasión Según San Marcos, composer Osvaldo Golijov is still dissecting the tragedy of a parent's grief on the death of a child, this time in a seductively intense song cycle based on a book by David Grossman. The work was supposed to have its Carnegie Hall premiere in October. Instead, it arrives as a superb recording performed by the Silkroad Ensemble. —J.D.
In a Circle Records, October 9.
Books
13. Read Earthlings
A follow-up to Convenience Store Woman.
Natsuki, an 11-year-old girl whose best friend is a stuffed hedgehog, has little to look forward to outside yearly mountain visits to her cousin, who believes himself to be an alien awaiting rescue from Earth. Sayaka Murata's new novel explores the pressures of Japanese society that Natsuki and her cousin later attempt to escape.
Grove Press, October 6.
TV
14. Watch Monsterland
Spooky season.
This anthology series, which features Kaitlyn Dever, Nicole Beharie, Taylor Schilling, and Kelly Marie Tran, among others, shows up right on time. —J.C.
Hulu, October 2.
Dance
15. See Locked down. Locked in. But living.
Dance in your living room.
You might not have planned on popping by the Lawrence Batley Theatre in Huddersfield in pre-shutdown times, but virtual ticketing has now made all theaters local. Performed live in the British venue and filmed for online audiences, the event consists of three new contemporary dances and ballets by Studio Wayne McGregor (a meditation on the claustrophobia of shutdown by choreographer Jordan James Bridge), Northern Ballet (an expression on loneliness and hope by Daniel de Andrade), and Gary Clarke Company (an Alice in Wonderland–inspired work from Gary Clarke himself). —Helen Shaw
thelbt.org, through October 18.
Classical Music
16. Hear Women of the Baroque
Via Chicago.
This year's Collaborative Works Festival in Chicago focuses on a whole category of compositional talent that for centuries institutions didn't nurture and history barely bothered to note: women. In the first of three concerts in October, soprano Amanda Majeski, tenor Nicholas Phan, and bass Anthony Reed sing songs by Baroque composers like Francesca Caccini and Barbara Strozzi. —J.D.
caichicago.org, October 9 through October 11.
TV
17. Watch Deaf U
School is in session.
A new Netflix docuseries following several college students who attend the predominantly deaf school Gallaudet University. It's two magnetic shows wrapped up into one: a thoughtful deep dive into deaf culture and a messy, gossipy drama about college life. —Kathryn VanArendonk
Netflix, October 9.
Books
18. Read God-Level Knowledge Darts
Life lessons from Desus & Mero.
Desus Nice and the Kid Mero, podcasters turned hit late-night-show hosts, call their debut novel "a fat sack of truth nuggets" containing "hard-won wisdom," some of which is good and some of which "absolutely fuckin' sucks." —Sangeeta Singh-Kurtz
Random House.
Pop Music
19. Listen to My Life 4Hunnid
From one of L.A.'s great rap stars.
Compton musician, entrepreneur, and sometime actor YG makes vital West Coast hip-hop with a dark edge. He's capable of upbeat party tracks like "Who Do You Love?," caustic protest songs like "FDT" and "FTP," and intricate crime stories like "Bicken Back Being Bool," all of it filtered through YG's coarse tone and blunt lyricism. —C.J.
Def Jam Recordings, October 2.
Classical Music
20. Hear Tetzlaff Quartet
Recorded in a Berlin studio.
The all-star, all-German ensemble, named after siblings Christian and Tanja, reforms now and then in the interstices of its members' separate solo careers. Recently, the string quartet convened in Berlin to perform the program of late Beethoven quartets it had planned to take on the road this fall, and the stream is presented (and made available for three months) by the Berkeley-based series Cal Performances. —J.D.
calperformances.org, October 8 through January 6.
TV
21. Watch We Are Who We Are
Puberty meets high art.
Luca Guadagnino's TV debut in a series about American teens coming of age on an Italian military base is a study in adolescent chaos. Everyone in it, even the adults (Chloë Sevigny, Kid Cudi), are bent on pressure-testing their worlds with an impulsiveness that is singularly juvenile, making for a show that embodies the feelings of youth unlike any other. —S.S.K.
HBO.
Books
22. Read Bestiary
Three generations of women.
K-Ming Chang's imaginative debut of mythological proportion traces one Taiwanese American family's ongoing ties to their homeland, personal secrets, and queer desire.
One World.
Movies
23. See The Forty-Year-Old Version
Midlife crisis.
Radha Blank's directorial debut, which she also wrote, produced, and stars in, has a title that evokes Judd Apatow and the feel of a raw '90s indie discovery. It's about a struggling playwright who takes up rapping on the cusp of 40, but the movie's a lot more than a fish-out-of-water comedy — it's an exploration of being a Black creator in a largely white theater world. —A.W.
Netflix, October 9.
TV
24. Watch Emily in Paris
Live vicariously.
If the Paris-based Sex and the City episodes procreated with Younger, then had a baby, it would be Emily in Paris, the new Darren Star series that features Lily Collins as Emily, a marketer who moves from Chicago to … oui, Paris! —J.C.
Netflix, October 2.
Classical Music
25. Go to Carnegie Hall Opening Night Gala
The 130th anniversary season.
'Tis the season of galas, premieres, and opening nights in the classical-music world — or 'twould be any other year. Carnegie Hall is trying to offset a year of disastrous silence in the auditorium with an evening of online festivities and livestream star turns. The gala starts at 7:30 p.m. ET. Time for a black-tie-and-Champagne night in. —J.D.
carnegiehall.org, October 7.
*This article appears in the September 28, 2020, issue of New York Magazine. Subscribe Now!