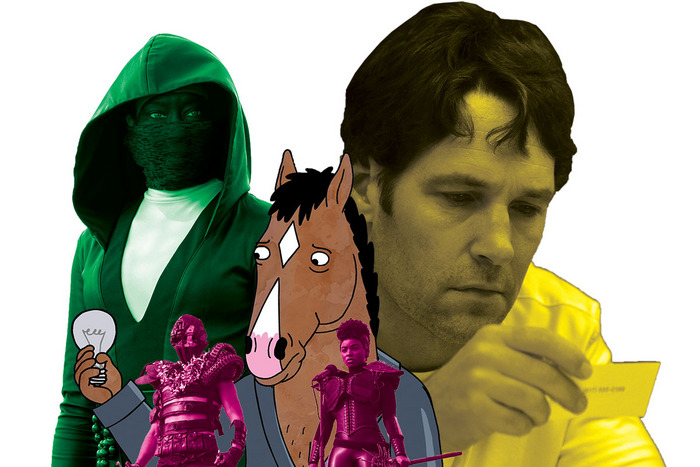 Photo: Eric Liebowitz/Netflix/Ursula Coyote/Netflix/Mark Hill/HBO
TV
1. Watch Living With Yourself
Two Paul Rudds are better than one.
This new Netflix series stars the former Ant-Man as Miles Elliot, a guy who goes to an exclusive spa for a self-improvement treatment and winds up getting cloned. I can relate. Happened to me the last time I got an exfoliating facial. —Jen Chaney
Netflix, October 18.
Podcasts
2. Listen to Dolly Parton's America
Into the Dollyverse.
Radiolab's Jad Abumrad cooks up this nine-part series on Dolly Parton's life and appeal culled from interviews with Parton, Jane Fonda, and Gloria Steinem, among others. The first episode begins with a question: "How did the queen of the boob joke become a feminist icon?" Podcast guest Helen Morales, author of Pilgrimage to Dollywood, points to Parton's lyrics. Cue "Jolene."
WNYC Studios.
Movies
3. See The Lighthouse
Bleak and gorgeous.
Two isolated 1890s lighthouse keepers go noisily nuts astride crashing waves and mocking seagulls in Robert Eggers's brain-rattling drama pitched right at the edge of black comedy. You don't exactly "see" an Eggers movie (his debut was The Witch); you submit to it, in this case to a mixture of sensory deprivation (grainy black cinematography, boxy frame) and sensory overload (expressionist montages). The stupendous Willem Dafoe's rants would make Ahab jealous, and Robert Pattinson keeps up. Will you? —David Edelstein
In theaters October 18.
Books/TV
4. & 5. Reread and then Watch Watchmen
The Lindelof treatment.
The alternate U.S. history and superpowered vigilantes of Alan Moore and Dave Gibbons's '80s comics get reimagined for cable by Damon Lindelof (The Leftovers). The Hugo-winning graphic novel will prepare you for the Easter eggs. —J.C.
DC Comics; HBO, October 20.
TV
6. Watch Daybreak
The apocalypse moves pretty fast. If you don't stop and look around once in a while, you could miss it.
This Netflix series about teens attempting to survive in the wake of nuclear disaster has the fingerprints of Ferris Bueller's Day Off all over it. Lead actor Colin Ford talks directly to the camera. An early sequence features numerous homages to the John Hughes movie. And guess who plays the principal of the high school in this show? Ferris himself: Matthew Broderick. —J.C.
Netflix, October 24.
Pop Music
7. Listen to Pony
From Rex Orange County, a.k.a. Alexander O'Connor.
British musician-producer Rex Orange County is something of a one-man band. Most of the sounds on his emotional, genre-hopping sets come from him. Now, he follows 2017's promising Apricot Princess with Pony, a trip back to the lush sonics and honest, personal songwriting he's building a name on. —Craig Jenkins
Sony Music, October 25.
TV
9. Watch Modern Love
The New York Times column becomes a TV show.
This anthology series tells stories about love in all its forms, featuring some impressive actors: Anne Hathaway, Tina Fey, Dev Patel, John Slattery, Catherine Keener, Julia Garner, and even the hot priest from Fleabag, Andrew Scott. —J.C.
Amazon, October 18.
Books
9. Read Grand Union
Short fiction from a short-lister.
Zadie Smith has always been adept at bending the various styles of lit to her own ends; this compendium of shorter work — both already published and new — should give readers an even better sense of her range and flexibility. —Boris Kachka
Penguin Press.
TV
10. Watch BoJack Horseman
Say good-bye to Hollywoo.
The final season of one of the best shows of the past decade rejoins the characters where they left off in season five, which, in BoJack's case, is rehab. The season's second half streams in January. —J.C.
Netflix, October 25.
*A version of this article appears in the September 30, 2019, issue of New York Magazine. Subscribe Now!