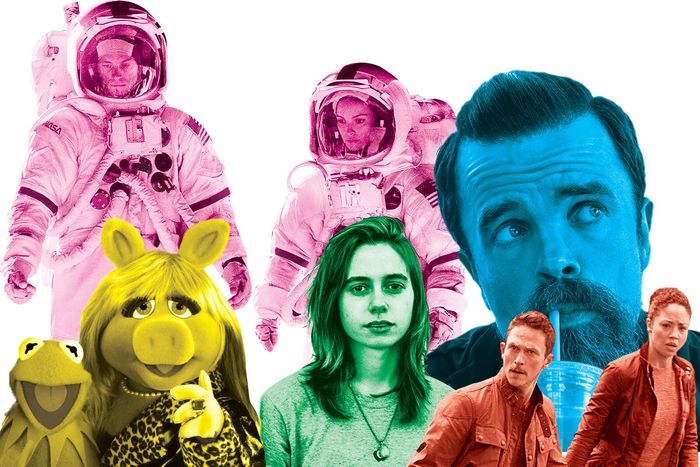 Photo: Disney+ (Muppets); Apple TV+ (For All Mankind); Matador Records (Julien Baker); Seacia Pavao/Netflix (I Care A Lot); Sergei Bachlakov/NBC (Debris)
TV
The Muppet Show
It's time to get things started on …
Offering solid evidence that dreams can come true, Disney+ is bringing all five seasons of The Muppet Show to its platform so we can enjoy "Pigs in Space" again as the universe intended. —Jen Chaney
Disney+, February 19.
For All Mankind
Lost in space.
Why not escape this winter by escaping the Earth entirely? This is the season-two premiere of the alternate-history space-race show, and what's not to love about a vision of the '80s where America has a moon colony? —Kathryn VanArendonk
Apple TV+, February 19.
Punky Brewster
I see Soleil Moon re-rising..
The plucky foster kid from the 1980s sitcom, played by Soleil Moon Frye, returns as a single mom, also played by Soleil Moon Frye, who meets a young foster kid who reminds her of herself. Why? Because the '80s never dies, obviously. —J.C.
Peacock, February 25
It's a Sin
Revisiting a different devastating virus.
This British series, which debuted on U.K. television in January to positive reviews, traces the evolution of the AIDS crisis by focusing on a group of young friends making their way through the 1980s, with all the hardship the era brings. —J.C.
HBO Max, February 18.
Golden Globe Awards
So we're definitely still doing this?
Originally, February 28 was supposed to be the date of the Academy Awards. But the pandemic pushed back everything. The Oscars will now be held April 25 and the Globes, usually an early January thing, will honor the best in movies and TV (minus the things voters egregiously snubbed, like I May Destroy You and Da Five Bloods) in an end-of-February ceremony hosted from opposite coasts by Tina Fey and Amy Poehler. As of this writing, a partially in-person ceremony is still on the table. Somehow. —J.C.
NBC, February 28.
Debris
Aliens among us?
This new NBC series, about an MI6 agent (Riann Steele) and a CIA agent (Jonathan Tucker) who are investigating the remnants of a destroyed spaceship, is scripted sci-fi. But given the news about UFOs recently, couldn't it also be a … docuseries? Cue The X-Files theme music. —J.C.
NBC, March 1.
Ginny & Georgia
Nearly a spinoff.
Netflix knows you've rewatched Gilmore Girls 20 times already, so it made you a Gilmore-y knockoff series with some added crime elements for good measure. —K.V.A.
Netflix, February 24.
Movies
I Care a Lot
Rosamund Pike scammer film.
Rosamund Pike is back with her Gone Girl haircut and penchant for grifting, but now she's Marla Grayson, a con artist masquerading as a conservator who sticks perfectly healthy senior citizens into a rest home and drains their assets. It's a good gig until she's caught by a cunning underground businessman played to great effect by Peter Dinklage. —Sangeeta Singh-Kurtz
Netflix, February 19.
A Glitch in the Matrix
Déjà vu.
Rodney Ascher's doc about people who believe we are all living in a computer simulation is riveting and filled with mind-melting ideas. The director approaches his subjects' assertions with sincerity and curiosity: He's not here to mock or undermine their ideas but to weave a freewheeling, allusive, and thoroughly entertaining portrait of how some intelligent, very interesting humans deal with the awesome mystery of life. —Bilge Ebiri
In select theaters and VOD.
Two of Us
A melancholy romance.
France's Oscar submission for Best International Feature Film follows Nina and Madeleine, two aging women who have secretly been lovers for years, and the emotional chaos that ensues when Madeleine suffers a stroke and requires constant care. The problem is her family doesn't really know about her relationship with Nina. In director Filippo Meneghetti's hands, the film's as much a thriller as a melodrama, and Barbara Sukowa's performance as Nina is a spellbinding demonstration of the actress's range. —B.E.
In select theaters and VOD.
The Dig
Based on a novel by John Preston.
In this deeply moving and occasionally quite strange period picture, Ralph Fiennes plays an amateur archaeologist who's been hired to dig up a series of mysterious mounds on widow Carey Mulligan's stately property. The site unearthed, Sutton Hoo, turned out to be one of Britain's most significant archaeological finds. In Simon Stone's film, as these characters learn more about the past and the people who came before them, the small gestures of their own lives begin to feel both inconsequential and seismic. —B.E.
Netflix.
Minari
Just give Steven Yeun the Oscar.
The Burning actor is resplendent in this sweeping drama about a Korean immigrant family that tries to make a living farming in rural Arkansas. Based loosely on director Lee Isaac Chung's own childhood. —S.S.K.
VOD, February 26.
➽ See the Full Calendar of Digital Movie Rentals
➽ See the Full Calendar of Movie-Theater Releases
Art
Patrick Angus
Intimate portraits.
In the 1980s, Patrick Angus was the Toulouse-Lautrec of queer life in New York City. His art gives us the clubs, sex bars, streets, bedrooms, and styling of those in love, asserting their rights — all as this world was ravaged by AIDS and disappearing even as he painted it. Here are paintings and drawings of men in public and private moments. —Jerry Saltz
Bortolami Gallery, 39 Walker Street, through February 27.
Greg Drasler: Crowded Places/Open Spaces
Hat tip.
Painter Greg Drasler has created an uncanny, almost surreal world of mostly men, many of whom are pictured in crowds, as if the group mind were also one body. His colors and imagery are simultaneously nostalgic, bland, and oddly stilted in ways that take your breath away. Drasler's work leaves you suspended in irresolution — a wonderfully risky place for an artist to master. —J.S.
Betty Cuningham Gallery, 15 Rivington Street, through March 6.
Lucas Michael: Transcriptions
Cerebral.
Inspired by the Rorschach inkblot, Argentinian-born artist Lucas Michael's new abstract paintings ask the viewer to spend some time in the swirling lines and consider what you see. The works, made with India ink on raw, unstretched canvas in a technique "akin to automatic writing," are an extension of an earlier project where the artist "obscured the pages of pseudo-scientific racist and homophobic books with abstract inkblots."
Fierman, 127 Henry Street, through March 14.
Books
Later, by Stephen King
Ghost buster.
Stephen King's latest is the story of Jamie Conklin, a boy almost parenthetically endowed with the ability to speak to ghosts, told by his wised-up 22-year-old self. Older Jamie insists that this
"I see dead people" shtick, first made clear to him at age 4 at the scene of a bike accident in Central Park, while gruesome, is the least of the horrors he's experienced. The real deal — well, as he says, you'll learn it later. Until his own bumpy ride comes to a, er, screeching halt, expect many a macabre and brutally adult secret to be revealed in the affairs personal, literary (we meet the late genre novelist "Regis Thomas"), criminal (it is noir, after all), and supernatural endured by this smart-mouthed and smart young medium. —Carl Rosen
Hard Case Crime, March 2.
Pop Music
Julien Baker, Little Oblivions
Beyond boygenius.
Julien Baker, the Tennessee singer-songwriter and erstwhile member of the indie-rock supergroup boygenius, follows up 2017's Turn Out the Lights with Little Oblivions, mixing lush folk sounds and catchy electric-guitar riffs underneath her wispy vocals and reflective lyrics and evolving from the chilling quietude of the past two albums into a full-band sound that's more upbeat though no less intense. boygenius's Phoebe Bridgers and Lucy Dacus guest on the track "Favor." —Craig Jenkins
Matador, February 26.
The Hold Steady, Open Door Policy
Brooklyn indie-rock vets.
On their eighth studio album, the Hold Steady expand their horizons, working again with producer Josh Kaufman, who helped, on 2019's Thrashing Thru the Passion (and also Taylor Swift's folklore), to dress the band's driving pub rock in fresher sonic textures. Open Door Policy gives the Hold Steady new heft and variety without undercutting the sharpness of the hooks or singer-guitarist Craig Finn's heart-wrenching novelistic lyricism. —C.J.
Positive Jams/Thirty Tigers, February 19.
Madison Beer, Life Support
A New York singer-songwriter-socialite's debut.
Madison Beer was first discovered in 2012, when Justin Bieber shared a video of a 13-year-old Beer belting out the Etta James standard "At Last." Nearly a decade later, Beer finally readies her debut album, a collection of brisk pop tunes that adorn her smoky vocals, which have earned her comparisons to Ariana Grande, with sweeping, cinematic production. —C.J.
Epic, February 26.
Theater
25 Years of RENT: Measured in Love
No day but today.
At its online benefit on March 2, New York Theater Workshop celebrates Jonathan Larson's scrappy little musical that changed the theatrical landscape. There will be video salutes from artists like Jeremy O. Harris, Anaïs Mitchell, and Ivo van Hove, but the draw for viewers will undoubtedly be Larson's masterpiece: Original stars including Idina Menzel and Daphne Rubin-Vega — as well as other Broadway super-luminaries such as Christopher Jackson, Billy Porter, Ben Platt, and Ali Stroker — will be on hand to sing 525,600 (or so) tributes, measuring the industry's long-standing love for the rock-boho musical. —Helen Shaw
nytw.org, March 2, available through March 6.
Classical Music
Bang on a Can Marathon
Four hours long.
What better way to take a break from weekday Zoom marathons than with a Sunday marathon of brand-new music? Yes, it means spending more time in front of the screen, but you'd be doing that anyway, and this gets you live premieres of music by Alvin Lucier, Bora Yoon, Gabriel Kahane, Eve Beglarian, and many more. —Justin Davidson
live.bangonacan.org, February 21 at 1 p.m. EST.
New York Philharmonic
Introducing NYPhil+.
The venerable orchestra makes its first large-scale foray back to the concert hall, albeit with masks and no audience. Even so, the sheer normality of the program is refreshing: a curtain-raiser by Jessie Montgomery, a Mozart piano concerto (played by Emanuel Ax), and Elgar's Introduction and Allegro, all conducted by David Robertson. —J.D.
nyphil.org/plus, through May 8.
Joshua Bell and Alessio Bax
Heavy on the strings.
Vanguard Concerts is a new series that tries to combine the visual polish of a high-tech medium with the excitement of live performance, complete with sweaty brows, passionate grimaces, and the scrape of bow on string. (Since the Violin Channel is a co-sponsor, it's weighted toward the stringy side of the business.) Bell and Bax get things going with music by Bach, Schubert, Wieniawski, and Chopin. —J.D.
youtube.com/c/theviolinchannel, February 18.
Golden Renaissance: Josquin Desprez
Vibrant vocals.
The Morgan hosts the Boston Early Music Festival for a performance by British vocal ensemble Stile Antico. There will be liquid harmonies, succulent counterpoint, and churchy reverberation, all at the service of great expressive clarity. —J.D.
youtube.com/user/morganlibrary, February 26.
Daedalus Quartet and Sarah Rothenberg
Honoring Polish Russian composer Weinberg.
DACAMERA, the long-standing Houston-based series that the streaming surge has happily made available to non-Texans, presents Mieczysław Weinberg's great blood-and-sinew Piano Quintet from 1944. —J.D.
dacamera.com, February 26.
The Orchestra Now
More strings.
James Bagwell conducts Bard's in-house ensemble in a live concert of string music: the world premiere of a new work by Sarah Hennies, Johnny Greenwood's Popcorn Superhet Receiver (a.k.a. the There Will Be Blood soundtrack), plus music by Grieg and Vaughan Williams. —J.D.
theorchestranow.org/event/new-classic, February 21.
*This article appears in the February 15, 2021, issue of New York Magazine. Subscribe Now!