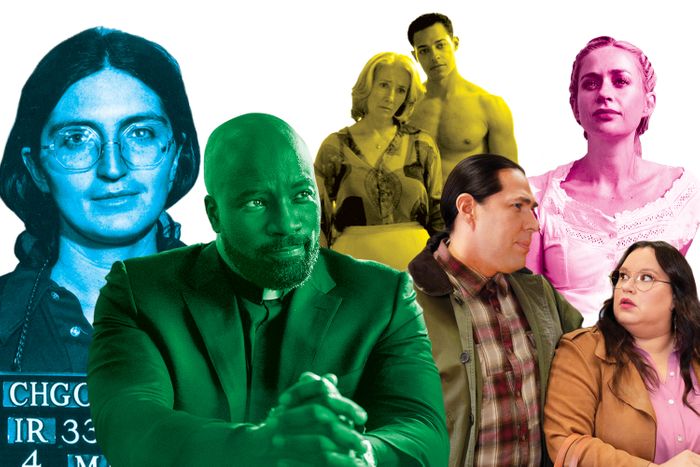 Photo: Courtesy of HBO (Janes), Elizabeth Fisher/Paramount+ (Evil), Courtesy of Searchlight Pictures (Leo), Willy Somma (Snider), Greg Gayne/Peacock (Rutherford)
To Do: June 22–July 6: Our biweekly guide on what to see, hear, watch, and read.
Only Murders in the Building
The podcast must go on.
Hulu, June 28.
If you think being associated with another murder in their building is going to keep Mabel (Selena Gomez), Charles (Steve Martin), and Oliver (Martin Short) from hosting another true-crime podcast, well, you'd probably be wrong. —Jen Chaney
The Umbrella Academy
School's back for summer.
Netflix, June 22.
Returning after season two's time-traveling high jinks, the third season sees the original Hargreeves superhero siblings face off against their father's new family, the Sparrows, probably with another banging soundtrack. Plus Elliot Page will debut as Viktor Hargreeves. —Roxana Hadadi
Loot
Cha-ching.
Apple TV+, June 24.
Alan Yang and Matt Hubbard, co-creators of the 2018 dramedy Forever, reunite with the star of that series, Maya Rudolph, for this portrait of a billionaire wife who splits from her husband and decides to devote herself to charity work. No, this isn't about Jeff Bezos and MacKenzie Scott (formerly Bezos), lol, why do you ask? —J.C.
The Old Man
Bridges-erton? Can that be a thing?
FX.
Jeff Bridges stars in this drama, based on the novel by Thomas Perry, as a former CIA agent in hiding who's forced to go on the run again. It's a juicy and sometimes physical role for Bridges, who rises to the occasion, especially considering that some of the episodes were shot after he recovered from cancer and a severe case of COVID-19. —J.C.
Westworld
Love, death, and robots.
HBO, June 26.
Westworld has been unintelligible for two seasons now, but hey, this season sure does look pretty. Would any other TV series spend so much money on a robot that can spew insects out of its mouth as an attack mechanism? Doubtful. Fully expect to shake your head in confusion many times an episode, but at least four seasons in, Westworld somehow still has Tessa Thompson onboard. —R.H.
This Is Going to Hurt
In case you missed it.
AMC+.
This Is Going to Hurt, which originally aired on the BBC, is both excellent and distinctive, with a remarkable performance from Ben Whishaw as an OB/GYN trying to keep his head above water amid dismal conditions in the British NHS. Bleak, funny, perfect. —Kathryn VanArendonk
Movies
Spiderhead
An intimate thriller.
Netflix.
Director Joseph Kosinski (Top Gun: Maverick) has a riveting new movie, starring Chris Hemsworth as the head of a futuristic island prison, where inmates are given experimental drugs that control their emotions, and Miles Teller as a prisoner whose past trauma prevents him from fully participating. —Bilge Ebiri
BAMcinemaFest
An indie smorgasbord.
BAM, June 23 to 30.
The annual Brooklyn indie-film showcase opens this year with Aftershock, a documentary about how the maternal-health-care system fails Black parents, and includes 2nd Chance, Ramin Bahrani's debut doc about the inventor of the modern bulletproof vest, and Brooklyn 20-something rom-com Ferny and Luca. —Alison Willmore
Beware of Dario Argento
A horror auteur.
Walter Reade Theater, through June 29.
The giallo master gets a 20-film retrospective, kicking off with his 1970 debut, The Bird With the Crystal Plumage, and running through classics Deep Red, Suspiria, and Opera. Plus Argento will introduce the North American premiere of his latest, Dark Glasses, which stars Ilenia Pastorelli as a sex worker who teams up with a Chinese Italian youngster to pursue a serial killer in Rome. —A.W.
Official Competition
A Spanish-language comedy.
In theaters.
Antonio Banderas and Penélope Cruz go big in this biting send-up of the art-film landscape with José Luis Gómez playing a billionaire who decides to cement his legacy by funding a prestige project that immediately goes wrong. —A.W.
Flux Gourmet
A surreal spectacle.
In theaters June 24.
Peter Strickland's droll meditation on art, authenticity, and flatulence takes place over the course of a residency for sonic caterers who create soundscapes with electronic and culinary equipment. Bizarre, delightful, and sure to be the most sartorially bold movie this year. —A.W.
Art
JoAnne Carson
Wonderment.
Washburn Gallery, 177 Tenth Avenue, through July 29.
Known by many for her Instagram pics of her homemade garden, JoAnne Carson brings a kind of psychedelic intensity to highly colored paintings of trees, plants, and rainbow skies filled with strange shapes, spores, clouds, gusts, and rain. Almost electronic looking, they light up your eyes and wind up your mind. —Jerry Saltz
Dissolving Realms
A group show.
Kasmin Gallery, 509 W. 27th St., through August 12.
Since the art world woke from a century-long slumber and finally recognized the late Hilma af Klint as the big bang of cosmic abstraction, museums and galleries have taken notice. Here, see the inner visions and powerful solitudes, wild worlds and strange nature, in the works of Leonor Fini, Leonora Carrington, and Flora Yukhnovich, as well as Howardena Pindell's dissolving fields of dashes. —J.S.
Books
Thrust, by Lidia Yuknavitch
Back to the future.
Riverhead Books, June 28.
Late in the 21st century, Laisve, living in the ruins of New York, learns that she can travel through time with the aid of certain objects and bodies of water. She is tasked with rescuing a set of people — all misfits in their time — from their circumstances, including a teen associate of terrorist Timothy McVeigh and the sculptor of the Statue of Liberty. Lidia Yuknavitch's novel hops through narratives and across species (including bugs and fungi), making for a dizzily interlacing view of American history. —Emma Alpern
Also a Poet: Frank O'Hara, My Father, and Me, by Ada Calhoun
Deep dive.
Grove Press.
When Ada Calhoun uncovered a trove of cassette-tape interviews with Frank O'Hara in her parents' basement, she decided to use them to complete the biography of the poet that her father, the critic Peter Schjeldahl, had once intended to write. The resulting work, though, is less a straightforward study and more memoir — a deep-hearted portrait of her father's limitations as poet and parent. —E.A.
Podcasts
Persona: The French Deception
Summer of scam.
Wondery/Pineapple Street.
Evan Ratliff (The Mastermind, the Longform podcast) traces the story of Gilbert Chikli, the Franco-Israeli scammer known as perhaps the great con artist of all time. Much of the pleasure of this series comes from Ratliff's old-school magazine-journalist nature, as he takes his low-key demeanor to the streets of countries all around the world in an effort to assemble a better sense of the elusive Chikli. —Nicholas Quah
Mother Country Radicals
Outlaws.
Crooked Media/Audacy.
An extensive look at the Weather Underground, the radical left-wing organization that sought to overthrow American imperialism by force in the '70s, from the perspective of Zayd Dohrn, whose parents were part of the group. Talk about family ghosts. —N.Q.
Music
Hercules & Love Affair, In Amber
Hercules & Love Affair's fifth set.
Skint Records/BMG.
Hercules & Love Affair took off during the mid-aughts Day-Glo, dance-punk era thanks to the talents of DJ-singer-producer Andy Butler and his collabs with producer-singer ANOHNI. This new batch of abrasive post-punk and dance tunes, with vocals and production from ANOHNI, is their first reunion since Hercules's 2008 self-titled set and includes drums from Budgie (Siouxsie and the Banshees). In Amber is equally unsettling and intoxicating. —Craig Jenkins
Perfume Genius, Ugly Season
Perfume Genius's "dance" album.
Matador Records.
Before releasing his critically acclaimed 2020 album Set My Heart on Fire Immediately, singer-songwriter Mike Hadreas (a.k.a. Perfume Genius) collaborated with Seattle choreographer Kate Wallich on a dance-and-music piece called The Sun Still Burns Here. The songs from that project have since been recorded: Ugly Season features production by Blake Mills, who worked on Fire, and writing assists from Hadreas's partner, Alan Wyffels. Ugly Season includes the epic disco workout "Eye in the Wall," the breezy, accessible "Pop Song," and a short film from animator Jacolby Satterwhite. —C.J.
UMI
The opener is the soulful Dianna Lopez.
Brooklyn Steel, June 21; Webster Hall, June 22.
Forest in the City, the debut album from Seattle singer UMI, taps into the same lush, timeless R&B sound that has bolstered the careers of vocalists from Erykah Badu to SZA to Ari Lennox. Crisp beats and gooey guitars envelop songs about nurturing and appreciating love while it lasts. —C.J.
Oliver Sim
Via the xx.
Bowery Ballroom, June 26.
You may know Oliver Sim from his stint as a singer and songwriter in the U.K. indie-rock trio the xx, whose moonlit, minimalist songs captivated rock and pop fans alike a decade ago. Sim is gearing up to release his debut solo album — September's Hideous Bastard, produced by Jamie xx — and opening up in ways he never has before. Before the album drops, you can catch Sim's Fruit Tour at NYC's Bowery Ballroom. —C.J.
Theater
Cascando
We're walkin' here.
Skirball Center, through July 3.
This won't be your cup of tea if you don't jibe with participatory theater, but the courageous will want to try Irish company Pan Pan's perambulatory production, which asks its audience to dress up in spooky hooded robes, put on headphones, and walk through the Village while listening to Samuel Beckett's radio play. —H.S.
Dance
SummerScape
Hit the road.
Fisher Center at Bard, June 23 to August 14.
The best reason to rent (gasp) a car (hiss) is to get to this festival up at Bard College, a summer engagement that has, in the past, included the first iteration of Daniel Fish's so-called sexy Oklahoma!, as well as various opera and dance shenanigans. This year's includes Molière's Dom Juan (June 23–July 17), a new collaboration between super-choreographer Pam Tanowitz and composer David Lang (July 1–3), and programming at the Spiegeltent, a bedazzled fabric venue with a lineup of musical guests from Nona Hendryx to Martha Redbone to Justin Vivian Bond (June 24–August 6). —Helen Shaw
Classical
Handel and Haydn Society
Summer in the city.
Naumburg Bandshell, June 28.
The venerable Boston-area ensemble is making inroads in New York: This spring it made its Carnegie Hall debut with the Orchestra of St. Luke's. Now it steps up to the Naumburg Bandshell in Central Park, performing a free program of, yes, Handel (plus Geminiani, Corelli, and others), but not Haydn. —J.D.
Revisit: The Chaconne Project
A salon concert.
Harlem Parish, June 22.
During the silent days of the pandemic, the American Classical Orchestra released the online Chaconne Project, an early-music concert filmed in the neo-Gothic Harlem Parish. Now the group returns to the same scene, live and in person, for performances of the same set of 16th-to-18th-century pieces, each one built on a short bass line, by Monteverdi, Purcell, Strozzi, and more. —J.D.