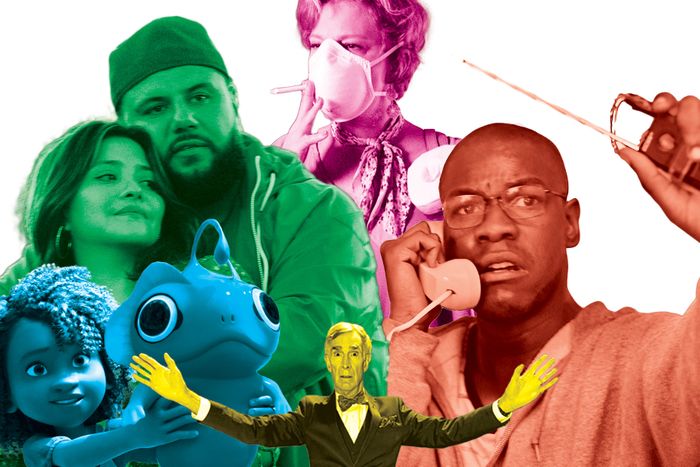 Photo: Courtesy of Netflix (Mo + Sea Beast); Dennis Mong (Sprung); Jordan Strauss/Peacock (Nye); Courtesy of Bleecker Street (Breaking)
To Do: August 17–31: Our biweekly guide on what to see, hear, watch, and read.
House of the Dragon
Back(story) to the Seven Kingdoms.
HBO, August 21.
All the frustration around the Game of Thrones finale probably won't stop people from watching the show's much-hyped big-budget prequel, which — and you're not going to believe this — focuses on a battle to inherit the Iron Throne. But this battle, based on George R.R. Martin's book Fire & Blood, takes place 200 years earlier than the Game of Thrones one. So: Totally different. — Jen Chaney
Sprung
Warmhearted criminals.
Amazon Freevee, August 19.
In this new comedy, a group of incarcerated people who are unexpectedly released from prison during the pandemic become a chosen family who use their crime skills for good. Stars Garret Dillahunt and Martha Plimpton will be stealing hearts, among other things.  — Kathryn VanArendonk
Kevin Can F*** Himself
Bad marriage, good television.
AMC, August 22.
The first season of this genre-bending series followed Allison, Annie Murphy's long-suffering sitcom wife, as she decided to kill her selfish and negligent husband. This second and final season continues probing at the boundary between comedy and drama while also revealing whether Allison will pull off her murderous plan. — Roxana Hadadi
The End Is Nye
The Science Guy helps you prep for the worst.
Peacock, August 25.
If you're seeking TV comfort food as the world falls apart, allow Bill Nye to walk you through some hypothetical disasters. Afterward, he'll offer science-y explanations of how humanity can survive or even prevent them. It might make you feel just a bit more equipped for the apocalypse. — J.C.
Echoes
This ain't Sweet Valley High.
Netflix, August 19.
Michelle Monaghan pulls double duty as twins Leni and Gina, who swap lives in this thriller miniseries until one of them goes missing. Monaghan has been a scene stealer in everything from Gone Baby Gone to the Mission: Impossible films, but what kind of meta trickery is it if she steals scenes from herself? — R.H.
Welcome to Wrexham
Soccer daddies.
FX, August 24.
A docuseries cross between Ted Lasso and We Bought a Zoo, Welcome to Wrexham is the story of two celebrities (Rob McElhenney and Ryan Reynolds) who position themselves as aw-shucks Hollywood underdogs by buying a low-ranked Welsh football club. If they can manage to turn around this team, then by gosh they might be able to reverse the fortunes of this entire town. — K.V.A.
Mo
The fight amid flight.
Netflix, August 24.
Mo follows its titular character and his family as they navigate America's frustrating asylum process from Houston and adapt to the unique challenges of life as refugees. Palestinian comedian Mo Amer plays a version of himself in this comedy from producer Ramy Youssef, who has had his own experiences adapting his life for TV. — R.H.
The Patient
Putting the "hell" in mental health.
Hulu, August 30.
The duo behind The Americans, Joel Fields and Joe Weisberg, return with this intense series about a therapist (Steve Carell) who gets taken hostage by a patient (Domhnall Gleeson). Gleeson's lead is undercover, but not as a spy — it turns out the patient is a serial killer. — J.C.
Movies
Memoria
Because you still can't stream it.
IFC Center, August 19 through 25.
Thai director Apichatpong Weerasethakul's enigmatic drama, starring Tilda Swinton as a woman who becomes obsessed with a mysterious sound, was one of last year's most critically admired titles. Its notorious theatrical-screening-only streak continues in this one-week engagement at the IFC Center. — Bilge Ebiri
Breaking
A tragic true story.
In theaters August 26.
John Boyega gives a wrenching performance as Brian Brown-Easley, a desperate former Marine who held up an Atlanta bank in 2017—not as a robbery but as an act of protest after failing to receive the VA benefits he depended on. — Alison Willmore
Last Year at Marienbad
Surreal estate.
Film Forum, August 18, 21, 23, and 25.
Alain Resnais's time-hopping, highly symbolic New Wave drama is one of those films that, despite its classic status, still wildly divides critics and historians and moviegoers. Is it a masterpiece? A whole bunch of incoherent hooey? See it on the big screen and decide for yourself. — B.E.
The Process
A trip through some NYC indie classics.
Metrograph, through August 21.
The tail end of this series dedicated to the Young brothers, Robert and Irwin, who were filmmakers and devoted supporters of independent artists. Included are gems like Charles Lane's 1989 riff on Chaplin's Sidewalk Stories and Smithereens, Susan Seidelman's journey through the waning days of the New York punk scene. — A.W.
The Sea Beast
A refreshing saltwater splash.
The Paris Theater, through August 30.
Chris Williams's animated seafaring monster adventure is one of Netflix's most visually sumptuous offerings in recent years, and luckily the Paris Theater will be offering matinee screenings for the rest of the month. — B.E.
Obayashi's Anti-War Trilogy
The first New York release.
BAM, August 26 to September 1.
Nobuhiko Obayashi's House is a cult favorite; now, his long-awaited late-career trilogy — Casting Blossoms to the Sky (2012), Hanagatami (2017), and Seven Weeks (2014) — offering a kaleidoscopic look at Japan's role in World War II and its aftermath, is here. — A.W.
Books
Haven, by Emma Donoghue
Monk fishing.
Little, Brown and Company, August 23.
Spurred by a dream-vision, three monks sail to craggy, steep Skellig Michael without fully understanding how harsh life will be there — or the costs of their de facto leader's fanaticism, which compels them to start by building a monastery rather than practical things like gardens or shelters. This latest novel from Emma Donoghue has some of the claustrophobic qualities of her imprisonment tale Room, except Haven takes place in seventh-century Ireland. — Emma Alpern
Podcasts
Dashboard Diaries
Take a tumble through Tumblr.
Atypical Artists.
The days when Tumblr was wild and free may largely be behind us, but it's still home to pieces of seemingly every fandom under the sun. Using the platform as their … platform, hosts Lauren Shippen and Cherokee McAnelly offer listeners a contextualizing tour through that vast universe of vibrant fan communities for the committed and curious alike. — Nicholas Quah
World Corrupt
The high cost of kicking a ball.
Crooked Media and Men in Blazers, August 26.
As the World Cup in Qatar looms later this year, Pod Save America's Tommy Vietor and Men in Blazers's Roger Bennett team up for a six-part miniseries that explores what it means to be a morally responsible fan of contemporary sports. But when the actions of major sporting organizations are increasingly driven by dubious interests, is that even possible? We'll find out. — N.Q.
Music
Korn and Evanescence
Dust off that secret Incubus T-shirt.
Jones Beach Theater, Wantagh, August 28.
Korn changed the game when it gave a harrowing voice to disaffected '90s teens and a guttural sound to a wave of angsty rap-rock acts. In the early aughts, Evanescence lead Amy Lee funneled pain and theatricality through loud guitars and wounded, personal lyrics. A tandem tour is a no-brainer. — Craig Jenkins
Bleed Out
Pondering the politics of Rambo.
Merge Records, August 19.
California indie-folk veterans the Mountain Goats are beloved for their stately folk-rock grooves and the bookish, reflective lyrics of John Darnielle, a singer-songwriter appreciated as much for his gutting honesty as for his flair for a concept album. Bleed Out, the band's 21st studio album, offers ruminations on the violent vengeance of action films like Death Wish and First Blood with the fast rock riffs to match. — C.J.
The Elephant Man's Bones
Roc Marciano and the Alchemist reunite.
Pimpire/ALC Records, August 26.
Long Island's own Roc Marciano has developed a reputation for lurid narrative raps and haunting psychedelic production, cultivated during his tenure in Busta Rhymes's Flipmode Squad and his indie releases like 2018's Behold a Dark Horse. The Elephant Man's Bones pairs him with the Alchemist, the West Coast polymath who worked with Roc on 2011's Greneberg. The forecast calls for muted drums and ghoulish one-liners. — C.J.
Theater
Mr. Burns, a Post-Electric Play
Upstate, postapocalypse.
Hudson Valley Shakespeare Festival, through September 17.
Take the Metro-North to the fest's new country-club home to see Anne Washburn's strange and haunting story about survivors of world collapse coming together to reenact an episode of The Simpsons. — Jackson McHenry
Kinky Boots
Fabulosity reshod.
Stage 42, ongoing.
Nearly a decade after it first premiered on Broadway, the Harvey Fierstein–Cyndi Lauper musical about a shoe factory owner teaming up with a drag queen is rebirthing itself Off Broadway in a smaller setting, sequins still intact. — J.M.
Bottom of the Ocean
Into the depths of Bushwick and also the sea.
Gymnopedie, through November 6.
For those interested in the surreal and immersive (meaning both participatory and underwater), there's this performance piece in which guides lead visitors through mysterious ancient rites. A big treat for fans of primordial deep cuts. — J.M.
Classical
Sounds of the Sea for Chamber Orchestra
A little music at the end of the world.
Montauk Point Lighthouse, Montauk, August 20.
Plenty of classical music has been inspired by the sea, but few musicians try to compete with it. Perhaps emboldened by Metropolitan Opera Orchestra principal trombonist Demian Austin, who's used to making himself heard over everything, an ensemble of his colleagues are bringing their turf to the surf, or at least a platform overlooking the waves at Montauk Point, for a program of Bernstein, Poulenc, and other roaring composers. — Justin Davidson