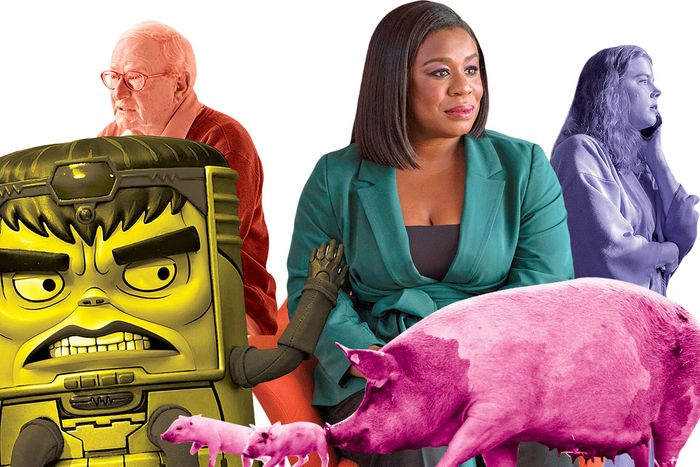 Photo: Courtesy of Marvel/FX/Suzanne Tenner/HBO/Melinda Sue Gordon/NetflixCourtesy of NEON
TV
The Underground Railroad
A path to freedom.
A ten-episode adaptation of Colson Whitehead's Pulitzer Prize–winning novel should be enough to pique your interest, but the series has the added benefit of being directed by Moonlight creator Barry Jenkins. It is raw and horrifying and magical in unexpected ways. —Kathryn VanArendonk
Amazon Prime, May 14.
144
Life inside the WNBA bubble.
What was it like to play in the WNBA during last summer's COVID bubble season, when race-related tensions, not to mention concerns about the virus, were high? This ESPN doc attempts to show us. —Jen Chaney
ESPN, May 13.
Pride
The LGBTQ+ movement, then to now.
Each installment of this six-episode docuseries focuses on the gay-rights movement during a different decade, starting with the repressive 1950s and ending in the 2000s, when struggles continue despite the strides that have been made. —J.C.
FX, May 14.
In Treatment
Dr. Brooke Taylor is in.
Over a decade ago, In Treatment was a form-breaking drama about a therapist in session with several clients. Now the series is back, this time with Uzo Aduba as the therapist, but the form retains the intensity and mesmerizing intimacy of the original. Buckle in, though — 24 episodes of a show this potent can be draining. —K.V.A.
HBO, May 23.
Marvel's M.O.D.O.K.
An evil talking head.
Patton Oswalt is the co-creator of this animated series and also the voice of M.O.D.O.K. (short for Mental Organism Designed Only for Killing), who is an extremely aggressive villain. Like the anti-heroes in all good television, this one is dealing with disasters at home and work. —J.C.
Hulu, May 21.
Movies
Riders of Justice
A revenge drama.
Mads Mikkelsen manages to both lean into and dismantle tough-guy clichés as a military man so unable to process his grief over the loss of his wife that he embraces a theory her death wasn't an accident. It's the rare action movie that concludes with the idea everyone should have just gone
to therapy. —Alison Willmore
In theaters May 14.
Yourself and Yours
For Hong Sangsoo collectors.
Korean director Hong Sangsoo is one of the most prolific auteurs of our time, cranking out lively, intimate comedy-dramas about mysteriously tangled relationships. This one, finally coming out on home video, follows a man whose girlfriend appears to have become completely different people. —Bilge Ebiri
DVD and Blu-ray, May 25.
Those Who Wish Me Dead
An Angelina Jolie frontier thriller.
It's been a while since Angelina Jolie has played an un-Disneyfied, gritty character, the kind that marked her career in the 2010s. But as Hannah Faber, a gruff firefighter forced to protect a teenage murder witness, she goes full Salt era, bangs and all. —Sangeeta Singh-Kurtz
In theaters and on HBO Max, May 14.
The Killing of Two Lovers
An indie darling.
Clayne Crawford is impressive as a man barely holding in his volcanic rage in this staccato indie drama about a couple in the midst of a separation. As wife Nikki (Sepideh Moafi) explores a new relationship, David (Crawford) trembles on the verge of violence and despair while understanding the only hope he has of restoring his marriage depends on his maintaining a stable façade. —A.W.
In theaters and on VOD, May 14.
Human Rights Watch Film Festival
Bear witness.
The second digital iteration of this venerable film fest includes in its ten-film (mostly docs) lineup Daughter of a Lost Bird, about a Native adoptee trying to connect with a heritage she was raised with no awareness of; Apart, about mothers working to rebuild their lives after incarceration; and The Return: Life After ISIS, about women hoping to come home after leaving to pledge their lives to the Islamic State. —A.W.
ff.hrw.org/new-york, May 19 to May 27.
The Woman in the Window
Amy Adams's forgotten thriller.
After being pushed back again and again — a saga that includes different studio acquisitions, rewrites, and scandals — we finally get to watch Amy Adams play the kind of woman on the verge of a nervous breakdown she excels at. Based on Dan Mallory's debut novel. —S.S.K.
Netflix, May 14.
Gunda
That'll do, pig.
Victor Kossakovsky's mesmerizing doc, following the titular sow and her piglets through a series of wordless, immersive scenes, serves as a corrective to the way animals are usually portrayed, establishing a connection between us and these creatures that we think of primarily as food. —B.E.
Film Forum and Film Forum at Home.
➼ See the Full Calendar of Digital Movie Rentals
➼ See the Full Calendar of Movie-Theater Releases
Art
Dan Graham
A playground of sorts.
Walk into "Three Models, Three Sizes, Three Price Ranges" and feel simultaneously like a ball in a pinball machine and a coiling cobra looking for shelter, seeking corners, finding solace in plain view, feeling seen and invisible all at once. At 79, Dan Graham is a genius-savant of creating large clear-plastic walk-in-pavilion sculptures — structures that make you feel like you are in a fishbowl and outer space at the same time. —Jerry Saltz
303 Gallery, 555 West 21st Street, though June 26.
Jason Fox
Satirical paintings and drawings.
I nominate Jason Fox for an honorary MacArthur Award for the Painterly Strange, Squirrelly, and Visionary. Fox creates luminescent pictures of faces that look like they see you but are invisible — great visages of personages from other times and dimensions. Every move of his brush is a riddle that resolves visually, then gives you a small shock psychologically. He should paint the presidents on money from the multiverse. —J.S.
Canada gallery, 60 Lispenard Street, through June 26.
Books
Languages of Truth, by Salman Rushdie
Meditations on storytelling.
In his new essay collection, Salman Rushdie writes with wit and grace on topics ranging from censorship to migration to the Western gaze, following linguistic threads that run through the works of Cervantes, Morrison, Welty, Beckett, and others. If literary criticism isn't your thing, read it simply for the thrilling beauty of the sentences. I found myself scribbling exclamation points in the margins, page after page. —Cornelia Channing
Random House, May 25.
Cheat Day, by Liv Stratman
A wellness journey.
Liv Stratman's debut novel follows Kit, a Bay Ridge native and bakery employee, who pursues an affair with a brawny carpenter while maintaining a draconian diet. An intimate exploration of the wellness movement — and the dangers of restricting ourselves from pleasure. —Jane Starr Drinkard
Scribner, May 25.
Pop Music
Be Right Back, Jorja Smith
Jorja Smith's sophomore project.
Since impressing us with her 2018 debut, Lost & Found, British R&B singer-songwriter Jorja Smith has maintained a steady presence on the charts with cuts like "Be Honest" with Nigerian star Burna Boy. Be Right Back offers eight new songs to Smith's hungry fandom, including the lovelorn pop-rock tune "Addicted" and the dignified kiss-off "Gone." —Craig Jenkins
FAMM, May 14.
Daddy's Home, St. Vincent
Funky.
The new album by Annie Clark, a.k.a. St. Vincent, inspired by '70s rock and her father's 2019 release from prison, strikes a balance between the bombastic rock sound of her early gems like Actor and the pop sheen of 2017's Masseduction. Jack Antonoff assists with production. —C.J.
Loma Vista Recordings, May 14.
Sour, Olivia Rodrigo
All together now: "Red lights, stop signs."
One minute, Olivia Rodrigo was the star of Disney+'s High School Musical: The Musical: The Series, and the next, she had the No. 1 song for eight consecutive weeks with the maudlin viral smash "Drivers License." Rodrigo's debut album, Sour, seeks to build on her momentum and prove her mettle as a vocalist and a writer of hushed and wistful pop songs. —C.J.
Geffen Records, May 21.
Theater
Afterwardsness
Giving grief shape.
Two months after a positive COVID result put this project on pause, Afterwardsness returns to the Park Avenue Armory. In the hourlong modern-dance piece set to music by Holland Andrews, Pauline Kim Harris, and Olivier Messiaen, the Bill T. Jones/Arnie Zane Company tries to give grief a physical shape, exploring the loneliness and terror of Blackness under twin assaults: the pandemic and state violence. —Helen Shaw
armoryonpark.org, May 19 to 26.
Classical Music
Ecstatic Music: Seth Parker Woods
In the program "Difficult Grace."
The multitasking cellist, who can talk, bow, and sync up with video and electronics at the same time, performs an extreme recital at Merkin Hall (and online). The music confronts some difficult chapters in American history and features Nathalie Joachim's The Race: 1915, which includes images from Jacob Lawrence's "Migration" series. —Justin Davidson
kaufmanmusiccenter.org, May 25.
Orpheus
Music fit for John D. Rockefeller's cathedral.
For the first time in over a year, the ensemble returns to Riverside Church — which doesn't mean you can. The recorded program, "Reminiscentia," centers on music that was either composed for or feels comfortable among high stone vaults and stained-glass windows, starting with Gregg August's elaboration on a 900-year-old theme by Pérotin and going on to Anna Clyne's double-violin concerto, Prince of Clouds. —J.D.
orpheusnyc.org, May 22.
ASO Horn Quartet
An after-work concert.
ASO Horn QuartetThere's no better way to herald a season of outdoor music than with horns, which were born of woods and mountains. The American Symphony Orchestra's chamber ensemble challenges a noisy city to a blare-off, bringing music by Chávez and Strauss, plus some proper hunting music. —J.D.
Bryant Park, May 17, and 34th Street Herald Square Plaza, May 19.
JACK Quartet
At an annual Orange County fest.
The JACKs join Conrad Tao, the fest's artistic director, and brass quartet the Westerlies in a program that bounces around American music. The next night, they follow a more rarefied train of thought from Bach and Brahms through Elliott Carter to … Tao. —J.D.
philharmonicsociety.org, May 15 and May 16.
Opera
Met Stars Live: Three Divas
Live from the Palace of Versailles.
With the Metropolitan Opera shut out of its home and locked in labor disputes so protracted that it had to agree to pay musicians just to come to the bargaining table, the company has been using outside talent and distant venues to polish its image online. Sopranos Ailyn Pérez and Nadine Sierra and mezzo-soprano Isabel Leonard appear together in a greatest-hits-of-opera program from the venue for Marie Antoinette's wedding, the 250-year-old opera house at Versailles. —J.D.
metopera.org, May 22.
Every editorial product is independently selected. If you buy something through our links, New York may earn an affiliate commission.