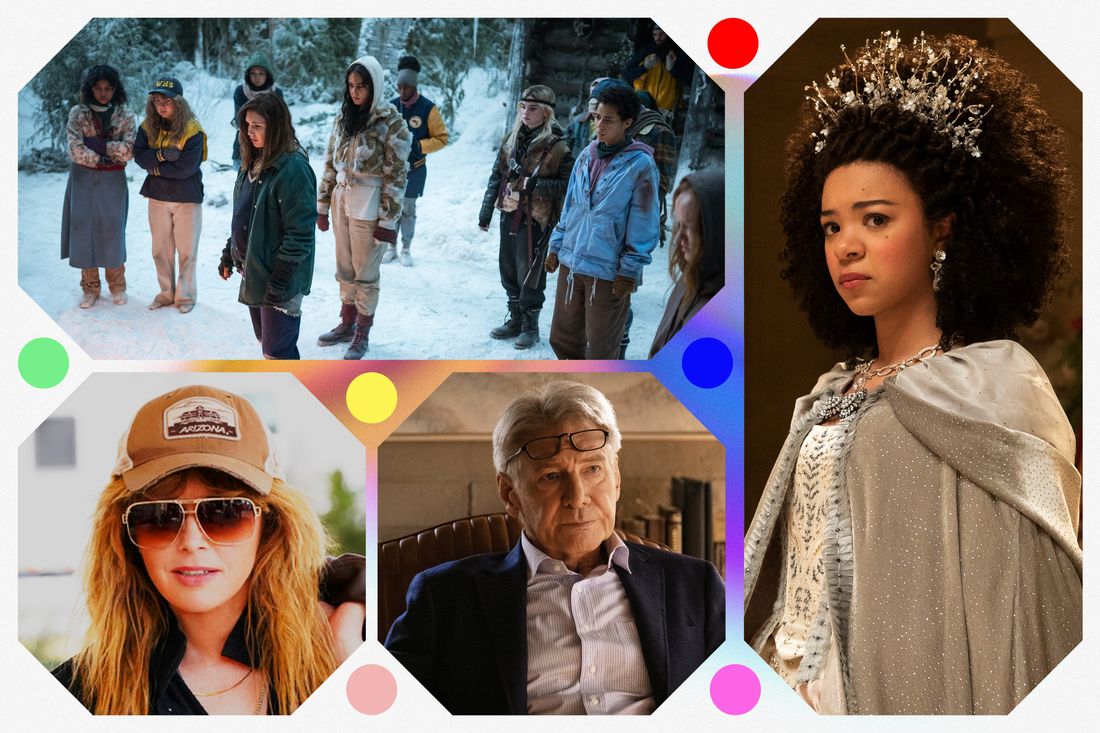 Photo-Illustration: Vulture; Photos courtesy of the studios
The refrain "too much TV" has been echoing through the culture for the better part of a decade now, and 2022 was no exception, even amid increased rumblings of instability in the streaming space. And while the chaff-to-wheat ratio has arguably grown larger amid this ongoing surge, so too has the absolute number of great shows — that's just math, baby! Okay, maybe it isn't great math … that is admittedly not our area of expertise. But TV is our area of expertise, and based on our calculations, 2023 is shaping up to be another year filled with enough high points to outweigh the low. Both points are likely represented on this list of shows we're excited about in the coming year, the vast majority of which we haven't seen yet and still hold equal potential to delight or disappoint. But that sense of never-ending potential may just be the best part of the too-much-TV era, so please join us as we revel in anticipation of the televisual pleasures 2023 will bring.
January
The Traitors (Peacock, January 12)
Anyone who has played a social-deduction game (Mafia, Werewolves, Among Us) can tell you that, more often than not, the night ends in tears. Alliances are built, accusations are hurled, vendettas erupt — all of which we're sure to witness in Peacock's The Traitors. Based on a Dutch series with a recent British adaptation that has been a hit across the pond, The Traitors puts 20 contestants in a remote Scottish castle and has them compete for $250,000. Throw in reality stars from Survivor, The Bachelor, and a slew of Bravo shows, three "traitors" picking off the rest of the players one by one, and Alan Cumming (!) as host, and we've got one of the most anticipated reality competitions in recent memory. —Nic Juarez
Velma (HBO Max, January 12)
If you've ever wondered, Why is Velma Dinkley, member of the Scooby-Doo gang, the way she is? this new adult animated series, which tells the Velma origin story, is for you. The strong voice cast includes Mindy Kaling (also an executive producer) as Velma, Glenn Howerton as Fred, Constance Wu as Daphne, and Sam Richardson as Norville (a.k.a. Shaggy). —Jen Chaney
The Last of Us (HBO, January 15)
Now that HBO has canceled Westworld, its dystopian sci-fi hopes weigh upon the shoulders of The Last of Us. Inspired by the 2013 video game, the series has network favorites both behind and in front of the camera: It's created by Chernobyl mastermind Craig Mazin alongside the video game's writer and creative director Neil Druckmann, and stars Pedro Pascal and Bella Ramsey of Game of Thrones. The pair play survivors navigating a post-apocalyptic future, with Pascal's Joel tasked with smuggling Ramsey's Ellie outside of a quarantine zone. A prestige spin on the end of the world sounds right up HBO's alley. —Roxana Hadadi
That '90s Show (Netflix, January 19)
Even our nostalgia is growing older alongside the rest of us, and so, Netflix is bringing That '70s Show back from its 2006 death, 16 years later and two decades older. The new series is about Topher Grace and Laura Prepon's daughter visiting her grandparents in the summer of 1995 with a new group of friends saying, "Hello Wisconsin!" Debra Jo Rupp and Kurtwood Smith are back as Red and Kitty, and there will also be guest appearances from the original cast of teens, who are now also adults. —Jackson McHenry
Poker Face (Peacock, January 26)
What if we told you Rian Johnson, the current reigning champion of fun twisty movie mysteries, made an episodic, streaming case-of-the-week show? And it starred Natasha Lyonne? And she played a Columbo-esque character with the uncanny power to detect when anyone was lying? Yeah, we know, we're excited too. —Kathryn VanArendonk
Wolf Pack (Paramount+, January 26)
After taking a post–Buffy the Vampire Slayer break, Sarah Michelle Gellar has spent the last few years dipping her toe back into live-action-TV work. Her last starring-role effort, Ringer, only lasted a season, but it didn't have a built-in fan base like the upcoming Wolf Pack, based on a book series by Edo van Belkom. Another "supernatural stuff and teens" offering, as Buffy was, Wolf Pack is about a foursome with lives affected by a monstrous creature and the mysterious wildfires that seem to occur whenever it attacks. Is it too early to ask for former Buffy werewolf Seth Green to reunite with Gellar for a cameo? —R.H.
Shrinking (Apple TV+, January 27)
Most Ted Lasso fans are not fans because they can't get enough of stories about American soccer coaches in the U.K. It's because they're fans of that signature Bill Lawrence–show feeling: warm, found-family relationships with room for rare adult goofiness built on a foundation of deep seriousness about life, death, depression, love, and aging. In that vein, did you know that there's a new Bill Lawrence show coming to Apple TV+? It's about a group of therapists, and it stars Jason Segel, Jessica Williams, Harrison Ford, and Christa Miller! —K.V.A.
.

Also Premiering in January
Surviving R. Kelly: The Final Chapter (January 2, Lifetime)
The Lying Life of Adults (January 4, Netflix)
Madoff: The Monster of Wall Street (January 4, Netflix)
Star Wars: The Bad Batch, Season 2 (January 4, Disney+)
Copenhagen Cowboy (January 5, Netflix)
Ginny & Georgia, Season 2 (January 5, Netflix)
RuPaul's Drag Race, Season 15 (January 6, MTV)
All Creatures Great and Small, Season 3 (January 8, PBS)
Mayfair Witches (January 8, AMC)
Koala Man (January 9, Hulu)
80th Golden Globe Awards (January 10, NBC)
Vikings: Valhalla, Season 2 (January 12, Netflix)
Break Point (Netflix, January 13)
Servant, Season 4 (January 13, Apple TV+)
Godfather of Harlem (January 15, MGM+)
Mayor of Kingstown, Season 2 (January 15, Paramount+)
Your Honor, Season 2 (January 15, Showtime)
Night Court (January 17, NBC)
The Lazarus Project (January 23, TNT)
How I Met Your Father, Season 2 (January 24, Hulu)
Extraordinary (January 25, Hulu)
The Watchful Eye (January 30, Freeform)
Cunk on Earth (January 31, Netflix)
February
Dear Edward (Apple TV+, February 3)
Most notable TV dramas involving plane crashes — Lost, Manifest, Yellowjackets — have a mystery-box element at their core. Dear Edward, based on Ann Napolitano's novel, is more reality-based. It follows the aftermath of a major commercial-airline crash that leaves behind a lone survivor, 12-year-old Edward Adler (Colin O'Brien), and leads to unexpected connections between others who lost loved ones. Adapted for television by Jason Katims (Friday Night Lights, As We See It), it stars Taylor Schilling and, in a reunion with her FNL showrunner, Connie Britton. —J.C.
You, Season 4, part one (Netflix, February 10)
Season three of You was one of the best, most exciting surprises of the streaming season last year: sharp, propulsive, and dark, with just enough frightening inner oomph to avoid that "I binged it all and now I feel hollow" sensation. Its stalker-protagonist Joe (Penn Badgley) has now fled to London to escape the long arm of the law. Maybe this time he'll find inner peace? Not bloody likely. —K.V.A
Party Down, Season 3 (Starz, February 24)
Streaming services and blockbuster franchises come and go, but the world of Hollywood party catering remains. Will the cult comedy series about cater waiters be just as enduring as a revival? Original star Lizzy Caplan is not returning, but Adam Scott, Ken Marino, Jane Lynch, Martin Starr, Ryan Hansen, and Megan Mullally are coming back. So there's hope! — K.V.A
.

Also Premiering in February
The Proud Family: Louder and Prouder, Season 2 (February 1, Disney+)
Freeridge (February 2, Netflix)
Not Dead Yet (February 8, ABC)
Animal Control (February 16, Fox)
Star Trek: Picard, Season 3 (February 16, Paramount+)
Carnival Row, Season 2 (February 17, Prime Video)
Hello Tomorrow! (February 17, Apple TV+)
The Company You Keep (February 19, ABC)
Snowfall, Season 6 (February 22, FX)
Bel-Air, Season 2 (February 23, Peacock)
Liaison (February 24, Apple TV+)
The Reluctant Traveler (February 24, Apple TV+)
March and April
Daisy Jones and the Six (Amazon, March 3)
Taylor Jenkins Reid's book about the tumultuous relationships within a 1970s-era rock band gets the miniseries treatment with Riley Keough in the role of wild child singer Daisy. The book is written in an oral-history format and is blatantly evocative of Fleetwood Mac, so it's very possible that this show will feel sort of like a ten-episode Fleetwood Mac documentary. Honestly, that's fine by us. —J.C.
Perry Mason, Season 2 (HBO, March 6)
The first season of HBO's prestige reboot of Perry Mason as a 1930s Los Angeles noir both was grimdark and had a scene where Matthew Rhys got humped off the side of a bed. What delights will this new season hold? There will be new showrunners at the helm (Michael Begler and Jack Amiel of The Knick), new cast members (including Katherine Waterston), and a new mystery for Perry to solve, as long as he manages to stay securely on top of any mattresses. —J.M.
Shadow and Bone, Season 2 (Netflix, March 14)
Theatrically, YA adaptations have slowed down a bit in recent years after the Twilight/Divergent/Hunger Games/Harry Potter domination of the early to mid-aughts. But on the small screen, they remain a significant percentage of Netflix's original series, and Shadow and Bone is one of the most enjoyable. The series' first season was imaginative in its steampunk-inspired world-building and was particularly well cast, with Ben Barnes standing out as a baddie sorcerer called — hilariously and entertainingly — the Darkling. That name is an indication of the series' somewhat silly and self-serious vibe, but the acting and production design are strong enough to warrant a return to this world. — R.H.
Yellowjackets, Season 2 (Showtime, March 24)
In the season-one finale of Yellowjackets, a major character died, another was kidnapped by unknown assailants, and a third was poisoned. And that's just a few of the cliffhanger moments that will have been dangling for more than a year by the time this Showtime series about the survivors of a 1996 plane crash airs its second season. Come back already, Yellowjackets! We're getting more impatient than Misty Quigley waiting for her soccer coach to reciprocate her romantic feelings! —J.C.
Mrs. Davis (Peacock, April 20)
Three things make this show an instant must-watch: It's produced by Damon Lindelof, it's about an algorithm named Mrs. Davis trying to take over the world and a nun trying to stop it, and that nun is played by Betty Gilpin. Done. No hesitation. Let us turn it on right now, please. —K.V.A.
.

Also premiering in March
The Mandalorian, Season 3 (March 1, Disney+)
Survivor, Season 44 (March 1, CBS)
True Lies (March 1, CBS)
Farmer Wants a Wife (March 8, Fox)
95th Academy Awards (March 12, ABC)
Gotham Knights (March 14, The CW)
Power Book II: Ghost, Season 3 (March 17, Starz)
Sanditon, Season 3 (March 19, PBS)
TBD 2023
Fatal Attraction (Paramount+, Spring TBD)
One of the most culturally significant erotic thrillers ever made, 1987's Fatal Attraction turned "the other woman" (played by Glenn Close) into the equivalent of a domestic terrorist. This updated TV version will hopefully take a more nuanced view. Its cast is definitely promising — this time, Lizzy Caplan plays Close's role, Joshua Jackson is Dan Gallagher (the part previously played by Michael Douglas), and Beth Gallagher (the cheated-on spouse portrayed by Anne Archer) will be handled by Amanda Peet. —J.C.
Queen Charlotte: A Bridgerton Story (Netflix, Spring TBD)
The build-out of the Bridgerton television universe begins now with this prequel spinoff that tells the origin story of the judgy yet awesome Queen Charlotte — played once again by Golda Rosheuvel and joined by India Amarteifio as the younger Charlotte. While Shonda Rhimes is an executive producer of Bridgerton, she's actually writing this one, which presumably means Charlotte will be drinking massive goblets of red wine in every episode. —J.C.
Succession, Season 4 (HBO, Spring TBD)
The last time we saw the Roys, at the end of Succession's third season, siblings Kendall, Shiv, and Roman attempted to stage a coup that would have put them in charge of Waystar, the family business. But thanks to a tip from Shiv's husband (Tom), their father (Logan, played by Brian Cox) was able to outsmart his kids and ensure that they would never be in charge of the company. Season four will no doubt explore the fallout from all this treachery. Hopefully, that exploration will somehow involve Kendall throwing another outrageous party and actually singing Billy Joel's "Honesty" for real this time. —J.C.
Tiny Beautiful Things (Hulu, Spring TBD)
It's a joy to watch Kathryn Hahn do pretty much anything. But it's especially fun to watch her play a messy, complicated woman, which is exactly what she does in this adaptation of the memoir by Cheryl Strayed about her stint as the anonymous author of The Rumpus's Dear Sugar advice column. Clare, Hahn's character, finds that telling other people what to do with their lives helps her begin to understand her own. Added bonus: In flashback sequences, the great Merritt Wever plays Clare's mother. —J.C.
Justified: City Primeval (FX, Summer TBD)
Raylan Givens, the hottest, coolest, slyest, most britches-hitchin' U.S. Marshal ever to grace a TV screen, returns in a new Justified series. Set this time in Detroit, it will feature Timothy Olyphant returning as Givens alongside Aunjanue Ellis, Vondie Curtis Hall, Boyd Holbrook, and Olyphant's daughter Vivian. It's too soon to say whether Givens will once again need to take the law into his own hands to stop a dastardly criminal, but odds are looking pretty good. —K.V.A.
Clone High (HBO Max, TBD)
Before Phil Lord and Chris Miller broke through on the big screen with their 21 Jump Street reboot, The Lego Movie, and the Academy Award winning Spider-Man: Into the Spider-Verse, they created the weird, unpredictable, and delightful animated series Clone High. What if a bunch of historical figures — like Lincoln, Joan of Arc, and Gandhi — were cloned, then sent to high school? Which adolescent archetypes would they be? The premise foretold the zaniness Lord and Miller would eventually be known for, and 20 years after the series first premiered, class will be back in session for two seasons. —R.H.
The Curse (Showtime, TBD)
This is a TV series produced by the Safdie brothers and A24 that co-stars Emma Stone and Benny Safdie and is co-created by the Safdies and Nathan Fielder (who also directs and stars). Already, that's so much to process. Then add in the premise: a newly married couple disturbed by a curse are trying to conceive a child and starring in a new HGTV show. The mind boggles. —K.V.A.
Faraway Downs (Hulu, TBD)
Fifteen years after Baz Luhrmann directed a massive epic about his country of origin with Australia — which received a mixed critical reaction — he's expanding the nearly three-hour film into a miniseries. The film was, in typical Luhrmann fashion, sweeping and maximalist, although its treatment of Indigenous characters was not necessarily as progressive as the director might have intended. Fresh off the success of Elvis, Luhrmann is getting an Australia do-over with footage from the film cut into six episodes, a new ending, and a rejuvenated soundtrack. We bet our weight in glitter that it'll at least be visually stupendous. —R.H.
Fargo, Season 5 (FX, TBD)
Will the upcoming season of Fargo be the post–Mad Men TV role worthy of Jon Hamm? Two years after the somewhat overstuffed fourth season about Black and Italian criminal organizations fighting over control of Kansas City, the anthology series is going in a different direction with a plot about a kidnapping and a seemingly unhappy marriage. Hamm stars alongside Juno Temple and Jennifer Jason Leigh in a story set in the Midwest in 2019 — a change of pace from Fargo's more recent period efforts. Put that square jaw to good use, Jon! —R.H.
History of the World, Part II (Hulu, TBD)
Hulu is reviving History of the World as a series — once again created by Mel Brooks and written with Nick Kroll and Wanda Sykes, among others. Returning to a much-loved Brooks comedy film from the early '80s seems risky, but maybe this could be incredible? —K.V.A.
The Idol (HBO, TBD)
Back when filmmaker Amy Seimetz was set to direct all six episodes of The Idol, the HBO series co-created by singer Abel "The Weeknd" Tesfaye and Euphoria's Sam Levinson, this drama about the complicated relationship between a cult leader and a pop star seemed messily ambitious. But now that Seimetz (of The Girlfriend Experience and She Dies Tomorrow) has left the project because of creative differences and directing duties have been handed over to Levinson, The Idol seems just plain messy. The teaser unironically describes Tesfaye and Levinson as "sick and twisted minds" while looking like a Tarantino ripoff, but every generation deserves its own True Romance, I guess. —R.H.
I'm a Virgo (Prime Video, TBD)
Yes, there is some cognitive dissonance to communist anticapitalist activist Boots Riley, who has centered his political ideology in his music with the Coup and his 2018 film, Sorry to Bother You, working with billionaire-owned Amazon Studios and Prime Video for his series I'm a Virgo. At this point, very little information about the dark comedy is available beyond the fact that it stars Jharrel Jerome as a 13-foot-tall Black man coming of age in Oakland with a supporting cast including Mike Epps and Carmen Ejogo. Theoretically, there are few platforms larger than this one to spread Riley's artistic point of view, and he has said, "This show will either have me lauded or banned." Will that head off any "Boots Riley sold out" tweets? Hard to say. —R.H.
Lioness (Paramount+, TBD)
Taylor Sheridan simply cannot be stopped. The TV juggernaut, who previously took a spin with American imperialism in the Sicario films and Tom Clancy's Without Remorse, returns to that ideology with Lioness. Based on an actual CIA program, Lioness follows a female Marine (Laysla De Oliveira) who joins the CIA and is taught by station chief Joe (Zoe Saldaña) how to go undercover in a terrorist organization. —R.H.
The Other Two, Season 3 (HBO Max, TBD)
One of the funniest shows on television returns to once more follow the success-chasing members of the Dubek family — including Cary (Drew Tarver), whose acting career was about to take off at the end of season two when he did a table read for his first major movie role. Only problem? That table read took place on March 13, 2020. Could Cary's Hollywood dreams be thwarted again? For comedy's sake, let's hope so. —J.C.
Project Greenlight (HBO Max, TBD)
In its original version, the fourth season of Project Greenlight was a fascinating and troubled archive. It's a reality show about the process of greenlighting a young director's movie, and in its effort to be a warts-and-all depiction, it became an unintentionally revealing story about male ego, racism, and entrenched Hollywood bias. The original was overseen by producers Matt Damon and Ben Affleck. This new revival series is helmed by Issa Rae and will feature only woman directors. —K.V.A.
Reservation Dogs, Season 3 (FX on Hulu, TBD)
The conclusion of the second season found the Rez Dogs in California and at a crossroads. After finally venturing out West and more officially saying good-bye to their late friend (Daniel), Bear, Willie Jack, Elora, and Cheese now have to figure out their next steps. Will they go back home or stay in L.A. and see if they can happily live somewhere other than the reservation they've always known? —J.C.
Shōgun (FX, TBD)
The 1980 miniseries Shōgun, broadcast on NBC and based on the novel by James Clavell, was a big deal. It dominated the Nielsen ratings the week it was released and was showered with Emmy nominations (14 total with three wins). More than 40 years later, FX is giving Shōgun another go with an eight-episode limited series once again based on Clavell's novel, which is set in feudal Japan. —J.C.
Somebody Somewhere, Season 2 (HBO, Spring TBD)
This dramedy starring Bridget Everett as a Kansas woman trying to find her footing following the loss of her sister was one of the best shows on TV in 2022. It's funny, sweet, and heartfelt without ever being sappy, and it's a treat that we're getting a second season. — J.C.
Three Women (Showtime, TBD)
Inspired by Lisa Taddeo's nonfiction book of the same name, this drama explores sexual desire through the prism of three women — each confronting extramarital relationships in different contexts. Shailene Woodley is the stand-in of sorts for Taddeo. Betty Gilpin, DeWanda Wise, and Gabrielle Creevy play her subjects. —J.C.
True Detective: Night Country (HBO, TBD)
The time to argue about whether the third season of True Detective was good is over. The time to get excited about the return of the series is here! This fourth installment will be the first without creator Nic Pizzolatto at the helm — with Barry Jenkins executive producing and Issa López of the wonderful Tigers Are Not Afraid showrunning and directing, Jodie Foster and Kali Reis in lead roles, and a creepy-sounding premise about Arctic researchers going missing. The season description emphasizes "dark truths lying underneath the Arctic ice," which sounds a little too much like The Thing or that one episode of The X-Files. But this creative team is so promising that, for now, we'll accept the familiarity. —R.H.
What We Do in the Shadows, Season 5 (FX, TBD)
Based on the conclusion of season four, Guillermo the familiar may finally transform into a legit vampire in the next chapter of the What We Do in the Shadows saga. Perhaps Nandor, Nadja, and Laszlo will finally take him more seriously if he's officially one of them … eh, probably not. —J.C.
.

Also premiering in 2023
Firefly Lane, Season 2, Part 2 (June 8, Netflix)
76th Annual Tony Awards (June 11, CBS)
Ahsoka (TBD, Disney+)
Barry, Season 4 (TBD, HBO)
Black Cake (TBD, Hulu)
Bridgerton, Season 3 (TBD, Netflix)
Bupkis (TBD, Peacock)
Citadel (TBD, Prime Video)
Class of '09 (TBD Spring, FX on Hulu)
The Crown, Season 6 (TBD, Netflix)
Dave, Season 3 (TBD Spring, FX)
Dead Ringers (TBD, Prime Video)
Gen V (TBD, Prime Video)
Great Expectations (TBD, FX)
Ironheart (TBD, Disney+)
Loki, Season 2 (TBD, Disney+)
Love & Death (TBD, HBO Max)
Lupin, Season 3 (TBD, Netflix)
The Marvelous Mrs. Maisel, Season 5 (TBD, Prime Video)
Mayans M.C., Season 5 (TBD, FX)
Never Have I Ever, Season 4 (TBD, Netflix)
The Power (TBD, Prime Video)
Rain Dogs (TBD, HBO)
Retreat (TBD, FX)
The Righteous Gemstones, Season 3 (TBD, HBO)
Riverdale, Season 7 (TBD, The CW)