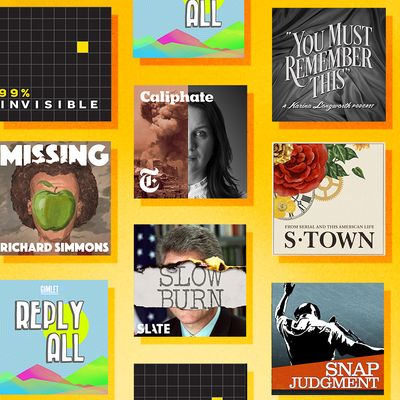 Long-form nonfiction storytelling has proved to be a crucial format for the development of podcasts, providing an early example of what the medium could offer the world. Before the onset of podcasts, narrative-oriented radio shows like Radiolab and This American Life were, in many ways, ill-served by the structural constraints of radio distribution. Consider: If you, as a listener, were to miss the first establishing minutes of a story when you switched on the radio, you probably wouldn't get the impact of what the producer was trying to do. And who knows when you would be able to hear it again.
Free from the cavernous limitations of the broadcast clock and armed with the expectation that listeners can follow complex narratives from the very beginning, podcasting offered audio producers and documentarians the opportunity to be more focused — and experimental — with the stories they can tell. And, as this list demonstrates, they obliged: They gave us radio shows free to push past the boundaries of what was previously possible; podcasts that took you around the globe and deep into the heart of America; podcasts that sought to bend history into the present; podcasts that broke the internet out into the real world.
You can call this genre by any number of names, but we're content to call it "narrative nonfiction." For more than a decade, this has encompassed a variety of storytelling formats, from weekly magazine-style character profiles to in-depth political histories to hardcore reporting from war zones. But the genre is always changing. Just in the past year, we've seen new shows that sharpen the standards to perfection (see Lost Notes, from KCRW) and shows that warped and reworked them altogether toward new ends (see Richard's Famous Food Podcast).
While the future of the genre looks exciting, this list aims to look at the most influential shows that got us to this point, the titles that helped evolve the whole project of audio storytelling. Their subjects and formats may vary, but they all share a common DNA: The best of the nonfiction genre is defined by deliberate construction, making them fundamental pillars of podcasting as a whole.
This American Life
An obvious way to kick off this list, but as long as we're in the business of discussing essentials, where better to start? Most podcast listeners — new, casual, obsessive, professional — are probably already familiar with This American Life, which initially started out as a thoroughly offbeat radio show that eventually became a revered purveyor of fine audio documentaries for multiple platforms, including (and especially) podcasts. This American Life is the kind of show that the Filmspotting podcast would call a "sacred cow," in that its importance to the medium is so broadly accepted that it may well be redundant and unproductive to bring it up. Nevertheless, the fact of the matter remains: Without Ira Glass and company, we wouldn't have a lot of the podcast world, or the public radio world for that matter, that we see today.
Radiolab
Same goes, I should add, for Radiolab. Revolutionary in its time, Radiolab pioneered an entire frontier of narrative sound design, one that's heavy on showmanship and even heavier on emotional impact. The podcast has gone through phases over the years, growing from an initial focus on science and philosophy to include subjects of more concretely societal orientation, like government, society, and how we live with each other. (This is on display, most evidently, with More Perfect, Radiolab's spinoff about the Supreme Court.) These days, the team functions as a kind of special-projects unit. Each new episode, released somewhat unpredictably, lands with a minor jolt of electricity, and is always a cause for some excitement.
Snap Judgment
Snap Judgment's tagline is "Storytelling with a Beat," and it's not joking around. At its heart, it might seem like a traditional anthology podcast, albeit one that tends to favor stories with sharp edges. But that's not the whole story: Snap Judgment is chiefly differentiated by a palpable verve that injects a sense of energy and style into a format that, frankly, tends to be pretty staid and buttoned down. It's also super fun, which is a feeling very few shows, particularly within the nonfiction narrative genre, tend to actively pursue. Another essential aspect of the show is its origin story: Snap Judgement is the brainchild of Glynn Washington, who received the opportunity to make it after winning a public-radio talent search back in 2010. Good thing, too: It remains one of the most successful attempts to open up the form.
99% Invisible
Roman Mars's 99% Invisible is an institution in more ways than one. On the one hand, it is the preeminent source of stories about design and the relationship between people and the physical world. (Also: ruthless acts of vexillological criticism.) And on the other, it's the cornerstone of Radiotopia, a beloved independent podcast collective that's working hard to help — for lack of better phrasing — Keep Podcasting Weird. And as the podcast begins to close out its first decade of existence, it has also begun to find new grooves for itself: namely, as a potential facilitator of future podcasting stars, as in the case of Avery Trufelman, a staffer whose work was highlighted in a recent miniseries called Articles of Interest.
You Must Remember This
Podcasting is rich in the history genre, but You Must Remember This, Karina Longworth's ongoing spelunks into various unexplored corners of Hollywood history, remains a standout entry. Since launching the podcast in 2014, Longworth has consistently used it to make genuine contributions to the way we think about the dense mythologies of the Hollywood of yore, particularly when revisiting specific personalities whose layers and truths are often glossed over by broader scholarship. You Must Remember This is a fine example of podcasts as a vessel of individual exploration; it is an extension of Longworth, a vital component of her overall output (which now includes a number of books), and a channel to experience the materials and stories in brand new ways.
Reply All
Probably the first great podcast to come out of the post-Serial era. Ostensibly "a podcast about the internet," Reply All is a consistent source of fantastic stories about the lives we live in the digital age. Led by WNYC alums PJ Vogt and Alex Goldman, the show intimately gets the mix of horror and wonder that defines the contemporary experience of technology, using that awareness to extract greater meaning. More pertinently, though, is the fact that Reply All features a fully evolved aesthetic, one that draws inspiration from but moves past the base public-radio sound that continues to govern so many other attempts at nonfiction narrative audio storytelling. If it maintains its consistency, we wouldn't be surprised to see it succeed This American Life as the standard-bearer of podcasts for the modern age.
S-Town 
Brian Reed's 2017 seven-episode portrait of the extraordinariness of an ordinary life, set in rural Alabama, is unprecedented in a number of ways. It's composed with a power and economy common only in novels. It's uncommonly challenging, setting up camp deep within what some may find to be ethically complicated territory. And it's wildly ambitious, fitting the scope of a whole world into the life of one man. The individual at the center of the story, John B. McLemore, is a figure unlike any other, compelling and upsetting in equal parts. There's nothing quite like S-Town, and I doubt we'll hear anything else like it ever again.
Missing Richard Simmons 
So, there are a lot of things we can say about Missing Richard Simmons, Dan Taberski's part-biography of the celebrity fitness icon and part-attempt to figure why he withdrew from the public eye, suddenly, a few years ago. We can say it's fairly controversial, given its relationship to the question of privacy as it pertains to public figures. We can also say that it definitely whipped up a frenzy. We can even say that the way it ended (which we won't spoil, in case you haven't heard it yet) was super underwhelming (okay, maybe that was a spoiler), though understandable given what was happening behind the scenes as the last few episodes were being produced. But I think Missing Richard Simmons's enduring legacy should be the way it highlighted the fact that podcasting is still a largely undefined medium. Far from just being a space to adapt stuff that could go on the radio, podcasting offers creators of all kinds — including former operatives of non-scripted television, like Taberski — the opportunity to play with new, unexpected boundaries.
Caliphate
"Cinematic" is a word that gets thrown around a lot to describe stuff outside of film, and while some interrogation of the usage is generally recommended, I think it really should apply to Caliphate, the New York Times' audio documentary that follows a section of foreign correspondent Rukmini Callimachi's reporting on the Islamic State. You can discern tangible directorial intent from each scene in Caliphate, resulting in a series that never once gets bogged down in busywork. Callimachi and her producer, Andy Mills, take listeners deep into situations that are likely far outside the scope of their everyday life — in war zones, in source meetings filled with tension, in domestic settings rendered terrifying by paranoia. The level of immersion that Caliphate conveys remains unparalleled, as no other podcast brings you, the listener, deep into the heart of conflict both literal and ideological.
Slow Burn
Slow Burn has one of those hooks that's both super simple and endlessly expansive: what was it like to live through a historically potent moment? The first two seasons, led by Leon Neyfakh, expressly focused on presidential scandals — Watergate and Clinton-Lewinsky, respectively — and they ended up being fantastically executed audio documentaries that echoed America's current (very current) political environment in spectacular fashion. Neyfakh has since branched out and continued doing politically oriented audio documentary work with his show Fiasco. Slate, meanwhile, has decided to bring Slow Burn into a whole other arena: hip-hop. Later this year, Slow Burn will return with a new host, Joel Anderson, at the helm, applying its framework to the murders of Tupac Shakur and the Notorious B.I.G. I'm willing to bet that the transition is going to work out just fine, and that Slow Burn is probably going to be around for a very long time.