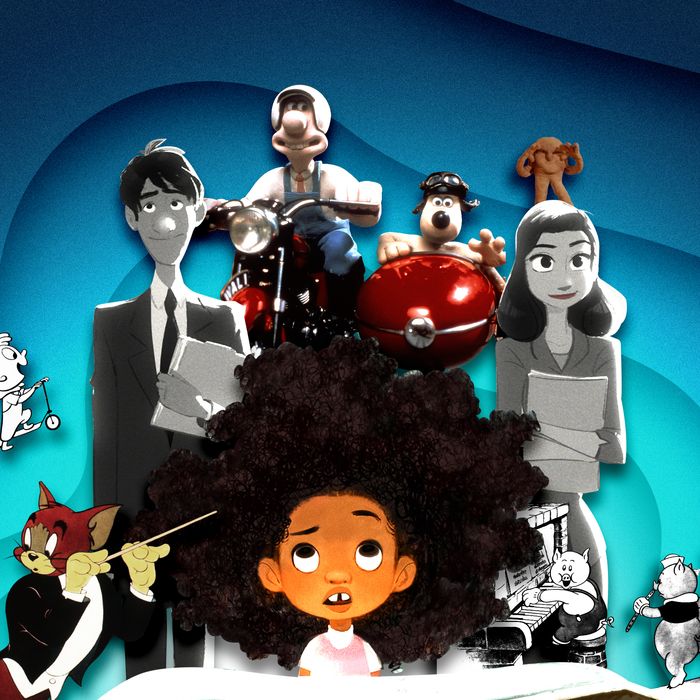 Photo-Illustration: Vulture; Photos: BBC, Co Hoedeman, Everett Collection, Sony Pictures, Walt Disney Co
This story was published in 2019. It has been updated to include this year's winner "The Boy, the Mole, the Fox, and the Horse."
Although animated films are as old as cinema itself, it wasn't until the fifth Academy Awards ceremony, for films released in 1931–32, that the Academy added a category for animated cartoons. By that point, the Golden Age of Animation was in full swing — every major studio either operated an animation unit or contracted an independent production company to provide theatrical cartoons to accompany its films. These shorts dominated the Oscars for roughly 30 years — until the studios shuttered their animation departments in the early 1960s. From there, independent and international filmmakers took over the category, a trend that continued through the '70s and '80s. By the beginning of the 1990s, studios like Pixar, Aardman, and Blue Sky revitalized animation in the English-speaking world and brought a vigor to the art form that led to the formation of the Best Animated Feature category. Now animation is the second-biggest branch of the Academy, and the Animated Short Film category has awarded films from more than 20 countries in almost every style of animation.
The 91 winners of the Best Animated Short Oscar are a microcosm of the history of world animation. Ranking them, one learns just how the definition of what constitutes animation has expanded from the colored cells of "Three Little Pigs" to the cutouts-on-acetate collage of "Frank Film." From some ambitious misfires to timeless classics that help define the medium, here is an attempt to rank every cartoon to win.
Note: Many rankings have changed since this article's initial publication in 2019. Those listed below can be considered definitive. That is, until I change my mind.
91.

"Logorama" (2009)
"Logorama" makes every building, person, and prop out of corporate logos. It's cool to look at, but it makes its point after the first two minutes. The rest of it is an overblown action sequence with horrible dialogue and voice-over work.
90.

"Sundae in New York" (1983)
In his 1983 essay "1,112 and Counting," gay activist Larry Kramer accused then-New York mayor Ed Koch of allowing gay men to die of a disease that had recently been dubbed Acquired Immune Deficiency Syndrome, writing that he had "not allow[ed] himself to be perceived by the non-gay world as visibly helping us." (That Koch was less-than-forthcoming about his own sexuality adds another layer to the story.) That same year, Jimmy Picker made this astoundingly tone-deaf Claymation short wherein Koch (voiced by an impressionist) improvises his own version of Kander & Ebb's hit song "New York, New York." By the time Picker won his Oscar, at least 200 more gay men had died from AIDS-related illnesses.
89.

"Knighty Knight Bugs" (1958)
The only Bugs Bunny cartoon to get an Oscar, "Knighty Knight Bugs" is the animated equivalent of Al Pacino winning for Scent of a Woman instead of Dog Day Afternoon. Its mediocrity is especially egregious given that most of Bugs's greatest films — including "What's Opera Doc?," regarded by some as the greatest cartoon of all time — weren't even nominated.
88.

"The Little Orphan" (1948)
In this Tom and Jerry short, Jerry adopts a starving orphan named Nibbles and treats him to a Thanksgiving feast, while he and Tom enact Pilgrim-Indian fights. The only thing worse than this cartoon's racial and historical insensitivity is that it's not funny.
87.

"Frank Film" (1973)
Animator Frank Mouris tells his autobiography over dueling audio channels with a continually unfolding collage of magazine cutouts glued on acetate cells flying by on the screen. Although considered an animation landmark, it's a headache-inducing experience that's too overwhelming to watch more than once.
86.

"A Greek Tragedy" (1986)
This undistinguished cartoon about three maidens holding up a building is not a story but a situation stretched out to six minutes. That same year, Pixar got its first nomination for "Luxo Jr.," which, at only three minutes long, tells a satisfying story about two lamps, each with distinct personalities.
85.

"The Two Mouseketeers" (1951)
Tom, Jerry, and Nibbles engage in swordplay in 18th-century France. This short features some good music, but it's one of the weaker cartoons in the series.
84.

"The Milky Way" (1940)
Disney's eight-year winning streak broke in 1940, when none of its cartoons received a nomination. The winner, "The Milky Way," was an MGM cartoon about three kittens who go to space in search of the Milky Way, which they think has actual milk. The film was produced by Rudolf Ising and Hugh Harman — two animators who bounced around from studio to studio throughout the Golden Age of Animation. Many of their cartoons, like this one, are as vapid and cutesy as the "Happy Little Elves" cartoons from The Simpsons. But Ising and Harman deserve a place in history for creating the MGM and Warner animation studios, which produced the other two shorts nominated that year: "Puss Gets the Boot," the debut film of Tom and Jerry, and "A Wild Hare," which introduced the world to a rabbit who casually asked a hunter, "What's up, doc?"
83.

"The Fly" (1980)
An insubstantial jaunt from a fly's point of view as it flies around a house.
82.

"Surogat" (a.k.a. "Ersatz," a.k.a. "The Substitute") (1961)
In 1952, Stanley Kramer released a film adaptation of Jan de Hartog's 1925 two-character play, The Fourposter, and hired UPA to animate both the opening titles and interstitial segments of the film. UPA had already revolutionized U.S. animation with its unique style, and the release of The Four Poster would revolutionize animation in, of all places, Yugoslavia (specifically Zagreb, now Croatia), where it achieved the unique distinction of being the first UPA cartoon ever screened there. The film fired the imagination of a group of young animators who subsequently formed the animation studio Zagreb Film, which has been producing TV shows, cartoons, and commercials for the past 70 years. "Surogat," the third cartoon released by the studio, became the first made completely outside of the U.S. to win the Oscar, and the UPA style looms large through it. Unfortunately, the film itself — about a trapezoid-shaped protagonist who inflates all the props, background, and characters around him — is largely weird for the sake of being weird.
81.

"Three Orphan Kittens" (1935)
A Silly Symphony in which cute kittens get in trouble. Nothing makes it stand out from similar Disney cartoons nor is it a testing ground for new camera techniques or styles, which the later Silly Symphonies became in the '30s. And it gets points docked for the racial stereotypes.
80.

"The Pink Phink" (1964)
"The Pink Phink" marked the cartoon debut of The Pink Panther, the animated character who first appeared in the main titles of Blake Edwards's 1963 film of the same name. Like the Panther's other cartoons, it's the same joke repeated over and over – the Panther paints everything pink while his foil wants to paint everything blue. That said, it's always worth it to hear Henry Mancini's irresistibly cool theme music.
79.

"Lend a Paw" (1941)
Mickey Mouse's only appearance on this list, "Lend a Paw" mostly focuses on Pluto, who debates between his inner angel and devil whether to save a small kitten. The film, with its message to help friends in need, heavily foreshadows a conflict to come: Two months after its release, the U.S. entered the Second World War and Disney converted his studio into a propaganda factory.
78.

"Dear Basketball" (2017)
When this article was originally published in 2019, Kobe Bryant's "Dear Basketball" came in last place — I called it the Crash of Best Animated Short winners. However, Kobe's tragic death adds enough poignancy to his farewell letter to basketball to move it out of the basement — even if it still feels more like a Nike commercial than a short film.
77.

"Is It Always Right to Be Right?" (1970)
Orson Welles narrates a parable about a world divided because everybody feels the need to be right. The animation and the music are bad, but the story is a good reminder of how we can better ourselves with a little humility.
76.

"Magoo's Puddle Jumper" (1956)
In 1949, UPA produced a cartoon called "The Ragtime Bear," the debut of a nearsighted old man named Mr. Magoo who mistakes a bear for his nephew Waldo. The film was a significant gamble for the fledgling studio. Founded by a group of ex-Disney employees who'd left following the 1941 animators' strike, UPA cut its teeth making government cartoons in the 1940s while refining a style that came to be known as flat animation — with highly stylized characters and backgrounds that eschewed the three-dimensionality of Disney. After almost a decade as a purely independent studio, Columbia Pictures became UPA's distributor in 1949 but had concerns that "The Ragtime Bear" would bomb, since human cartoon characters weren't as popular as their animal counterparts. The film defied expectations, making Mr. Magoo UPA's first breakout character and a signature role for actor Jim Backus, who later played millionaire Thurston Howell III on Gilligan's Island. Since Magoo is a one-joke character, his cartoons can get stale quickly — as in this short, where he buys a car that can drive underwater — but UPA's distinct style makes all of its cartoons worth watching. Fun fact: UPA co-founder Stephen Bosustow produced all three of that year's nominees for Best Animated Short, making him the luckiest man in the history of the Oscars.
75.

"Leisure" (1976)
A recounting of man's pursuit of leisure from caveman days to the present, "Leisure" features a cool mixed-media approach but otherwise it's not very engaging.
74.

"Great" (1975)
If you were confused when Kenneth Branagh came out at the 2012 Olympics Opening Ceremony looking like Abraham Lincoln, "Great" is a musical biography about who he was actually playing: Isambard K. Brunel, the English equivalent of Thomas Edison. The songs are catchy, but it's basically a Schoolhouse Rock video stretched to half an hour.
73.

"The Tortoise and the Hare" (1934)
Max Hare, the star of this fairly standard retelling of the Aesop's fable, has been cited by many as an inspiration for Bugs Bunny, who would turn this story on its head in "Tortoise Beats Hare."
72.

"The Country Cousin" (1936)
Another retelling of a fable, this time with the creatures who made the studio famous. It's always weird watching Disney mice who look nothing like Mickey, so the animation takes some getting used to. The best part is the music, which alternates between country banjo and a Gershwin-like motif, to reflect the two characters.
71.

"When Magoo Flew" (1954)
In the first UPA cartoon ever released in CinemaScope, Magoo mistakes an airplane for a movie theater and walks on top of it mid-flight. The humor grows a little stale, but the shots of his silhouette walking on the plane are gorgeous. The film ends with a very funny self-referential joke.
70.

"Winnie the Pooh and the Blustery Day" (1968)
The last of Walt Disney's astonishing 26 Academy Awards came posthumously for the second of the studio's three Winnie-the-Pooh cartoons. It was one of the final projects he green-lit, and Disney chose to release the shorts one at a time to gradually introduce the characters to American audiences — which is hard to believe, given how famous they have become since. That said, this short shows how the animation division was starting to drift without Walt's presence, recycling old ideas: The Heffalumps and Woozles sequence is the best example of this, since it tries to copy the fantasia of Dumbo's "Pink Elephants on Parade" number but fails to equal it. The best thing about the cartoon is the voice acting — a reminder that several of the actors voiced these characters for more than 30 years.
69.

"Yankee Doodle Mouse" (1943)
Tom and Jerry go at it, WWII style. Sticks of dynamite are tossed back and forth, Jerry uses a brassiere as a parachute, and the score offers an enjoyable mix of patriotic anthems.
68.

"Manipulation" (1991)
A cartoon man struggles to escape the sketch pad his animator has confined him to. The gags are funny, and the special effects are impressive, but it can't help but pale in comparison to the Looney Tunes "Duck Amuck," which is not only The Godfather of toon versus animator cartoons but, in my opinion, the greatest cartoon of all time.
67.

"Flowers and Trees" (1932)
In 1932, Herbert Kalmus perfected a color-film system called three-color Technicolor, which blended three black-and-white film strips with cyan, magenta, and yellow to produce vivid color film. He tried to sell the process to animation studios, but none was interested until Walt Disney took a chance with "Flowers and Trees," a Silly Symphony about a love triangle between two slender trees and an evil stump who starts a forest fire as revenge. The cartoon features the usual banal dancing reeds, birds, and trees that appear in the early Silly Symphonies, and the animation is coarse compared to later Disney efforts, but "Flowers and Trees" was a smash hit, winning the first Oscar for Best Animated Short Film and becoming the first film ever made in three-color Technicolor, which would not only be adopted by the other major animation studios by the end of the decade but be used for Gone With the Wind, The Wizard of Oz, and numerous other classic films. As always, Disney knew what audiences wanted before they did.
66.

"Piper" (2016)
Pixar has just about owned the Best Animated Feature category since it was first introduced in 2001 but went home empty-handed for its shorts for the next 15 years. "Piper," about a cute young sandpiper overcoming her fear of the water, broke its losing streak, but it's not one of Pixar's best. Still, it's worth watching for the beautiful bird animation.
65.

"Feast" (2014)
A cute dog who loves eating unhealthy food reunites his owner with his girlfriend after she dumps him over his bad diet. It's a sweet story that becomes too sentimental in the final 30 seconds, but the dog is really cute.
64.

"A Herb Alpert and the Tijuana Brass Double Feature" (1966)
John Hubley's Storyboard Studios won its third and final Oscar for this charming animated music video of two Herb Alpert songs: "Spanish Flea" and "Tijuana Taxi." (More on Hubley and Storyboard below.)
63.

"Ferdinand the Bull" (1938)
Nearly 70 years before Blue Sky's feature about this good-natured bull, Disney made its own version. Although popular at the time of its release, it's faded from the canon, probably because it never had follow-ups. The voice acting comes from Milt Kahl (one of Disney's Nine Old Men) as Young Ferdinand, Jack Benny announcer Don Wilson serves the narrator, and Walt Disney himself plays Ferdinand's Mother.
62.

The Windshield Wiper (2021)
Fans of Spider-Man: Into the Spider-Verse will recognize the work of that film's background designer, Alberto Mielgo, who directed this melancholy short about the impossibility of finding love in the age of Tinder. Depending on your point of view, either the depressing vibes outweigh the gorgeous animation or the gorgeous animation outweighs the depressing vibes.
61.

"The Fantastic Flying Books of Mr. Morris Lessmore" (2011)
Animator and children's-book author William Joyce co-directed this short about a man transported via tornado to a magical library with flying books. The animation captures Joyce's whimsical style, and there are some funny gags with the books — particularly when Lessmore has to perform surgery on one of them.
60.

"Tin Toy" (1988)
When Steve Jobs acquired Pixar for its computers in 1986, he didn't expect to make any money off of its small animation division — and engineers wondered why the animators were even on the payroll at all given the company's lack of revenue. In 1988, knowing that they were on thin ice, John Lasseter and his team of animators asked Jobs for $300,000 to make "Tin Toy," a cartoon about a toy one-man band named Tinny escaping the clutches of a toddler. Jobs agreed, and the film wowed audiences when it premiered, even though the animation hadn't been completed. The next year, "Tin Toy" became the first computer-animated short to win the Oscar. The only reason this landmark cartoon is not higher on the list is the animation — that baby is ugly, and the animation is so primitive that, in some shots, the baby isn't even touching the floor — but these problems are mostly due to the limitations of the technology at that time. "Tin Toy" served its purpose, legitimizing computer animation as a viable art form and convincing Jobs to keep funding the unit. In 1991, Lasseter wrote a treatment for a feature film about Tinny and a cowboy doll finding their way home. The title was Toy Story.
59-58.

"The Crunch Bird" (1971) and "For the Birds" (2001)
At two minutes, "The Crunch Bird" is the shortest cartoon to win the Oscar, and "For the Birds" isn't much longer. They're both one-joke cartoons about birds, but they're very funny jokes that don't overstay their welcome.
57.

"Speedy Gonzales" (1955)
In the official debut of everyone's favorite Mexican mouse, Speedy Gonzales brings cheese to the poor mice while getting the better of cheese-factory guard Sylvester every time. In one absurd gag, he runs through Sylvester's open mouth and exits through the back of his tail — the kind of gag that Warner directors like Tex Avery and Bob Clampett pioneered. While Speedy may strike some as a stereotype, he has remained popular with many Mexicans for his ability to outsmart his opponents — and for being a positive representation of Latinx people at a time when they were not easy to find.
56.

"It's Tough to Be a Bird" (1969)
Ward Kimball became the only one of Disney's Nine Old Men (his nickname for his nine favorite animators) to win an Oscar with this 20-minute history of birds, narrated by a bird drawn to resemble the great animator himself. Kimball, who drew most of the characters in Alice in Wonderland, was a master of zaniness, and he pulls out all the stops here. The film's combination of animation and live action makes it the first mixed-media short to win, and it climaxes with a chaotic montage reminiscent of Terry Gilliam's work on Monty Python — which, by sheer coincidence, premiered two months before "It's Tough to Be a Bird" was released.
55.

"The Box" (1967)
A sweet cartoon about an old man with a mysterious box. The sparse setting, heavily percussive score, and final reveal add to its overall impact.
54.

"Mr. Hublot" (2013)
French steampunk artist Stephane Halleux provided the inspiration for "Mr. Hublot," which brings his futuristic universe to life. The story is little more than your standard "man and dog friendship" tale, but the dog being a robot gives it a clever spin and the animation of the Blade Runner–like city looks spectacular.
53.

"Mouse Trouble" (1944)
Tom gets a book of ways to trap mice and fails at all of them in a short that's pretty much just a series of mishaps. But it includes one of the best jokes in any Tom and Jerry cartoon, when a beaten-up Tom turns to the camera and says in a basso profundo voice, "Don't you believe it!"
52.

"Quiet, Please!" (1945)
"Quiet, Please!" does a great job at stacking the deck against Tom, who has to prevent Jerry from waking up Spike the dog. The best joke involves him catching lightbulbs Jerry tosses down before they can shatter on the floor, a joke that pays homage to W.C. Fields's It's a Gift, although the punch line is much more violent: Jerry plugs Tom's tail into a socket and he lights up like a Christmas tree.
51.

"La Maison en Petits Cubes" ("The House of Small Cubes") (2008)
Japanese animation had never been recognized in this category until "La Maison en Petits Cubes," the story of a fisherman in a flooded home who looks back on his life. The film takes on Proustian dimensions by using a smoking pipe as the catalyst for the old man's memories, which come to life in beautiful drawings by animator Kunio Katō. When Katō won his Oscar, he brought down the house by ending his speech with "Domo arigato, Mr. Roboto!"
50.

"Tango" (1982)
Except for the producers of La La Land, no one ever had a worse Oscars night than Zbigniew Rybczyński, the Polish director of "Tango." After Kristy McNichol botched his name upon opening the envelope, Rybczyński, who spoke limited English, went onstage with his translator to give his speech, but the orchestra tried to play them off before they finished. Then he went outside to smoke a cigarette — Oscar still in hand — but left his ticket in the theater and was denied reentry by security, leading to a physical altercation. When the cops showed up to take statements, Rybczyński said, "American pig, I have Oscar!" and supposedly hit one of them in the groin, sending him to jail for the night. Fortunately, the DA declined to prosecute him. As for "Tango," it's a very cool experimental film where live-action characters repeat actions and movements in an impossibly large room, and more and more come in until it becomes as crowded as the stateroom in A Night at the Opera. You'll want to watch it more than once to see how the characters overlap with each other. Rybczyński (who eventually learned English) went on to direct music videos for Mick Jagger and Lou Reed. Reflecting on his Oscars night, he said, "Success and defeat are quite intertwined."
49.

"The Lost Thing" (2010)
Narrated by songwriter Tim Minchin, "The Lost Thing" depicts a friendship between an awkward boy and a mysterious tentacled thing that looks like it wandered out of "Mr. Hublot." It's a touching story with a solid punch at the end, and the scene in the Department of Odds and Ends is a nice homage to Terry Gilliam's Brazil.
48.

"Quest" (1996)
This German student film depicts puppets traveling through various lands of sand, stone, and machinery to find the source of a mysterious dripping noise. The animation is extremely cool, especially in the backgrounds. The only trouble is the ending, which seems profound at first but feels a little too "student film" on second viewing.
47.

"A Close Shave" (1995)
Is there a single more expressive character in all of animation than Gromit, Wallace's dog companion? With no mouth, he conveys everything through his brow and his eyes, combining Chaplin's warmth with Keaton's deadpan. Here, he and Wallace uncover a plot to kidnap sheep and make them into pet food. As always, Gromit plays detective and action hero while the bumbling Wallace is just lucky to be along for the ride. The film introduced audiences to Shaun the Sheep, who later got his own TV show and film series. The only trouble is that the half-hour running time works against the film, due largely to the overstuffed final action sequence where director Nick Park tries to top his efforts from the preceding Wallace and Gromit film. (More about that one later.)
46.

"Johann Mouse" (1952)
In 1940, MGM animators William Hanna and Joseph Barbera teamed up a cat named Jasper and a mouse called Jinx in "Puss Gets the Boot," but it didn't leave much of a mark. A year later, they produced a follow-up film that redesigned the characters and renamed them Tom and Jerry. They became MGM's breakout stars, and Hanna and Barbera would go on to make more than 100 Tom and Jerry cartoons, netting MGM 13 Oscar nominations and seven wins. The last was for "Johann Mouse," wherein Tom and Jerry become a musical sensation in 1890s Vienna. There are some funny jokes involving Tom's piano playing, and the music, performed by the MGM orchestra, is a reminder of how the old studios spared no expense on their cartoons. After MGM shuttered its animation unit in 1957, Hanna and Barbera set up their own company and went on to create The Flintstones, The Jetsons, Scooby-Doo, and dozens of other memorable TV cartoons. As with Disney, it all started with a mouse (and a cat).
44.

"The Danish Poet" (2006)
Liv Ullmann narrates a touching story about how coincidence and chance shape one's destiny, with a nice twist ending. She plays all the characters, and her lilting tones help make this cartoon a lovely experience.
44.

"The Boy, the Mole, the Fox, and the Horse" (2022)
Charlie Mackesy co-directed this adaptation of his book of the same name, about a boy lost in the woods who befriends a mole, a fox, and a horse and learns lessons about kindness, self-acceptance, and family. Although it's weakened by one too many moments when the characters give one another life advice, the lush illustrations and excellent voice acting from Jude Coward Nicoll, Gabriel Byrne, Idris Elba, and Tom Hollander keep it from tipping into Hallmark-card sentimentality.
43.

"Special Delivery" (1978)
A man's refusal to clean the snow off his front porch leads to to the death of his mailman. Hilarity ensues.
42.

"Toot, Whistle, Plunk and Boom" (1953)
In Aaron Sorkin's script for Steve Jobs, Apple co-founder Steve Wozniak asks Jobs, who can't design or code, what it is he actually does. Jobs replies, "Musicians play the instruments — I play the orchestra." The same could be said of Walt Disney. He wasn't a great animator, he didn't "invent" sound or color cartoons, and he wasn't the first person to make an animated feature film. But he was an expert judge of talent, had an impeccable knowledge of dramatic storytelling, and above all else, was an experimental filmmaker who never stopped seeking out new technologies to advance the art of animation. Co-directed by Ward Kimball (who directed "It's Tough to Be a Bird"), "Toot, Whistle, Plunk and Boom," an entertaining history of music from cavepeople to the present day, was the first cartoon ever to be produced in CinemaScope, which Disney would use for all of his animated features starting with Lady and the Tramp. The flat animation — a radical departure from Disney's house style — shows how the UPA style had gained dominance in the industry. Although Disney produced some highly stylized and inventive short films in the 1950s, by the end of the decade, he had moved away from them as the company diversified into TV, live-action films, and theme parks.
41.

"Closed Mondays" (1974)
Director Bob Gardiner, the inventor of Claymation, spent 14 months with his filmmaking partner Will Vinton making this stop-motion film about a drunk who wanders into a museum after hours and finds the artwork coming to life: an abstract painting turns into a series of swirling musical notes, a slot machine with lips speaks abstract poetry, and a traditional painting of a scullery maid talks back to him. Unlike "The Critic" (to be discussed below), which scoffs at art, "Closed Mondays" speaks to its power to involve us through the emotion it conjures. Gardiner and Vinton went on to create several successful ad campaigns, including the California Raisins, and Vinton's production company, Will Vinton Studios, would eventually become the stop-motion powerhouse Laika Studios.
40.

"Bao" (2018)
Domee Shi, a Chinese Canadian immigrant, became the first woman to direct a Pixar short with "Bao," and she and producer Becky Neiman-Cobb became the first all-female awardees of the Best Animated Short Oscar. Shi based this heartwarming story of a mother who raises a dumpling from birth to adulthood on her own relationship with her overprotective mom. The use of food as a metaphor for parenting is specific to Chinese culture: Shi has said in interviews that Chinese parents substitute "Have you eaten yet?" for "I love you." This specificity allows "Bao" to express universal truths about parents and children, which Shi would continue to explore in her feature Turning Red. Shortly before "Bao" premiered in 2018, Pixar founder John Lasseter announced that he would leave the company after he was outed for sexually harassing women and fostering a "boys' club" mentality that kept female employees from rising through the ranks. Between this and Turning Red, Shi has made a difference in the kinds of stories and creators that animation can nurture.
39.

"Paperman" (2012)
After dominating this category in its early years, Disney won its first Animated Short Oscar since "It's Tough to Be a Bird" for "Paperman," which is the first (and so far only) black-and-white cartoon ever to win. The main character is an anonymous office clerk inspired by one spot of color — a woman's red lipstick kiss on a piece of paper — to go after her, with papers piling up around him. The style and the lack of dialogue serve the story beautifully.
38.

"Charade" (1984)
Have you ever played charades with your friends and gone nuts when they can't guess what you're miming? Charade takes this premise to a hilarious extreme, as the main character makes it obvious he's miming titles like Jaws and Superman, but his friends' guesses completely miss the mark. At the same time, one player becomes the first person in history to successfully mime The Concise Oxford Dictionary of Rotations, which the others get right away.
37.

"Balance" (1989)
Like the best stop-motion films, "Balance" leaves viewers breathless, wondering how the animators did it. Set atop a floating platform in space, it depicts five identical men fishing for a rare device and causing the platform to tilt back and forth whenever they walk. It inspired the finale of National Treasure: Book of Secrets.
36.

"The Dot and the Line" (1965)
After the Warner animation studio closed its doors in 1963, Chuck Jones went to MGM, where he produced this short that netted him his only competitive Oscar. Based on a book by Norton Juster about a male line who tries to win over a female dot, the animation is a radical departure from Jones's Warner cartoons (echoing the work of abstract pioneer Oskar Fischinger), and the scenes where the line morphs from two to three dimensions are beautifully done. (Narrator Robert Morley provides humorous math puns in his dry voice.) Jones tried to make lightning strike twice a few years later with a feature film of Juster's classic book The Phantom Tollbooth, but the film performed poorly with audiences and critics.
35.

"Crac!" (1981)
One of the greatest things about animation is the way it can imbue inanimate objects with emotions. In "Crac!" the protagonist is a rocking chair who begins his life when a French-Canadian farmer builds it from the wood of a tree. Over its life, the chair observes the farmer, his wife, and their family for generations. Like the opening montage of Up, the film collapses a century into a little less than 15 minutes, coming together harmoniously in the final moments, when the chair reflects on all it has seen in its final home, an art museum.
34.

"The ChubbChubbs!" (2002)
Sony Animation won its first Oscar for this computer-animated sci-fi film about an alien janitor with dreams of being a karaoke singer who must face off with the menacing ChubbChubbs. The film is filled with inside jokes for sci-fi nerds, including cameos from Yoda, E.T., and Jar-Jar Binks — who dies in the opening two minutes. The twist at the end is great too.
33.

"Moonbird" (1959)
UPA's John Hubley was forced to go into TV commercials after he was blacklisted and thrown out of the company, but he found success producing the ad campaign for Maypo Oatmeal, which starred an animated child played by Hubley's son Mark. Using the money from these ads, he and his wife Faith Hubley made "Moonbird," a film based on a tape recording of Mark and his brother Ray playing together. Watching all these Oscar winners chronologically, "Moonbird" is a radical departure in style from any of the shorts preceding it, going beyond the flatness of UPA to create characters based entirely on crudely drawn outlines. Its only limitation is the fact that the two boys' improvisation can't help but lag at times, but it was a huge step forward for Hubley. A 1968 follow-up called "Windy Day" sets an improvisation by his two daughters to animation, and is even better.
32.

"A Christmas Carol" (1972)
Richard Williams' made-for-TV film of Charles Dickens's most famous story was such a hit when it aired in 1971 that it received theatrical distribution the following year, allowing it to qualify for the Oscar (the rules were then changed to prevent this from happening again). It's a very effective adaptation, aided by Alistair Sim and Michael Hordern reprising their roles as Scrooge and Marley from the famous 1951 movie. Marley in particular is a standout — whenever he speaks, he just opens his mouth wide and unleashes the words with no lip movements. Bonus points for including the shriveled children representing Ignorance and Want, a powerful scene from the book cut from most adaptations. It's only weakness is that at 25 minutes, it feels rushed, particularly when Scrooge changes his ways at the end.
31.

"The Old Mill" (1937)
As production moved ahead on Snow White and the Seven Dwarfs, Disney used his shorts to experiment with the technology he knew would make his first feature-length film stand out. The most famous of these is "The Old Mill," the first animated cartoon to use the multiplane camera. This device placed a camera atop multiple planes of glass to provide a depth of field never before seen in animation. Just as he had embraced Technicolor before live-action filmmakers, Disney embraced deep-focus cinematography four years before Citizen Kane, making this short about animals weathering a bad storm look like it was shot by Kane cinematographer Gregg Toland, and the storm itself is one of the most suspenseful scenes in any cartoon. See it on a big screen if you can.
30.

"Tweetie Pie" (1947)
Director Friz Freleng threatened to quit Warner Bros. when producer Edward Selzer opposed his idea for a cartoon pitting a bird named Tweety against a cat named Sylvester (here called Thomas), but "Tweetie Pie" would net Selzer and the Looney Tunes their first Oscar. The film showcases Freleng at his absolute best with his virtuosic matching of action to music and absurdist gags. What made him a genius, however, was how he imbued his characters with moments of humanity amidst chaos — such as when Sylvester/Thomas throws his hammer on the ground after finishing a contraption. When asked why he included it, Freleng just said, "Because it's human." After Selzer's death, the Oscar was passed to Freleng.
29.

"Bob's Birthday" (1994)
"Bob's Birthday" introduced audiences to Bob and Margaret, the middle-aged British couple who got their own TV series in the late 1990s, and it's the raunchiest cartoon to ever win. Bob, terrified of turning 40, comes home and rants about his fears to Margaret without realizing she's planned a surprise party for him — and worse, that all the guests are listening from their hiding spots as he insults them and walks around with no pants on. The awkwardness of the situation and Bob's callousness make this cartoon hard to watch at imes, but there's genuine tenderness between him and Margaret, and the conclusion, when she realizes it's better just to be there for him, is touching.
28.

"Bear Story" (2014)
Chilean director Gabriel Osorio's film about a bear whose toy music box tells how he was kidnapped from his family and sold to the circus is a haunting allegory of Augusto Pinochet's regime. The designs on the mechanical music box, and the ways they contrast with the bear's world, are gorgeously rendered. "Bear Story" is a deeply moving film about the relationship between storytelling and trauma.
27.

"Der Fuehrer's Face" (1942)
Originally titled "Donald Duck in Nazi Land," the most famous of Disney's World War II cartoons depicts Donald Duck living under Hitler's tyranny. His home, and most of the props, are shaped like swastikas, and he's forced to work in a munitions' factory where every time a photograph of the Fuehrer comes down the conveyor belt, he has to scream "Heil Hitler!" in his distinctive squawk. One of the rare Disney films that includes laugh-out-loud gags, it's as entertaining today as it was 77 years ago, and features one of the most absurdist moments in Disney animation, when the shells come to life. The title song became a hit for Spike Jones and his band. (It loses points for insensitive drawings of the Japanese, however.)
26.

"Birds Anonymous" (1957)
If there is a patron saint of cartoon voice-over, it's Mel Blanc, who, until his death in 1989, voiced almost every one of the Looney Tunes characters. Here he plays Tweety, Sylvester, and a cat named Clarence who takes Sylvester to Birds Anonymous, AA for cats — a concept that would later find its way into Finding Nemo. His voices for Sylvester and Tweety are iconic, but it's as Clarence that he really excels here, using a flat voice to give him the appearance of control even when he reverts to his old ways at the end. This was Blanc's favorite cartoon, and after producer Edward Selzer's death, his Oscar was passed down to the "man of a thousand voices."
25.

"Peter & The Wolf" (2007)
Literalizing Sergei Prokofiev's famous piece, which is meant to live in the imagination of its listeners, is a tricky undertaking (one that even Disney animators couldn't pull off), but director Suzie Templeton's half-hour film adaptation makes several smart changes to the story — including setting it in modern times, turning the three hunters into bullies who torment Peter, and creating a dynamic between the title characters that leads to a satisfying and touching conclusion. The stop-motion animation seems to have influenced Wes Anderson's Fantastic Mr. Fox and Isle of Dogs.
24.

"For Scent-imental Reasons" (1949)
Looney Tunes producer Edward Selzer, who once unironically barked to his animators, "I don't see what laughter has to do with the making of animated cartoons!" told Chuck Jones that nobody would laugh at his amorous French skunk, Pepé Le Pew, but once again he was wrong. As in all his films, Pepé longs for Penelope Pussycat, whom he thinks is a skunk, but she wants nothing to do with him. This time, however, Penelope goes after him at the end, freaking him out. Bonus points for writer Michael Maltese's hilarious faux-French dialogue.
23.

"Munro" (1960)
"Munro" began as a short story by Jules Feiffer, who turned 94 in January 2023 and has spent his career drawing cartoons, illustrating children's books, and writing for stage and screen. The title character is a bratty 4-year-old boy who gets drafted into the army as punishment, but none of his superiors believe it, because they're convinced anyone who enlists must be motivated by the army's "cause." The savagery of the satire and the humor of the animation, modeled after Feiffer's drawings, make this cartoon as funny as a Mark Twain story. Interestingly, this very American short was the first Oscar winner made outside of the U.S. — the animation came from Gene Deitch's studio in Prague, where Deitch moved to receive financing in 1959 and produced cartoons for more than 60 years until his death in 2020.
22.

"Geri's Game" (1997)
Most people were introduced to "Geri's Game" when it played before A Bug's Life in 1998, inaugurating Pixar's tradition of showing one of their shorts before their features. It's one of the studio's funniest films, taking a simple concept — an old man playing chess with himself — and executing it perfectly. The best part is that the old man develops two distinct personae throughout the game — one needy and conniving, one cold and calculating — and their interactions make you think you're watching two people instead of one. Geri cameos in Toy Story 2 as the repairman who sews Woody's arm back on.
21-20.

"Anna and Bella" (1985) and "Bunny" (1998)
"Anna and Bella" is a hand-drawn Danish short where two sisters look back on their lives and make peace over the heartbreaking way their friendship ended; "Bunny" is a battle between an elderly rabbit and a moth who won't leave him alone. They're tied here because they're structurally quite similar: They begin as one thing and go someplace you don't expect, leading to two of the most moving endings on this list. Tom Waits provides the soundtrack for "Bunny" and sings over the end credits.
19.

"Every Child" (1979)
Producer Derek Lamb made "Every Child" in conjunction with UNICEF's International Year of the Child campaign. The story of a baby passed from home to home could have been maudlin in the wrong hands, but Lamb brings humor to it to by having every voice, sound effect, and musical note performed by a male duo called Les Mimes Electriques. The short begins and ends with them in the recording studio, an image that acquires additional resonance when the child is finally adopted at the end by two old men.
18.

"Harvie Krumpet" (2003)
Adam Elliot's sympathy for the differently abled has always come through in his short films and his cult feature film Mary and Max. Like those, "Harvie Krumpet" combines a wry sense of humor with heartfelt drama to tell of a Polish émigré to Australia who never loses his optimism, despite the many setbacks that come his way. Funny without being ironic, and moving without being sentimental, Elliot never condescends to his characters or their situations. It's the work of a true humanist.
17.

 "Father and Daughter" (2000)
When this article was first published in 2019, "Father and Daughter" ranked much lower, because I felt it had not had the same cultural impact as the film that it beat for the Oscar, Don Hertzfeldt's absurdist masterpiece "Rejected," which was one of the first films ever to go viral. Then I watched "If Anything Happens I Love You," which was directly influenced by "Father and Daughter," and realized I was completely wrong. The story of a young girl who spends her whole life waiting for her father to come back after he abandons her, "Father and Daughter" packs an emotional wallop and proves that you don't need to spawn endless memes and hysterical catchphrases (like "Rejected" did) to have a significant legacy.
16.

"The Sand Castle" (1977)
Thin in story but rich in atmosphere, Co Hoedeman's "The Sand Castle" depicts humanoid, serpentine creatures who rise from the sand, build a fortress, and watch it crumble as the winds sweep it away. The film is a haunting tribute to the impermanence of art, best summarized by Calvin and Hobbes creator Bill Watterson, who once drew a Michelangelo-inspired painting on the ceiling of his dorm knowing it would be erased by whoever lived there next year. "My fondest memories," he said, "are [of] times like these, where things were done out of some inexplicable inner imperative, rather than because the work was demanded."
15.

"The Moon and the Son: An Imagined Conversation" (2005)
John Canemaker, the NYU professor and historian who has written authoritative books on animation, is the son of an Italian who spent five years in jail for (allegedly) burning down his hotel to collect the insurance money when John was a child. Ten years after his father's death, he produced this "imagined conversation" between them with John Turturro as John Canemaker and Eli Wallach as his father. Told through a collage of animation, live-action clips, and photographs, it tells a universal story about the necessary distance children must keep from their parents, and a father who, to paraphrase Philip Larkin, was "fucked up in [his] turn/By fools in old-style hats and coats." It could have easily been a feature, especially with the stellar performances of Turturro and Wallach, but even at half an hour it's a remarkable achievement.
14.

"Three Little Pigs" (1932–33)
Where to begin with the impact of the most popular cartoon short ever made? The fact that it was held over in theaters for months by popular demand? The legions of merchandise it spawned? The catchy hit song that inspired the title of one of the most famous American plays? Leave it to Chuck Jones, who said it was "the first time that anybody ever brought characters to life … who looked alike and acted differently." This makes it stand out from the other Disney Silly Symphonies of that time. Fifer and Fiddler Pig are a fun-loving unit off-set by their smart brother, Practical Pig. Separately, they get into trouble, but when they team up to outsmart the Big Bad Wolf, who dons a variety of unconvincing disguises to trap them (including a stereotypical Jewish peddler), they're unstoppable. Bonus points for the morbid family photos in Practical Pig's home of Uncle Earl (a football) and Father (sausage links.)
13.

"Creature Comforts" (1989)
The short that launched a multiyear U.K. advertising campaign, Nick Park's "Creature Comforts" took street interviews with homeowners describing their living conditions and put them in the mouths of stop-motion animals. The juxtaposition of people's actual voices with animals is hysterical — like the lion who speaks with a Brazilian accent about wanting more heat. Park's ability to use eyes to convey emotions is unparalleled in stop-motion animation (see also, Gromit), and the deadpan, sullen looks he gives the animals only add to the comedy.
12.

"The Critic" (1963)
In 1962, Mel Brooks attended a screening of an abstract cartoon by animator Norman McLaren, where he heard an audience member mumbling sarcastic comments to himself. He then hired animator Ernest Pintoff to draw three minutes of abstract imagery, to which he recorded an improvised commentary as a 71-year-old audience member. As the images fly by, Brooks (then only 36) yells out things like "It must be some kind of symbolism — I think it's symbolic of junk!" and "Uh-oh, it's a cock-a-roach!" At three minutes, the film doesn't overstay its welcome, but you can't help but want more. Fortunately, we do have more — in the landmark sketches, comedy routines, movies, musicals, and (in 2023) a TV show that Brooks has created throughout his 70-plus years in show business. Fun fact: "The Critic" influenced Martin Scorsese's first NYU film, What's a Nice Girl Like You Doing in a Place Like This?
11.

"Mona Lisa Descending a Staircase" (1992)
Director Joan Gratz compresses the history of 20th-century art into seven minutes as famous paintings break apart and transform into each other — such as when a Picasso of a nude girl in bed becomes Munch's The Scream. By juxtaposing these works of art, Gratz reminds us how all artists influence one another — even when their work seems to have nothing in common. Even more astonishing is that the animation was achieved entirely through oil-based clay, which she spread on a vertical easel. The effects of her thumbprints molding the clay from frame to frame gives the paintings a living quality similar to how King Kong's fur appears to move in the 1933 film. It took Gratz eight years of planning and two and a half of filming, and you can see the effort.
10.

"Hair Love" (2019)
Former NFL linebacker turned filmmaker Matthew A. Cherry was inspired to produce "Hair Love" after he started posting YouTube videos of Black fathers styling their daughters' hair. When the videos went viral, Cherry realized that they depicted a side of Black fatherhood not seen in U.S. media — whether animated or live-action. He raised $300,000 via Kickstarter to make "Hair Love" (with backers including Jordan Peele and Gabourey Sidibe) and enlisted the talents of The Proud Family creator Bruce W. Smith and Sony animation producer Karen Rupert Toliver to bring it to life. Like the videos that inspired it, "Hair Love" enlightens viewers with a fresh perspective on race not by tackling big themes about tolerance but by telling a sweet story about the ways a father, daughter, and mother style their hair. The film strikes a perfect balance of being funny without trivializing the characters and tugging the heartstrings without becoming bathetic. The animation on the hair is beautiful too.
9.

"The Ugly Duckling" (1939)
The last entry in Walt Disney's Silly Symphonies series, "The Ugly Duckling," is a remake of an earlier black-and-white cartoon — the only time this happened for any Disney short. Unlike the earlier version, which was played mostly for laughs, this adaptation features one of the saddest and most moving scenes in the Disney canon, when the rejected duckling takes solace in playing with the one creature who will not judge him — a duck decoy. And when the decoy bobs down on his head and frightens him away, you'll be reaching for a handkerchief. Disney once said on one of his TV programs that "the primary purpose of any of the fine arts is to arouse a purely emotional reaction in the viewer." That may not be true of all art, but it's definitely true for much of his — and for this film as well.
8.

"The Hole" (1962)
John Hubley was never shy about his liberal politics, and fused them with animation in this powerful 1962 film where two construction workers, voiced by character actor George Matthews and jazz musician Dizzy Gillespie, debate whether accidents are caused by human failings or karmic coincidence. Released the same year as the Cuban Missile Crisis, the short foreshadows films like Fail-Safe and Dr. Strangelove, and given the context of the civil-rights movement, resonates as a conversation between a complacent white man and a person of color who can hear dog whistles. Considering that all of it was improvised, it's remarkable that Matthews and Gillespie's dialogue becomes as profound as that of the two tramps in Waiting for Godot. It's an eternally relevant parable about the dangers of not listening closely to the warning signs around us.
7.

"The Old Man and the Sea" (1999)
Despite Russia's storied history of animation, no Russian cartoon ever won an Oscar until Aleksandr Petrov made this 20-minute adaptation of Ernest Hemingway's novella that is quite possibly the finest film ever made of any of his books. To make it, Petrov and his son spent two and a half years hand-painting 29,000 oil-pastel frames on glass, filming each of them with a special Imax camera, and moving the paints with their hands between shots. This style, reminiscent of the early 20th-century paintings of George Bellows, captures Hemingway's masculine prose — particularly in the scene depicting the old man's 24-hour arm-wrestling standoff, in which it looks like you can see the muscles tensing. It captures his romanticism: The old man's dreams of Africa are beautifully drawn, and Petrov departs from the novel by adding dream sequences in which he swims and flies alongside his beloved fish. Denis L. Chartrand and Normand Roger provide the beautiful score.
6.

 "If Anything Happens I Love You" (2020)
Samuel Goldwyn once dismissed "message pictures" by saying, "If you want to send a message, use Western Union." Goldwyn never saw "If Anything Happens I Love You," a film that proves the best way to get a message across is by telling a great story — in this case, one about two parents grieving for their daughter who died in a school shooting. Drawn by an all-female animation team in a style paying homage to "Father and Daughter," the film depicts two parents going through their day, trying to ignore the shadowy projections of their subconscious that eventually force them to confront their grief through memories of their daughter, whose final text gives the film its title. The most moving scene is not the revelation of how she died, or her final text, but the moment when her parents' shadows do everything in their power to keep her from going to school. As she repeatedly slips through their grasp, their inability to change the past creates a sense of dread that makes the revelation of her death all the more devastating. The cultural footprint of this film already looms large: Within a week of its release on Netflix, it became one of the most-watched films in the world, went viral on TikTok, and inspired a critically acclaimed graphic novel. Only the most stonehearted people can watch it without crying.
5.

"Ryan" (2004)
Anaïs Nin once wrote that "we don't see things as they are; we see them as we are." This could describe "Ryan," Chris Landreth's extraordinary documentary about Canadian animator Ryan Larkin. In the 1960s and '70s, Larkin had been a rising star in animation for his two short films "Walking" (for which he was nominated for the Oscar in 1968) and "Street Musique," but by the time he met Landreth, he had been living on the streets of Ottawa for more than 20 years due to an addiction to alcohol and drugs. Landreth worked for two and a half years on the film, recording interviews with Larkin, then working with a team of animators to depict the characters as oblong beings with holes in their bodies and colored lines on their faces representing psychological torment. When the characters discuss those wounds, spikes and colored lines emerge from their faces, powerfully illustrating the demons that haunt them every day. What's more, none of the characters was drawn through motion capture — an astonishing achievement given how realistic their movements are. Landreth's film rescued Larkin from obscurity: When he died in 2007, he was working on his first animated film in more than 30 years, "Spare Change," which was completed the following year by his collaborator Laurie Gordon.
4.

"Gerald McBoing-Boing" (1950)
If "The Ragtime Bear" gave UPA its first star character, "Gerald McBoing-Boing" made it the most important stylistic force in U.S. animation since Walt Disney. This cartoon, based on a Dr. Seuss record about a little boy who speaks only in sounds, was a radical departure from anything that came before — there were no cute animals, no cartoon violence, and a perfection of flat animation that looked unlike anything that had been seen by a large audience before. "Gerald McBoing-Boing" features all of the hallmarks of UPA animation. The background designs have no walls, allowing them to flow seamlessly into each other with locations only changing through props and colors. As the backgrounds change, the characters' skin tones change with them, giving the film an emotional dynamism. When Gerald is happy, both he and the background are yellow. When he's sad, dark blue dominates the screen. The deliberately unrealistic style allows for striking camera shots — such as when Gerald walks up a flight of stairs on a Dutch angle meant to evoke a similar moment from Carol Reed's 1948 film The Fallen Idol. Throughout the 1950s, more animators would adopt UPA's techniques to their own ends, and over 70 years later, "Gerald McBoing-Boing" remains one of the most remarkable and influential cartoons of all time.
3.

"The Man Who Planted Trees" (1987)
Frédéric Back (who directed "Crac!") was a lifelong environmentalist who planted thousands of trees on his own property, which made him the perfect person to adapt Jean Giono's short story, "The Man Who Planted Trees." This powerful film tells of the friendship between a young man and a peasant farmer who has devoted his life to planting trees throughout his desolate homeland. Over 30 years and two World Wars, he remains undaunted in his mission to cultivate and nurture the French-Canadian countryside, astonishing government officials who never realize that all of this beauty comes from one man's efforts. To achieve the film's look, Back and his assistant, Lina Gagnon, sketched on matte acetate with colored pencils, adding in layers of shading as scenes blend from one to the other, using multiple exposures and no cuts. As in "Gerald McBoing-Boing," the colors evolve with the trajectory of the landscape, from black, craggy lines to lush blues and greens. As an environmental parable, "The Man Who Planted Trees" never becomes preachy; it's a plaintive character study of a saint. Tolstoy would have loved it.
2.

"The Cat Concerto" (1946)
Tom and Jerry's finest outing has the duo at a piano recital where Tom, playing Liszt's "Hungarian Rhapsody No. 2," disturbs Jerry, who has made the piano his home. From there, they torment each other using every part of the instrument. Unlike many of their cartoons, this one is an even-handed battle: Tom gives just as good as he gets, and it's funny to watch Jerry get smacked around over the keys. The jokes involving Tom's fingers, especially when he attempts to play a tremolo while avoiding a mousetrap, will make any pianist sweat. Warner Bros. cartoons used the "Hungarian Rhapsody" numerous times — including in an uncannily similar cartoon called "Rhapsody Rabbit" with Bugs in the Tom role, that came out the same year. But with "The Cat Concerto," MGM bested its rival, making this music inseparable from animation's favorite cat and mouse team.
1.

"The Wrong Trousers" (1993)
Nick Park's follow-up to the first Wallace and Gromit film, 1989's "A Grand Day Out," is the best of the duo's four cartoons. "The Wrong Trousers" pits them against a villainous penguin, Feathers McGraw, who attempts to manipulate Wallace's mechanical trousers to steal a rare jewel. Feathers's dead-eyed, emotionless stare, combined with Gromit's expressions, make for hysterical viewing as the penguin replaces him as Wallace's companion. The gags come fast and furious, some of them subtle (Gromit reading "Pluto's" Republic), some of them broad, as when Wallace goes on his first "walk" in the trousers and gets yanked all over the countryside.
If only for the hilarious gags and story, "The Wrong Trousers" would still be high on this list, but what puts it at the top is the climactic chase sequence where Wallace and Gromit go after Feathers on a mechanical train set that runs through their impossibly large home. David O. Russell studied it for the final action sequence in Three Kings, and Danny Boyle has called it "the best action sequence I've ever seen in a film." It is truly one of the most remarkable scenes in all of animation: a triumph of editing, scoring, and sound design that proves animation can hold its own with live action and its not just a genre.