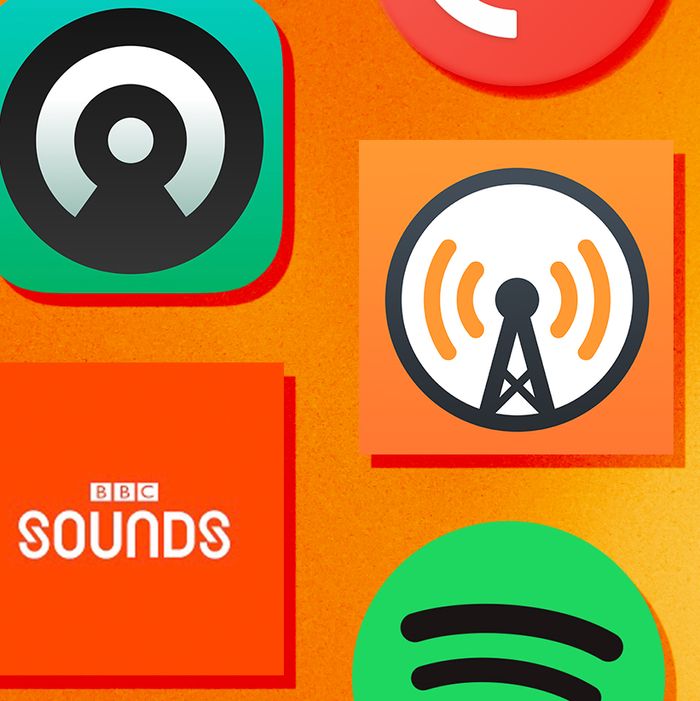 The day will soon come when most people will listen to podcasts over smart devices: Amazon Echoes, Google Homes, fully connected cars, talking fridges, and so on. And maybe there will come a day, sometime after that, when all you need to do is jam a chip into your eardrum to get an uninterrupted flow of that sweet, sweet Terry Gross #content.
For now, though, most podcast listening happens on smartphones, which means that most listening is happening on podcast apps. Which raises the question for the newcomer, and perhaps even some veteran listeners: What app should you be using? To figure out what's best for you, let's go through some of the top contenders, starting with our favorite.
Our Pick
Pocket Casts
Hard call, but at this point I recommend the generally well-regarded Pocket Casts for most people: heavy listeners, casual listeners, first timers, students, grandparents, and so on. The app has a cozy look and user experience, featuring a main "Podcast" tab listing all of your subscriptions as a satisfying scrolling wall of tiles. It's easy to pick up and learn, gets you listening to podcasts quickly without having to think too much about it, and it doesn't bug out all that much. There will probably come a day when we see stronger contenders — given all the experimentation, it's easy to anticipate a near future where Spotify becomes essential (more on that below) — but for now, Pocket Casts offers a bit of polish around strong basic functions. (For the civically minded, Pocket Casts has the additional distinction of being owned by a coalition of public-radio organizations, including NPR, WNYC Studios, WBEZ, and This American Life.)
Pros: Smooth user experience, great for casual listeners, available on iOS and Android
Cons: Not the strongest discovery features
Who's It For: Casual listeners
The Big Two
Apple Podcasts
We can't talk about podcasts without talking about Apple Podcasts. The app, which comes bundled with your standard iPhone by default, is historically important to the medium, because for most casual listeners with iPhones, it was likely their introduction to the wide universe of podcasts.
It's a bummer, then, that the Apple Podcast app isn't a particularly good experience. The user experience is bare-bones and fairly clunky, even when it comes to basic functions like subscribing. Its search tool is only marginally helpful. The app's most valuable components can be found in its discovery features, particularly its Browse tab, which serve listeners with an editor-curated page of selected shows and other various charts. Those two things remain the most important pieces of marketing real estate in the podcast industry to this day. Publishers big and small continue to fret over the curated show carousel and obsess over charts placements — which, by the way, are meant to be indicators of "popularity" and "buzziness," but can very easily be gamed. The prominence of Apple Podcast's "Browse" page will very likely change in the near future, as more platforms work to deliver better discovery features and chart ranking systems, but for now, the Apple Podcasts app remains the front page of podcasting.
Now, the Apple Podcast app is only available on iPhones, so if you're an Android user, everything we just discussed won't apply to you.
Pros: Historically important, "Front Page of Podcasting," comes bundled by default if you're an iPhone user
Cons: Kind of a pain to use, not available on Android
Who's it for: iPhone owners who don't want to dig around the app store, folks who like to keep music and pods separate, podcast listeners who like charts
Spotify
One decent alternative to Apple's platform is Spotify, especially if it's your primary music-consumption app. Spotify, of course, is all the rage in the podcast industry these days, given the fact that it's spent over $400 million on three podcast companies in the past year as part of its intent to become an all-consuming platform for all audio, including podcasts. The platform pretty much lets you do everything you'd want a standard podcast app to do: You can "follow" favored podcasts (in lieu of subscribing), queue up episodes, and ratchet up the playback speed (I'm all about that 1.2x life). Spotify just started letting users make playlists out of podcast episodes — and mix music tracks and podcast episodes in the same playlists — which might be helpful for those looking to make collections for repeat listening. The platform also serves up editor-curated playlists for your perusal, not unlike the music playlists that the company generally constructs.
The big value proposition here is all the experimentation that Spotify's doing. The platform doesn't have a charts system that feels meaningful just yet, but listeners can get some value playing around with technology-enabled playlists like "Your Daily Podcasts," which attempts to serve a mix of your favorite shows and newer ones that it determines you might like, and "Your Daily Drive," which mixes music and podcast episodes in a way that's meant to be tailored to your commute. As it stands, these algorithmically-generated playlists are pretty hit or miss, but the effort is appreciated, and the company seems incentivized to make these offerings work.
One should also note that Spotify is expected to invest heavily in shows exclusive to its platform, so if you like what they end up publishing — like Dissect, Jemele Hill is Unbothered, and The Hottest Take, among others — you'll probably end up using Spotify as your go-to option.
Pros: Great to use if you're already bought into Spotify, some interesting exclusives, new user playlist capabilties, future-oriented
Cons: Mixing together music and podcasts might make management overwhelming, curated playlists are hit or miss, charts system doesn't seem to matter
Who's It For: Spotify users who like keeping everything in one bucket, fans of Jemele Hill
Great Third-Party Apps
Overcast
Another popular choice is this independent app developed by Marco Arment, who is kind of an elder statesman in some parts of the podcast community. Overcast offers a pretty sleek look and user experience. It has some fairly nifty automated audio-tweaking features, like a Voice Boost feature that enhances and normalizes speech volumes. (Particularly useful if you listen to a lot of podcasts that might … uh, need a little more post-production effort.) Overcast is also generally free, and sports some in-app banner advertising generally oriented around podcast promotion. It also has a premium tier, which offers premium users the option to remove those ads as well as perks like alternative app icons.
Pros: Great for power listeners, Voice Boost feature is super helpful for conversational podcasts, looks fantastic
Cons: Might be hard to pick up for newcomers
Who's It For: Great for power listeners, also listeners who favor podcast blocks that go on and on and on …
Castro
Personally, I'm a big fan of Castro, which offers something distinctly different compared to other podcast apps: the ability to manage your podcast queue as if it were an in-box. In the larger scale of things, the in-box-centric user interface is a fairly minor design edge, but if you're a compulsive fidgeter like myself, the added capacity to very easily rearrange your podcast queue is absolutely divine.
Pros: In-box-style user interface is great, fairly robust audio-enhancement features with a premium subscription
Cons: Buggy at times, not for everybody
Who's It For: High-volume listeners who love control
What Else?
While I've gone over just a few possible third-party options, there are many, many more. If you're reading this in the U.K., you might want to check out BBC Sounds, an app manufactured by the Great British Broadcaster itself. If you're inclined toward something with a social-media sensibility, consider trying out Breaker. If you're a megafan of Stitcher, the podcast-publishing company, consider downloading Stitcher, the podcast app (which, by the way, also has a premium tier of exclusive content).
If none of these really suit your style, do a little bit of app-store spelunking. You're bound to find a few others that might be a better fit for you. (Though, fair warning: Some alternatives might be more than a little bit buggy.) And if you don't encounter anything that really fits, well, just wait a few more years — that eardrum-chip thing is bound to be right around the corner.