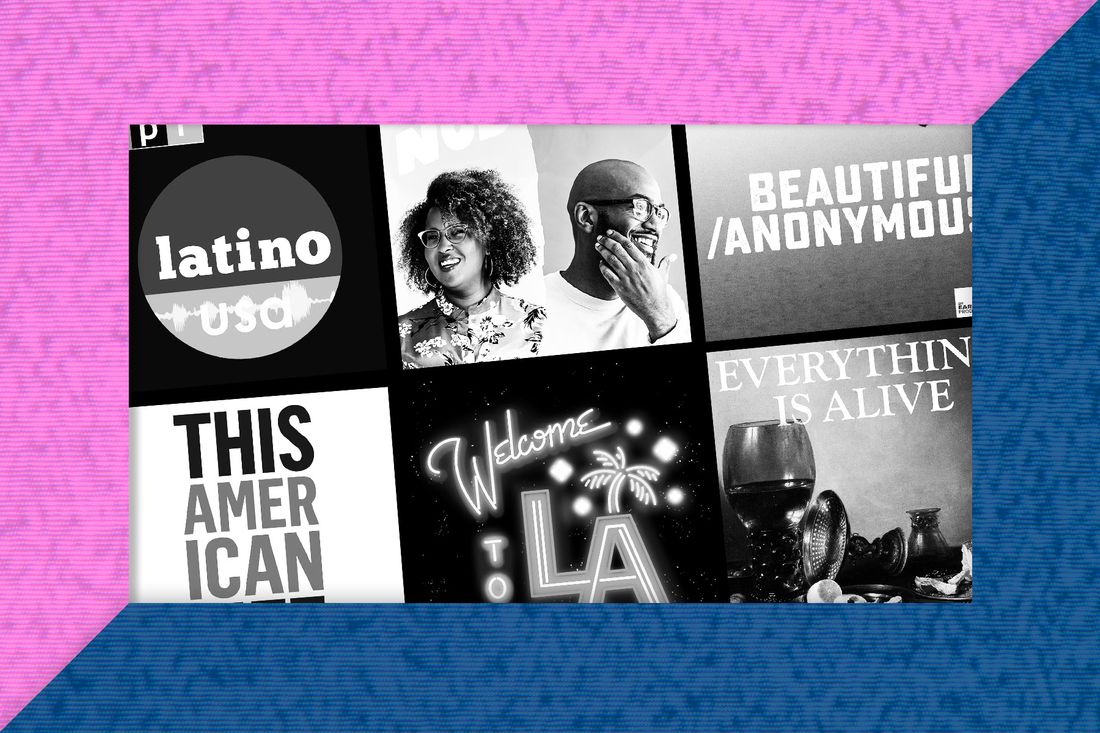 Photo-Illustration: Maya Robinson/Vulture
Let's be real: There are too many podcasts out in the universe, which means there are way, way too many podcast episodes for the ordinary human to peruse. Personally, I've listened to so many episodes, for work and for pleasure, that I occasionally forget what my own voice sounds like. (It ain't pretty.) I've already listed my picks for the ten best overall podcasts in 2018 in a separate post. That list was assembled with a specific purpose: to try and capture the variety of podcast experiences that are available out there, and to try and tell a story about podcasting in 2018.
This list, which focuses on individual episodes, will not aspire toward the same kind of lofty aims. Instead, my goal here is to highlight ten listening sessions that have personally stuck with me since I heard them. Some episodes were selected because their respective shows narrowly missed making my top-ten list. Others were chosen for the way they stood out as a stand-alone experience. Two were picked simply because they remind me why I love listening to podcasts in the first place. (Also: I didn't choose any episodes from shows that were already listed in the top ten, mostly to spread the love.)
With that in mind, these were some of my favorite episodes from the year.
10. The Nod, "Saving Grace"
A woman, Autumn, recalls her childhood efforts to preserve her grandmother's memory through The Sims, a video game. "Saving Grace" illustrates a distinctly modern iteration on the universal act of grieving, and though this isn't a particularly new topic, this episode does successfully capture both the surreality and the earnest power of the process. Much of this has to do with the episode being presented as an act of remembering. As Autumn tells her story to producer Wallace Mack, we hear her hesitate, qualify, and oscillate between fleeting embarrassment and, unquestionably, burning pride. There's a remixed version of this episode that ran on Reply All, which, coincidentally, has also had a solid year.
Listen: Spotify | Apple | Website
9. The Rewatchables, "Michael Clayton"
So, pop culture podcasts make up an ungodly portion of my listening hours — it is, frankly, my comfort food, next to barely edited sports podcasts — and since its debut last summer, The Rewatchables very quickly became my movie roundtable show of choice. Next to Who Weekly, it represents the best version of the genre: energetic, breezy, bursting with chemistry, and deceptively well-edited. The episode on Michael Clayton, the moody 2007 George Clooney–Tilda Swinton legal thriller, is my personal favorite from the year, partly because the discussion is still stuck in my head, but mostly because Michael Clayton has become a really weird artifact to rewatch in 2018.
Listen: Spotify | Apple | Website
8. Latino USA, "The Quevedos"
Sayre Quevedo spent most of his life only knowing two members of his family: his mother and his brother, constituting what he regards as "a single splinter" of a bigger family tree. One day, with recording equipment in tow, he sets out on a journey to learn about everyone else, and ends up grappling with some genuinely difficult questions of family ghosts, forgiveness, and what we owe the people with whom we share blood. "The Quevedos" is rough around the edges, but what really struck me was Sayre's willingness to bring listeners along on the odyssey, and the vividness of the captured tape. For the listener, the episode straddles the line between making you feel like a voyeur and making you feel a part of the emotional weight, and the end result is something quite incredible.
Listen: Spotify | Apple | Website
7. Everything Is Alive, "Louis, Can of Cola"
One of Radiotopia's new releases this year includes Everything Is Alive, a strange and offbeat unscripted podcast that features Ian Chillag, who used to co-host the similarly strange and offbeat How to Do Everything, interviewing a range of inanimate objects, including a pillow, a balloon, and a grain of sand. The objects are played by talented guests, of course — the podcast is offbeat, not avant-garde — and the interviews are often delightfully off-kilter. Its first episode, "Louis, Can of Cola," remains the show's high-point for me, building up with a surprising amount of gallows-humor pathos before ending in a place that leaves you with one of my favorite feelings ever: uncertainty over whether I should feel upset or amused, and ultimately feeling both at the same time.
Listen: Spotify | Apple | Website
6. Decoder Ring, "The Johnlock Conspiracy"
Willa Paskin is a great culture critic, and Decoder Ring, the podcast Slate has built around her, is a stellar showcase of criticism as an investigative process. Since launching in April, the show, which has the broad mandate of exploring different aspects of culture, has quietly become one that I think about a lot. Which was unexpected, frankly; its spread of topics — which include the disappearance of the laugh track, the macabre nature of clowns, and the evolution of hotel art — didn't initially stand out to me. But what did end up catching my ear was the combination of Paskin's critical prowess and the remarkable generosity she gives to all the inevitable strangeness that she unearths in her reporting. "The Johnlock Conspiracy," which digs into a particularly feverish slice of Sherlock fandom, perfectly illustrates this. Internet fandom tends to get dark, quick: the bickering, the in-fighting, the emotional violence inflicted within communities. Paskin doesn't shy away from this, but she remains respectful toward the driving, often positively seeded forces that give rise to those fandoms in the first place. That balance is hard to pull off sincerely, but Paskin is consistently able to do just that.
Listen: Spotify | Apple | Website
5. Beautiful Stories From Anonymous People, "I Survived a Mass Shooting"
I will always go to bat for Chris Gethard's Beautiful/Anonymous. With a simple, high-wire premise — the comedian gets on the phone with an anonymous caller for a full hour, and he's committed to follow the interaction wherever it goes — the show slowly grew to become something more intimate, warm, and surprising than it had any right to be: a next-generation Delilah, perhaps. In this episode, Gethard, tired after a long day of work, finds himself speaking with a woman who survived the mass shooting at the Route 91 Harvest country music festival in Las Vegas almost exactly a year ago. The resulting conversation is searching and affirming, and a testament to the openness of Gethard's project.
Listen: Spotify | Apple | Website
4. Welcome to L.A., "The Grifter"
This KCRW podcast largely flew under the radar when it debuted over the summer, and that's a shame. David Weinberg's collection of gentle audio documentaries, set in Los Angeles, formally pitches itself as a journey into "the corners of the city that L.A. noir fiction writers know," but really, it's nothing that pulpy. Instead, Welcome to L.A. more resembles a series of portraits or dispatches from a watchful, empathetic eye. It's memoiristic, observant, well written, and unafraid of looking foolish. "The Grifter," which is one of the few episodes that centers on Weinberg, is the best example of the endeavor.
Listen: Spotify | Apple | Website
3. The Anthropocene Reviewed, "Googling Strangers and Kentucky Bluegrass"
John Green's latest podcast project, The Anthropocene Reviewed, is a fascinating composition. The premise is simple and daffy: each episode features two reviews on different aspects of the anthropocene — that is, the geological epoch defined by human influence, or to put it another way, just about anything from the human experience. (Examples include: the Taco Bell breakfast menu, CNN, the Bonneville Salt Flats.) The "review" framing is a cheeky gambit, of course, because the podcast doesn't actually provide reviews so much as showcases various essays from Green that, when delivered as oral presentation, tend to embody the feeling of a sermon. Most of these reviews are perfectly fine listens; enjoyable, though somewhat inessential. Occasionally, though, a turn is taken, a memory is unfolded, a trick is played. In those moments, the results can be sublime. "Googling Strangers and Kentucky Bluegrass" is the most pronounced example of this, and it's best served without any further explanation.
Listen: Spotify | Apple | Website
2. This American Life, "Five Women" and "LaDonna"
Veteran producer Chana Joffe-Walt only produced two episodes for This American Life this year, and both were the show's strongest installments this year. They also make for strong companion pieces to each other, effectively functioning as twin threads of the same story. And so, I'm treating them as such. "Five Women" is a particularly potent entry into the growing body of #MeToo stories, with a complex Rashomon-style structure that layers together the partial perspectives of the many women linked to the same man. The women, richly presented with their own respective histories and biographies, clash and coalesce in many big and small ways, resulting in a honest portrait of the mess and difficulty involved in grappling with a system of power. "LaDonna" embodies many of the same themes, but explores them through the story of one woman: LaDonna Powell, an airport security guard who tries to change the misogynistic culture of her corporate employer from the inside. It's a classic "you can't fight city hall" story, but one that carries a deeper pain in the current moment.
Listen: Spotify | Apple | Website
1. 99% Invisible: Articles of Interest, "Punk"
There is so much to love about Avery Trufelman's spin-off series on fashion and the world of the things we wear. It's all the things you've come to love about 99% Invisible — smart, surprising, thoughtful — but with a renewed sense of energy, depth, and fun. Articles of Interest is a work of immense love and attention, weighing the virtues of her subject matter alongside the conundrums and hypocrisies that anchor the terms of their existence. The final episode, "Punk," serves both as a calling card and the apotheosis of the series, arguing for a vision of fashion as a tool for individual liberation: Why not make a statement?
Listen: Spotify | Apple | Website