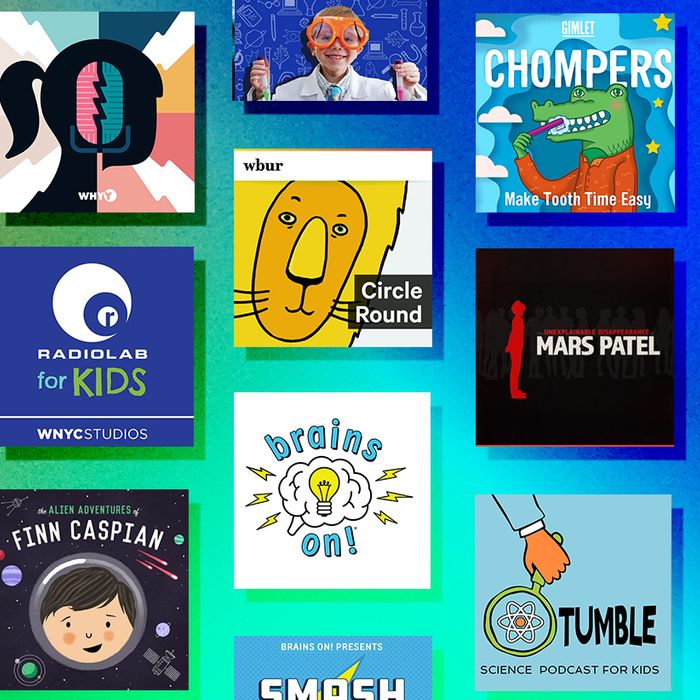 Schools have been closed for a few weeks now across most of America, as the country continues to manage the ongoing pandemic. Unsurprisingly, this has resulted in a significant jump in kids' screen time, already a source of much consternation among parents. Citing data from a technology company, Axios recently reported that most children between 6 to 12 say they're spending at least half of their time in front of screens every day.
But TVs and tablets haven't been the only kid-related media to see usage jump recently: The rich, wonderful world of children's podcasting has been surging as well. According to NPR, its podcast Wow in the World has seen an 86 percent increase in regular downloads over the past three months. It only makes sense that parents need to find more and more ways to keep their children entertained during this unusual time.
So we thought we'd help by assembling a quick guide for people trying to get their offspring hooked on podcasts. Before we get into it, though, a quick disclaimer: I, the writer of this primer, am a childless individual, and I realize there's a slight absurdity to me putting this together. That said, kids' podcasting is a genre that I've been following closely over the past few years. It's a category that has been a point of considerable interest for many in the podcast business, on top of being one of the more creatively dynamic spaces in podcast land.
Another note: This primer is far from comprehensive, so you should know about Kids Listen, an advocacy group that's been working to increase awareness of the genre for some time now. They have a pretty robust membership featuring a long list of shows for you to peruse, which you should absolutely hit up once you're done with this guide. And if you can swing a few dollars a month, you might also want to check out Pinna, a paid audio platform that specializes in kids' podcast content, which is now offering a 60-day free trial under these stay-at-home conditions.
Okay, with all that established, here are three good starting points to get yourself acquainted with the wide world of kids' podcasts.
Storytelling
There's a good number of podcasts specializing in fun narratives that should appeal to kids and parents alike. You can start out with the Peabody Award–winning The Unexplainable Disappearance of Mars Patel, a serialized story about a boy (the titular Mars Patel) whose search for his missing friends leads him to a mysterious school for special kids. The show has a major Stranger Things vibe, featuring a full cast of actual kids. It's also being adapted into a TV show that's been picked up by Disney+.
Two other serialized narrative picks: The Alien Adventures of Finn Caspian, which features bite-sized episodes with the pitch of being "sort of like Scooby-Doo meets Buffy the Vampire Slayer in space," and WHYY's Eleanor Amplified, which follows the adventures of the title character, who is a world-famous radio reporter who foils villains and evil plots in her pursuit of, you know, good journalism.
For more variety across episodes, consider picking up WBUR's Circle Round, which serves up fun retellings of fascinating folktales from around the world. (So you'd get stories and a bit of anthropology!) Keep a close eye on the specific posts around individual episodes, as they sometimes feature additional activities, like a coloring page. A similar approach can be found on the Stories Podcast, which is broader in its assortment of classic tales. Round that out with the podcast from Story Pirates, the Brooklyn-based multimedia arts education company, which was produced in collaboration with Gimlet Media.
Finally, if you're looking for something to help your kids get into the reading habit, try out Book Club for Kids. Hosted by Kitty Felde, a public radio veteran, it features discussions with middle schoolers about a range of books, including James and the Giant Peach, Old Yeller, and The Book Thief. There's also a whole curriculum-guide component to the proceedings, which can help by adding some structure to the mix.
Science and Education
The children's podcast space is remarkably rich with material dedicated to science education. Start out with Tumble, an indie operation that's also long been one of the leading advocates for the genre. Note that they have a teacher's store, which sells affordably priced learning supplements to go with their episodes. (Some of these materials have been made free since social-distancing measures went into place.)
And then you should check out American Public Media's Brains On!, which features a deep archive that dates back to 2012. Back in 2018, that team also launched a spinoff project called Smash Boom Best, derived from a popular episode segment, which is a kind of debate show that pits two adults against each other whose arguments are judged by a kid. Previous matchups have included Cats vs. Dogs, Invisibility vs. Flight, Unicorns vs. Dragons. You know, the essential stuff.
The subgenre also has its own veritable blockbuster Tinkercast and NPR's Wow in the World, which is hosted by Mindy Thomas and Guy Raz, he of How I Built This and TED Radio Hour (not to mention All Things Considered) fame. Recently, that operation also launched its own spinoff podcast called Two Whats and a Wow! This one's a science-based game show, sporting a slight interactive element to the proceedings.
Meanwhile, parents who are fans of Radiolab should take note that the wildly popular WNYC Studios podcast has launched a separate feed that specifically distributes kid-friendly episodes from its archives. That feed, called Radiolab for Kids, includes such hits as "Zoos," Space," and "Mapping Tic-Tac-Toedom."
Finally, a quick shout-out to The Show About Science. This conversational science podcast has the distinction of starting out when its host, Nate Butkus, was 5 years old. Its now in its fourth year of operation, and these days, the now-9-year-old host has been doing a series of delightful dispatches called "Transmissions From the Quarantine." (As a side note, I believe Butkus remains the youngest podcaster to appear on daytime television.)
Activities
One of the more interesting qualities about kids' podcasting is the amount of experimentation that's happened within its bounds relative to other genres. This happens on a narrative level, as we can see with the growing clusters of serialized kid-focused fiction podcasts, but it also tends to pop up on a structural level, with projects that mix audio with unexpected avenues of interactivity.
A standout example of this has been Chompers, the Gimlet Media podcast (and Alexa skill) that designs each episode to keep kids engaged for the amount of time that should go into a teeth-brushing session. The actual content in those episodes runs the gamut: In the past, there have been stories, jokes, interviews, and fun facts, among other things. There has also been music, which the show bundled up and released as an album last year.
More of a mindfulness household? Consider trying out Best Day Yet, a project by a Wisconsin-based yogi that delivers positive-thinking-oriented affirmations designed for children. This type of thing may very well be especially useful right now, as kids are grappling with their anxieties in life under extended lockdown. Similar vibes can be found in Peace Out, which is more structured around stories meant to help children learn meditation techniques.
One last project to highlight: Louisville Public Media's The Music Box, a music-education podcast with a high level of interactivity meant to help kids become familiar with key music concepts. Be sure to check out the website, as it comes with accompanying teaching tips.