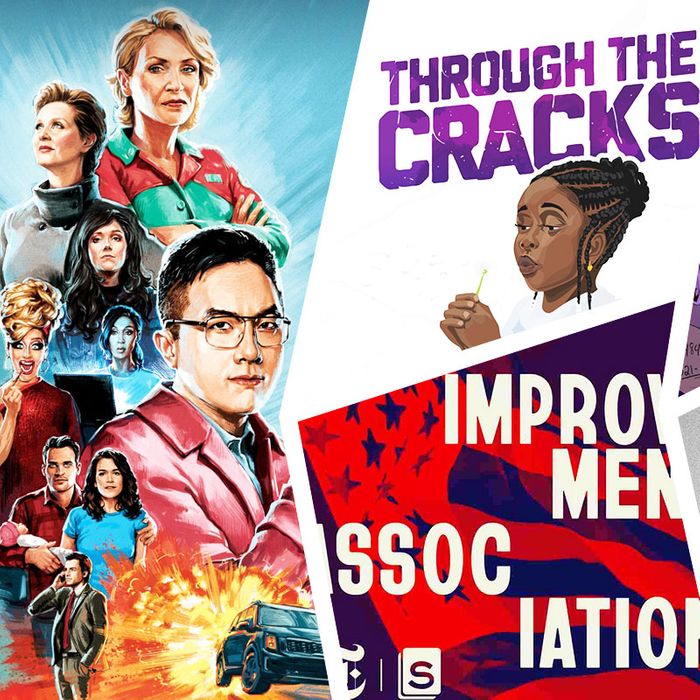 Photo-Illustration: Vulture
As the country opened back up, some in the podcast business wondered if listening would fall as a result of people returning to the streets and doing things like drinking at bars and patronizing movie theaters. That didn't really turn out to be the case. On the one hand, podcast listening continues to be steady, and on the other hand, there's a good chunk of Americans who still feel uncertain about the whole "going-out thing." (Let's not fixate on the anxieties of the latter bit too much here.) In any case, listeners continue to be well-served. The podcast universe has continued apace, with the year's highlights so far being a mix of tremendous insight, stunning personal works, and projects that make a point to serve up a really good time. Here, our picks of the best podcasts of 2021 so far.
Anything for Selena (Futuro Studios and WBUR)
One could theoretically call Anything for Selena part documentary and part memoir, but that description doesn't quite communicate the full scope of how the two things intermingle in this production. On paper, the nine-part series follows WBUR's managing editor, Maria Garcia, as she revisits and unpacks the legacy of Selena Quintanilla-Pérez, the late Tejano-music legend better known to fans simply as Selena. But as a Tejano woman herself whose identity was meaningfully formed by Selena's presence in the public sphere, Garcia is as much a subject of this podcast as the icon being considered. She stands as evidence of Selena's impact, carrying forth the singer's legacy by claiming back her narrative in bold, powerful ways.
The Ezra Klein Show (The New York Times)
The Ezra Klein Show has been pumping out consistently interesting and surprising interviews for several years now, going back to its original incarnation as a Vox Media podcast. Since its relaunch as a New York Times "Opinion" audio property earlier this year, the show hasn't skipped a beat, balancing explicitly newsy interviews with conversations that align with Klein's more personal interests (often of a geek-wonk nature, rich with sci-fi and questions of ethics). But since the turn of 2021, the episodes have come to collectively serve as a rigorous response to an essential question: How do we rebuild the way we think about the wake of the deeply dissociating Trump presidency? On that note specifically, The Ezra Klein Show has been invaluable.
Through the Cracks (WAMU and PRX)
Jonquilyn Hill's investigation into the disappearance of Relisha Rudd, an 8-year-old Black girl who vanished from a Washington, D.C., homeless shelter in 2014, takes the basic architecture of the true-crime cold-case format and flips it into a determined study of the systemic breakdown that allowed a child like Rudd to fall off the map without a trace. And yet even as Hill unspools what is essentially a story of fundamental policy failure, she never depersonalizes the narrative, keeping the toll of human loss front and center of this upsetting tale.
Spectacle (Neon Hum Media)
There's an argument to be made that reality television is perhaps the most impactful form that American television has ever produced — far beyond prestige dramas, prime-time sitcoms, and even cable news. I'm somewhat partial toward this idea, which is why Spectacle, Mariah Smith's sharp abbreviated survey of the history of reality television, hooked me by the gills. Starting with the progenitor of the genre, the 1970s PBS docuseries An American Family, and spanning a wide range of popular productions that arrives at the present over the course of ten episodes, from The Real World to Keeping Up With the Kardashians to The Great British Bake Off, Smith delivers a whip-smart study of the genre's fundamental meaning and how it literalizes the notion of the media being a reflection of a society's sense of itself.
Welcome to Your Fantasy (Pineapple Street Studios and Gimlet Media)
Kudos to a stellar elevator pitch: Did you know that Chippendales, the male striptease dance production that was super-big in the '80s — and is in fact still around — has a dark history complete with murder? Well, maybe that's not particularly surprising, given that death and darkness tend to pop up whenever there is gobs of money to be made. In any case, the devil's in the details with this series. Led by the historian Natalia Mehlman Petrzela, Welcome to Your Fantasy is an utterly engrossing tale that lives in the overlap of primal American capitalism and shifting sexual politics.
The Line (Apple Original)
I'll give you three reasons why you should listen to The Line. Firstly, this series about war-crime charges pegged to the former Navy SEAL Eddie Gallagher, who became a cause célèbre for a certain corner of Fox News–heavy conservatism, is an excellent piece of audio documentary. It does that thing where a specific high-profile case is made to refract much bigger ideas, in this case: about the modern American military, what these individuals are made to do, and how the systems they're made to operate within often grind their humanity into dust. Secondly, The Line is the latest audio project to be led by Dan Taberski, the gifted documentarian behind Missing Richard Simmons, Surviving Y2K, and Running from COPS. Here, he's collaborating with Jigsaw Productions, Alex Gibney's documentary studio that's been utterly prolific over the past few years. And guess what? The fit is good. Finally, The Line's concluding episode also happens to break some news in the Eddie Gallagher story. Which is to say, this is a mystery that has an answer.
The Improvement Association (Serial Productions)
The tagline for Serial Productions' latest work packs some heat, as you would expect: "a true story about election fraud." This five-part series follows Zoe Chace as she rolls into North Carolina to investigate the aftermath of one of the very few cases of confirmed election fraud in modern American history, when a 2018 congressional race in the state ended with the Republican candidate's victory getting tossed out over proven absentee-ballot tampering on his side. That scandal came and went, but oddly enough, accusations of fraud persisted, and as Chace found, eventually became weaponized in the opposite direction. What transpires is some truly textured and granular gumshoe reporting, with Chace chasing (sorry) down every possible point of suspicion and, in the process, illustrating what such accusations do to the political power dynamic in a given community. (Spoiler alert: They hurt those who need power the most.) While The Improvement Association didn't seem to pick up as much buzz as Nice White Parents, it's still one of the best podcasts to come out since the New Year, and it's definitely one that's worth your time.
Aack Cast (iHeartMedia)
Jamie Loftus's latest podcast project sees the wildly talented writer-comedian focus her attention on Cathy, the comic strip by Cathy Guisewite that was extremely successful over its 34-year run but is now largely remembered in somewhat less-than-flattering light. These days, the comic has become one of those artifacts that's preserved in the cultural ephemera more for its broad strokes than its full complexity, and those broad strokes aren't flattering. The Cathy character is more or less recalled today as a caricature of a certain kind of boomer woman with a certain kind of hesitant boomer-esque relationship to feminism. The truth, of course, is richer and more nuanced than that. As Loftus explores, what if Cathy isn't just a mere "product of its time" but a reflection of the very human complexities involved in adequately navigating the fluid and shifting politics of an accelerating culture? The answer, as doled out by Loftus across this energetic and entertainment series, is worth digging through.
Hot White Heist (Audible)
This fantastic six-part Audible series stars Bowen Yang as a New York City fortune-teller who's recruited by his estranged aunt to steal samples from what could be described as the presidential sperm bank. If that plot premise is too ornate to wrap your head around, think about it this way: It's a cross between a queer Ocean's Eleven and 30 Rock. The resulting adventure is an utter delight, with Yang serving as a magnetic anchor in a sprawling cast that also includes Mj Rodriguez, Bianca Del Rio, Jane Lynch, Abbi Jacobson, Alan Cumming, and Cheyenne Jackson.
Unread (iHeartMedia)
Unread is a brief four-episode nonfiction piece built on a personal tragedy wrapped in a mystery that comes with a hell of a hook. In late 2019, the writer and academic Chris Stedman received the very worst type of message you could get: the final note from a friend who had just taken his own life. But the message also contained something else. His friend had been a Britney Spears superfan, and in the message, he left a link to audio files containing conversations between him and a woman he had met on a Spears fan forum — a woman who, in many ways, sounded a lot like the pop icon herself. They had talked about this person before, marveling at the question of her identity. The audio files, then, were a good-bye present of a sort, an offering of one last adventure shared with a friend. Grappling with the loss, Stedman sets out to find this person, recording his journey along the way. Gentle, smartly edited, and beautifully written, what he makes is a moving tribute to a friend.
Decoder Ring (Slate)
Willa Paskin's Decoder Ring has long been a purveyor of fine adventures down cultural rabbit holes, specializing in incisively unpacking the kinds of artifacts that often make you go, "Oh, right, that thing?" (See: hotel art, Beanie Babies, mullets.) However, since switching from a somewhat sporadic publishing schedule into a more consistent seasonal structure earlier this year, the podcast has been pitching at a whole different level. Since the June relaunch, the show has maintained its standard of excellence — taking on tattoos, a legendary soap opera episode (the Marty Saybrooke rape story line in One Life to Live), and the very concept of hydration, among other things — but it's also delivered two especially standout episodes in quick fashion. The first is "The Sign Painter," a story personal to Paskin that takes on the uneasy question of what happens to artists when they're good enough but not "great"; and the second is "Who Killed The Segway?", which features the writer Dan Kois working through a secondary question of whether he, personally, might have contributed to the death of the Segway.