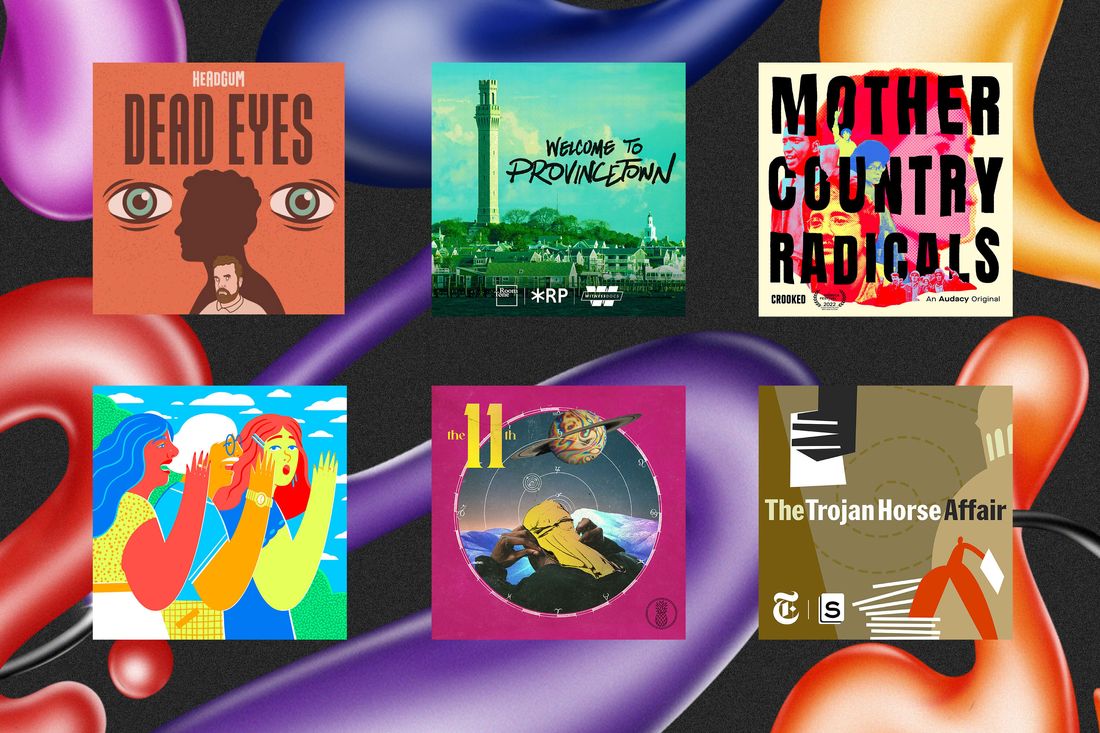 Photo-Illustration: Vulture; Illustration Courtesy of Rowena Lloyd and Susanna Hayward
Not long ago, we felt compelled to raise the following question: What did the past few consolidating years mean for podcasting as an art form? The answer was a sense that podcasting is just radio now — that is, the medium is at a place where, more often than not, the reason a show gets any attention comes not from its creative achievements but its ability to extend the brand of a celebrity or budding public personality.
As I've argued before, that doesn't mean there aren't any practitioners doing great, interesting, and innovative work in the form. It's just that their work faces more hurdles than ever to gain sufficient popular attention — let alone break through the culture at large.
As we close out the year, we're continuing to do our best to spotlight shows that were great, interesting, and innovative. Here are our ten favorite podcasts from 2022 plus a handful of honorable mentions.
10.

Sounds Like a Cult (Independent)
Hats off to a simple concept executed with panache. Each episode of this breezy chatcast sees hosts Amanda Montell and Isa Medina picking up a different floating cultural phenomenon — from essential oils to flat Earthers, theater kids, and academia — and inspecting it according to a fun but deceptively effective question: Why does this feel cultlike? The podcast is broadly an extension of Montell's recent book, Cultish: The Language of Fanaticism, which examines how language is crucial to the creation of cultish dynamics and, more to the point, how those dynamics seem to be present in many seemingly banal aspects of modern culture. Sounds Like a Cult begins as a playful take on that perspective, but in that playfulness, it evokes something fundamental about the world.
Read Nicholas Quah's interview with the hosts of Sounds Like a Cult.
9.

Imaginary Advice, "The True Crime of Your Frozen Death" (independent)
One has to admire the sheer confidence on display here. The Imaginary Advice feed has long been a compelling laboratory for British writer Ross Sutherland's various adventures in audio fiction, and with September's "The True Crime of Your Frozen Death," his experiment takes on big ideas about language, experience, and narrative comprehension. The episode follows a true-crime podcaster as she tries to solve a series of murders, which, of course, turn out to be serial killings of true-crime podcasters, but the twist is how the work is performed entirely in Italian with the expectation that it will be principally consumed by people who don't understand the language. As a collaboration with Italian producer Cristina Marras and an homage to the "Giallo" movie genre, part of what's on display here are the ways the rough beats of standard true-crime or crime-fiction narratives are so pervasively familiar that almost anyone would likely be able to broadly follow along without direct knowledge of the language the story is presented in. It's a bombastically fun and mind-expanding conceit, and if you end up choosing to follow along with the subtitled version, you'll find a fun, pulpy send-up of unsavory true-crime podcasts.
8.

The Prince (The Economist)
For news-podcast heads, The Economist has proven to be an intriguing player of late. The publication has been building out an impressively robust global audio-news operation for a while now, and the past year saw it capstone its efforts with a limited series on Chinese president Xi Jinping, a man who is arguably the most powerful person on the global stage — particularly now that he has clearly consolidated power over a state apparatus that controls the largest economy in the world. Hosted by Sue-Lin Wong, this podcast is a feat of explanatory journalism — with the team shepherding listeners through the country and Xi's own ornate political history in a manner that's clear, judicious, and grounded in the global stakes. It's one of the best audio documentaries I've heard this year.
7.

HeidiWorld (iHeartMedia)
Molly Lambert's series on the rise, fall, and afterlife of Heidi Fleiss, the "Hollywood Madam" who rose to prominence in the early '90s for running a high-end escort business popular with the Los Angeles elite, is compelling as a read on Fleiss as a symbol of this country's often punitive and puritanical relationship with sex, money, and women who accrue power. But it's even more compelling as a radically effective entry into a steadily codifying podcast aesthetic — one that draws from the style of Karina Longworth's You Must Remember This and typically grapples with themes of fame, art, gender, and power. (See the assorted audio works of Lili Anolik, Vanessa Grigoriadis, etc.) The story told in HeidiWorld is expansive, digressive, and ambitious.
6.

Welcome to Provincetown (Rococo Punch, Room Tone, Stitcher's Witness Docs)
Led by Mitra Kaboli, this gorgeously composed podcast drifts between several individuals who flocked to the titular Massachusetts town over the course of a recent summer. Part audio vérité, part travel journal, Kaboli's glimpses into the scene are vivid and naturalistic, eager to jump into the seaside destination's swirling threads of hope, sex, friction, solidarity, complexity, and history. The production fits into a tradition of art-forward audio works that was once synonymous with narrative podcasts pre-Spotify. Welcome to Provincetown is a reminder of the kind of soulfulness that's possible in the medium and all the things it could be.
5.

The 11th, "His Saturn Return" (Pineapple Street Studios)
Sai Sion's glorious hour-long audio drama is a galactic coming-of-age story. It follows a young egocentric space alien named Duran Durag as he's put through a series of trials and tribulations meant to push him to see beyond himself, connect with others, and basically grow up. The narrative arc here is conventional enough, but what's distinct is the rhapsodic sense of fun and energy shot through the whole enterprise, which draws from a dizzying array of influences that spans Douglas Adams, E.T., RuPaul's Drag Race, and astrology, among other things. It's a shame that The 11th, Pineapple Street Studios' umbrella feed for one-off projects through which "His Saturn Return" was produced, is no more, but hopefully its legacy will always be evident.
4.

Mother Country Radicals (Crooked Media)
When family history and political history collide, the result is quite something. At the heart of Mother Country Radicals is the story of the Weather Underground, the '70s militant left-wing organization that sought to overthrow the American government, told from the inside out. The show is led by Zayd Ayers Dohrn, who happens to be the son of two former Weather Underground leaders, Bernardine Dohrn and Bill Ayers. Ayers Dohrn builds an oral history from a collection of intimate interviews that involve not only his parents but surviving members of the broader revolutionary network that drove the politics of the era's counterculture: the Black Liberation Army, the Timothy Leary–sparked LSD movement, and so on. The podcast is a remarkable document — detailed, layered, and complicated — speaking as much to the deep imperfections of the movement as to the profoundly hopeful political imagination that sparked it.
3.

The Trojan Horse Affair (Serial Productions and the New York Times)
A twisty thrill, an investigative stunner, and quite clearly Serial Productions' best work since S-Town, The Trojan Horse Affair follows Brian Reed and Hamza Syed, a former doctor turned budding journalist, as they dive headfirst into the prevailing mysteries behind a political scandal that roiled Birmingham, England, in the early 2010s and has inflamed Islamophobic tensions throughout the U.K. well into the present — and even after the release of the podcast itself. Reed and Syed's tumble down the rabbit hole is the stuff of John le Carré novels, and the entire experience is elevated even further by how the show integrates the dynamics of the duo's emerging partnership both as a framing device and a way to explore deeper themes about the production of collective truth. Yes, there's a lot about The Trojan Horse Affair to debate — from the inherent navel-gazing quality of its philosophical interests to, of course, the nature of its ending — but very few teams come anywhere close to the ambitions of Reed and Syed, and even fewer are actually able to succeed.
Read Nicholas Quah's interview with the hosts of The Trojan Horse Affair.
2.

Normal Gossip (Defector Media)
Hosted by Kelsey McKinney and produced by Alex Sujong Laughlin, this show revolves around a simple premise that's impeccably realized: Each episode sees McKinney delivering a robust piece of gossip to a guest. The gossip is ultimately banal, deliberately contrasting the commodified value of celebrity gossip. These are stories both from and about perfectly ordinary strangers, and they tend to be the kind of stuff that shines out in group chats everywhere: dating mishaps, social-scene meltdowns, inexplicable behavior. But the pleasures that arise are mysteriously elemental, grafting onto your brain like an earworm you can't shake. A good piece of gossip can take your breath away. A great piece of gossip can ruin your life. Normal Gossip bottles up the thrill of that possibility.
Read Nicholas Quah's interview with Normal Gossip host Kelsey McKinney and producer Alex Sujong Laughlin.
1.

Dead Eyes, "Tom" (Headgum)
When Dead Eyes started in early 2020, it was a little tricky to see where things would go. The conceit featured actor and comedian Connor Ratliff mounting a seemingly quixotic quest to find out why Tom Hanks, famously the nicest man in show business, had abruptly fired him from a bit role on Band of Brothers for having "dead eyes," and as the podcast started to unfold, it became apparent that what Ratliff really wanted to do was produce quiet, thoughtful, and funny interviews with friends and acquaintances about the tenuous nature of building a life in the entertainment business. For 30 episodes, Ratliff put together a soulful catalogue of conversations that collectively meditate on disappointment, heartbreak, failure, and the breaks of the game not just in show business but in life. That he was able to ultimately pay off the conceit — booking an actual sit-down with Hanks — could've just been the cherry on top of the project, except that it turned out to be one of the most interesting interviews you'll ever find with the actor who's famously nice to the point of opaque. Hanks comes across as a peer looking back at his life — discerning its patterns and hoping to communicate some wisdom to a younger actor. The effect is sublime. I wonder if there'll be anything like it ever again.
Read Vulture's review of Dead Eyes.
Honorable Mentions
All podcasts are listed by U.S. release date.
Frog of the Week (independent)
Ah, what the hell. Serving up exactly what it says on the tin, Frog of the Week presents listeners with a weekly bite-size package that introduces a different frog, brings up a few random facts about them, and throws in a quick gag or two. These little episodes are thoroughly delightful — a thing you snack on if you need an extra pep in your step. It's, to be frank, one of the very few podcasts I've consistently kept in my rotation through this entire calendar year. Listen, sometimes you set out intending to find an elaborate meal at a sit-down restaurant, only to return to that tiny roadside cart that always makes you smile.
This Is Dating (Magnificent Noise)
This Is Dating is tricky to describe. On the one hand, you have the obvious hook: It's a podcast that sets up four chosen individuals on blind dates and offers listeners the voyeuristic thrill of listening in as those individuals navigate their encounters, with all the wincing and wonderment that entails. On the other hand, it's a podcast that takes its popular reality-dating-show inspirations and runs the whole thing through an inquisitive, feelings-first filter, which shouldn't be surprising, given that this production comes from some of the people who originated Esther Perel's showcase therapy podcast, Where Should We Begin? In this case, the dating coach and behavioral scientist Logan Ury steps into the Perel role, providing the four singles with counseling between dates. Episodes are guided along by producers Jesse Baker and Hiwote Getaneh, who make the show with Eleanor Kagan.
Read Vulture's review of This Is Dating.
Sorry About the Kid (CBC)
Sorry About The Kid is only four episodes long, but it doesn't need very much to make a lacerating impression. We follow the Canadian producer Alex McKinnon as he works to unearth and remember as much as he can about a defining childhood trauma. In 1990, when McKinnon was 10, his older brother was killed by a speeding police cruiser. It was a random, utterly senseless tragedy, one that ripped through Montreal's relatively small Anglophone community at the time and rippled out through the years. In addition to playing out as an extended essay on grief, what's particularly interesting about this project is its nature as something of an investigative memoir; I say this because the approach reminds me, however faintly, of David Carr's Night of the Gun (though very different in substance, obviously). McKinnon made this series with Mira Burt-Wintonick, whose past credits include Pen Pals, Love Me, and WireTap and who is definitely a producer to watch.
Chameleon: Wild Boys (Campside Media and Sony Music Entertainment)
The vibes may be shifting, but tales of people scamming, shamming, and swindling seem to be lasting well beyond summer, to the point where it's basically the new monomyth. Because of this, you'll continue to find the podcast world, along with almost every streaming service in active operation, pumping out as many fraud stories as it possibly can, capitalizing on a moment that's become a defining interpretive framework of our modern reality.
The most interesting podcast in the category of the New Year so far comes from Chameleon, Campside Media's podcast shingle dedicated to grifter narratives. The latest season revisits a story that took place in the rural British Columbia town of Vernon, sometime in the early 2000s, when two boys suddenly appeared in the community claiming to be born of the wilderness. The town took them in, and the whole affair eventually became a media sensation. Of course, nothing is what it seems. Hosted by Vernon native Sam Mullins and produced by Abukar Adan, Wild Boys ends up being a fascinating story about the spirit of small-town life and the aftermath when that spirit is taken advantage of.
Authentic: The Story of Tablo (Vice Audio and iHeartMedia)
In the late 2000s, the hip-hop artist Tablo, real name Daniel Lee, was already a superstar in South Korea and was poised to meaningfully break through into the Western music world when the online rumors started circulating. Before long, those rumors, which centered on his background as a Korean-Canadian, would metastasize into a huge cyberbullying campaign that ultimately derailed his career. There's a lot going in the tale of Tablo, which weaves between multiple threads: It's a story about one of the earliest instances of a toxic online mass movement that intersects with the identity struggle of a cross-cultural artist with feet firmly planted in two worlds, all grounded in the question of how to reclaim one's narrative in the years following digital fallout. This co-production between Vice Audio and iHeartMedia does a solid job juggling the whole thing while creating a sense of space to linger a little longer in its meaning.
Let's Make a Sci-Fi (CBC)
Three comedians — Ryan Beil, Maddy Kelly, and Mark Chaves — try to write an earnest sci-fi script together while making a podcast documenting their efforts at doing so. Sure, it sounds self-indulgent, and I'll admit to bouncing off the show when I first read its description. My mistake. Let's Make a Sci-Fi is a fun and lovely series that walks listeners through the rough stages of developing a science-fiction story for film and television. In its semi-educational pursuit, the show broadly intersects with the vast universe of screenwriting and Hollywood-industry podcasts that's available out there. But what's special about this one is how it captures the strong sense of play that comes through in the best moments of any creative collaboration. It makes me miss writing with other people.
Crypto Island (independent)
Crypto Island is the most formalistically exciting new narrative podcast that's come out in a while. PJ Vogt, making his return to podcasting after Reply All's Bon Appétit meltdown, approaches the utterly bonkers universe of crypto with an eye that is equally curious and skeptical and sparklingly, aesthetically dynamic. His toying with episodic shape-shifting and storytelling excesses results in a show that rarely settles into itself: One episode could be a simple interview recounting the ornate machinations of a spectacular crypto failure; another could be a mind-bending travelogue into bitcoiner Miami — you never quite know what to expect. Those generally averse to all things cryptocurrency might have an understandably hard time getting into this show, but for those looking to sail into the heart of darkness, Crypto Island is perhaps the most interesting and accessible vessel to do so.
Read Vulture's review of Crypto Island.
The Town (The Ringer and Puck)
Behind-the-scenes brouhaha has always been a compelling part of the entertainment world, but, increasingly, so are the actual corporate machinations. I suppose there's just more awareness now about how the latest merger affects your actions as a consumer, which recontextualizes Hollywood industry coverage to mirror how certain professional-sports leagues (like the NBA) feel equally interesting for their off-season antics. If the entertainment business now feels a bit like a spectator sport, then it's only natural we'd get sports-radio-style coverage, and to that end, Matthew Belloni's The Town, an extension of his insider Puck newsletter, is an exemplar of the form — with all that entails. For industry nerds like myself, it's utter catnip.
The Superhero Complex (iHeartMedia and Novel)
The notion of actual people being inspired by comics enough to don a costume and fight crime themselves is easy to ridicule. But there are indeed people who do this, and when it comes down to it, their motivations can be understandable as a kind of mutual-aid-adjacent response to failures in policing. Nevertheless, doing something like that still requires a drastic leap in imagination … and, perhaps, an unchecked ego. In this fascinating series, David Weinberg (Welcome to LA) builds out a character study of one of the more prominent and complicated figures in the so-called real-life superhero phenomenon: Ben Fodor, a Seattleite who once led a group called the Rain City Superhero Movement and rose to notoriety. Weinberg and his team's work is effective in their commitment to treating Fodor seriously as a person and in the way they treat the true-crime-y frame of the show with an ironic remove.
Truthers: Tiffany Dover Is Dead* (NBC News)
Hopeful stories about the state of just about anything in this country are pretty hard to come by at the moment, and I'm afraid the debut season of Truthers only contributes to the severity of that reality. That said, this audio documentary, which explores the mechanics and long afterlife of a particularly prominent anti-COVID-vaccine conspiracy theory, is a fascinating tumble down the abyss of modern American conspiracy thinking. In the hands of reporter Brandy Zadrozny, along with producers Frannie Kelley and Eva Ruth Moravec, Tiffany Dover Is Dead* quickly develops into a sober questioning about whether it's ever possible to change a conspiratorial mind — and what the ramifications are if the answer turns out to be "almost certainly no."
Ghost Church (iHeartMedia and Cool Zone Media)


The latest project from the ever-industrious Jamie Loftus braids together two of the universe's greatest provocations: (1) Can the living ever speak with the dead? and (2) Why does everything peculiar seem to reside in Florida? Ghost Church follows the comedian to Cassadaga, a town halfway between Orlando and Daytona Beach that's known as the "Psychic Capital of the World," in order to learn more about the history and contemporary state of American spiritualism. As is the case with much of Loftus's work, there's a tremendous amount of heart at the center of this voyage; she moves through the Cassadaga community and considers, with great sensitivity, the people who remain among the dwindling ranks of American spiritualists. You might not connect with the specific tenets of their beliefs, but you'll almost certainly see where they're coming from. Loss is a universal experience; so are efforts to cope with what comes after death any way one can.
Will Be Wild (Pineapple Street and Wondery)
It's hard not to feel despair when considering the galling asymmetry between information and action with respect to the January 6 insurrection. Since the events at the U.S. Capitol, a tremendous amount of reporting, documentation, and opinion-shaping about the attack has been generated near-daily, so a perfectly natural question that may arise with Will Be Wild — the eight-part documentary on the matter led by Trump Inc.'s Andrea Bernstein and Ilya Marritz — would be this: "Well, what else is new?" The answer is that it's less about generating any explosive revelation at this point and more about figuring out a way to process the future within this calcifying context of multiple clashing subjective realities. On this particular front, Will Be Wild offers much to digest with its approach of unpacking January 6 through the revolving perspectives of individuals from various corners of the event: the insurrectionists, their compatriots, their loved ones, the people who tried and failed to raise the alarm, and so on. Sure, for folks who closely followed the long aftermath of the insurrection, a good deal of what's collected by Bernstein, Marritz, and their team might not feel particularly new, but when placed together within an interlocking milieu, they generate a kind of clarity all the same.
Deliver Us From Ervil (Novel and iHeartMedia)
The journalist Jesse Hyde's journey into the strange, elaborate, and lingering legacy of a would-be fundamentalist Mormon utopia in the Mexican desert gives you what you'd want from a straight down-the-middle narrative true-crime podcast: you're drawn into the story by one hell of a hook, and you're kept there as it becomes a window into an entire world. There are extensive accountings of criminal chicanery, an utterly bonkers central figure (with the name Ervil LeBaron, no less), and gestures toward larger ideas about the relationship between faith and extremism. On top of that, the series really benefits from coming out in the same year as FX's adaptation of Jon Krakauer's Under the Banner of Heaven. They make fine companion pieces.
Not Lost (Pushkin Industries)
My kingdom for more travel pods and low stakes. Not Lost, which features Brendan Francis Newnam bouncing around various cities with a friend in search of a dinner party, is a delightful time for anyone looking to soothe their latent wanderlust. Newnam carries over the dapper charms of his previous work on the now-defunct The Dinner Party Download, and there's a kind of existential comedy lingering in the background as well. Kinda has the slight energy of Andrew Sean Greer's Less, but let's not oversell it.
Slow Burn: Roe v. Wade (Slate Podcasts)
This year's entry into the Slow Burn canon was brief but indelible. Led by Susan Matthews, Slate's news director, Roe v. Wade revisited the social and political context of the landmark 1973 American abortion ruling that was overturned this summer — in fact, the very week that the podcast's fourth and final episode came out. It would be a cliché to describe the season as essential in its timeliness — except that the statement is quite literally true. The very best seasons of Slow Burn unspool events of the past to place us in the rhythms of history, but with this particular iteration, things feel less like a rhyme and more like a repetition. There's no greater indication, perhaps, of the U.S.'s backward slide.
The Draymond Green Show: "Game 3" (iHeartMedia)
For a not insignificant portion of the NBA fandom, basketball podcasts have added a lot to the hoop-head experience. Takes, gossip, and information now flow more freely from a wider variety of places, and for those with the appetite, the sport can be enjoyed with little to no off-season whatsoever. Amidst this outrageous abundance is the emerging subgenre of podcasts from players themselves, and earlier this year, one in particular turned heads. The Draymond Green Show, starring Golden State's aging enforcer, kicked up a storm during the NBA Finals when some observers blamed Green's lackluster performance against the Celtics on his extracurricular podcasting activities. Green's in-podcast response to the chatter, recorded hours after playing poorly in game three, turned out to be an utterly fascinating artifact: a revealing instance of how a professional athlete (albeit one who's been expressive and vocal throughout his career) processes criticism and self-criticism within the heat of a high-stakes finals run. Quite a bit has been written about the disruptive (and entertainment) potential of pro athletes reclaiming their narratives through their own podcasts and media platforms; for a brief moment, The Draymond Green Show offered a glimpse at that potential actually being realized.
Read Nicholas Quah's 1.5x Speed newsletter, "Let Draymond Green Podcast."
Choosing Sides: F1 (iHeartMedia and Sports Illustrated)
One can easily spot the play here. American interest in Formula 1 has been on a staggering rise due to Netflix's Drive to Survive, and it's only smart to capitalize on the wave by building a show dedicated to briskly orienting new converts and helping them select team allegiances. But there's a broader interestingness to Choosing Sides, one that's rooted in how the show, hosted by journalist Lily Herman with comedian Michael Kosta, approaches the question of how and why we attach to sports fandom. Wading into a storied sport can be prohibitively daunting, but Herman and Kosta keep the focus on the personalities, the extracurricular drama, and the emotional hooks — all the things that many corners of various sports fandoms tend to paper over with more technical language. Choosing Sides: F1 is a fun expression of cultural accessibility, and I'm eager to see how the model can be used to tackle other professional leagues. (Or newer sports. Pickleball, perhaps?)
My Mother Made Me (Radiotopia Presents)
My Mother Made Me is a gem. This Radiotopia Presents release, by the author and poet Jason Reynolds (with producer Mark Pagán), is essentially an essay in four parts in which Reynolds reflects upon the ways his mother shaped his perspective on the world and his existence. Part of the pleasure here simply lies in language: Reynolds is such a good, interesting, searching writer, and his prose is further augmented by the sheer wholeness of his delivery. But what makes it really special is the palpable gratitude that drives the whole project. To have a parent that really connects with you is a remarkably fortunate thing. Even more so is having the opportunity, and the tools, to honor that connection.
Shameless Acquisition Target (independent)
How else do you build a mythology than by speaking it into existence? Shameless Acquisition Target, Laura Mayer's scrappy accounting of the podcast biz and her time in it (so far) as a journeyman executive at places like Stitcher and Sony Music Entertainment, is best compared to the early Hollywood-insider memoir … except, of course, the podcast world is neither as big nor glitzy nor portentous as the industry built around the silver screen. Nevertheless, the place is definitely interesting, especially when contextualized against its stupidly fast rise in recent years. Aiding Mayer's case as a compelling chronicler is her voice, which is wry, funny, and uniquely strange. Don't miss it.
Crooked City: Youngstown, OH (truth.media and Sony Music Entertainment)
Call it Crime2own, or something like that. Marc Smerling, the co-creator of that early Gimlet Media hit, returns with what is essentially a continuation of the project with this new podcast. You'll hear that familiar interest in the interweaving threads of a city's relationship with crime, politics, and power. In this instance, it's applied to Youngstown, Ohio, in many ways the archetypal example of the Rust Belt experience. Crooked City doesn't reinvent the wheel, but it's a solid reminder of what a talented team can bring to a true-crime genre that's saturated to the point of parody: a verve, a voice, and a point of view.
Read Vulture's review of Crooked City.
The Walk Home (Seattle Times and KNKX)
Three months before George Floyd's murder in Minneapolis, a remarkably similar scene played out in Tacoma, Washington. Manuel Ellis, a 33-year-old Black man, died after an encounter with police officers on a walk home one night. The police claimed he had attacked them; video evidence later proved otherwise, displaying a clear scene of police brutality. The Walk Home begins as an accounting of how Ellis's sister, Monèt Carter-Mixon, persisted and dug up that piece of evidence, fundamentally changing the trajectory of a story that would have likely been buried. The podcast that ultimately unfolds is a place-setting piece, one that's pegged to the upcoming January 2023 trial of the three police officers charged for Ellis's death. In this, The Walk Home is superficially part of a surging genre of court-tethered podcasts (see: Your Own Backyard, Murdaugh Murders Podcast), but it's really a fine expression of what we should be getting more of from local news institutions: bottom-up artifacts that capture the specific dynamics of the region and what a particular story means, or should mean, to that particular corner of the country.
Death of an Artist (Pushkin Industries and Somethin' Else)
Helen Molesworth, a veteran of the art world, leads this project reconsidering the 1985 death of the Cuban American artist Ana Mendieta as well as the suspicions around her husband, the celebrated minimalist artist Carl Andre, who was a prime suspect in her demise. Although the podcast comes packaged with a classic true crime-ish hook, Death of an Artist means to be more than a procedural, offering itself up as a window into the art world and the many long-standing issues contained within. It's largely successful in this regard, as Molesworth guides the narrative through questions of how the art world is structured, how luminaries are anointed and protected, and how legacies get to be created. As a prominent participant of the art world herself, Molesworth even turns the lens on the dynamics behind her own career. Your mileage may vary on the eventual insight, but if you're at all interested in the strange and ornate interiors of the stratospheric art world, you should definitely consider checking out this competently crafted production.
We Were Three (Serial Productions)
Serial Productions' second release of the year feels unexpected in its relative slightness, especially when contrasted against The Trojan Horse Affair's twisty thrills and heady ideas about the twinned-narrative perspective. Released with little fanfare, We Were Three is a quiet miniseries led by Nancy Updike — on loan from This American Life, of which she's been a part since almost the beginning of that show — that opens on a family torn apart by COVID conspiracism. But the story quickly swings inward, revealing itself as an interior family history and an illustration of how the personal and the structural intertwine within a global-historical moment. Some listeners might have to reckon with their own exhaustion when it comes to COVID stories, but those able to plumb those particular depths will find a complex portrait rendered at the highest level.