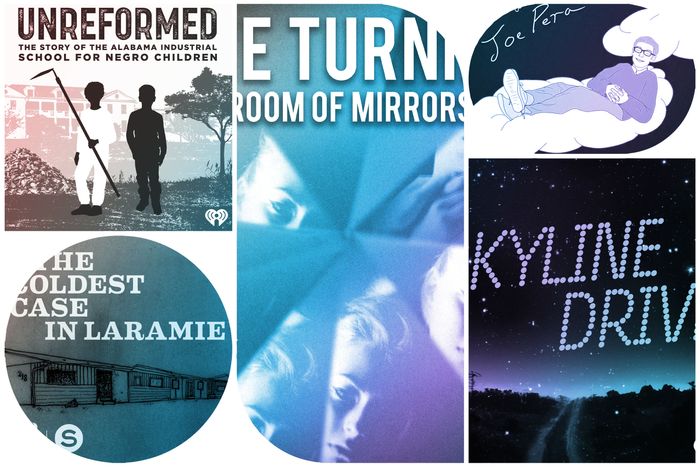 Photo-Illustration: Vulture; Photos: iHeart, Joe Pera, Kaleidoscope, Serial
And we're off to the races. After 2022, this year might've started out with big questions over Spotify and the podcast biz, but from a new-releases standpoint, it's already been an intriguing year. Serial Productions delivered a new entry — late winter seems to be a favored slot for the studio, as The Trojan Horse Affair came out around the same time last year — and I reckon there'll be more to come. iHeartMedia has been pumping out a steady stream of small, unexpected, but thoroughly interesting projects anchored by strong singular voices. And we've seen the cozy subgenre of sleep podcasts turn out to be the perfect vessel for an idiosyncratic comedian. If the rest of 2023 keeps up at this pace, podcasting will be in a pretty good creative place.
All podcast picks are listed from newest to oldest.
I wasn't particularly taken by The Coldest Case in Laramie, which has the distinction of being the first Serial Productions series hosted by a New York Times reporter and is easily the grimmest entry in the studio's canon thus far. But it's still an utterly compelling piece of nonfiction crime storytelling. The investigative podcast revolves around an unsolved murder case from host Kim Barker's childhood that heats up again when a long-suspected ex cop is finally charged for the crime decades later based on seemingly surefire evidence — only for those charges to be inexplicably dropped shortly after. Questions about the unreliability of memory, the subjectivity of truth, and the gravitational pull of closure arise.
Read Nicholas Quah's full review of The Coldest Case in Laramie.
Joe Pera Talks With You might not be getting any more seasons, but those with serious Pera withdrawal can thank their lucky stars for Drifting Off With Joe Pera, which imports the Buffalo native's style of quiet observational comedy into the form of a sleep podcast. Created with frequent collaborator Ryan Dann and produced with Grant Farsi, Drifting Off is an effective example of shifting mediums. Far from being an afterthought, here is a project that clearly understands the mechanics of its principal talent and takes its chosen format seriously. I'm writing this blurb on the basis of just its first monthly episode, but I'm already convinced it's one of the best podcasts from this year.
Read Nicholas Quah's interview with Joe Pera and Ryan Dann.
You can hold a lot against Svetlana! Svetlana! The podcast by the playwright Dan Kitrosser, about the eventful life of Joseph Stalin's daughter, Svetlana Iosifovna Alliluyeva, is at turns messy, obnoxious, and all over the place. At the same time, it's messy, obnoxious, and all over the place; which is to say, for the right person, it's spectacularly free and fun. We seem to be in a boomlet of fanciful, individually anchored narrative-podcast projects — funded to some noticeable extent by iHeartMedia — that are reminiscent of the kinds of general-interest nonfiction books that used to populate the best-seller list. (See: City of the Rails, Unread, the assorted works of Jamie Loftus, and so on.) Listen, I'd be perfectly happy to get hundreds more of these.
The criminal-justice reporter Josie Duffy Rice travels to Mount Meigs, an unincorporated community outside Montgomery, Alabama, where she looks into the history of a juvenile-reform school once known as the Alabama Industrial School for Negro Children. Originally created around the turn of the 20th century to provide Black children with an alternative to actual prison, the institution took a sordid turn when it was sold to the state in 1911, after which it developed a history of abusing many of the children held within its system. Patiently reported, Unreformed joins an emerging subgenre of recent audio docs focused on state-run institutions designed to subjugate vulnerable populations — see also, among others, Gimlet Media's Stolen: Surviving St. Michael's and the CBC's Kuper Island.
The Turning's debut season spun together a story of Mother Teresa's Catholic order, the Missionaries of Charity, told through the perspective of women who had left the group after suffering under the weight of its religious demands. The series was notable for its delicate touch, constructing a picture of that insular world's stark realities while honoring the specific nature of the women's faith. Host Erika Lantz and the team returned earlier this year with an equally sensitive look at another insular world containing somewhat similar power dynamics: that of modern American ballet, which was defined in large part by a singular figure, George Balanchine, and the elite company of female dancers he built as co-founder of the New York City Ballet.
Skyline Drive (Kaleidoscope and iHeartMedia)
It would have been enough if Skyline Drive simply explored modern interest in astrology with an open mind and a thoughtful consideration of America's multicultural composition. Which it does! But in the hands of Mangesh Hattikudur, previously the host of Part-Time Genius and part of the HowStuffWorks brain trust, the podcast really comes to life when the show becomes a moving reflection on being a second-generation immigrant. How does one relate to their parents and the culture of their roots, and what is to be passed down to their own kids? As an added bonus, Skyline Drive features killer music supervision courtesy of Hattikudur. What a treat.