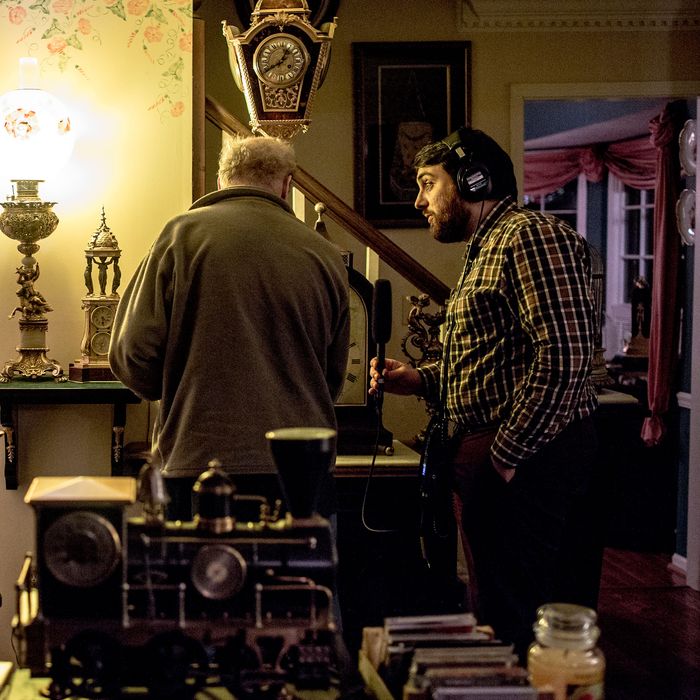 Brian Reed of 
S-Town
.
Photo: Andrea Morales
Whether you've never listened to a podcast before or are just looking for your next obsession, here are 100 good ones to entertain you, edify you, or just help you understand the medium.
Start Here With Some Popular Ones
Call Your Girlfriend
Long-distance best friends Aminatou Sow and Ann Friedman call each other and discuss everything from what tampons will be like in the future to the secrets of responsible personal finance.
Binge Mode
A deep dive into huge pop-culture staples, including an episode-by-episode recap of Game of Thrones and a chapter-by-chapter look at the Harry Potter books.
Comedy Bang! Bang!
This ten-year-old podcast might be the hub of the entire comedy universe as host Scott Aukerman and famous funny guests workshop new bits.
Pod Save America
Former Obama staffers Jon Favreau, Tommy Vietor, Dan Pfeiffer, and Jon Lovett grouse about the crazy thing Trump just did and then interview their neoliberal friends.
Savage Lovecast
This is basically activist and writer Dan Savage's "Savage Love" sex-and–relationship column in audio form.
Slow Burn
A whodunit for the politically inclined, this series has revisited the unfolding of Watergate and the Monica Lewinsky scandal using archival audio and interviews.
Sleep With Me
Host "Dearest Scooter" (in reality, Drew Ackerman) tells rambling, often bizarre bedtime stories designed to distract and help lull you to sleep. It … works?
Welcome to Night Vale
An all-absorbing, ever-expanding portrait of the very strange, imaginary town of Night Vale, with guest stars and writers helping build the world.
WTF With Marc Maron
Marc Maron started his show a decade ago, interviewing comedians about their craft. Now it's an all-purpose talk show with guests including Lorne Michaels, Barack Obama, and Paul McCartney.
Like What You're Hearing? Go Here…
For Engaging Conversation Between Friends
2 Dope Queens
Comedians Jessica Williams and Phoebe Robinson talk about pretty much every topic under the sun. The podcast officially ended last year but lives on as a series of HBO specials.
Stop Podcasting Yourself
Funny Canadians goof around with other funny Canadians (and non-Canadians), leading to meandering, unpredictable conversations.
The Bill Simmons Podcast
The ESPN escapee (and founder of The Ringer) offers high-information takes on all four major sports, as well as pop lingua francas like the Oscars and Game of Thrones. Expect "WTF Emergency Pod" episodes after trades of major players.
Bodega Boys
Bronx comedians Desus Nice and the Kid Mero rambled their way to their own Showtime show on the basis of this largely improvised, generally hilarious podcast on which they run down current events and explain the genesis of their favorite adopted nicknames, such as the Curried G.O.A.T., the Fashion Nova Casanova, and Barmelo Xanthony.
No Such Thing as a Fish
Every Friday, the highly knowledgeable and chatty researchers from the BBC game show QI (which stands for "quite interesting") get together to discuss the most fascinating, entertaining, and strange facts they've learned that week — everything from flirty cuttlefish to "incorrectly formatted declarations of war."
Las Culturistas
Comedians Matt Rogers and Bowen Yang (now a writer for SNL) dish on their latest cultural obsessions and bêtes noires with weekly guests like Padma Lakshmi, Janeane Garofalo, and Natalie Walker.
Men in Blazers
They wear blazers and talk about soccer, which they believe is, was, and will continue to be America's sport of the future.
Food 4 Thot
Four queer writers drink rosé and digress through topics smart and silly: Ta-Nehisi Coates and identity politics, Mariah Carey and bad hookup stories.
CoinTalk
Hosts Jay Caspian Kang and Aaron Lammer discuss bitcoin and the even sketchier cryptocurrencies they've lost money on. Entertaining even if you were smart enough not to buy bitcoin.
Who? Weekly
Want to keep abreast of Z-list celebrity gossip but have no idea what a Bella Thorne is? Let hosts Bobby Finger and Lindsey Weber be your guides.
The Joe Rogan Experience
The former host of Fear Factor's megasuccessful talk show with guests from the intellectual dark web and beyond.
For Obsessive Commentary on Books, Movies, Music, and TV
Pop Culture Happy Hour
NPR's twice-weekly show about books, movies, music, comics, TV, and more.
Bitch Sesh: A Real Housewives Breakdown
Casey Wilson and Danielle Schneider's delightful Bravo recap show has spawned tons of private Facebook groups and sold-out live shows.
Denzel Washington Is the Greatest Actor of All Time Period
Like the title says. Prove them (hosts W. Kamau Bell and Kevin Avery) wrong.
One Heat Minute
A superfan of the Robert De Niro–Al Pacino crime classic Heat discusses the movie with guests, devoting each episode to one minute of the movie.
Scriptnotes
Screenwriters John August and Craig Mazin explain their process, which is fascinating even if you've never opened Final Draft.
Dissect
Host Cole Cuchna obsesses over one classic (or new classic) album per season — so far: Kendrick Lamar's To Pimp a Butterfly, Frank Ocean's Blonde and Channel Orange, and The Miseducation of Lauryn Hill — picking apart a single track per episode.
I Only Listen to the Mountain Goats
Welcome to Night Vale co-creator Joseph Fink discusses the band's 2002 album All Hail West Texas with head Goat John Darnielle, breaking down fandom and the creative process. Each episode focuses on one track and ends with a cover of the song.
Still Processing
The New York Times' Jenna Wortham and Wesley Morris work through their feelings on big cultural moments, with an eye on issues surrounding race and queer identity.
The Read
Kid Fury and Crissle West talk about hip-hop, pop, black achievement, celebrity culture, mental health, and more in a free-ranging emotional roller coaster of a podcast.
Song Exploder
Dying to know the origin story of your favorite song? This podcast has probably had the band in the studio to explain it. Have we mentioned it has a Fleetwood Mac episode? (Okay, it's just Lindsey Buckingham, but still.)
Gilmore Guys
Two men, Kevin T. Porter and Demi Adejuyigbe, team up to watch every episode of Gilmore Girls. Will they be Team Dean, Team Jess, or Team Logan? (Trick question: No one is Team Logan.) They also watch The Marvelous Mrs. Maisel, so all of your Amy Sherman-Palladino needs will be met.
Switched on Pop
Musicologist Nate Sloan and songwriter Charlie Harding  talk the craft and business of pop music — how it's written, how it's Auto-Tuned, how it's streamed — with rigor and charm.
U Talkin' U2 to Me?
An encyclopedic look at U2 albums, tours, and side gigs from Comedy Bang! Bang!'s Scott Aukerman and Parks and Rec's Adam Scott. Somehow this is entertaining even if you don't like U2.
For Laughs
Hollywood Handbook
A dry comedy parodying showbiz podcasts. Deeply alienating.
Mission to Zyxx
Think Star Trek meets the Upright Citizens Brigade. An improv show about a group of interstellar ambassadors making their way around the galaxy.
Hello From the Magic Tavern
Improv comedian Arnie Niekamp falls through a dimensional portal behind a Burger King and into a magical, Middle-earth-style realm. Using the restaurant's weak Wi-Fi, he tells us all about this fantasyland.
My Dad Wrote a Porno
Host Jamie Morton reads erotic novels written by his father out loud, while co-hosts James Cooper and Alice Levine react — with usually cringe-worthy but occasionally heartwarming results.
You Made It Weird
Pete Holmes of Crashing fame gets comedians to divulge the secrets of their personal weirdness.
How Did This Get Made?
Paul Scheer, Jason Mantzoukas, and June Diane Raphael watch dollar-barrel movies and report back on their considerable flaws.
Punch Up the Jam
Comedians Miel Bredouw and Demi Adejuyigbe go nuts trying to take apart and "fix" popular songs, resulting in bizarrely compelling parody versions.
For Life Coaching
Guys We Fucked
On this crude but insightful "anti-slut-shaming podcast," hosts Corinne Fisher and Krystyna Hutchinson interview men they've slept with and celebrity guests they haven't.
Anna Faris Is Unqualified
If you don't have enough incapable friends of your own to ask for relationship advice, Mom star Anna Faris can be your stand-in on this pod as she dishes out some maybe useful but potentially questionable love-life wisdom with help from her famous guests.
Heavyweight
Humorist and unlicensed therapist Jonathan Goldstein helps guests resolve old feuds, like the one between his father and uncle, who haven't spoken in years; a pedestrian and the driver who hit him; and Moby and the guy whose CDs he once stole and then sampled on the album that made him a superstar.
Personal Best
Two self-proclaimed average guys help people tackle the tiny problems they can't seem to get a handle on. From the chronic snooze-button abuser to the terrible text messager, the most mundane and vexing challenges are debated and solved.
The Longest Shortest Time
A podcast that will both comfort and horrify (and then hopefully comfort again) new and expecting parents.
Where Should We Begin?
For the extremely nosy, there might be no better guilty pleasure than these recordings of real-life couples in counseling with therapist Esther Perel, whose keen takes on her patients' conflicts never disappoint.
Nancy
On this WNYC-produced podcast, best friends Kathy Tu and Tobin Low discuss the important LGBTQ issues of the day, like wage gaps, health insurance, and adoption, but also cutoff shorts and if it's okay that J. K. Rowling retroactively made Dumbledore gay.
Yo, Is This Racist?
Once called "the Dear Abby for Racists," this show from reator Andrew Ti and a rotating panel of guests takes listener questions on the finer points of racism.
For News, Politics, And Other Stuff to Get Angry About
Slate Political Gabfest
Free-flowing chat and in-depth political analysis from writers Emily Bazelon, John Dickerson, and David Plotz.
The Gist
A little more structured than the Political Gabfest, this daily Slate show, hosted by Mike Pesca, revolves around topical interviews with experts.
Caliphate
This ten-episode New York Times series from Pulitzer finalist Rukmini Callimachi explores ISIS through interviews with recruits and victims.
Women Rule
Politico's Anna Palmer talks to successful women — Jane Fonda, Meghan McCain, Stacey Abrams, and more — about current events and their personal journeys.
Can He Do That?
The Washington Post's Allison Michaels hosts this show, on which experts debate whether Trump is allowed to do the thing he's probably already gotten away with.
Chapo Trap House
Hosts Will Menaker, Matt Christman, Felix Biederman, Amber A'Lee Frost, and Virgil Texas offer inside jokes and sweary political analysis on the official podcast home of the liberal-bashing dirtbag left. (Conservatives are also occasionally criticized.)
The Daily
The New York Times' Michael Barbaro explains how the paper's biggest stories came together and more.
For True Crime
Crimetown
An absorbing dive into how organized crime has shaped modern American cities; each season is devoted to one town.
My Favorite Murder
Comedians talking about true crime; if there is such a thing as peak podcast, this is it.
Criminal
With each episode dedicated to a different case, this pod offers one of the most expansive, compassionate portraits of the lives of real people caught up in crime.
S-Town
After eccentric clock-maker John B. McLemore reached out to This American Life producer Brian Reed to investigate a murder in his hometown of Woodstock, Alabama, Reed went to the so-called shit town and discovered McLemore was a compelling story in his own right. Tragic in scope, flawed in its ethics, the hit podcast was downloaded a record 10 million times in four days.
Dirty John
A wealthy interior designer meets a handsome doctor and falls in love. L.A. Times writer Christopher Goffard teases out this binge-worthy thriller to its violent end. If you can't get enough of this psychological saga, check out Bravo's recent TV adaptation with Connie Britton and Eric Bana.
Someone Knows Something
Riveting journeys into grisly cold cases from Canadian writer David Ridgen.
In the Dark
Season-long investigative stories focused on one grisly crime, looking at the victims, the accused, and the authorities attempting to bring the case to justice.
Missing & Murdered
Another Canadian podcast, this one hosted by Cree journalist Connie Walker, has so far examined cold cases involving the deaths of Indigenous women.
Undisclosed
You may have heard of a certain extremely popular show with a season dedicated to the Adnan Syed saga. This one started off arguing the case for him. It has since moved on to other crimes.
The Dropout
Theranos founder Elizabeth Holmes was the world's youngest self-made female billionaire before it all came crashing down, resulting in criminal charges and one of the most spectacular corporate collapses in history. This podcast from ABC News offers a jaw-dropping investigative account of what happened.
For History Lessons
Hardcore History
Carve out some time for this podcast. Lengthy episodes walk listeners through the rise and fall of the Achaemenid Persian empire and the devolution of the Roman Republic, culminating in not-so-encouraging prognoses for modern civilization.
You Must Remember This
Through impeccably researched tales from Hollywood's sordid past, host Karina Longworth combines showbiz history with elements of true crime and cultural criticism.
30 for 30
If you get choked up watching ESPN's 30 for 30 docs, get ready to do the same here. The storytelling will suck you in even if you don't know what a triple-double is.
Stuff You Should Know
Chuck Bryant and Josh Clark break down the complicated answers to questions you probably didn't even have, including "Are elephants the best animals?" and "How do breakups impact the brain?" Maybe you've never thought much about the Panama Canal, but listen to this podcast and you'll understand how it works.
Bundyville
A kaleidoscopic view of the standoff at Malheur National Wildlife Refuge, from the Bundy family's roots to the effects of the Endangered Species Act.
Lore
True-life tales of hauntings and other terrifying occurrences.
Memory Palace
A long-running show on which Nate DiMeo walks his listeners through mostly forgotten historical arcana.
For Probing Interviews
Longform
Journalists like Gay Talese, Buzz Bissinger, Michael Lewis, and Tina Brown have been guests on this show, divulging the stories behind their best works, their processes, and their careers.
The Racist Sandwich
Figures from the culinary world come together to talk about food, race, gender, and class. The show started with Portland, Oregon, then expanded to the rest of the country.
Armchair Expert
Actor Dax Shepard sits down with celebrity guests — David Sedaris, Ashton Kutcher, Chelsea Peretti —  to discuss their lives and work.
Conversations With People Who Hate Me
Host Dylan Marron has accumulated a small army of haters over the course of his career as a writer and producer. Here, he lets them dish on why they dislike him so much.
Death, Sex & Money
Host Anna Sale explores topics we "think about a lot and need to talk about more," including porn, near-death experiences, and paralyzing student debt, with help from big names such as Katie Couric and Mahershala Ali.
Lies With Sara Schaefer
It's a celebrity-interview show, with one big publicist-friendly catch: Guests (like Jenny Slate and Colin Quinn) are allowed to lie about everything.
The Tim Ferriss Show
The VC and author of The 4-Hour Workweek talks to successful artists, businesspeople, and athletes about the secrets to their success.
Beautiful Stories From Anonymous People
Anonymous individuals call comedian Chris Gethard and talk to him for an hour about what's on their minds. Their stories are often fascinating.
Getting Curious With Jonathan Van Ness
Everyone's favorite Queer Eye guy sits down to interview guests ranging from celebs to academics in typical JVN fashion. Expect equal parts interview and how-the-hell-did-we-get-here tangents, okay, henny?
The Moment With Brian Koppelman
Screenwriter and Billions co-showrunner Koppelman interviews figures from various professions — actors, businesspeople, chefs — to explore crucial decision points in their careers.
For Fiction
Homecoming
A caseworker at a mysterious facility deals with an enigmatic new patient and surreal office politics. Featuring the voices of Oscar Isaac, Catherine Keener, and David Schwimmer, this is the podcast that inspired the Amazon show starring Julia Roberts and Bobby Cannavale.
Imaginary Advice
Poet and filmmaker Ross Sutherland blends fact and surrealist fiction, like the story of his trying to buy beer without an ID as told in seven different genres.
The Adventure Zone
Who would've thought listening to someone else play Dungeons & Dragons–style games could be fun?
The Black Tapes
Investigating the paranormal in the Pacific Northwest. Gripping and creepy.
LeVar Burton Reads
It's essentially Reading Rainbow for adults.
Limetown
Like Serial if Sarah Koenig had made the whole thing up. A reporter investigates the disappearance of 300 people from a research facility in Tennessee. Watch for Facebook's upcoming adaptation starring Jessica Biel as the intrepid journalist.
For Weird, Experimental, or Indescribable Things
Beef and Dairy Network Podcast
A surreal and surprisingly funny discussion of all things pertaining to "the production of beef animals and dairy herds."
The Allusionist
Host Helen Zaltzman explores all the ways our lives are shaped by language.
Episodes have centered on how we choose names, how made-up languages on Game of Thrones are created, and whether nother is really a word.
10 Things That Scare Me
Celebrity guests tell us what they're afraid of, usually in five minutes or less. Who would have guessed Anthony Scaramucci was afraid of the dark (and divorce lawyers)?
The Anthropocene Reviewed
John Green discusses facets of the planetary experience — from the Lascaux paintings to velociraptors — and rates them on a five-star scale.
Flash Forward
What will life be like in the future? Each episode explores a different scenario — some likely, some not so much.
Invisibilia
Unseen forces — ideas, assumptions, beliefs, emotions — have an enormous impact on our lives. Whether they're studying smiles at a Russian McDonald's or watching oil-rig workers hug each other, Alix Spiegel and Hanna Rosin reveal how the things we don't see can often determine the things that we do — and are done to us.
Dr. Gameshow
The premise: Listeners send in original games they've created and hosts Jo Firestone and Manolo Moreno try to play them, often with disastrous results.
Here Be Monsters
Tales of individuals pursuing and facing down their greatest fears, plus other stories mixing the macabre and human psychology.
Missing Richard Simmons
Why did the once-ubiquitous fitness guru vanish from the public eye? This controversial podcast from 2017 aims to find out.
Whatever Happened to Pizza at McDonald's?
Once upon a time, very briefly, McDonald's served pizza. Why did it stop, and how deep does the conspiracy go? Brian Thompson is determined to find out.
Walking
Journalist Jon Mooallem takes walks in the woods of the Pacific Northwest.
That's it. That's the whole podcast.
And don't forget to check out these New York Media podcasts: 2038, The Cut on Tuesdays, Good One, and What the Tuck.
More From The Great Podcast Rush