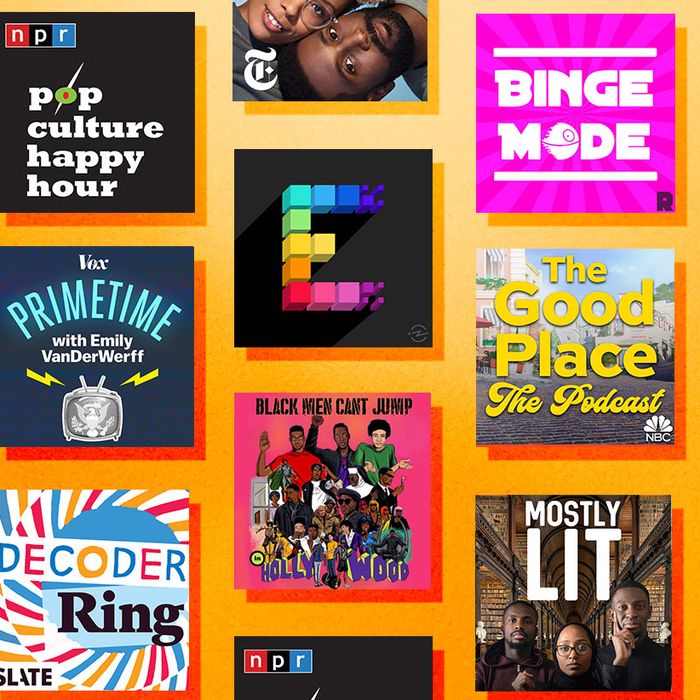 One of the great benefits of podcasting's massive landscape is the ability to find shows that cater to any interest. There are podcasts about the Percy Jackson book series, table reads of independent plays, or the queer and campy canceled TV show Lost Girl. If there's a piece of pop culture you love, you can probably find a show about it in the podcast world. (If anyone knows of a podcast about the 1987 cartoon Beverly Hills Teens, though, please hit me up. This is my white whale.)
But podcasts haven't just shaped our tastes and connections to pop culture, but defined the shifting blueprint of the medium itself. Culture podcasts are no longer just traditional film reviews or unedited conversations between friends. Those still exist, of course, and many are great listens, but we're also seeing a lot of great shows that are adding a layer of craft and trying for something novel. Whether it's sleek editing that highlights the smallest pieces of a song or giving Truck Nutz the true-crime treatment, these podcasts can break the old perception of the medium and set new standards for greatness.
What an iconic, exemplary arts and entertainment podcast should do is capture the attention of listeners who haven't yet engaged with a piece of media while helping those who already feel both validated and enlightened. Each podcast here has an unironic love of what they talk about, balancing humor with analysis, making every listener feel like a part of the conversation. Because they also know — high art or not, these conversations are worth having.
Pop Culture Happy Hour
Pop Culture Happy Hour began its run in 2010 and quickly became a favorite for podcast listeners wanting friendly but deeply informed conversations about pop culture. Instead of NPR's usual formal, journalism-forward approach, Pop Culture Happy Hour allows host Linda Holmes to kick back with her co-hosts, who range from familiar faces at NPR like Stephen Thompson and Glen Weldon to niche experts on the subjects being discussed. It's an opportunity to hear some of the foremost critics and pop-culture experts invite you into a casual conversation, sharing jokes and debating opinions back and forth without the gravity of arguing on a great cultural canon. PCHH had a large hand in creating the template for the many pop-culture chat shows that came after it.
Song Exploder
A cornerstone Radiotopia podcast that actually started its run on comedy network Maximum Fun, Song Exploder breaks songs into individual pieces, step by step, exposing the songwriting process. The show is technically hosted by Hrishikesh Hirway or, more recently, Thao Nguyen of Thao & The Get Down Stay Down, but the hosts have as little presence in the final edit as possible. Instead, the musicians' side of the interviews are meticulously stitched together with stems, measures, or pieces of demos from the song being discussed. It's a 99% Invisible take on songwriting, giving every single aspect of a song the same amount of respect. Lyrics aren't treated with more love than a mic used for one specific vocal texture. The singers are talked to as much as — and sometimes less than — a writer or producer. It doesn't matter if you don't know the song being discussed; Song Exploder will make you fall in love with its blown-up pieces regardless.
Black Men Can't Jump [In Hollywood]
Black Men Can't Jump [In Hollywood] is a conversational podcast between three friends and actors: Jonathan Braylock, Jerah Milligan, and James III — along with whatever guest hosts they might have. Each episode is dedicated to analyzing and reviewing films that star black actors, be it Hustlers or If Beale Street Could Talk or Shark Tale. The magic here is in the hosts, who have honed their casual, goofy chemistry over more than 200 episodes, offering the perfect mix of amusing tangents and relevant discussion. It's a topic-driven chatcast for people who usually don't like the rambling nature of chatcasts. It's a film-review podcast for people who usually don't like the stuffy, condensed conversations in film-review podcasts. Each episode clocks in around an hour and a half or two hours long, giving the hosts plenty of breathing room in discussion, while still never feeling underedited or too meandering.
Still Processing
The New York Times culture writers Wesley Morris and Jenna Wortham take on a different bit of pop culture in each glossy, semi-scripted, semi-conversational episode of Still Processing. The series has a knack for cutting right to the meat of the episode's subject matter, leaving the listener not only informed but also genuinely educated. Morris and Wortham aren't here to just share opinions and hang out; they're also prone to asking meatier questions about the media, and what it might say about our current culture. They don't always come up with all the answers, but it's fascinating to hear them try.
Sooo Many White Guys
The WNYC Studios program is built on the strength of Phoebe Robinson, comedian, writer, and co-host of 2 Dope Queens, a live comedy show and podcast. First, there's her impeccable curation, bringing on a guest slate of influential artists, with one key twist: She tries to interview as few white guys as possible. But it's more than a catchy hook: Robinson has excellent command of her interviews. A podcast veteran and a charismatic performer, she guides the energy to be whatever it needs to be in that moment: bombastic or laid back or, sometimes, even moving. It's deft hosting work that she makes seem effortless.
Binge Mode
The Ringer's Binge Mode, hosted by Mallory Rubin and Jason Concepcion, gleefully jumps into the deep end of the fandom pool. Each season offers an obsessive breakdown of a different (and, it should be said, massive) pop-culture franchise, so far taking on Harry Potter and Game of Thrones — and next, Star Wars. The show only debuted in 2017, but it's already become one of the finest spins on the fancast — a podcast in which fans revisit the pop culture they love to talk about what makes it great and, sometimes, what makes it admittedly not that great. Where Binge Mode really stands out is its depth of analysis for the works, breaking down not just the plot events but also the themes and concepts within. It helps that The Ringer's giddy energy and penchant for borderline absurdism comes through in each high-energy episode.
Mostly Lit
Mostly Lit is a conversation podcast about literature … mostly. Hosts Alex Reads, Raifa Rafiq, and Derek Owusu talk about books, literary trends, and other pieces of culture each week in chill conversations that are often hilarious, but just as often solemn and sincere, especially when tackling the heavier themes of literature. There's a level of vulnerability from the hosts as they sit with questions like existentialism, gender, freedom, mortality, and why Daisy Buchanan would stay with Tom in The Great Gatsby. The hosts are known for their unfiltered opinions, bringing praise alongside scathing critiques for the canonized literature most listeners have been taught to revere without question.
Decoder Ring
Slate's delightful Decoder Ring takes something from the zeitgest, looks at it under a microscope, and says, "Hey, actually, what the hell?" With not even an ounce of irony, host Willa Paskin tries to answer questions like, "So, what was up with all those clown sightings back in 2016?" or "Where did 'Baby Shark' come from, and why?" It's a pop-culture podcast that comes with the same level of research, investigation, and sincerity as any investigative journalism podcast, often feeling closer to the true-crime genre than its fellow arts and entertainment podcasts.
The Good Place: The Podcast
The platonic ideal of an aftershow podcast. It should come as no surprise that a podcast where host Marc Evan Jackson —whose previous work includes the long-running and highly acclaimed old time radio show podcast, The Thrilling Adventure Hour — interviews his colleagues from one of the best, smartest shows being made right now would be fantastic. Somehow, though, it still is. The Good Place: The Podcast feels good. The dynamic of each episode feels good. Having every part of the show's team present, from the actors to the writers to the costumers to the set dressers to Mike Schur himself, feels good. Ending with Jackson's question for his guests, "What's good?," inviting them to share something nice, feels good. Hearing how much the team loves the work they're doing with their teammates feels good. You get it: This show feels good.
Primetime With Emily VanDerWerff
This is one of the genre's newer podcasts, but it has quickly established itself as a must listen. Like Binge Mode, Vox's* Primetime with Emily VanDerWerff focuses each of its seasons on a specific topic of pop culture, analyzing it as closely as possible. Primetime's approach is the reverse of Binge Mode, though: Instead of starting with a franchise and analyzing its themes, VanDerWerff takes a theme and analyzes the television that has depicted and impacted that theme. Primetime's first season, which came out earlier this year, focused entirely on depictions of the American Presidency, both fictional and real. Historically, the sociological impact of non-prestige TV, a maligned medium, has been dismissed; Primetime shows that, also historically, such programming has massively swayed how its viewers view the world. It's a look into what makes TV important not just on an artistic level, but cultural and political levels as well.
*You should know: Vox Media and New York Media, the parent company of New York Magazine and Vulture, recently announced plans to merge.