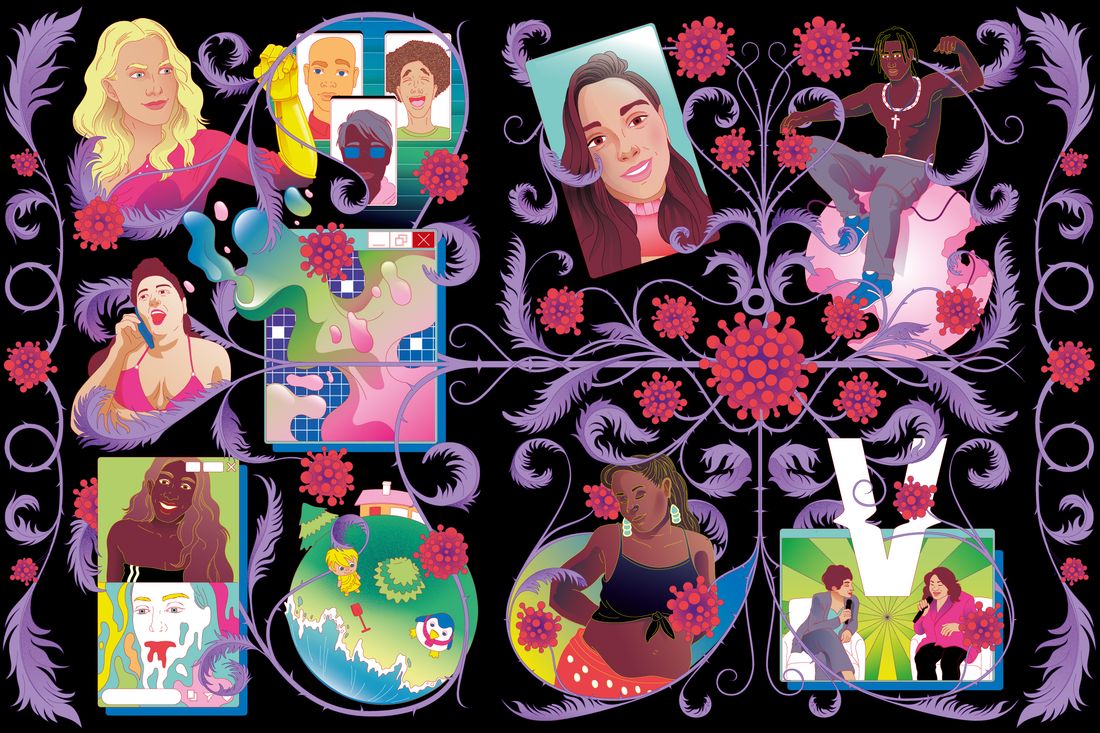 Clockwise from top left: Rachel Brosnahan on Quibi, the virtual audience, Gal Gadot's "Imagine," Travis Scott's
Astronomical
,
Verzuz
, "Lose Yo Job,"
Animal Crossing
, Ziwe's IG Live show, Megan Stalter,
Circle Jerk
Illustration: Ari Liloan
Since the early days of the pandemic, the engines of mass culture have attempted to churn forward. But by mid-March, it had already become clear they were ill-equipped to meet the COVID moment. Big-budget movies, plays, and concert tours were canceled. When TV shows tried to mirror banal realities of the pandemic — framing episodes through Zoom calls, splicing in mask jokes — more often than not, they failed to resonate. Daytime TV started beaming virtual audiences into physical studios, and the result couldn't help but appear unhinged. The audience faces loomed, their laughs in permanent lag.
The rules for what worked had changed. Instead of fretting over what was lost, some of the most interesting art this year leaned into the immediacy of the internet. That meant celebrating the flattened hierarchies of online gaming and Instagram Live, where celebs, politicians, and the rest of us could play and troll side-by-side. It meant chats, face-offs, and collaborations that wouldn't have happened in the before times, when geography still meant something and stars were booked and busy. It meant engaging with the politics of race and class and inequity, in tandem with the protests that finally got us out of the house. And it meant leaning way into gallows humor, nonsense, and camp. With so many limits on our real lives, we were finally ready to move to the Uncanny Valley.
In that spirit, Vulture brings you the Quarries: our first, and hopefully last, ad hoc awards for the culture that came out of our year in quarantine. There have been thousands of livestreams, memes, virtual concerts, and other ephemera — this list represents the ones that most memorably shaped our locked-down lives (and brains). Some of it was absurd, some ingenious, some unintentionally amusing, some frankly reprehensible (and therefore unforgettable). And all of it kept us just on this side of sane, as we dragged our withered bodies through the longest nine months on record.
*A version of this article appears in the December 7, 2020, issue of New York Magazine. Subscribe Now!