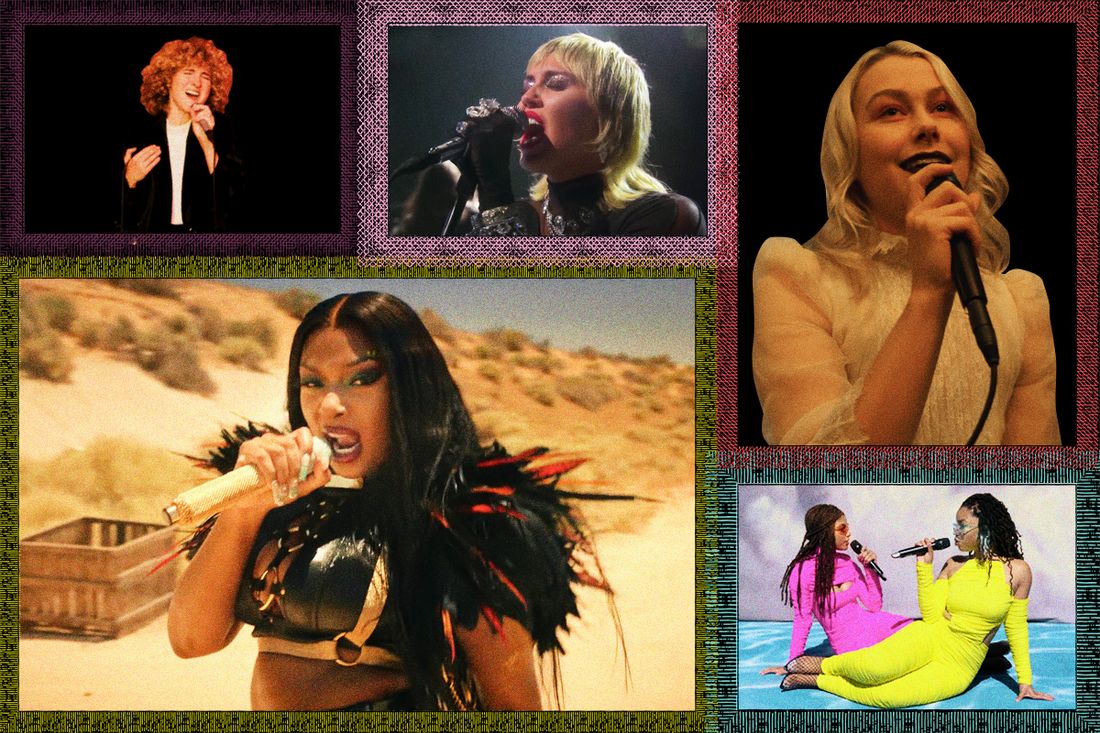 Photo-Illustration: Vulture and YouTube
This year shook up the music industry across the board, but few things transformed more quickly than the idea of the live performance. Without the ability to perform in front of full audiences, at venues of all sizes, and now needing to keep production teams small and direct contact low, artists brought listeners into their homes and to remote places across the world. Sans tours and typical in-person events and press, promoting an album this year meant having to learn overnight how to create sets that still stunned, surprised, and held fans' attention. Quarantine posed many challenges and dire issues that have yet to be figured out as many venues are approaching the year mark without shows. It also, in a way, leveled the playing field, pushing musicians of all tax brackets to get creative and DIY with their performances in the pandemic. Many thrived having to start from scratch, crafting immersive experiences or intimate moments through computer and television screens. Here are the best ones.
10.
Rina
Sawayama,
"Love
It
If
We
Made
It"
Cover
for
The
Face
In Rina Sawayama's cover of The 1975's "Love It If We Made It" for the Face Magazine, the pop singer masters the art of performing from home. Filmed in her London studio and chock full of topsy-turvy visuals, Sawayama shows that keeping it interesting doesn't always require a stage with flashy set up and heavy production — sometimes just a bold red lip and a kaleidoscope of ever-changing angles does an even better job than excess.
9.
Haim,
"3AM"
on
Seth
Meyers
(ft.
Robert
Pattinson)
When an emotional vampire is on the other end of the line, it can only be Edward Cullen. In a humorous play on the opening to "3AM," Haim recruited Robert Pattinson to record his own up close and personal rendition of a late night booty call. It leads into the sisters donning wedding dresses, now vampires themselves, offering another potential Twilight easter egg in a nod to the infamous vengeful bride Rosalie Cullen. It's called understanding what's cool, and Twilight is still cool in the year 2020, okay.
8.
Tennis,
"How
To
Forgive,"
In
The
Void
Series
Live from the Void: Colorado indie band Tennis. The four-piece fully entered the digisphere with their quarantine livestream shows, launched in October. A shift from their usual dreamy '70s aesthetic, the band jumped forward to the '90s, performing against a changing background reminiscent of screensavers on old PCs and Y2K text. Alaina Moore, playing alongside husband Patrick Riley, shimmies and sways as they dig into their vast discography, including many tracks from their latest album Swimmer, released in February right before quarantine. But they don't just rely on aesthetics. They also delivered a top-notch performance of single "How to Forgive," showcasing the control and capacity of Moore's voice. The group also pulled fans into the void with them by creating an immersive Instagram filter that included the colorful changing background seen in their set.
7.
FKA
Twigs
and
Dua
Lipa,
"Why
Don't
You
Love
Me"
at
Studio
2054
In November, Dua Lipa hosted a livestream event called Studio 2054 bringing together the talents of Elton John, FKA twigs, Bad Bunny, Miley Cyrus, and Kylie Minogue to a warehouse in London for a night of disco pop that 2020 has denied us. The evening's most intriguing set came courtesy of FKA Twigs, who performed her signature pole choreography while singing her and Dua Lipa's unreleased track "Why Don't You Love Me." As she sets movement to lyrics — "when I look like, move like this," "when I flip my hair like up, down, to the middle" — you'll find yourself hanging onto every syllable, twist, and turn. Her grace is effortless, enough to carry the performance through the end, when Dua briefly briefly joins in. Please, Dua and Twigs, I am absolutely begging you to release this track.
6.
Lady
Gaga
&
Ariana
Grande,
Chromatica
Medley
at
the
MTV
VMAs
Lady Gaga and Ariana Grande created the blueprint for having a COVID-safe set with their Chromatica medley at the VMAs. Ariana's whistle tones and signature note sailed through that simple black mask and with three outfit changes the show carried all of the production and dramatism of any Gaga performance. She just looked and sounded so good in that android-esqe mask fit for the techno-pop universe of Chromatica.
5.
Miley
Cyrus:
"Heart
of
Glass"
Cover
at
the
iHeart
Music
Festival
Miley Cyrus's track record of releasing wicked covers hit new heights this year, particularly with her cover of Blondie's "Heart of Glass" at the iHeart Music Festival, where she performed virtually from the MGM Grand Garden Arena in Las Vegas. It solidified her new image as a rockstar. Miley's always been a comfortable performer as she's traversed genres over the years, but it seems as though she and her voice have found a true home in her own take on rock, especially in "Heart of Glass." Her gritty powerhouse vocals body the '70s new wave hit, receiving praise from Debbie Harry herself. Clamors for an official release of the cover began immediately, which she delivered as a bonus track on her newest album Plastic Hearts. Over quarantine, Cyrus also revived her iconic at-home Backyard Sessions, where she recorded her popular "Jolene" cover back in 2012, just to really spoil us.
4.
Taylor
Swift,
"exile"
from
the
folklore
Long
Pond
Sessions
As if Taylor Swift did not do enough this year by surprise releasing two full-length albums, folklore and evermore, she also surprise released folklore: the long pond studio sessions. Giving fans a closer look at songs from the first album, these performances also give a more intimate look at Swift as an artist, lyricist, and singer. They're both personal and inviting as she brings listeners into the space where she thoughtfully crafted the albums –– at the projects' co-producer Aaron Dessner's Hudson studio –– during quarantine.
3.
TIE:
Phoebe
Bridgers,
"I
Know
The
End"
on
Late
Night
with
Seth
Meyers
/
NPR
Tiny
Desk
Home
Concert
In her Late Night with Seth Meyers set, washed in red, Phoebe Bridgers constantly looks beyond view. Though she never makes eye contact with the camera, she also never isolates the viewer. We're instead brought in to wonder what she sees that we don't. After minutes spent wandering through the back hallways of the deserted "haunted" Covina, California theatre alone, she ends up on an empty stage, giving an equally haunting performance to no one, singing about the end of the world. It's a stabbing reminder of all the empty stages across the world right now, and the uncertainty of when they'll be filled again. Everything builds up to a climax of Bridgers wailing as roses are tossed in the dark. It's a mood.
But Phoebe Bridgers has several. Showing off her range of expressions, she also gave a new take on the song for NPR's Tiny Desk, performing from one pretty significant desk: Straight from the White House, or rather, a well-created green screen version of the Oval Office. Her and her band of secret service men deliver the best sounds to come from the capitol all year.
2.
Megan
Thee
Stallion,
"Girls
In
The
Hood"
&
"Savage"
at
the
BET
Awards
Megan Thee Stallion's outdoor, Mad Max style set has lived in heads rent-free since it aired in July. In her first major performance of her summer hit, she cruises in on a four wheeler, delivering flawless raps and footwork with the gravitas of a bad bitch. Reminder: out in these parts, Megan's in charge. Her backup dancers in masks also played perfectly into the desert post-apocalypse set… and pandemic safety. This performance is thee definition of a "Hot Girl" and a "Savage" wrapped up in one.
1.
Chloe
x
Halle,
"Do
It"
on
the
Today
Show
Chloe x Halle took the crown for best quarantine performance with the one that set the standard for them all, their summer performance of "Do It" on the Today Show. Working against a simple backdrop of clouds and a shimmery pool floor set up on their now-famous tennis court at home, they quickly set themselves — and the then-fledgling art of the quarantine performance — apart with their impeccable vocals, synchronized dancing (effectively mimicking synchronized swimming), and energy. Instinctually working the camera and a non-audience, it never seems unnatural for them to perform alone and give it their all. Since then, Chloe x Halle have outdone themselves, again, again, and again, keeping it interesting with a new approach every time with equally stunning costume and makeup design. Truthfully, they could've occupied the other nine slots on this list with every performance that followed their first, but we're generous.
Doja Cat, "Say So" at the MTV VMAs
Fiona Apple, The New Yorker Festival Set
The Weeknd, "Blinding Lights" at the MTV VMAs
Nubya Garcia, NPR Tiny Desk Home Concert
Christine and the Queens, "People, I've been sad" on The Late Late Show with James Corden
The Flaming Lips, "Race For The Prize" on The Late Show with Stephen Colbert
Flo Milli, "Weak" for Vevo Ctrl.At.Home
Angel Olsen: "Waving, Smiling" at the Masonic Temple
Perfume Genius, "Jason" on The Tonight Show Starring Jimmy Fallon
Kylie Minogue, "Real Groove" from the INFINITE DISCO Livestream
Hayley Williams, NPR Tiny Desk Home Concert (with Julien Baker)
Yaeji, In Place for Boiler Room
Fat Tony, No Audience Live Set
Robyn, Club DOMO Pt. 5 Zhala 'Holes' Release Party