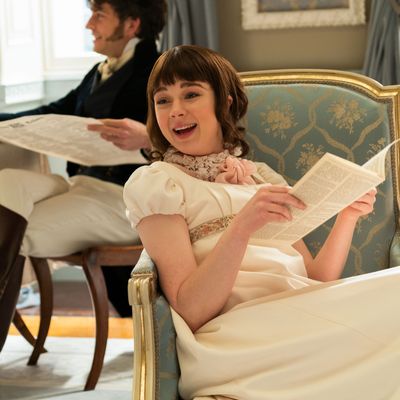 Photo: Liam Daniel/Netflix
Dearest gentle reader, if you are here, you have likely watched (and possibly rewatched) the first season of Bridgerton on Netflix, and one cannot judge you for your enthusiasm on that front. This television series is packed to the brim with sexy, steamy, inclusive Regency-era drama, romance and more — but if you've found that your appetite has been whet and more of the same is what you crave, look no further.
Those who haven't yet to explore the romance genre might feel overwhelmed by the sheer number of options available to them. Consider this your unofficial companion reading guide to the world of Bridgerton — and the realm of romance that's waiting beyond. In addition to the series by Julia Quinn upon which the show is based, the following titles are a perfect place to begin.
Bridgerton brothers Anthony, Benedict, and Colin have the type of close-knit familial dynamic that is so often an underpinning of the romance genre, but sometimes found families can be just as strong. Enter Milan's Brothers Sinister series, which follows the adventures of the three rakish men (and one woman!) and the love stories they become entangled in. The entire set is worth diving into, but one highlight is The Countess Conspiracy, in which a self-professed rake scandalizes society with his bedroom behavior as well as his scientific theories. The thing is, they're not his theories; he's been taking credit for the ideas that really have belonged to a widowed countess for years.
Early on in Bridgerton, Daphne and Simon agree to feign romantic interest in one another in order for him to stave off matchmaking mamas and so she can attract more suitors. If the fake courtship trope is what you're after, then try the first book in Leigh's Union of the Rakes series, which puts a Regency-era twist on classic '80s movies. Lady Grace Wyatt wants to earn the attention of a handsome naturalist, and what better way than to use another man to spike his competitive interest? But her only potential candidate is her colleague, anthropologist Sebastian Holloway. She'll have to make him over into a rake that would rival any suitor, but she doesn't expect to fall for him along the way.
Bridgerton's sparkling wit and humor is a cornerstone of the show, but it's also something that author Tessa Dare has down to an art. The entirety of the Girl Meets Duke series has been packed to the brim with comedic high jinks, but if you want something especially delightful, take The Wallflower Wager — which pairs the titular wallflower heroine, Lady Penelope Campion, with the grumpy duke next door who's had just about enough of all of the animals she's taken in to nurse back to health. When Penelope challenges Gabriel to help her find homes for all of them, she realizes that her neighbor might have a kind heart beneath that gruff exterior.
Sebastian has become a rising voice in the realm of queer historical romance, and there's truly no bad place to start with her books — but A Gentleman Never Keeps Score, the second in her Seducing the Sedgwick series, manages to tick so many Bridgerton-related boxes it's ridiculous. A hero ruined by scandal? Check. A retired boxer? Check and check. Romance that drives home the statement that everyone deserves a happily ever after? You get my point. It's always fascinating to read a love story between two characters who are initially kept apart by societal forces, which is also something that Bridgerton plays into consistently over the first season.
Kleypas is arguably one of the most widely known authors in historical romance, and with good reason. Like many of the names on this list, the place you begin with her books is really dependent on what mood you might be in — but might this humble writer suggest her Wallflowers series, about a group of four friends who enter society and make a pact to find themselves husbands? The Devil in Winter revolves around arguably the shyest member of the group who approaches London's most notorious rake with a daring proposition: marriage.
These days, Thomas is mostly dabbling in mysteries with her Lady Sherlock series (which are also incredibly worth the read), but one shouldn't overlook her historical romance, either. One aspect of Bridgerton that plays out memorably over the course of its eight episodes is public perception and how society can make or break a reputation. The hero of The Luckiest Lady in London has been held up to such a golden standard for so long that even he starts to believe his own projected image — but beneath that seemingly perfect façade exists a man with issues, ones that might not rise to the surface until after he weds his new bride at the end of the London season.
Marriage and the pursuit of one becomes the goal of many a lady throughout the first season of Bridgerton, but what happens when a heroine gets desperate enough to make up a suitor of her own? Reid's first novel in her Sinful Wallflowers series merges the same blend of humor and emotion. Lady Katherine Danvers conjures up a pretend fiancé in the reclusive and scarred Duke of Thornton, never thinking that the man himself will emerge back into society to confront a woman he's never met about making up stories. But when Alexander lays eyes on Kitty for the first time, he realizes he might want to make her his wife for real.
MacLean's Bareknuckle Bastards books revolve around brothers bound in secrets and life and the women who bring them to their knees, set in the rougher boundaries of London's underbelly. Do yourself a favor and read the entirety of this trilogy, but special distinction goes to Hattie, the heroine of Brazen and the Beast. Hattie decides right away that she's going to make the most of her 29th year of living, up to and including experiencing true pleasure she might be denied since she's officially achieved spinster status. Discovering the most attractive man she's ever seen tied up in her carriage wasn't part of that plan, but it's going to take more than a Beast to derail Hattie's goals for herself.
Simon Basset's bristling nature and desire to be nothing like his father, the late Duke of Hastings, bears a striking resemblance to another reluctant duke who finds his world upended by a somewhat sheltered society maiden. After the passing of her literal wicked stepmother, Ana Maria might need a helping hand as she finally makes her debut — but when her independent streak places her in a precarious situation, her half-brother taps his best friend Nash, Duke of Malvern, to offer her some self-defense lessons. But the closer she gets to someone she's known since childhood, the more Ana Maria realizes she might want Nash to teach her about more than just throwing a punch.
The first book in Jordan's Rogue Files series has the advantage of doubling as a fantastic Regency-set reinterpretation of a classic holiday rom-com. Poppy Fairchurch has been dreaming about a romance with the Duke of Autenberry ever since the first time he visited the flower shop where she works. When she narrowly pulls him to safety from a runaway carriage and he falls into a coma, she's soon mistaken for his wife-to-be — but there's one person who isn't fooled … the Duke's half-brother. Struan Mackenzie doesn't know if Poppy's a fortune-hunter or not, but he does know that his half-brother would never willingly marry a working girl. The longer the lie plays out, the more Poppy becomes torn between the fantasy of the duke and the real-life version of the handsome Scottish outsider who might have successfully stolen her heart.
Honorable Mentions
These authors offer just enough of a taste of different to complement any Bridgerton-related reading you might want to dive into:
• Joanna Shupe's Uptown Girls series is set in Gilded Age New York, and steaminess abounds.
• Regency meets secret kink club in Kate Pearce's House of Pleasure series.
• Vanessa Riley's A Duke, the Lady and a Baby offers slow burn and ultimately satisfying romance between an heiress and a military hero.
• Take a fairy-tale spin into the modern era with Alyssa Cole's Reluctant Royals series.
• If you want murder mystery with your romance, then you need to read A Lady's Guide to Mischief and Mayhem yesterday.