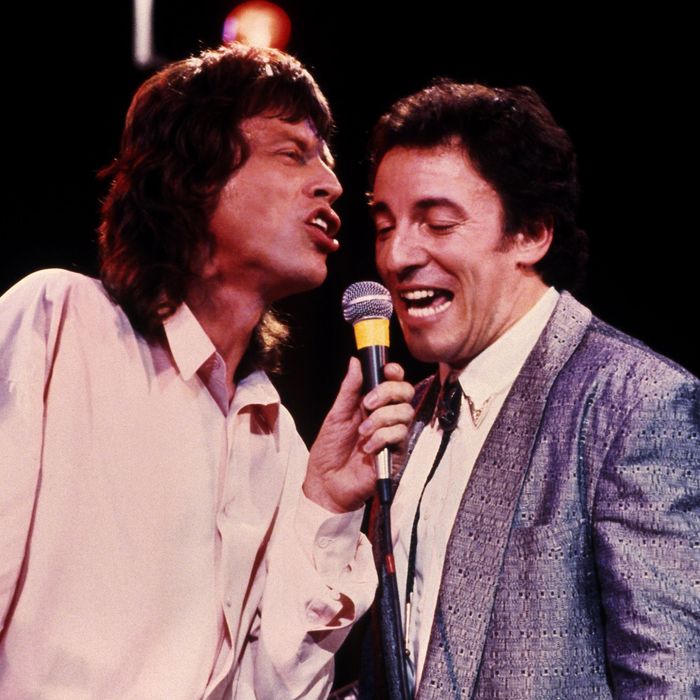 Photo: Sonia Moskowitz/IMAGES/Getty Images
Some people enjoy, no, love, the annual Rock and Roll Hall of Fame induction. (I am one of them.) Others, not so much. But even the cynics would be a bunch of lying liars if they weren't at least a bit titillated by the ceremony's most crowd-pleasing segment, a tradition informally known by most as the all-star jam or super jam. Beginning in the Hall's inaugural year and appearing in the majority of ceremonies since, the jam is pretty much what it sounds like — a bunch of legends join together on stage, pick up some instruments, and perform the hell out of a rock standard. Unless there's an underground rich people music club we're not privy to, there simply isn't another venue where you can find the likes of Mick Jagger, Bruce Springsteen, Bob Dylan, and Ringo Starr rockin' out in sweet harmony just for funsies.
In anticipation of the 2019 Rock Hall induction airing on HBO on Saturday, Vulture decided to relive these all-star jams and analyze how truly epic they all were. (A few sporadic years are, sadly, devoid of jams.) We realized a bit into this endeavor that it would be futile to attempt to rank them — how would Tom Petty and Prince compare to Jagger and Springsteen? — so we settled on a general four-tier quadrant of epicness, sorted from the mindblowing must-sees to the ones that would have benefited from more star power, taking into account each jam's overall execution in addition to its headliners. Either way, let the power of rock compel you, and enjoy this trip down sonic memory lane.
Tier 4: "Meh"
1993: "Born on the Bayou" — John Fogerty, Bruce Springsteen, and Robbie Robertson
Just a bunch of pals hangin' out and croonin' about bodies of water! Springsteen and Fogerty are huge enthusiasts of wearing jeans and dropping in on each other's concerts as special guests, so while it's lovely, this isn't anything particularly notable.
2012: "Higher Ground" — The Red Hot Chili Peppers, Slash, Billie Joe Armstrong, Ronnie Wood, and George Clinton
We'll have to ask that year's ceremony attendees to vouch if this was a good performance or not, because the audio quality the Hall uploaded can probably be most kindly described as engineered by "middle school AV Club rejects." At least they look like they're delighting in the dysfunction!
2016: "Ain't That a Shame" — Steve Miller, Cheap Trick, Deep Purple, Chicago, Steve Van Zandt, Sheryl Crow, and Rob Thomas
This is the year one could argue the all-star jams began to lose a bit of their, well, all-star sheen, with a "get as many people on stage as possible and see what happens" aesthetic being favored, sound quality be damned. (Poor Crowe is just wandering around the stage half the time.) Still, it's always welcome to see Miller play a guitar on the back of his head, especially minutes after he ripped the Hall a new one backstage.
2019: "All the Young Dudes" — Def Leppard, Brian May, Ian Hunter, the Zombies, Susanna Hoffs, and Steven Van Zandt
As someone who was present when this jam went down just a few weeks ago, I find it hard not to think it was simply missing … something. It's pleasant enough, but when you look at everyone awkwardly relegated to the microphones and realize which inductees didn't partake — those foxy Roxy Music boys, Stevie Nicks, et al — nostalgia for the glory Hall years of the Springsteens and the Jaggers comes flooding right back. Don't take our word for it, though. Joe Elliott didn't even think it was all-star jam material when introducing everyone: "This is a little different. It's more up to date, less messy, more classic." Diss alert!
Tier 3: "Epic? Quite"
1992: "Green Onions" — Paul Shaffer, Booker T. Jones, Steve Cropper, Donald "Duck" Dunn, The Edge, Keith Richards, Johnny Cash, and Neil Young
If you're a "Green Onions" purist, you probably won't warm to this much — the organ line is barely recognizable in favor of a carousel of guitarists getting a bunch of very loud solos, as well as Shaffer feeling the need to narrate the entire experience for the audience. ("Let's hear the Edge from U2!! Can someone bridge the Edge up here???") The person in charge of sound should've also been fired.
2005: "Let Me Love You Baby" — B.B. King, Buddy Guy, and Eric Clapton
This holy trifecta of blues heroes will likely make you weep even before the first guitar solo comes out to play. These pals had played together a few times here and there before King's death in 2015, which knocks down the novelty factor a bit, but their admiration and love for each other is infectious. "Between these two guys, I might play this all night," Guy narrates from the stage. "I don't feel like I should stop." We wish they didn't.
2014: "It's So Easy" — Stevie Nicks, Carrie Underwood, Bonnie Raitt, Emmylou Harris, Sheryl Crow, and Glenn Frey
Linda Ronstant couldn't attend her Hall induction due to her ailing health, so this ultimate girl power supergroup (and honorary lady of the evening, the incomparable Glenn Frey) stepped in to croon to one of her most famous bops. It's a sweet, simple treat, with Nicks as their de facto leader.
2015: "With a Little Help From My Friends" — Ringo Starr, Paul McCartney, Green Day, Miley Cyrus, Stevie Wonder, Beck, Dave Grohl, John Legend, Joe Walsh. Joan Jett, Gary Clark Jr., and Patti Smith
The friends really came out for Starr's induction, who was the final Beatle to receive Hall recognition for his solo work. "If you don't know this song," he teases when more and more and more (and more) pals trickle onto the stage, "you're certainly in the wrong venue." He's probably the god of spreading the gospel of peace and love, and this performance does just that.
Tier 2: "Nearly too epic to handle!"
1989: "(I Can't Get No) Satisfaction" — Mick Jagger, Keith Richards, Ronnie Wood, Little Richard, Bruce Springsteen, Pete Townshend, Tina Turner, and Stevie Wonder
This is the year the Rolling Stones were inducted into the Hall, and their vast Rolodox of pals were more than happy to boogie to the stage with them to help celebrate the honor. The energy shift from the other late-'80s jams is palpable, though. Everyone is mostly standing around as a yelping Wonder and forever-cucumber-cool Jagger trade lyrics, an exchange that is plagued by some minor sound issues. (Just compare Richards and Jagger's facial expressions to their all-star jams in the years prior. They look … pretty unhappy!) Still, with a lineup like that, we can't nitpick too much.
1994: "Come Together" — Bruce Springsteen and Axl Rose
The story behind this duet will make you amazed it even happened at all: It was the year John Lennon was inducted into the Hall as a soloist, and Elton John and Rod Stewart were originally slated to perform "Come Together" in his honor. But when Stewart unexpectedly couldn't make the ceremony, things were reshuffled that very afternoon, with Spingsteen and Rose eventually agreeing to do it together with zero preparation. The result? Your very cool, chill uncle wrangling his crazy son to mellow out for five, just five, minutes to appropriately honor a rock legend. (Honestly, find somebody who'll look at you the same way Rose looks at Springsteen.) Rose would proceed to go on a six-year performance hiatus after this, and 18 years later, refused to attend his own induction with Guns N' Roses.
1999: "Let It Be" — Paul McCartney, Eric Clapton, Bono, Bruce Springsteen, Robbie Robertson, Bonnie Raitt, and Billy Joel
1999 was an epic year for soloist inductions into the Hall, with McCartney, Springsteen, and Joel forming a holy trifecta of intimidation. Fun fact: The Beatles legend asserted he wasn't going to perform, but, perhaps overcome by how incredible the backing ensemble was, unexpectedly relieved Joel of his vocal duties a minute into the song, much to the bonkers reaction of everyone. Come for McCartney's amusing guitar-less hand motions, and stay for his skeptical look at Robertson's guitar solo. (Clapton was there, after all.)
2009: "Train Kept A-Rollin'" — Metallica, Jimmy Page, Jeff Beck, Flea, and Joe Perry
"This is rhythm guitar player heaven," Metallica's James Hetfield says before his very loud coterie struts its chaotic stuff. "I don't have to compete with this." And he kept his word! Let's break this down by the numbers: There are three bassists, three guitarists, and a sole drummer taking all the madness in. Points are only deducted because Lars Ulrich decided to unexpectedly stop drumming (???) a few minutes into the song — a much-covered Tiny Bradshaw standard — depriving us of what could've been even more shreddin' goodness.
2017: "Rockin' in the Free World" — Pearl Jam, Yes, Journey, Rush, and Dhani Harrison
It's scientifically proven that adding Eddie Vedder's vocals to any song will make it sound damn fine, so it's a shame Neil Young — who was set to induct Pearl Jam, but had to drop out days before due to an illness — couldn't join his peers for this sparkling rendition. (Those guitars! Wowza!) Some great visuals to behold, ranked in no particular order: Two Pearl Jam drummers sharing one drum set; Geddy Lee and Alex Lifeson frequently sharing Shit, this is great stares; and Vedder taking a wine bottle from an audience member for a quick chug. Everyone knew their place and left any temptations of one-upmanship at the door. What more could you want?
Tier 1: "Holy shit, this epicness should be outlawed"
1986: "Roll Over Beethoven" — Chuck Berry, John Fogerty, Phil Everly, Billy Joel, Jerry Lee Lewis, Keith Richards, Neil Young, and Steve Winwood
Berry, Everly, and Lewis were among the Rock Hall's inaugural inductees in recognition of their godly status within the genre. (With Berry as their overlord, of course.) This jam session epitomizes their talents — they manage to transform a two-and-a-half minute song into a seven-minute guitar solo face-off, all while Berry manages to duckwalk like it's 1956 all over again. We recommend keeping eyes on Richards' awe-struck gaze throughout the entire song, as well as Joel's, who's clearly pissed to be stuck behind a piano.
1988: "I Saw Her Standing There" — George Harrison, Bruce Springsteen, Mick Jagger, Bob Dylan, Ronnie Wood, Les Paul, Brian Wilson, Jeff Beck, Ringo Starr, Diana Ross, Neil Young, and Billy Joel
You know you're in for a collaborative thrill of a lifetime when, due to space reasons, the Rock Hall has to designate Starr, Joel, and Young as "others" on its website — a complete lineup that arguably hasn't been able to be amplified in any venue since. This is joy personified, right down to Harrison doing the "wooooos!" bobblehead style, and Jagger and Springsteen switching off tambourine duty. Is that even a rare smile on Dylan's face? We like to think so.
2004: "While My Guitar Gently Weeps" — Prince, Tom Petty, Steve Winwood, Dhani Harrison, Marc Mann, and Jeff Lynne
Rated by popularity alone, this would be considered the "best" jam in the Hall's history, with a view count of just over 69 million. (Nice.) And frankly, how could it not be? Between Petty's gentle vocals and strumming, and then Prince bulldozing through — and almost falling off — the stage while giving a master class in shredding, there's perhaps no better way to posthumously remember these two titans than by seeing them honor another one. (George Harrison was inducted as a soloist that year.) Petty would later say in an interview that Prince barely practiced his solo, which is just wild to think about. "You see me nodding at him, to say, 'Go on, go on,'" he recalled. "I remember I leaned out at him at one point and gave him a 'This is going great!' kind of look. He just burned it up. You could feel the electricity of something really big's going down here."
2013: "Crossroads" — Chuck D., Darryl DMC, Ann Wilson, Nancy Wilson, Dave Grohl, Taylor Hawkins, Rush, John Fogerty, Tom Morello, Gary Clark Jr., and Chris Cornell
Public Enemy became the third hip-hop group to be inducted into the Hall, following the inductions of Grandmaster Flash and the Furious Five in 2007 and Run-DMC in 2009. This seminal "Crossroads" blues odyssey weaves a sonic tapestry that pretty much charts the entire history of rock as we know it — the prog, the metal, the hip-hop, the grunge, the swamp, and the hard — in stunningly seamless fashion, with the genre's elder statesman and newbies beyond gleeful to translate the history books into one clickable audiofile. The moment when Chuck D. holds his microphone to Lee's bass solo should also be GIFed for eternity. Okay, we did it.